St. Louis Rams:

Alterraun Verner
March, 11, 2014
Mar 11
9:00
PM ET
EARTH CITY, Mo. -- In the first hour of 2014 NFL free agency, more than 25 players agreed to or signed new contracts. The action came fast for offensive tackles and safeties while receivers and running backs waited.
Notable in their absence from the activity was the
St. Louis Rams
. The team made cornerback
Cortland Finnegan
's release official. And then ... crickets.
While it can be hard to discern what's real and what's not at this time of year, the Rams have been pretty open about not diving into the deep end of free agency this time around. They'd done it in the past two years with quick strikes for Finnegan and tight end
Jared Cook
but this time they said they wanted to let the market settle a bit.
And that's precisely what they did, at least on day one. The only player the Rams were known to have interest in and make a push for was Kansas City offensive lineman
Geoff Schwartz
. But the
New York Giants
apparently beat the Rams to the punch as Schwartz agreed to a deal and was on a plane to New York by Tuesday night.
Beyond Schwartz, various reports over the weekend also linked the Rams to Tennessee cornerback
Alterraun Verner
and Buffalo safety
Jairus Byrd
. ESPN NFL Insider Adam Schefter reported that Byrd is on his way to visit with the
New Orleans Saints
, who lost safety
Malcolm Jenkins
to Philadelphia earlier in the day. (
Update
: Byrd agreed to a six-year deal with the Saints on Tuesday night)
Many expected Verner to come off the market right away and did not find a new deal immediately but agreed late Tuesday evening to a four-year deal with Tampa Bay.
There are still some attractive corners left on the market, many of whom figure to land lucrative deals. New England's
Aqib Talib
, Denver's
Dominique Rodgers-Cromartie
and, of course, the pending situation centered on Tampa Bay's
Darrelle Revis
. San Francisco's
Tarell Brown
also remains on the market as a potential option who should come cheaper than the corners mentioned above.
As for safety and the offensive line, there was little time wasted in those positions drying up.
There wasn't much available in terms of the interior of the offensive line anyway but
Rodger Saffold
(Oakland), Schwartz, guard
Zane Beadles
(Jacksonville), guard
Shawn Lauvao
(Washington) and guard
Jon Asamoah
(Atlanta) were quickly targeted and signed. Tackles
Eugene Monroe
(Baltimore),
Jared Veldheer
(Arizona) and
Branden Albert
(Miami) also made their moves.
Pickings among offensive linemen are now exceptionally slim though Rams
Chris Williams
and
Shelley Smith
are still available. Multiple teams showed some level of interest in both.
The pool of safeties also evaporated quickly. Jenkins (Philadelphia),
Donte Whitner
(Cleveland),
T.J. Ward
(Denver),
Antoine Bethea
(San Francisco),
Mike Mitchell
(Pittsburgh),
Ryan Mundy
(Chicago) and
Louis Delmas
(signed with Miami on Monday) all relocated.
Chris Clemons
remains unsigned but has the attention of Detroit and Pittsburgh.
All those moves leave a group that includes newly released options such as
Thomas DeCoud
and
Patrick Chung
, along with veteran
Ryan Clark
and lesser known players like Indianapolis'
Sergio Brown
.
Since the Rams didn't come out firing on day one, it's probably fair to expect them to continue to be patient in the coming days in hopes that prices will fall and they can find some relative bargains. A drop in price tag is inevitable but it remains to be seen what will be available when it happens.
March, 10, 2014
Mar 10
3:30
PM ET
We are still more than a day away from the official start of free agency set for Tuesday at 4 p.m. ET. We also are still in the "take much of what you hear with a grain of salt" mode. That applies here as well.

But until we get to the time where actual agreements can be reached and contracts can be signed, we'll still try to sort through what we're hearing. With that in mind, here are some thoughts from the free-agent trail (shoutout to Bills reporter Mike Rodak for the name).
• A big part of adding the three-day negotiating window for teams and agents representing upcoming free agents was finding a way for teams to put contingency plans in place. Reports over the weekend have indicated the Rams have interest in Tennessee cornerback
Alterraun Verner
and Buffalo safety
Jairus Byrd
. There have also been multiple reports indicating that offensive lineman
Rodger Saffold
won't be returning to the Rams. If nothing else, those tidbits should give the Rams enough knowledge to have a gauge on what it will cost to obtain high-priced players, such as Verner and Byrd, and whether they truly want to be bidders.
• On the Verner front, it looks like the competition is going to be tough. Minnesota and both New York teams have been prominently mentioned, and Verner spoke highly of the Jets and New England in an interview with Mad Dog Radio. But one league source said Monday morning that the price for Verner might not be as high as some expect. Green Bay cornerback
Sam Shields
got nearly $10 million in average annual value on a four-year deal, but it's important to note that teams have to overpay to prevent their own from hitting the market sometimes. I do believe the Rams have interest in Verner but only to a point. Last year, for example, the Rams wanted to get in the mix for receiver
Mike Wallace
, but the price quickly rose out of their range and they re-focused their money elsewhere.
• If the Rams don't chase and land Verner, there are still some solid alternatives on the market. The big names include New England's
Aqib Talib
and Indianapolis'
Vontae Davis
. Davis figures to land a sizable contract and Talib could too, so long as his medical profile checks out. One name worth monitoring among mid-level free agents is San Francisco's
Tarell Brown
, who would bring the added bonus of weakening a division rival without necessarily having to break the bank.
• Also, it's logical for the Rams to look to find offensive line help in free agency should Saffold depart. A league source indicated Monday that the Rams are among the teams to express interest in Kansas City offensive lineman
Geoff Schwartz
. Schwartz has versatility similar to Saffold and, like Saffold, is a better fit at guard. Schwartz also figures to be a hot commodity but could make sense as a Saffold replacement at a lesser cost.
• As for Byrd, it's unclear how deep the Rams' interest in him runs. Reports indicate he's going to command upwards of $9 million per season, which could also prove too rich for the Rams' blood.
• Whether the Rams jump out early in free agency will depend, like always, on the cost of players they covet. In the past two years, they haven't established a pattern of doing things one way or another. Last year, they went hard for tight end
Jared Cook
and had him wrapped up pretty early. Then, they had tackle
Jake Long
in for a visit, essentially held him hostage and finally signed him. In addition, they have a good track record when it comes to signing players who do visit St. Louis first.
And if the Rams aren't extremely active early on, it's important to remember there will be plenty of free agents to cash in big right away, but the meat of this free-agent market appears to be in the middle. There are plenty of good players after that first rush that could come much cheaper than the big names. Seattle was patient last year and scored big on short, relatively cost-effective deals for defensive linemen
Michael Bennett
and
Cliff Avril
. Patience is a virtue for a reason, and this year doesn't look like it will lack for quality free agents that can be had for mid-level deals or even on one-year "prove it" contracts.
March, 10, 2014
Mar 10
10:00
AM ET
Although nothing can be official until 4 p.m. ET on Tuesday, the past 24 hours have offered some interesting possible permutations for the
St. Louis Rams
' sojourn into the 2014 free-agent market.
Saffold
On Sunday, reports surfaced that the team's top priority, offensive lineman
Rodger Saffold
, is headed elsewhere. Whether that ultimate destination is Oakland, Tampa Bay or somewhere else, it looks almost certain he won't be back in St. Louis.
The St. Louis Post-Dispatch offered quotes from Alan Herman, Saffold's agent, saying Saffold would
not be returning
to the Rams. That story corroborates reports from earlier in the day in which the Baltimore Sun reported that Saffold is
likely headed
to the Raiders on a rich free-agent contract, though Tampa Bay remained in the mix.
Whatever Saffold's final destination, the Rams can at least begin working on alternate plans knowing he's out of the picture.
In the lead up to free agency, the Rams had repeatedly made it clear Saffold was the top target but also offered the sense that should Saffold depart, his money could be funneled somewhere else. That somewhere else could be spent on one of the league's top available defensive backs.
Headlining that list is Tennessee cornerback
Alterraun Verner
. League sources have confirmed that the Rams' interest in Verner is very real and with Saffold out of the picture, the Rams can probably find a way to work him on to the pay roll.
Make no mistake, Verner won't come cheap nor does he lack for suitors. Both New York teams, Pittsburgh, Detroit and Minnesota are also known to have expressed interest in Verner. Some believe the Vikings, in particular, will give strong chase.
After Green Bay signed cornerback
Sam Shields
to a
four-year, $39 million contract
with a $12.5 million signing bonus Saturday night, it became clear the market for top corners is going to be costly. The
Rams just parted ways
with
Cortland Finnegan
, who received a deal even bigger than that in 2012, which could give the Rams pause to spend that type of money again on another corner so soon.
Beyond the financials, Verner is an obvious fit for the Rams. Although he doesn't fit the profile of the press corner that many believe defensive coordinator Gregg Williams would covet, Williams clearly knows how to use him best after coaching Verner in his breakthrough 2013 season. Adding to the connections, Rams coach Jeff Fisher was in charge of the Titans when they drafted Verner in 2010.
At Williams' introductory news conference last month, he even mentioned Verner by name.
"It was fun to go back there and all of a sudden a guy that there wasn't a lot of like for Alterraun Verner when I walked in the building, he didn't do too bad this year, did he?" Williams said then. "He made his first Pro Bowl and there was a lot of people that were wondering whether he would even make the team."
Given the type of contract Verner will land in the next couple of days, it's safe to say his days of worrying about making a roster are long gone.
Elsewhere on the free-agent front,
as we mentioned Sunday afternoon
, there were reports that the Rams reached out to Buffalo safety
Jairus Byrd
over the weekend. It's unclear how much interest the Rams have in making a serious run at Byrd, however.
March, 9, 2014
Mar 9
1:30
PM ET
The three-day negotiating window for teams and free agents began in earnest Saturday, and along with it came the expected rumor and innuendo that will persist until players can actually put pen to paper at 4 p.m. ET on Tuesday.
Like every other team in the league, the
St. Louis Rams
were connected to a few of those free agents, though a phone call to an agent or two doesn't mean it's going to turn into a transaction when the market opens. Plenty of calls are made over the weekend, some turn into legitimate conversations about a contract while others are simply doing diligence.
Here is a look at what we know and what was reported in the first 24 hours of the negotiating window:
It hasn't happened yet but I still expect the Rams to release guard Harvey Dahl in the very near future. Much like with cornerback Cortland Finnegan, the move might wait until the day free agency begins, but it seems almost certain to happen. That would give the Rams about $15 million in salary-cap space (though only about $10 million would be available for free agency since they will have a draft class to sign).

[+] Enlarge

Don McPeak/USA TODAY SportsFree agent cornerback Alterraun Verner has ties to Rams head coach Jeff Fisher and defensive coordinator Gregg Williams.

As expected, the market for offensive lineman Rodger Saffold looks to be active. We already knew Arizona and Miami would have interest, and reports indicate both teams made contact with Saffold on the opening day of discussions. Other teams in need of offensive line help such as Tampa Bay, which released guard Davin Joseph and could use upgrades at tackle, could also be in the mix for Saffold.

The St. Louis Post-Dispatch reported that Rams guard Shelley Smith drew free-agent phone calls from four teams on Saturday. Smith was a spot starter for the Rams the past two seasons, but was once a coveted commodity when the Rams initially claimed him on waivers. He's not likely to break the bank, but there is a sense around the league that he might be something of a bargain.

Also coming from the "no surprise" department, the Rams reached out to representatives for Tennessee cornerback Alterraun Verneron Saturday. Verner is widely regarded as one of the best players on the market regardless of position, but is going to get a contract in line with that status. The Rams have obvious ties to Verner as head coach Jeff Fisher drafted him and defensive coordinator Gregg Williams helped coach him to his best season in 2013. While the Rams could probably find a way to make a contract work with Verner, whether they should pay the hefty price is a different issue. Green Bay's Sam Shields cashed in with the Packers on Saturday night with a four-year, $39 million deal with a $12.5 million signing bonus. Final details aren't known, but reports indicate he will make $21 million in the first two years. It's probably a safe bet that Verner will meet and exceed that number. And he has no shortage of suitors. The Tennessean reported Verner also received early interest from Minnesota, the New York Jets, the New York Giants, the Detroit Lions and Pittsburgh Steelers. ESPN Vikings reporter Ben Goessling offered a breakdown on the logical match between Verner and the Vikings.

If nothing else, it's clear the market for top cornerbacks is returning to 2012 levels when the Rams gave Finnegan a five-year, $50 million deal with nearly half paid out in the first two years.

The other name linked to the Rams on Saturday was another highly touted, high-priced defensive back -- Buffalo safety Jairus Byrd. NFL.com also reported the Rams inquired about Byrd on Saturday. Byrd has been another popular name amongst Rams faithful and, like Verner, would fill an important role as a veteran presence in the Rams' young secondary. Also like Verner, Byrd figures to break the bank. Considered the best safety available, it's fair to expect Byrd to land a contract worth about $10 million in average annual value.

So, what to make of all this before we get into the actual start of free agency? Not much, really. My belief all along has been that the Rams have prioritized keeping Saffold, and if that doesn't happen they could re-direct that money elsewhere, potentially to one of the "splashy" defensive backs on the market. In an ideal world, the Rams could keep Saffold and add a veteran in the secondary, but with prices likely to be through the roof, it's probably unlikely the Rams can bring Saffold back and add one of the top two defensive backs mentioned above.Based on early projection for what players like Byrd, Verner and Saffold could cost, it's possible the Rams could be spending money on a few mid-level free agents rather than one big-ticket item. In the meantime, it does no harm to kick the tires on some of the big names mentioned above and determine whether it's worth getting in the bidding or moving on to the next plan.
November, 1, 2013
11/01/13
10:15
AM ET
EARTH CITY, Mo. --
Tennessee Titans
cornerback
Alterraun Verner
has been one of the NFL's biggest breakout performers in the first half of the season.
[+] Enlarge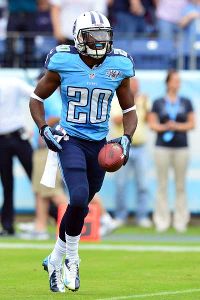 Don McPeak/USA TODAY SportsAlterraun Verner, a four-year pro out of UCLA, has played in every game for the Titans since his rookie season.
That revelation comes as no surprise to
St. Louis Rams
cornerback
Cortland Finnegan
, who served as a mentor for Verner in their two seasons together with the Titans.
Finnegan said there are plenty of people who are taken aback by Verner's emergence, though, starting with the team that selected him in the fourth round of the 2010 NFL draft.
"I'm not surprised," Finnegan said. "I think who is most surprised is Tennessee because they tried to count this young man out over and over and over. He's only doing what I knew he could do all along. I'm the one laughing in the background like 'I told you so.' Honestly, they tried to do it this year and still he found a way to get in the starting lineup."
Verner has done much more than just find his way into the starting lineup in 2013. Through seven games, he has 25 tackles, two fumble recoveries, four interceptions, eight pass breakups and a touchdown.
ESPN Stats & Information defines a disrupted dropback as a sack, a batted ball, a pass defended or an interception. Verner has 12, which is tied for fourth in the league, but the numbers get even better for him when divided by total dropbacks.
That formula comprises what's known as disrupted dropback percentage, a statistic in which Verner ranks first in the NFL, disrupting an opposing quarterback's dropback 4.6 percent of the time.
"This dude is a ball magnet, he really is," Finnegan said. "In practice, he's phenomenal. They have two great corners (including
Jason McCourty
) there, I feel like I sort of nurtured them. I'm the big brother that left there. I'm super excited to see these guys every time they're on the field."
This week, of course, Finnegan will be happy to see his former teammates but hopes -- for team reasons -- to see players like Verner and McCourty not playing up to the standards they've set in the first seven weeks.
With
Kellen Clemens
taking over for
Sam Bradford
at quarterback, Verner and McCourty represent a difficult matchup that could make finding passing game success another tough challenge.
For his part, Finnegan can at least provide the occasional pointer to help Clemens and the Rams' young receivers prepare for what the Tennessee secondary brings to the table.
"Absolutely, I don't know if I can give away everything but they have some things, some tendencies and stuff," Finnegan said. "But they have a new defense as well. I can just tell them what I know if they ask me something on film."
An injury to safety
Michael Griffin
that's kept him out practice so far this week left Tennessee defensive coordinator Jerry Gray telling the Tennessee media that moving Verner to free safety was
one option
for patching that hole against the Rams this week.
That's a move the Rams would surely welcome and one that our
Titans reporter Paul Kuharsky refers to as "coaching malpractice."
Of course, given the way Finnegan describes the Titans' previous use of Verner, it probably wouldn't come as much of a surprise.