St. Louis Rams:

Andrew Luck
August, 15, 2014
8/15/14
8:00
AM ET
EARTH CITY, Mo. -- The
St. Louis Rams
passed on the opportunity to use the No. 2 overall pick in the 2012 NFL draft on quarterback
Robert Griffin III
. They opted to trade the selection to the
Washington Redskins
for a bounty of picks which included this year's No. 2 overall choice, lineman
Greg Robinson
.
There are plenty of "what if" scenarios in that situation itself but there's another that stems from
this story
on NFL.com. In Judy Battista's piece about backup quarterbacks, she relays a story from
Cincinnati Bengals
coach Marvin Lewis and ESPN analyst Bill Polian in which Polian tells Lewis he'd still be calling the shots for the
Indianapolis Colts
if he'd drafted quarterback
Andy Dalton
in 2011.
Apparently, Polian had strongly considered drafting Dalton to be
Peyton Manning
's backup that season. Following the logic here, had Dalton been Manning's backup instead of
Dan Orlovsky
or
Curtis Painter
or Kerry Collins, the Colts would have fared better and wouldn't have ended up with the No. 1 overall pick.
Of course, had all of that played out, the Rams would have been sitting with the first pick in the draft and a shot at quarterback
Andrew Luck
. NFL.com's Chris Wesseling pointed out the "what if" scenario in
this piece
.
Now, there's a lot to consider here but the first question is to wonder why, if Polian was in charge, the Colts didn't simply draft Dalton. They would have had to do it in the first round, at No. 22 overall but they had a chance. Instead, they went with tackle
Anthony Castonzo
.
The other part of the equation is whether the Rams would have drafted Luck instead of auctioning off the top pick for what likely would have been an even bigger package than the one they got from Washington. At the time, Jeff Fisher and Les Snead were settling into their roles as head coach and general manager but they did and do have belief in quarterback
Sam Bradford
.
I think it's entirely possible if they had wanted to trade the pick, they would have gotten more than the Redskins gave them with Luck as the bargaining chip. Passing on Luck would have been a bad choice in my opinion, but I don't think it's a sure thing they would have taken him.
Either way, it's all a "what if" game but it's an interesting one to ponder in light of Polian's comments.
I.C.Y.M.I.
A roundup of Thursday's Rams stories appearing on ESPN.com. ... In
the Ram-blings
, we opened the day with a look at Mark Dominik's dream team with the salary cap. ... In Camp Confidential, we took
a bigger-picture look
at the team's training camp so far. ... Next, we delved into
the ongoing battles
for backup jobs along the offensive line. ... From there, it was on to
a look at rookie tight end
Alex Bayer
's impressive work so far. ... We then got the news that charges against linebacker Jo-Lonn Dunbar
were dropped
in Miami. ... We closed the day with a practice report from Thursday's
15th summer workout
.
Elsewhere:
At stltoday.com, Jim Thomas writes that
Tavon Austin
is
more comfortable
in his second season.
Joe Lyons
examines
the development of offensive tackle
Sean Hooey
.
At 101sports.com, D'Marco Farr
says he wants
to see Bradford excel on Saturday afternoon.
Dan Pompei
offers a great look
at the ever-difficult NFC West division.
Here's
the video
from Fisher's acceptance of the ALS ice bucket challenge.
January, 16, 2014
1/16/14
10:00
AM ET
ST. LOUIS -- It should be no surprise that when 320 NFL players were asked to name one player they would choose to start a franchise with that the top four vote-getters were all quarterbacks. Likewise, it was no shock to see
Denver Broncos
quarterback
Peyton Manning
atop the list.

Colts quarterback
Andrew Luck
finished second, followed by New England's
Tom Brady
and Green Bay's
Aaron Rodgers
. In total, 37 players received votes. There were no
St. Louis Rams
among the top seven to receive votes. Of the Rams currently on the roster, one could make an argument for defensive end
Robert Quinn
. It stands to reason if you want to start your team with a quarterback, someone might also want to start a team with a guy best equipped to stop one. So maybe Quinn will one day land on the list. He did garner a couple votes this time around.
When I conducted the survey in the Rams' locker room, I was struck by the quickness with which the players I asked came up with their responses. Some went for the veteran Manning, others for the young gun Luck and others went for the in between with Rodgers.
Given Rodgers' relative youth, I think he's probably the best choice. Luck would be close behind but Rodgers has enough football left in him that he'd still be a good long-term option. Don't get me wrong, Manning is amazing but he's much closer to the end of his career than the beginning.
From the Rams' perspective, they're still in the process of trying to develop players who can one day show up at the top of polls such as this.
January, 9, 2014
1/09/14
6:30
PM ET
ST. LOUIS -- The No. 2 overall pick belonging to the
St. Louis Rams
isn't officially for sale yet but it's probably safe to call it what real estate types refer to as a pocket listing.
Rams general manager Les Snead discussed the pick and more Thursday afternoon and though he was reluctant to say his team is ready to auction the No. 2 pick it got from Washington, he also made it clear that all options are again under consideration.
[+] Enlarge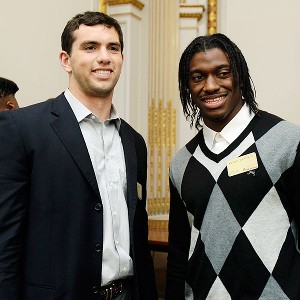 AP Photo/Richard DrewThe allure of quarterbacks Andrew Luck and Robert Griffin III put the Rams in a more powerful position for the 2012 NFL draft.
"I don't want to sit here and go, 'Guess what, we're trading back no matter what,'" Snead said. "You've always got to prepare for: What if you're there and nobody wants to trade? What if you actually want to take a player? I think it just helps you thoroughly prepare that if you do move back, if you move back to this slot, what type of player, who do you think you'll be picking from there? The thing you've got to evaluate is is that worthwhile depending on what you get?"
Of course, that doesn't mean if one of the many quarterback or
Jadeveon Clowney
-needy teams out there were to call Snead that he'd let it go to voicemail.
"I think the [phone lines] are always open," Snead said.
When Snead made the 2012 trade with Washington that landed the pick that would become this No. 2 selection, things came together quickly. Once all of the underclassmen declared and it was clear that
Andrew Luck
and
Robert Griffin
III were the two "franchise" quarterbacks available, the value of that No. 2 pick was obvious.
With Indianapolis drafting No. 1 overall, it was nearly certain that
Peyton Manning
would be on his way out and Luck was going to be the successor.
Put simply, if a team wanted Luck or Griffin, it had to get where only the Rams and Colts were.
Snead set a price and Washington was the first team to meet it. More than a month from the draft, the deal was done. Don't expect that perfect storm to materialize in such a neat package this time around.
"Without a Peyton Manning [situation] out there, I think this one may be one that it doesn't happen as quick," Snead said.
The idea of trading the 2012 No. 2 pick was something of a no-brainer for a team that, at the time, had so many needs to fill. The Rams are clearly further along in their development than they were after the debacle of a 2011 season but there is plenty to consider when determining whether to auction off the pick again this time around.
The first step before Snead and the Rams can even begin to set a price is determining if there are players available that teams are going to covet enough to give up future picks. Teams could look at the original Rams-Redskins trade and be wary of the chances of offering up a future top two choice.
While there appear to be players worth moving up for, namely quarterbacks such as Louisville's
Teddy Bridgewater
, Texas A&M's
Johnny Manziel
or Central Florida's
Blake Bortles
, none approach Luck's or Griffin's profile as prospects. Clowney might but he doesn't play quarterback, which seems likely to keep him from coming close to drawing that type of return.
The deadline for underclassmen to declare for the draft hasn't passed yet, either, so trying to decipher how teams may view players now is something of a futile exercise.
"I think it's a good draft, quality players," Snead said. "Now, I think what always happens at the top of the draft is, who needs QBs? How many QBs do people think are worthy? Then it's just a supply and demand thing. Last year there were no QBs that went early. This year, you just don't know that yet. Because the other teams have got to decide we need a QB, that's a guy. Or those two are our guys. I think that's what determines that."
Some might argue that the Rams aren't in nearly the powerful position they were in 2012 because there may be more than just two quarterbacks worthy of a top five pick. But that's not necessarily the case, either.
As is often the case with quarterbacks, everybody has a different opinion so if a team values one signal caller over another, it's likely that team is going to make the move to ensure it gets the guy it wants rather than settling for a player it deems not quite as good, especially at that position.
Taking all of that into consideration, Snead isn't ruling out the possibility that if and when he does look to move the pick he could get at least a reasonable facsimile of the package he got from Washington again.
"Boy, that would be [great]," Snead said. "You never know through this process what other teams are thinking and who they really like. And then you've got to go through the interview process. And if it's one to two to three QBs, and those guys went in interviews and all of a sudden, maybe so.
"When you've been on a team that's looking for a QB, you're going to at all costs try to go get that QB. I mean there's a possibility."
As for what the Rams might do if they stayed put, Snead is predictably playing his hand close to the vest though he again made it clear the team is committed to
Sam Bradford
at quarterback. He did, however, acknowledge the Rams would look for help and depth at the position later on.
At this early stage, it's no surprise that the Rams haven't reached a point where a deal appears imminent or the pick is even on the table. A deal, should there be one, likely wouldn't come until draft day this time around.
With the draft not starting until May this year that means a couple extra weeks to speculate and determine the price of another move when the pick finally goes on the market.
"I'll be honest with you, I don't know that yet," Snead said. "I do know it's a valuable piece of real estate. I realize that. Now, no team's called. So you don't really know that. To determine the price has got to be how many bidders. And I don't even know if there's going to be one. But that's to be determined."
November, 7, 2013
11/07/13
10:00
AM ET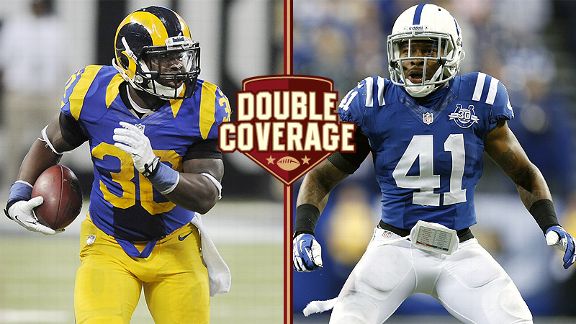 AP Photo/L.G. PattersonZac Stacy and the Rams have run well of late. That will be vital against Antoine Bethea and the Colts.
.
Indianapolis Colts
quarterback
Andrew Luck
and
St. Louis Rams
quarterback
Sam Bradford
were supposed to be the key players when their teams meet at Lucas Oil Stadium on Sunday afternoon. Luck will be on the field taking snaps, but Bradford is stuck being a spectator after tearing his ACL earlier this season.
The Rams have been hit hard by the loss of Bradford: They have lost three in a row and don't appear close to turning things around. Meanwhile, Luck is an MVP candidate despite not putting up off-the-charts statistics. He's simply overcome the loss of five key offensive players to lead the Colts to first place in the AFC South.
ESPN.com Colts reporter Mike Wells and Rams reporter Nick Wagoner break down the matchup.
Wells:
Nick, I'm sure most fans thought St. Louis would make progress off its seven wins last season. That doesn't look like it's going to happen. How much has Bradford's season-ending injury affected the Rams? Or do you think they were going to struggle even with him leading the way?
Wagoner:
It's been a strange season in which it's really hard to predict what you're going to get from the Rams from week to week. There's no question the team was better with Bradford at quarterback. If he'd been healthy the last two weeks (and making the big assumption that everything else stayed the same), the Rams likely would be sitting at 5-4 right now. The Rams already had a really small margin for error, and it got even smaller when Bradford went down. They have had way too many self-inflicted mistakes to overcome, and they have a knack for not being able to get out of their own way.
We can talk about Luck in a minute, but I wanted to get to a big-picture Colts issue first. The Rams and Colts both began 2012 in something of a rebuilding mode. The Colts were able to do it really quickly, whereas the Rams are still sifting through the process. Aside from Luck, what do you think has been the biggest key to the Colts' turnaround?
Wells:
The defense. It took the unit a season to get used to the 3-4 scheme employed by coach Chuck Pagano and defensive coordinator Greg Manusky. They also acquired players comfortable in the system. Linebacker
Robert Mathis
is a legitimate Defensive Player of the Year candidate with 11.5 sacks. The unit itself isn't highly ranked – 22nd overall – but it seems to find a way to make plays at the right time. It deserves just as much credit as Luck for the victory over Denver on Oct. 20. The defense must continue to make plays to help out the offense, which is without receiver
Reggie Wayne
for the rest of the season.
I have to say, Nick, there are not a lot of recognizable names on the Rams' roster. Is there any reason to believe they can go into Lucas Oil Stadium and upset the Colts?
Wagoner:
Honestly, I don't see how the Rams can win this one. Credit to the Rams, they've really shown some fight the past two weeks without Bradford. But they were unable to pull off a couple of winnable games because they keep making mistakes they can't surmount. The Rams' best hope in this one is to continue to run the ball well -- which, considering the Colts have the 27th-ranked rush defense, seems possible -- and to get some turnovers on defense.
One area that continues to plague the Rams is defending the run. Tennessee's woeful rushing attack got healthy on the Rams last week. I wonder if the Colts and
Trent Richardson
can do the same. It seems the return on investment hasn't been there for Indy on the Richardson deal. What's been the struggle, and do you think the Colts can get him and their running game going?
Wells:
It seems that every week the talk is about Richardson getting closer to having a big game. But everybody is still waiting. First it was a matter of Richardson getting comfortable with the system the first few weeks after he was acquired from Cleveland. Then offensive coordinator Pep Hamilton came out last week and said he has to do a better job of finding ways to get Richardson out in space. The Colts' running game was put into some perspective when they ran the ball only four times in the second half last weekend against Houston -- and three of those runs came on their final offensive series when they were killing some clock. Titans running back
Chris Johnson
had his best game of the season – 150 yards – against the Rams last week. Maybe Richardson will do the same. Finally.
The Colts are pretty familiar with Jeff Fisher from his days with their AFC South rival Titans. Is there any danger of the Rams' coach losing his job at the end of the season?
Wagoner:
Short of some wild scandal breaking out, I'd say the chances of that happening are pretty much zero. He's in only his second season, and the Rams knew they had a long road to climb to get back to being a contender. They exceeded expectations in his first season, and that may have sped up the way people view the rebuilding project. But the Rams have always viewed 2014 as the year they hoped to really take a major step forward. This season will likely go down as a disappointment, but if Bradford returns healthy and the Rams have a good offseason, they'll believe they can be back in the mix. The biggest disappointment this season has been the lack of progress by many of the team's young players. That's not to say nobody has made that move; it's just not as many as the Rams would have liked, at least not yet. That said, I do think it's possible Fisher could take a look at some of the guys on his staff. He's a loyal guy and many of his assistants have been with him for a while, but that doesn't mean everyone is exempt.
I do want to ask about Luck, but I wanted to take a different approach than the old "Why is Andrew Luck so awesome?" question you probably get every week. Each of these teams has a No. 1 overall pick at quarterback, but they have very different salaries. How much of a difference has it made for the Colts that they not only got a franchise-changing quarterback but one they don't have to pay like an NFL megastar for a while?
Wells:
I'm going to take it beyond the fact that the Colts don't have to pay Luck megastar money for a while. The Colts will likely have their choice of free agents to choose from because many will want to play with Luck. As one player recently told me, "You want a chance to win a couple of rings? Come to Indianapolis because 12 is going to be here for a long time and he's going to win this organization some Super Bowls." The best part from an organizational standpoint is that Luck is in just his second season and his desire to win and get better on a daily basis is something a lot of players in this league wish they had.
.
August, 30, 2013
8/30/13
11:40
AM ET
Six projected starting quarterbacks played in their teams' final exhibition games of the 2013 preseason. The
Seattle Seahawks
'
Russell Wilson
and the
San Francisco 49ers
'
Colin Kaepernick
were two of them, and both led touchdown drives before exiting after one series. None of the NFL's projected starters got hurt Thursday night.
The chart shows week-by-week snap counts for quarterbacks I singled out as projected starters heading into preseason. NFC West alums
Kevin Kolb
and
Matt Flynn
might not start after all, but I've left them in the chart for context.
St. Louis Rams
coach Jeff Fisher has generally played starters in the final preseason game. He did not this time.
"Typically I have, but I guess in the new world that we're in, it's hard to," Fisher told reporters after the Rams' game against Baltimore. "What that implies is that I'm pleased with where they are right now, those guys that sat. They worked hard. We got a great workout and it allowed them to fast-forward their minds to Arizona."
Fisher could have been alluding to the run of higher-profile injuries around the league this summer. Last year, the Rams lost rookie defensive tackle
Michael Brockers
to a high-ankle sprain in the final preseason game.
The Rams emerged from this preseason healthier than their division rivals. That did not stop the 49ers from playing their offensive starters or the Seahawks from playing starters on both sides of the ball Thursday night. The
Arizona Cardinals
rested most of their starters, though
Michael Floyd
was one notable exception.
San Francisco coach
Jim Harbaugh
offered no explanation for playing his starting offense one series. Kaepernick hadn't gotten many snaps through the first three games, however. Getting additional reps for Kaepernick and the team's group of emerging receivers made some sense on the surface.
Seahawks coach Pete Carroll went into the final preseason game saying he wanted starters to play because the team values this games as competitive opportunities.