St. Louis Rams:

Blake Bortles
February, 18, 2014
2/18/14
11:00
AM ET
The workout portion of the NFL scouting combine begins on Feb. 22 with the entire football world closely watching every prospect's every move. With that in mind, we're counting down the top five things the Rams and their fans should be watching as the NFL converges on Indianapolis.
It has become custom for the NFL draft's top quarterbacks to attend the scouting combine but eschew the workout portion in favor of the more controlled environment of an on-campus pro day. It's already been reported that Texas A&M's
Johnny Manziel
will not throw at the combine. Central Florida's
Blake Bortles
and Louisville's
Teddy Bridgewater
have yet to make it known if they will do everything but it appears they'll at least do some of the workouts.
Which brings us to the No. 4 pressing combine question for the
St. Louis Rams
and their fans:
Which quarterback(s) will make the move to stand out above the rest in Indianapolis?
By now, it's been made clear time and again the Rams have no intention of drafting a signal caller at No. 2 overall. Unless everything general manager Les Snead, coach Jeff Fisher and other decision makers has said is untrue,
Sam Bradford
is and will remain the starting quarterback in 2014. But how the quarterback competition shakes out will have an impact on what the Rams do with their No. 2 overall pick.
In 2012, Stanford's
Andrew Luck
arrived at the combine as the hands-down No. 1 overall pick. It was a no-brainer. Baylor's Robert Griffin III was viewed as a possible complement to Luck before the combine but cemented his spot as the easy choice at No. 2 overall with a strong workout that included a 40-yard dash time of 4.41 seconds.
The trade market for the Rams, who held the No. 2 pick, heated up almost immediately and soon the Rams dealt the pick to Washington for a pile of draft picks which eventually included the same No. 2 pick they now hold in this year's draft.
That isn't to say that Manziel, Bortles or Bridgewater need to duplicate that to solidify his position. Ultimately, the college game tape is the primary indicator of how teams view prospects. There are still simple ways they could help themselves though, such as Manziel and Bridgewater simply measuring in taller than expected.
It's unlikely that any of the quarterbacks have a similar performance and make themselves so desirable that teams are willing to offer the same package the Rams got from Washington but it would certainly help the Rams' cause if one or two of them put on a show.
Snead said in January the pick wasn't quite for sale but also made it clear that the phone lines are always open if someone wanted to make a big offer. Since the Rams appear committed to Bradford, they'd likely prefer a trade down where they can add more picks and get help at positions of more pressing need like the offensive line, secondary or wide receiver.
Beyond the top quarterbacks looking to separate at Lucas Oil Stadium, the Rams also have a vested interest in what the second tier of signal callers is doing. St. Louis is nearly certain to add a quarterback at some point in the 2014 draft and players like Fresno State's
Derek Carr
, Eastern Illinois'
Jimmy Garoppolo
, LSU's
Zach Mettenberger
, Alabama's A.J. McCarron and Georgia's
Aaron Murray
will be in attendance.
If nothing else, the week gives the Rams an opportunity to speak to any and all prospects, review their medical information and add more valuable pieces to their overall evaluation of this year's prospects.
January, 9, 2014
1/09/14
6:30
PM ET
ST. LOUIS -- The No. 2 overall pick belonging to the
St. Louis Rams
isn't officially for sale yet but it's probably safe to call it what real estate types refer to as a pocket listing.
Rams general manager Les Snead discussed the pick and more Thursday afternoon and though he was reluctant to say his team is ready to auction the No. 2 pick it got from Washington, he also made it clear that all options are again under consideration.
[+] Enlarge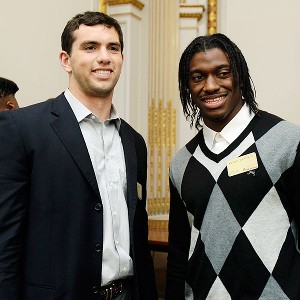 AP Photo/Richard DrewThe allure of quarterbacks Andrew Luck and Robert Griffin III put the Rams in a more powerful position for the 2012 NFL draft.
"I don't want to sit here and go, 'Guess what, we're trading back no matter what,'" Snead said. "You've always got to prepare for: What if you're there and nobody wants to trade? What if you actually want to take a player? I think it just helps you thoroughly prepare that if you do move back, if you move back to this slot, what type of player, who do you think you'll be picking from there? The thing you've got to evaluate is is that worthwhile depending on what you get?"
Of course, that doesn't mean if one of the many quarterback or
Jadeveon Clowney
-needy teams out there were to call Snead that he'd let it go to voicemail.
"I think the [phone lines] are always open," Snead said.
When Snead made the 2012 trade with Washington that landed the pick that would become this No. 2 selection, things came together quickly. Once all of the underclassmen declared and it was clear that
Andrew Luck
and
Robert Griffin
III were the two "franchise" quarterbacks available, the value of that No. 2 pick was obvious.
With Indianapolis drafting No. 1 overall, it was nearly certain that
Peyton Manning
would be on his way out and Luck was going to be the successor.
Put simply, if a team wanted Luck or Griffin, it had to get where only the Rams and Colts were.
Snead set a price and Washington was the first team to meet it. More than a month from the draft, the deal was done. Don't expect that perfect storm to materialize in such a neat package this time around.
"Without a Peyton Manning [situation] out there, I think this one may be one that it doesn't happen as quick," Snead said.
The idea of trading the 2012 No. 2 pick was something of a no-brainer for a team that, at the time, had so many needs to fill. The Rams are clearly further along in their development than they were after the debacle of a 2011 season but there is plenty to consider when determining whether to auction off the pick again this time around.
The first step before Snead and the Rams can even begin to set a price is determining if there are players available that teams are going to covet enough to give up future picks. Teams could look at the original Rams-Redskins trade and be wary of the chances of offering up a future top two choice.
While there appear to be players worth moving up for, namely quarterbacks such as Louisville's
Teddy Bridgewater
, Texas A&M's
Johnny Manziel
or Central Florida's
Blake Bortles
, none approach Luck's or Griffin's profile as prospects. Clowney might but he doesn't play quarterback, which seems likely to keep him from coming close to drawing that type of return.
The deadline for underclassmen to declare for the draft hasn't passed yet, either, so trying to decipher how teams may view players now is something of a futile exercise.
"I think it's a good draft, quality players," Snead said. "Now, I think what always happens at the top of the draft is, who needs QBs? How many QBs do people think are worthy? Then it's just a supply and demand thing. Last year there were no QBs that went early. This year, you just don't know that yet. Because the other teams have got to decide we need a QB, that's a guy. Or those two are our guys. I think that's what determines that."
Some might argue that the Rams aren't in nearly the powerful position they were in 2012 because there may be more than just two quarterbacks worthy of a top five pick. But that's not necessarily the case, either.
As is often the case with quarterbacks, everybody has a different opinion so if a team values one signal caller over another, it's likely that team is going to make the move to ensure it gets the guy it wants rather than settling for a player it deems not quite as good, especially at that position.
Taking all of that into consideration, Snead isn't ruling out the possibility that if and when he does look to move the pick he could get at least a reasonable facsimile of the package he got from Washington again.
"Boy, that would be [great]," Snead said. "You never know through this process what other teams are thinking and who they really like. And then you've got to go through the interview process. And if it's one to two to three QBs, and those guys went in interviews and all of a sudden, maybe so.
"When you've been on a team that's looking for a QB, you're going to at all costs try to go get that QB. I mean there's a possibility."
As for what the Rams might do if they stayed put, Snead is predictably playing his hand close to the vest though he again made it clear the team is committed to
Sam Bradford
at quarterback. He did, however, acknowledge the Rams would look for help and depth at the position later on.
At this early stage, it's no surprise that the Rams haven't reached a point where a deal appears imminent or the pick is even on the table. A deal, should there be one, likely wouldn't come until draft day this time around.
With the draft not starting until May this year that means a couple extra weeks to speculate and determine the price of another move when the pick finally goes on the market.
"I'll be honest with you, I don't know that yet," Snead said. "I do know it's a valuable piece of real estate. I realize that. Now, no team's called. So you don't really know that. To determine the price has got to be how many bidders. And I don't even know if there's going to be one. But that's to be determined."
January, 8, 2014
1/08/14
1:15
PM ET
ST. LOUIS -- If indeed the
St. Louis Rams
are looking to continue perpetuating the deal they made with the
Washington Redskins
in 2012 by trading down and adding even more high-value future picks, Texas A&M quarterback
Johnny Manziel
's declaration that he's entering the 2014 NFL draft does nothing but strengthen their position.
While it seems extremely unlikely that the Rams would draft Manziel or any other quarterback -- the team has repeatedly made clear its devotion to
Sam Bradford
as the starter -- the more quarterbacks capable of going in the top five, the better the trade market will be. There's no position in the game that draws more attention on the open trade market than quarterback.
As it stands, our NFL draft analysts Mel Kiper Jr. and Todd McShay rate Manziel as a top-three quarterback in this draft, behind only Louisville's
Teddy Bridgewater
and Central Florida's
Blake Bortles
. Between now and the draft, that could change and, of course, teams place different values on different players.
Since it's clear the Rams don't necessarily want to draft a quarterback as high as the first round, they find themselves in the unique position of being surrounded by teams who are in desperate need of a franchise signal-caller. After Houston picks first, the Rams go second and they are followed by Jacksonville, Cleveland and Oakland, all of which could use a long-term quarterback solution.
Atlanta sits at No. 6 and is set at quarterback but right after that Tampa Bay at No. 7 and Minnesota at No. 8 could also be in the quarterback market. That means between picks three and eight, five of six teams could well be in the hunt to add a quarterback.
The early consensus seems to be that Bridgewater is the top quarterback prospect in the draft, though there's plenty of time for players like Manziel and Bortles to close whatever gap may exist. The more they do, the higher the price could go for the Rams' No. 2 pick. There's almost no chance that price will rise as high as what the Rams got for the rights to
Robert Griffin
III in 2012, but there could be a nice return awaiting the Rams should Manziel or Bortles begin to separate.
For the Rams, if Manziel can interview well and boost his stock between now and May, the better their position will be. With more pressing needs on the offensive line and at wide receiver, the chances for the Rams to move down only a spot or two, get some extra picks and still get the player they want at a position of need are only growing.