St. Louis Rams:

Brady Quinn
November, 21, 2013
11/21/13
4:45
PM ET
EARTH CITY, Mo. -- The
St. Louis Rams
had hoped to spend the bye week getting healthy and ready for a final six-game stretch run to close the season. They didn't suffer any serious injuries during their two bye-week practices, but they also probably aren't as healthy as they'd like to be heading toward Sunday's game against the
Chicago Bears
.

The Rams made no changes to their injury report Thursday after listing four players as not participating and two more as limited Wednesday.
For the second day in a row, the Rams practiced without the services of guard
Harvey Dahl
(knee), quarterback
Brady Quinn
(hip/lower back), cornerback
Cortland Finnegan
(eye) and running back
Chase Reynolds
(knee). The absence of Dahl and Quinn is no surprise as both players had missed time leading into the bye. Finnegan and Reynolds were additions and so far haven't don't anything in practice this week.
Safeties
Darian Stewart
(foot) and
Matt Giordano
(thigh) were designated as limited participants again Thursday. The injuries to Finnegan, Stewart and Giordano have left the Rams a little short-handed in the secondary in practice this week.
Of note for the Bears, offensive tackle
Jordan Mills
(quadriceps) was upgraded from limited participation Wednesday to full participation Thursday.
November, 19, 2013
11/19/13
6:20
PM ET
EARTH CITY, Mo. -- After waiting a little longer than originally anticipated,
St. Louis Rams
quarterback
Sam Bradford
underwent surgery on his left knee Monday afternoon according to coach Jeff Fisher.
Bradford
Bradford tore the anterior cruciate ligament in his left knee late in the team's Oct. 20 loss to Carolina, an injury that effectively ended his season and landed him on injured reserve. Bradford had originally planned to have the surgery soon after the injury but all parties wanted the swelling to go down before Bradford went under the knife.
Noted surgeon Dr. James Andrews performed the operation in Pensacola, Fla. Rams head athletic trainer Reggie Scott was in attendance for the procedure.
Fisher said Scott reported that the surgery went off without any issues.
"He said everything went very, very well," Fisher said. "It's a very, very healthy knee considering the circumstances and so they were pleased."
Elsewhere, the Rams returned to the practice field Tuesday and Fisher shed some light on a different quarterback injury.
Brady Quinn
, signed as a backup after Bradford's injury, made it through just one week of practice before landing on the injury report with what had previously been described as a hip injury.
Fisher said that's not the case.
"Brady had some issues with his low back in the weight room," Fisher said. "It was just kind of a very freak thing and we're trying to get him back as quick as we can."
Austin Davis
has served as the primary backup to starter
Kellen Clemens
since Bradford's injury.
November, 8, 2013
11/08/13
3:45
PM ET
EARTH CITY, Mo. -- As expected, it looks like the
St. Louis Rams
will be without tight end
Lance Kendricks
on Sunday against the
Indianapolis Colts
.
Kendricks
Kendricks suffered a fractured finger against Tennessee last week and coach Jeff Fisher indicated Monday that he could miss some time. Technically, there's at least a little bit of hope for Kendricks, who is listed as doubtful on the injury report.
But Kendricks didn't participate in practice all week and it looks like he'll get this week and next with the Rams on the bye to recover.
Assuming Kendricks doesn't play, the Rams will turn to
Mike McNeill
to fill in. The Rams have regularly used two and three tight end sets in the past few weeks so the loss of Kendricks is not helpful.
McNeill said he's ready to go.
"Mike's a solid player," quarterback
Kellen Clemens
said. "He's a solid player. He's good in the pass game. He's surprisingly good in the run game even though he is a little bit lighter-bodied than maybe Lance is. He'll step up. Lance Kendricks, those are big shoes to fill, but Mike will step up in a big way for us and we look forward to having him."
Quarterback
Brady Quinn
is also listed as doubtful with a hip injury and guard
Harvey Dahl
(knee) is out this week.
In better injury news, running back
Zac Stacy
(foot) is probable after he did more in practice each day this week, including a full practice Friday. Linebacker
James Laurinaitis
left Friday's workout early with an apparent hip issue but Fisher said he'll be fine and he is also listed as probable.
Here's the full injury report:
Out: Dahl
Doubtful: Brady Quinn, Kendricks
Probable: Laurinaitis, Stacy
Notables for the Colts: cornerbacks
Josh Gordy
(groin) and
Greg Toler
(groin) are out this week. Nose tackle
Josh Chapman
(knee) and safety
Delano Howell
(neck) are also out Sunday.
Running back
Trent Richardson
(ankle) is listed as questionable.
November, 6, 2013
11/06/13
5:15
PM ET
EARTH CITY, Mo. -- In what has become something of a weekly tradition,
St. Louis Rams
rookie running back
Zac Stacy
did not practice Wednesday as he continues to manage an ankle injury suffered late in the team's game against Seattle on Oct. 28.
On the official injury report, Stacy is listed as sitting out with a foot injury but Rams coach Jeff Fisher said he had hurt the ankle in the closing minutes of that game against the Seahawks. Stacy did not practice last Wednesday, either, before he was upgraded to full participation Thursday and back down to limited on Friday.
But Stacy started and clearly had no lingering issues against the
Tennessee Titans
on Sunday as he played through whatever ailed him and posted 127 yards and two touchdowns. It would surprise nobody if he follows a similar routine this week leading up to this week's game against the
Indianapolis Colts
.
Guard
Harvey Dahl
(knee), quarterback
Brady Quinn
(hip) and tight end
Lance Kendricks
(hand) joined Stacy in sitting out Wednesday's practice. Those were the only four players on the team's injury report.
Of note for Indianapolis, linebacker
Robert Mathis
(shoulder) and running back
Trent Richardson
(ankle) did not practice.
October, 31, 2013
10/31/13
7:45
PM ET
EARTH CITY, Mo. -- After posting 134 rushing yards against Seattle on Monday night,
St. Louis Rams
rookie running back
Zac Stacy
has had fans and fantasy owners alike on the edge of their seats waiting for news on the ankle/foot injury that kept him on the sideline for part of the team's final drive.
Stacy
Rest easy, all. After sitting out Wednesday's practice, Stacy not only returned to practice Thursday but did so as a full participant. He moved around just fine during the workout, and seems to be on schedule to be ready to play Sunday against the
Tennessee Titans
.
The Rams' injury report remains lengthy, though, and did add a few names to the mix Thursday. Defensive end
Robert Quinn
(illness), cornerback
Brandon McGee
(illness) and quarterback
Brady Quinn
(hip) were new additions who did not practice. Coach Jeff Fisher indicated all three players would be fine this week.
Here's the full, extended breakdown:
Did not practice:
G
Harvey Dahl
(knee), S
Darian Stewart
(foot), Robert Quinn (illness), Brady Quinn (hip), McGee (illness).
Limited practice:
RB
Daryl Richardson
(foot)
Full practice:
T
Jake Long
(knee), Stacy (foot), C
Scott Wells
(thigh), WR
Austin Pettis
(thigh), QB
Kellen Clemens
(shoulder), RB
Benny Cunningham
(ankle)
Of note for the Titans, safety
Michael Griffin
(quadriceps) did not practice for the second consecutive day. Tackle
David Stewart
(shoulder) moved from not practicing to limited.
October, 24, 2013
10/24/13
6:00
PM ET
EARTH CITY, Mo. -- The
St. Louis Rams
were unable to coax Brett Favre out of retirement to add to their depth chart at quarterback, so they brought back the man who broke all of his passing records at Southern Mississippi.
On Tuesday afternoon, the Rams re-signed
Austin Davis
and added veteran
Brady Quinn
as potential backups for newly installed starter
Kellen Clemens
.
Clemens is the starter against Seattle, and very likely the foreseeable future, but for now the Rams are working quickly to get Davis or Quinn up to speed should something happen to Clemens on Monday night.
[+] Enlarge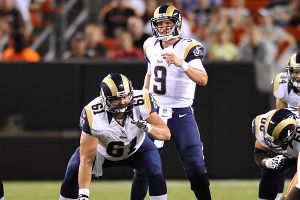 AP Photo/David RichardQB Austin Davis' time with the Rams in the preseason will help him if he is forced into action.
The logical option to serve as Clemens' backup is Davis, who spent the 2012 season as the third-stringer behind
Sam Bradford
and Clemens. The team originally signed Davis as an undrafted free agent after a decorated career at Southern Miss.
Davis has the most knowledge of coordinator Brian Schottenheimer's offense, and the Rams wouldn't have to limit their play-calling as much if he were to step in.
"Fortunately he was here and he stayed in shape and was working out," Rams coach Jeff Fisher said. "It just makes it that much easier when you've got a guy in that spot that knows what he's doing. It makes it that much easier for the play-caller.
"In the event that something happens, he can go in and put himself in position to execute some plays, as opposed to somebody that goes in with a really small package (of plays)."
It didn't take much for the Rams to get Davis back in the fold. After he lost the backup job to Clemens in training camp and the preseason, Davis spent a week on Miami's practice squad, but otherwise had been spending his time in St. Louis helping coach at a local high school.
Davis attempted to stay sharp by throwing to the members of the Westminster Christian Academy in Town and Country, Mo. and working out. He had a few auditions with other NFL teams, including one with the
Houston Texans
on Monday.
Ultimately, returning to the Rams was a no-brainer, even if it meant coming on the heels of a season-ending injury to Bradford.
"I'm glad to be back," Davis said. "It's been a tough (seven) weeks. It feels like it's been two years, kind of sitting around, waiting, just trying to get back in any way you can. But it feels good."
In two practices since his return, Davis has had little trouble getting re-acclimated to the offense. While he had to turn in his iPad playbook after his release, he was never in another place long enough to forget what he had learned in St. Louis.
Although Davis missed an opportunity to win the backup job in the summer, a job that would have him in line to be the starter now, he said it's not something he thinks about much now.
"Probably the biggest thing to being back here is I know the system," Davis said. "The terminology's all familiar. We just kind of hit the ground running, and in a way it feels like we never left."
Quinn, meanwhile, has a much harder road to get up to speed to where he could contribute. The
New York Jets
released Quinn on Monday, ending his tenure with his fifth NFL franchise.
The 2007 first-round pick of Cleveland is now at his sixth NFL stop, so he has much more terminology and offensive concepts swimming around in his head.
Quinn believes he can learn the Rams' scheme quickly, but he said learning the language isn't as hard as getting on the same page with his receivers.
"There's a lot of things that happen in a football game, so you want to get adjusted to the receivers and tight ends and running backs, how they cut, how they move, that makes a big difference as far as ball placement and timing and those sorts of things, and it has a huge effect on our offense," Quinn said. "That was the biggest thing. It doesn't take a ton of time to understand what you are trying to do with each play and maybe how to read the play. It's just getting it down with the personnel you have."
Having been exposed to the business side of the NFL recently (and many times in Quinn's case), Quinn and Davis aren't allowing themselves to think about what the future could hold.
The Rams could use a viable backup long term, but before any visions of a more permanent job can dance in their heads, both players have much more important orders of business.
"I try not to look too much further ahead, especially in this business and the way my year has been so far," Quinn said. "I am just trying to do the best I can with each day and try to get better."
October, 22, 2013
10/22/13
6:30
PM ET
EARTH CITY, Mo. -- The
St. Louis Rams
added a couple of quarterbacks to their depth chart Tuesday when they decided to bring back Austin Davis and add veteran
Brady Quinn
.
When we discussed the options for possible backups to
Kellen Clemens
on Monday, I cautioned that any adds the team made at the position probably wouldn't move the needle much.

The NFL right now is devoid of talented backup quarterbacks, heck, some teams are struggling to find even a viable starter -- anyone watching Minnesota last night or Jacksonville all year knows what I mean. So it's not surprising that any additions made with quarterbacks coming from free agency would likely be moves that don't move the needle much.
From the Rams' perspective, adding Davis and Quinn makes sense. Remember, neither player is expected to come in and play right away or maybe even at all if Clemens can stay healthy and fare well enough to keep a hold on the starting job.
In Davis, the Rams get a quarterback who knows coordinator Brian Schottenheimer's offense and has the ability to extend plays with his legs. Should something happen to Clemens in the interim, the Rams would be able to do a bit more schematically with Davis and not be as limited if he came into the game.
Quinn brings a more veteran presence and is a guy the Rams actually had interest in before he signed in Kansas City last year. It'll take him a bit longer to get familiar with the Rams' offense, but if needed, he at least can provide some stability and experience.
Still, in a league where quarterbacks are hard to find, Davis and Quinn were available for a reason. Davis had his chance to win the job now occupied by Clemens and was unable to make the strides necessary to do so. Neither player should be expected to be a savior, nor do the Rams look at them as such. The Rams are putting their faith in Clemens, the quarterback on the roster who has both experience and a knowledge of the offense, traits that can only be found separately in Quinn and Davis.
Whatever success the Rams have the rest of this season is unlikely to have much to do with the moves they made Tuesday and far more to do with Clemens and the rest of the starters on both sides of the ball.