St. Louis Rams:

Brian Quick
December, 3, 2013
Dec 3
3:30
PM ET
ST. LOUIS -- A look back at the
St. Louis Rams
' 23-13 loss to the
San Francisco 49ers
after reviewing the All-22 game film.
Instead of breaking down a big play and a hidden play this week, we'll just dive right into observations and general thoughts from the game.
November, 18, 2013
Nov 18
8:00
AM ET
ST. LOUIS -- Brian Quick is without question one of the most intriguing players on the St. Louis Rams roster.
Quick's combination of size and athleticism make him the one wide receiver on the team who, at a glance, has the potential to be a No. 1 receiver. Of course, any discussion of such a role would be folly at this point in his career given that there have only been small flashes of said talent in his first season and a half plus.
We've previously discussed the expanded role of Quick in the offense as the season has developed but let it not go without mention how valuable he has been to the offense even if it hasn't necessarily been because of big receiving numbers.
Quick is, without question, the team's best blocking wide receiver. For evidence, one need look no further than Tavon Austin's 81 yard catch and run touchdown against Indianapolis.
"He's doing a lot of things that maybe don't make the headlines, but are helping us win," quarterback Kellen Clemens said. "You look at the long touchdown that Tavon had, the catch and run. There's a reason why that entire half of the field was wide open when he turned the corner. It's because Brian Quick took his man and put him into the Gatorade cooler. He really did. Go back and watch it. It's awesome. It's awesome to watch. He's doing a great job. He's got a role on this football and he's doing a great job in that role."
That role is allowing Quick to stay on the field even as he continues to feel his way through the other aspects of the game. One of the major points of emphasis for Quick has centered on using his 6-foot-3, 220-pound frame to be a physical presence on the field. Much of that emphasis has been focused on Quick battling for contested catches or outmuscling smaller defensive backs for the ball.
While there have been glimpses of that, Quick does seem to be embracing the chance to get down and dirty as a blocker.
"You go back and watch No. 83 you're going to see a few of them," Clemens said. "He's a good player. He's a complete player, obviously still a lot of room for him to continue to develop because he's got a lot of ability. But, we really like the progress that he's made and the potential that he's showing."
The Rams can only hope that Quick's recent surge as a blocker is a harbinger of things to come when his chances to catch the ball arrive on a more regular basis.
Bye weekend roundup:
Here on ESPN.com, we offered up a weekend
TV guide
. Hope everyone enjoyed the games from the weekend even if it was difficult to get through without a Rams game.
At 101sports.com, home of 101 ESPN radio in St. Louis, former Rams receiver Torry Holt
expresses
his disappointment in Rams tight end Jared Cook and Quick.
Speaking of 101 ESPN, I had a blast filling in as a co-host for the morning show on Thursday and Friday. Full audio of those shows with plenty of Rams discussion involved can be found
here
.
A little late on this but the man they call the Stats Doctor at 101 ESPN,
provides
a look back at the Rams-Colts game from a statistical perspective.
At stltoday.com, Jim Thomas takes an
interesting look
at how the departed Rams from the 2012 team are faring in new locales.
Thomas also evaluated the performance of Clemens in his
three starts
since taking over for quarterback Sam Bradford.
From Turf Show Times, an interesting piece on the use of
bunch formations
around the league with some concentration on the Rams.
They also take a look at the
potential value
in bringing Clemens back for another year in 2014.
This
storyline will get plenty of play this week, including in this space, but Dan Pompei takes a good look at Bears offensive tackle Kyle Long.
The Associated Press
discusses
the Rams defense and how its core was already in place when Jeff Fisher arrived.
More from the AP: Austin
gives
the Rams a much needed play maker.
At stlouisrams.com, Jonathan Webb posits that the Rams' youth movement is doing
better
than expected.
More there, the
video highlights
of Austin from his breakthrough performance.
October, 22, 2013
Oct 22
7:30
PM ET
EARTH CITY, Mo. -- A look back at the
St. Louis Rams
'
30-15 loss
to the
Carolina Panthers
on Sunday after reviewing the coaches' film.
Big Play:
On the Rams' first offensive play from scrimmage, Carolina defensive back
Captain Munnerlyn
intercepted Rams quarterback
Sam Bradford
and returned it 45 yards for a touchdown and a 7-0 lead the Panthers would never relinquish.
There wasn't much fancy about how this went down but the end result was a killer for the Rams and a possible 14-point swing.
With two receivers split out,
Brian Quick
to the left and
Chris Givens
to the right,
Zac Stacy
at running back,
Cory Harkey
at fullback and a tight end, the Rams came to the line against Carolina's single-high safety look with both corners playing off.
Before the snap, Panthers safety
Quintin Mikell
creeped into the box as Givens motioned further into the slot. Bradford took the snap, faked a handoff to Stacy and looked to windup for a deep pass.
Givens ran a deep in route and Quick a deep post. The safety stayed underneath providing help on Givens. Meanwhile, Quick ran past Carolina cornerback
Josh Thomas
. Bradford prepared to throw it deep to Quick and an accurate throw likely would have gone for a touchdown.
Instead, Stacy's blitz pickup of Mikell rushing through the left side was not horrible but not adequate enough to keep Mikell from getting an arm on Bradford's arm. The ball floated away into the waiting arms of Munnerlyn.
On the ensuing return, the Rams didn't have many chances to prevent a touchdown but left tackle
Jake Long
didn't use the sideline to his advantage on the one clear shot the Rams had.
Instead of a long pass and a potential touchdown to Quick, the Rams found themselves in a 7-0 hole.
Hidden Play:
On fourth-and-goal at Carolina's 1, Bradford throws incomplete for tight end
Jared Cook
as the Rams come away with no point on a first-quarter drive.
Using a play design not much different from one that went for a touchdown against Houston last week, the Rams went with three tight ends, two attached on the right and Cook attached on the left. Cory Harkey lined up at fullback with Stacy behind him.
At the snap, Bradford faked the handoff to Stacy while Cook disengaged from a defender on the left side. But when Cook got off that jam, he found Mikell waiting for him and not budging from coverage.
Fellow tight end
Mike McNeill
came across from the right side but found himself covered by Panthers safety
Mike Mitchell
.
With neither player open, Bradford essentially threw it away and the Rams came up empty.
Other observations:
• Not that there's ever a good time for a serious injury but Bradford's came in a game in which he was playing very well. He threw a pair of beautiful deep balls (one was called back for a penalty) and drilled a 24-yard completion to Quick on a crossing route in the middle of four defenders.
• Stacy showed better pass-catching skills than expected and did some good work after the catch as well. His catch and run for a big gain on a screen was better than anticipated.
• The Panthers' Mitchell sure does celebrate a lot. And it really doesn't take much to get him excited. We all know about the shenanigans after Bradford's injury but Mitchell actually did a similar celebration after tackling Harkey near the sideline on a 6-yard gain.
• The Rams clearly felt they had some opportunities to take advantage of Thomas. Not only did Quick have some ground on him on the play that turned into an interception for a touchdown but
Tavon Austin
beat him on the play called back for tripping and Quick later beat him for a 73-yard gain.
• Speaking of the tripping, from a look at the tape, Jake Long is down on all fours with both legs on the ground and it does appear that he lifts his leg to get the call. The ball is pretty much out of Bradford's hand when it happens and it's a call that is probably one that can go either way but it's also understandable why the call would be made.
• One route that seems to be effective for Rams against the blitz and in general is the use of crossing routes. Bradford hit Givens on one in the face of a blitz and it went for a big gain.
• The near-miss touchdown for
Austin Pettis
would have been a tough catch but it's one Pettis can make. He'd probably like to have that one back.
• Some good moments for Quick and some bad ones. Two bad drops, including a touchdown almost erase the memories of two big gains in other spots. Consistency has been an issue for him and he's still looking for it.
• It's a shame the trip on Austin's touchdown was called because if not for that we'd be recognizing what a good game he had. He caught every ball thrown his way and made a nice diving catch for one of them. Add 63 yards and a touchdown to his total and he had the best game of his young career.
• Excellent play design on the touchdown pass to Stacy. Austin came in motion on what looked to be an end-around and as he ran left, Stacy leaked out to the right. Good call and even better execution.
• The Rams split time almost evenly between
Rodger Saffold
and
Joe Barksdale
at right tackle. On Monday, coach Jeff Fisher complimented Saffold, going so far as to say he was just shy of dominant. From watching, it's hard to disagree. Saffold played quite well, especially for a guy coming back from injury. While Barksdale wasn't bad, Saffold was clearly better.
October, 20, 2013
Oct 20
8:40
PM ET
CHARLOTTE, N.C. –
St. Louis Rams
coach Jeff Fisher had a simple message for his football team after the second-half of a
30-15 loss
to the
Carolina Panthers
turned into a battle royale.
"Don't hurt the football team," Fisher said.
Unfortunately for the Rams, that message was a day late, an ejection of a key defensive player and four flags for unsportsmanlike conduct short.
After a little more than two quarters of chippy play that never really went to the next level, things got out of hand during a sequence that began with 11 minutes, 21 seconds to go. Rams defensive end
Robert Quinn
had responsibility for Carolina quarterback
Cam Newton
on a zone-read play, and Quinn ran through him just as Newton handed the ball off to running back
DeAngelo Williams
.
[+] Enlarge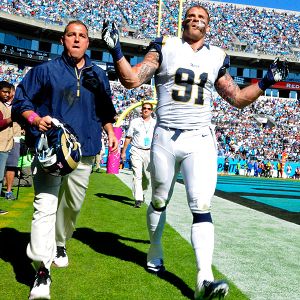 AP Photo/Mike McCarnRams defensive end Chris Long was ejected after throwing a punch at the Panthers' Chris Scott.
"It was a legal hit, just out there trying to make plays," Quinn said. "Say I did pull up and didn't hit him and he pulled the ball out, he could've made a huge play. I was just out there playing football, not trying to do anything to hurt our team."
Newton stayed down on the field and was helped off before returning a play later, but the damage had already been done. From that moment, the rest of the game turned into the type of melee that would have had local wrestling legend Ric Flair "wooing" his way through downtown Charlotte.
The main event came two plays later when Rams defensive end
Chris Long
threw a right cross at right guard
Chris Scott
during a scrum that seemed to last the better part of a couple minutes. In a fracas where many punches and blows were exchanged, Long had the misfortune of throwing the most obvious haymaker. He was penalized and ejected soon after.
"You know how that goes," Long said. "They are always going to get the second guy. I need to be smarter than that. I play this game with a lot of emotion. I won't change that, but there has to be a point where I can reel it in and I can't let people provoke me I can't hurt the team."
Much of the rest of the afternoon's activities turned into an ugly and embarrassing scene for all parties. Long had things thrown at him by Carolina fans as he walked off the field, and the Rams earned three more unsportsmanlike-conduct penalties, two on guard
Harvey Dahl
and another on receiver
Brian Quick
. The Panthers picked up one of their own, a play that forced them to settle for a field goal.
Self-discipline soon became a distant memory, and the Rams allowed themselves to fall into the trap sprung by a Panthers team that didn't hesitate to prance, preen and instigate to provoke them.
"The thing that you've got to do is, you've got to just continue to do that kind of stuff in between the whistles," offensive tackle
Rodger Saffold
said. "It's hard to say that to somebody, especially a grown man who has put his heart and soul into the game, and it's hard to hold back those emotions.
"A play lasts for an average of four seconds? We still have 20, 25 seconds, you have got somebody continuing to egg you on constantly, taunting going on back and forth, things the refs don't see and you retaliate and you get flagged. It's things that can't happen, but I can't say that I don't understand, especially with how the game was going."
While there is something to be said for sticking up for a teammate – who could blame Dahl for going after Carolina safety
Mike Mitchell
after he openly taunted injured quarterback
Sam Bradford
on the Rams' sideline – the Rams simply aren't good enough to overcome in games in which emotions rise to the level they did Sunday.
At the time when everyone seemed to reach their boiling point, the Rams were trailing 17-5 and had a chance to get a stop and get the ball back to their offense to shave it to a one-score game with plenty of time left.
Instead, Carolina went in quickly for a field goal, a touchdown and another field goal after penalties on Dahl and Quick offered the Panthers prime field position. Suddenly, it was 30-12, and the Rams never really threatened again.
"People think because the game is over those emotions are gone," Saffold said. "Those emotions are held inside of us. That fire is what's going to make us come back even stronger and faster."
Stronger and faster would be good, but smarter would be even better.
October, 17, 2013
Oct 17
5:30
PM ET
EARTH CITY, Mo. -- Slowly but surely,
St. Louis Rams
wide receiver
Brian Quick
is becoming a more prominent part of the team's offense.
Through six weeks, Quick has yet to put together a series of standout plays in a game but in each one, he's had a play or two that's drawn attention. Not all of them have been good but it seems the expanded playing time and increased opportunities are doing positive things for his mentality.
[+] Enlarge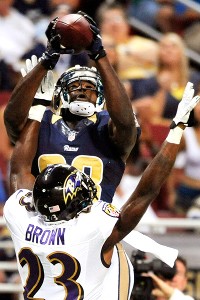 AP Photo/Bill BoyceBrian Quick showed signs of progress in training camp and has seen an increased role with the Rams.
"It's always good to get in there," Quick said. "The more I play, the more confidence I build. I'm basically getting my plays in and I feel much more comfortable."
So far this season, Quick has played 128 offensive snaps, well ahead of the 47 he'd played at this point a year ago and not far off from the 174 he logged all of last season. His production so far is decidedly modest with seven catches for 99 yards, though six of those grabs have gone for a first down.
Waiting patiently for Quick has been a difficult task for Rams fans after the team used the first pick of the second round in the 2012 NFL draft on him. Hopes have been high that Quick would turn into the top-tier receiver who would accompany that lofty draft status.
The Rams, though, have taken a more cautious approach with Quick, who entered the league as a gifted but unrefined product out of tiny Appalachian State. When the Rams attempted to work him in as a rookie, he struggled to reliably run the right routes and make the proper pre-snap adjustments.
Those issues kept Quick on the sideline most of his rookie year. He showed signs of progress in this year's training camp but has yet to reach the point where he's instinctively doing all the right things all the time despite an increased role.
He missed a sight adjustment with quarterback
Sam Bradford
against Houston and summarily had the ball hit him squarely in the back on a play that should have been an easy completion.
"You have just got to put it behind you," Quick said. "Every play when it's over you have to put it behind you, good or bad. You have to move forward. I feel like I had an OK game but I'm moving forward from it and getting better."
It was a play that a year ago might have killed Quick's confidence in himself or worse, the coaches' confidence in him. Instead, he got more opportunities and rewarded that faith with a 4-yard touchdown catch.
"You have got to overcome things and you see how strong someone is after that," Quick said. "I feel like I came back strong."
Quick is far from a finished product, but this year he has made the step from flashing his potential almost solely on the practice field to showing it on game day.
It hasn't hurt Quick's case for more snaps that he seems to be one of the team's most eager run blocking wideouts. At 6-foot-3, 220 pounds, Quick has the big frame that with some technique work could make him a strong blocker on the outside.
The Rams' recent shift to a power running attack has left them using more personnel groupings with just two receivers. It's a shift that has left players like rookie
Tavon Austin
and tight end
Jared Cook
on the sidelines more than usual.
It's also one that has created more chances for Quick.
"I feel like I have a big body and with my size I can go out there and block and help create running lanes on the outside," Quick said. "I feel like I have improved my run blocking."
Whether it's as a run blocker or running routes and catching passes, any chance Quick gets to step on the field is another opportunity to prove he belongs.
August, 30, 2013
Aug 30
12:00
PM ET
A few, quick leftover observations from the
Rams' 24-21 win
against Baltimore in Thursday night's preseason finale:
• Rams coach Jeff Fisher was thoroughly disgusted by the continued mistakes of his team in the first half against the Ravens. They finished with 17 penalties for 123 yards and Fisher voiced his displeasure at halftime. Although the bulk of the penalties were coming from players who likely won't make the final roster, it has to be a concern when you fumble three times in the opening five minutes and each fumble came from a player (receivers
Brian Quick
and
Tavon Austin
and running back
Isaiah Pead
) expected to contribute in the regular season.
[+] Enlarge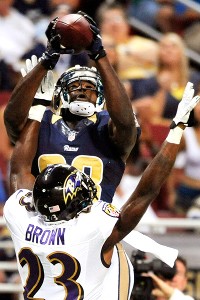 AP Photo/Bill BoyceBrian Quick had a busy night Thursday with five catches on six targets.
• Quick did bounce back with a solid performance in the first half as a repeated target of quarterback
Kellen Clemens
. He finished with five catches for 60 yards while being targeted six times. He probably should have hauled in that sixth catch too as he struggled to drag his feet in bounds and haul it in at the same time. Quick is hopeful that he's done enough to earn a role in the offense when the season starts. I believe he's earned a chance to get worked in but I also believe that Fisher isn't going to put Quick into that role on a more permanent basis until he's convinced that Quick can be consistently successful.
• In the competition for the backup quarterback job, Clemens and
Austin Davis
each probably had his best outing of the preseason though Clemens' effort was probably the best by either during the exhibition slate. He kept plays alive with his legs and was getting the ball downfield on a consistent basis. It still seems logical that the Rams would do what they did last season and release Clemens and bring him back after Week 1 on a nonguaranteed contract but he certainly helped his cause to be the No. 2 guy if the Rams opt to go that route.
• Safety
Matt Daniels
was all over the place in Thursday night's game, coming up with an interception, making tackles on defense and special teams and just being around the ball in general. The competition at safety is an interesting one and Daniels was probably in good shape to make the 53 before last night but Daniels' efforts might have sewed up a spot.
• Competition for a possible sixth receiver spot didn't gain a ton of clarity as
Justin Veltung
and
Nick Johnson
both had their moments. There's still a real chance the Rams will only keep five and Veltung and Johnson could both go to the practice squad.
• Nice night for tight end
Mike McNeill
, who also finds himself in a battle for roster positioning. It's entire possible the Rams keep five tight ends, especially if they only keep five receivers. McNeill would almost certainly be one if they keep five but his two catches for 48 yards probably bolstered his chances to be No. 4 in the pecking order if the Rams opt to keep that many.
• Should the Rams keep nine defensive linemen as they did last season, they have a tough choice between the versatile
Mason Brodine
and rookie
Gerald Rivers
. Brodine scooped up a fumble and generated some pressure against Baltimore. Rivers was active again, coming up with a sack and six tackles. The decision boils down to whether the Rams believe they can sneak Rivers through to the practice squad given the strong film he's put out for other teams to see. If they do, Brodine probably makes it because of his ability to play inside and out. If not, Rivers might make the 53 outright.
• Will the Rams keep four running backs, not including the suspended Pead?
Daryl Richardson
,
Zac Stacy
and
Benny Cunningham
appear locked in for roster spots. I mentioned
Chase Reynolds
as a possibility to make it for at least one week in Pead's absence and he did nothing to hamper that last night. Reynolds had a fumble recovery and scored the winning touchdown on a 17-yard catch and run late. He's been a staple on the first unit special teams throughout preseason and might have earned a job on the initial 53.
August, 22, 2013
Aug 22
1:47
PM ET
EARTH CITY, Mo. -- Entering his fourth season in the league,
St. Louis Rams
quarterback
Sam Bradford
feels like the wise old man of the offense.
When Bradford stops and looks around the locker room or huddle he sees a group of youngsters, particularly in the wide receivers and running backs, only a year or two removed from being in college.
[+] Enlarge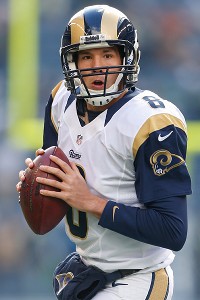 Otto Greule Jr/Getty ImagesRams quarterback Sam Bradford has grown comfortable in Brian Schottenheimer's offense and is ready to share his knowledge with the rest of the offense.
Not that Bradford minds being considered a veteran on a young team.
"It makes me feel old, No. 1," Bradford said. "But, I think it's great. I think those young guys bring a certain energy to our locker room. They've got a lot of energy. They've got more than some of the vets and it's great. I think it gives us a spark."
Although Bradford does have some help in the leadership department from a veteran offensive line that includes tackle
Jake Long
, guard
Harvey Dahl
and center
Scott Wells
, a big part of his responsibility moving forward is embracing a leadership role to ensure the young players surrounding him reach their potential sooner than later.
Upon the departure of running back
Steven Jackson
, Bradford quickly realized a leadership void beyond just the opening at running back had been created. He's embraced that role in this camp as he can regularly be found offering pointers to his receivers during practice or working extra with them afterward.
"It's fun for me because I get to take more of a leadership role and try to help mold some of those young players and teach them the game and teach them through experiences that I've had," Bradford said. "I think it's great that we have a lot of young guys. I think it gives us an opportunity to take a lot of steps forward."
The reality is that Bradford probably wasn't as equipped to take the reins as the primary voice of the offense until this season. Not only was Jackson the more established veteran but Bradford continued to find himself in a position where he never had the chance to learn all the ins and outs of the offense.
Changing offensive coordinators three times in his first three years left Bradford trying to play catch up. It's made it difficult for him to offer advice to his receivers and backs because he's been working to learn it himself.
Now in his second year in coordinator Brian Schottenheimer's offense, Bradford seems more at ease with his role. The timing of that couldn't be better given how young his wideouts and backs are.
Projecting a receiver and running back corps with an average age of 23 might be fun in terms of the locker room but it also means the Rams and Bradford have high expectations for young players at a position where youth doesn't always quickly translate to success.
Rookie and young running backs have a long history of producing right away. Just last year, two of the league's top five rushers (Washington's
Alfred Morris
and Tampa Bay's
Doug Martin
) were rookies. That could bode well for second-year back
Daryl Richardson
and his young cohorts.
The receiver spot is a bit more difficult to make an early impact save for a select few. Among the top 20 in receiving yards in 2012, only three were in their second year but none were rookies.
Austin Pettis
is the elder statesman of the receiver group entering his third season in the league.
Chris Givens
and
Brian Quick
are heading into Year 2 and
Tavon Austin
and
Stedman Bailey
are rookies.
Tight end
Jared Cook
should ease some of the pressure on those young receivers a bit, but it still might be asking a lot for such a young group to contribute in a major way so early in their careers at a position where that's generally been difficult.
Bradford is aware of that, but he's also made it clear he doesn't plan to wait around for them to develop.
"I think there's obviously a certain level of patience that you have to have," Bradford said. "Obviously, we're going to go through growing pains, but at the same time those guys have to understand what they're expected to come in and do -- and that's play at a high level. I think that we've tried to make that clear to a lot of the rookies, especially on the offensive side of the ball. They might be rookies, but they have to grow up fast because we are depending on them for our offense to be successful. So, we can't afford them to have a season of learning. They've got to be able to come in and help us immediately."