St. Louis Rams:

C.J. Mosley
May, 9, 2014
5/09/14
7:00
AM ET
EARTH CITY, Mo. -- Much has been made of
St. Louis Rams
coach Jeff Fisher's history of passing on offensive linemen in the first round as a head coach. Entering Thursday night, Fisher had held 17 picks in the first round as a head coach and never selected one in the opening round.
But Fisher long insisted that his avoidance of linemen in the first was not intentional and more a matter of circumstance. His Titans/Oilers teams had players like Brad Hopkins entrenched in their spots.
[+] Enlarge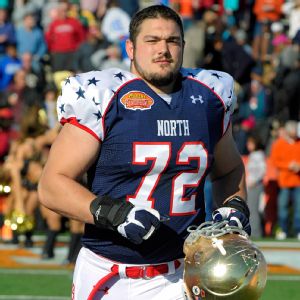 AP Photo/G.M. AndrewsThe Rams pursued avenues to land Zack Martin, which would've given them two offensive linemen from their first-round haul.
On Thursday night, Fisher bucked the trend and darn near blew it away completely by taking not one but two big uglies for his offensive line.
After using the No. 2 overall pick on Auburn offensive tackle
Greg Robinson
, the Rams were surprised to see a few of their favorite targets tumble down the board to their second pick at No. 13. Pittsburgh defensive tackle
Aaron Donald
was ultimately too much value for the Rams to pass up but had he been gone, the Rams would have gone the way of San Francisco circa 2010 and doubled down on offensive linemen.
The target was Notre Dame's
Zack Martin
, a player the Rams had been eyeing as a possible pick for some time. Even after passing on Martin, though, the Rams almost made the boldest of moves to add him to the haul that already included Robinson and Donald.
"We actually made an effort just a few minutes ago to go back up to try to get Martin but we were unsuccessful," Fisher said.
After the Rams took Donald, Chicago drafted Virginia Tech cornerback
Kyle Fuller
and Pittsburgh grabbed Ohio State linebacker
Ryan Shazier
. The Rams commenced conversations with Baltimore at No. 17 about moving up for Martin.
That would have meant a move from the second round at No. 44 overall and probably cost the Rams a boatload of picks or, perhaps, a first-round pick in 2015.
"It would've been pricey but worth it," Fisher said. "It was a good pick for the Cowboys."
Dallas quickly stamped out that possibility by drafting Martin at No. 16. Another player the Rams really liked at No. 13, Alabama linebacker
C.J. Mosley
, remained on the board and also had the Rams' attention but the Ravens took him right after Martin went to the Cowboys.
"They all went," general manager Les Snead said. "I had left and then I came back and said, 'Mosley went right after Martin.' When we got down to two, it was those three. Donald was No. 1 and it worked out for us."
As for a possible trade with the No. 2 pick, Snead said nothing ever got too serious though Buffalo, which eventually traded up to No. 4 from No. 9, did inquire.
"They were probably the one team that was the most motivated," Snead said.
May, 8, 2014
5/08/14
4:00
PM ET
EARTH CITY, Mo. -- We're here, we're finally here. It's the first day of the NFL draft and we can finally toss aside the rumors and sift through the smoke as teams draft real, live football players.
With that in mind, here are some things I believe will happen in the next few days. Some are directly related to the
St. Louis Rams
, some are draft focused.
-- I believe South Carolina defensive end
Jadeveon Clowney
will end up as the No. 1 pick, whether it's to the
Houston Texans
or a team trading up to get him.
-- I believe these players will go in the top 12 picks before the Rams come on the clock at No. 13 (no order): Clowney,
Greg Robinson
,
Sammy Watkins
,
Jake Matthews
,
Khalil Mack
,
Taylor Lewan
,
Mike Evans
,
Aaron Donald
,
Zack Martin
,
Johnny Manziel
.
-- I believe that leaves two spots for wild cards to go in there somewhere. Candidates for those two spots would include
Eric Ebron
,
Blake Bortles
,
Ha Ha Clinton-Dix
,
Justin Gilbert
,
Darqueze Dennard
, Anthony Barr, Odell Beckham Jr. and
C.J. Mosley
.
-- I believe the Rams' ideal scenario for their early pick is to trade down and land Matthews.
-- I believe the Rams won't use a first-round pick on a safety unless they trade down from No. 13.
-- I believe it would be a mistake for the Rams to trade down any lower than No. 7 and a bigger mistake if they moved that far for a package that didn't include more than a second-round pick.
-- I believe at least four quarterbacks will go in the first round with a lot of trade activity near the end of the round with teams trying to move back in to get their guy. Georgia's
Aaron Murray
won't be one of those guys most likely but I do believe he could go as high as the second round.
-- I believe the Rams will draft a quarterback, most likely in Round 3 but possibly as early as the second.
-- I believe the Rams will draft a wide receiver with one of their 12 picks but if they don't land Watkins or Evans, they'll wait until the later rounds to do it.
-- I believe Mosley is a potential surprise choice for the Rams should he fall to No. 13.
May, 8, 2014
5/08/14
1:30
PM ET
EARTH CITY, Mo. -- We've finally arrived at draft day and the next few hours will provide our final chances at speculating on what could happen instead of evaluating what has happened.
With that in mind, let's make the most of that time and go through five scenarios that could play out for the
St. Louis Rams
with the No. 13 pick when they come on the clock tonight. Since there are many more possibilities at 13, we'll do our best to narrow them down.
It's been awfully difficult to sift through the smoke in this pre-draft process, but these are the five things I believe the Rams will consider for the 13th pick in order of how I think the team will prioritize them.
1. Trade down
Manziel
Once again, this is general manager Les Snead and coach Jeff Fisher we're talking about here. They have traded every first-round pick they have had since arriving in 2012. There is no reason to think they wouldn't do so again.
It's harder to project who teams could target in a move up here, but if one of the top players falls, there are plenty of teams that could look to move up. A top quarterback such as Texas A&M's
Johnny Manziel
or Central Florida's
Blake Bortles
might draw some attention, as could a top offensive lineman like Notre Dame's
Zack Martin
or Pittsburgh defensive tackle
Aaron Donald
.
If they make a trade, the Rams could still likely have their pick of a top cornerback, safety, linebacker or another position of need.
2. Draft a top player who surprisingly falls
Donald
Much has been made of the potential for the Rams to draft Manziel. While it's likely he'll be gone by this point, if he does fall, they'd probably at least have the conversation though a trade could be more likely. There are other top players who seem destined to go in the 12, but could slide to St. Louis and become intriguing options.
In our
NFL Nation mock draft
, Donald slipped to 13 and I chose him for the Rams. I think they would do the same if he somehow made it to them but again, that is not expected because three-technique tackles capable of rushing the passer are so hard to find.
3. Draft the best player available
Mosley
This isn't much different than the above category with this exception: in this instance, I'm not accounting for a player who would be regarded as a surprise should he fall to this spot. Heading up the list of players worth watching at this spot is Alabama linebacker
C.J. Mosley
. He hasn't been linked to the Rams much in the pre-draft process (though our Todd McShay has mocked him to St. Louis a couple of times) but I've been told the Rams think highly of him and believe he could be the perfect final piece to round out their linebacking corps.
Martin is another player who fits this mold and could be an easy pick for the Rams here, especially if they don't take a tackle with their earlier pick.
4. Draft a top cornerback

Dennard
It is not often that needs meet value perfectly, but this is one spot in the draft where that could happen. The Rams seem content with
Janoris Jenkins
and
Trumaine Johnson
as starters but they have also spent plenty of time vetting the top cornerbacks in this year's draft. Oklahoma State's
Justin Gilbert
, Michigan State's
Darqueze Dennard
and Virginia Tech's
Kyle Fuller
are among the names that paid pre-draft visits to Rams Park, and it's possible all could be available at this point.
If that's the case, the Rams could have a decision to make if they choose to go this direction. Although Dennard is believed to be the best scheme fit, I believe the Rams might view Gilbert as the better player. Adding a top corner here would certainly help a secondary in need but it seems other top players at positions of lesser need would have to be gone first. A first-round corner feels more likely in a trade down scenario but the Rams could go that direction here if there isn't a better value here.
5. Draft a safety

Clinton-Dix
Most signs indicate that the Rams aren't sold enough on either of the top two safeties -- Louisville's
Calvin Pryor
or Alabama's
Ha Ha Clinton-Dix
-- to draft one at No. 13 considering the other options that figure to be available. Again, this seems like an alternative possibility should the Rams find a trade-down partner with this pick. For what it's worth, I believe the Rams actually prefer Pryor to Clinton-Dix, but most indications are that they are more likely to wait until the second or third round to pick this position.