St. Louis Rams:

Cam Newton
January, 9, 2014
Jan 9
1:30
PM ET
ST. LOUIS --
Carolina Panthers
quarterback
Cam Newton
will make his first career postseason start Sunday against the
San Francisco 49ers
. In doing so, he will become the fifth quarterback taken No. 1 overall in the NFL draft since 2004 to start a playoff game.
There are nine active quarterbacks that went first overall in the draft in the league right now. After Sunday, there will be just one who has yet to make a playoff appearance: the Rams'
Sam Bradford
.
Bradford
Newton will join
Peyton Manning
,
Michael Vick
,
Carson Palmer
,
Eli Manning
,
Alex Smith
,
Matthew Stafford
and
Andrew Luck
as former No. 1 picks to start a playoff game. All but Stafford, Palmer and, obviously, Newton have won a playoff game.
It's worth noting that in that time, there are other No. 1 quarterbacks who flamed out.
Tim Couch
,
David Carr
and
JaMarcus Russell
are no longer in the league.
For Bradford, the closest he's come to a playoff appearance came in his rookie season. That year, Bradford helped the Rams to a 7-9 record with only a season-ending loss at Seattle keeping them from winning the NFC West division and landing in the postseason. In what amounted to a de facto playoff game, Bradford had one of the worst performances of his rookie season, going 19-of-36 for 155 yards with no touchdowns and an interception for an abysmal QBR of 8.4 as the Rams lost 16-6.
Since, the Rams haven't again sniffed a postseason appearance. Of course, the blame for the lack of playoff berths goes well beyond Bradford. It also pre-dates him to the team's last playoff appearance in 2004.
St. Louis has one of the league's longest streaks of seasons without a playoff bid. Bradford's tenure in St. Louis has mostly fallen in line with the team. In the lost 2011 season, Bradford dealt with an ankle injury and struggled when he was on the field. In 2012, Bradford managed to stay healthy and the Rams improved to 7-8-1.
This year, Bradford tore an ACL in Week 7 against Newton's Panthers and the Rams dipped slightly to finish 7-9 -- though Bradford had seemed to find himself some in the three games before his injury.
Of the quarterbacks on this list, Bradford's career trajectory most closely resembles Smith's to this point. Both players went through a number of coordinator and scheme changes and both had their share of self-inflicted struggles.
San Francisco drafted Smith first overall in 2005 but didn't make his playoff debut until 2011. If Bradford followed a similar timeline, his first postseason appearance would come in 2016. Although the Rams have made it clear they're committed to Bradford as the quarterback of the present and, potentially, the future, the 2016 season would coincide with the end of Bradford's rookie deal.
If Bradford hasn't led the Rams to the playoffs by then, chances are any hopes of doing it in St. Louis would decrease significantly.
October, 18, 2013
10/18/13
12:00
PM ET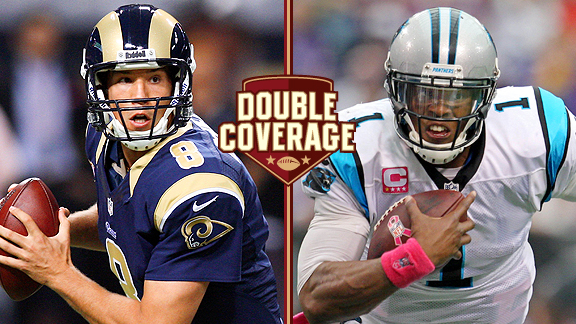 USA TODAY SportsQuarterbacks Sam Bradford and Cam Newton led their teams to victory last week.
The
Carolina Panthers
and
St. Louis Rams
put on an offensive showcase in a 2003 NFC divisional playoff game at the Edwards Jones Dome. The Rams overcame an 11-point deficit in the final 2:39 of regulation and the Panthers ended the 29-23 double-overtime thriller with a 69-yard touchdown catch by
Steve Smith
.
They were two teams loaded with offensive weapons, from St. Louis'
Marshall Faulk
and
Isaac Bruce
to Carolina's Smith and
Stephen Davis
. They had identities.
Fast-forward 10 years to Sunday's game at Bank of America Stadium, where both the Panthers (2-3) and Rams (3-3) are searching for an identity. ESPN.com Panthers team reporter David Newton and Rams team reporter Nick Wagoner are here to break down the 2013 version of this matchup:
David Newton:
Nick, it seems both teams have been waiting for their quarterbacks to become consistent winners since they were drafted No. 1, St. Louis'
Sam Bradford
in 2010 and Carolina's
Cam Newton
in 2011. Why has it taken so long for Bradford to get there, if he is?
Nick Wagoner:
Well, I don't think he is there yet. This is the first year Bradford has had any sort of continuity in terms of scheme, and in the past he's dealt with a mediocre receiver corps and offensive lines that aren't much better. He's not devoid of blame, though. Bradford has had issues in the past with going through progressions and locking onto receivers, among other fundamental problems. He's been up and down this year, but has done a really good job of protecting the ball. Now that the Rams seem to have some semblance of a competent running game, he's been better in the past couple of weeks.
Ultimately, the jury is still out on whether he's the long-term answer, but if he can continue to take care of the ball and toss touchdown passes in leading the Rams to more wins, that picture suddenly gains clarity.
I'm going to ask you to try to analyze Newton. From afar, it seems he struggles with consistency. Is that the case and how do you think he's adjusted to life after Rob Chudzinski?
Newton:
Cam Newton's consistency remains a question. Yes, his career-high 143.4 passer rating against Minnesota in Game 5 was impressive, but do you know the last time he topped 100.0 in consecutive weeks during the first six games? Never. Sunday was only the second time this season he completed more than 60 percent of his passes and only the eighth in the past 21 games. His passer rating looks like a yo-yo -- 97.3 to 79.8 to 104.4 to 47.8 to 143.4.
As for life without Chudzinski, it has been a learning process. New offensive coordinator Mike Shula is attempting to go with a more traditional ground game out of the I-formation, but each week he's figuring out better ways to utilize his quarterback's natural abilities. In the long run, he'll make Newton a better quarterback who will have a much longer career relying on his arm more than his legs.
While we're on offense, Carolina's running game ranks seventh in the NFL and the Rams rank 30th against the run. Is this misleading or an area you expect the Panthers to exploit?
Wagoner:
Without question, it's the latter. Carolina would be silly not to attack heavily in the run game. The Rams' problems really seem to come in the back seven. Linebacker
Alec Ogletree
has trouble getting off blocks and is inconsistent tackling, and the Rams aren't getting reliable run support at safety.
Darian Stewart
has filled in for rookie
T.J. McDonald
and has really struggled. On top of that, the Rams continue to have issues with being consistently assignment-sound with everyone fitting the proper gaps on run plays.
The Rams' offense, on the other hand, has started to find success in recent weeks with rookie
Zac Stacy
as the lead back. Carolina has been quite good statistically against the run. Not that the Panthers were bad against the run last year, but what allowed them to go from middle of the pack to upper tier in that area, and do you think that level of success will be sustained over the course of the year?
Newton:
First, yes, the Panthers can sustain it. No question the front seven is one of the best in the league. The addition of first-round pick
Star Lotulelei
and second-round pick
Kawann Short
at tackle has been key, particularly Lotulelei. He has been as disruptive in the middle as any tackle the Panthers have had since
Kris Jenkins
was a four-time Pro Bowl selection here. End
Greg Hardy
has stepped up his game as well, even though statistics might not show it.
Then there is the real strength of this group, the linebackers. Trading
Jon Beason
to the Giants has been a positive. With Beason out and
Chase Blackburn
in, defensive coordinator Sean McDermott has had more flexibility with his schemes.
Thomas Davis
is playing more on the weak side, where Beason was, and has three sacks over the past three games. He has never had more than 3.5 in a season. Blackburn can play either spot as well. And while his tackles are down because Davis and Blackburn have been making so many plays, middle linebacker
Luke Kuechly
continues to perform at the level that earned him the NFL Defensive Rookie of the Year a season ago.
This unit is fundamentally strong. It doesn't need a lot of elaborate blitzes to stop the run or pressure the quarterback. Just ask
Adrian Peterson
how good the Panthers are. He had a season-low 62 rushing yards, and 31 of those came on one carry.
An area that rarely gets discussed in Double Coverage is special teams. Panthers kicker
Graham Gano
, who has been flawless on field goals, has had only one kickoff
not
reach the end zone all season. How key have special teams been for the Rams?
Wagoner:
The Rams' special teams have been alternately excellent and awful. They have perhaps one of the best coverage units in the league, with punter
Johnny Hekker
and kicker
Greg Zuerlein
having been nearly flawless in their respective disciplines and the young cover guys getting down the field and making tackles consistently. But the Rams have racked up 18 special-teams penalties, with the bulk of those coming on punt returns. That has been maddening for them because many of those infractions have wiped out long returns from rookie
Tavon Austin
. Progress was made Sunday in that regard, and the Rams even got a touchdown on kick coverage against Houston. The talent is in place in all areas of the special teams. They just need to keep eliminating mistakes and be more consistent.
Getting back to Carolina's defense, I see that the Panthers haven't been too shabby against the pass this year, either. Does that group have any real weaknesses or areas that opponents have been able to exploit? If so, what are they?
Newton:
The secondary was suspect before the season and even into the first two games. Since injuries shook things up in Week 2, the Panthers have found the right combination and been solid. They give up passes underneath, as their 68.4 completion percentage -- second worst in the NFL -- attests. Minnesota took advantage last week when
Matt Cassel
completed 32 passes. But Carolina tackled well and held most of those to short gains.
If I had to pick one weakness, though, I would say left cornerback
Josh Thomas
. He's solid against the run but soft at times against the pass. If the Rams are to put many points on the board they'll definitely have to do it through the air.
.
October, 17, 2013
10/17/13
3:00
PM ET
CHARLOTTE, N.C. --
Cam Newton
obviously wasn't interested in comparing his NFL career with
Sam Bradford
's.
"First off, I don't want to be compared to no other quarterback,'' the
Carolina Panthers
quarterback said when asked about the parallels between his career and his counterpart from St. Louis. "No disrespect to Sam Bradford. I just feel as if I'm my own player.
Newton
Bradford
"We all have challenges in itself as a quarterback in this NFL. Nothing's perfect. No matter if you're playing lights out like
Peyton Manning
, you still have issues that have to be taken care of.''
That was going to be the point before Newton stopped the comparison. Both he and Bradford, the No. 1 picks of the 2011 and 2010 NFL draft, respectively, have had issues ranging from a lack of weapons, consistent offensive line play and changes in coordinators that have played a role in them falling short of expectations.
Both also appear on the brink of turning things around as they prepare to meet in Sunday's 1 p.m. game in Charlotte.
Bradford is coming off a three-touchdown pass performance in which his rating was 134.6. The Rams are 3-3 and there's optimism they can return to the playoffs for the first time since 2004.
Newton is coming off a three-touchdown pass performance in which his rating was a career-high 143.4. The Panthers are 2-3, the first time they've won two of their first five games in four years.
Newton's overall passer rating of 89.4 ranks 14th in the league. Bradford is 11th at 90.7.
Newton ranks third in the NFL in third-down passing with a 111.6 rating. He trails only Manning (128.5) and Tennessee's
Jake Locker
(111.8).
So that's the good news. The bad news is what Newton and Bradford have in common that led to this line of questioning. Newton chose not to address them, but they are worth taking a look at.
Let's start with their records. Bradford has won 37.2 percent of his games (19-31-1). Newton has won 40.5 percent (15-22) of his.
Neither has a particularly stellar completion percentage, Bradford 58.4 and Newton 59.1. Their passer ratings aren't great either, Bradford 79.1 and Newton 85.9.
To put that into perspective, future Hall of Famer Manning has a career rating of 96.7 and he's at 128.8 this season.
But remember, Manning had a rating of 71.2 as a rookie when Indianapolis went 3-13 and 84.1 in his fourth season when the Colts were 6-10. It wasn't until his fifth season that he had all the pieces around him that made him and Indianapolis consistent winners.
There were issues that he had to deal with. There are issues Newton and Bradford are dealing with, which brings us to Sunday's game.
"So obviously with this game ahead, I have something to prove,'' Newton said. "Most importantly, not to be selfish, it's going to take a team effort to get this win, no matter what the similarities are in quarterbacks or what their records are.''
Off the field.
There is one area in which Newton beats Bradford hands down -- the Repucom Celebrity DBI that quantifies and qualifies consumer perception of celebrities.
In the eight categories -- awareness, appeal, aspiration, breakthrough, endorsement, influence, trend-setter and trust -- Newton beat Bradford everywhere but appeal. In terms of awareness he has an overwhelming edge, 41 percent to 24 percent.
As a trend-setter, Newton with his own clothing line ranks 576 out of 3,127. That's higher than New England quarterback
Tom Brady
(728).
So despite on-the-field struggles, Newton continues to flourish off the field.
But as Newton reminded, he doesn't want to be compared to other quarterbacks. He just wants to be known as a winner.
October, 17, 2013
10/17/13
11:47
AM ET
CHARLOTTE, N.C. -- St. Louis Rams linebacker
James Laurinaitis
is dealing with the same dilemma a lot of defenders do when they face
Cam Newton
.
Newton
Where to tackle the
Carolina Panthers
' 6-foot-5, 250-pound quarterback?
"It's like hitting a tight end,'' Laurinaitis said as he looked ahead to Sunday's 1 p.m. game in Charlotte. "I haven't really had a chance to play a quarterback of his size yet, so it will be definitely a new experience for me. His body type is like an athletic tight end. Speed wise and stuff like that, it's going to be different.
"A lot of time with big guys, you need to tackle them high because they're tall. But heck, if you go up high and then he's going to give you that stiff arm, so you got to work on trying to slap it down and fire at his legs and stuff like that.''
The good news for Laurinaitis is that Newton is running only 5.8 times per game, compared to 7.9 a year ago. He's also sliding a lot more to protect his body.
The bad news is the Rams are 30th against the run, so Newton may have more opportunities to run.
"You can't really extra load up the box when you deal with quarterback runs,'' said Laurinaitis, second on the team in tackles. "That's why they're so lethal, especially with a big guy like Cam. I still think it's the unscripted plays that are the hardest to defend.
"You don't want to be unprepared for someone that dynamic with the run game.''
August, 30, 2013
8/30/13
11:40
AM ET
Six projected starting quarterbacks played in their teams' final exhibition games of the 2013 preseason. The
Seattle Seahawks
'
Russell Wilson
and the
San Francisco 49ers
'
Colin Kaepernick
were two of them, and both led touchdown drives before exiting after one series. None of the NFL's projected starters got hurt Thursday night.
The chart shows week-by-week snap counts for quarterbacks I singled out as projected starters heading into preseason. NFC West alums
Kevin Kolb
and
Matt Flynn
might not start after all, but I've left them in the chart for context.
St. Louis Rams
coach Jeff Fisher has generally played starters in the final preseason game. He did not this time.
"Typically I have, but I guess in the new world that we're in, it's hard to," Fisher told reporters after the Rams' game against Baltimore. "What that implies is that I'm pleased with where they are right now, those guys that sat. They worked hard. We got a great workout and it allowed them to fast-forward their minds to Arizona."
Fisher could have been alluding to the run of higher-profile injuries around the league this summer. Last year, the Rams lost rookie defensive tackle
Michael Brockers
to a high-ankle sprain in the final preseason game.
The Rams emerged from this preseason healthier than their division rivals. That did not stop the 49ers from playing their offensive starters or the Seahawks from playing starters on both sides of the ball Thursday night. The
Arizona Cardinals
rested most of their starters, though
Michael Floyd
was one notable exception.
San Francisco coach
Jim Harbaugh
offered no explanation for playing his starting offense one series. Kaepernick hadn't gotten many snaps through the first three games, however. Getting additional reps for Kaepernick and the team's group of emerging receivers made some sense on the surface.
Seahawks coach Pete Carroll went into the final preseason game saying he wanted starters to play because the team values this games as competitive opportunities.