St. Louis Rams:

Chase Reynolds
August, 27, 2014
Aug 27
4:30
PM ET
EARTH CITY, Mo. -- Only the
St. Louis Rams
know exactly how many players they plan to keep at each position. Therein lies the difficulty in attempting to project a 53-man roster.
But that doesn't mean we can't take a quick spin around the roster and offer a look at some of the decisions the Rams might have to make when Saturday's 4 p.m. ET final cuts arrive.
For the players listed here, the opportunity to make a strong closing argument comes Thursday night against Miami in the preseason finale.
Quarterback:
The question here is whether the Rams will keep two or three.
Austin Davis
is probably locked in as the second quarterback, at least until or if the Rams find a veteran option they prefer after the available signal-callers crystallize. Rookie
Garrett Gilbert
hasn't done much in preseason and would stick mostly because the Rams wouldn't want to be short in the event of an injury. But they could probably get Gilbert through to the practice squad with relative ease.
Running back:
There are three locked in here, leaving two questions: will the Rams keep four or five? And if not, who wins between
Chase Reynolds
and
Trey Watts
? Reynolds is a core special teams player but Watts is working on that part of his game and is a better, more versatile contributor to the offense. Keep an eye on Watts against the Dolphins.
Tight end:
The Rams will probably keep four here and it's no secret the battle likely comes down to blocking specialist
Justice Cunningham
vs. pass catcher
Alex Bayer
. This is truly a "pick your flavor" situation. Cunningham might have a slight edge because his blocking can also translate to special teams but a big performance from Bayer against Miami might make it tough to allow him to leave.
Offensive line:
It's not unusual for the Rams to keep as many as 10 here, however, it doesn't look like there are that many worthy this year. The Rams have more positional versatility with guys who will make the team, which might mean they only keep eight or nine. There are probably seven spots accounted for at this point. The battle for the final spots will likely come down to picking one or two from a group that includes
Brandon Washington
,
Travis Bond
,
Mike Person
and
Sean Hooey
. They also must figure out what to do with
Barrett Jones
, who is out with a back injury and doesn't have a timetable for return.
Defensive end:
This one is well documented. The Rams will keep nine, perhaps even 10 though nine seems more likely. It's
Michael Sam
vs.
Ethan Westbrooks
. It's hard to envision a scenario in which Westbrooks doesn't make the team, especially given his versatility. Sam has been more productive as a pass-rusher in preseason games but doesn't have the ability to move along the line. One thing to keep an eye on in Miami is whether current backups
Eugene Sims
and
William Hayes
play. Sims hasn't practiced this week and Hayes still hasn't played in a preseason game. If those injuries are a little more extensive, maybe it opens the door for both Sam and Westbrooks.
Linebacker:
There are five in solid shape here but the Rams don't really have a sixth who has stood out.
Phillip Steward
has played a lot on special teams and that could be a sign he's well positioned, but don't be surprised if the Rams go searching for a sixth linebacker on the waiver wire.
Aaron Hill
,
Lawrence Wilson
and
Etienne Sabino
will get one more shot to prove they're worthy.
Cornerback:
With starter
Trumaine Johnson
expected to miss four-to-six weeks with a sprained MCL, the Rams will likely have to keep an extra body here behind
Janoris Jenkins
,
Lamarcus Joyner
,
Brandon McGee
and
E.J. Gaines
. That leaves a fight amongst
Marcus Roberson
,
Greg Reid
and
Darren Woodard
for a potential sixth spot. Roberson is the best in coverage, Reid the best tackler and Woodard something of a happy medium. Keep an eye outside the hashes in the second half Thursday night.
May, 26, 2014
May 26
3:30
PM ET
EARTH CITY, Mo. -- With the NFL draft and free agency complete, the
St. Louis Rams
53-man roster will likely come mostly from the players already on the team.
With organized team activities (OTAs) still more than a week away, we take a look at where each position stands heading into next week. The second in the series continues by examining the running backs.
Who returns:
Zac Stacy
,
Benny Cunningham
,
Isaiah Pead
,
Chase Reynolds
Who is new:
Tre Mason
,
Kadeem Jones
,
Trey Watts
Who is gone:
Daryl Richardson
Projected starter:
Stacy -- Rams coach Jeff Fisher has said he expects Stacy to be the top option in the run game and claim about 70 percent of the carries with the rest divvied up behind him. Stacy had some big performances as a rookie and came up just short of 1,000 rushing yards even though he didn't become a starter until Week 5.
Pending competition:
There is some sorting out to do after Stacy and even Stacy's stranglehold on the bulk of the carries could be a bit more tenuous than it first appears. Although Mason was drafted in a spot that would indicate starter potential, it would be unwise to sleep on Cunningham's potential. The Rams like Cunningham and he's now another year removed from the injury that slowed him at the beginning of the 2013 season. Mason is the favorite to get the first call after Stacy but Cunningham will be heard from before the summer is over. Beyond that, Stacy had issues with nagging injuries in 2013 and if that happens again, Mason or Cunningham could claim an expanded role in his absence. Pead and Reynolds both project to contribute mostly on special teams and the Rams may prefer not to carry two backs who specialize in that area. Pead offers more ability if the offense needs him but Reynolds is the more experienced special-teamer and comes much cheaper.
Outlook:
Adding Mason in the third round came as a bit of a surprise but the Rams valued him enough to view him as a potential steal at that point in the draft. Adding Mason should make the Rams' stable of backs that much better and give them more options if Stacy struggles. It appears the trio of Stacy, Mason and Cunningham are set to hold their jobs for the foreseeable future while Pead and Reynolds battle for one spot though the Rams could keep both if they choose. Undrafted rookies Jones and Watts have an uphill climb to make it though they could theoretically win over special-teams coach John Fassel to fill a role projected for Pead or Reynolds.
November, 21, 2013
11/21/13
4:45
PM ET
EARTH CITY, Mo. -- The
St. Louis Rams
had hoped to spend the bye week getting healthy and ready for a final six-game stretch run to close the season. They didn't suffer any serious injuries during their two bye-week practices, but they also probably aren't as healthy as they'd like to be heading toward Sunday's game against the
Chicago Bears
.

The Rams made no changes to their injury report Thursday after listing four players as not participating and two more as limited Wednesday.
For the second day in a row, the Rams practiced without the services of guard
Harvey Dahl
(knee), quarterback
Brady Quinn
(hip/lower back), cornerback
Cortland Finnegan
(eye) and running back
Chase Reynolds
(knee). The absence of Dahl and Quinn is no surprise as both players had missed time leading into the bye. Finnegan and Reynolds were additions and so far haven't don't anything in practice this week.
Safeties
Darian Stewart
(foot) and
Matt Giordano
(thigh) were designated as limited participants again Thursday. The injuries to Finnegan, Stewart and Giordano have left the Rams a little short-handed in the secondary in practice this week.
Of note for the Bears, offensive tackle
Jordan Mills
(quadriceps) was upgraded from limited participation Wednesday to full participation Thursday.
October, 9, 2013
10/09/13
6:00
PM ET
EARTH CITY, Mo. --
St. Louis Rams
rookie
Tavon Austin
received a game ball for his efforts as a punt returner last week against the Jacksonville Jaguars though a simple glance at the box score would leave most wondering why.
That's because Austin's official stat line in returning punts doesn't account for his team's continued inability to execute special-teams plays, particularly punt returns, without a flag raining down on the field.
The Rams' six special-teams penalties against the Jaguars cost them 125 yards of field position, bringing the season total to 17 special-teams infractions, one more than the offense and defense combined. Of those 17, 12 have come on punt returns and seven have resulted in half the distance to the goal yardage mark-offs.
Against the Jaguars, Austin had three returns totaling 81 yards called back for various infractions. He should have had 92 yards on his four returns but instead finished with a meager 15 for an average of 3.8 per attempt.
A clearly frustrated Austin left the locker room quickly after the game, eye black still visible. On Monday, Rams coach Jeff Fisher said he attempted to keep Austin's spirits up, thus the game ball offering.
"Yeah, I gave him a special-teams game ball for having 91 punt return yards in the game," Fisher said. "So, he's happy."
Asked if his ploy worked, Fisher said it did and that he also took some time to show Austin what his punt return numbers would look like were it not for the continued accumulation of penalties on his returns.
Fisher's numbers would have Austin carrying a return average around 10 yards per attempt to go with 257 yards and highlighted by an 84-yard return for a touchdown that was called back. Austin's current numbers fall well short of those lofty statistics as he has 57 yards on 17 returns, an average of 3.4 yards per chance and a long of 14. Fisher doesn't believe the penalties on the returns would have affected Austin, making them all the more maddening.
It'd be easy to understand why Austin would be frustrated at this point with the continued penalties but he's doing his best to be supportive of his teammates.
"The only thing that matters is my team, they keep on trying," Austin said. "That's the only thing that matters to me and I will do the same thing week in and week out and hopefully they'll stand.
"We're definitely getting better at it. We have just got to keep working, keep drawing up good schemes and hopefully our plays keep getting bigger and bigger."
Of course, the special-teams penalty problems extend beyond just the punt return unit. Against Jacksonville, cornerback
Brandon McGee
ran into
Ace Sanders
, who called for a fair catch and cost his team 15 yards and cornerback
Janoris Jenkins
jumped offside on a field goal and an extra point.
Special-teams penalties aren't new to the Rams under Fisher and special-teams coach John Fassel, either. In 2012, the team drew 25 special-teams flags, second most in the league. They had just three in the first five weeks last year and are clearly on a more alarming pace this season.
In looking around the league, it doesn't appear there's more of an emphasis on throwing flags on special teams. Rams opponents have been flagged eight times this year. Fisher hasn't agreed with all of the calls going against his team, either.
"We have an unusually large number," Fisher said. "We'll get it corrected. But again, the confidence in the room -- the guys are good. I think everybody else in the world, after a long return, can look for a flag. We're not going to because we're not going to play that way."
The most common thread among the flags is the relative youth of the players on those units. Youth is not an excuse but the Rams are working with mostly rookies or second-year players, particularly on punt returns. Many of those players don't have a lot of special-teams experience.
Linebacker
Ray Ray Armstrong
, McGee and receiver
Stedman Bailey
have combined for nine flags and all three are rookies. While some advocate benching or cutting players to hold them accountable, that's easier said than done given that Fassel doesn't exactly get to pick and choose from the team's entire pool of players for special teams.
Instead, Fisher is preaching consistency and confidence that as players mature they'll get better.
"That's just the special-teams world," Fisher said. "I've got tremendous confidence in the whole group in the room and Coach Fassel. It's very important to them. They work very hard. It's going to turn around. We've got an outstanding returner and an outstanding scheme. We put each of the fouls in perspective, discussed them -- 'How do you avoid them?' whether in fact it was a foul or not. So, I'm confident that we'll get it behind us."
It'd be one thing if this was just a five-game sample size but including last year's problems, it appears there's a deeper trend forming. Of course, the numbers have grown worse this year so it seems unlikely that things will continue at this exaggerated rate.
Still, wishing, hoping and handing out game balls is nice but until something more tangible breaks their way, progress will have to be seen to be believed.
September, 10, 2013
9/10/13
7:00
PM ET
EARTH CITY, Mo. --
As always, the following is a break down of the Rams' unofficial depth chart. The names in certain places are subject to being different come game time. Use the information as a baseline for what to expect when the Rams play the Falcons but it is far from a guarantee.
This week's unofficial Rams depth chart doesn't look too different from last week's. With that in mind, we won't go through the trouble of breaking down every position and how they might look this week. Instead, let's just focus on a couple of quick hits.
All of the 22 starters listed are exactly the same as last week. Rodney McLeod is again listed at free safety and Chris Williams at left guard. It's how the Rams had them last week and it's how things played out in the game.
Isaiah Pead has been added to the mix at running back and back in his familiar spot as the second back on the depth chart. When asked whether Pead would play this week on Monday, Rams coach Jeff Fisher said "we'll see." The Rams didn't get much production in the run game and Zac Stacy got the only carry among backs not named Daryl Richardson. Fisher said he wants to see more of Stacy. Could that mean less Richardson to make room for some carries for Pead and Stacy? One other thing we'll monitor this week is Richardson's health. Although he finished the game against Arizona, he did spend some time being looked at by Rams' medical personnel on the sideline. There are a lot of moving parts to the team's running back situation right now.
Speaking of which, the Rams list Stacy third and Benny Cunningham and Chase Reynolds in a sort of "tie" for fourth now that Pead is back in the second spot.
Cunningham was listed as the starting kick returner last week and he remains in the top spot this week after handling those duties against the Cardinals. Tavon Austin and Chris Givens remain behind Cunningham on that list. Again, because it's unofficial, that doesn't mean Pead won't get work as a kick returner this week but that's how it looks for whatever it's worth.
Obviously, linebacker Jonathan Stewart's name has been subtracted from the linebacker group upon his released Tuesday. Ray-Ray Armstrong and Daren Bates are the only remaining linebackers behind the starters. There is no backup listed for starting middle linebacker James Laurinaitis.
Nothing else has changed from last week. One more friendly reminder that the depth chart musings are based on an unofficial depth chart the Rams put out weekly. Use whatever amount of salt you deem appropriate when reading.
August, 30, 2013
8/30/13
12:00
PM ET
A few, quick leftover observations from the
Rams' 24-21 win
against Baltimore in Thursday night's preseason finale:
• Rams coach Jeff Fisher was thoroughly disgusted by the continued mistakes of his team in the first half against the Ravens. They finished with 17 penalties for 123 yards and Fisher voiced his displeasure at halftime. Although the bulk of the penalties were coming from players who likely won't make the final roster, it has to be a concern when you fumble three times in the opening five minutes and each fumble came from a player (receivers
Brian Quick
and
Tavon Austin
and running back
Isaiah Pead
) expected to contribute in the regular season.
[+] Enlarge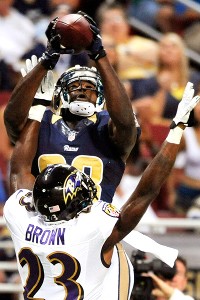 AP Photo/Bill BoyceBrian Quick had a busy night Thursday with five catches on six targets.
• Quick did bounce back with a solid performance in the first half as a repeated target of quarterback
Kellen Clemens
. He finished with five catches for 60 yards while being targeted six times. He probably should have hauled in that sixth catch too as he struggled to drag his feet in bounds and haul it in at the same time. Quick is hopeful that he's done enough to earn a role in the offense when the season starts. I believe he's earned a chance to get worked in but I also believe that Fisher isn't going to put Quick into that role on a more permanent basis until he's convinced that Quick can be consistently successful.
• In the competition for the backup quarterback job, Clemens and
Austin Davis
each probably had his best outing of the preseason though Clemens' effort was probably the best by either during the exhibition slate. He kept plays alive with his legs and was getting the ball downfield on a consistent basis. It still seems logical that the Rams would do what they did last season and release Clemens and bring him back after Week 1 on a nonguaranteed contract but he certainly helped his cause to be the No. 2 guy if the Rams opt to go that route.
• Safety
Matt Daniels
was all over the place in Thursday night's game, coming up with an interception, making tackles on defense and special teams and just being around the ball in general. The competition at safety is an interesting one and Daniels was probably in good shape to make the 53 before last night but Daniels' efforts might have sewed up a spot.
• Competition for a possible sixth receiver spot didn't gain a ton of clarity as
Justin Veltung
and
Nick Johnson
both had their moments. There's still a real chance the Rams will only keep five and Veltung and Johnson could both go to the practice squad.
• Nice night for tight end
Mike McNeill
, who also finds himself in a battle for roster positioning. It's entire possible the Rams keep five tight ends, especially if they only keep five receivers. McNeill would almost certainly be one if they keep five but his two catches for 48 yards probably bolstered his chances to be No. 4 in the pecking order if the Rams opt to keep that many.
• Should the Rams keep nine defensive linemen as they did last season, they have a tough choice between the versatile
Mason Brodine
and rookie
Gerald Rivers
. Brodine scooped up a fumble and generated some pressure against Baltimore. Rivers was active again, coming up with a sack and six tackles. The decision boils down to whether the Rams believe they can sneak Rivers through to the practice squad given the strong film he's put out for other teams to see. If they do, Brodine probably makes it because of his ability to play inside and out. If not, Rivers might make the 53 outright.
• Will the Rams keep four running backs, not including the suspended Pead?
Daryl Richardson
,
Zac Stacy
and
Benny Cunningham
appear locked in for roster spots. I mentioned
Chase Reynolds
as a possibility to make it for at least one week in Pead's absence and he did nothing to hamper that last night. Reynolds had a fumble recovery and scored the winning touchdown on a 17-yard catch and run late. He's been a staple on the first unit special teams throughout preseason and might have earned a job on the initial 53.
August, 29, 2013
8/29/13
11:35
PM ET
Looking back on five things to watch in the St. Louis Rams' 24-21 win against Baltimore in Thursday night's preseason finale.

1.Backup quarterback quandary.
Starting quarterback
Sam Bradford
didn't play a single snap as the Rams protected him in the final preseason game. That meant plenty of work for backups
Kellen Clemens
and
Austin Davis
. Clemens got first crack at the job, playing the entire first half. And though Baltimore played none of its starters, Clemens made the strongest case either backup has made in this preseason, finishing 13-of-18 for 188 yards for a rating of 105.8. Davis didn't have as much success, though he did lead two scoring drives, finishing 6-of-13 for 50 yards with two touchdowns.
2. Sitting starters.
Rams coach Jeff Fisher followed through on his statement that he'd make some "adjustments" to the starting lineup for the preseason finale. The majority of his usual starters did not start or even play a snap in the game. In fact, only six presumptive starters – guard
Chris Williams
, tackle
Rodger Saffold
, receiver
Austin Pettis
, cornerback
Janoris Jenkins
, linebacker
Alec Ogletree
and safety
T.J. McDonald
– played. If you include safety
Rodney McLeod
, who is competing with
Darian Stewart
for a starting job, it brings the total to seven.
3. Coming out healthy.
From all appearances, the Rams made it through the game and the preseason without suffering any serious injuries to a key contributor. Tight end
Cory Harkey
will miss a bit of time from his injury suffered last week against Denver, but the few starters who did play against the Ravens made it out of the game OK.
4. Last chance.
A full evaluation of players who might have earned or cemented roster spots won't come until the final cuts are made tomorrow or Saturday, but a few players made some good cases. Safety
Matt Daniels
might have made the best. Aside from a missed tackle on a Baltimore touchdown run, Daniels was all over the field. He finished with two tackles, two passes defended and an interception in unofficial press-box statistics. Daniels was likely in good shape to make the final roster before Thursday night. He seemed only to help himself with his performance.
5. Running in place.
Starter
Daryl Richardson
did not play, a logical move considering the Rams still need to sort out their backup running back situation. Once again, there wasn't much room to run as the backups on the offensive line couldn't create many holes.
Zac Stacy
and
Isaiah Pead
got the first opportunities. Pead got off to a rocky start, fumbling the opening kickoff before the Rams recovered. He carried seven times for 27 yards and caught two passes for 16 yards. Stacy didn't have much room to run but finished with 37 yards on 11 carries and scored on a 1-yard run. He could become a factor in short-yardage and goal-line scenarios given his size and style.
Benny Cunningham
got some limited late reps and was the most effective of the group. He finished with 76 yards on eight carries and one grab for 7 yards as he likely cemented a spot on the roster.
Chase Reynolds
even got in on the act with a 17-yard catch and run to give the Rams the lead in the fourth quarter.
August, 28, 2013
8/28/13
6:00
PM ET
For Rams on the bubble trying to steal a last-minute roster spot before final cuts have to be in on Saturday, there's one chance left.
The Rams close out their exhibition slate Thursday night against Baltimore at the Edward Jones Dome. That game represents one final opportunity for players who haven't already secured a spot to either change the mind of the Rams' coaching staff or confirm what coach Jeff Fisher and Co. already know.

"Our focus is on winning the game and in addition to that we still need to continue to evaluate players, finish up strong and work on a few areas," Fisher said. "There could be some jobs decided, yes."
The Rams roster isn't in the same state of flux it was in 2012 when Fisher and general manager Les Snead took over and began a drastic remodeling project. But there are still a handful of jobs that could go either way. Here's a look at six Rams who have a chance to help themselves in the preseason finale.
CB Darren Woodard:
Woodard helped himself in a big way with his performance against Denver last week and not just because of his second interception. Woodard was sticky in coverage and unafraid to come up and tackle. The Rams kept five corners last year and if they do so again this year, Woodard would have to supplant returner
Quinton Pointer
. Pointer didn't play much at all against the Broncos and has been banged up off and on during camp. Another strong showing from Woodard could make the Rams think twice.
OL Brandon Washington:
After working exclusively at guard last year, Washington has been pressed into duty at right tackle during this preseason because of injuries to
Rodger Saffold
,
Joe Barksdale
and others. The good news for Washington is that added versatility equals increased opportunity. If the Rams keep only eight offensive linemen it might be hard for Washington to win a spot, but if he can show something at tackle, he might be able to make a case to be a possible ninth.
WR Justin Veltung:
The first five receivers are a given, leaving a possible sixth spot up for grabs between Veltung and
Nick Johnson
. It's not given the Rams keep six, but Veltung has been a pleasant surprise since the Rams signed him a couple of days into camp. Making some catches wouldn't hurt, but Veltung can punch his ticket with some good special teams work, including some return opportunities.
RB Chase Reynolds:
You'd be hard pressed to find a more selfless player in the locker room than Reynolds, who has been a dutiful contributor on the practice squad and scout team the past two years. With
Isaiah Pead
suspended in Week 1, the Rams already figure to have the three backs to handle the carries but they will have a roster exemption and Reynolds has been heavily involved in first unit special teams in the preseason. Even if only for the first week of the season, Reynolds could follow Veltung's lead and sew up a spot with some contributions on special teams.
DE Gerald Rivers:
Rivers has been the undrafted rookie to catch the Rams' eye in this preseason, following in the footsteps of defensive tackle
Matt Conrath
from last year. When
Eugene Sims
was absent tending to the death of his mother, Rivers got opportunities to work with the first-team defense against Green Bay and held his own. The Rams have eight linemen they'll keep for sure, but pass-rushers are considered a premium by Fisher and staff. A strong performance against the Ravens could help convince the Rams to keep Rivers on the 53 rather than try to pass him through waivers to get to the practice squad.
TE Zach Potter:
Potter helped himself a bit last week with a touchdown catch late in the Denver game but he's not here for his pass-catching abilities. Potter is one of two tight ends (
Cory Harkey
is the other) who will routinely go work with the offensive line in the one-on-one pass-rush drills. While Harkey is considered the team's first option as a true blocking tight end, he's also dealing with an injury that could keep him out for a little while. If that's the case, Potter could cement his spot in the tight end crew with what figures to be plenty of playing time Thursday night.