St. Louis Rams:

Denver Broncos
November, 13, 2014
11/13/14
8:00
AM ET
When:
1 p.m. ET Sunday
Where:
Edward Jones Dome, St. Louis
TV:
CBS
At 3-6, the Rams appear headed toward their 11
th
consecutive year without a winning record. The 7-2 Broncos again look poised for a Super Bowl run. Rams coach Jeff Fisher and his coaching staff have a long history with Broncos quarterback
Peyton Manning
dating to their days in the AFC.
ESPN Rams reporter Nick Wagoner and Broncos reporter Jeff Legwold discuss the chances of the Rams pulling off the upset.
Wagoner:
Obviously, the Broncos are a top Super Bowl contender and they're all in on trying to get it done this year. More than halfway through the season, what are some reasons you think this team might be better equipped to finish the job this year and what are some things that might give you a little bit of pause?
Legwold:
This time around they bring a far better defense into the mix. When John Elway dove into the offseason, he felt like the Broncos who were returning from injured reserve -- starters like
Von Miller
,
Chris Harris
Jr. and
Derek Wolfe
-- could be supplemented with free-agency additions, and the Broncos used cap space they had been holding back to sign
DeMarcus Ware
, T.J. Ward and
Aqib Talib
. The result is an across-the-board athleticism they did not have last season. And Miller has returned to his form of 2012 when he had 18.5 sacks. The Broncos also replaced
Eric Decker
with the more versatile
Emmanuel Sanders
at wide receiver and Peyton Manning has plenty of options. So much so that Manning is on pace to be the first guy to have back-to-back 50-touchdown seasons -- 55 in 2013 and currently on pace for 51 this year. All that said, their biggest question mark at the moment is the offensive line, where they have already made four changes that weren't injury related, including three for this past Sunday's game against the
Oakland Raiders
. Manning will always be the biggest reason the offense limits sacks, but three of the nine the Broncos have surrendered this year have come on three-man rushes. And they have had 36 rushing attempts this year for no gain or negative yardage combined. It's a fairly glaring issue at this point, but the Broncos' offense as a whole is historically explosive and they always seem to find a work-around to repair the issue week to week.
This past offseason there were plenty of folks in the league, probably among the Rams' decision-makers as well, who believed this team could put itself into the playoff discussion this year. What's happened?
Wagoner:
Indeed, the Rams had been pointing to this, the third year of the Fisher regime, as the season they break through into playoff contention. But it hasn't come to light for plenty of reasons. It started with the season-ending knee injury to quarterback
Sam Bradford
, which spiraled into more injuries to key players over the first half of the season. But the other, perhaps bigger piece of the puzzle is a lack of development in many of the team's young players. The Rams are the youngest team in the league again this year and were banking on many of those young players who have already been playing to take a major step forward. While some have flashed promise, there haven't been enough taking the leap the Rams had hoped. The defense is finally starting to come around under new coordinator Gregg Williams but that took nearly half the season and the offense has regressed back to bottom-of-the-league levels as the quality of opponent has improved.
I've heard from a number of fans who are excited for this week just because they think it might be Manning's last visit to St. Louis (for reasons beyond just the possibility of him retiring before the Broncos would be back). He seems like he's as good as ever though. The Seahawks were able to beat the Broncos in the Super Bowl by generating consistent pass rush, especially from the front four. The Rams' pass rush is finally starting to live up to the hype. Do you see this as a matchup that could possibly be similar given Manning and the offense's relative issues, or will this be just another day at the office for him?
Legwold:
The Broncos offense is a perfect storm at the moment between Manning's arrival, coordinator Adam Gase's ability to construct an offense around Manning that suits the 38-year-old quarterback, Gase's risk-taking in play calling and the personnel the team has. Throw in a pass-friendly rulebook and you have the pile of touchdowns Manning has put up with Denver. In 41 regular-season games with the Broncos, Manning has now thrown 121 touchdown passes and been sacked just 48 times. He has 15 consecutive games and counting with at least two touchdown passes and his current streak of 48 consecutive games with a touchdown pass is third all time. In the end, teams that have success against him in the rush get the pressure in the middle of the field. Manning tends to identify the edge rushers quickly, even if defensive coordinators try to disguise them, and the ball is usually gone before the edge guys can win the one-on-ones. So the teams that have affected him the most made him pull the ball down, the ones that get push between the guards into the A gaps. Manning can also see those guys coming, so a defense has to get there or the price is high. But overall, the Broncos are dialed in, they find the matchups in the secondary to exploit and have enough impact players. They consistently get one-on-ones their guys can win. Even when Manning said he "stunk" after the loss in New England, he had thrown for 438 yards.
Sticking with the quarterbacks, what's the long-term plan there? Do they believe Bradford comes back with potential to still be the long-term starter, so the Rams commit to another contract? Or are they looking at what is, at least in the early going, considered a thin class at quarterback in the 2015 draft beyond the top tier?
Wagoner:
At this point, I think they're still figuring out the best option moving forward but there's a sense that it's possible Bradford could be back. The Rams have budgeted for his $16 million-plus cap number and could theoretically bring him back at that level, but it seems more likely that they won't. The question then becomes whether he'd come back at a reduced rate with incentives built in and a rookie quarterback to compete with or if he'd want to explore other options.
Austin Davis
has done enough to earn a role as a backup but probably not more than that. And Shaun Hill is now the starter but he's only on a one-year deal and he's 34. One way or another, the Rams have to prioritize quarterback in next year's draft. It should be in the first round but Fisher's knack for getting teams to mediocrity might take the top options out of play, which could in turn force the Rams to move up to get their guy. That would be a bit of a bitter pill to swallow for a team that has been flush with premium picks the past few years after trading the chance at
Robert Griffin
III to Washington.
The offseason additions to the defense seem to be paying off just fine. How much better is that group and what can Davis expect from that unit in terms of scheme and approach?
Legwold:
When things are going well the Broncos have a rhythm on defense. They pound opposing run games out of their base look on early downs and this year have consistently forced teams into long second- and third-down situations. At that point defensive coordinator Jack Del Rio likes to go to their specialty packages in the nickel and dime when Del Rio loads the formation with speed. They give a variety of defensive fronts at that point; move Miller and Ware all over the formation and Del Rio will bring pressure from a variety of places. The Broncos have been successful this season in doing that because they have the lead so often and force teams to chase them and they have the No. 1 run defense in the league. They haven't surrendered over 67 yards rushing in a game since Week 3 in Seattle and over the last six games they've only faced more than 20 rushing attempts by an opposing offense one time -- 25 by New England, which ran for 66 yards.
On defense, there may be no collection of coaches who have faced Manning more than Fisher, Dave McGinnis, Williams and Chuck Cecil. How do you think they go about it and have they finally found some rhythm in their pass rush after a slow start?
Wagoner:
I would think that the Rams took plenty of notes from how Seattle handled the Broncos in the Super Bowl and in their game earlier this season. The pass rush has been much better over the past four weeks, in part with improved play by the front four and even more so by better timed and executed blitzes. The Rams are first in the NFL in blitz percentage, which is no surprise given that Williams is running the show. Manning is probably the best ever at diagnosing blitzes pre-snap and getting the ball out quickly and accurately. I have to think that would give the Rams a little bit of pause in dialing it up as much as normal but I also tend to doubt they'll stop being who they are completely. The best bet is for the Rams to lean on the front four to do most of the heavy lifting, which is what they had hoped they'd be able to do at the beginning of the season. But for that to work, they'll need to have their best performance of the season.
August, 25, 2013
8/25/13
12:10
AM ET
By his own admission,
St. Louis Rams
rookie linebacker
Alec Ogletree
struggled to gain traction in his first two preseason appearances. Missed tackles, blown assignments and poor reads plagued Ogletree in those first two games, and again Saturday night in the first quarter against Denver.
But when Ogletree stripped Broncos running back
Ronnie Hillman
, scooped up the fumble and returned it 13 yards for a touchdown, the light seemed to go on.

Ogletree went on to breakup two passes and come up with an interception in the process of showing why Rams coach Jeff Fisher wanted him so much in the first round of April's NFL draft.
By no means is Ogletree a finished product, and he did have those hiccups in the first quarter, but the Rams have been looking for progress and got plenty of it against the Broncos.
Other observations from the Rams'
27-26 loss
:
Before the game, Fisher made it clear he wanted to get a look at rookie Tavon Austin returning punts. He got two glimpses and had to like what he saw. Austin had two returns for 104 yards, including an 81-yarder to set up the team's first touchdown.
Austin probably should have scored on the return but ran into Ogletree and slowed down a bit. It wasn't necessarily a bad thing, though, as the Rams got to work their red-zone offense again. Quarterback Sam Bradford hit tight end Jared Cook for a 3-yard touchdown on the first play.
The first-team offense attempted just five running plays against a loaded run box and didn't go anywhere with those tries. The Rams have seen loaded run boxes two weeks in a row and have generated almost no running threat to speak of. They'll need to be better in that regard come the regular season but if the preseason is an indication, teams are going to make the Rams prove they can beat them in the pass game before they back off.
The Rams were the league's leader in penalties last season, and already look to be in midseason form in that regard. They continue to struggle with pre-snap infractions and racked up 11 penalties for 74 yards against the Broncos.
Both teams played the first half at a breakneck pace, especially the Broncos. Denver ran 49 plays in the opening 30 minutes, picking up 290 yards. Because the Rams forced two turnovers, Denver managed just 10 points. Denver quarterback Peyton Manning attempted 34 passes.
Bradford had his worst outing of the preseason but still looked sharp. He finished 9-of-16 for 110 yards with a touchdown and no interceptions for a rating of 98.4. Bradford continues to look comfortable in his second year in coordinator Brian Schottenheimer's offense.
Tackling was much improved for the Rams' first-team defense after a series of whiffs in their two previous preseason outings. There was only one glaring missed tackle from that group. Middle linebacker James Laurinaitis was particularly active, posting eight tackles in unofficial press-box statistics.
It was a strong night for the Rams' top unit on special teams as they got Austin's two punt returns, a blocked field goal from safety T.J. McDonald, a pair of field goals (including a 58-yarder) from Greg Zuerlein and outstanding punting from Johnny Hekker. Noticeable, universal improvement for a group that surrendered a long punt return for a touchdown in the opener against Cleveland.
Undrafted rookie linebacker Ray-Ray Armstrong showed up again, coming up with a sack and a pair of tackles in relief work. He's put together a strong preseason and has positioned himself to make the 53-man roster.
Perhaps most important, the Rams made it out of the game relatively injury-free. Tight end Cory Harkey limped off in the second half and guard Ryan Lee was shaken up, but, at least at first glance, the Rams made it out of another one without any serious injuries of note.
August, 24, 2013
8/24/13
3:15
PM ET
EARTH CITY, Mo. -- The
St. Louis Rams
travel to Denver for tonight's third preseason game against the
Denver Broncos
. They kick off at 8 p.m. ET.

The third preseason game is generally considered the closest thing to a regular-season game as you'll find on the exhibition slate. Rams coach Jeff Fisher said this week that his starters would continue to get more snaps this week against the Broncos.
That could depend on how the starters fare, though. In last year's third preseason game against Dallas, Fisher had said the starters wouldn't play much more than they did the previous week against Kansas City. The Rams changed course when both starting units struggled mightily against the Cowboys and played well into the second quarter.
Because the starters are likely to play a bit longer, here are five things to keep an eye on as the Rams visit the Broncos:
August, 23, 2013
8/23/13
4:00
PM ET
EARTH CITY, Mo. -- A three-game schedule featuring
Aaron Rodgers
,
Peyton Manning
and the defending Super Bowl champions would normally be enough to make any team cringe.
Unless, of course, that trio of consecutive games didn't count. Such is the case for the Rams, who will play the second of those preseason games Saturday night in Denver against Manning & Co.
Because that murderer's row is on the exhibition slate rather than the regular-season schedule, the Rams actually view the opportunity to play teams widely considered Super Bowl favorites as a net gain.
[+] Enlarge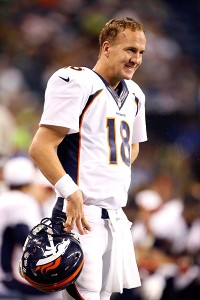 Joe Nicholson/USA TODAY SportsThe Rams' defense sees Peyton Manning & Co., a week after facing All-Pro QB Aaron Rodgers.
"It should, it absolutely should," end
Chris Long
said. "Obviously, neither team is going to be throwing everything they've got at the other team but certainly for everybody, it's going to be beneficial to have seen two of the best quarterbacks in the game and then next week after that depending on how much [Joe] Flacco we see, I don't know about that, he's a heck of a player too. It's important to get that work and it helps us out a lot."
The Rams opened the preseason in Cleveland against a team that seemed to plan for the game a bit more than most do for an exhibition opener. Last week, the Rams hosted Rodgers and the Packers, and although Green Bay didn't have many of its top players active, it didn't hesitate to throw in some wrinkles that the Rams would see more of in the preseason.
Rodgers' ability to use play-action was particularly effective and useful for the Rams' defense. Projected rookie starters
Alec Ogletree
and
T.J. McDonald
got an important lesson on discipline and maintaining assignments at linebacker and safety, respectively.
Tight ends have been an early headache for the Rams' defense, in no small part because linebackers and safeties have been out of position or blown assignments. Cleveland's
Jordan Cameron
had a 30-yard catch in the opener, and last week Green Bay's
Jermichael Finley
posted four catches for 78 yards in less than a half.
It won't get any easier this week against Manning and the Broncos. The third preseason game is generally viewed as the one bearing the most striking resemblance to a regular-season game. That means Manning and his group could play into the third quarter and will likely have some offensive game plan in place.
"Yeah, that's a huge challenge," linebacker
James Laurinaitis
said. "The guy is brilliant. He's a machine. He studies the game extremely hard. I have the utmost respect for him. He's one of those guys you have to hold your look because if you tell him what you're in, he's going to figure it out and get that ball out before you can touch him."
Laurinaitis recalled playing Manning during his rookie season in 2009, when Manning was still with Indianapolis, and marveling at how quick the quarterback would get rid of the ball.
"He got that ball out so fast it was frustrating," Laurinaitis said. "He doesn't like to get hit very often and he's so smart that you can blitz him coming free, and if someone touches him he's getting the ball out. It will be a great test for our young guys and old guys alike, everybody. It's a good test to be facing a future Hall of Famer."
The Rams' offense should be challenged plenty as well. Cleveland defensive coordinator Ray Horton didn't hesitate to blitz regularly in the first preseason game and the Packers did the same, oftentimes with a loaded run box to force the Rams to max protect.
Denver linebacker
Von Miller
is still eligible to play and could view playing the Rams as an opportunity to take out some frustration for his six-game suspension. How much Miller plays is unknown, though his first-team repetitions decreased on the heels of the suspension.
The Rams will get an additional conditioning test in Denver as they adjust to the altitude.
Earlier this week, Rams coach Jeff Fisher indicated his starters would play into the third quarter. After disappointing performances in the first two games, the Rams won't stray too far from their simplistic preseason approach, but they will look to have a bit more success than they did against Cleveland and Green Bay.
Regardless, playing Manning and the Broncos on the road should provide another strong preseason test.
"I think it's great," quarterback
Sam Bradford
said. "Obviously, you want to face the best each week. You want to face someone that's going to make you better. I feel like all of the defenses that we've seen have made us better, and we're just looking to improve each week, to go out and play a clean game, execute what's in the game plan and really try to limit the penalties."
August, 23, 2013
8/23/13
10:38
AM ET
EARTH CITY, Mo. -- In need of repetition and opportunity to play his new position in a real game, Rams offensive tackle
Rodger Saffold
has spent part of his week lobbying to return to the lineup Saturday night in Denver.
Saffold suffered a dislocated left shoulder two plays into the preseason opener in Cleveland, a game which doubled as his debut at right tackle after spending his first three seasons on the left side. He returned to practice on a limited basis this week but he's well aware that any playing time between now and the start of the regular season is essential in getting fully adjusted to his new position.
[+] Enlarge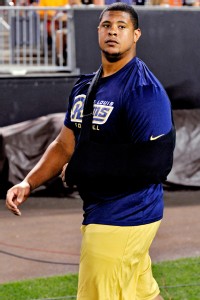 AP Photo/David RichardIn need of reps at his new offensive line position, the Rams' Rodger Saffold is hoping to return to game action on Saturday.
"Those reps are seriously important," Saffold said. "That's why I hope they lean toward putting me in for a little bit and then after that I can go from there. But I think the way we are taking it is a smart way. It feels completely stable now. I'm ready to go out and play again."
Saffold's status for Saturday night remains to be seen despite his pleas to play. Rams coach Jeff Fisher said Wednesdsay that Saffold was "much better" and there were "expectations that he would play." What Fisher didn't say was how soon Saffold's return would occur.
In practice this week, Saffold slowly eased back into the mix. He didn't participate Monday and then did some light individual work Tuesday. On Wednesday and Thursday, he started to work his way back into team drills though he'd still be considered limited if regular-season designations were being used.
Wearing a brace on his shoulder underneath the pads, Saffold said he feels like the shoulder is stable and he can do normal things like reach and punch without pain. That's a step in the positive direction after an injury that initially looked like it could keep him out much longer.
Entering his fourth season, Saffold has consistently battled the injury bug. He missed six games in 2012 with a knee injury and seven contests in 2011 because of concussion, ankle and pectoral ailments. The shoulder injury set off a wave of concern for an offensive line with plenty of veteran talent but also a recent history of injury issues.
Saffold's injury happened on a simple pass protection against the Browns on Aug. 8. Cleveland pass-rusher
Paul Kruger
attempted to bend the right edge against Saffold. Kruger tried to slap Saffold's arms away as Saffold pushed through the arm slap, but as he attempted to work Kruger's arm to push him away he flipped over and crashed to the ground. He instantly knew the shoulder had popped out backward.
Asked if his adjustment to the right side might have led to the injury as he still tries to refine his fundamentals, Saffold acknowledged the possibility.
"When you're in a game, the adrenaline is rushing," Saffold said. "So you've got to be more patient sometimes than you are on the practice field. That's something you need to get a hold of so I don't end up putting myself in bad positions, leaning and stuff like that."
Joe Barksdale
replaced Saffold against Green Bay and fared well in his stead. If Saffold can't play against the Broncos, Barksdale figures to get the call again. The ultimate decision will come down to Fisher and head athletic trainer Reggie Scott, regardless of Saffold's request.
"I always feel like I'm ready to go," Saffold said. "We've got to think about this smart, but I'm really confident. I think me telling them how confident I feel, they could give me a chance to go."