St. Louis Rams:

Eugene Sims
December, 9, 2013
Dec 9
11:30
AM ET
GLENDALE, Ariz. -- Rare was the occasion when it seemed the
St. Louis Rams
would pull out a victory during Sunday's 30-10 loss to the
Arizona Cardinals
.
But with 11 minutes to go in the second quarter and trailing 7-3, the Rams got a glimmer of hope that the tide had turned and good things were still to come. That glimmer vanished into the darkness of a whistle heard only by a player or two among the 22 standing on the field.
After Cardinals quarterback
Carson Palmer
hit tight end
Jim Dray
down the middle, Dray appeared to break the plane of the end zone before the ball came out to extend Arizona's lead. Rams safety
Rodney McLeod
hit Dray before he crossed the goal line, jarring the ball loose. Cornerback
Janoris Jenkins
scooped it up and began running the opposite direction.
Almost immediately, side judge Rick Patterson signaled touchdown which led many to believe there was little doubt of the score. But aside from his signal, not many seemed to hear a whistle.
"They ruled it a touchdown," Rams coach Jeff Fisher said. "Nobody else blew the whistle. Back officials didn't know what was going on so Jenks picked the ball up like you're supposed to do and run with it. Then we got a penalty on top of it."
We'll get to the penalty in a moment but before we do, it's worth noting just how much the premature touchdown signal hurt the Rams in the moment. The replay showed that Dray really wasn't all that close to scoring or even being down before the fumble. Jenkins made it almost to midfield before he realized the play had been blown dead. He almost certainly would have scored a touchdown to give the Rams a 10-7 second quarter lead.
"I didn't hear any whistle," Jenkins said. "I just finished the play. At the end, I can only just play and then when the whistle blows and it comes back. I think it could have changed the game. But it didn't."
Making matters worse for the Rams, the officials flagged defensive end
Eugene Sims
for a personal foul for hitting Arizona quarterback Carson Palmer after Jenkins picked up the fumble and began returning it. Of course, Palmer was like most everybody else in that he heard no whistle and was actually in motion to attempt to tackle Jenkins on the return.
The penalty on Sims came in as a result of his blocking Palmer and trying to help Jenkins score.
Upon review, the officials got the call of a fumble correct but opted not to pick up the flag despite attempts by the officials to get Walt Coleman to do so before the review took place. So, instead of a touchdown or even a touchback from the fumble recovery, the Rams got the ball but started from their own 10. Arizona eventually got a stop on the Rams' ensuing possession and promptly scored on its next drive.
A possible 10-7 Rams' lead became Arizona's 14-3 edge.
"It's a difficult call," Fisher said. "It's just one of those things that happens. I'm not mad at them. I'm a little disappointed in the fact that they enforced the penalty."
Considering the way the game went, it'd be quite a leap to think that play going the Rams way would have keyed a victory but there's no doubt the botched calls hurt any chance the Rams had of making it a game.
I.C.Y.M.I.
A roundup of the weekend's Rams stories appearing here on ESPN.com. … Saturday's
Ram-blings
explored the Rams' ongoing issues with dropped passes. … Next, we previewed Sunday's game with
three things
to watch and a few key individual
matchups
to keep an eye on in Sunday's game. … In the immediate aftermath of the Rams' loss, we offered this week's edition of
Rapid Reaction
. … From there, we
revisited
the three things to watch with an eye on how the Rams fared in each of those categories. … Finally, it was a look at how Arizona's win shows the Rams have a
tougher road
to the top of the NFC West now than it once appeared.
Elsewhere:
Jim Basquil and Eric Allen
break down
the Rams' loss.
At stltoday.com, columnist Jeff Gordon offered his
grades
on the Rams' Sunday performance.
Gordon also
chatted
with fans during the contest.
Jim Thomas' game story puts the
spotlight
on the Rams' lost decade.
Turf Show Times offered its
take
on Sunday's happenings.
At KMOV.com, Doug Vaughn
ponders
another disappointing Rams' performance.
October, 15, 2013
Oct 15
4:00
PM ET
ST. LOUIS --
A look back at the St. Louis Rams' 38-13 win over the Houston Texans on Sunday after reviewing the coaches' film.
Big Play:
Rams linebacker
Alec Ogletree
intercepted Houston quarterback
T.J. Yates
and returned it 98 yards for a touchdown and a 38-6 lead.
There were many big plays by the Rams defense in this one and though the game was well in hand when Ogletree made the play, it was still the type of big, flashy play that stole the show.
Houston lined up with three receivers and a tight end before running back
Arian Foster
went in motion to give Yates three receivers split left and an attached tight end on the right with another receiver to that side. Yates was in the shotgun.
The Rams came out with three down linemen (all defensive ends) and end
Chris Long
standing up on the left edge with nickel personnel on the back end. Ogletree and
James Laurinaitis
lined up in the middle of the field with Laurinaitis dropping back as the ball was snapped.
At the snap,
Eugene Sims
drops off into a short zone with
Robert Quinn
, Long and
William Hayes
going after Yates. The Rams played fairly aggressive coverage with cornerback
Janoris Jenkins
up on wideout
Andre Johnson
but really none of that mattered.
Yates never looked anywhere but in the direction of tight end
Garrett Graham
. Graham got a free release and ran a quick out. For as certainly as Yates was starting at Graham from the snap, Ogletree was staring at Yates and saw the whole thing develop. Yates didn't seem too concerned as Ogletree jumped in front of the pass and caught it in stride for the touchdown return.
There wasn't much complicated about this one other than Ogletree making a good read and following through with an athletic play.
Hidden Play:
Rams defensive end Robert Quinn drew a facemask penalty on Houston left tackle
Duane Brown
to get the Rams a stop on Houston's opening drive.
On third-and-12, Houston had third-and-12 at its 42 after picking up a couple first downs.
The Texans lined up with four wide receivers, three bunched to the right and another to the left with Foster in the backfield and
Matt Schaub
in the shotgun.
The Rams came with their basic four down linemen with the nickel package in place on the back end and Laurinaitis showing blitz at the line of scrimmage. Just before the snap, Laurinaitis bailed from the line and dropped into coverage as the Rams rushed four.
Per usual, Quinn got off the ball like he was shot out of a cannon and blew past Brown almost immediately. As Quinn bent the edge, Brown did the only thing he could to keep Schaub from getting dropped, reaching up and grabbing Quinn by the facemask.
Schaub stepped up in the pocket and delivered a pass for an 8-yard gain to Foster. The gain was wiped out by a penalty for the facemask and the Texans' ensuing third down play netted 4 yards.
The Texans likely would have punted anyway but they did so from their 31 instead of the 50 and the Rams ended up taking over at their 35. They would capitalize on that field position with a touchdown for a quick 7-0 lead.
Other Observations:
It's hard to disagree with Rams coach Jeff Fisher's assessment that defensive tackle Michael Brockers played his best game as a Ram. He punished the interior of Houston's offensive line and though one of his sacks came as a result of edge pressure, the eye-popping plays came against the run more than the pass rush.
The run defense struggled again for multiple reasons. First, the Rams continue to have trouble getting guys in the right spots. Safeties Darian Stewart and Rodney McLeod had some issues in that regard and Ogletree also had some problems.
One other area that has hurt the Rams there is a tendency to miss tackles and get off blocks. While his final stat line certainly looked great, Ogletree had some struggles in both areas, particularly the latter.
Stewart probably struggled the most. He was on the field for every defensive snap and failed to register a tackle or any stats at all according to the coach's review of the game. I'm not really sure how that happens but from watching, it's clear he was out of position a number of times from overrunning plays. On Foster's 23-yard run in the second quarter, Stewart comes unblocked off the right edge as Schaub hands off to Foster. Stewart sort of awkwardly pursues Schaub and Foster cuts back to the space vacated for a big gain. He did something similar on the play after which netted Foster another 22 yards.
In fairness to Ogletree, the guy just finds a way to make the "splash" plays that make you see past the issues he has. His forced fumble might actually have been a bigger play than the interception. It's a lot easier to tolerate the mistakes when a player like Ogletree taketh more than he giveth away.
The return of Hayes to the defensive line rotation didn't have a huge effect right away but he still had some good moments setting the edge and helping there. More impressive was Eugene Sims, whose presence gave the run defense a noticeable push, especially in the second half.
Solid work from corners Jenkins and Trumaine Johnson for the most part. Both did a good job of being active in run support, which is important against a rushing attack such as Houston's. Johnson, in particular, was helpful in that area.
Rough game for backup defensive tackle Jermelle Cudjo, who picked up a pair of silly penalties in the second half. The game was mostly in hand at the time of the infractions but there was little reason for those to happen.
We have detailed the big special teams play to come out of this one but it's worth a tip of the cap to rookie linebacker Ray Ray Armstrong for his work in coverage. He had a pair of hard-earned tackles in coverage and was able to avoid penalties. He and Daren Bates are wrecking balls on coverage. If they can continue to rein in the penalties, they've got really bright futures as special teams players.
September, 12, 2013
Sep 12
7:30
PM ET
EARTH CITY, Mo. -- Rams defensive end
Robert Quinn
impressed just about everyone with his three-sack, two forced fumble performance against the
Arizona Cardinals
in week 1. Everyone, that is, except defensive line coach Mike Waufle.
Waufle leads the Rams' band of quarterback-chasing brothers by always keeping his eye on the next play, the next practice or the next game. When his linemen reach a goal, he sets the bar higher.
[+] Enlarge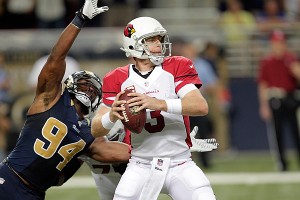 AP Photo/Tom GannamRams defensive end Robert Quinn showed his considerable upside in Week 1 against Arizona.
When a player like Quinn dominates a game and wins NFC Defensive Player of the Week honors, Waufle is proud but far from satisfied.
"It was a good day at the office, a good start," Waufle concedes.
Perhaps in part because he knows better than anyone what Quinn's true upside is as the end enters his third season, Waufle wants to do everything possible to push Quinn to reach it.
When the Rams drafted Quinn with the 14
th
pick in the 2011 NFL draft, they knew they were getting a fast-twitch player who would instantly be one of the best pound-for-pound athletes on the team. They also knew they were getting a player who hadn't played college football in 2010 and was going to be a bit of a project.
Quinn did just fine in his first two seasons, posting 15.5 sacks, but his pure speed and athleticism were enough to hit those marks.
So, with the help of Waufle and his fellow linemen, Quinn has set about looking to find ways to add more moves to his repertoire.
"I have been trying to incorporate more of an inside move, working on chops, stuff like that and just diversifying to be a better pass-rusher," Quinn said. "That way offensive linemen don't just have to focus on one thing. You have to be a master of all, which is tough to do, but that's our job to do so we work at our craft, try to get better each week."
Even in Quinn's award-winning performance against Arizona and left tackle
Levi Brown
, Quinn showed glimpses of a more diverse skill set, but still won each of his three sacks by using his speed to bend the edge.
On the first sack, the Rams rushed four and Quinn used his hands to quickly knock away Brown's attempts to engage. Quinn then quickly gets around the edge and chops down on Arizona quarterback
Carson Palmer
's arm to come up with a sack and a forced fumble.
On sacks two and three, fellow defensive ends
William Hayes
and
Eugene Sims
lined up in the middle and bookend
Chris Long
was in his usual spot opposite Quinn. A pure speed rush around the edge allowed Quinn to blow past Brown, who barely touched him on his way to the quarterback.
Out of those three sacks, the best sign for the Rams moving forward could actually be the two forced fumbles. The Rams had 10 forced fumbles in 2012, tied for 24
th
in the league and recovered four, which was second to last.
Quinn said he has made it a point to work on his version of the tomahawk chop. He said the coaching staff preaches to go for the arm instead of the ball because it offers a greater surface area to target and can have the same effect.
"The most important thing is coach Fisher wants us to get turnovers," Waufle said. "He wants us to get that ball out and we were able to accomplish that. We have got to be better at what we do, and the consistency factor has to be great to help our team."
Beyond the sacks and fumbles, the best sign of progress for Quinn might have come in the third quarter when Brown shaded him to the outside and Quinn used his left arm to knock Brown away as he rushed to the inside. The play didn't result in a sack, but it did draw a holding penalty on Brown and showed Quinn's developing understanding of how to take advantage of what one move can do to set up another.
"I'm one of the smaller [defensive] ends in the league, so I am not going to try to lift up a 300 pound tackle all the time," Quinn said. "You have got to mix it up, incorporate different things, think outside the box and keep your opponent off balance. That way he can't focus on one thing. Once you get him off balance, you are the aggressor now on what you decide to do and have him reacting to you. You have got to set the tone early, but definitely you can't do one thing over and over again, because people will adjust to it."
In his young career, Quinn now has two three-sack games, both against Arizona with tackle D'Anthony Batiste and Brown as the primary victims. Waufle is quick to point out that even though Quinn had six sacks in those games, that also implies they blocked Quinn on a large number of plays, also.
The next step for Quinn is to continue to improve against the run and use his developing moves to consistently beat some of the league's elite tackles. He'll see plenty this season with two dates against San Francisco's
Joe Staley
and Seattle's
Russell Okung
, and another game against Houston's
Duane Brown
, among others.
Waufle mentions words like precision and timing as areas Quinn can still improve, but he says it's important not to rush Quinn into trying to do too much too soon.
"He's a young player so he's developing a number of things, but you only take one thing at a time," Waufle said. "You don't want to try to give him a whole handful and be a jack-of-all-trades and a master of none. He's working on specifics and getting better. He still has a lot of work to do."
September, 7, 2013
Sep 7
8:00
AM ET
EARTH CITY, Mo. -- Sunday's Rams-Cardinals game will be televised locally in St. Louis, but it won't be easy to find in many other places around the country.
The Rams met the necessary requirements to have their regular-season opener broadcast within the market. But despite a building buzz around town for the opener,
only 6 percent of the nation
will see the game.
Through all of the lean years the Rams have had recently, they've managed to find ways to stay televised locally. But they are one of only two late games on Sunday's slate. Running opposite the 2012 playoff rematch between San Francisco and Green Bay, the Rams and Cardinals won't be seen by many eyes.
Of course, the Rams will get plenty of opportunities this season to show what strides they've made since their 7-8-1 finish a year ago. They will host two prime-time games (Week 4 against San Francisco, Week 8 against Seattle), and next week's match-up against Steven Jackson and Atlanta will likely draw some national attention.
As with most things, the networks' respect is earned only by winning. The Rams showed enough improvement to get some love with their prime-time contests, but if they want to start drawing bigger and better time slots in the normal run of things on Sundays, they'll need to get off to a good start this season and build on the strides made last year.
I.C.Y.M.I.:
Here's our quick rundown of what we had right in this space yesterday. ... We started with
the breakdown of Sunday's game
with Cardinals reporter Josh Weinfuss and I kicking around a variety of topics. ... From there, my
look at how the Rams have gone about building their offense
around quarterback Sam Bradford. In the piece, I speak to Bradford's Oklahoma offensive coordinator Kevin Wilson and draw connections between how the Rams have handled their offensive revamp and how OU handled it when Bradford was taking over as the starter. ... We also had a
quick injury report
, including the four Rams who have already been ruled out for Sunday.
Elsewhere:
Over at Grantland, Bill Simmons offered a look around the NFL with
his annual predictions
. He has the Rams and Cardinals lumped in an unfortunate position called "The Short Straws."
St. Louis Post-Dispatch columnist Bernie Miklasz offered
19 quick hits on the upcoming season
, one for each year the Rams have been in St. Louis.
Miklasz and fellow columnist Bryan Burwell also offered a
video preview
of Sunday's game.
Post-Dispatch writer Jim Thomas provided
further explanation
of defensive end Eugene Sims' contract, with some interesting details about playing-time bonuses that could raise his value in the coming years.
Finally, Ben Frederickson of Fox Sports Midwest had
this piece
on soft-spoken running back Daryl Richardson and the challenge that awaits him in his first season as the starter.
September, 3, 2013
Sep 3
8:00
AM ET
In yesterday's edition of Ram-blings, we took a look at our season preview right here on ESPN.com. The consensus amongst myself and our columnists was that the St. Louis Rams would be improved but likely finish third in a difficult NFC West.
Over at Grantland,
Bill Barnwell began his preview series
with the "cellar-dwellers," also known as the eight teams he thinks will finish in the bottom third of the league. Barnwell has many of the usual suspects on the list, including teams like Jacksonville, Oakland and the Jets. But there were a couple of surprises -- fans in Minnesota are probably not thrilled about the column -- and the presence of the Rams is one of them.
There's been enough buzz not only in St. Louis but also from national types about the Rams being one of the true sleepers in the league, a team capable of making a playoff run for the first time since 2004. Those predictions are a product of the large jump the team made to seven wins in 2012 as well as a young roster stocked with potential.
The Rams' youth is often a hot-button issue for skepticism in regards to how they'll fare this season, but Barnwell actually focuses in a different direction entirely: quarterback Sam Bradford. Here's an excerpt of his explanation for the inclusion of the Rams on the list.
"At this point, Bradford is basically a ruthless checkdown artist; the Rams are the ones paying millions of dollars to put something they don't really understand or have any use for up on their wall right now, and since they've already done it once, they keep doing it."
Barnwell digs into the numbers and makes valid points about Bradford's past tendency to focus on receiver Danny Amendola and inability to scan the field and find other wideouts. He also points out an interesting correlation between yards per attempt and completion percentage. There's plenty to chew on in the piece as Bradford enters an important season.
Elsewhere:
Here at home base, we started the day with a look at the
Rams' team preview
. ... From there, we broke down the news that
Carolina signed former Rams safety
Quintin Mikell. ... Then we
pondered the breakout potential
of mammoth Rams defensive tackle Michael Brockers, who I believe is best suited among the team's young talent to push his game to the next level in 2013. ... The Rams got a little busy on Labor Day, inking backup defensive lineman Eugene Sims to an extension through 2015. It's a move that shows their
emphasis on building and maintaining a top-notch defensive line
.
There's been plenty of fanfare about the offseason additions of tight end Jared Cook and receiver Tavon Austin -- but left tackle Jake Long is every bit as important, if not more.
Long told the St. Louis Post-Dispatch
that he is "the healthiest I've felt going into a season in probably three years." That's good news for Bradford, who could probably attribute some of his field-vision issues to problems along the offensive line and lack of comfort that he'll have time to throw.
ESPN.com's David Newton has
the news on Mikell's signing
with the Panthers.
September, 2, 2013
Sep 2
5:10
PM ET
Even before his defensive line became the focal point of a defense that tied for the league lead in sacks in 2012, Rams general manager Les Snead pinpointed that unit as the strength of his team.
At the time, it was obvious why: the starting quartet had three first-round picks (
Chris Long
,
Robert Quinn
and
Michael Brockers
) and a high-priced free agent (
Kendall Langford
) leading the charge. But Snead knew something that nobody else really did; the Rams were flush with more depth at the position than they'd had in a long time.
[+] Enlarge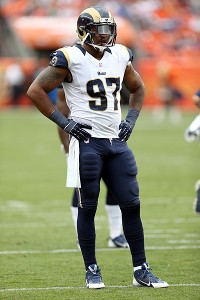 AP Photo/Paul JasienskiEugene Sims played 411 snaps in 2012, highest among the Rams' backup defensive linemen.
On Monday afternoon, the Rams re-inforced those beliefs by doing a little work on Labor Day, signing backup lineman
Eugene Sims
on a two-year contract extension. Sims' contract will carry him through the 2015 season, and allows the Rams to keep their collection of young defensive linemen together for at least that period of time.
Sims is the first pending free agent in next year's potential class to get an extension this summer. That's not a coincidence given the value the Rams clearly put on having a strong defensive line.
Only defensive tackle
Jermelle Cudjo
, who signed a two-year extension of his own in the offseason, is not under contract beyond 2014. The Rams also signed end
William Hayes
to a three-year contract in the offseason.
Since the arrival of coach Jeff Fisher and defensive line coach Mike Waufle, the Rams have built a defense that is largely predicated on getting pressure from the front four. While Long and Quinn are the primary ends, Sims and Hayes get plenty of work.
Sims played 411 snaps in 2012, which was highest among the team's backup linemen and 12th on the defense as a whole. Along the way, he posted 20 tackles, the first three sacks of his career and an interception. He also provides the line with a good bit of versatility. Known primarily for his run-stopping ability, Sims has been a developmental pass-rusher since he entered the league as a sixth-round pick out of tiny West Texas A&M in 2010.
Considering that, Sims spends a lot of his time at end on running downs, but kicks inside when the Rams want to ratchet up the pass rush. At times last season, Sims and Hayes would play inside on obvious passing downs with Long and Quinn as the bookends.
Those looks are nothing new around the league, but only teams with ends they believe in can change so easily on the fly. Judging by Monday's extension, the Rams clearly believe in Sims.
August, 22, 2013
Aug 22
8:24
PM ET
EARTH CITY, Mo. – With a heavy heart, Rams defensive end
Eugene Sims
returned to practice Thursday afternoon.
Sims had been gone since after the preseason opener on Aug. 8, attending to the death of his mother, Jeanelle, 42. He returned home to Mount Olive, Miss., to be with his family and for the funeral services, which took place Wednesday.
"It's been a long week for me," Sims said. "It's been real stressful but it's good to be back with the team, with my brothers, and keep myself busy to try to help myself heal from what's going on."
With the full support of his teammates and the organization, Sims took care of what he needed to in Mississippi. He leaned on football while he was away to take his mind off of things, something he said he plans to continue moving forward.
[+] Enlarge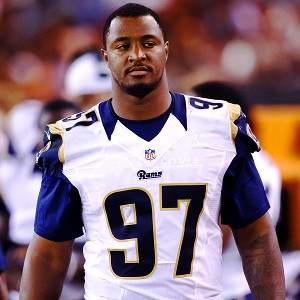 Rick Osentoski/USA TODAY SportsRams DE Eugene Sims said he often studied his playbook to take his mind off his mother's death.
The defensive line, a particularly close group within the team, regularly kept in contact with Sims while he was away. End
William Hayes
called him every day.
When the situation at hand got overwhelming, Sims said he would study his playbook.
"My teammates have been there 100 percent," said Sims, entering his fourth NFL season. "I have never been around a group of guys like this. They have been positive with me and they keep my head straight. All the coaches have been behind me, the whole organization actually."
The soft-spoken Sims had something of a breakout year in 2012, becoming an integral part of the defensive-line rotation with 20 tackles, three sacks and an interception.
Getting Sims back in that rotation should help an already cohesive line continue to mesh in advance of the regular season. Of course, it should also provide an outlet for Sims at a time when it's needed most.
"First day back, it's good to be back," Sims said. "I have a lot on my mind, but still at the same time I have business to take care of and I'm going to take advantage of the opportunity and go forward."
Thursday practice notes
The Rams haven't fully transitioned to regular-season mode but they are on the way. They closed the open portion of the preseason Wednesday night and practiced without the pomp and circumstance for the first time Thursday.
Coach Jeff Fisher said the team would begin moving things up a bit earlier and shift the schedule around before the final preseason game next week.
"The difference between yesterday and today is that we don't have any evening meetings," Fisher said. "So we still have a lot of work to do. Typically when you break camp, you move everything up a little earlier and that's what we'll do next week."
Offensive tackle Ty Nsekhe returned to practice Thursday after sitting Wednesday because of the flu.

Tight end Lance Kendricks (knee) got more work on the side as he continues his comeback. Defensive tackle Jermelle Cudjo was back in uniform but limited Thursday.

Offensive tackle Rodger Saffold said he hopes to play Saturday night against Denver as he comes back from a left-shoulder dislocation. He said that decision probably wouldn't be made officially until closer to the game.