St. Louis Rams:

Frank Cignetti
February, 16, 2015
Feb 16
11:00
AM ET
EARTH CITY, Mo. -- One of the first orders of business for the
St. Louis Rams
before the real offseason begins is going through an extensive period of self-scouting.
As coach Jeff Fisher and his offensive coaches went back through the 2014 season, he came to a few conclusions.
[+] Enlarge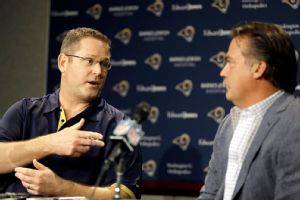 AP Photo/Jeff RobersonFrank Cignetti looks to have an offense that will be simpler but "appear to be much more complex."
"I personally had plenty of time to go back and reflect and look at the offense and identify some areas that need to be improved on," Fisher said. "Like what you're talking about with the third quarter stuff and the third-down efficiency and tying the run game to the play-action game and simplifying the offense and reducing things and establishing an identity and all those kind of things."
Out of that laundry list of items, the word "simplifying" jumps out the most. I know what you're thinking: How can an offense based in the principles of "ground and pound" be too complicated? Well, Fisher believes that at times the Rams' offense was too voluminous, asking the players to remember a lot of things in a given week.
Former coordinator Brian Schottenheimer's offense (under Fisher's guidance) may be fairly fundamental philosophically but it also came with plenty of shifts, movements and details that gave the players an abundance of things to do and remember on every snap.
In elevating quarterbacks coach Frank Cignetti to offensive coordinator, Fisher said he saw in Cignetti an ability to help the offense get where it wants to go without having to change what it does at its core.
"Those are the kind of things that we talked about and those are the things that were very attractive to me from a standpoint of not only his background, his experience just understanding offensive concepts, but also different ways of doing things," Fisher said. "So, we are going to change, but change is good. This change is going to be very, very good for us."
Asked if he thought the offense was too complicated, Fisher confirmed that in discussions with Cignetti, there was a bit of a consensus that it was.
"I think we agreed there was at times," Fisher said.
Which puts the onus on Cignetti and his staff to find ways to reduce the offense and simplify it while also ensuring that it offers enough options to have success. There is no doubt that the Rams offense will have a similar approach in 2015 with the language and playbook remaining the same. Boiled down to simpler terms, the idea is to continue doing the same things the offense has done in the past but do it better.
"The foundation of the playbook is the same," Cignetti said. "Coach Schottenheimer's put a terrific system in place here, the same system I was a part of when I was with the
San Francisco 49ers
. The foundation is going to be the same. Whether Coach Schottenheimer was still here or whether it was myself leading, every year you look at ways of doing things better.
"So, things that we talked about was how could we minimize terminology? So there's certain things that we did in my past that we'll be able to minimize terminology. So, as an offensive staff, we're going to evaluate everything. If there's a better way to learn, if there's a better way to teach, then we'll make changes. We're not going to change just to make changes, but if it's something that's going to help us win football games, then we'll make the necessary changes."
It's a process that's already begun.
"I'm confident that our system will be such in April when the players come back for the offseason program, we'll be simplified," Fisher said. "But appear to be much more complex."
February, 15, 2015
Feb 15
11:00
AM ET
EARTH CITY, Mo. -- The
St. Louis Rams
finally filled their offensive coordinator job Thursday, formally announcing Frank Cignetti's promotion. They also promoted Rob Boras from tight ends coach to assistant head coach/offense.
Boras will continue coaching tight ends, but Cignetti's focus on quarterbacks will not remain. So head coach Jeff Fisher is searching for a replacement for the role of quarterbacks coach. On Thursday evening and Friday morning, Fisher and the Rams interviewed former NFL quarterback Jeff Garcia for the job.

Garcia
All signs are that the discussion with Garcia went well, but Fisher made it clear that he'd like to investigate other candidates further before making a decision.
"We'll have a quarterback coach in place that's going to help us," Fisher said. "That process is ongoing. As it was reported, we did have Jeff Garcia in last night and today. I'll continue to interview several others. We have some really solid options in place, but again, we're going to probably take a little time before we make that decision."
It should be no surprise that Fisher doesn't want to rush into the hire of a quarterbacks coach. Taking his time has been a Fisher trademark in coaching searches, as evidenced by the lengthy process preceding Cignetti's hire.
Garcia is the only known candidate at this point. He has never coached in the NFL, but spent last season as the quarterbacks coach for the Montreal Alouettes. Garcia has, however, spent time as a mentor and trainer for quarterbacks at all levels as part of his Jeff Garcia Football Academy in San Diego. And, of course, Garcia had a lengthy NFL career in which he started 116 games and went to four Pro Bowls.
At this point, none of the other potential candidates are known, but there is at least one more potential coach that Fisher would like to talk to. It's possible some of that business could get cleaned up next week at the NFL scouting combine in Indianapolis.
No matter who the Rams ultimately add to complete the coaching staff, Cignetti says there will be a little difference in how he and former coordinator Brian Schottenheimer divided up the duties.
Schottenheimer was the coordinator, but spent a lot of time working with Cignetti and the quarterbacks. Cignetti intends to have input with the quarterbacks, but take on more of an all-encompassing role with the offense.
"I want to be the offensive coordinator in terms of leadership and motivation," Cignetti said. "We want to hire a quarterback coach that will be the quarterback coach. I'm not going to be as involved with the quarterback as much as Coach Schottenheimer was involved. That would probably be the biggest difference."
February, 12, 2015
Feb 12
4:00
PM ET
EARTH CITY, Mo. -- In a move that has been anticipated for a week, the
St. Louis Rams
officially announced their new offensive coordinator and assistant head coach/offense on Thursday.
As expected, quarterbacks coach Frank Cignetti has been promoted to offensive coordinator and tight ends coach Rob Boras has been bumped up to assistant head coach/offense.
"Frank has been a key asset to our staff over the last three years and I'm confident that he'll do a great job leading our offense in this new role," Rams coach Jeff Fisher said in a statement. "He's done a great job in some difficult circumstances and he brings a great body of work as a playcaller at some significant college programs. Our players know and respect Frank, and I believe we'll benefit from the continuity he'll provide."
Cignetti had been the Rams' quarterbacks coach for each of the past three seasons and has been an offensive coordinator at five previous major collegiate stops (Rutgers, Pittsburgh, North Carolina, California and Fresno State). The Rams are likely going to find a replacement for Cignetti as quarterbacks coach and were scheduled to interview former NFL quarterback Jeff Garcia on Thursday afternoon.
Boras has also been in St. Louis for the past three seasons, coaching tight ends. Despite his new duties, Boras will continue in his role coaching the tight ends but has added offensive responsibility on a larger scale. According to the Rams' release, Boras will "help oversee all aspects of the offense with a particular emphasis on leading the run game."
In other words, while Cignetti is the offensive coordinator, there will be a certain level of shared responsibility between he and Boras when it comes to putting the offense together.
"Rob is a tremendous teacher and he's done a great job with our tight ends," Fisher said. "His expanded role is sure to make us better as an offense."
February, 6, 2015
Feb 6
4:00
PM ET
EARTH CITY, Mo. -- With the
St. Louis Rams
expected to name quarterbacks coach Frank Cignetti their new offensive coordinator next week, now seems as good a time as any to examine his history at the position.
While Cignetti will be embarking on his first shot at running an NFL offense, he does have plenty of experience handling the role at the college level, including five stops at FBS schools. Those include Fresno State (2002-05), North Carolina (2006), California (2008), Pittsburgh (2009-10) and Rutgers (2011).
Rutgers
2011: The Scarlet Knights averaged 26.4 points per game (65th in the nation), 339 yards per game (99th), 241.2 pass yards per game (52nd) and 97.8 rushing yards per game (112th).
Pittsburgh
2010: The Panthers averaged 26.3 points per game (65th), 367 yards per game (72nd), 201.2 passing yards per game (73rd) and 165.7 rushing yards per game (45th).
2009: 32.1 points per game (21st), 392 yards per game (52nd), 211.3 passing yards per game (68th) and 180.3 rushing yards per game (34th).
California
2008: The Golden Bears averaged 32.6 points per game (27th), 376 yards per game (47th), 189.8 passing yards per game (83rd) and 186.2 rushing yards per game (29th).
North Carolina
2006: The Tar Heels averaged 18 points per game (100th), 293 yards per game (101st), 179.7 passing yards per game (83rd) and 113.3 rushing yards per game (90th).
Fresno State
2005: The Bulldogs averaged 37.8 points per game (sixth), 425 yards per game (tied for 29th), 260.3 passing yards per game (25th) and 164.6 rushing yards per game (41st).
2004: 40.2 points per game (fifth), 405 yards per game (tied for 31st), 177 passing yards per game (95th) and 227.5 rushing yards per game (15th).
2003: 23 points per game (80th), 352.6 yards per game (77th), 192.1 passing yards per game (84th) and 160.4 rushing yards per game (50th).
2002: 27 points per game (62nd), 374 yards per game (59th), 241.6 passing yards per game (41st) and 132.4 rushing yards per game (77th).
Of course, none of these numbers mean anything in terms of how successful Cignetti will be the Rams. Clearly, his offenses didn't do much at the college level save for a couple of strong years at Fresno State and good seasons at California and Pittsburgh.
Aside from Cignetti's time as college coordinator, he spent time coaching quarterbacks in New Orleans (2000-2001) and San Francisco in 2007. If nothing else, Cignetti brings familiarity to the Rams and to quarterback
Sam Bradford
. It's up to him to figure out how to get the most out of what's in place.
February, 2, 2015
Feb 2
1:00
PM ET
EARTH CITY, Mo. -- The
St. Louis Rams
are the only team still working on completing their search for an offensive coordinator, but with the Super Bowl now complete, it's something that should get resolution soon enough. Probably.

Fisher
There was never any question that coach Jeff Fisher would be deliberate in making his decision, but with the market of available known coordinators mostly picked over and other jobs full, most signs point to Fisher hiring from within. That leaves the choice likely to come between tight ends coach Rob Boras and quarterbacks coach Frank Cignetti. There is no clear favorite between the two, with Boras long looking the part of favorite but some recent momentum for Cignetti.
It's also possible that the holdup on making an in-house hire is Fisher seeking a possible replacement position coach for either Cignetti or Boras before elevating one of the two. There could also be a surprise candidate that Fisher has up his sleeve, though it seems unlikely at this stage. Now that the playoffs are over, all assistants from playoff teams would be available to talk should their teams allow for it.
Boras has coached tight ends in the NFL for 11 seasons, with stops in Jacksonville and Chicago before coming to St. Louis. Though he doesn't have the amount of coordinator experience of Cignetti, he did call plays at the college level before moving to the NFL. He coached the offensive line at UNLV for five seasons, but doubled as offensive coordinator for three of those seasons.
At 44, Boras is well-regarded in league circles and by his players as the type of coach who would eventually move into an expanded role at some point. Had then-coordinator Brian Schottenheimer gotten the head coaching job at Vanderbilt last year, there was a strong sense that Boras would have been promoted then.
Like Boras, Cignetti has never been an offensive coordinator in the NFL, though he has coached quarterbacks in stints in San Francisco and New Orleans before coming to St. Louis. But his play-calling resume runs deeper than Boras. He was offensive coordinator at Fresno State, North Carolina, California, Pittsburgh, and Rutgers during his time in college.
Over the past few weeks, the Rams showed interest in the likes of Adam Gase, Kyle Shanahan, Greg Roman, and Nathaniel Hackett, but they took coordinator jobs in Chicago, Atlanta, and Buffalo, respectively, and Hackett went to Jacksonville as quarterbacks coach. Of that group, only Hackett is known to have had a formal interview.
The Rams also sought interviews with Indianapolis special assistant Rob Chudzinski and Green Bay quarterbacks coach Alex Van Pelt but were denied on both. Chudzinski eventually re-signed for a bigger role with the Colts.
January, 29, 2015
Jan 29
1:00
PM ET
News came Wednesday that Nathaniel Hackett, the only remaining known outside candidate the
St. Louis Rams
had courted for their vacant offensive coordinator job, pulled out of consideration for the job and
was headed to Jacksonville
to become quarterbacks coach.
Hackett was scheduled to have a second interview with the Rams earlier this week but that clearly was postponed for a reason. The reason being an opportunity to go to the Jaguars. In Jacksonville, Hackett reunites with Doug Marrone after the pair worked together in Buffalo.
Hackett wasn't assured of getting the Rams job, so it's possible that he opted to take the guaranteed job in Jacksonville. But whether he bowed out of the St. Louis proceedings on his own accord or because he knew he wasn't going to get the job really doesn't matter at this point.
What does matter is where the Rams go from here. We are now 22 days removed from the departure of Brian Schottenheimer to Georgia as its offensive coordinator. We knew then that Rams coach Jeff Fisher
would probably take his time
before making a hire. But with
reports out of San Francisco
that the 49ers are going to elevate quarterbacks coach Geep Chryst, the Rams have the only coordinator position still open in the league.
Considering the Niners also were near the end of the line in hiring a coordinator, it's probably a good indicator of the method the Rams are going to use to fill their job. In other words, it seems quite likely the Rams will end up hiring someone in house for the job.
That could very well lead to the conclusion of tight ends coach Rob Boras. Boras was the man the Rams very likely would've chosen for the job had Schottenheimer left last year and is the coach on the offensive staff who is most regarded as an up-and-comer in league circles. Boras has been in the league for 11 years coaching tight ends but only has three years as a college coordinator to his name, all coming at UNLV where he also coached the offensive line.
Quarterbacks coach Frank Cignetti also figures to be in the mix. He interviewed for the
Cleveland Browns
' offensive coordinator job and is also thought to be a bright offensive mind. Cignetti also offers a little more experience calling plays. He's been a coordinator in college stops at Fresno State, California, North Carolina, Pittsburgh and Rutgers.
The well of outside candidates has mostly dried up at this point. The Rams showed interest in Kyle Shanahan and Adam Gase but Shanahan is headed for Atlanta and Gase has already landed in Chicago. Green Bay denied the Rams permission to speak to quarterbacks coach Alex Van Pelt and Indianapolis promoted Rob Chudzinski before the Rams could speak to him. The Rams also hoped to interview Greg Roman but he took the job in Buffalo before the Rams could talk to him.
January, 21, 2015
Jan 21
1:15
PM ET
EARTH CITY, Mo. -- Another offensive coordinator job went off the board Wednesday morning when the
Cleveland Browns
decided to go with
former Raiders quarterbacks coach John DeFilippo to fill their vacancy.
That news came a day after it was revealed that the Browns had showed interest in a pair of intriguing candidates with ties to the
St. Louis Rams
. Cleveland spoke to current Rams quarterbacks coach Frank Cignetti and former Rams head coach Mike Martz about the job on Tuesday at the Senior Bowl in Mobile, Alabama. In their own way, both of those conversations came as a bit of a surprise.
Cignetti has been the Rams quarterbacks coach since 2012 when Jeff Fisher came on as head coach. Cignetti has coordinator experience at the college level, doing the job at Fresno State, North Carolina, Cal, Rutgers and Pittsburgh. He has never done it at the NFL level, however.
Martz has been out of the league since after the 2011 season following stints as offensive coordinator in San Francisco, Detroit and Chicago after his departure from St. Louis. He was the Rams head coach from 2000 to 2005, compiling a 56-36 record that would probably be a welcome sight around St. Louis these days.
In the past 24 hours, the Browns (DeFilippo),
Jacksonville Jaguars
(Greg Olson),
Oakland Raiders
(Bill Musgrave),
Baltimore Ravens
(Marc Trestman) and
New York Jets
(Chan Gailey) have filled their offensive coordinator jobs. Neither Cignetti nor Martz has been tied to the open job in St. Louis to this point.
It's unlikely Martz would be an option for the Rams though it would be a lot of fun for fans and media. Cignetti is an in-house candidate who could be considered though most signs point to tight ends coach Rob Boras being the strongest possibility of those on the current staff.
August, 31, 2013
8/31/13
2:30
PM ET
There's not a player in the NFL who doesn't look forward to the end of the preseason and the start of the real thing. This year, there might not be a player looking forward to it more than Rams quarterback
Sam Bradford
.
"I'm really excited," Bradford said. "I think it will be nice to actually get into an actual game week with a game plan, talk to 'Schotty' [offensive coordinator Brian Schottenheimer] obviously this weekend and early next week and figure out exactly what we want to do."
For each of his three previous training camps and subsequent regular seasons, Bradford has found himself trying to play catch-up. He'd had three offensive coordinators in as many seasons and three systems to learn along with them.
[+] Enlarge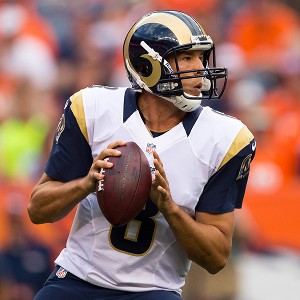 Justin Edmonds/Getty ImagesQuarterback Sam Bradford hopes his preseason success continues in the regular season.
This year, though, Bradford was noticeably more comfortable and relaxed during camp. He was more decisive on the practice field and openly embraced the leadership role vacated by former running back
Steven Jackson
.
As he enters his second season with Schottenheimer, Bradford is comfortable enough that he not only knows the offense but has spent time in practice teaching the details to the many young skill position players surrounding him.
Rams coach Jeff Fisher, Schottenheimer and quarterbacks coach Frank Cignetti have taken notice, planning to involve Bradford more in weekly game planning sessions.
"As you mature in the system, I think it's easier from a quarterback standpoint to say, 'Hey, I like this' as opposed to, 'I am not real sure about that,'" Fisher said. "As he goes through the week, he can experiment with some things. If he's comfortable, we'll take it into the game; if not, then we'll take it out. We want him to be comfortable with everything we're doing."
On the field, the Rams didn't spend much time in the preseason games revealing much of their offensive personality. There are, however, a few takeaways that can come from the exhibition season that might provide some clues as to how the Rams and Bradford are attempting to evolve offensively.
As ESPN Insider Mike Sando wrote recently, Bradford played 64 snaps in three preseason games, which ranks 23rd among projected starters. Normally, Fisher prefers to play his starters some in the fourth preseason game, but he was happy enough with Bradford's performance in his playing time that he opted to err on the side of caution.
"I thought he had a good preseason," Fisher said. "He's got a great understanding of what we're doing, he's done some really good things on the practice field and so he's ready to go."
Although the Rams kept things simple offensively throughout the preseason, Bradford's comfort level is perhaps best viewed through the scope of his attempts to get the ball down the field.
In his first three seasons, Bradford finished 30th (5.95), 32nd (6.06) and 26th (6.72) in yards per attempt. Hence the Rams' attempt to surround him with more speed at receiver and tight end.
This preseason, Bradford tied for second among projected starters in yards per attempt at 10.2. That spike yielded a quarterback rating of 114.1, which ranked fourth among projected starters.
It's important to remember that the sample size is small and Bradford's numbers are certainly bolstered by a couple of deep strikes to wideout
Chris Givens
. What will happen in the regular season remains to be seen, but there are certainly signs that the offense is indeed moving in the direction of one that will be more aggressive and take more chances.
Of course, anything that happened in preseason is already wiped away and only now will we know whether there will be a correlation.
"The preseason is tough in the fact that you pretty much run everything that you have," Bradford said. "There's not really a game plan. There's a call sheet, but we don't really sit down and talk. So, it will be nice to actually get into a game week and know exactly what's going to be on the call sheet and what our plan of attack is."