St. Louis Rams:

Greg Reid
August, 12, 2014
8/12/14
9:30
PM ET
EARTH CITY, Mo. -- A daily review of the hot topics coming out of
St. Louis Rams
training camp:
The Rams followed a sluggish Monday practice with a physical Tuesday workout with plenty of work on the run game, some big collisions, and even a small skirmish. For the second time in this camp, defensive end Michael Sam found himself exchanging shoves with a teammate, this time offensive tackle Joe Barksdale. During a run blocking drill late in practice, Barksdale blocked Sam to the ground after the whistle. Sam took exception and went after Barksdale. The two were separated quickly.
Perhaps more entertaining than that is watching rookie Greg Robinson take part in the run blocking drills. You can tell the big man just feels at home when he gets to move downhill and wipe out a defender. One of the unfortunate souls in his way Tuesday was linebacker Johnny Millard. Robinson buried Millard after a short head start with the sound of impressed teammates serving as the sound track. We haven't really seen Robinson cut it loose yet in part because he's still learning but drills like that should certainly help open things up a bit.
Tight end Justice Cunningham is another one who drew some oohs and aahs from his teammates for his blocking in the run drills. Cunningham, working out of a fullback spot, came down hill and dropped the hammer a couple of times. He's battling Alex Bayer for a potential fourth tight end spot. Bayer has the leg up on the receiving side but Cunningham is ahead as a blocker. Should be an interesting battle.
Receivers Austin Franklin and Stedman Bailey had strong outings in the one-on-one passing drills. Franklin caught back-to-back touchdowns against Rodney McLeod with some sharp route running. Bailey continues to consistently get open and make plays when the opportunity arises.
On the flip side, cornerbacks Brandon McGee and Greg Reid had some impressive pass breakups in seven-on-seven. McGee climbed the ladder on a deep ball to receiver Brian Quick and though it appeared Quick had him beat, McGee stuck with it and jarred the ball loose for an incompletion. He's battled an ankle injury in camp but seems to be rounding back to form.
The funniest moment of the day came after the veterans departed practice, leaving only the rookies on the field. Running back Tre Mason ran into the flat where a pass was thrown to him but apparently the sun got in his eyes and it hit Mason in the chest. Problem was, Mason never saw it, so it hit him in the chest and fell to the ground. The miscue brought chuckles from coaches and teammates.
CB Janoris Jenkins, CB Darren Woodard, S Matt Daniels, FB Kadeem Jones, LB James Laurinaitis, OL Barrett Jones, OL Brandon Washington, OL Rodger Saffold, DT Michael Brockers and DL William Hayes did not participate in Tuesday's practice.
The Rams have an afternoon special teams practice scheduled for Wednesday at 3 p.m. local time. That workout is closed to the public.
June, 18, 2014
6/18/14
4:30
PM ET
EARTH CITY, Mo. -- With no obvious solution in place last season, the
St. Louis Rams
turned their kick returner job over to rookie
Tavon Austin
in week 6 against Houston.
To that point, the Rams had used the likes of running backs
Benny Cunningham
and
Isaiah Pead
in the role with solid, if unspectacular results. Cunningham seemingly had claimed the job as his own, but when he suffered an ankle injury against the Texans, it cost him two weeks and, until an injury to Austin, his return duties.
[+] Enlarge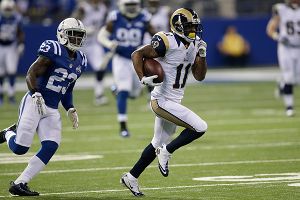 AP Photo/AJ MastReceiver Tavon Austin is an explosive kick returner, but the Rams would like to consider some other players for that role this season.
But the Rams didn't necessarily intend for Austin to handle anything beyond his role in the offense and the punt returning job. They put him at kick returner as a matter of necessity, a move they apparently intend to course correct this year, according to special teams coach John Fassel.
"Yeah, I think we've got great candidates that can do it that can maybe take a couple reps off him per game from a kickoff return standpoint," Fassel said.
Based on that response, it sounds as though Austin could still do some kick returning, but the Rams would like to pick their spots when to put him in there.
In reality, the job of a kick returner doesn't come with the opportunity that it once did. While it's hard to argue against any scenario in which Austin gets his hands on the ball, kick returns didn't provide many chances for him.
As the primary kick returner for the seven games after Cunningham's ankle issue, Austin found himself watching the ball sail out of the back of the end zone or kneeling 8 yards deep into it on most kickoffs. He finished with just 18 returns for 398 yards, an average of 22.11 per attempt with a long of 32 yards.
When Austin suffered a late-season ankle injury against Arizona, Cunningham reclaimed the job and fared just as well. Cunningham averaged 23 yards on his 13 attempts. And, believe it or not, Pead actually performed the best of the three, though on a smaller sample size, with an average of 27.60 yards on only five attempts.
For those keeping score, that adds up to 36 kick return attempts for the season. Rams opponents booted 39 touchbacks. Factoring in a couple of squib kicks, Rams' opponents had a touchback rate of exactly 50 percent in 2013.
Considering the lack of opportunity the job provides, it makes sense for the Rams to seek a more consistent alternative and choose their spots with Austin as his role in the offense expands. Quietly, the team added a few more options in the offseason, including rookie cornerback
Greg Reid
and running back
Tre Mason
.
In Tuesday's organized team activity, the Rams took a look at many of their kick returner applicants, a vetting process that will extend well into the preseason. After all, you can't tell much of anything about a kick returner until an actual game.
"I think Pead back there give us some great burst and ball-handler, (receiver Chris) Givens, (receiver Justin) Veltung, Reid, a couple young guys that you can throw into the mix," Fassel said. "Mason did it at Auburn. So everybody will get a couple cracks at it. I'm very optimistic about our kickoff returner, whoever that might be."
May, 29, 2014
5/29/14
4:30
PM ET
EARTH CITY, Mo. -- With the NFL draft and free agency complete, the
St. Louis Rams
' 53-man roster will likely come mostly from the players already on the team.
With organized team activities (OTAs) less than a week away, we take a look at where each position stands heading into next week. The next in the series continues today by examining the cornerbacks.
Who returns:
Janoris Jenkins
,
Trumaine Johnson
,
Brandon McGee
,
Darren Woodard
Who is new:
Lamarcus Joyner
,
E.J. Gaines
,
Greg Reid
,
Jarrid Bryant
,
Marcus Roberson
Who is gone:
Cortland Finnegan
,
Quinton Pointer
Projected starters:
Jenkins, Johnson, Joyner (in nickel package)
Pending competition:
The top three corners look to be etched in pretty solid stone with Jenkins, Johnson and Joyner handling the duties in the nickel package. Things will get interesting after that for a fourth and, possibly, fifth corner on the roster. McGee would seem to have an edge for a spot as he comes back for Year 2, but his spot is far from guaranteed with the additions of Gaines, Reid and Roberson. Gaines has the ability to play all three corner positions and could be a sleeper. Roberson is probably the most high profile of the team's undrafted free agents and could also push for a spot. Reid brings intriguing speed and return ability that could make him a keeper if for no other reason than special teams. Woodard was also with the time for much of last season on the practice squad and has some knowledge of the defense. Even Bryant adds some intrigue with his 6-foot-3, 185-pound frame. Regardless, look for a battle between McGee, Woodard, Gaines, Reid, Bryant and Roberson for what will likely be one or two spots.
Outlook:
Jenkins and Johnson are the "grizzled" vets of this group, entering their third season in the league. It's time for both to take expanded roles as leaders in the young secondary and, more important, perform with more consistency from week to week. Both have flashed potential and the Rams would love nothing more than for that pair to be the long-term answer on the outside, but they'll have to improve over a 2013 season that was up and down at best. Joyner should be able to help right away and brings the intangibles to one day provide some leadership for this group though he doesn't have much size and will probably be tested as a rookie. Beyond that group, the others provide upside but it must be developed. In many ways, this position is similar to wide receiver where you can see flashes of ability here and there, but so far the productivity hasn't matched the potential. If players such as Jenkins and/or Johnson don't take a step forward in 2014, the Rams could be searching for starting caliber corner in 2015.
May, 25, 2014
5/25/14
3:00
PM ET
EARTH CITY, Mo. -- The majority of the heavy lifting in the rebuild of the
St. Louis Rams
roster is over. At least that's how coach Jeff Fisher and general manager Les Snead look at the project.
Which means as spring turns into summer and training camp arrives, things figure to heat up in the battle for roster spots.
After adding 11 drafted rookies and 15 more rookie free agents when the draft was over, the Rams have a crop of 26 players hoping to make enough of an impression to land on the 53-man roster. But the reality is there probably aren't many spots available barring some injuries or off-field issues cropping up. Some training camp battles might be more geared toward landing a spot on the eight-player practice squad more than the roster.
Back before the draft, Fisher and Snead indicated in interviews the roster might have somewhere between eight and 10 spots up for grabs in training camp. They clearly feel good about the development of their many young players at a number of positions so most of those battles figure to come in the form of backup spots that dot the depth chart.
Here's a look at a few of the spots that could be up for grabs with the reminder the existence of some jobs may not even come to fruition depending on how the Rams want the opening-day roster to open up.
Third quarterback:
This is a prime example of a job that may not even exist but if it does it's between sixth-round choice
Garrett Gilbert
and
Austin Davis
. Clearly, Gilbert will get the first shot at winning the gig as the Rams look to bring along a youngster at the position. But the Rams could opt to carry two and keep someone like Gilbert for the practice squad.
Fourth (and fifth?) cornerback:
The Rams haven't gone heavy at this position in two years under Fisher but it seems reasonable they'll carry as many as five.
Janoris Jenkins
,
Trumaine Johnson
and
Lamarcus Joyner
are locks. After that, the Rams have
E.J. Gaines
,
Greg Reid
and promising undrafted rookie
Marcus Roberson
among a group of those vying for spots. Roberson is an intriguing name to watch after a strong college career was derailed by injuries and off-field issues that kept him from being drafted.
Extra offensive linemen:
Considering the presence of multiple linemen capable of playing all over the line (guys like
Rodger Saffold
,
Barrett Jones
and
Greg Robinson
), the Rams might not have to go as heavy on offensive linemen as they have in the past. But they carried double digits for part of last season and like to allow line coach Paul Boudreau the opportunity to develop youngsters. Beyond the projected starting five, you have a crowded group that includes Jones,
Tim Barnes
,
Brandon Washington
,
Mike Person
,
Sean Hooey
,
Mitchell Van Dyk
and
Demetrius Rhaney
jockeying for position. Not all will make the roster and it seems logical for the Rams to go a bit lighter at the position this year.
Fourth tight end:
The Rams have carried four at this position in the past and probably will do so again but it's not a lock after the offseason departure of
Mike McNeill
.
Justice Cunningham
is a name to watch here. The Rams wanted him in 2013 but weren't able to add him until late in the season.
Mason Brodine
is attempting to transition to this spot from defensive end and could be interesting if he is able to prove capable as a blocker. Undrafted rookie
Alex Bayer
is another who could fight his way into the mix.
Sixth linebacker:
There's an obvious need for a veteran backup here which means the Rams could bring back someone like
Will Witherspoon
later on. If not, it's fair to wonder if they'll even carry a sixth. Behind the starting trio, the Rams have youngsters Ray Ray Armstrong and
Daren Bates
and only Armstrong has flashed the upside to play in the base defense if needed. But Armstrong and Bates are special teams dynamos when under control meaning a potential sixth spot would add a third special teams player to the group. The current roster is full of unknowns for this possible spot with names like
Etienne Sabino
,
Caleb McSurdy
and
Phillip Steward
. Undrafted rookie
Tavarius Wilson
from North Alabama is another name to watch.
There are, of course, always some surprises in camp and this list is in no way complete. Battles for spots down the depth chart at safety and, potentially, wide receiver could also be worth watching. And that says nothing of the potential for the team to carry a ninth defensive linemen with the first eight spots likely locked up.
March, 24, 2014
3/24/14
3:00
PM ET
The
St. Louis Rams
finally signed an outside free agent, adding former Florida State cornerback/punt returner Greg Reid over the weekend.
Reid announced that he had signed with the team on his Facebook account Sunday, saying he was "proud to be in the Rams organization." ESPN NFL Insider Adam Schefter
confirmed the move
with a source Monday afternoon.
Of course, the addition of Reid isn't exactly the type of signing that should move the needle much for Rams fans waiting for the team to add a free agent of significance. Reid hasn't played in a game since 2011. Florida State dismissed Reid from the team in 2012 because of a violation of team rules and transferred to Valdosta State, a Division II school.
Reid suffered an ACL injury that prevented him from playing his senior season and required two surgeries since August 2012, the second of which came in May of last year. Nursing that injury, Reid has spent the past year-plus rehabilitating. Finally back to health, Reid participated in Florida State's pro day on March 18 and apparently did enough to impress scouts in attendance.
In
comments to
ESPN's Florida State/ACC reporter Jared Shanker, Reid was pleased with his performance.
"I was pleased to come out and show NFL coaches how I was doing and how far I've came," Reid said. "I'm healthy and everything is going in the right track."
The Rams have an obvious need for help at corner, particularly at nickel after releasing
Cortland Finnegan
and opting to let
Quinton Pointer
depart.
Janoris Jenkins
and
Trumaine Johnson
are the starters with
Brandon McGee
the only other corner returning to the mix.
In an ideal world, Reid could come in and earn a place as a potential nickel corner with the ability to chip in as a punt returner behind
Tavon Austin
. In fact, Reid was dynamic as a returner in college and probably is more likely to make a difference in that regard in the NFL.
All told, it's hard to peg this signing as anything more than the Rams taking a flier on a player with some upside attempting to return from injury. If it works out, it's a nice find, but chances are Reid will have an uphill climb to make the roster.