St. Louis Rams:

Greg Zuerlein
December, 25, 2013
12/25/13
8:00
AM ET
ST. LOUIS -- Good morning, Merry Christmas and Happy Holidays to all. A little later today, we'll offer up a
St. Louis Rams
Christmas List provided by you, the fans via Twitter.
For now, here's a little light reading on the Rams before you open your presents and check out the Disney World Christmas Parade. Have a great one and, as always, thanks for reading.
I.C.Y.M.I.
A roundup of Tuesday's Rams stories appearing on ESPN.com. … In yesterday's Ram-blings, we tipped our cap to kicker Greg Zuerlein for his
quietly
strong second season. … In the final edition of Weekly Redskins Watch, we broke down the possibilities for the Rams' draft pick from Washington, a pick that almost certainly won't be worse than No. 3. … In this week's Buzz video, we discussed the Rams' desire to play spoiler in Seattle while attempting to reach .500 for the first time since 2006. … This week's Power Rankings saw the Rams jump a spot to No. 19 after three weeks at No. 20. … We closed our Christmas Eve with a couple of film study sessions, one on defense and one on offense from the Rams' win against Tampa Bay.
Elsewhere:
At stltoday.com, columnist Bryan Burwell provides his
take
on how Jake Long's injury could alter the Rams' approach to the draft, though he leaves out one possible impact tackle in Auburn's Greg Robinson.
Jim Thomas took part in his weekly
chat
with fans.
Thomas also wrote about Long's
injury
and his chances of returning in time for the start of 2014.
Bernie Miklasz writes that Deacon Jones would be
proud
of Robert Quinn's ascension.
Joe Lyons touches on the Rams'
improved
run defense.
Over at SportsonEarth.com, Mike Tanier named his
All Rookie
team with a couple of Rams making the cut.
At SI.com, Chris Burke offers an
early
top 10 mock draft with the Rams using the second pick on an offensive tackle.
Burke also put together his
list
of the most disappointing rookies in 2013. The Rams' Tavon Austin is at No. 2 on his list. Can't say I agree with that take. At all.
December, 24, 2013
12/24/13
8:00
AM ET
ST. LOUIS -- Most of the attention paid to the
St. Louis Rams
' special teams this season has been on either punter
Johnny Hekker
(positive) or the early-season rash of penalties (negative).
Lost in that mix has been the under-the-radar second season of kicker
Greg Zuerlein
. In a major departure from 2012, Zuerlein has only attempted two field goals from 50 yards or further. That's a far cry from the whopping 13 he tried as a rookie.
The lack of long-distance attempts has probably kept Zuerlein's profile a bit lower, but it's also kept his leg fresh and allowed him to put together strong sophomore campaign.
Zuerlein offered a pair of resounding reminders of his prodigious kicking abilities against Tampa Bay, knocking home field goals of 54 and 48 yards with plenty of room to spare. Zuerlein's 3-for-3 performance on field goals raised his season total to 25-of-27, a 92.6 percent conversion rate which is tied for fifth-best in the NFL.
In addition to his consistent performance on field goals, Zuerlein has made all of his 34 extra point attempts and has left opposing offenses starting nearly every drive from their 20-yard line with his 50 touchbacks which puts him fourth in the league in that category.
The two blemishes on Zuerlein's record did come at inopportune times, especially a miss against Seattle from 50 yards out which would have made it a two-point game and offered him a chance to win it on the game's final drive. The following week, Zuerlein missed a 44-yard attempt which would have given the Rams a 10-7 halftime lead against Tennessee.
Despite those two miscues, Zuerlein has been extremely reliable all season and seems to have kept his leg strong throughout the season. The Rams had Zuerlein dial back his offseason workload over the summer after he attempted 31 field goals and 26 extra points in 2012, much of that work coming in the season's first six weeks.
From there, Zuerlein's superhuman early efforts began to slow as he missed a field goal in the final five games of the season in which he attempted one. The Rams believed it was leg fatigue that contributed to those misses (and in fairness, many of them were coming from some extraordinarily long distances) and told him to rest up in the offseason.
No matter the reason for his improvement -- the proliferation of more easily made attempts included -- Zuerlein's performance in 2013 deserves a tip of the cap.
I.C.Y.M.I.
A roundup of Monday's Rams stories appearing on ESPN.com. … The day began with this week's edition of
Upon Further Review
, an examination of four hot issues coming out of the Rams' win against Tampa Bay. … In yesterday's
Ram-blings
, we took a look at the Rams' turnaround in forcing and recovering fumbles in 2013. … From there, it was time for this week's
Rookie Review
, a look at snap counts and production of the Rams' rookie class. … Next, we
revisited
three things to watch with an evaluation of how the Rams fared in each key area. … Finally, we offered an injury update with the official
news
on left tackle Jake Long's ACL injury.
Elsewhere:
At stltoday.com, columnist Bernie Miklasz provides plenty of Rams' takes on a variety of topics in the
Extra Points
blog.
Miklasz also writes that the Rams have found and produced their
identity
moving forward.
In his morning video blog, Miklasz discusses why Sunday's game against Seattle
matters
.
Bryan Burwell
discusses
the "freak of nature" that is Rams defensive end Robert Quinn.
Joe Lyons offers his
take
on Zuerlein's performance against the Bucs.
The Associated Press provides its
recap
of the game.
Turf Show Times presents its
latest mock draft
for the Rams' first round.
November, 23, 2013
11/23/13
12:30
PM ET
ST. LOUIS – A look at three individual matchups to watch in Sunday's game between the
St. Louis Rams
and
Chicago Bears
.
Long
Rams left tackle Jake Long vs. Bears defensive end Julius Peppers
A couple years ago this might have been one of the premiere individual battles you could find anywhere in the NFL. Make no mistake, Long and Peppers are still very good players but they might not be at the level they once were.
Still, this is one of the most important matchups in this game. Peppers' combination of speed and athleticism remains even if the numbers aren't jumping off the page as they once did.
"He's a great player, day in and day out," Long said. "He's got such long arms, he's got power, he's got speed to take down the edge, so it's a good battle to go up against him. I'm excited. It's going to be fun."
Through the first 10 games, Peppers has posted 29 tackles, four sacks, a forced fumble, a fumble recovery and an interception returned for a touchdown.
Long has struggled against elite rushers this year, particularly with Dallas defensive end
DeMarcus Ware
, a player not unlike Peppers in terms of size and skill set. But Long has also been much better in the past month or so since the Rams switched to a more run-heavy attack.
If the Rams can get the run game going – an area Long can help jump start – it should allow for the Rams to keep Peppers off balance and Long to dictate the matchup.
Jenkins
Rams cornerbacks Janoris Jenkins and Trumaine Johnson vs. Bears receivers Alshon Jeffery and Brandon Marshall
There's no receiver combination in the league more physically imposing than Jeffery and Marshall. That duo has caused nightmares for opposing defenses with its ability to outjump and outmuscle opposing corners for the ball.
The 6-foot-4, 230-pound Marshall has 64 catches for 828 yards and eight touchdowns this season while the 6-3, 216-pound Jeffery has 54 catches for 818 yards and three touchdowns.
There isn't a cornerback duo in the league equipped to match Marshall and Jeffery in terms of sheer size.
"It's a matchup issue," coach Jeff Fisher said. "They're very, very talented. Both quarterbacks Jay [Cutler], obviously was playing well before he went down, but Josh [McCown] does a really good job putting the ball up to them. They've got confidence. These guys can outjump and outreach. We've got a battle on our hands, but our corners … 'Jenks' is a leaper and 'Tru's' got length, so we'll just see how it goes."
At 5-10, 198 pounds, Jenkins is the smaller of the Rams' options and must be on top of his game in terms of timing his leap. He's had mixed success in those situations this year but hasn't faced a challenge of this size just yet.
Johnson has improved in 2013 and at 6-2, 208 pounds is more suited to take on players like Marshall and Jeffery.
The Rams have been more aggressive in coverage in recent weeks, playing more press coverage at the line of scrimmage. That may be the best way to keep the Bears duo from winning jump balls. A good jam at the line of scrimmage can throw off timing and allow the Rams defensive line to get after McCown before he can get the ball down the field.
Hester
Rams punter Johnny Hekker and kicker Greg Zuerlein vs. Bears returner Devin Hester
Rams fans still have nightmares about Hester's game in St. Louis in 2006 when he returned two kicks for touchdowns.
Much has changed in terms of Hester's role since then as he no longer contributes much to the offense and has even been in the mix as a cornerback. But he remains Chicago's primary returner with a strong kick return average of 28.23 yards and 13.25 yards per punt return to go with a touchdown.
"He's not playing any offense, but he's still very, very dangerous," Fisher said. "I think, considering the fact that his role on offense has been reduced or limited, he's going to be more inclined to bringing the ball out and has that desire to make plays. So, it makes him very dangerous and they've always had great confidence in him."
The onus falls on Hekker and Zuerlein to help neutralize the player who is probably the most dangerous returner in league history.
Hekker has been as good as any punter in the league so far in 2013, leading the league in net punting with an average of 43.51 yards.
Zuerlein hasn't yielded much in the way of returns, either, averaging 65.88 yards per kickoff, fifth most in the league. The coverage units have been good in this regard, too, as Rams opponents have started an average of 80.4 yards from the end zone on their drives, second furthest away in the league.
October, 29, 2013
10/29/13
12:30
PM ET
ST. LOUIS -- A review of four hot issues from the
St. Louis Rams
'
14-9 loss
to the
Seattle Seahawks
.
The final sequence:
Much to the credit of quarterback
Kellen Clemens
and the Rams offense, they put together an impressive drive on the game's final possession. A drive that started at their 3 put them within a yard of a game-winning touchdown and a play to pull off the upset in regulation. The final drive had proved to be a clinic on run-pass balance with seven called runs and six called passes (one was nullified by a Seattle penalty). All of those play calls had worked well and the continued use of the run game had Seattle off balance. It all made sense. Until the final play. On fourth-and-goal at the 1, the Rams called for a pass that coach Jeff Fisher said was designed to give Clemens multiple options while getting the ball out of his hand fast. Running back
Zac Stacy
was injured earlier in the quarter but had run twice on the drive for 26 yards. After getting his sprained ankle rewrapped, there was some confusion on the sideline on third down. He entered on fourth down, though, and it looked like at the very least he could serve as a decoy. Instead, the Rams split him out wide, leaving no threat of the run in the backfield with Clemens against a blitzing Seattle defense which sold out to get after the quarterback. From there, Clemens' read was to throw what amounts to a touch pass to receiver
Brian Quick
in the corner of the end zone. It fell incomplete and the Rams lost, leaving many Rams fans still scratching their heads.
[+] Enlarge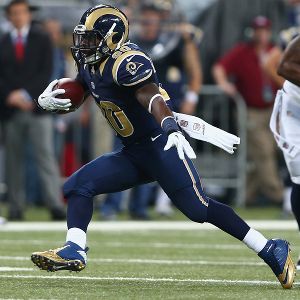 Andy Lyons/Getty ImagesZac Stacy rushed for 134 yards in Monday night's loss to the Seahawks.
A big miss:
It's probably unfair to put much of the blame for Monday night's loss on Rams kicker
Greg Zuerlein
. Zuerlein had been perfect entering the game and already had been good on all three of his field goal tries. But when he offered up his first miss of the season -- a 50-yarder that doubled as his longest try of the year -- you couldn't help but feel it would be costly. As it turned out, Zuerlein's miss was crippling because the offense proved incapable of scoring a touchdown to overtake Seattle on that final drive. Had Zuerlein connected on the 50-yarder, the Rams would have had a chip shot to win it on the final drive.
Stacy's the guy:
Entering Monday night's game, Stacy's early success had come into question because it came against porous run defenses such as Jacksonville and Houston. With the help of an offensive line that was blowing Seattle's sixth-ranked run defense off the ball, Stacy erased all doubt Monday night. Known for getting yards after contact, Stacy had big enough holes most of the night that he was able to rely on his vision and balance more than ever as he recorded 90 of his 134 rushing yards before contact. For the Rams' sake, they better hope Stacy's ankle injury isn't anything serious because he's really settling into a groove.
Defense isn't enough:
The Rams defense put on a show Monday night, racking up seven sacks and holding Seattle to 135 yards and seven first downs. Take away the 80-yard touchdown by
Golden Tate
and it was nearly a flawless performance from that group. That's what makes the loss that much harder to swallow. Seattle became the first team since the 2010
Miami Dolphins
to win a game while posting 135 yards or less and seven or fewer first downs in a game. That's what happens when you are minus-2 in the turnover battle and fail to score a touchdown on four trips into the red zone.
September, 8, 2013
9/08/13
8:57
PM ET
ST. LOUIS --
Observed in the locker room after the Rams' 27-24 victory against Arizona.

A long way to go:
Make no mistake; the Rams were pleased to come away with a win, especially after trailing by 11 in the fourth quarter. To a man, though, everyone in the locker room agreed with this assessment from coach Jeff Fisher: "We have a long, long way to go," Fisher said. "There's a lot of areas we have to address but most of those were self-inflicted wounds."
Many mistakes:
Speaking of self-inflicted wounds, the Rams were not pleased with their miscues in Sunday's victory. The penalty problems of the preseason carried over as the Rams drew seven flags for 59 yards.
A winning habit:
Rams kicker
Greg Zuerlein
booted his second game-winning field goal at the Edward Jones Dome in the past three games the team has played at home. The unflappable Zuerlein is so calm his teammates expressed no surprise that he stepped up and kicked the game-winning 48-yard field goal.
VIPs:
The Rams had no shortage of very important people in the locker room after the game. Owner Stan Kroenke checked in and former NFL coaches Marty Schottenheimer and Jim Fassel stopped in to visit with their sons Brian and John, both of whom are on the Rams' staff.