St. Louis Rams:

Isaac Bruce
November, 19, 2014
Nov 19
12:00
PM ET
EARTH CITY, Mo. -- There's still a long way to go but for the four members of the Greatest Show on Turf Rams, the hope of going into the Hall of Fame together on the first ballot remains alive.
The Pro Football Hall of Fame announced 26 semifinalists for the 2015 induction class on Tuesday night (26 instead of 25 because of a tie) and the four most prominent remaining members of the 1999, early 2000s
St. Louis Rams
offense all made that cut. That includes quarterback Kurt Warner, left tackle Orlando Pace and wide receivers Isaac Bruce and Torry Holt.
[+] Enlarge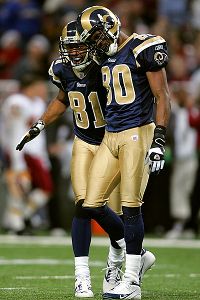 Elsa/Getty ImagesTorry Holt and Isaac Bruce combined for 28,590 yards and 165 receiving TDs in their careers.
Another pair of former Rams, pass-rusher Kevin Greene and running back Jerome Bettis, also made the cut. Greene did plenty of damage as a Ram but Bettis is still more known for his work as a Pittsburgh Steeler. Greene and Bettis both made the cut to 15 a year ago but missed out on induction.
Regardless, the names that most Rams fans will be rooting for this election cycle are Warner, Pace, Bruce and Holt. All four are on the ballot for the first time and all have mentioned how much they'd love to go in as a quartet. The always-optimistic Bruce even believes there's a chance it could happen.
"That would mean we'd have to spend less money on the caravan bus," Bruce said. "We could just pack them all up and just go up together. Honestly, I don't think I would be shocked. I played with that core of guys for five-plus, six years. That's rare. That normally doesn't happen because guys leave for free agency or other issues but I wouldn't be surprised. I saw these guys' body of work. I saw these guys put in work. I saw these guys excel at their jobs and perfect their crafts every day, on a daily basis.
"The things they did and things they accomplished, I wouldn't be surprised if these guys go in as first ballot Hall of Famers because that's the path they were on. Just to see it happen, which I believe I will see it happen, it would be great. It would be an awesome time not only for myself but for my teammates, the city of St. Louis. It would be big, it would be huge in more ways than one."
It's generally believed that Warner and Pace have the best chance among the four new Rams on the ballot. That's nothing against the accomplishments of Bruce and Holt but more of a nod to the competition they face at the wide receiver position where the likes of Tim Brown and Marvin Harrison are also on the slate. But this might be a good year to get at least one of them in before even more receivers such as Randy Moss and Terrell Owens enter the fray.
Earlier this year, I offered a closer look at the candidacy of each of the four new Rams on the ballot. Here's the case for
Bruce
,
Holt
,
Pace
and
Warner
.
October, 13, 2014
Oct 13
11:00
AM ET
EARTH CITY, Mo. -- Whether it's Kurt Warner at his home in Arizona or in studio with Marshall Faulk at NFL Network, Isaac Bruce in Florida, Torry Holt in North Carolina, Orlando Pace in St. Louis, Mike Martz in California or really any other
St. Louis Ram
from the 1999 Super Bowl XXXIV champions, the average Sunday afternoon rarely offers much in the way of surprises.
In the 15 years since the birth of the Greatest Show on Turf, many elements of the dynamic offense that was so unique have become commonplace in stadiums all over the NFL. The Rams will celebrate that legacy on "Monday Night Football" against San Francisco when they remember the 15th anniversary of the championship season in a halftime ceremony. Most of that team is expected to attend, and the Rams will wear their 1999 throwback uniforms in homage.
Throwback uniforms aren't needed to see the lasting impact of that Rams offense. Turn on just about any game and you will see supposedly high-tech passing games with route combinations, protection schemes and athletes the likes of which have never been seen before.
[+] Enlarge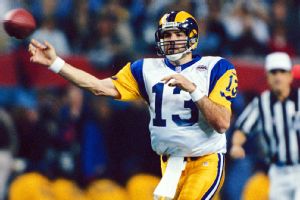 AP Photo/Tom DiPaceKurt Warner on playing QB for the Rams' passing offense and how new NFL rules have made it easier to pass: "I look at it like we were the first ones to do it. We did it just like that in an era where it wasn't popular or wasn't the norm."
But that is not really the case.
"All around the league you can see the innovation, the things that sprang from what we did as a group," Bruce said. "I see combinations we ran, I think just about every position coach, wide receiver coach, some offensive coordinators, guys that have been position coaches that are now coordinators or head coaches now that I've run into, they'll tell me that they show their players our film, the way I ran routes, the way I came off the football, the way I blocked down the field, certain things like that. That was everything we learned in our meeting room. We really hammered that in every week as a unit to block for each other, be the fastest group, the most explosive group. I think we had the best group with the most creativity. So you see a lot of it just floating around the league. Not only in the NFL, but college as well."
The Rams were doing it in 1999, long before the league made rule changes that encouraged more passing and more scoring. Today, the NFL is viewed as a passing league, the next cycle in the evolution of the game. But , it's a cycle that started in part because of the 1999 Rams and in the years since, the "Greatest Show on Turf" has taken on a life beyond one championship season.
It was after the Rams' Super Bowl loss to New England in 2001 that the league began adjusting the rules to allow receivers more time and space to run free and put an emphasis on getting defenders to keep their hands off receivers. Like the rule outlawing the head slap trademarked by Deacon Jones, those rule changes are perhaps the most tangible way in which the Rams' offense changed the game.
"The thing you look at now is because of all the rule changes, it's made it easier," Warner said. "What we did at a time where you could still grab and hold guys and you could still hit guys over the middle and all of those different things, now when you look at it, I think there's a degree of success allowed in the NFL that has become a lot easier. I'm not really surprised by what guys are doing. I look at it like we were the first ones to do it. We did it just like that in an era where it wasn't popular or wasn't the norm."
Indeed, there was nothing conventional about how the Rams' offense went about its business. Rooted in the principles first wrought by Sid Gillman and Francis Schmidt, the Rams' vertical passing offense that sprang from the mind of Martz was a direct descendant of Don Coryell. Coryell's coaching tree would eventually include names like Joe Gibbs, Norv Turner, Ernie Zampese, Jim Hanifan and, of course, Martz.
At its core, the "Air Coryell" offense operates under simple ideals intended to create open spaces and favorable matchups. The offense supplied an endless array of motions, formations and personnel groupings that would allow the Rams to spread out defenses and mix deep and intermediate passes with power running. But the passes always came first.
"I think you get exposed when you start moving guys around in matchups and you can take control of the tempo of the game," Martz said. "When you do that, you force defenses into doing something they don't want to be. Once you find out the rules a defense has and the more complicated a defense, the more you can take advantage."
Having superior talents like Holt, Bruce, Az-Zahir Hakim and Ricky Proehl on the outside combined with Faulk's unique route-running ability at the running back spot nearly guaranteed Martz could get a matchup he liked on every play. Having a talented offensive line capable of allowing time to push the ball down the field and a fearless quarterback in Warner unafraid to stand in the pocket and deliver accurate passes made for the perfect mix of personnel and scheme.
"In terms of the depth of which we ran routes, the speed with which we ran routes, the creativity in how we ran routes, the kind of formations we posed to teams week in and week out, I feel strongly that we were a springboard to a lot of teams now and how coordinators now run the offense," Holt said. "A lot of teams don't run full pumps and squirrel routes and running an out route then running up and running a comeback route. A lot of teams weren't doing that, but myself and Isaac and Az and Ricky, our ability to run any route on the route tree gave coach Martz the flexibility to call anything."
And call anything Martz did. After working as quarterbacks coach in Washington in 1998 when the Redskins started 0-7, Martz realized his offense wasn't taking advantage of the best plays it had in its arsenal in a given game plan. Plays that were working well on third and long would go unused because there simply weren't enough opportunities to use them in a game.
"We've got these great third downs we don't use, we started using them on first down, too," Martz said. "If we like them that much, why don't we throw a 20-yard pass on first down, too? When we got going, the more success we had, the more fun we had, it was like throwing logs on the fire then."
The fire turned into a towering inferno as the Rams actually
put up numbers
more commonly seen in video games set to 'rookie' level.
That team finished first in the NFL in total yards per game (400.8), passing yards per game (272.1), scoring (32.9 points per game), and its 526 points was then the third-highest output in league history. Warner earned Most Valuable Player with Faulk finishing second in the voting and taking home the Offensive Player of the Year award.
To most members of the 'Greatest Show,' the circus ended too early, and that one championship wasn't enough to really cement the legacy that could have been built. But nobody can ever take away the title the 1999 Rams won, and if they need a reminder of their place in history, they need only to turn on the television on Sunday afternoons.
"I see a lot of plays, routes, schemes and protections offensively being run now that we ran then," Holt said. "That in itself shows you how people respected and admired what we were doing on the football field. I think our legacy is that. I think we were a springboard to this new era of offense that is now being played. The Greatest Show on Turf was the kickstarter for that."
October, 6, 2014
Oct 6
11:00
AM ET
EARTH CITY, Mo. -- The
St. Louis Rams
will celebrate the 15th anniversary of the Greatest Show on Turf when they host the
San Francisco 49ers
on Oct. 13 on ESPN's "Monday Night Football." Over the next week, we will spend a little time each day looking back at the Super Bowl XXXIV champions with some of the key figures.
We begin with a man who needs no introduction, wide receiver Isaac Bruce. He sat down to talk it over with me last week.
When did you know that season could be special?
[+] Enlarge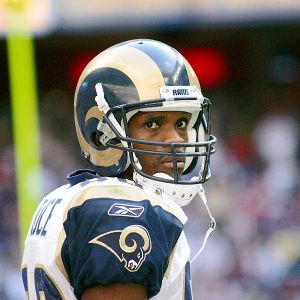 Ronald Martinez/Getty ImagesIsaac Bruce says not to forget the contributions of the special teams to the success of the Rams' Super Bowl championship team.
Bruce:
I would say on paper, I knew we were very good, and I was somewhat convinced in the preseason. Prior to that point, we had been somewhat of a defensive team and it was always hard to score on our defense in practice, and that year it was a lot easier to put points on the board in practice. Then the preseason games, the first unit was scoring points and scoring touchdowns. As long as I had been there, it was a struggle to put points on the board in the first quarter of the first preseason game. To me, that was unheard of. Just the accumulation of talent we had and the way we were putting the ball in the end zone in the preseason in the first game, I knew right then we were on the cusp of having a really good team. I wasn't really convinced until we beat the 49ers.
What was your favorite moment or memory from that season?
Bruce:
I have so many favorite memories and most of them don't have anything to do with playing football or being on the field. Just having the feeling, the assurance that OK, I'm heading to the playoffs, that's one. A lot of the guys I got drafted with sharing it with me because they were battered just like I was battered those previous years. It's just stuff like that. The stuff we did on the field will last a very long time but I don't think it will last longer than the memories that we had. The bus rides and plane rides and that kind of stuff.
What was the most overlooked thing about that team?
Bruce:
We had a really good defense. We had a really special special teams. If you just look at what we had on offense, from the start that's what you notice about the team. But what was really special was the special teams. I'm talking about the kickoff return team. In some games, we'd average starting at our own 40, which is unheard of. The punt return team was a show you didn't want to miss. When AZ [Az-Zahir Hakim] got the ball in his hands and the way everything was set up for him and his elusiveness, his ability to make people miss and his speed. The people that were on the punt return team loved blocking for him. The people that were on the kickoff return team loved blocking for Tony Horne. It was just a show. Tony Horne was breaking kickoff returns for touchdowns that same year. So I'd have to say, those two groups, if we had it easy as an offense they made it even easier by their performance.
What was the toughest thing about the season?
Bruce:
I think that Trent [Green] going down the way he did, when he did [in the preseason, paving the way for Kurt Warner], you have got to realize where Trent had come from. He had been in the league for awhile, been a backup, got somewhat of an opportunity with the Redskins and then he comes to St. Louis and Trent is THE GUY. He's the guy. He knows this offense in and out, just like Coach [Mike] Martz to the point where he can ad-lib in the offense and still be on point. So No. 1 that was the first thing. Other moments like the NFC Championship game where we had a chance to show our fortitude, see what we were made out of. Honestly, I wouldn't say that was the first time we were really challenged, we lost a couple of games that year, but at the same time, we are talking about two teams battling to go to the Super Bowl and one was built around its defense [Tampa Bay] and one around the offense. So who is going to blink first?
What would you like the legacy of that team to be?
Bruce:
I'm thinking when they start to name the teams, the great teams that played and won because there were a lot of good teams that played and didn't win, that just to be mentioned with those great teams and then have the ability to use my imagination and say, 'Had we played these guys, it would have been really interesting, not only could we have hung with them, we probably could have beat them, played some of the great defenses that have been in this league.' It would have been great to see the teams like the Steel Curtain, the Doomsday defense, how we would have lined up against those guys. Fifteen years from now, I'd love to say I think we would have managed well but not only managed but thrived against those defenses.
September, 19, 2014
Sep 19
10:00
AM ET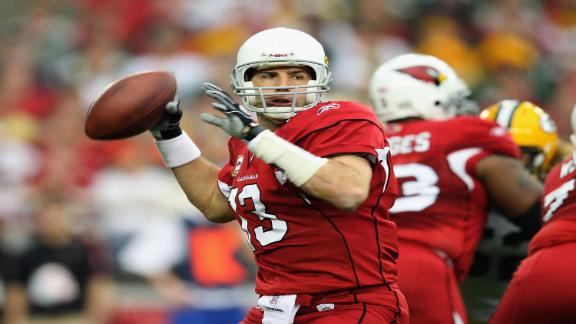 EARTH CITY, Mo. -- Earlier this week, the Pro Football Hall of Fame released the
list of nominees
for induction in the 2015 class.
Among the names on the list are four of the most famous St. Louis Rams of all time, four players who formed the foundation of the "Greatest Show on Turf" era. Quarterback Kurt Warner, left tackle Orlando Pace and receivers Isaac Bruce and Torry Holt all appear on the ballot.
Over the summer, we took a look at the case for each of the four in anticipation of their opportunity to land in Canton. You can take a deeper dive into the candidacy of
Warner
,
Pace
,
Bruce
and
Holt
by clicking on their names.
The competition for the Rams' quartet will undoubtedly be tough. There are 99 players and 14 coaches among the 113 nominees. That group will be winnowed to 25 semifinalists in November and trimmed further to 15 finalists in early January. From there, the final decisions will be made the day before the Super Bowl.
Beyond the first-time Rams on the ballot, linebacker Junior Seau is also appearing for the first time. There are plenty of deserving and previously considered players who also figure strongly in the mix. That group includes running back Jerome Bettis, receivers Tim Brown and Marvin Harrison, guard Will Shields and linebacker Kevin Greene, among others.
From the Rams' group, Warner and Pace figure to have the best chance to go in on the first try. A logjam at receiver will make it difficult for Bruce and Holt to land in Canton right away.
Now that the ballot is out and the voting is soon to commence, we can finally begin to see how it's going to play out.
August, 5, 2014
Aug 5
11:00
AM ET
EARTH CITY, Mo. -- This year's Hall of Fame festivities wrapped up over the weekend with the annual preseason opener between the
New York Giants
and
Buffalo Bills
.
For
St. Louis Rams
fans, the most memorable part of the weekend was the stirring Saturday night speech from former Ram Aeneas Williams. Williams has a close bond to St. Louis, where he still keeps a home and is pastor at a local church. Still, Williams is generally best remembered for his time with the
Arizona Cardinals
.
[+] Enlarge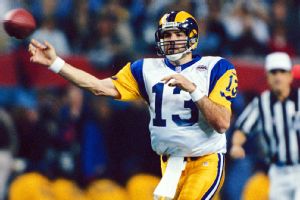 AP Photo/Tom DiPaceKurt Warner and three of his 'Greatest Show on Turf' teammates will appear on the Pro Football Hall of Fame ballot for the first time this year.
But if things break the right way, the next few years could provide plenty of opportunities for Rams fans to celebrate and reminisce about the glory days. That's because four of the primary stars of the "Greatest Show on Turf" will first appear on the ballot beginning this year. Quarterback Kurt Warner, receivers Torry Holt and Isaac Bruce and left tackle Orlando Pace are first-time nominees this year.
I spoke to a handful of voters on each player's chances. While it's a small sample size, here's the impressions I came away with and a link to the case for each player:
Warner
-- The one thing that apparently could hold Warner back is there still seems to be some trepidation about his body of work, or lack thereof. But it sounds like Warner is going to get in, probably sooner than later and might even end up as a first-ballot entry. One thing that works heavily in his favor, aside from the prolific numbers he put up in a short time, is the fact he took two previously moribund franchises to the Super Bowl and won one in St. Louis. Of the four players here, he and Pace sound like the two most likely to go in first.
Hall of Fame look ahead: Warner
Pace
-- Pace was one of the first big names of the golden era of offensive tackles in the NFL. Although I get the sense that voters don't see him as being quite as dominant as the likes of Jonathan Ogden or Walter Jones, there's still seemingly little doubt that he's going to go into the Hall of Fame. Some late-career injuries kept Pace from tacking on additional Pro Bowl appearances, but he's still remembered for his part in changing the idea of what a left tackle could be. It sounds like it might be a bit of a stretch for him to get in on the first try, but it seems like it will happen within his first two or three years on the ballot.
Hall of Fame look ahead: Pace
Bruce
-- Like so many other receivers, there's clearly a question about when and how Bruce can break through with a projected logjam of candidates at the position. While that has cleared up a but in recent years with the additions of Andre Reed and Cris Carter, the list of viable wideout candidates is only going to grow. Names like Marvin Harrison and Tim Brown are still waiting and other statistical monsters like Randy Moss and Terrell Owens will be added soon. Bruce is likely going to have to wait a bit before he makes it, though the general thought seems to be that he will eventually get in.
Hall of Fame look ahead: Bruce
Holt
-- Much of the opinion on Holt is similar to that of Bruce, especially when it comes to the logjam of wideouts who are angling for induction. However, Holt's consistency and dominance over a decade seem to resonate a bit more than some of the others. Even if his resume isn't as long as Bruce's or someone like
Jerry Rice
, a legitimate argument could be made that Holt was the best receiver in the league over the first decade of the 2000s. It sounds unlikely that Holt will go in right away and, like Bruce, will have to wait a bit but should get in at some point.
Hall of Fame look ahead: Holt
July, 11, 2014
Jul 11
10:00
AM ET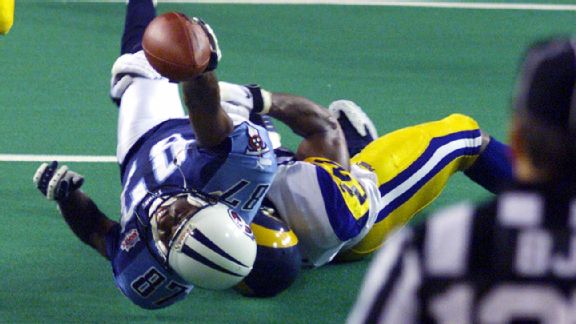 AP Photo/Michael Conroy
We have a winner. The voters picked Mike Jones' game-saving tackle as time expired in Super Bowl XXXIV as the Rams' most memorable play.
While I can certainly understand why The Tackle emerged victorious, I would cast my vote in a different direction. To me, the most memorable play in franchise history came moments before Jones brought Tennessee receiver Kevin Dyson down at the 1-yard line. Wide receiver Isaac Bruce's 73-yard touchdown catch to give the Rams the lead in that game is my choice for the top play in Rams history, narrowly edging Jones' tackle and Ricky Proehl's 30-yard touchdown in the NFC Championship Game.

Really, you can't go wrong with any of the three plays that were nominated here. All of them were integral in the Rams' pursuit of a Super Bowl title. To differentiate is difficult, but I would argue for Bruce's catch because it's the one play of the three where I can argue that without it, the Rams wouldn't have won the world title.
Proehl's catch, as great as it was, came with the Rams in reasonable field goal range. If Proehl doesn't make the play, the Rams can line up for a 47-yard field goal and still take the lead. That's no chip shot or guarantee, but there was still a way for the Rams to win the game. And while Jones' tackle saved the victory for the Rams, many forget that if Dyson had slipped past him, the Titans would have had to kick an extra point to tie the game (or if coach Jeff Fisher wanted to get crazy, go for two and the win). Theoretically, the Rams still could have won the game in overtime, though momentum clearly was swinging in the Titans' direction.
But ultimately, Bruce's play stands above the rest to me because it most properly defines the greatest era in team history. The "Greatest Show on Turf" was known for its quick-strike ability to score from anywhere on the field at any moment.
After blowing a 16-point lead in the second half, the Rams were on the ropes. The personality of that team came directly from its no-fear approach to offense and coordinator Mike Martz's propensity for keeping the gas pedal pressed down for 60 minutes.
With the Rams reeling, it was fitting that Kurt Warner, the supernova quarterback who came from nowhere, connected with Bruce, the mainstay superstar who had been through all the bad times, to give the Rams a lead they would not relinquish and a championship they'd forever cherish.
July, 9, 2014
Jul 9
10:00
AM ET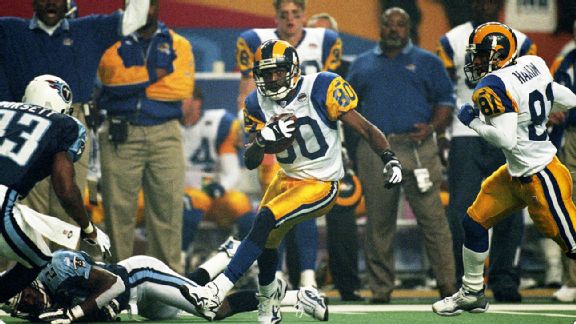 Allen Kee/Getty Images
»
VOTE HERE
»
NFC Plays:
East
|
West
|
North
|
South
»
AFC:
East
|
West
|
North
|
South
This is the third of three plays nominated as the most memorable play in
St. Louis Rams
history. In the past two days, we have featured Ricky Proehl's 30-yard touchdown catch to beat Tampa Bay in the NFC Championship Game and linebacker Mike Jones' game-saving tackle as time expired in Super Bowl XXXIV. Please vote for your choice as the Rams' most memorable play.
Score:
Rams 23, Titans 16
Date:
Jan. 30, 2000
Site:
Georgia Dome

After jumping out to a 16-0 lead, the Rams seemed poised to coast to a victory in Super Bowl XXXIV. But those hopes were soon dashed as the resilient Titans surged from behind to tie the game at 16 with 2 minutes, 12 seconds to go. The Rams looked tired, and the high-octane offense that had taken the league by storm all season appeared to be running on fumes.
But, as that offense had done all season long, it found the one final burst at just the right moment. With the Rams taking over at their 27-yard line, offensive coordinator Mike Martz had no intention of playing for a field goal. The Rams came out with three receivers lined up to quarterback Kurt Warner's right and one to his left with running back Marshall Faulk in the backfield. The play call was "Twins Right Ace Right 999 H Balloon."
For the uninitiated, those 9's are shorthand for simple go routes, with the receivers attacking the Titans deep down the field. Each receiver to the right found himself in man coverage, with Isaac Bruce on the outside of the hashes, furthest away from safety help against cornerback Denard Walker. At the snap, the Titans rushed four and the Rams line kept the pocket safe, with the notable exception of end Jevon Kearse pushing past right tackle Fred Miller. Kearse closed in on Warner, who released the ball at the last second.
The ball floated down the right sideline. Walker clearly was unaware it had even been thrown, let alone that it was underthrown, but Bruce knew. He made the adjustment to come back for the ball as Walker tried unsuccessfully to catch up to the adjustment. By the time the ball arrived, Bruce had room to run, but other tacklers were gaining ground. Bruce cut inside and raced to the end zone while looking up at the scoreboard to see if anyone was closing in. Instead, he saw left tackle Orlando Pace celebrating and knew he was in the clear.
The 73-yard touchdown gave the Rams a 23-16 lead they would not relinquish on their way to winning the Super Bowl.
While the trio of plays that got the Rams to the Lombardi Trophy all have their special place in history, it's hard to argue against Bruce's touchdown as the most important. Proehl's catch had a higher degree of difficulty, but the Rams could have theoretically still won because they were in field goal range when he made it. And for as great as Jones' tackle was after Bruce's touchdown, if he hadn't made it, the Titans would have been able to only tie the game. Bruce's touchdown provided the definitive winning points in the biggest game in franchise history. As memorable plays go, that is about as good as it gets.
'The Catches' - Ricky and Isaac, and 'The Tackle' #nflnramstopplays

— Casey Pearce (@ccpearce) June 4, 2014
February, 23, 2014
Feb 23
6:45
PM ET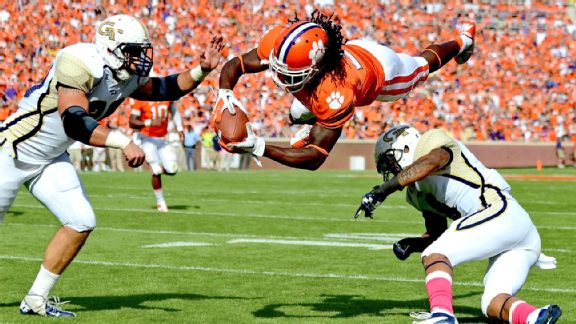 AP Photo/ Richard ShiroClemson's Sammy Watkins could give the Rams the receiving threat they've been lacking since Torry Holt.
INDIANAPOLIS -- In 2012, the
St. Louis Rams
finally found themselves in position to draft the best wide receiver in his draft class.
They had the No. 2 pick in that draft and a clear shot at Oklahoma State's
Justin Blackmon
before making a blockbuster trade with Washington. The move loaded them with picks but also cost them a shot at Blackmon.
It was a move the Rams could make because Blackmon wasn't believed to be in the class of
Calvin Johnson
,
A.J. Green
or
Julio Jones
. He was best in class but not necessarily considered a surefire No. 1 receiver type.
Two years later, it appears that trade has put the Rams in position to land a receiver who is far closer to the Green/Jones class than any receiver who has come out in the past three years.
His name is
Sammy Watkins
, and he spent the past three years dominating the ACC as a member of the Clemson Tigers. In that time, he posted 240 catches for 3,391 yards and 27 touchdowns.
And Watkins is a player who, assuming everything checks out in terms of interviews, health and off-the-field issues, should be at the top of the Rams' wish list in May.
In talking to a handful of scouts this week at the scouting combine, I heard almost nothing negative about Watkins. Here's a small sample:
"He's the real deal -- explosive, physical, strong, gets off the line of scrimmage, makes you miss. … He's not a big 6-5 type of guy but he plays plenty big and he gets separation easily. … He should be a dominant player in the league and has the makeup to be a No. 1 guy. … The thing I love most about him is how competitive he is; he has a lot of dog in him and it shows up on almost every snap."
Watkins showed no hesitation in declaring his desire to match those rave reviews and furthered his cause with an impressive 4.43-second 40-yard dash Sunday afternoon.
"What I love doing is dominating defenses," Watkins said. "I think that's what I bring to the game and I think that's going to turn over to the NFL. When I come into the NFL, I think I can be that dominant receiver."
Bingo. This isn't about the Rams needing to draft a receiver. This is about the Rams needing to draft THE receiver.
They've taken a receiver in each of the past nine years. They've selected wideouts in every round, alternately hoping for a diamond in the rough to pay off and betting on a highly touted prospect to pan out.
For those who have followed the team in the five years since Torry Holt's time in St. Louis came to an end, the lack of a top threat has been glaring. Since Holt and
Isaac Bruce
departed, the Rams haven't had one. They
haven't even had one
who's come close. No Rams wideout has reached even 700 receiving yards since Holt in 2008, nevermind 1,000 yards, which Holt hit in 2007.
Along the way, the Rams have been unable to find a top receiver for many reasons, not least of which includes some poor player evaluations, a lack of emphasis on the position and a little bit of bad luck.
For most of the past decade, the Rams have been one of the worst teams in the league. They've logged a 15-loss season, two 14-loss seasons and a 13-loss season, not to mention a 10-loss year in 2005.
Despite the lofty draft picks that go with those seasons, the Rams have never had the good fortune of having a high pick that corresponds to a season in which something as close to a can't-miss receiver prospect has been in the draft.
In the 2007 draft, Georgia Tech's Johnson was clearly one of the two best players. Had the Rams had one of those awful seasons before then, perhaps they could have taken the man now regarded as the best wideout in the league. Instead, they managed to finish 8-8, the only .500 record they've had since 2004.
Entering the 2010 season, the Rams were in the midst of one of the worst losing runs in league history. They'd posted a total of three wins in the 2008 and 2009 seasons but managed to take advantage of one of the league's worst schedules in 2010 and nearly won the NFC West division before losing to Seattle on the season's final day.
Instead of having a top-six pick in the 2011 draft with a shot at highly touted wideouts Green and Jones, the Rams picked 14
th
. They did just fine landing end
Robert Quinn
but settled for
Austin Pettis
and
Greg Salas
in Rounds 3 and 4 at receiver.
Sitting with the No. 2 pick in this year's draft, it appears the Rams are almost certain to have a shot at Watkins. The question is whether they're willing to again spend a top-10 pick on the position, especially when they've consistently preached the need for patience with their young receiving corps.
While patience is a reasonable request given how young that group is, there's nothing that says adding more competition and a potential true No. 1 wideout to the mix would do anything but help the cause.
General manager Les Snead, who in January said the Rams don't "need" a No. 1 type of receiver, offered a little more flexibility when asked about it again on Friday.
"I'll say this: Any time in the draft, if you could add a really special player, that helps your team," Snead said. "I think the biggest thing we need from the wide receiver group is experience, letting those guys get older. But, hey, it's a deep wide receiver class. It seems like every time you get a pick, there may be a good wide receiver on the board."
Players like Texas A&M's
Mike Evans
, LSU's Odell Beckham, Oregon State's
Brandin Cooks
and USC's
Marqise Lee
are also considered potential first-round picks. Some might even turn out to be as good or better than Watkins.
But if Watkins is indeed the clear-cut best receiver in a strong class, why risk it? Considering how hard the organization has made it look to replace Holt and Bruce, wouldn't simply drafting Watkins narrow the margin for error in evaluation or player development?
Maybe the Rams would love to trade down and still snag Watkins with a couple of more picks in their pocket. But again, if he really is that type of player, why not just make sure he's a Ram?
"I don't think you can ever say no because if that player can help you then pick him," Snead said. "And competition is not a bad thing either, and having as many weapons as possible is not a bad thing either."
Especially if that weapon is the one that's been missing from your arsenal the longest.
February, 17, 2014
Feb 17
2:30
PM ET
EARTH CITY, Mo. -- In light of LeBron James' discussion of the NBA's version of Mount Rushmore last week, I took a shot at compiling a Rams version. I included players from all eras and found it a difficult exercise given the many great players and coaches through the franchise's history.

When all was said and done, I settled on a foursome of defensive end Deacon Jones, defensive tackle Merlin Olsen, running back
Marshall Faulk
and quarterback
Kurt Warner
. I gave a detailed explanation of each choice
here
but when boiling it down I looked at it from the perspective of telling the story of the franchise with four faces.
To me, that means having the defining eras of Rams football represented. The Fearsome Foursome and the Greatest Show on Turf are the most famous eras of the franchise. That isn't to take away from the guys who didn't play in those eras but I'm not sure the best story of the Rams can be told without those. Hence, both of those eras are equally represented on my Mount Rushmore.
But because this isn't something that comes with a definitive right answer, I wanted to open it up to my Twitter followers to see what they thought. In all, 38 people responded and the results were a little bit different than my quartet.
Here's the final tally from the kind respondents on Twitter:
Deacon Jones - 26
Isaac Bruce
- 21
Jack Youngblood - 20
Marshall Faulk - 19
Kurt Warner - 17
Eric Dickerson
- 16
Merlin Olsen - 12
Orlando Pace
- 6
Elroy Hirsch - 4
Jackie Slater
- 4
Norm Van Brocklin - 3
Dick Vermeil - 1
Torry Holt
- 1
Henry Ellard
- 1
Mike Jones
- 1
Using those results of this relatively small sample size, the fans choice for a Mount Rushmore of Rams would be Jones, Bruce, Youngblood and Faulk.
I can't say I was surprised by the choice of Bruce and Youngblood, both of whom were right there with Dickerson as my toughest omissions. I was, however, a bit surprised to see Olsen trailing behind as much as he was. I suppose Jones gets the lion's share of the publicity for his work with the Fearsome Foursome but Olsen's accomplishments are matched by few players in the league, let alone in franchise history.
Really, you can't go wrong with any of the names above and all of those mentioned have rightfully earned a place in the memory of Rams and football fans everywhere.
February, 14, 2014
Feb 14
12:30
PM ET
EARTH CITY, Mo. -- Earlier this week, Miami Heat forward LeBron James
made it clear
that he intends to land on the NBA version of Mount Rushmore before his playing days are over.
Which is to say James believes he will be one of the four greatest players in league history, placing him next to Michael Jordan, Larry Bird and Magic Johnson. He's probably right. Barring major injuries, James absolutely has a chance to go down as one of the best ever.
Like anything, though, comparing players in any sport across eras is an inexact and difficult science. So when I set about trying to come up with a Rams version of Mount Rushmore, I figured it'd be a little easier than doing one for the entire sport.
I was wrong.
If I limited the choices to strictly the team's history in St. Louis, things would be a little easier. Quarterback
Kurt Warner
, running back
Marshall Faulk
, tackle
Orlando Pace
and receivers
Torry Holt
and
Isaac Bruce
are the only real options. Cutting one of them would be difficult but not as difficult as choosing four from the franchise's rich history.
Alas, I gave it my best to come up with four deserving players and attempted to balance the Los Angeles greats with the St. Louis legends and simply come up with the best quartet possible.
Ultimately, my opinion is that the Rams' history has been best defined by two phenomenal eras, one on offense and one on defense. That's the Greatest Show on Turf in St. Louis and the Fearsome Foursome in Los Angeles. To me, that means both sides should be equally represented here.
Without further ado, here's my version of the Rams' Mt. Rushmore. I'd love to hear your answers in the comments.
No. 1 -- DE Deacon Jones
This one is an absolute no-brainer. The Hall of Famer was one of the greatest players in the history of the NFL and served as the face (and mouthpiece) of the Fearsome Foursome. Had Jones played in the modern era, he likely would have gone down as one of sport's biggest superstars. A case can be made for different names in each of the next three spots but this is one that shouldn't even be up for consideration.
No. 2 -- DT Merlin Olsen
In many ways, Jones' larger than life presence overshadowed the unadulterated greatness of Olsen. But for as much as Jones benefited from playing alongside Olsen, the opposite was equally true. Olsen went to the Pro Bowl a record 14 times, missing it a grand total of one time in his career. The Fearsome Foursome was great because it featured a quartet of dominant players, but Olsen and Jones were two of the most dominant defensive players of that or any era. I also considered Jack Youngblood for this spot as a way of spacing out the history of the franchise but Olsen's credentials are just too good to ignore.
No. 3 -- RB Marshall Faulk
This is where things get difficult. When I started looking at this, I knew immediately that a running back had to make the list. The choice comes down to Faulk or
Eric Dickerson
. Certainly, an argument could be made for Dickerson, who had the most prolific rushing season in league history with the Rams in 1984. And Dickerson had more rushing yards as a Ram than Faulk in a shorter period of time with the team.
Tipping the scales in Faulk's favor were two factors impossible to overlook: First, he was the key cog to taking the Rams to a world championship and his ability as a receiver and pass blocker were unlike any back that came before him, Dickerson included. Faulk's 470 catches for 4,071 receiving yards and 27 touchdowns with the Rams dwarfs Dickerson's 123, 912 and two.
No. 4 -- QB Kurt Warner
For the record, I changed the name in this spot multiple times before going with my first instinct here with Warner. The nature of Warner's journey is an irreplaceable element in the ultimate story of the Rams franchise. His rise from little-known Arena League quarterback to two-time MVP and Super Bowl champion is not only one of the great stories in Rams history but also the NFL.
Compared to the rest of the list, the sample size is small as Warner's star only shined for three seasons in St. Louis. Because of that, I gave strong consideration to longtime Rams mainstays such as Bruce,
Jackie Slater
and Pace. Ultimately, Warner's meteoric three years were too good and too important to the organization's history to leave out.
Honorable Mention:
Bruce, Dickerson, Pace, Jackie Slater, Elroy Hirsch, Norm Van Brocklin, Dick Vermeil, Bob Waterfield, Youngblood.
February, 6, 2014
Feb 6
12:30
PM ET
ST. LOUIS -- On Saturday night, the Pro Football Hall of Fame announced that former
St. Louis Rams
safety Aeneas Williams is part of this year's class of inductees. Williams isn't likely to be remembered as much for his time with the Rams as he was with the
Arizona Cardinals
, but for those wanting a player with a longer track record of playing for the Rams to get in, the time is coming soon.
The Greatest Show on Turf version of the Rams had no shortage of Hall of Fame candidates. Running back Marshall Faulk was the first to go in, but now the rest of the group is coming eligible. That should make for some tough decisions for the committee in the next couple of years but there are multiple Rams with a legitimate case to get in.
[+] Enlarge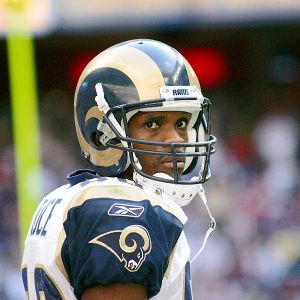 Ronald Martinez/Getty ImagesIsaac Bruce may have to wait for Canton to call, despite having Hall of Fame worthy numbers.
On Wednesday,
we took a look at the case
for quarterback
Kurt Warner
. Now it's time for the original St. Louis Ram, wide receiver
Isaac Bruce
:
Were I the only one casting the vote on whether Isaac Bruce should go to the Pro Football Hall of Fame, it would be a slam dunk. Bruce would be in on the first ballot and finally receive the recognition that often managed to find others during his playing career.
Alas, I don't have any votes and Bruce's road to Canton figures to be a difficult one despite what looks to be a strong case. A St. Louis original, Bruce is revered in the city for his career devotion to the franchise, quiet excellence on the field and endless contributions to the community. But Bruce's reserved personality came smack in the middle of the era of the diva wide receiver.
While Bruce put up numbers right in line with the likes of
Randy Moss
,
Terrell Owens
and other big statistic contemporaries, he rarely got the same amount of attention because he handled his business without making a spectacle about it.
Potentially, that attitude could work in his favor when his case is presented. In terms of pure numbers, Bruce absolutely deserves to be right in the mix. In 223 career games, Bruce posted 1,024 receptions (seventh all time) for 15,208 yards (fourth) and 91 touchdowns (10th) on his way to four Pro Bowl appearances. Bruce never earned a spot as a first team All Pro but there were certainly seasons (especially 1995) in which he deserved it but was denied because of his under the radar personality.
Alas, there are two factors that are going to complicate matters for Bruce compared to players like Faulk, Warner and tackle
Orlando Pace
.
First, Bruce's career years came right at the outset of the era in which receivers began racking up big numbers. While Bruce's numbers exceed many of those other receivers, this is the era of the passing game where video game numbers were commonplace.
Second, because of that abundance of productive wideouts, there's a long line forming amongst receivers for spots in the Hall. It's good news for Bruce that a wideout has made it to Canton in each of the past two years with
Cris Carter
going in last year and
Andre Reed
set to go in this year. Still,
Marvin Harrison
and
Tim Brown
are waiting their turn and both have similar production to Bruce. If Bruce doesn't get in soon, he will be faced with an even larger logjam including guys like Owens, Moss and Bruce's running mate
Torry Holt
.
Bruce does, however, have a trump care over the rest of those candidates in the form of his game-winning touchdown catch in the final minutes of Super Bowl XXXIV. One play does not a Hall of Famer make but it could certainly serve as a sort of tiebreaker should the need for one arise.
Realistically, it's unlikely the Rams will get all of their cornerstones of the Greatest Show on Turf in at the same time. Pace and Warner are probably better bets to get in right away than Bruce and both could get in on the first try next year. Bruce's wait figures to be a little longer. I do believe Bruce will get in but a bit more patience than was required for Faulk, or will be needed for Pace or Warner, is likely going to be required.