St. Louis Rams:

Larry Fitzgerald
September, 6, 2013
9/06/13
12:00
PM ET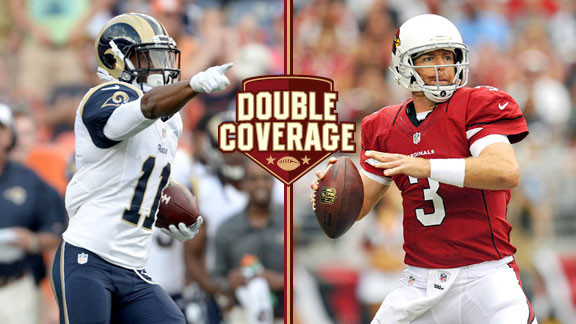 USA TODAY SportsTavon Austin and Carson Palmer were part of overhauls on offense for the Rams and Saints.
The St. Louis Rams and Arizona Cardinals are widely regarded as the afterthoughts of the difficult NFC West Division.
Sure, both teams have done enough to draw optimism from their respective fan bases but when it comes to high expectations, neither team is supposed to keep pace with chic Super Bowl picks Seattle and San Francisco.
If the Rams or Cardinals intend to keep pace with the Seahawks and Niners, it would serve them well to beat the other to open the season.
Rams reporter Nick Wagoner and Cardinals reporter Josh Weinfuss discuss the important topics that will shape Sunday's outcome.
Nick Wagoner:
Sitting here in St. Louis, it looks like it's been a busy offseason out there, the type that I'm used to seeing around here. The Cardinals had a major makeover in the front office and with the coaching staff. The obvious first question here is what type of impact has new coach Bruce Arians made since his arrival?
Josh Weinfuss:
Pretty much from the get-go, Arians has changed the culture throughout the organization. He's not a micromanager. All he cares about is winning football games. Arians cleaned house almost immediately and brought in his own staff, save for two holdovers -- quarterbacks coach Freddie Kitchens and defensive assistant Ryan Slowik. But it was more than the personnel he changed. The mindset was different, too. Players were excited again after losing seasons two of the past three years, and Arians established respect throughout the locker room quickly. He was open and honest with the players, even if it wasn't what they wanted to hear, and the players appreciated it, some even relished in it.
It's not like you haven't seen some change there in St. Louis. With the loss of
Steven Jackson
and
Danny Amendola
, how has the Rams' offensive identity changed this season?
Wagoner:
After eight years of Steven Jackson punching the clock and picking up 1,000 yards or more on the ground, things are quite a bit different in that regard. The Rams are faster with tight end
Jared Cook
and receivers
Tavon Austin
and
Chris Givens
. They've added those guys to give quarterback
Sam Bradford
every chance to succeed. The offense has been rebuilt to feature Bradford and allow him to take the next step. While offensive coordinator Brian Schottenheimer says the tempo and style of offense will change from game to game and be more game-plan specific, there's little doubt the offense will look much different than it has been around here in some time.
Speaking of building around quarterbacks,
Carson Palmer
is an obvious upgrade at quarterback but how much will that improve the offense?
Weinfuss:
I think it'll improve the offense more than most people think, but for a few reasons. Not only will the Cardinals now have a capable quarterback who threw for 4,018 yards and 22 touchdowns last season -- they'll have consistency. The Cardinals trotted out four different starters in 2012 and there was no unity that kept the offense together. Combined, they threw for 3,383 yards and 11 touchdowns -- that's 635 fewer yards and half as many scores. In Arians' downfield offense, having a big arm and a smart quarterback is as important as any factor. And Palmer showed during the preseason that he can launch it.
You talk about the new weapons around Bradford, but
how will the addition of left tackle Jake Long help the Rams' offense, specifically the running game?
Wagoner:
The Rams did everything they could during the preseason and training camp to ensure Long is healthy and ready to go when the season begins. They limited his reps in practice to keep him fresh, and he responded with solid performances in the three preseason games in which he appeared. He says he feels as good as he has in three years and from talking to him, he's got something of a chip on his shoulder. He was told for years he was an elite tackle then people began doubting him last year. He looks poised to bounce back and be effective in pass protection and the run game.
While we're on the topic of offensive lines, it certainly seems to be the ongoing saga out there. The Rams had nine sacks last year when Arizona came to town. Has the offensive line improved enough to keep Palmer upright on a consistent basis?
Weinfuss:
The short answer is yes. The long, complicated answer is we'll see. Last year the Cardinals allowed a league-high 58 sacks, but that was with a patchwork offensive line that saw seven different starters. This year, the unit is more solidified with the return of
Levi Brown
, who missed last season with a torn triceps, and the addition of free agent right tackle
Eric Winston
, who has started every game since 2008. The biggest question mark will be the interior. First-round pick
Jonathan Cooper
is out for the year with a broken leg, which forced
Daryn Colledge
to move from right guard back to left and opened the door for
Paul Fanaika
at right guard. He was out of football last season. Overall, this year's line is a veteran, improved unit and I expect it to protect Palmer, who was sacked 26 times last year, better than he's seen in a while.
Let's flip to the other side of the ball. How much can the Rams rely on solid corner play to make up for having no starting experience at safety?
Wagoner:
Well, the Rams have talent and experience returning at every position on the defense except for safety. Rookie
T.J. McDonald
and second-year undrafted free agent
Rodney McLeod
are the likely starters Sunday and they have a total of zero starts between them. They do have veteran
Cortland Finnegan
to provide leadership in the secondary and McDonald seems wise beyond his years. Still, it may be tough on those young safeties against Arians' vertical passing attack. McDonald figures to play more of the box safety role and McLeod is a better fit as a center-field type on the back end.
August, 31, 2013
8/31/13
1:40
PM ET
San Francisco 49ers
and 13
Seattle Seahawks
helped the NFC West account for a disproportionate number of players listed in the #NFLRank project from ESPN.
Sixty-three voters helped rank 100 top players on each side of the ball. NFC West teams accounted for 20 players on defense and 16 on offense. The 36-player total works out to 18 percent representation for the NFC West, above the 12.5 percent expectation for any division.
The chart shows where NFC West players ranked on each list. I shaded offensive players in gray to better distinguish the rankings.
The 49ers' Patrick Willis and the
Arizona Cardinals
' Larry Fitzgerald have long been perceived as the best players in the division. They've got additional competition, but those two ranked higher than anyone else in the NFC West.
There were sure to be oversights in a project of this scope. Defensive end
Calais Campbell
of the Cardinals stands out to me as the most glaring one. I might have placed him between Patrick Peterson and Chris Long in defensive rankings as they stood for this project.
Three Seahawks cornerbacks earned spots on the list even though one of them, Antoine Winfield,
reportedly could be released by the team
Saturday in the reduction to 53 players Saturday.
A quick look at ranked players by team:
San Francisco 49ers:
Patrick Willis (3), Aldon Smith (10), Justin Smith (11), Vernon Davis (18), NaVorro Bowman (18), Joe Staley (25), Mike Iupati (32), Frank Gore (37), Colin Kaepernick (42), Ahmad Brooks (56), Anthony Davis (60), Donte Whitner (64), Michael Crabtree (78), Anquan Boldin (83) and Jonathan Goodwin (92).
Seattle Seahawks:
Richard Sherman (8), Earl Thomas (17), Percy Harvin (26), Marshawn Lynch (27), Brandon Browner (46), Russell Wilson (47), Russell Okung (49), Kam Chancellor (49), Max Unger (57), Bobby Wagner (67), Winfield (70), Cliff Avril (74) and Chris Clemons (85).
St. Louis Rams:
Long (40), James Laurinaitis (57), Jake Long (61), Cortland Finnegan (63).
Arizona Cardinals:
Larry Fitzgerald (7), Patrick Peterson (19), Daryl Washington (59) and Darnell Dockett (79).
Fifteen