St. Louis Rams:

Marques Colston
December, 14, 2013
12/14/13
3:30
PM ET
EARTH CITY, Mo. -- A closer look at three things to keep an eye on in Sunday's Rams-Saints game.
Running back receivers
As if the presence of pass catchers such as tight end
Jimmy Graham
and receiver
Marques Colston
wasn't enough to handle for the Rams' young secondary, the Saints also present another unique challenge in the form of the most prolific pass-catching running back duo in the league.
Brees
Whether by screen or by checkdown, backs
Darren Sproles
and
Pierre Thomas
each rank among the top five in the NFL in receptions by running backs and make life for defenses incredibly difficult.
Saints quarterback
Drew Brees
certainly hasn't hesitated to keep Thomas and Sproles involved in the passing game.
"Both the running backs are way up there as far as receptions and that's just a credit to Drew and getting rid of the football," Rams coach Jeff Fisher said. "If you affect things deep down the field, next thing you know the back's got the ball and he's taking a check down for 10 yards and a first down."
The Rams have struggled to stop opposing screen games this season and can ill afford to get undisciplined and lose track of Sproles and Thomas, or it'll make for an even longer day.
Piling up the pressure
There's no clearly defined blueprint for how to defend the Saints' deep and multiple offense but one foolproof way that's worked for any defense against any great offense is to get pressure on the quarterback consistently.
When the Rams upset New Orleans in 2011, they were spurred by a defense that was able to rack up six sacks and spend most of the day in Brees' face.

Laurinaitis
Two years later, the best way to slow down Brees and Co. is to force him to go through multiple progressions and allow time for
Chris Long
,
Robert Quinn
and the Rams' pass rushers to get after him.
"You've got to be really disciplined and take away his first targets," linebacker
James Laurinaitis
said. "With our D line, our hope is we take away his first two and hopefully they're closing in. They're not going to throw anything at him that he hasn't seen before. He's one of the few that's seen it all."
Brees gets rid of the ball exceptionally quick and with accuracy which makes the task that much more difficult but if the Rams don't want to get picked apart, they'll have to find ways to make things difficult for him.
Back to the run
In the absence of quarterback
Sam Bradford
, the Rams were able to keep the offense moving via a strong rushing attack and timely passing game. In the past two weeks against San Francisco and Arizona, the Rams have been unable to generate much of anything in the run game and the offense has followed suit.
Stacy
"I think the big thing is teams are gearing up to stop it," offensive coordinator Brian Schottenheimer said. "Teams know they want to try to make us one dimensional. I think this should be a good week where we can try to get back to running the ball. And again, it's going to ultimately come down to our execution and our ability to work on some of those finer details."
The Rams have actually managed an average of 107 yards and 4.76 yards per carry against the Cardinals and Ninersb but those numbers are a bit skewed by a long run from
Tavon Austin
and some garbage-time yards.
Getting the run game going against those stout defenses has been particularly tough early in games. The Saints defense is 17
th
in the league against the run, allowing 114.3 yards per game, which means the Rams should have a chance to get the run game going again.
To do that, Schottenheimer said the Rams will have to be better with their combination blocks and double teams. Backs like
Zac Stacy
must make better decisions at the line of scrimmage.
A strong run game would not only allow the Rams to set up opportunities for the play action pass but also to keep the Saints' offense off the field.
December, 13, 2013
12/13/13
10:00
AM ET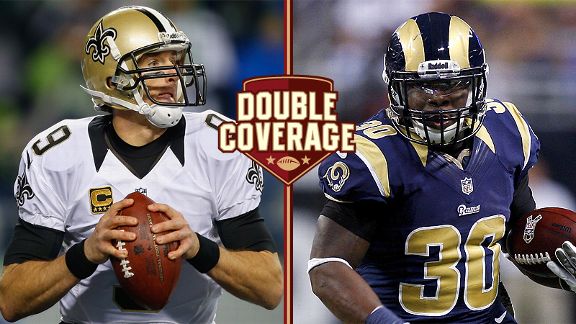 Getty Images, USA TODAY SportsDrew Brees and the Saints are piling up numbers, but Zac Stacy and the Rams may give them trouble.
While the
New Orleans Saints
come to the Edward Jones Dome on Sunday with plenty to play for, the
St. Louis Rams
have been eliminated from playoff contention.
The scenario of the Rams playing out the string and the Saints pushing for prime seeding in the NFC is one we've seen before. But, for whatever reason, the Rams have beaten or played the Saints tough in recent meetings. In addition, Rams coach Jeff Fisher has a history of success against New Orleans.
In this week's edition of Double Coverage, ESPN.com Rams reporter Nick Wagoner and Saints reporter Mike Triplett discuss the Rams' relative success against the Saints, and much more.
Wagoner:
The Rams are out of the mix for the postseason and again playing a much better New Orleans team at home. In 2011, the Rams stunned everyone by knocking off the Saints in a somewhat similar situation. It seems New Orleans has struggled to find traction on the road this year. Anything in particular you can point to for those problems?
Triplett:
Well, first of all, the Saints hate that question. But it keeps coming up this year because they have struggled quite a bit on the road -- they're 3-3, and two of their wins were surprisingly low-scoring. The Saints actually have the best road record in the NFL since 2009 (24-14). But part of the reason they catch so much heat for looking so human on the road is because they play so super-human at home (as former linebacker
Scott Shanle
said recently).
There's no one real consistent theme for their road struggles. Sometimes it has been weather conditions or footing -- neither of which will be an issue on Sunday. And sometimes, of course, they just come out flat. But I don't expect that from the Saints this week since they know how much is on the line with the playoffs looming.
Nick, with no playoff hopes to inspire the Rams, do you see them treating this game with the same intensity? I know they're coming off two losses on the road. Have you seen any signs that they can bounce back and cause trouble for the Saints?
Wagoner:
Speaking of questions teams hate, Fisher doesn't appreciate anything that looks at the big picture or beyond the next game. For all the problems this team has, effort and buy-in aren't on the list. The Rams have nothing tangible to play for this season, but this is the youngest team in the league and there are plenty at Rams Park who have long insisted that the target year for a breakout is 2014. To get there, they need to continue to make strides over the final three weeks, so I would expect them to put up more of a fight to close out the season.
As it pertains to the Saints specifically, the Rams have a habit this season of playing good teams pretty tough, save for San Francisco. They've beaten Arizona, Indianapolis and Chicago, and they gave Seattle all it could handle at home. There's no guarantee they can carry that over to Sunday, but after two bad performances the past two weeks, I expect a more representative performance against New Orleans.
One storyline that intrigues me here is the presence of Rob Ryan. The Saints went from a former Rams head coach at defensive coordinator (Steve Spagnuolo) in 2012 to one who looked like he was about to become the Rams' coordinator this year. How has Ryan been able to turn around that defense in one year, and what are the biggest differences?
Triplett:
Yeah, the Saints definitely owe the Rams an apology for that one -- or a thank-you note. Ryan has made a huge impact. His two most important qualities are probably his attitude and his creativity. Players immediately responded to his enthusiasm and his energy level. They say Ryan makes the game fun, something players have said about him throughout his career. Just as important, he has shown enough flexibility to mold his defense around the players he's working with (which became a necessity when they suffered a handful of key summer injuries).
I've been especially impressed by the way Ryan has featured young pass-rushers
Cameron Jordan
and
Junior Galette
and rookie safety
Kenny Vaccaro
, among others. And he'll throw a ton of different looks at teams from week to week and series to series. I'm shocked that this is the first time Ryan's had a winning season as a defensive coordinator. He obviously found the right fit for himself in New Orleans.
Tell me about the Rams' defense. Any chance they can hang with the Saints' potent offense? Who might match up against tight end
Jimmy Graham
and the running backs who catch passes out of the backfield?
Wagoner:
The Rams' defense has been especially hard to figure. They expected to be a top-10 group but haven't been able to do it for a few reasons. The pass rush has games where it absolutely dominates and takes over.
Robert Quinn
has emerged as one of the game's best and
Chris Long
is still dangerous. When the pass rush is humming, it makes life miserable for opponents. That's the Rams' best hope for slowing down the Saints.
But the Rams don't match up all that well with New Orleans on the back end. The secondary has struggled mightily, especially at safety. Graham is a matchup nightmare for all teams, and he could really expose the Rams' issues at safety. The Rams drafted linebacker
Alec Ogletree
to help neutralize guys like Graham, and he could get the call on Sunday. He's a former safety playing linebacker and has at times flashed elite cover skills for a linebacker. But I think he's flattened out a bit in that area in recent weeks while his run-stopping skills have improved. The secondary is going to require major upgrades in the offseason, and given the Saints' weapons, anything short of a dominant pass rush will make for a long day for the Rams.
While we're talking about the Saints' offense, it seems like it's as good as ever, with
Drew Brees
putting together another monster season. You see that group every day and every week in games. Are there weaknesses that can be exploited, and how have teams found success in slowing them down?
Triplett:
Every once in a while, the Saints' passing offense does get slowed down. The best way to succeed against them is to get physical and disruptive in coverage -- bumping and chipping guys at the line, pushing the envelope within the five yards of contact and trying to stay tight on them down the field. It worked for New England (in heavy man coverage) and Seattle (more zone coverage). But it's easier said than done. The Panthers tried to play physical this past week, but they didn't have the manpower to stop Graham and receiver
Marques Colston
. The Saints usually burn defenses with their "pick your poison" offense since they are so deep and versatile.
Interesting that you brought up Ogletree. I liked him as a possible pick for the Saints in April. Instead, they drafted another disruptive athlete -- Vaccaro -- who has made a nice impact in a versatile role. One of the main reasons the Saints drafted Vaccaro was because they liked his ability to cover slot receivers like
Tavon Austin
. I saw Austin's breakout performance a couple weeks ago. Any chance he can be that X factor on Sunday?
Wagoner:
Well, Austin suffered an ankle injury against Arizona last week and Fisher has called him day to day. If Austin plays, it's possible his ankle could slow him down a bit. Considering his game relies so much on speed and elusiveness, an ankle injury could affect him more than it might other players. If he's OK, he certainly could be an X factor. Without
Sam Bradford
at quarterback, the Rams really struggle to put together long drives. They need big plays to keep up in most games, and Austin is the one guy capable of consistently providing them. If they don't have him, it's going to make an already difficult task even tougher.