St. Louis Rams:

Matt Giordano
November, 21, 2013
11/21/13
4:45
PM ET
EARTH CITY, Mo. -- The
St. Louis Rams
had hoped to spend the bye week getting healthy and ready for a final six-game stretch run to close the season. They didn't suffer any serious injuries during their two bye-week practices, but they also probably aren't as healthy as they'd like to be heading toward Sunday's game against the
Chicago Bears
.

The Rams made no changes to their injury report Thursday after listing four players as not participating and two more as limited Wednesday.
For the second day in a row, the Rams practiced without the services of guard
Harvey Dahl
(knee), quarterback
Brady Quinn
(hip/lower back), cornerback
Cortland Finnegan
(eye) and running back
Chase Reynolds
(knee). The absence of Dahl and Quinn is no surprise as both players had missed time leading into the bye. Finnegan and Reynolds were additions and so far haven't don't anything in practice this week.
Safeties
Darian Stewart
(foot) and
Matt Giordano
(thigh) were designated as limited participants again Thursday. The injuries to Finnegan, Stewart and Giordano have left the Rams a little short-handed in the secondary in practice this week.
Of note for the Bears, offensive tackle
Jordan Mills
(quadriceps) was upgraded from limited participation Wednesday to full participation Thursday.
November, 15, 2013
11/15/13
11:30
AM ET
EARTH CITY, Mo. -- The
St. Louis Rams
' season has been nothing short of a roller-coaster ride, with ups and downs abundantly available. In short, the only consistent thing has been the Rams' inconsistency.
Before we look ahead to the six games left to play, let's take a look back at the first 10, what happened in those games and what could have happened as the Rams sit at 4-6.
Week 1 vs. Arizona


[+] Enlarge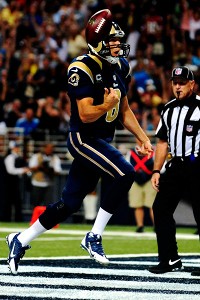 Jeff Curry/USA TODAY SportsSam Bradford led the Rams to a comeback win in the opener. Six weeks later his season was over because of a knee injury.
The Rams staged a fourth-quarter comeback to pull off a 27-24 win as quarterback
Sam Bradford
caught fire in the final 20 minutes.
What could have happened:
For all intents and purposes, this is a game the Rams could easily have lost. If Arizona had found any semblance of a pass-protection solution for end
Robert Quinn
, it likely would have been able to escape with a season-opening victory.
Week 2 at Atlanta

The Falcons jumped out to a big lead right away, and though the Rams put together another second-half comeback, the hole was too deep to dig out of and Atlanta emerged with a 31-24 victory.
What could have happened:
A terrible call for an offside penalty on Rams end
Chris Long
extended Atlanta's opening drive and was the first domino in a string of events that led to the Falcons' quick start. The game could have gone a different way if the Rams had gotten the stop on that first possession.
Week 3 at Dallas

This one was never close as the Rams came out flat and Cowboys running back
DeMarco Murray
shredded them for the second time in three years as Dallas coasted to a 31-7 win.
What could have happened:
Once again, the Rams fell behind early, this time 24-0 early in the third quarter. There were no missed opportunities or chances here that would have drastically changed the game.
Week 4 vs. San Francisco

On a short week, the Rams returned home for a prime-time game against a struggling 49ers team. This game was close for about a quarter and a half before the Niners imposed their will and knocked the Rams out to the tune of 35-11.
What could have happened:
Although the Rams were in it early, again this was a simple destruction where one play here or there probably wouldn't have turned it another direction.
Week 5 vs. Jacksonville

After an early scare, the Rams settled in and took care of business against a struggling Jaguars team for a 34-20 win.
What could have happened:
The Rams fell behind early on a big play by receiver
Justin Blackmon
but got things under control right away with a defensive touchdown from safety
Matt Giordano
. Either way, it seemed the Rams weren't going to be the team to allow the Jaguars to get their first win.
Week 6 at Houston

The Rams came out and dominated in all three phases, getting touchdowns from the offense, defense and special teams for an overwhelming 38-13 victory.
What could have happened:
This was another game that was seemingly never in doubt as the Rams got off to a hot start and the Texans never really threatened.
Week 7 at Carolina


[+] Enlarge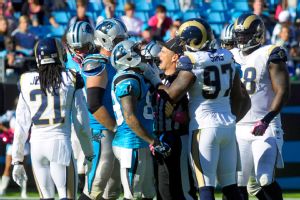 Sam Sharpe/USA TODAY SportsThe Rams were frustrated at Carolina, both during the game and by the end result.
A heated game left the Rams frustrated and disappointed in a 30-15 loss but lamenting the bigger loss of Bradford to a season-ending knee injury.
What could have happened:
The Rams probably would have been OK with the loss if nothing had happened to Bradford, but this one got out of control and, more frustrating for the Rams, it was a game there for the taking. If running back
Zac Stacy
gets a better block on
Quintin Mikell
on an early play, Bradford might have hit
Brian Quick
for a big gain, and there was also a tripping penalty that cost
Tavon Austin
a touchdown. The score doesn't show it, but this is one the Rams would probably love to have back for many reasons.
Week 8 vs. Seattle

The defense put together a dominant effort on "Monday Night Football," but it wasn't enough as the Rams came up a yard short in a 14-9 loss.
What could have happened:
The Rams could have at least showed the possibility of a run on fourth-and-goal at Seattle's 1 at the end of regulation or called timeout to get Stacy in the game for a run on the previous down. Either of those, along with countless other miscues and near-misses, would have given the Rams a huge win in their first game post-Bradford.
Week 9 vs. Tennessee

Another week, another near-miss as the bad Rams defense showed up again and the Titans emerged with a 28-21 win.
What could have happened:
The Rams' continued inability to stop the run wiped out a solid offensive performance, and a late fumble by quarterback
Kellen Clemens
left the Rams on the wrong end of yet another winnable game.
Week 10 at Indianapolis

Something about going on the road against AFC South teams agrees with the Rams as they thoroughly dominated the Colts in a 38-8 victory.
What could have happened:
The game may have been different if the Colts on their first drive had been able to keep Quinn from sacking quarterback
Andrew Luck
and stripping the ball, which Long recovered and returned for a touchdown. But it probably wouldn't have made that much difference as the Rams won all three phases.
So there you have it, the Rams sit at 4-6 and despite all of their issues -- be it the ups and downs of the defense, the poorly timed turnovers by the offense or the early-season woes on special teams -- they could realistically be sitting at 6-4 and squarely in playoff contention. Games against Arizona, Seattle and Tennessee were all coin tosses, and the Rams went 1-2 in them. Even one more win there and the Rams would be at .500.
Alas, a young, inconsistent team has mostly played like one, and the highs and lows that go with it have kept the Rams' record from improving in year two of the Jeff Fisher era.
October, 8, 2013
10/08/13
5:50
PM ET
EARTH CITY, Mo. -- A look back at the
St. Louis Rams
' 34-20 win against the
Jacksonville Jaguars
after reviewing the All-22 film.
Big Play:
Rams safety
Matt Giordano
returns an interception 82 yards for a touchdown.
In a nickel defense with Giordano serving as the single high safety and
Darian Stewart
creeping into the run box, the Rams left cornerback
Janoris Jenkins
in man against receiver
Cecil Shorts
on the left side. Jacksonville had three receivers bunched to the right with a running back in the backfield.
The Rams send four pass-rushers, but do not blitz.
At the snap, Rams end
Robert Quinn
almost instantly beat Jacksonville left tackle
Cameron Bradfield
, forcing quarterback
Blaine Gabbert
to step up in the pocket. As Quinn closed in, Gabbert awkwardly dragged his back foot while trying to step into the throw and airmailed it over the head of Shorts, who was well covered by Jenkins anyway.
The ball sailed right to Giordano who spotted an opening across the field and immediately began to head that direction. He found a wall of blockers there, including key blocks from safety
Rodney McLeod
on Bradfield, Jenkins on running back
Maurice Jones-Drew
and finally Quinn on Gabbert at the final moment.
[+] Enlarge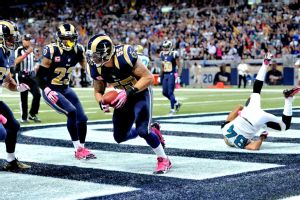 AP Photo/G. Newman LowranceJames Laurinaitis' end zone interception kept the Jaguars from pulling within one score.
Giordano did his job on the play but special commendation should go to Quinn and Jenkins for their double duty. Quinn created the play with pressure and Jenkins had Shorts covered then both turned around and made important blocks to secure the touchdown.
Hidden Play:
Rams middle linebacker
James Laurinaitis
intercepts a Gabbert pass in the end zone.
Leading 24-10 in the third quarter, the Rams nearly allowed Jacksonville to trim the margin to one score after penalties kept the Jags' drive alive.
Again in the nickel, even close to the goal line, the Rams again opted against the blitz and sent four rushers at Gabbert. Jacksonville had a running back, a tight end and three receivers on the field with Shorts motioning right to put he and
Justin Blackmon
together on that side.
At the snap, Laurinaitis dropped into a deep zone with linebacker
Alec Ogletree
stepping into the short middle and taking away any options there. Shorts ran an in across the back of the end zone with Giordano in coverage. Gabbert either didn't see Laurinaitis or tried to force it in but Laurinaitis was all over it.
Laurinaitis outmuscled Shorts for the ball; killing the drive and actually gaining the Rams 18 yards of field positions versus the alternative of an incomplete pass.
Other observations:
Quinn didn't have any sacks this week but he was again a terror on the edge. He consistently created pressure, coming up with three quarterback hits and five hurries. He did a nice job in run support as well and continues to show some signs of progress in that regard.
It should be noted just how bad Gabbert and the Jacksonville offense looked. Gabbert simply never looked comfortable in the pocket and his line didn't do much to help him get there.
It's probably going to take some time for Ogletree to reach his potential but he has a knack for making a great play then missing an easy one. He split two blockers to help setup Stewart's forced fumble and recovery and then in the third quarter missed what should have been an easy tackle on a quick pass after a dropped snap. Missed tackles continue to be an issue.
For someone coming off an illness with no practice all last week, Trumaine Johnson had a solid game. He got beat for a long pass but he mostly hung in there. After the play where Ogletree missed the tackle, Johnson showed some impressive athleticism as he elevated to knock down a pass that would have gone for a big gain even though he was stuck in a bit of no man's land.
It was a rough day for Stewart in some areas aside from his forced fumble and recovery. He was unable to get in position on the play where Blackmon ran free for his touchdown and later it appeared he was out of position again when Chad Henne found Blackmon down the left sideline. Jenkins looked surprised to see no help when the play was over as Stewart trailed behind.
Laurinaitis had another productive day at the office. He appears to be getting good depth on his drops and was solid in coverage for a second consecutive week.
The interior of the defensive line had one of its better outings of the season as tackle Michael Brockers and Kendall Langford did a lot of collapsing of the line on Jacksonville runs. Brockers did some good things in rushing the passer also, including a sack and a hit.
One thing the Rams didn't take advantage of that was there were fumble recovery opportunities. They got to one but Gabbert coughed up two more that Jacksonville got back. Awareness in that area needs to improve, as those chances don't come around too often.
October, 7, 2013
10/07/13
12:30
PM ET
An examination of four hot issues from the
St. Louis Rams
' 34-20
win
over the
Jacksonville Jaguars
:
[+] Enlarge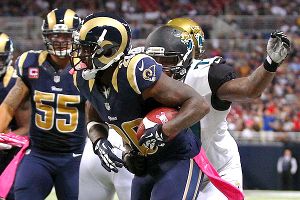 Dilip Vishwanat/Getty ImagesDarian Stewart's fumble recovery helped the Rams secure the win over the Jaguars.
A must not lose:
Credit to the Rams for doing exactly what they should do against winless Jacksonville: win. It didn't matter if they were playing the Jaguars, the '85 Bears or a high school team. The Rams needed a victory in the worst way after losing to Atlanta, Dallas and San Francisco.
In the postgame locker room, the Rams did not seem to have any delusion this was a cure-all or the season magically has been righted. Instead, there was an understanding that the win was important but there is still a lot of work to be done.
Giving new meaning to special:
The team's special-teams units continue to rack up penalties at a record pace, adding six more for 53 yards Sunday. One of those wiped out another long punt return from
Tavon Austin
.
For the season, the Rams now have 17 special-teams penalties for 145 yards on 101 plays. To put that in perspective, the offense and defense have combined for 16 penalties for 143 yards on 653 snaps.
At this point, a solution does not seem to be evident.
Stacy the starter?
In desperate need of a spark in the run game, the Rams found it in rookie bowling ball
Zac Stacy
. There was nothing flashy about Stacy's 14-carry, 78-yard performance but he was effective.
Stacy brings the hard-charging style that coach Jeff Fisher has always liked and showed the ability to get yards after contact that had been missing. Although he did it against Jacksonville's 32nd ranked run defense, he appears to be the best option from among the team's five running backs right now.
Stacy waited four games to get his first career start. His wait will be much shorter for No. 2.
Takeaway time:
For the first time this season, the Rams came out on the plus side of the turnover battle against the Jaguars. Two interceptions and a fumble recovery led to 14 points for the Rams, ultimately making up the final margin.
Since Fisher's arrival, the Rams are 3-1 when they are plus-3 or better in turnover margin. Each time, they have come out with a minimum of 13 extra points than the opponent.
The Rams defense has yet to show it can consistently stop teams so if it could develop a trend of getting turnovers and either scoring on the return (as safety
Matt Giordano
did) or turning it into offensive points right away (as they did following safety
Darian Stewart
's fumble recovery), it would go a long way toward more wins.
October, 6, 2013
10/06/13
6:30
PM ET
ST. LOUIS -- Looking back at three things worth watching from the
St. Louis Rams
' 34-20 win against the
Jacksonville Jaguars
on Sunday.
1. Revving the run. No, seriously this time.
[+] Enlarge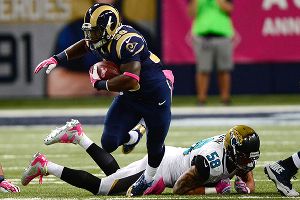 Jeff Curry/USA TODAY SportsZac Stacy had arguably the best performance for a Rams running back this season.
For the first time since the Atlanta game, the Rams showed some signs of life in the running game as rookie
Zac Stacy
got the start.
Stacy didn't break any particularly long runs or even score a touchdown but he showed a knack for falling forward after contact and even made a couple of tacklers miss.
The results were enough to keep the offense somewhat balanced and keep some drives moving. He finished with 78 yards on 14 carries, an average of 5.6 yards per attempt.
Yes, Jacksonville had the worst rush defense in the league entering the game but the Rams had the worst rush offense. Stacy provided a spark.
2. Slowing the run.
While Jacksonville's run defense entered Sunday as the worst in the league, it's rushing offense was better only than the Rams. The hope for the Rams was that they'd be able to get the ship righted against the Jaguars after San Francisco and Dallas gashed them for an average of 206 yards the past two weeks.
For most of Sunday's game, the Rams showed marked improvement, holding Jacksonville to 46 yards on 14 first-half carries but Jacksonville found a little room in the second half, gaining 50 yards on 11 tries as it tried to mount a late comeback.
Either way, the Rams fared much better against the run in holding the Jaguars to 3.8 yards per attempt on 25 tries and, at least for this week, stopped the bleeding.
3. Secondary first priority.
The Rams were banged up in the secondary with injuries to safety
T.J. McDonald
and cornerback
Cortland Finnegan
forcing them to play three safeties in the nickel package in the form of
Rodney McLeod
(as the slot corner),
Matt Giordano
and
Darian Stewart
.
That personnel grouping was on the field often against Jacksonville and though it was far from perfect, it was enough to come up with some big plays, especially Giordano and Stewart.
After the Rams got burned for a long touchdown in the first quarter, Giordano answered with a gift-wrapped interception he returned 82 yards for a touchdown to tie it up.
Later, Stewart forced and recovered a fumble to set up a touchdown gave the Rams a 17-10 lead they'd never relinquish. In the unofficial pressbox statistics, Giordano had four tackles and a pass defended to go with his pick-six and Stewart chipped in six tackles and the aforementioned forced fumble and recovery.
October, 5, 2013
10/05/13
1:00
PM ET
ST. LOUIS -- Three things to keep an eye on as the
St. Louis Rams
host the
Jacksonville Jaguars
on Sunday at 1 p.m. ET.
1. Revving the run. No, seriously this time.
For the better part of the season, this category has been a staple in this space and until something changes -- not even a drastic change, just a minor one -- it's probably going to remain here.
[+] Enlarge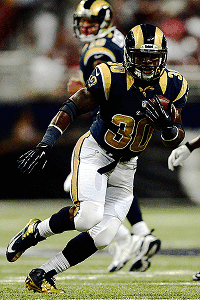 Jeff Curry/USA TODAY SportsWill rookie Zac Stacy get a chance to rev up the Rams run game against the Jaguars on Sunday?
There may never be a better chance for the Rams to get their running game out of neutral and at least moving forward than the one they get this week. The Rams are last in the league in rushing, average just over 47 yards per game, but Jacksonville brings in the league's worst run defense, giving up 164.3 yards per game.
All week, the Rams have been banging the drum about getting the run game going and all that needs to happen for more success to be found.
"The good thing with the long weekend was we were able to look at some things and touch on some things that maybe we can do a little bit better just in terms in some of our concepts and packages and then some of the fundamentals," offensive coordinator Brian Schottenheimer said. "The guys have done a great job this week of working on those things. It's got to get better and I think it will."
What isn't known is which running back will handle the starting duties or how carries will be split up. There have been hints that rookie
Zac Stacy
will get more work but anyone showing any signs of being productive will likely get the bulk of the work.
2. Slowing the run.
On the other side of the ball, the Rams haven't had much more success stopping the run than they've had running it themselves, especially in the past two weeks.
San Francisco and Dallas combined to average 206 rushing yards per game in the past two games as the Rams have struggled with what defensive coordinator Tim Walton refers to as a fundamentals problem.
Walton expects Jacksonville to come with a heavy dose of running back
Maurice Jones-Drew
.
"We have to do a better job than what we've done the past few games of playing run defense," Walton said. "They're going to feature him. They're going to run him, so we have to get back to fundamental football to make sure we're in our gaps and we tackle. We've got to make sure we tackle well, leverage the ball and get off blocks."
The return of linebacker
Jo-Lonn Dunbar
from his release and suspension should help the Rams defend the run better, but it's probably unfair to expect him to be a savior.
For the Rams to slow down Jones-Drew and improve the run defense, it'll require all 11 consistently handling assignments and making tackles, two things that have been absent the past two weeks.
3. Secondary first priority.
The Rams are banged up in the secondary this week after losing starting safety
T.J. McDonald
for at least eight weeks to a leg injury and have practiced without cornerback
Cortland Finnegan
(thigh), cornerback
Trumaine Johnson
(illness) and with a limited
Brandon McGee
, who also has a thigh injury, for most of the week.
There aren't many positions on the roster where the Rams actually add experience by going to backups, but safety is one of them. Without McDonald, the Rams can turn to veterans
Matt Giordano
and
Darian Stewart
. Giordano stepped in for McDonald last week but the Rams have plans to use both at various situations this week.
If Finnegan can't play, the Rams will likely start Johnson in Finnegan's place. Things get a bit more complicated in the nickel package. Last week, the Rams moved
Rodney McLeod
into the slot corner spot with Giordano and Stewart handling the safety spots.
"We actually have a chance to, I guess, put more experience in the secondary now," coach Jeff Fisher said. "We'll be fine. Our numbers aren't ideal, but we'll get through it."
Getting through it is a good place to start but the Rams also need to get some production. Jacksonville quarterback
Blaine Gabbert
has showed a penchant for turning it over and the Rams need to take advantage if and when those chances present themselves.
September, 4, 2013
9/04/13
5:45
PM ET
One unanswered question surrounding the Rams this week was the health status of defensive end
Chris Long
.
Long
Long left the third preseason game in Denver early with an apparent leg injury and didn't return to the practice field or participate in the preseason finale against Baltimore. Coach Jeff Fisher said Long was "fine" when asked about him on a couple of occasions and from all indications Wednesday, that appears to be the case.
The Rams got Long back on the practice field Wednesday afternoon and he didn't appear to have any problems. He participated in one-on-one pass rush drills and worked in a rotation with the other ends during the "team" portion of practice. In fact, Long was not even listed on the team's injury report.
Safety
Matt Giordano
also returned to practice from a calf issue and did not appear on the injury report. Safety Matt Daniels did some work in practice with a cast on his right arm. Daniels, Tight end
Lance Kendricks
(knee) and defensive tackle
Jermelle Cudjo
(foot) also practiced and aren't listed.
Here's the quick breakdown of those who did appear on the injury report:
Did not participate: TE
Cory Harkey
(knee), safety
Darian Stewart
(thigh), cornerback
Quinton Pointer
(thigh) and linebacker
Jonathan Stewart
(hip).
September, 2, 2013
9/02/13
1:15
PM ET
News broke today that safety
Quintin Mikell
signed a one-year deal with Carolina
after spending the past two seasons with the Rams.
It's no surprise that Mikell ended up landing a job somewhere (and with the added benefit of not having to go through training camp) but there are those in Rams Nation that aren't pleased Mikell isn't returning to St. Louis.
In reality, Mikell's departure came down to money (the Rams needed cap space to bolster the offense), and an ongoing commitment to youth and player development.
Mikell's time in St. Louis came with its share of ups and downs but for the most part he was a steady, solid performer, especially in 2012. According to
this ESPN Insider piece
from the folks at Pro Football Focus, Mikell graded out as the fifth best safety in the league last year. Here's a snippet of what they had to say about Mikell in the rankings:
Analysis:
When the Rams spent big on Mikell, it was unlikely he'd see out his deal. It was simply too much money for a player at his spot. It's a shame for St. Louis, which obviously would have liked to keep him. Mikell is a fierce competitor, and in 2012 made his presence felt around the line of scrimmage with more pressure (14 combined sacks, hits and hurries) than any other safety.
Indeed, the Rams parted ways with Mikell much more as a function of needing cap space to sign players like tight end
Jared Cook
and tackle
Jake Long
than out of disappointment in his performance. Mikell struggled with missed tackles and coverage mistakes in his first year with the Rams but seemed to find a niche playing more exclusively as a box safety last year. That's evident in the numbers above.
Even after the Rams spent a third-round pick on
T.J. McDonald
, many Rams fans had held out hope that Mikell might return on a cheaper deal. Indications from the Rams were that there was interest in a reunion, an interest that Mikell might have shared but only in the right situation. My sense is that the right situation meant only in a potential starting role.
With McDonald in place, the Rams have the safety who likely will handle a lot of the in the box work that Mikell did a year ago. Things have trended in the direction of
Rodney McLeod
handling the other starting spot and he's better suited on the back end, running the alley and sticking in coverage.
Like nearly every position on the roster, the Rams are not hesitating to trend younger at safety. McDonald is a rookie and McLeod is entering his second season.
Behind McDonald and McLeod, the Rams have
Darian Stewart
,
Matt Giordano
and
Matt Daniels
. Stewart and Daniels are younger options that could have long term upside. Giordano is around to provide experience and brings the added value of having worked with John Fassel in Oakland on special teams. When the team signed him, it probably eliminated any chance of Mikell returning.