St. Louis Rams:

Quintin Mikell
October, 17, 2013
10/17/13
12:30
PM ET
EARTH CITY, Mo. – As part of the
St. Louis Rams
' offseason roster shuffle, they found themselves making many tough decisions.
They decided to say goodbye to offensive stalwarts
Steven Jackson
and
Danny Amendola
in order to improve in other areas. Those moves drew plenty of attention, but one that may have flown under the radar as a result was the release of safety
Quintin Mikell
.
Signed to a lucrative contract only two years earlier, Mikell had found a comfort zone in coach Jeff Fisher's defense, enjoying one of his most productive NFL seasons in 2012.
But Mikell carried a heavy price tag, and his release saved the Rams $3 million in cap space and twice as much in cash value.
[+] Enlarge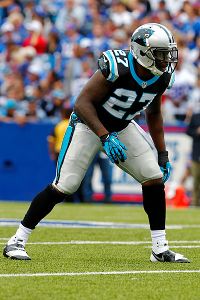 Timothy T. Ludwig/USA TODAY SportsQuintin Mikell had perhaps his best season in 2012, but the Rams cut him to save money and develop some of their younger players.
The move was fairly obvious in a business sense, but much more difficult in terms of team-building.
"He was great," Fisher said. "He was a great teammate. I was only with him for a year, but he played very well, very productive for us. He's helping their defense as well, too."
Losing Mikell meant losing far more than just a solid teammate. His production was better in 2012 than at any point in his career as he settled into a box safety role that suited him well. He finished the season with a career-high 101 tackles and was an effective blitzer, racking up a combined 14 sacks, hits and hurries.
"I felt like I had a good year, and I felt like I did well enough to help us win some games," Mikell said. "I wasn't perfect but I played hard and I gave them my best, and that's all I ever do. I do feel like I had a good year, but that's last year. I'm moving on."
For a while, it remained uncertain whether Mikell would move on. Even after his release in March and the subsequent big-money signings of tight end
Jared Cook
and left tackle
Jake Long
, the Rams seemed to have interest in bringing Mikell back at a reduced rate. Mikell said he was mildly surprised by his release, and indicated that he was willing to come back at a cheaper rate.
"I was willing to do whatever needed to be done to come back," Mikell said. "But, obviously, it just wasn't in the cards. It's just the business part of it."
Mikell said he heard from general manager Les Snead only once after his release, and it became clear when the team drafted
T.J. McDonald
in the third round in April that a return was increasingly unlikely.
"That kind of sucked about it, but like I said, it's a business," Mikell said. "I wasn't owed anything. It was just kind of one of those things where you just feel a little down or whatever, but no big deal."
From the Rams' standpoint, it seemed safety was one position where they were willing to skew a bit younger and attempt to develop some of their untested players. The idea of bringing a veteran such as Mikell back to handle a backup role that would potentially block one of their upcoming youngsters didn't jibe with the team's approach to bringing along young players.
So the Rams turned the reins over to the rookie McDonald and second-year safety
Rodney McLeod
, who won the job over a perpetually injured
Darian Stewart
.
McDonald flashed some promise early in the season before suffering a leg injury against San Francisco that landed him on the injured reserve/designated to return list. Now the Rams are using McLeod and Stewart as the starters, with veteran
Matt Giordano
coming in at safety in the nickel and McLeod moving to the nickel corner spot.
Frankly, the safety spots became the biggest question mark on the defense after Mikell's release, and through six games that hasn't changed. That's not to say the Rams should have kept Mikell at his former price, but for a defense that entered the season with high expectations and has had issues stopping the run, Mikell's presence would almost certainly be an upgrade over the team's current starters.
For his part, Mikell isn't holding any grudges, but he acknowledged that he's looking forward to taking on the team that released him. He signed Sept. 2 with Carolina, where he's been reunited with Panthers defensive coordinator Sean McDermott, his defensive-backs coach when they were in Philadelphia.
"Obviously, whenever you get to go against your former team it's always so good and you get excited to show them what you still have," Mikell said. "I definitely am motivated, not more than any other week, but it's just a different type of motivation this week."
September, 3, 2013
9/03/13
8:00
AM ET
In yesterday's edition of Ram-blings, we took a look at our season preview right here on ESPN.com. The consensus amongst myself and our columnists was that the St. Louis Rams would be improved but likely finish third in a difficult NFC West.
Over at Grantland,
Bill Barnwell began his preview series
with the "cellar-dwellers," also known as the eight teams he thinks will finish in the bottom third of the league. Barnwell has many of the usual suspects on the list, including teams like Jacksonville, Oakland and the Jets. But there were a couple of surprises -- fans in Minnesota are probably not thrilled about the column -- and the presence of the Rams is one of them.
There's been enough buzz not only in St. Louis but also from national types about the Rams being one of the true sleepers in the league, a team capable of making a playoff run for the first time since 2004. Those predictions are a product of the large jump the team made to seven wins in 2012 as well as a young roster stocked with potential.
The Rams' youth is often a hot-button issue for skepticism in regards to how they'll fare this season, but Barnwell actually focuses in a different direction entirely: quarterback Sam Bradford. Here's an excerpt of his explanation for the inclusion of the Rams on the list.
"At this point, Bradford is basically a ruthless checkdown artist; the Rams are the ones paying millions of dollars to put something they don't really understand or have any use for up on their wall right now, and since they've already done it once, they keep doing it."
Barnwell digs into the numbers and makes valid points about Bradford's past tendency to focus on receiver Danny Amendola and inability to scan the field and find other wideouts. He also points out an interesting correlation between yards per attempt and completion percentage. There's plenty to chew on in the piece as Bradford enters an important season.
Elsewhere:
Here at home base, we started the day with a look at the
Rams' team preview
. ... From there, we broke down the news that
Carolina signed former Rams safety
Quintin Mikell. ... Then we
pondered the breakout potential
of mammoth Rams defensive tackle Michael Brockers, who I believe is best suited among the team's young talent to push his game to the next level in 2013. ... The Rams got a little busy on Labor Day, inking backup defensive lineman Eugene Sims to an extension through 2015. It's a move that shows their
emphasis on building and maintaining a top-notch defensive line
.
There's been plenty of fanfare about the offseason additions of tight end Jared Cook and receiver Tavon Austin -- but left tackle Jake Long is every bit as important, if not more.
Long told the St. Louis Post-Dispatch
that he is "the healthiest I've felt going into a season in probably three years." That's good news for Bradford, who could probably attribute some of his field-vision issues to problems along the offensive line and lack of comfort that he'll have time to throw.
ESPN.com's David Newton has
the news on Mikell's signing
with the Panthers.
September, 2, 2013
9/02/13
1:15
PM ET
News broke today that safety
Quintin Mikell
signed a one-year deal with Carolina
after spending the past two seasons with the Rams.
It's no surprise that Mikell ended up landing a job somewhere (and with the added benefit of not having to go through training camp) but there are those in Rams Nation that aren't pleased Mikell isn't returning to St. Louis.
In reality, Mikell's departure came down to money (the Rams needed cap space to bolster the offense), and an ongoing commitment to youth and player development.
Mikell's time in St. Louis came with its share of ups and downs but for the most part he was a steady, solid performer, especially in 2012. According to
this ESPN Insider piece
from the folks at Pro Football Focus, Mikell graded out as the fifth best safety in the league last year. Here's a snippet of what they had to say about Mikell in the rankings:
Analysis:
When the Rams spent big on Mikell, it was unlikely he'd see out his deal. It was simply too much money for a player at his spot. It's a shame for St. Louis, which obviously would have liked to keep him. Mikell is a fierce competitor, and in 2012 made his presence felt around the line of scrimmage with more pressure (14 combined sacks, hits and hurries) than any other safety.
Indeed, the Rams parted ways with Mikell much more as a function of needing cap space to sign players like tight end
Jared Cook
and tackle
Jake Long
than out of disappointment in his performance. Mikell struggled with missed tackles and coverage mistakes in his first year with the Rams but seemed to find a niche playing more exclusively as a box safety last year. That's evident in the numbers above.
Even after the Rams spent a third-round pick on
T.J. McDonald
, many Rams fans had held out hope that Mikell might return on a cheaper deal. Indications from the Rams were that there was interest in a reunion, an interest that Mikell might have shared but only in the right situation. My sense is that the right situation meant only in a potential starting role.
With McDonald in place, the Rams have the safety who likely will handle a lot of the in the box work that Mikell did a year ago. Things have trended in the direction of
Rodney McLeod
handling the other starting spot and he's better suited on the back end, running the alley and sticking in coverage.
Like nearly every position on the roster, the Rams are not hesitating to trend younger at safety. McDonald is a rookie and McLeod is entering his second season.
Behind McDonald and McLeod, the Rams have
Darian Stewart
,
Matt Giordano
and
Matt Daniels
. Stewart and Daniels are younger options that could have long term upside. Giordano is around to provide experience and brings the added value of having worked with John Fassel in Oakland on special teams. When the team signed him, it probably eliminated any chance of Mikell returning.