St. Louis Rams:

Richie Incognito
February, 19, 2014
Feb 19
8:00
AM ET
EARTH CITY, Mo. -- I wanted to get this into the Ram-blings earlier in the week but wanted to make sure I could get it here in the lead portion so that it would be easily seen.
Much has been written and said about the situation involving Richie Incognito, Jonathan Martin and the Miami Dolphins in the weeks following the initial revelations about bullying in the locker room.
Since, we've seen the text message exchanges between Incognito and Martin come to light as well as the recent release of Ted Wells' report in which he investigated the situation and revealed his findings.
Of all that has been written or said, I don't believe you'll find anything more important to read on the subject than
this piece
from ESPN's Mark Schlereth. Schlereth spent plenty of time in NFL locker rooms and emphasizes the importance of realizing that what went on in Miami is far from the norm. Beyond that, Schlereth also provides the added perspective of someone who has been on the wrong end of bullying in his life.
What follows is a deeply personal, passionate, professional and thoughtful take on what the NFL's "locker room code" is really all about. I don't feel the need to add any more opinion or insight on to what Schlereth has to say. To me, he's done it all beautifully in this piece. If you have Incognito fatigue, I understand but if you only read one piece about the whole situation, I strongly recommend it's this one.
I.C.Y.M.I.
A roundup of Tuesday's Rams stories appearing on ESPN.com. ... In the
Ram-blings
, we took a look at some potential ways the Rams could save salary cap space this offseason and the persistent rumors surrounding quarterback Sam Bradford. ... Next, we continued out combine countdown series
with No. 4
, a glance at how the quarterback performance in Indy will help shape the Rams' draft plans. ... Then, we
responded to the comments
from Jeff Fisher that Sam Bradford will remain the team's quarterback in 2014. ... From there, we dived into the team's
current salary cap situation
and how it can be re-shaped to give the Rams more flexibility. ... Finally, we
reached No. 3
in the combine countdown by exploring ways that defensive backs could help themselves this week.
Elsewhere:
Here's
the news
with Fisher's comments to Mike and Mike.
At stltoday.com, Bernie Miklasz
reminds us
that anyone thinking Bradford won't be the starter in 2014 is not facing reality.
Jim Thomas participated in his
weekly chat
.
NFL.com provides
its look
at what the Rams' offseason could look like.
Also at NFL.com, Nolan Nawrocki serves up his
scouting whispers
on a number of top prospects.
The stats doctor, Rick Winer provides
some numbers
from Seattle's Super Bowl run that could be helpful for the Rams moving forward.
The fine folks at overthecap.com put together a handy
list of estimates
for what this year's rookie class will cost each team.
CBSSports.com does its best to offer a
salary cap picture
heading into the offseason.
February, 14, 2014
Feb 14
5:35
PM ET
INDIANAPOLIS -- Rick Venturi isn't surprised that Ted Wells' report determined that
Miami Dolphins
offensive lineman
Richie Incognito
and two of his teammates bullied fellow offensive lineman
Jonathan Martin
.
Incognito
Venturi knows all about Incognito's aggressive style.
The former
Indianapolis Colts
coach was on the St. Louis Rams' staff when Incognito played there.
"He's a runaway train," Venturi said Friday. "When we had him, and I think actually for a while in terms of his actual on the field stuff, I actually think he improved in Miami. But for us, he was selfish, he was loud, tried to intimidate. It was just his style. I say selfish, from the standpoint that he was highly penalized. He cost us games, cost us yardage. I was never a fan of his."
Venturi, who spent two seasons with Incognito in St. Louis, said the Dolphins were going to have problems because Incognito was looked at as one of their leaders.
"I'm shocked to the degree of this thing with the racial words," Venturi said. "But as far as Incognitio being in the middle of it, it doesn't shock me he was in the middle of any kind of intimidating type of behavior. To ever allow him to become a leader on your team, I really question that. You're destined to have problems if he's your leader."
It boils down, according to Venturi, that Incognito is a selfish player who only thinks about himself. The lineman had a history of getting personal fouls while with the Rams.
"When he was with us he was loud, abrasive and he got us in trouble every other down with penalties," Venturi said. "I always think those types of penalties after a while are selfish because it's all about you, it's not about the team. People saying he's protecting players and things like that, that got nauseating. The sad part is he's a very talented football player. He didn't make the Pro Bowl for nothing. He just carries baggage you don't want to handle."
November, 9, 2013
11/09/13
8:00
AM ET
EARTH CITY, Mo. --
St. Louis Rams
fans accustomed to seeing a quarterback spend most of his time in the pocket exhausting all passing options before taking off and running might have been taken aback the past two weeks watching
Kellen Clemens
play the position.
That's because Clemens has a whole different approach to playing the position.
Asked this week whether he's more "fearless" than other quarterbacks, Clemens offered a typically witty, humorous response tinged with plenty of his own reality.
"I'm just not as smart as those other guys, probably," Clemens said, a grin creeping across his face. "I don't know. First downs ... every yard is hard to come by in this league. So, if I have an opportunity to go and move forward, I'm going to try to move forward."
Clemens officially has just three rushes for a total of 27 yards in his two starts this season, but he's also proved more than willing to use his legs to buy time and attempt to throw it down the field.
When Clemens does take off, he generally doesn't care to slide, either. On one run last week, he did slide, but didn't get the call for a late hit when he was hit after sliding, as perhaps the officials were surprised to see him do it.
Clemens has some thoughts on where that mentality comes from.
"I think that just kind of maybe goes back to the way that I was raised. I grew up on a ranch," Clemens said. "You get beat up. You get some bumps, you get bruises. I was running from mother cows from the time that I was six years old and on. That's just kind of part of who I am. That's how I play the game."
Aside from a late fumble that set up Tennessee's winning score, Clemens played a pretty solid game last week. So long as his approach stays fearless and doesn't turn to reckless, Clemens can keep the Rams in position to steal some victories down the stretch.
I.C.Y.M.I.
A roundup of the Rams' stories appearing on ESPN.com on Friday. ... After the Ram-blings, we took a look at how the
three Rams
remaining on the roster from Richie Incognito's time with the team viewed him as a teammate. ... Next, we jumped into the
expected increase
in playing time for rookie receiver Stedman Bailey, and what the Rams could use from him in his added opportunities. ... Finally, it was an
injury roundup
with tight end Lance Kendricks doubtful for Sunday because of a fractured finger.
Elsewhere:
Lots of good reads here on ESPN.com about the Richie Incognito story:
First, this column from Jason Whitlock
explores the issue
on some deeper levels.
Liz Merrill provides a lot of
insight
into who Incognito is, including some personal experiences.
All 32 NFL Nation reporters contributed to
this survey
of players on how to handle things in the locker room.
Likewise, this survey offered some interesting results on who players would
rather have
as a teammate between Incognito and Jonathan Martin.
Great read from Nate Latsch on FoxSportsMidwest.com on a
special friendship
formed between Rams rookie receiver Tavon Austin and a local high school student.
In the same space,
a preview
of Sunday's game from the Associated Press.
Rams defensive end Robert Quinn
chatted
with fans at stlouisrams.com on Friday.
At stltoday.com, Joe Lyons writes about Andrew Luck's
ability
to pull out victories late in games.
Bryan Burwell and Jim Thomas
discuss
the Colts-Rams matchup and Incognito's issues.
November, 8, 2013
11/08/13
11:45
AM ET
EARTH CITY, Mo. -- There aren't many
St. Louis Rams
still with the franchise from the time offensive lineman
Richie Incognito
was with the team. There are three, to be exact.
Incognito
But linebacker
Will Witherspoon
, end
Chris Long
and linebacker
James Laurinaitis
never had any problems with Incognito in their time together in St. Louis and certainly had no reason to categorize him as a bully.
Incognito, of course, has come under fire in Miami for racially insensitive comments and alleged bullying tactics against tackle
Jonathan Martin
. Martin has since left the team and the situation seems to come with new revelations by the day.
None of the Rams remaining on the roster (or back on it, in Witherspoon's case) are too keen on what's come out about Incognito in recent day, but they also had no qualms with him as a teammate, either.
Long played with Incognito for nearly two full seasons after coming to the Rams in the 2008 NFL draft.
"Richie was a great teammate," Long said. "I really enjoyed having Richie on the team. Obviously he had the racially insensitive language, and it's a line you don't cross. I never heard him say anything like that here. But Richie was really well liked by everybody here."
Witherspoon and Incognito were friends during their overlap in St. Louis, playing together from 2006 through the first five games of 2009 before the Rams traded him to Philadelphia. The veteran linebacker said he was a bit surprised by the things coming out of Miami, particularly when it comes to the racial side of the equation.
"When it comes to anything that was said racially, that's totally unacceptable," Witherspoon said. "Richie and I have known each other for a long time, I have been out with him before. I don't think he's actually a racist by any means but I think he took something to the extreme that he shouldn't have."
Laurinaitis had the shortest window to get to know Incognito as he entered the league as a second-round draft pick in 2009. The two didn't even get a full season together before the Rams released Incognito.
In that short span, Laurinaitis also had no issues with Incognito, even though Laurinaitis was a rookie in their time together. Laurinaitis noted he has never received a voice mail from Incognito of any type.
"I never had any problems with Richie," Laurinaitis said. "I know nothing of what's going on down there. I haven't talked to him since he left here."
Offensive tackle
Jake Long
and defensive tackle
Kendall Langford
are current Rams who spent time with Incognito in Miami. Long obviously might have the best insight into how things were with Martin and Incognito last year, but to this point has declined comment on the situation.
November, 4, 2013
11/04/13
10:45
AM ET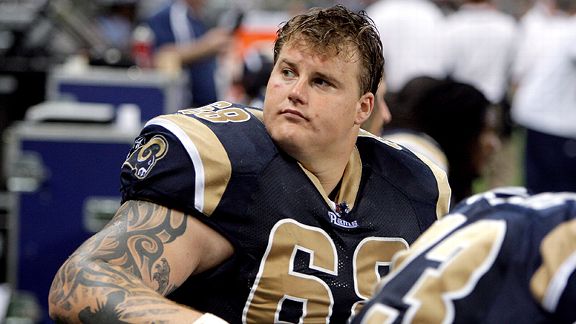 AP Photo/Jeff RobersonThe Rams selected Richie Incognito, a guard out of Nebraska, in the third round of the 2005 draft.
ST. LOUIS -- Through his four-plus seasons in St. Louis,
Richie Incognito
found himself in the middle of plenty of battles, none bigger than the on-going struggle with himself. It's a fight that seems to continue nearly four years after he played his final game as a Ram.
The
Miami Dolphins suspended Incognito indefinitely
late Sunday night while an investigation continues into his role in the departure of offensive tackle
Jonathan Martin
from the team.
Arriving in the 2005 NFL draft with a history of off-the-field issues and a serious knee injury that pushed him from possible first-rounder to the third, Incognito's time in St. Louis was certainly tumultuous. That's a categorization Incognito wouldn't deny.
A self described "big kid" when he was in St. Louis, Incognito simply refused to grow up and do what was necessary to be a professional. Off the field, he liked to party and alcohol and drugs were part of his regular diet. On the field, he had little control of his temper.
Incognito was out of control.
"I mean, we'd have practice the next morning, and I'm out until all hours of the night, running the town," Incognito told NFL.com over the summer. "Drinking. Doing drugs. I was doing everything that a professional athlete should not be doing."
Incognito's failure to control his rage on the field was ultimately what led to his departure from St. Louis. In 44 games with the Rams, he racked up 38 penalties, including seven for unnecessary roughness, the most of any player during that timeframe.
The game he's, perhaps, most remembered for –- and not in a good way –- was the Week 10 trip to Seattle in 2006 when he managed to pick up a personal foul and holding penalty after a
Steven Jackson
rushing touchdown had given the Rams a 22-21 lead with about two and a half minutes to go.
Those infractions cost the Rams 25 yards and a chance at a two-point conversion. Seattle eventually kicked a field goal and won 24-22. That loss loomed huge late in the year, when the Rams finished a game short of winning the NFC West to the Seahawks.
In 2009, Incognito was named the NFL's dirtiest player by the Sporting News, an "award" voted on by a panel of 99 players. It was a designation that didn't bother Incognito and one he actually took pride in, claiming other players didn't care for his intensity level.
Through all of that, there were little to no signs that Incognito and his teammates didn't get along. He was mostly well liked and respected by many of his teammates, particularly on offense because of his fearless attitude on the field and willingness to stand up for them in the heat of a game.
That doesn't mean Incognito didn't have his share of run-ins with teammates and even the fans. During one 2006 training camp practice, Incognito got into a pretty serious altercation with little-known cornerback
Dwight Anderson
.
The 6-foot-3, 320-pound Incognito and generously listed 5-10, 180-pound Anderson twice had to be separated before Anderson was taken to the locker room to cool down.
There also was the time when Incognito helped escalate a 2007 fight between running back Steven Jackson and safety
Oshiomogho Atogwe
, intervening on Jackson's behalf and eventually flinging a helmet across the field. He gave himself the nickname "The Sheriff" soon after, saying that he'd take it upon himself to dish out justice to anyone who goes after his running back or quarterback.
In 2008, Incognito drew the ire of Rams fans, criticizing them for not knowing how to cheer or when to cheer for a team that was 2-8 at the time. After that week's game against Chicago, Incognito taunted fans as they booed him on his way to the locker room after a 27-3 loss.
Still, most of the actual run-ins Incognito had with teammates or anyone else were usually a product of his attempts to protect a teammate, however misguided. And, for whatever it's worth, Incognito generally was friendly to the local media, though there were occasions when it was hard to know what you were going to get in talking to him.
The Rams finally had enough of Incognito in 2009 after he twice head-butted Titans players and then got into a confrontation with then-coach Steve Spagnuolo.
St. Louis released Incognito two days later. On his way out, Incognito acknowledged that moving on was best for him.
"Honestly, I'm excited for the new opportunity," Incognito told the St. Louis Post-Dispatch. "My stay in St. Louis hasn't been a glorious one from the get-go. I came in with a lot of doubts. It hasn't been -- I'm searching for the word -- everything hasn't been great.
"So in part, I feel like a great weight has been lifted off my shoulders. I get an opportunity to go play for a new team in a new city. I can get away from the negativity that has surrounded me, that has been surrounding my entire career here in St. Louis. So that I'm looking forward to."
At the time, a fresh start clearly was the best option for the troubled Incognito. The move represented hope that he could find some sort of inner peace and go on to a productive career commensurate with his talent.
Four years later, Incognito doesn't appear to have found that peace. There have been more fights with opponents and confrontations with teammates along the way.
At his core, though, it's the fight within Incognito that he just can't seem to settle.
August, 31, 2013
8/31/13
8:00
AM ET
It's been nearly four years since Richie Incognito last appeared in a game in a
St. Louis Rams
uniform.
The Rams took a shot on the talented but notoriously hot-headed offensive lineman in the third round of the 2005 NFL draft. I remember coach Mike Martz commenting at the time that Incognito had the physical skills to be an All-Pro at any position on the offensive line. Talent was never the issue when it comes to Incognito.
Incognito's biggest enemy has long been the man facing him in the mirror, an insight that NFL.com's Jeff Darlington
delved deeper into Friday afternoon
. There are no shocking declarations in the piece, but Incognito bares his soul and comes clean on a number of issues that many suspected but were never confirmed.
For example, Incognito says he spent most of the 2007 season partying every night, drinking and taking drugs when he was supposed to be rehabilitating an ankle injury. He'd regularly argue with teammates and coaches.
"I mean, we'd have practice the next morning, and I'm out until all hours of the night, running the town," Incognito says in the piece. "Drinking. Doing drugs. I was doing everything that a professional athlete should not be doing."
In his time in St. Louis, Incognito was always good to the media, if not a bit immature. Next week, he'll enter his ninth season in the league and fourth with the Miami Dolphins, and he seems to have turned things for the better. It's too bad for the Rams that Incognito's awakening didn't come sooner.
Elsewhere:
We took a look at the snap counts of the Rams' draft class and a handful of undrafted youngsters in
this week's rookie review
. ... We also took
one final look
at the preseason finale and what we learned in that game, including the work of quarterback Kellen Clemens in helping earn a possible backup job. ... From there, I made my final predictions for the
initial 53-man roster
. ... And finally, I took a look at
where the Rams go from here
leading into next week.
Rams defensive end Chris Long
didn't take kindly
to the highlight clip of South Carolina defensive end Jadeveon Clowney having North Carolina offensive tackle Kiaro Holts dive at his knees. Long has never been one to hold back his opinions, and he offered some strong ones in support of his fellow defensive end.
St. Louis Post-Dispatch columnist Bernie Miklasz pulled no punches on the NFL's concussion-lawsuit settlement in his blog. His verdict?
A definitive win for the league
.
CBSSports.com
previewed the Rams
with a quick summary of the team on both sides of the ball.