St. Louis Rams:

Sammy Watkins
May, 8, 2014
May 8
4:00
PM ET
EARTH CITY, Mo. -- We're here, we're finally here. It's the first day of the NFL draft and we can finally toss aside the rumors and sift through the smoke as teams draft real, live football players.
With that in mind, here are some things I believe will happen in the next few days. Some are directly related to the
St. Louis Rams
, some are draft focused.
-- I believe South Carolina defensive end
Jadeveon Clowney
will end up as the No. 1 pick, whether it's to the
Houston Texans
or a team trading up to get him.
-- I believe these players will go in the top 12 picks before the Rams come on the clock at No. 13 (no order): Clowney,
Greg Robinson
,
Sammy Watkins
,
Jake Matthews
,
Khalil Mack
,
Taylor Lewan
,
Mike Evans
,
Aaron Donald
,
Zack Martin
,
Johnny Manziel
.
-- I believe that leaves two spots for wild cards to go in there somewhere. Candidates for those two spots would include
Eric Ebron
,
Blake Bortles
,
Ha Ha Clinton-Dix
,
Justin Gilbert
,
Darqueze Dennard
, Anthony Barr, Odell Beckham Jr. and
C.J. Mosley
.
-- I believe the Rams' ideal scenario for their early pick is to trade down and land Matthews.
-- I believe the Rams won't use a first-round pick on a safety unless they trade down from No. 13.
-- I believe it would be a mistake for the Rams to trade down any lower than No. 7 and a bigger mistake if they moved that far for a package that didn't include more than a second-round pick.
-- I believe at least four quarterbacks will go in the first round with a lot of trade activity near the end of the round with teams trying to move back in to get their guy. Georgia's
Aaron Murray
won't be one of those guys most likely but I do believe he could go as high as the second round.
-- I believe the Rams will draft a quarterback, most likely in Round 3 but possibly as early as the second.
-- I believe the Rams will draft a wide receiver with one of their 12 picks but if they don't land Watkins or Evans, they'll wait until the later rounds to do it.
-- I believe Mosley is a potential surprise choice for the Rams should he fall to No. 13.
April, 19, 2014
Apr 19
12:30
PM ET
The
St. Louis Rams
chat made its triumphant return to your computer screens Friday and there was no shortage of questions as we build toward May's NFL draft.

A few highlights from this week's chat include:
The Rams' interest in linebacker Khalil Mack.
Comparing and contrasting offensive tackles Greg Robinson and Jake Matthews.
Making the case for Clemson receiver Sammy Watkins.
Rumors about the Rams and quarterback Johnny Manziel.
How Jake Long fared in 2013 and how he fits in for the team in 2014.
Looking at potential safety candidates in the second round.
And much more.

Thanks to all who joined us and we'll be back for more next Friday at the usual 1 p.m. ET start time. For now, here's the
complete transcript
of Friday's chat.
April, 18, 2014
Apr 18
1:00
PM ET

Watkins
EARTH CITY, Mo. -- At this time of year, it's often difficult to discern what's real and what's not when it comes to a team's interest in a draft prospect. But if the
St. Louis Rams
aren't interested in Clemson receiver
Sammy Watkins
, they're certainly going well out of their way to throw the rest of the league off the scent.
Capping off a week in which they already hosted Watkins on a visit to Rams Park, a large Rams contingent traveled to Clemson, S.C., on Friday to put Watkins through the paces of a private workout.
That the Rams are showing such strong interest guarantees nothing in terms of drafting him, of course, but it's worth noting what similar interest has meant in recent drafts, especially when it comes to wide receivers.
In 2012, the Rams spent plenty of time searching for help at wideout, inviting a number of them to St. Louis for pre-draft visits and then going on a tour of private workouts to get a closer look. That trip took them to see Oklahoma State's
Justin Blackmon
, Notre Dame's
Michael Floyd
, Baylor's
Kendall Wright
, Illinois'
A.J. Jenkins
and, finally, to tiny Appalachian State for a look at
Brian Quick
.
The first four players on that list went off the board in the first round, but the Rams were OK with that. They were sufficiently impressed by Quick's workout, his performance in the Senior Bowl week of practices and his pre-draft visit to take a chance on the raw prospect with the first pick of the second round.
Last year, the Rams paid a visit to West Virginia, where
Tavon Austin
put on a show that was impressive enough to seal the deal for the Rams to move up to No. 8 overall and draft him. That visit also helped the status of fellow Mountaineer receiver
Stedman Bailey
, whom the Rams drafted in the third round.
So there is at least some correlation between the private workouts for receivers and the Rams having genuine interest in adding the player. Of course, there are plenty of players the Rams have worked out that they didn't draft, too.
In many ways, Watkins makes sense for the Rams,
a case I made at February's combine
. But they also have plenty of other good options with their No. 2 overall pick, including the possibility of South Carolina defensive end
Jadeveon Clowney
, Auburn offensive tackle
Greg Robinson
, Texas A&M tackle
Jake Matthews
or even a more surprising choice such as Buffalo linebacker
Khalil Mack
.
The Rams can't really go wrong by landing any of those players.
Either way, if the Rams are serious about drafting Watkins, they might have to do it at No. 2 or, if they trade down, not move too far to land his services. At this point, it would be a surprise if Watkins didn't go in the top five.
April, 15, 2014
Apr 15
8:00
AM ET
EARTH CITY, Mo. -- Considering that we have way too much time on our hands between now and the actual start of the NFL draft, we've long-since examined the six teams directly behind the St. Louis Rams in the draft order as potential trade partners.
We focused our attention on those teams, laying out the case for why they would or wouldn't be a fit for the Rams and the No. 2 overall pick. The premise being that the Rams probably wouldn't want to trade down much further than Minnesota at No. 8 so as not to miss out on the top tackles or wide receivers.
But there always exists the possibility of a team lower on the list making an offer that might be too good for the Rams to turn down.
Last week, rumors and speculation (the norm at this time of year) pointed to a new potential suitor further down the draft order. In this case, it's the Detroit Lions with rumors indicating that they would like to pursue Clemson receiver Sammy Watkins.
Lions reporter Michael Rothstein
offered some good insight
into why Detroit's apparently growing infatuation with Watkins is a risky game, especially if it means making a bold move from its spot at No. 10 all the way up to No. 2 for a shot at him. To complement that, ESPN NFL Insider Ed Werder
also provided
some thoughts on the Lions' offseason plans.
Meanwhile, a team that has proved unafraid to make big moves doesn't appear to be a potential trade partner for the Rams. The Dallas Cowboys, who pulled off a draft-day deal with St. Louis in 2012 to move from No. 14 to No. 6,
aren't likely to make another big move
according to Cowboys reporter Calvin Watkins.
From the Rams' perspective, the idea of making a trade with a team as far down the order as Detroit doesn't seem like a wise one. While general manager Les Snead and coach Jeff Fisher haven't hesitated to make bold moves, an eight-spot drop would almost certainly take them out of the mix for the draft's elite players. Perhaps Michigan offensive tackle Taylor Lewan slips to that spot but a move to 10 would probably eliminate the team from landing Jadeveon Clowney, Jake Matthews, Greg Robinson, Watkins, Mike Evans or Khalil Mack.
That would be an easier pill to swallow if the Rams got a monster package close to what they got from Washington for the chance at Robert Griffin III but it's unlikely Detroit would be willing to approach that price. Making the move to simply pick up a second-round choice or thereabouts would be a waste of a chance at an elite player.
I.C.Y.M.I.
A roundup of Monday's Rams stories appearing on ESPN.com. ... In the
Ram-blings
, we began with a look at how the Rams approach searching for small-school talent. ... Next, we completed our draft review series with a (way-too-early)
look back at the 2013
draft class. ... From there, we examined the Rams' lack of activity in free agency and
how it compared to other teams
around the league. ... We closed the day with some
belated thoughts
on the team's preseason schedule.
Elsewhere:
At stltoday.com, Jim Thomas reports that cornerback Greg Reid is now
out of jail
after violation of probation.
Stlouisrams.com
takes a look
at Michigan State cornerback Darqueze Dennard.
Tony Softli of 101sports.com says the Rams
hold the cards
with the second pick in the draft.
At CBSSports.com, Jason La Canfora wonders whether the Rams
should pursue trading
quarterback Sam Bradford.
February, 26, 2014
Feb 26
2:30
PM ET
It's no secret that some positions simply don't have the same appeal as others in this era of fantasy football. So it shouldn't be a surprise that when I asked you, the reader, to make a choice for the Rams should they have to stay at the No. 2 overall pick, you chose a wide receiver.
In
Monday's poll,
we asked this question of SportsNation: If the Rams do NOT trade the No. 2 pick, what player would you want them to draft if all were available?
The options included South Carolina defensive end
Jadeveon Clowney
, Clemson receiver
Sammy Watkins
, Auburn offensive tackle
Greg Robinson
, Texas A&M offensive tackle
Jake Matthews
and the all encompassing "someone else."
More than 2,000 of you casted a vote and Watkins emerged as the clear winner, bringing in more than 40 percent of the vote. Clowney finished well behind with Robinson hot on his heels. Matthews, perhaps the most NFL ready of the group, was further behind in fourth and the anonymous someone else was a distant fifth, presumably from those who want a quarterback or a linebacker like Buffalo's
Khalil Mack
or UCLA's
Anthony Barr
.
Some notes from looking at the map breakdown of state by state voting:
Missouri and California were the two states with the largest voting contingencies and both went for Watkins fairly comfortably.

The sample sizes were relatively small but Clowney was the winner in Maine, New Jersey and Kentucky.

In South Carolina, where Watkins and Clowney are both fan favorites, only about 25 votes came in but the Clemson supporters outmuscled the Gamecocks fans.

Robinson is apparently a big hit in New Mexico and South Dakota, where he was the favorite. Who knew that Walter White Jr. and Jesse Pinkman are War Eagle all the way?

Matthews didn't win but one state but he claimed two of the three votes coming from Hawaii at the time of this writing. If Matthews becomes a Ram and makes it to a Pro Bowl, he owes those two people an autograph.
As I mentioned in the original poll, I would go with the majority here and vote for Watkins with Robinson and Clowney right behind. The Rams really can't go wrong with any of the four players named in this poll and if the Rams do what I believe they'd like to do and trade down, adding extra picks and still landing one of these players would make for a strong first night in May.
February, 24, 2014
Feb 24
4:45
PM ET
The NFL scouting combine will officially wrap up Tuesday afternoon, but for the most part the players deemed potentially worthy of the No. 2 overall pick have already gone through their workouts and finished their time in Indianapolis.
The
St. Louis Rams
may well continue the search for a trade partner for their No. 2 overall pick, but knowing what we now know, it seems that if the team had to stay at No. 2 in May's draft, it would face an awfully difficult decision.

Since general manager Les Snead and coach Jeff Fisher have made it clear the Rams are committed to
Sam Bradford
as the starting quarterback, it seems almost certain the team won't be using the second pick to find a signal-caller.
In that case, it looks like the Rams' choices at No. 2 would come down to an impressive quartet: South Carolina defensive end
Jadeveon Clowney
, Texas A&M offensive tackle
Jake Matthews
, Auburn offensive tackle
Greg Robinson
and Clemson receiver
Sammy Watkins
. Someone like Buffalo linebacker
Khalil Mack
could also add some intrigue and be considered a dark horse candidate.
ESPN draft analyst Todd McShay ranks those players as his top five in the draft and it would be a major shock if the Rams used the second pick and didn't choose one of them.
So, let's operate under the assumption that the Rams are unable to work a trade and have to make a pick at No. 2. The goal of any pick is to marry need and value. Which player do you think best fits that description?
I wrote Sunday that I believe the Rams
should select
Watkins, even if they had to use the second pick to do it. I'm not going to back off of that less than 24 hours later, though I do believe a strong case can be made for all of the players mentioned.
My list would go something like this as we sit here today: 1. Watkins 2. Robinson 3. Clowney 4. Matthews 5. Someone else
I'm curious to see what you all think and I'll revisit this later in the week with your results. In the meantime, play general manager for a moment and let us know what you're thinking by casting your vote above.
February, 24, 2014
Feb 24
1:30
PM ET
ST. LOUIS -- The NFL scouting combine doesn't officially wrap up until Tuesday afternoon but my time in Indianapolis is over. As usual, the better part of the past week was an educational experience on a number of levels.
There are few times during the year when you get to be in the same place as every team's coaching staff, general manager, scouts and others who help in the decision-making process. Agents are also easy to find during combine week which helps serve as a sort of unofficial begin to free agency. With that in mind, here are 10 things I took away from the combine as they relate to the
St. Louis Rams
.
[+] Enlarge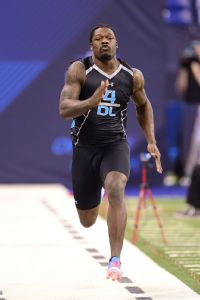 AP Photo/Johnny VyIf the Texans pass on Jadeveon Clowney with the No. 1 pick, the Rams could be in a prime position to trade down.
-- Houston is holding its cards extremely close to the vest in terms of what it plans to do with the No. 1 overall pick. The Rams have their guesses but even coach Jeff Fisher admitted he was hoping to catch fellow Competition Committee member Rick Smith, who is also the general manager of the Texans, at a weak moment to find out what Houston plans. Without that knowledge, the Rams can plan for multiple contingencies but anything involving a trade down is going to be close to impossible unless the Texans tip their hand early.
-- Speaking of trade downs, it sounds like the best-case scenario for the Rams to get a decent package of picks to move down is for Houston to take Central Florida quarterback
Blake Bortles
. It's entirely possible the Rams would get the most in return from a team moving up to land South Carolina defensive end
Jadeveon Clowney
. Atlanta remains the most logical potential trade partner.
-- There's still plenty of time for a team to fall in love with a quarterback and want to move ahead of Jacksonville to secure one but as it stands, it doesn't sound like there's much consensus that any signal-caller is worth giving up much to get. As always, though, it only takes one team with one fascination for a move to happen.
-- I still believe the Rams would prefer to move down if the right opportunity presents itself. It's not realistic to think they could get the same return they did for the No. 2 pick in 2012 but a move down which could land them a player such as Clowney, Auburn tackle
Greg Robinson
, Texas A&M tackle
Jake Matthews
or even Clemson receiver
Sammy Watkins
and extra picks seems like it's still the team's preferred method.
-- In talking to a handful of scouts and personnel types, there seems to be a consensus forming in terms of who the top 10 or 11 players are but not in how they would go. Clowney, Robinson, Matthews, Watkins, Buffalo linebacker
Khalil Mack
, UCLA linebacker
Anthony Barr
, Michigan tackle
Taylor Lewan
, Bortles, Texas A&M quarterback
Johnny Manziel
, Louisville quarterback
Teddy Bridgewater
and Texas A&M wideout
Mike Evans
were the names I heard the most in those conversations. One player who might not be getting enough love is Mack. Didn't hear a single negative word about him all week though most seem to think he's a better scheme fit in a 3-4.
-- There were plenty of people who were down on the overall quality of the 2013 NFL draft. This year appears to be the opposite. Fisher and general manager Les Snead offered that it appears to be an extremely deep group at many positions. Good news for the Rams: It appears deepest on the offensive line (especially tackle), at wide receiver and at cornerback. The safety group leaves something to be desired beyond the top two or three, however.
-- It's no surprise but the Rams are serious about their efforts to retain offensive lineman
Rodger Saffold
. It's also no surprise that they want him to return as a guard, where Fisher thinks he could be "outstanding." Discussions to that end are ongoing but it's hard to see a scenario in which the Rams can prevent Saffold from testing the market without having to overpay. Even before Indy, multiple teams had made it clear they were interested in Saffold. Expect that interest to grow further. What the Rams do in the draft and the rest of free agency will hinge heavily on what becomes of Saffold.
-- Rumors of a much increased salary cap, possibly one as high as $132 million, should certainly help the Rams. If nothing else, it would allow them to make some moves in free agency without having to redo some contracts or outright release players they may want to keep. But in terms of spending, it's important to remember that every team realizes that windfall. There are going to be a lot of teams flush with salary-cap space this offseason.
-- One thing we've consistently discussed in this space is the difficulty of attempting to win big while playing in the current state of the NFC West division. From listening to Snead and Fisher speak, it's clear that is something they are factoring in when they approach the draft and offseason.
"We have a long way to go," Fisher said. "I think we're closing the gap a little bit. But every time you play a division game, you know what to expect."
-- The Rams are pleased with how some of their key injured players are recovering, especially quarterback
Sam Bradford
. The team expects Bradford to resume throwing relatively soon and doesn't have any concern about his being ready for next season. Snead also added that he is not losing sleep over the pending return of offensive tackle
Jake Long
, who is also coming back from a knee injury.
February, 23, 2014
Feb 23
6:45
PM ET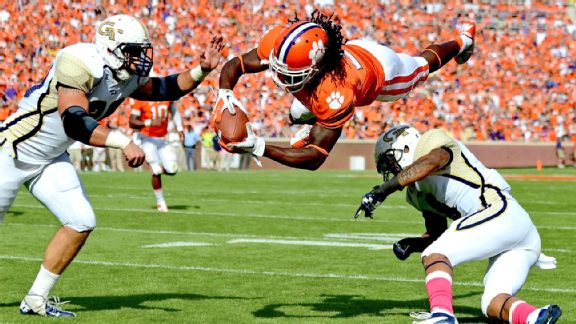 AP Photo/ Richard ShiroClemson's Sammy Watkins could give the Rams the receiving threat they've been lacking since Torry Holt.
INDIANAPOLIS -- In 2012, the
St. Louis Rams
finally found themselves in position to draft the best wide receiver in his draft class.
They had the No. 2 pick in that draft and a clear shot at Oklahoma State's
Justin Blackmon
before making a blockbuster trade with Washington. The move loaded them with picks but also cost them a shot at Blackmon.
It was a move the Rams could make because Blackmon wasn't believed to be in the class of
Calvin Johnson
,
A.J. Green
or
Julio Jones
. He was best in class but not necessarily considered a surefire No. 1 receiver type.
Two years later, it appears that trade has put the Rams in position to land a receiver who is far closer to the Green/Jones class than any receiver who has come out in the past three years.
His name is
Sammy Watkins
, and he spent the past three years dominating the ACC as a member of the Clemson Tigers. In that time, he posted 240 catches for 3,391 yards and 27 touchdowns.
And Watkins is a player who, assuming everything checks out in terms of interviews, health and off-the-field issues, should be at the top of the Rams' wish list in May.
In talking to a handful of scouts this week at the scouting combine, I heard almost nothing negative about Watkins. Here's a small sample:
"He's the real deal -- explosive, physical, strong, gets off the line of scrimmage, makes you miss. … He's not a big 6-5 type of guy but he plays plenty big and he gets separation easily. … He should be a dominant player in the league and has the makeup to be a No. 1 guy. … The thing I love most about him is how competitive he is; he has a lot of dog in him and it shows up on almost every snap."
Watkins showed no hesitation in declaring his desire to match those rave reviews and furthered his cause with an impressive 4.43-second 40-yard dash Sunday afternoon.
"What I love doing is dominating defenses," Watkins said. "I think that's what I bring to the game and I think that's going to turn over to the NFL. When I come into the NFL, I think I can be that dominant receiver."
Bingo. This isn't about the Rams needing to draft a receiver. This is about the Rams needing to draft THE receiver.
They've taken a receiver in each of the past nine years. They've selected wideouts in every round, alternately hoping for a diamond in the rough to pay off and betting on a highly touted prospect to pan out.
For those who have followed the team in the five years since Torry Holt's time in St. Louis came to an end, the lack of a top threat has been glaring. Since Holt and
Isaac Bruce
departed, the Rams haven't had one. They
haven't even had one
who's come close. No Rams wideout has reached even 700 receiving yards since Holt in 2008, nevermind 1,000 yards, which Holt hit in 2007.
Along the way, the Rams have been unable to find a top receiver for many reasons, not least of which includes some poor player evaluations, a lack of emphasis on the position and a little bit of bad luck.
For most of the past decade, the Rams have been one of the worst teams in the league. They've logged a 15-loss season, two 14-loss seasons and a 13-loss season, not to mention a 10-loss year in 2005.
Despite the lofty draft picks that go with those seasons, the Rams have never had the good fortune of having a high pick that corresponds to a season in which something as close to a can't-miss receiver prospect has been in the draft.
In the 2007 draft, Georgia Tech's Johnson was clearly one of the two best players. Had the Rams had one of those awful seasons before then, perhaps they could have taken the man now regarded as the best wideout in the league. Instead, they managed to finish 8-8, the only .500 record they've had since 2004.
Entering the 2010 season, the Rams were in the midst of one of the worst losing runs in league history. They'd posted a total of three wins in the 2008 and 2009 seasons but managed to take advantage of one of the league's worst schedules in 2010 and nearly won the NFC West division before losing to Seattle on the season's final day.
Instead of having a top-six pick in the 2011 draft with a shot at highly touted wideouts Green and Jones, the Rams picked 14
th
. They did just fine landing end
Robert Quinn
but settled for
Austin Pettis
and
Greg Salas
in Rounds 3 and 4 at receiver.
Sitting with the No. 2 pick in this year's draft, it appears the Rams are almost certain to have a shot at Watkins. The question is whether they're willing to again spend a top-10 pick on the position, especially when they've consistently preached the need for patience with their young receiving corps.
While patience is a reasonable request given how young that group is, there's nothing that says adding more competition and a potential true No. 1 wideout to the mix would do anything but help the cause.
General manager Les Snead, who in January said the Rams don't "need" a No. 1 type of receiver, offered a little more flexibility when asked about it again on Friday.
"I'll say this: Any time in the draft, if you could add a really special player, that helps your team," Snead said. "I think the biggest thing we need from the wide receiver group is experience, letting those guys get older. But, hey, it's a deep wide receiver class. It seems like every time you get a pick, there may be a good wide receiver on the board."
Players like Texas A&M's
Mike Evans
, LSU's Odell Beckham, Oregon State's
Brandin Cooks
and USC's
Marqise Lee
are also considered potential first-round picks. Some might even turn out to be as good or better than Watkins.
But if Watkins is indeed the clear-cut best receiver in a strong class, why risk it? Considering how hard the organization has made it look to replace Holt and Bruce, wouldn't simply drafting Watkins narrow the margin for error in evaluation or player development?
Maybe the Rams would love to trade down and still snag Watkins with a couple of more picks in their pocket. But again, if he really is that type of player, why not just make sure he's a Ram?
"I don't think you can ever say no because if that player can help you then pick him," Snead said. "And competition is not a bad thing either, and having as many weapons as possible is not a bad thing either."
Especially if that weapon is the one that's been missing from your arsenal the longest.
February, 19, 2014
Feb 19
10:30
AM ET
The workout portion of the NFL scouting combine begins on Feb. 22 with the entire football world closely watching every prospect's every move. With that in mind, we're counting down the top five things the Rams and their fans should be watching as the NFL converges on Indianapolis.
St. Louis Rams
general manager Les Snead has said on multiple occasions that his team can compete and win in the division with its current crop of wide receivers. He's even gone so far as saying "no" when asked if his team needs a No. 1 wide receiver to bolster its young corps.
[+] Enlarge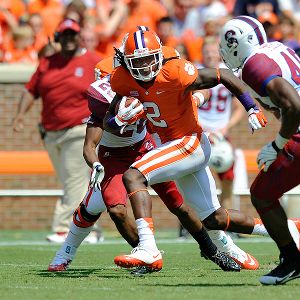 AP Photo/ Richard ShiroIs Sammy Watkins a true No. 1 receiver or just the best receiver in this class?
But Snead has never said he doesn't want one. In fact, coach Jeff Fisher has mentioned the need to score more points to keep up in the NFC West division. Even if some of the Rams young receivers continue to develop, it wouldn't hurt to add more weapons to the arsenal.
As it stands, there's one receiver in this year's draft who looks like he could fit the bill. But questions remain as to whether or not that player truly is a No. 1 type wideout or simply the best in this year's bunch. Which brings us to the Rams' pressing combine question No. 2:
Can Clemson's Sammy Watkins do enough to solidify himself as a No. 1-type receiver and potential top five pick?
There seems to be almost no dissenting opinion among media draft analysts that Watkins is the best wide receiver in this year's class. There is, however, some debate as to whether he's on the level of an
A.J. Green
or
Julio Jones
as a future top wideout or best in class like a
Justin Blackmon
.
From a Rams' perspective, Watkins would be hard to pass up if he's closer to the former than the latter. Watkins' college film, especially his 2013 and freshmen seasons would indicate he's got the ability to be a team's primary option. But questions remain.
Watkins can answer some of those questions in Indianapolis, both during the physical workouts, in team interviews and measurements.
One of the most common knocks on Watkins is that he doesn't have the size to win contested catches consistently like Green or Jones. He's listed at 6-feet, 205 pounds. College measurements can sometimes be misleading so it will be important for Watkins' height to be accurate. If he comes in with anything that doesn't start with a 6, it could hamper how teams view him.
Likewise, Watkins' time in the 40-yard dash and other speed and agility drills should be of interest. Watkins believes he can run in the 4.3s but many expect him to be more in the mid 4.4s and acknowledge that his play speed is probably greater than his testing speed. Either way, if Watkins can find a way to slide in under the 4.4 mark, it would do nothing but help his solidify his status and validate all of his strong game tape.
Should Watkins have a strong week it would, at the very least, force the Rams to begin thinking long and hard about using a top 10-pick on a receiver for the second year in a row.
Of course, the Rams will likely also have their eyes on some other wideouts as well. The position itself isn't a need so much as finding that premiere option is, but there are others who could force their way into the conversation with a big week. Namely, Texas A&M's
Mike Evans
could do a lot to help himself in Indy. He has the size but some question his speed. A strong showing in the 40 could elevate him into the conversation with Watkins as the draft's type receiver.
February, 17, 2014
Feb 17
11:00
AM ET
EARTH CITY, Mo. -- Of the many 2014 NFL mock drafts out there to peruse, the vast majority of them have the St. Louis Rams using the No. 2 pick on an offensive lineman with the built in caveat that they'd likely prefer to trade down before making any selections.
That's certainly a reasonable position to take given what will likely be a big need all across the line and Rams general manager Les Snead's preference for making moves all over the board.
However, one popular notion amongst the Rams faithful is to add Clemson wide receiver Sammy Watkins as the crown jewel of the team's young receiving corps. It's an idea that I
made the case for
way back in January after Snead said he didn't believe the Rams "needed" a No. 1 type wide receiver. Of course, need and want are two different things.
Anyway, it seems the idea of a marriage of the Rams and Watkins is gaining some steam, at least in media circles (which admittedly doesn't mean much). Over at NFL.com, analyst Bucky Brooks put together his list of the teams that would be
the best fit
for Watkins. At the top of the list? You guessed it, the Rams.
Brooks makes the simple argument that the Rams need to score more points to keep up in the NFC West division. For those following along here, that's a notion I would co-sign. Even coach Jeff Fisher acknowledged as much in his postseason news conference.
Other pieces of information and connections between the Rams and Watkins have also been floating around in cyberspace. Over at Bleacher Report, draft analyst Matt Miller recently cited sources close to the Rams who mentioned that the Rams have been
doing diligence
on Watkins recently.
Watkins himself even got into the act last week when he posted a fan drawing of him in a Rams uniform on his Instagram account.
There's a long way to go between now and May's draft but if Watkins has a big week in Indianapolis at the scouting combine, don't be surprised if the speculation pairing Watkins and the Rams continues to grow.
I.C.Y.M.I.
A roundup of the weekend's Rams stories appearing on ESPN.com. ... In Saturday's
Ram-blings
, we investigated the idea that the Rams are one of the best positioned teams in the league heading into the offseason. ... Next, we
reviewed the film
from this week's chat as we covered a variety of Rams-related topics in the two-hour session. ... We capped off the weekend with this week's edition of vetting potential
draft trade partners
with a look at the Minnesota Vikings.
Elsewhere:
Building on the lede of these Ram-blings, stltoday.com columnist Bernie Miklasz posits the Rams
must score more
to have success in 2014.
Jim Thomas writes that
the addition
of Gregg Williams as defensive coordinator finally allows Fisher to get the band back together.
At 101sports.com, Randy Karraker
digs in deeper
on the rules for relocation.
Also at 101sports, Brooks
discussed the No. 2
choice for the Rams with "The Fast Lane."
January, 6, 2014
Jan 6
8:00
AM ET
ST. LOUIS -- As Clemson wide receiver
Sammy Watkins
repeatedly abused the Ohio State Buckeyes in the Orange Bowl on Friday night, my Twitter feed exploded with
St. Louis Rams
fans clamoring for the team to select him in this year's NFL draft.
On Sunday afternoon, reports
surfaced
that the Rams will indeed have that opportunity as Watkins is poised to declare for the draft. According to our draft analysts Mel Kiper Jr. and Todd McShay as well as most of the other draft pundits out there, Watkins instantly becomes the most desirable receiver in the draft.
Kiper provided further analysis of Watkins' draft stock in
this

Insider piece. In it, Kiper identifies some teams that could be good fits for Watkins. At the top of the list? You guessed it, the Rams.
"The Rams could move off the No. 2 pick they have from Washington," Kiper wrote. "But a year after drafting Tavon Austin, they could still use an elite perimeter receiver to challenge for balls in the air and stretch defenses over the top."
It remains to be seen just how much interest the Rams have in Watkins or any top receiver after moving up to spend the No. 8 pick on Austin a year ago and drafting a total of four wideouts in the past two drafts. But, as I've written here on multiple occasions, it would be in their best interests to give Watkins a long look.
As Kiper points out, the Rams have been lacking an elite perimeter receiver since the days of Torry Holt and Isaac Bruce. On the rare occasions in which one of those wideouts has been available, the Rams have not been in position to draft one. Assuming Watkins is one of those players, they are now finally in a draft spot at No. 2 where they could have a shot at him. It's also not out of the realm of possibility they could move down a couple spots and still nab him.
Regardless, Watkins should be a player the Rams give strong consideration to choosing as the draft approaches.
I.C.Y.M.I.
A roundup of Sunday's Rams stories appearing on ESPN.com. ... In the
Ram-blings
, we discussed the chances of the Rams making the giant leap from last in the NFC West to first in one year. ... We also went
around
the league, catching up with former Rams playing in the postseason and a quick glance at teams the Rams played during the regular season that are still going in the playoffs.
Elsewhere:
At FoxSportsMidwest.com, Nate Latsch discusses the
importance
of next season for quarterback Sam Bradford.
Chris Long tells 101sports.com that there's
reason
for optimism in 2014.
Tuf Show Times explores the permutations and
possibilities
of trades for the Rams and Texans at the top of the draft.
Stlouisrams.com writes about Fisher's
belief
that the Rams were better in 2013 than 2012.
January, 3, 2014
Jan 3
8:00
AM ET
ST. LOUIS -- Most anyone paying attention during the preseason and training camp expected
Chris Givens
to lead the
St. Louis Rams
in receiving yards in 2013.
Givens did that but you'd have been hard-pressed to find anyone expecting that position-group-leading total to come in at a relatively paltry 569 yards. Tight end
Jared Cook
actually led the team in receiving yards but his total of 671 didn't exactly light the league on fire.
In Thursday's St. Louis Post-Dispatch, Jim Thomas
explores
where the Rams go from here with this group of receivers. Thomas points out that the last time the Rams' leading receiver posted such a low total was 1986 with 447 yards.
The Rams are in a difficult spot with their receiving corps heading into next season. The group disappointed in 2013 though it was one of the youngest in the league. Rookie receivers generally take awhile to adjust to the rigors of the NFL and the Rams relied heavily on two rookies, two second-year players and a third-year,
Austin Pettis
.
That relative youth can make it hard to determine exactly where the group is headed in the future. At the same time, it seems the Rams are still without a truly reliable No. 1 receiver type of option.
Tavon Austin
and
Stedman Bailey
both seem to have bright futures but those could be brighter if combined with a top wideout.
The problem, of course, is that those types of receivers are hard to find, almost never hit the market in free agency and then if they're drafted will likely take some time to develop.
This is a subject we'll delve further into as the offseason rolls along, but for now, it's certainly something to consider.
I.C.Y.M.I.
A roundup of Thursday's Rams stories appearing on ESPN.com. ... In the
Ram-blings
, we discussed the possible shuffling the Rams could have along the offensive line with links and more. ... We then honored the
All-NFC West
team with an explanation of the Rams' representation on the team as well as a notable snub. ... The news came down that Louisville quarterback Teddy Bridgewater and South Carolina defensive end Jadeveon Clowney are officially entering the draft. That's
good
for the Rams if they do as expected and look to trade the No. 2 overall pick. ... Finally, we offered a
look back
at the 2013 season with grades, honors and more.
Elsewhere:
Over at NFL.com, Gil Brandt ranks the
last-place
teams in terms of their chances to get back in the mix in 2014. The Rams check in at No. 3.
Daniel Jeremiah chooses three
top needs
for each team heading into the offseason.
Pro Football Focus
analyzes
the race for Defensive Player of the Year.
December, 12, 2013
12/12/13
11:30
AM ET
EARTH CTIY, Mo. -- As the
Washington Redskins
continue to struggle with turmoil on and off the field, the
St. Louis Rams
continue to reap the benefits.
Earlier this week,
in our weekly Redskins watch
we looked at the realistic possibility that the Rams could end up receiving a top two pick from the Redskins as the coup de tat of the trade that ultimately landed
Robert Griffin III
in Washington. Griffin is now a backup in Washington and
Kirk Cousins
is set
to start this weekend
in Atlanta.
Now, whether the move from Griffin to Cousins is a good thing from a Rams' perspective can be debated. It's possible Cousins could provide a little bit of a lift to a sagging Redskins offense. It also could go the other way and throw things off even further. For the purpose of this exercise, though, let's focus on the possibilities that are out there should the Rams end up with a pick in the top two or even one in the top five.
ESPN draft analysts Mel Kiper Jr. and Todd McShay updated their draft boards this week and it's interesting to note how they have crafted their top five. Sticking out like a sore thumb is the complete absence of a quarterback in either's first five. Kiper
has Louisville's Teddy Bridgewater as the top quarterback

, slotting him at No. 7 while McShay does the
same but with Bridgewater

at No. 8.
It's worth noting that the lists of the top prospects is how Kiper and McShay currently rate them, not necessarily where they would go if the draft were held today. In fact, it's quite common for a quarterback to get a boost because of his position, so Bridgewater would likely go well above those spots. The question that could determine just how much the Rams make of having Washington's pick is how high will teams value Bridgewater?
Plenty of early speculation has Houston taking Bridgewater at No. 1 overall. But Kiper said in a Twitter chat this week that he believes the Texans' decision were it made today would come down to South Carolina pass rusher Jadeveon Clowney or UCLA pass rusher Anthony Barr. Kiper also said he believes Bridgewater is the only quarterback currently worthy of a premium pick in the top 10 or so.
Let's assume for a minute that scenario played out. It would leave Bridgewater there at No. 2, the Rams' current position with Washington's pick. Rams general manager Les Snead has re-iterated on multiple occasions that
Sam Bradford
is the team's quarterback moving forward. He's been pretty convicted about it when asked. It seems unlikely (though I'll never use the word impossible) that the Rams would draft Bridgewater or any other quarterback in the first round.
That would open up a lot of doors to do what Snead and Jeff Fisher have made a habit of doing in their first two drafts together: trading down for another package of picks. In the current draft order, there's a clearly defined sweet spot of sorts where the Rams could move down, still get a high-caliber player and pick up some extra picks. Minnesota, Oakland, Jacksonville and Cleveland currently sit in spots four through seven, respectively. All could use the draft's top quarterback.
It's unlikely Bridgewater would draw the return the Rams got for Griffin but even if he didn't, a move down with one of those teams would keep the Rams in range of a much needed stud offensive lineman like Texas A&M's Jake Matthews or potential No. 1 wideout like Clemson's Sammy Watkins (one of my own personal early favorites in this draft). The secondary needs fixing also but as of now there are no corners or safeties that appear worthy of a top 10 choice.
Of course, most of this can and will change in the coming months, but for now it's hard to look at the Rams' position in the 2014 NFL draft and see it as anything but the catbird seat.