St. Louis Rams:

Scott Wells
December, 4, 2013
Dec 4
5:00
PM ET
EARTH CITY, Mo. --
St. Louis Rams
guard
Harvey Dahl
hasn't played Oct. 28 against Seattle after suffering a knee injury in that game.
If all goes according to plan and Dahl doesn't have any setbacks this week, he'll return to the fold Sunday against Arizona. Dahl began working his way back into the mix with some limited practices last week but went through the full workout during Wednesday's practice, getting most of the work at his usual spot at right guard.
Dahl's return would come not a moment too soon as the Rams deal with an offensive line in flux. Center
Scott Wells
suffered a broken left fibula against San Francisco last week and left tackle
Jake Long
is going through the concussion protocol before he can be cleared to return. Wells probably won't play again this season and Long's status won't be determined until later in the week.
Without Long and Wells against the Niners, the Rams turned to
Tim Barnes
at center and moved
Rodger Saffold
out to left tackle with
Shelley Smith
jumping in at right guard. Dahl's return should at least add a veteran presence and stability to a line that could use it against Arizona's tough front seven. Barnes is almost certain to start at center for Wells.
Here's the full injury report from Wednesday:
Did not participate: Wells, Jake Long, linebacker
Daren Bates
(concussion), cornerback
Brandon McGee
(foot)
Limited participation: Defensive end
Eugene Sims
(neck)
Full participation: Dahl
October, 29, 2013
Oct 29
11:10
AM ET
ST. LOUIS -- In the buildup to Monday night's game on ESPN, Rick Reilly offered a
tale of the heart
which simultaneously wrenches and warms and may have left the room a little bit dusty.
Reilly revisited the story of
St. Louis Rams
center
Scott Wells
, his wife Julie and their six kids, telling the story of how their unique family came to be and all they went through to make it happen. He walked us through the heartbreak of stillborn twins and provided an uplifting glance of the joyful craziness that Wells and his wife now enjoy on a day to day basis.
A little more than a year ago, Wells was kind enough to give me and another reporter some time to tell the story first. He sat down only a little more than week after his family of three expanded to six when Julie returned from Uganda with the three missing pieces of their family.
From there, an emotional Wells went through the details of everything that happened along the way.
This
is what I wrote in my previous job on the subject.
In seeing Reilly's piece, it's hard not to be amazed at how it's all come together. While waiting for Monday night's game to start, I glanced up at the television and saw a photo of the Wells family sitting together on their couch. There was no sound so I couldn't see or hear the full piece right then but just the sight of that photo was enough to put goosebumps all over my arms.
The above video piece runs just short of five minutes. Trust in the fact that it's well worth your time.
October, 26, 2013
Oct 26
4:00
PM ET
EARTH CITY, Mo. -- The Rams added center
Scott Wells
to the injury report Saturday, joining cornerback
Cortland Finnegan
and running back
Benny Cunningham
on the list. All three are listed as questionable on the injury report.
Fisher said Wells was "a little tight" at the beginning of practice so the team opted to hold him out of most of the final workout before Monday night's game against Seattle. He was listed as a limited participant with a thigh injury. Although it didn't appear to be anything too serious, Fisher said
Tim Barnes
would be ready to go at center if Wells is unable to go.
Finnegan also was downgraded from limited work the past two days to not practicing Saturday. Fisher said Finnegan got some work done inside. The only other player on the injury report is Cunningham, who is dealing with an ankle injury.
September, 9, 2013
Sep 9
8:30
PM ET
EARTH CITY, Mo. -- Not since the days when Tom Mack lined up at left guard and bulldozed through opposing defensive lines had the St. Louis Rams had an offensive line string together three or more consecutive games without allowing a sack.
The Mack-led line of 1973 was the last Rams unit to accomplish the feat. The 2013 Rams matched the feat Sunday, going back to the final two games of the previous season
"That's three consecutive games now where we haven't given up a sack and I don't think that's happened in this franchise since somewhere in the mid-70s," Rams coach Jeff Fisher said. "Not that there's much carryover from last year but at least we got off to the right start. You credit the offensive line, the quarterback and everybody involved."
Avoiding sacks is indeed the responsibility of the entire offense but as quarterback
Sam Bradford
was quick to point out after the win against the Cardinals, it all starts with the front five.
For the Rams, it's been a long time since they could go a series without allowing a sack let alone full games. That they finished 2012 strong in that area was a step in the right direction. That they carried it into the opener, especially against a blitz-happy Arizona team, is an even better sign given the type of offense the Rams are becoming.
Bradford dropped back to pass 38 times against the Cardinals and Arizona brought blitzes from all over the field. According to STATSPass, Arizona called 17 blitzes. Fisher said Bradford was hit just six times in the game.
"I thought they looked good," Fisher said. "I thought they hung in there. They did a lot of different things up front. They kept the pocket clean for the most part. That was pretty good."
While the Rams run blocking left plenty to be desired, the pass protection was good for a group that had never played in a regular season game together. Bradford escaped pressure a couple of times but for the most part, he had time to stand in the pocket and deliver. He was 11-of-17 for 113 yards against the blitz on the day.
The offseason addition of left tackle
Jake Long
, the move of
Rodger Saffold
from the left to right side and plugging
Chris Williams
in at left guard left the Rams with a line that looks capable on paper but with questions about how it would all come together in week one.
Veteran offensive line coach Paul Boudreau had his group ready to go despite playing some musical linemen during the preseason.
"I can't say enough about those guys up front," Bradford said. "They played outstanding today, and I think it shows that we've taken leaps and bounds from where we were last year. I thought the communication between myself and the line -- I thought [center] Scott [Wells] did a great job of getting things solved.
"They threw some looks at us, especially on third down, that we hadn't seen in the preseason and those guys didn't flinch at all. They kept doing their jobs, kept me protected, and allowed us to make some plays towards the end of the game."
The offensive line is the most veteran-laden starting group on the team's roster. That it came together and played well in the opener shouldn't be a surprise. The question that lingers over the group is health. There were plenty of people holding their breath when the team's medical personnel were tending to Saffold and Long on Sunday.
If they can continue to avoid those brief scares turning into lasting injuries, the streak could continue.
August, 28, 2013
Aug 28
3:00
PM ET
EARTH CITY, Mo. -- Earlier, I posted a breakdown of how the Rams roster could shake out on defense and special teams. To complete the exercise, let's take look at what shape the offense might take after final cuts are made this weekend.
Again, keep in mind that some of this could change based on how things go in Thursday night's preseason finale. But for now, here's my best guess.
QUARTERBACK
Kept in 2012:
2
This year:
The only debate here is who will be the backup behind quarterback
Sam Bradford
. Last year, the Rams kept two in the original round of cuts, letting go of veteran
Kellen Clemens
. They brought him back after Week 1, making his contract non-guaranteed. Neither
Austin Davis
nor Clemens has done enough to clearly separate in the competition. It would be logical for the Rams to take the same approach this season should they choose to carry three for the bulk of the season again.
Prediction (2):
Bradford, Davis
RUNNING BACK

Kept in 2012:
4
This year:
When
Terrance Ganaway
departed to pursue things other than football, this situation became pretty clear.
Daryl Richardson
,
Isaiah Pead
,
Zac Stacy
and
Benny Cunningham
will make the roster. The Rams have a Week 1 exemption on Pead because of a suspension, which could potentially buy
Chase Reynolds
a one-week, special teams reprieve. Fullback
Eric Stevens
has had some reps with the first team in practice and is the only true fullback on the roster. It seems less likely the Rams will keep one this year, though, given the versatility of their tight ends, but Stevens remains something of a wild card in the mix.
Prediction (4):
Richardson, Stacy, Cunningham, Reynolds
Suspension exemption:
Pead
TIGHT END

Kept in 2012:
4
This year:
The Rams will almost certainly keep four again, and could even go as high as five depending on what they want to do at receiver.
Jared Cook
and
Lance Kendricks
are integral parts of the offense, and Kendricks will probably work in the fullback role on occasion.
Cory Harkey
is also well-positioned depending on the severity of an undisclosed injury he suffered in Denver. That would leave a battle between
Mike McNeill
and
Zach Potter
for the other spot. Potter is the better blocker and McNeill is more versatile. The decision will depend on which flavor the Rams prefer for that final tight end spot, or they might even keep both.
Prediction (5):
Cook, Kendricks, Harkey, Potter, McNeill
WIDE RECEIVER

Kept in 2012:
6
This year:
Five wideouts --
Chris Givens
,
Austin Pettis
,
Tavon Austin
,
Brian Quick
and
Stedman Bailey
-- are essentially locked in here. The question is whether the Rams keep a sixth, and if so, who will it be?
Justin Veltung
and
Nick Johnson
are the top contenders for that job. Veltung's special teams skills would likely earn him the job, assuming the Rams keep six.
Prediction (6):
Givens, Pettis, Austin, Quick, Bailey, Veltung
OFFENSIVE LINE

Kept in 2012:
8
This year:
The Rams actually carried more linemen into the opener, but had eight on the roster coming out of the initial wave of cuts. This year, they'll likely keep eight or nine, but it would seem that eight is probably the more likely number again after the cuts are made. From there, the Rams might again be searching for depth on the waiver wire.
Jake Long
,
Rodger Saffold
,
Scott Wells
and
Harvey Dahl
are in.
Chris Williams
and
Shelley Smith
are competing at left guard, and it seems things are leaning Williams' way for the starting job. Williams stays regardless because of versatility.
Joe Barksdale
will be the swing tackle. Rookie
Barrett Jones
will stick as an interior swingman, leaving one spot left. Smith would be the most likely to land the job, but if he doesn't win the starting spot, it becomes a bit more tenuous because he's strictly a guard.
Tim Barnes
is another option, but is probably redundant with Jones.
Prediction (8):
Long, Saffold, Wells, Dahl, Williams, Barksdale, Jones, Smith
Total on offense:
25
August, 22, 2013
Aug 22
1:47
PM ET
EARTH CITY, Mo. -- Entering his fourth season in the league,
St. Louis Rams
quarterback
Sam Bradford
feels like the wise old man of the offense.
When Bradford stops and looks around the locker room or huddle he sees a group of youngsters, particularly in the wide receivers and running backs, only a year or two removed from being in college.
[+] Enlarge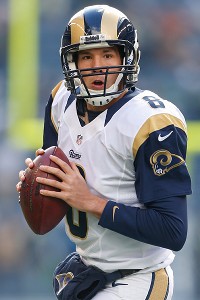 Otto Greule Jr/Getty ImagesRams quarterback Sam Bradford has grown comfortable in Brian Schottenheimer's offense and is ready to share his knowledge with the rest of the offense.
Not that Bradford minds being considered a veteran on a young team.
"It makes me feel old, No. 1," Bradford said. "But, I think it's great. I think those young guys bring a certain energy to our locker room. They've got a lot of energy. They've got more than some of the vets and it's great. I think it gives us a spark."
Although Bradford does have some help in the leadership department from a veteran offensive line that includes tackle
Jake Long
, guard
Harvey Dahl
and center
Scott Wells
, a big part of his responsibility moving forward is embracing a leadership role to ensure the young players surrounding him reach their potential sooner than later.
Upon the departure of running back
Steven Jackson
, Bradford quickly realized a leadership void beyond just the opening at running back had been created. He's embraced that role in this camp as he can regularly be found offering pointers to his receivers during practice or working extra with them afterward.
"It's fun for me because I get to take more of a leadership role and try to help mold some of those young players and teach them the game and teach them through experiences that I've had," Bradford said. "I think it's great that we have a lot of young guys. I think it gives us an opportunity to take a lot of steps forward."
The reality is that Bradford probably wasn't as equipped to take the reins as the primary voice of the offense until this season. Not only was Jackson the more established veteran but Bradford continued to find himself in a position where he never had the chance to learn all the ins and outs of the offense.
Changing offensive coordinators three times in his first three years left Bradford trying to play catch up. It's made it difficult for him to offer advice to his receivers and backs because he's been working to learn it himself.
Now in his second year in coordinator Brian Schottenheimer's offense, Bradford seems more at ease with his role. The timing of that couldn't be better given how young his wideouts and backs are.
Projecting a receiver and running back corps with an average age of 23 might be fun in terms of the locker room but it also means the Rams and Bradford have high expectations for young players at a position where youth doesn't always quickly translate to success.
Rookie and young running backs have a long history of producing right away. Just last year, two of the league's top five rushers (Washington's
Alfred Morris
and Tampa Bay's
Doug Martin
) were rookies. That could bode well for second-year back
Daryl Richardson
and his young cohorts.
The receiver spot is a bit more difficult to make an early impact save for a select few. Among the top 20 in receiving yards in 2012, only three were in their second year but none were rookies.
Austin Pettis
is the elder statesman of the receiver group entering his third season in the league.
Chris Givens
and
Brian Quick
are heading into Year 2 and
Tavon Austin
and
Stedman Bailey
are rookies.
Tight end
Jared Cook
should ease some of the pressure on those young receivers a bit, but it still might be asking a lot for such a young group to contribute in a major way so early in their careers at a position where that's generally been difficult.
Bradford is aware of that, but he's also made it clear he doesn't plan to wait around for them to develop.
"I think there's obviously a certain level of patience that you have to have," Bradford said. "Obviously, we're going to go through growing pains, but at the same time those guys have to understand what they're expected to come in and do -- and that's play at a high level. I think that we've tried to make that clear to a lot of the rookies, especially on the offensive side of the ball. They might be rookies, but they have to grow up fast because we are depending on them for our offense to be successful. So, we can't afford them to have a season of learning. They've got to be able to come in and help us immediately."