St. Louis Rams:

Steven Jackson
August, 27, 2014
Aug 27
2:30
PM ET

Is it going too far to call half the season a stretch? Beginning in Week 5 and running through Week 12, the
St. Louis Rams
will play seven games against 2013 playoff teams and another against a 10-6 finisher. That's the crucible through which the Rams must emerge if they are to make a run to the postseason. While it's imperative the Rams get off to a fast start to have a chance, they must find a way to get at least three or four wins in a
slate
that includes two games against San Francisco, home games against Seattle and Denver, and games at Philadelphia, Kansas City, Arizona and San Diego.
Complete Rams season preview
.
March, 26, 2014
Mar 26
5:00
PM ET
When the NFL released compensatory picks on Monday afternoon, it listed five "lost" free agents counting toward the
St. Louis Rams
' formula: cornerback
Bradley Fletcher
, center
Robert Turner
, receivers
Brandon Gibson
and
Danny Amendola
and safety
Craig Dahl
. The formula also counted tackle
Jake Long
and tight end
Jared Cook
as additions.
Conspicuous by his absence was running back
Steven Jackson
, who departed in free agency to the
Atlanta Falcons
. At the time, it seemed Jackson may have been a simple oversight on the list released by the league, but after some checking around, ESPN NFL Insider Mike Sando got to the bottom of it to confirm that Jackson was actually not included in the formula.
According to Sando, although Jackson was categorized by the NFL as an unrestricted free agent last offseason, he did not count toward the formula because his contract was re-worked in its final year. The league's stance on the issue is designed to prevent teams from making tweaks to contracts in their final season which could theoretically allow teams to set themselves up for additional compensatory picks.
That's a logical stance, but one could also see how it would be unfair to the Rams in Jackson's case. Jackson's contract already had an opt-out clause in it before the final year, though it was a clause triggered by reaching performance plateaus. The only tweak the Rams made to it was to allow Jackson to opt out, even though he wasn't going to hit those marks.
At the end of the 2012 season, Jackson chose to opt out and the league declared him an unrestricted free agent. In a very technical sense, the Rams didn't "choose" to lose Jackson, though it's certain he would not have been brought back at the scheduled $7 million price tag had he decided not to opt out.
It's clear that any alteration in the final year of a contract is probably going to prevent that player from being eligible to be counted in the compensatory formula, even if the player leaves at his own discretion.
Even without counting Jackson, the Rams received three compensatory picks, one in the sixth round and two in the seventh. Really, Jackson's exclusion from the formula isn't a big deal, though it's hard to say whether it cost the Rams a chance at receiving the maximum four compensation picks. Either way, the Rams aren't hurting for selections as they now have an even dozen for May's NFL draft.
March, 24, 2014
Mar 24
7:05
PM ET
The
St. Louis Rams
were already sitting in prime draft position with nine choices and two first-rounders before the NFL handed out compensatory selections Monday evening. Now, they have even more opportunity to add talent after the league awarded them three more choices for 2013 free-agent losses.
Heading toward May's draft, the Rams now have 12 picks after picking up a sixth-rounder (No. 214 overall) and two seventh-rounders (Nos. 249 and 250) from the compensatory process.
Breaking it down further, the Rams have two picks in the first round (Nos. 2 and 13), two in the sixth and four in the seventh to go with their lone original choice in rounds two through five.
Compensatory picks cannot be traded but having that many choices likely puts the Rams in position to maneuver around the board as they wish with those other nine choices.
In the official release the NFL sent out Monday evening, the Rams were credited for losing receiver
Danny Amendola
, safety
Craig Dahl
, center
Robert Turner
, receiver
Brandon Gibson
and cornerback
Bradley Fletcher
and adding tight end
Jared Cook
and tackle
Jake Long
.
Conspicuous by his absence was running back
Steven Jackson
. The Rams allowed Jackson to void the final year of his contract and he was declared an unrestricted free agent before signing with Atlanta. It's unclear right now if Jackson was not factored into equation or if his name was an accidental omission from the league's release. For what it's worth, Jackson was not counted as an addition in Atlanta's equation.
March, 23, 2014
Mar 23
1:00
PM ET
With the NFL owners meetings convening in Orlando this week, much of the discussion will center on potential rule changes and points of emphasis for the 2014 season. For fans of the NFL draft, the biggest news coming out of central Florida will be the compensation selections which are also expected to be announced.
In addition to the chance to finalize the draft order, teams can also pick up valuable selections anywhere from the end of round three to Mr. Irrelevant at the close of round seven.
Before we do our best to try to project what the
St. Louis Rams
will receive, let's attempt to explain a few things pertinent to the discussion of compensation picks.
The NFL does not disclose the exact formula it uses to divvy up the picks. All picks are awarded based on the previous year's free-agent market so in this case, the Rams' extra picks will be based on players like Danny Amendola and Jared Cook rather than the many free agents they've lost this year.
What we do know about the formula is that it's based on a balance of what a team gained and lost the previous season. Picks aren't just handed out because a team signed less free agents than it lost. How those players performed, how much they played and how much money they made is more important than sheer attrition. So if you lose four backups and sign one starter, it could theoretically even out and gain you nothing depending on how those backups perform and the differential in money.
Only unrestricted free agents who had that designation based on the natural course of their contract expiring are eligible to be factored into the formula. Restricted or exclusive rights free agents who do not receive tenders from their team are ineligible to be counted. Likewise for veterans who are released before the start of the new league year. What's more unclear is how players who come to some sort of opt-out agreement are counted. Using an example for the Rams, running back Steven Jackson technically opted out of his contract and chose to leave but the Rams enabled that despite Jackson not meeting the requirements to automatically trigger the voidable year. Still, Jackson was categorized as an unrestricted free agent and played 398 snaps in 2013, which should qualify him for this exercise.
The new Collective Bargaining Agreement only allows for a total of 32 compensatory picks to be handed out. That's not per round but total so as to limit the draft to no more than the equivalent of a full eight rounds.
Compensatory picks cannot be traded.
Here's the breakdown of free agents lost and gained with regular season snap counts from 2013 included:
2013 free agents lost:
Amendola (542 snaps), Jackson (398 snaps), offensive lineman
Robert Turner
(379 snaps), receiver
Brandon Gibson
(245 snaps), cornerback
Bradley Fletcher
(881 snaps), safety
Craig Dahl
(84 snaps), receiver
Steve Smith
(0 snaps, signed with Tampa Bay and retired soon after). (Note: Turner and Gibson finished the season on injured reserve)
2013 free agents gained:
Offensive tackle
Jake Long
(818 snaps), tight end Jared Cook (691 snaps).
Projection:
The Rams obviously lost more free agents than they signed in 2013 but Long and Cook were not only clearly the highest-paid going in either direction but the most productive and reliable in terms of play time. Fletcher played the most snaps while the rest of the list struggled with injuries which limited their opportunities. Dahl was mostly a special teams player for the 49ers. Few of the free agents the Rams lost should factor in a significant way aside from Fletcher and, perhaps, Amendola.
Without knowing the full details of how the picks will be handed out, this is simply an educated guess, but while I do expect the Rams to receive some sort of compensation, I wouldn't expect it to be much. The guess here is the Rams will receive one, maybe two, late-round selections likely in the seventh round with a sixth-round choice as the probable best case scenario. The team already holds nine picks in this year's draft and could gain more by trading down but either way, they'll have no shortage of chances to make picks come May.
January, 22, 2014
Jan 22
11:00
AM ET
ST. LOUIS -- As part of the on-going reveal of answers to the NFL Nation survey which polled 320 players on a variety of questions, we've reached the release of the answer to a poll question that I don't believe is much different than the one asking which player is most respected by his peers.
The only twist here is that the question asks which player (active, non-teammate) would you like to see in the Super Bowl? The pre-requisite was that the player named couldn't have already been to one. Minnesota running back
Adrian Peterson
edged Atlanta tight end
Tony Gonzalez
to take top honors as a whopping 88 players received votes.
Two things struck me as I asked around the Rams locker room.
First, how much many of the players would simply like to have a winning season or just get to the playoffs let alone a Super Bowl. I'm confident in saying that these Rams would have voted for a current teammate if given the chance.
Second, I was a bit surprised not to hear
Steven Jackson
's name mentioned a bit more. Now, many players named a friend playing somewhere in the league and Jackson's name did come up, but I wondered if it would be more popular. When looking at the Falcons, though, it's clear most players think of Gonzalez before Jackson.
September, 14, 2013
9/14/13
12:00
PM ET
ATLANTA –
Sunday's game between the St. Louis Rams and Atlanta Falcons contains plenty of intriguing matchups, making it difficult to boil it down to just a few. Here are three to keep an eye on when the teams kick it off at 1 p.m. ET at the Georgia Dome.
Rams cornerback Janoris Jenkins vs. Atlanta receiver Julio Jones
Jones
Jenkins
It's a matchup that fans of the Southeastern Conference have seen before and one that Jenkins undoubtedly is anticipating.
Jenkins was at Florida at the same time Jones was at Alabama. The final two times their teams met, in 2009 and 2010, Jenkins won their battles by unanimous decision -- helping to limit Jones to a combined six catches for 47 yards.
Although the 6-foot-3, 220-pound Jones has a clear size advantage against the 5-10, 198-pounder, Jenkins found ways to slow Jones in their college meetings by forcing him to work other routes than the basic deep ones that are Jones' calling card.
"He's a vertical threat, the deep guy, the home run guy," Jenkins said. "He basically bangs 8s [routes] and digs. I have just got to play cornerback on him. I know he can't get out of his breaks as fast as I can, but they love going deep so I have got to be prepared to go deep and just study his film."
The Rams generally prefer not to shadow any one receiver, and they didn't do so last week against
Larry Fitzgerald
. Still, should Jones play through a knee injury (he's listed as questionable), he and Jenkins should see plenty of each other Sunday afternoon.
Rams middle linebacker James Laurinaitis vs. Atlanta running back Steven Jackson
Jackson

Laurinaitis
Earlier this week, Rams cornerback
Cortland Finnegan
joked that Jackson's top target when he gets the ball will be Laurinaitis. Really, matching up with Jackson figures to be a total team effort, but Jackson has always enjoyed measuring himself against opposing middle linebackers.
Laurinaitis and the Rams never had to tackle Jackson in live game action during his nine years with the team, and they've all made it clear they are expecting Jackson to bring a little something extra Sunday.
"Jack is going to be trying to truck-stick whoever he can on this defense," Laurinaitis said. "That's the nature of playing him. He's a competitor anyway, but players seem to play their hardest against teams they were just on. Steven is a competitor in his very nature anyway. That's the way he is. He's playing against the team that he used to play for; he's going to play extremely hard. It's a huge challenge."
Jackson had just 11 carries last week against New Orleans, but the Falcons will probably look to get him more involved this week.
The Rams' offensive line vs. Atlanta DL Kroy Biermann
Biermann

In watching the Falcons' defense, it's hard not to notice the constant movement and various places Biermann lines up. The veteran lineman makes appearances as an edge rusher, a linebacker, inside, outside, just about anywhere one could imagine.
Last week against the Saints, Biermann was all over the place in posting five tackles, including one for loss, and a pair of quarterback hits.
The Rams' offensive line did not allow a sack last week against the Cardinals, the third game in a row they've accomplished that feat dating to last season. Arizona threw a variety of stunts and blitzes, but the Rams picked them up well as the Cardinals hit quarterback
Sam Bradford
just six times.
"Kroy, for most of his career, was an edge rusher and a very good one," Fisher said. "He's a high-motor guy. He's lining up all over the place. He'll match up outside on a back and end up playing the corner spot in their zone concept. So he's obviously very intelligent and a high-motor guy. He's a big-play guy."
September, 14, 2013
9/14/13
8:00
AM ET
EARTH CITY, Mo. -- Over at Grantland, Bill Barnwell took
a deep look at the evolution of the NFC West
, offering a timeline of the events that have taken the division from one that was won by a 7-9 team as recently as 2010 to one that now boasts two Super Bowl favorites in San Francisco and Seattle and two up-and-coming teams in the Rams and Arizona.
It's hard not to agree with the sentiment that the NFC West is now the best division in football, or at least one that should garner such consideration. It's been something of an amazing turnaround given that fans and media alike used to derisively refer to it as the "NFC Worst."
The addition of energized former college coaches Pete Carroll in Seattle and Jim Harbaugh in San Francisco, along with well-respected NFL veterans such as Rams coach Jeff Fisher and Cardinals coach Bruce Arians, has brought a certain cachet to the division in addition to the improved rosters.
Better quarterback play has also been at the root of the turnaround, with Sam Bradford, Carson Palmer, Russell Wilson and Colin Kaepernick representing huge upgrades over the likes of Shaun Hill, Charlie Whitehurst and John Skelton.
To me, the turnaround in the division started with defense and grew from there. All four teams have gradually built defenses that already have been top-10 units or are on their way to being in the mix. It's made for some hard-hitting games and left teams in other divisions black and blue.
It's not just Barnwell who has taken notice, either. The nation will get some up-close looks at the strength of the NFC West on a big stage in coming days and weeks. The 49ers and Seahawks take center stage on Sunday night, and the Rams meet San Francisco in a Thursday night showdown on Sept. 26. That's just the tip of the iceberg.
I.C.Y.M.I.
Your daily roundup of anything you might have missed Friday from this corner of cyberspace. ... We started with a look at the Rams' emphasis on hidden yards and the
importance of yards after the catch
in this offense. ... From there it was an injury update on end Chris Long, who did not practice Friday and is
questionable for Sunday
. ... We followed with a look at the rest of the
injury report
, including the status of running back Daryl Richardson. ... Finally, we took a look at
what a Rams victory would mean
to a group that hasn't started a season 2-0 since 2001.
Elsewhere
The always-prolific Bernie Miklasz of the St. Louis Post-Dispatch dived deeper into what could become an interesting debate on the
Hall of Fame possibilities
for running back Steven Jackson. From there, he offered an
interesting take
on Tom Brady dealing with struggling wide receivers and compared those issues to the problems Rams quarterback Sam Bradford has had in his first few years in the league. Finally, Miklasz joined fellow columnist Bryan Burwell for a
breakdown
of the Rams-Falcons matchup.
Post-Dispatch Rams writer Joe Lyons gave a quick look at the
anticipated return
of tight end Cory Harkey against the Falcons.
Over at stlouisrams.com, fantasy writer Matt Lutovsky believes receiver Chris Givens could be a
sleeper this week
as Atlanta shifts its attention to tight end Jared Cook.
September, 13, 2013
9/13/13
8:00
AM ET
EARTH CITY, Mo. -- It's nothing out of the ordinary for teams to look for new and creative ways to find salary-cap space at this time of year. Teams up against the cap will restructure contracts, make cuts, trade players or all of the above in order to open up some money. The Rams have been active in that regard in recent weeks, not least of which includes the release of linebacker Jo-Lonn Dunbar.
Sliding under the radar a bit, though, was a creative move to create a little more room by reworking the contract of guard Harvey Dahl. The move actually happened close to the beginning of the month, but it went relatively unnoticed because of other roster happenings. Kevin Demoff, the Rams' chief operating officer/vice president of football operations/salary-cap guru, found a way to move money around in Dahl's contract and save the Rams in the neighborhood of $1.25 million against the salary cap.
The move is a bit involved, and the fine folks at Over the Cap have a
better explanation of the move
than I can offer.
The upshot is that the move saves the Rams some money this year, giving them some wiggle room in case there are injuries and for the practice squad. In exchange for taking a "pay cut," Dahl got a big chunk of guaranteed money up front, and he still has a chance to earn the rest of the money originally due to him with some reasonable incentives.
Dahl's contract is still scheduled to expire after the 2014 season. Coming off arm surgery last year, Dahl played well against Arizona last week. This week he gets to go back to Atlanta, the place where he was before the Rams signed him to a four-year, $16 million deal in 2011.
I.C.Y.M.I.
Our daily look at all things Rams that were covered right here in this corner of cyberspace. ... We kicked off Wednesday's activity with
this week's version
of "Double Coverage" where Pat Yasinskas and I kicked around some topics on this week's Rams-Falcons game. ... Then I offered a
quick take on Mike Sando's Insider piece

on Sam Bradford and the disconnect between the traditional passer rating and our total QBR. ... In sticking to the Insider theme, we then took a look at
Mel Kiper Jr.'s first rookie rankings

, where Rams LB Alec Ogletree checked in at No. 11. ... In the
daily Injury Wire report
, RB Daryl Richardson (foot) returned to practice on a limited basis and DE Chris Long was also limited because of a hip injury. ... Finally, we took a deeper look at Rams DE Robert Quinn and discussed his quick start against Arizona and
ways he can continue to evolve in 2013
.
Elsewhere
Over at the website of the St. Louis Post-Dispatch, columnist Bernie Miklasz gave his take on an important matchup for the Rams against the Falcons. Miklasz offered that
the Rams' defensive line appears to have a favorable situation
against an Atlanta offensive line that was shaky last week against the Saints. From what I saw from both sides, it's hard to disagree with that stance. It's one matchup where the Rams could really change the game.
Beat writer Jim Thomas gave a good look at
how the Rams are approaching
facing Atlanta RB Steven Jackson.
Fellow beat writer Joe Lyons discussed RB Isaiah Pead's
return to the mix
this week after a one-game suspension.
Quinn appeared on NFL Network on Thursday and offered up a
potential nickname
for he and Long.
It's a couple weeks old, but if you need something uplifting to start your day, check out
this piece
on Rams S Matt Daniels and his special friend.
September, 11, 2013
9/11/13
7:30
PM ET
EARTH CITY, Mo. – Upon his departure for Atlanta as a free agent in the offseason,
Steven Jackson
exited a running-backs room full of talented youngsters who would suddenly have to grow up.
Daryl Richardson
and
Isaiah Pead
are one week into their second NFL seasons, and rookies
Benny Cunningham
and
Zac Stacy
provide depth. It's a green group lacking in meaningful experience.
Heading into a matchup with Jackson's Falcons on Sunday, the jury remains out as to whether the
St. Louis Rams
have the parts to equal the sum of Jackson's whole.
[+] Enlarge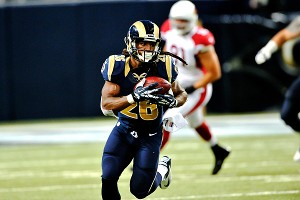 AP Photo/G. Newman LowranceDaryl Richardson is one of a group of young running backs trying to fill the hole left by Steven Jackson.
Rams coach Jeff Fisher is pleased with where his young backs are in their progression but acknowledged that there's plenty of work to be done.
"Well, it's still early," Fisher said. "The younger backs, obviously, have ability and it's just going to take time. They're going to need snaps and reps and plays."
There is no shortage of opportunities for those younger backs at Rams Park these days. Richardson won the starting job relatively early in camp in a position battle that never really materialized.
Pead remains as the backup and a player the Rams still have high hopes for despite his early struggles with ball security and his one-game suspension for violating the league's substance abuse policy.
Stacy and Cunningham are promising rookies, but Stacy has just one carry to his name, and that's one more than Cunningham at this point.
In parting ways with Jackson, the Rams figured to join an ever-expanding group of teams leaning on multiple backs rather than one workhorse.
Jackson is one of the last of a dying breed: a back who stays on the field all three downs and is at once the team's best runner, pass-catcher and pass-protector. It's a role that is going out of style so fast that Jackson was prepared to retire if a team wasn't willing to provide him the chance to be the bell cow.
Replacing your all-time leading rusher is tough. Replacing your undisputed leader and finding one or more backs to fill the various roles Jackson did can be even more challenging.
In an ideal world, the Rams could find a piecemeal way to bring everything together and get the type of contributions they need from the position. Richardson would be the slashing, speedy back who gains the yards there to be gained. Stacy would be the pass-protector and short-yardage guy. Pead would work on third downs, picking up the blitz and catching passes out of the backfield. Cunningham would be a sort of X factor capable of doing it all.
That's what things might look like if everyone turned into what the Rams believe they could be.
Quarterback
Sam Bradford
is hopeful the process of replacing Jackson can be expedited by the fact that players like Pead and Richardson worked in Jackson's company for a year.
"I think they're doing a great job," Bradford said. "Obviously, it's tough, 'Jack' meant so much to this offense and to this organization while he was here. They got to see the way he approached the game and the way he worked. I think that I've seen those guys try to emulate that during the week of practice and in their preparation, and I think they're doing a really good job of that."
On his end, Jackson has done what he can to provide guidance for the young backs in St. Louis, even from afar. He and Richardson grew particularly close last year, and the pair stays in touch on a regular basis.
Jackson said he talks to Richardson about more than football, providing tips on how to handle yourself off the field, how to take care of your body, even ways to conduct yourself during interviews with the media.
"It's those dog days where no one wants to go to practice, no one wants to work, you have to push yourself forward and you have got to view yourself as the engine," Fisher said. "When guys are down or you have a sluggish practice, you have got to come out running hard to motivate guys to up the ante."
Someday in the not too distant future, it's possible, if not probable, that Jackson will return to St. Louis when his career is over.
"We felt like it was in the best interest of everybody involved," Fisher said. "This way the story ends real good. You'd like to think certainly his jersey's retired back here whenever he's done. We just wish him the best. He's a class guy and was a tremendous leader in the locker room last year."
Richardson missed Wednesday's practice with what the Rams' injury report calls a foot ailment. Pead returned from his suspension and was plenty busy in his first practice back. Cunningham and Stacy had their opportunities as well.
Watching practice and seeing so many backs getting chances for carries served as a reminder that sometimes replacing a franchise legend is really difficult job. Sometimes it takes more than one to get it done.