St. Louis Rams:

Taylor Lewan
May, 8, 2014
5/08/14
12:30
PM ET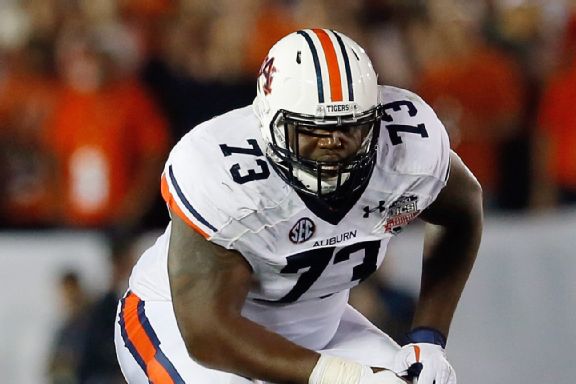 Kevin C. Cox/Getty ImagesAuburn's Greg Robinson is one of three offensive tackles the Rams will consider for the No. 2 pick.
EARTH CITY, Mo. -- The
St. Louis Rams
could easily throw a curveball tonight with the No. 2 overall pick or in a trade down from that spot, but for now most signs point to the team using their early selection on one of the draft's top offensive tackles.
It's a group that includes Auburn's
Greg Robinson
, Texas A&M's
Jake Matthews
and Michigan's
Taylor Lewan
, perhaps in that order. All three are rated highly, and one NFC personnel director told me he believes all three players are better than any of the players that went in the tackle-heavy top five of the 2013 NFL draft.
Matthews

Lewan
Robinson has been openly compared to Hall of Famer Larry Allen. Matthews has, of course, been compared to his Hall of Fame father. Lewan has drawn comparisons to current Rams tackle and four-time Pro Bowler
Jake Long
. Heady company across the board, especially in the case of the first two.
So if you are the Rams and you are almost certain to have your choice from that trio at No. 2, how do you go about choosing which one is best?
For most of the pre-draft process, Matthews has been labeled the polished player with some upside, essentially making him the "safest" choice of the group. Robinson is considered the player with the highest ceiling, an athletic, dominant run blocker with the tools to become a good pass protector, but with the knowledge that he'll take some time in that area. Lewan is a sort of happy medium between the two, possessing outstanding athleticism for his size, and a certain amount of polish as well.
So let's operate under the assumption that the Rams have those tackles graded closely. How do they weigh upside versus polish?
"That discussion would be solved by looking at your depth chart and your roster, where your holes are, where your spots are," Fisher said. "You've got a guy that you want that, as you say, is more polished, I'm not putting words in your mouth but you would assume that he would come in and play sooner than the other one that may need a redshirt year, need some time. If you've got two guys that would vary a little bit, it would be really dependent on the need spot on your roster."
In the case of the offensive line, the Rams could use someone capable of playing right away. Entering an important 2014 season, they need more than just contribution, they need production, especially from a potential No. 2 overall pick.
The Rams remain hopeful that Long will be ready to go at the start of the regular season, and they have
Joe Barksdale
available for the right tackle spot.
Rodger Saffold
will play one guard spot and
Scott Wells
is penciled in at center. That leaves a guard job open, but a top tackle could also play the right side to start.
Robinson and Matthews both project as capable of handling guard duties for a year or two before moving to tackle, similar to what Baltimore did with Jonathan Ogden. Lewan is a more natural tackle, but could also probably play inside if he had to.
From there, there are connections to be drawn to all of the tackles with the current Rams regime. Obviously, Fisher goes way back with Matthews, having coached his father in Houston/Tennessee. Robinson played with Fisher's son Trent at Auburn, which doubles as the alma mater of general manager Les Snead. Lewan maintains a close relationship with Long.
All three players figured to land in the top 10.
"I think there's a chance," Fisher said. "I would assume that those three players, they're going to be productive and somewhat high picks."
In the ideal scenario, the Rams could trade down and land one of the tackles after picking up some extra picks. Robinson will likely be drafted first of the three, and if the Rams wanted Matthews they would probably not be able to go any lower than No. 6, though he could go as high as No. 4 to Cleveland. Lewan figures to linger a little longer and would be a solid prize if the Rams got a big offer to move further down.
Determining who the Rams favor here is a guessing game, but in the end, the Rams' preference for taking upside over the safe pick, as they did with the likes of
Michael Brockers
,
Brian Quick
and
Janoris Jenkins
, seems likely to win out leaving Robinson narrowly edging out his competition.
April, 8, 2014
4/08/14
12:00
PM ET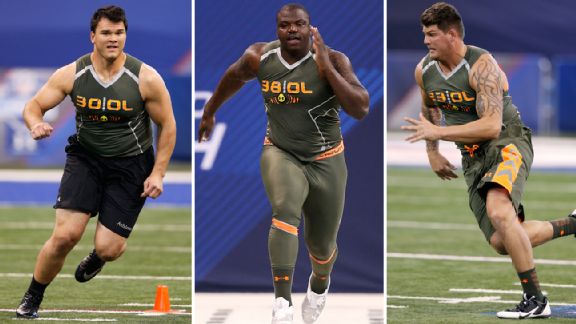 Joe Robbins/Getty ImagesAuburn's Greg Robinson, Texas A&M's Jake Matthews and Michigan's Taylor Lewan are three top tackles the Rams could be considering in the May draft.
The key decision makers of the
St. Louis Rams
circa 2009 have long since departed but when it comes to the thought of taking a shot on an unfinished product at offensive tackle with the No. 2 overall pick, the bad memories are still fresh enough to make at least some Rams fans cringe.
That was the year the Rams used the No. 2 choice on Baylor offensive tackle
Jason Smith
, a converted tight end coming from a spread offense with a reputation as a ferocious run blocker but a work in progress as a pass protector. Sound familiar?
At least on paper, one can look at Auburn tackle
Greg Robinson
's scouting report and see a similar description save for the tight end part. The comparison surely won't play in the minds of the Rams' current brain trust, a group that had nothing to do with Smith's selection but it's fair to at least consider the flip side to Robinson's upside.
"To me, if you look at Robinson and having Jason Smith not that long ago come to St. Louis as the second overall pick out of Baylor, is that something that factors in here?" ESPN draft analyst Mel Kiper Jr. said. "I don't necessarily think so because I think Robinson comes out as the much better prospect, he's the consensus No. 2, No. 3 guy in this draft. But does he need a little work before he settles in and becomes a great left tackle? Yes. But that could happen, that light could go on immediately, he's that good a football player."
Smith lasted three injury-plagued seasons in St. Louis and bounced between the
New York Jets
and
New Orleans Saints
before his release left him without a team last August. Many of his problems were tied to an apparent lack of love for the game, a problem scouts say Robinson doesn't have.
As the Rams continue vetting the top three offensive tackles -- a group that includes Texas A&M's
Jake Matthews
and Michigan's
Taylor Lewan
in addition to Robinson -- they'll have to weigh the downside of each prospect in addition to the potential.
Robinson probably has the highest ceiling of any of the trio but he also might have the lowest floor. In Auburn's offense, Robinson was the most feared run blocker in the college game but rarely had to pass protect. That isn't to say he can't do it, just that he hasn't done it much.
"Robinson, obviously, (is) very athletic," Rams coach Jeff Fisher said. "He's got a tremendous upside, probably has not taken as many snaps in a pro-style offense as Lewan, but very athletic, there's flexibility, think he could move in and play guard or other tackle as well. It's going to take him a little more time.''
Matthews, in many ways, is the opposite. A polished pass protector with experience at both tackle spots, Matthews also comes with the famous bloodlines (he's the son of Hall of Fame offensive lineman Bruce) that would seem to limit any potential downside he might have. It's unfair to say Matthews has reached his ceiling but he doesn't carry the same size and athleticism combination of Robinson, either.
Fisher coached the elder Matthews in his time with the Oilers/Titans and can see the similarities between the father and son.
"Bruce having played all the positions and having been selected to the Pro Bowl at all the positions, probably one of the more flexible offensive linemen to ever come out," Fisher said. "I think (Jake) has got some similar traits, we haven't seen Jake play center yet, or guard, but athletically could do both I'm sure.''
Like Matthews, Lewan also projects as a ready-made tackle capable of stepping in and limiting the risk in terms of his on-field projection. But Lewan will also have to answer some questions about some
off-field red flags before the draft
.
"(He's) just very well coached, very consistent, finishes plays, he's what I think, what you see on tape is what I think everybody would look for in that type of tackle,'' Fisher said.
Since the arrival of Fisher and general manager Les Snead in 2012, the Rams have had no problem choosing players who aren't as polished as other options. Much of that stems from their belief in a veteran coaching staff, but so far that has yielded mixed results. For every
Michael Brockers
who seems to be trending in the right direction there's a
Brian Quick
, who the team is still waiting on to produce consistently.
As with all draft prospects, there's no guarantee any of the tackles will pan out.
"Matthews isn't the talent that Robinson is," Kiper said. "Matthews did have a couple of games in pass protection where he showed he needed a little work at left tackle. Remember he had come over from right tackle. Robinson the same thing. From that offense, he's going to need a little bit of work but all of the skills are there. You look at Lewan, he's probably the most ready to be a pure left tackle."
Should the Rams decide to choose one, they'll have to decide whether most ready is more valuable than long-term upside.
April, 2, 2014
4/02/14
3:30
PM ET
EARTH CITY, Mo. -- Along with the rest of the NFL, the
St. Louis Rams
have begun the process of bringing in college draft prospects for what is known as "top 30" visits.
Each team is allowed to bring up to 30 prospects to its facility for a pre-draft meet and greet. Those players are not allowed to work out at the team facility, and if the team wants to work that player out, they must venture to the player's college campus or home base. ESPN's Field Yates
offered some excellent insight
into what teams are hoping to accomplish with each visit.

Clowney

Lewan
Teams can also bring in players who are considered "local" prospects. Using a radius from the team's home city to determine if the player is "local," those players can visit and go through a workout at the facility and do not count toward the visit limit of 30.
Every team has a different approach to the visits, and it varies based on the regime. When Billy Devaney was the Rams' general manager, he liked to bring in a large group of players at the same time, usually splitting them into two groups of 15 over a four-day span. Under general manager Les Snead and coach Jeff Fisher, the Rams prefer to spread the visits out and get to know the players on a more individual basis.
With two extra weeks to prepare for the draft, this year's visits have started earlier. The Rams began bringing in players this week and have not hesitated to get to know some of the draft's biggest names.
Auburn offensive tackle
Greg Robinson
, who many believe is a realistic option for St. Louis with the No. 2 pick, arrived in St. Louis on Wednesday and spent the day at Rams Park.
This week the Rams also visited with Ohio State linebacker
Ryan Shazier
, Oklahoma State cornerback
Justin Gilbert
and Notre Dame defensive lineman
Stephon Tuitt
. None of those players figure into the mix at No. 2, but could be options later in the first round or, in Gilbert's case, in the event of a trade down to the lower part of the top 10.
Those visits are just the beginning as the Rams have plenty of others lined up over the next few weeks.
Michigan offensive tackle
Taylor Lewan
visited the
Detroit Lions
this week and also arrived in St. Louis on Wednesday. South Carolina defensive end
Jadeveon Clowney
, who went through the paces of his pro day Wednesday, told ESPN Panthers reporter David Newton that he has visits with St. Louis and Atlanta lined up soon.
And Texas A&M offensive tackle
Jake Matthews
and Pittsburgh defensive tackle
Aaron Donald
are also expected to visit the Rams at some point.
While the pre-draft visits are a decent indicator of a team's interest, they should still be taken with the appropriate amount of salt. With so many players coming to visit, teams can't draft them all. Most teams do diligence on all of the top players in the draft and bring them in for visits as a way to get to know them better.
Like pro days, combines and private workouts, the top 30 visits are just another piece of the puzzle.
March, 30, 2014
3/30/14
1:30
PM ET
The past week saw the
St. Louis Rams
finally dip their toes into the free-agent pool, signing a pair of veterans in defensive tackle
Alex Carrington
and quarterback
Shaun Hill
and taking a flyer on under-the-radar youngsters in cornerback
Greg Reid
and linebacker
Etienne Sabino
.
It was also a busy week for coach Jeff Fisher, who spent most of the time discussing potential rule changes and alterations at the owners meetings in Orlando, Fla. Fisher also spent some time chatting with reporters, offering some thoughts on a variety of issues.
A look back at the week that was:
[+] Enlarge

Tony Avelar/AP PhotoThe Rams are hoping to get more out of receiver Tavon Austin in his second season.

After trading up to the eighth pick in the NFL draft last year, the Rams selected receiver/returner Tavon Austin in hopes that he'd provide a spark to an offense in desperate need of one. In his rookie year, Austin certainly flashed that game-changing ability, especially against Indianapolis and Chicago, but missed time at the end of the year with an ankle injury and fell short of the many lofty outside expectations for him.
But the Rams have no concerns about that. In Orlando, Fisher expressed confidence Austin would take the next step in 2014 and the team would have a better idea of ways to best use him.

"We're not disappointed in what his production was last year at all," Fisher said. "One of the things that was misleading was he had two or three returns called back -- one against Dallas --and then he got hurt. I think another year in the program, in the offense, OTAs, training camp, you'll see more production. I think we'll do a better job of using him now that we know what he's capable of doing. Kind of looking forward to see him improve from year one to year two."
Signing Carrington was no surprise in that the Rams were looking for help on the defensive line. It was a little more of a surprise that he was the team's first free-agent addition from another team. St. Louis saw great value in Carrington, who has the ability to play all over the line and signed a relatively cheap one-year deal.
"We just wanted rotational depth at the tackle spot," Fisher said. "We've had over 100 sacks the last two years, so we can rush the passer, I think we can continue [that]. We just wanted some more experience at that spot. It will take a little of the draft pressure off us at some point. Alex has been injured, healthy now and has played a lot of different positions in a number of schemes in the last couple years and hasn't been able to settle down. We liked him coming out, we thought he would be a disruptive type pass rusher and run defender and we'd like to give him a chance to do that."

Carrington is coming off a torn quad but the Rams have no concerns about his health moving forward.
It's no secret the Rams have interest in help on the offensive line as many have linked them to the top three tackles: Auburn's Greg Robinson, Texas A&M's Jake Matthews and Michigan's Taylor Lewan. The first two are expected to go in the top six or so but Lewan's status is a little more of a question mark given some off-field issues.
Fisher didn't want to speculate on how that might change the way the team views Lewan but said it will require a deeper look.

"It doesn't cause you pause in evaluating, but it certainly going to cause to do more background and research on it," Fisher said.
Finally, anytime a player like receiver DeSean Jackson comes available, the obvious question is whether the Rams would have interest in him. Clearly, the Rams could use a No. 1 type of receiver and a proven one like Jackson might make even more sense than taking a chance on even the most talented receiver in the draft.
Jackson is scheduled to visit Washington first and Oakland and Buffalo have also expressed interest. Indications from the Rams are that they won't be involved in this particular conversation in any sort of serious way. While the Rams could use the help, they don't have a lot of salary cap space to use on a player who would probably require another big cap number. Theoretically they could give him a smaller number in the first year but that would require them to backload the deal more than they'd like and eat up valuable space that could be used on extensions for current players in the next few years.

There's also the idea that Jackson would be a bit redundant with Austin, which is to say they are both smaller receivers with games built on speed and change of direction. Not that both players couldn't succeed but it still may not be the best fit.

Beyond all of that, there's the larger X factor of why, exactly, Philadelphia released such a productive player under contract in the prime of his career. One way or another, the Eagles had their reasons and, like Fisher mentioned with Lewan, there will need to be some major legwork done by any team looking to add Jackson.
March, 22, 2014
3/22/14
8:00
AM ET
In the endless draft talk and speculation that will take us from now until the day finally arrives in May, the
St. Louis Rams
have been regularly connected to the top offensive tackles with most of that discussion centering on Auburn's
Greg Robinson
or Texas A&M's
Jake Matthews
. Michigan's
Taylor Lewan
hasn't received as much attention but is also highly-regarded among draft analysts.
In some ways, Lewan actually seems like the type of player who would be right up the Rams' alley. Answering questions about some off-field issues at the NFL combine, Lewan did his best to alleviate any concerns that might come up. But it appears those concerns are likely to persist in light of the news from Ann Arbor this week.
According to the Ann Arbor News and our Lions reporter Michael Rothstein, Lewan
has been charged
with one count of aggravated assault and two counts of assault and battery stemming from an incident that took place on Dec. 1, 2013.
At the combine in Indianapolis, Lewan was asked about the situation. From Rothstein's new story above:
"I went over the Ohio State incident once before. I wasn't in any fight of any kind," Lewan said then. "I was actually breaking something up and some guy said that I slugged him, but that's not who I am off the field, that's not the kind of person I am.

"It might seem that way because of the way I play football, but that's not the way I am as a person."
For Rams fans who are advocates of the team landing Clemson receiver
Sammy Watkins
, there's long been a belief that they could wait and grab a needed offensive tackle at No. 13. Lewan is a name often bandied about. I've often thought he'd be long gone before the 13th pick. That isn't to say that this situation will prevent a team from picking Lewan in the top dozen. Maybe nothing comes of it, maybe something does. But it's fair to wonder if teams will take an even longer look at Lewan in light of the charges.
I.C.Y.M.I.
A roundup of Friday's Rams stories appearing on ESPN.com. ... In the
Ram-blings
, we discussed the idea of draft do-overs and how things might have been different in 2004 had teams had the benefit of hindsight. ... Next, we took a look at the
thin margin for error
the Rams have in the 2014 draft if they hope to take the next step to the postseason. ... We ended the day with some thoughts on the
many moving pieces
around the Rams in the draft as free agency rolls on.
Elsewhere:
At stltoday.com, Jim Thomas provides
an update
on Mizzou defensive end Michael Sam's pro day.
Thomas also has
numbers
on the other Mizzou players heading toward the draft.
The Jets released quarterback Mark Sanchez.
One guess
where many think he lands.
Turf Show Times
looks ahead
to the Rams' potential 2015 free agents.
February, 28, 2014
2/28/14
2:30
PM ET
EARTH CITY, Mo. -- If the No. 13 overall slot itself in this year's NFL draft was a person, it would undoubtedly have its feelings hurt by now.
The
St. Louis Rams
hold that pick in the 2014 draft, but based on discussions here and elsewhere, you probably wouldn't know it. That's because the Rams also hold the 13th pick's younger, more attractive cousin, the No. 2 overall pick.
To this point, most of the discussion centered on the latter of the Rams' two first-round picks has been as some sort of an add on to what the Rams will do with the second pick. Something to the effect of "if the Rams draft X position at No. 2 (or in a trade down), they can draft Y position at No. 13."
The 13th pick has really done nothing but add to the proliferation of run-on sentences found in cyberspace.
It's only natural to focus on the higher of the two picks. It's the one that is easier to peg, comes with the most recognizable names and there are less moving parts. Attempting to predict what might happen in the middle of the round is far more difficult as the picture gets fuzzier the further down the draft order you go.
Really, though, any discussion involving the Rams taking a certain player at No. 2 and then another particular player at 13 is a setup for disappointment.
When it comes to the Rams' draft needs, the most commonly cited are offensive line, wide receiver and secondary. In an ideal world, the Rams could get a top tackle at No. 2 and top receiver at 13 or vice versa.
There are two popular combinations that are often thrown out: Clemson receiver
Sammy Watkins
paired with Michigan offensive tackle
Taylor Lewan
or Auburn offensive tackle
Greg Robinson
(or Texas A&M tackle
Jake Matthews
) paired with Texas A&M wide receiver
Mike Evans
.
Either combination would undoubtedly be a boon for the Rams, especially if they could trade down and add picks before drafting the first piece of those puzzles. The reality is that both are unlikely.
In conversations with scouts and personnel types at the NFL scouting combine, there seemed to be something of a consensus on the top 10-12 players that will come off the board in May. By no means is there a definitive list or, especially, an order to that group. But here are the names that many believe will be the first group of players taken:
South Carolina defensive end
Jadeveon Clowney
, Robinson, Matthews, Watkins, Buffalo linebacker
Khalil Mack
, UCLA linebacker
Anthony Barr
, Lewan, Central Florida quarterback
Blake Bortles
, Texas A&M quarterback
Johnny Manziel
, Louisville quarterback
Teddy Bridgewater
and Evans.
If that group comes off in some order, the Rams wouldn't be able to land two of them. Likewise, according to Mel Kiper Jr.'s latest
big board

, that group plus North Carolina tight end
Eric Ebron
forms the top dozen talents in the draft.
Of course, anything is possible when it comes to the NFL draft and things can change, but it's probably best to assume that the draft won't work out exactly how one might hope. It never does.
February, 21, 2014
2/21/14
10:15
AM ET
INDIANAPOLIS --
St. Louis Rams
offensive tackle
Jake Long
made the difficult decision to bypass the NFL draft and return to Michigan for his senior season in 2007. It proved a prescient choice as Long would go on to become the No. 1 overall pick of the
Miami Dolphins
in 2008.
Taylor Lewan
found himself in a similar situation last year. Projected as a top 10 pick, Lewan was unsure what to do. So he called Long, his fellow Michigan man, for advice.
After a few conversations, Lewan decided to follow in the footsteps of Long by returning to school. While Lewan doesn't figure to go No. 1 overall in this year's draft, he's never shown any reluctance to follow the path set forth by Long.
[+] Enlarge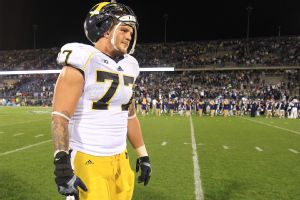 Jim Rogash/Getty ImagesMichigan's Taylor Lewan figures to be one of the top three offensive tackles drafted in May.
"If I had to pick myself to be like somebody, I would pick Jake Long," Lewan said Thursday. "He's an unbelievable player. He also wore No. 77. Awesome dude. I would love to be compared to him."
Clearly, those are comparisons Lewan has never shied away from. Upon his arrival in Ann Arbor from Cave Creek, Ariz., Lewan was poised to step in and take over the left tackle position. He requested Long's No. 77, setting a lofty standard for himself before he even really got his career going. Soon after Lewan's career ended with a 31-14 loss to Kansas State in the Buffalo Wild Wings Bowl, he was almost immediately in touch with Long.
"He texted me the moment my bowl game ended and said, 'If you need any help at all at any time, let me know. I'm here to help,'" Lewan said.
Now, there exists a real possibility that Long and Lewan could become teammates. Although Rams coach Jeff Fisher doesn't have a history of using first-round picks on offensive linemen, that could certainly change this year.
Lewan is rated behind Texas A&M offensive tackle
Jake Matthews
and Auburn's
Greg Robinson
, but is still widely regarded as a top 10-12 pick. The Rams would be unlikely to select Lewan with their first pick, but if they went in a different direction with that first pick and Lewan lasted to No. 13, he could be an intriguing possibility.
It's something Lewan acknowledged would be enticing, but not something he's worried about.
"That would be unbelievable," Lewan said. "Honestly, any team that wants to take me, I'd be more than happy to be there."
Of the top tackles, Robinson is considered to be the one with the most upside, Matthews the most polished, and Lewan with the meanest disposition. It's no stretch to imagine a grizzled veteran line coach like Paul Boudreau or head coach such as Jeff Fisher liking what Lewan has to offer.
But Lewan also has some questions to answer before anyone will be willing to draft him in May.
Lewan has been the subject of some off-field allegations since his senior season ended. He was involved in an incident near an Ann Arbor restaurant after the season during which a bystander accused him of throwing a punch.
Beyond that, it's also been alleged that Lewan threatened a Michigan woman who claimed that Wolverines kicker
Brendan Gibbons
raped her. Lewan and Gibbons were roommates, and reports at the time said Lewan attempted to intimidate her to keep her from pressing charges against Gibbons.
Lewan denied those reports Thursday.
"That's definitely a situation between those two people," Lewan said. "I am not here to protect Brandon or the young lady. That's not what I am here to do. I am here to talk about football. I can say I never said those things. I've said a lot of dumb things in my life, but those are not things that I said. That is a touchy subject. I would never disrespect a woman like that. I consider myself a guy who likes to hold doors, not threaten people."
For Lewan to follow Long and become the next Michigan lineman to go high in the NFL draft, he'll have to convince teams that his mean streak is limited to the field.
February, 20, 2014
2/20/14
4:30
PM ET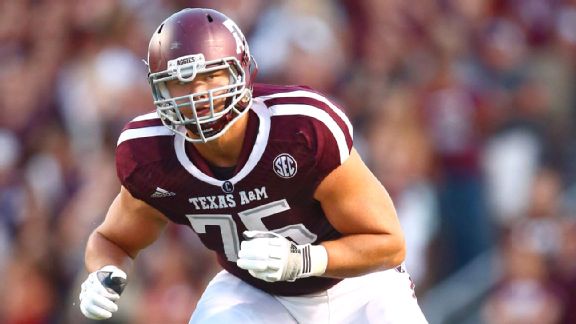 Mark J. Rebilas/USA TODAY SportsA player the caliber of Jake Matthews could help solidify the Rams' offensive line.
INDIANAPOLIS -- In Jeff Fisher's nearly two decades as an NFL head coach, his teams have never drafted an offensive lineman in the first round.
It's a streak that should come to an end in 2014.
The
St. Louis Rams
might have individual spots more in need of help, but there's no position group requiring more attention across the board than the offensive line.
The Rams started the 2013 season with an offensive line of (from left to right)
Jake Long
,
Chris Williams
,
Scott Wells
,
Harvey Dahl
and
Rodger Saffold
.
By the end of the year, the Rams had started seven different line combinations, and that doesn't include in-game adjustments made to account for injuries.
It would be easy for the Rams to lean on the tried and true methods of draft and develop that have been tenets of Fisher's coaching years. Offensive line coach Paul Boudreau has a reputation for taking late-round picks or undrafted free agents and molding them into productive or better NFL starters.
Boudreau did just that in 2013, despite all the aforementioned moving parts. The Rams finished tied for 14
th
in the league in sacks allowed per dropback, giving up a sack on 6.5 percent of those attempts -- despite facing three of the top seven defenses in the league a total of six times.
"He did an outstanding job," Fisher said. "We didn't track how many combinations of guys and who was playing where, but there were a lot of people playing. It was a good group. He puts together a really unique group in the classroom and they enjoy working together. They get close. They're very disciplined and, for all intents and purposes, each one of them really wants to come back, which is good."
The reality is, however, that it's unlikely they all return.
When the 2014 season begins, it's a possibility the Rams could have as many as five new names in place on the offensive line. That's because Williams and Saffold are scheduled for unrestricted free agency, Wells and Dahl are potential salary-cap casualties and Long is recovering from a torn ACL and MCL.
Fortunately for the Rams, if ever there was a time to revamp the offensive line through the draft, this is it. The team holds two picks in the first round: Nos. 2 and 13.
According to one AFC scout, Auburn's
Greg Robinson
and Texas A&M's
Jake Matthews
are top-five-caliber talents. But that doesn't mean the Rams would have to pursue one of them with their second overall selection. The same scout believes as many as four offensive tackles, adding Michigan's
Taylor Lewan
and Alabama's
Cyrus Kouandjio
, could go in the top 15, which means the Rams could wait and address the position at No. 13.
As always, the draft is about finding a way to marry need and value. While many believe South Carolina defensive end
Jadeveon Clowney
is clearly the best player in the draft, two scouts believe Robinson and Matthews aren't far behind.
While Fisher's streak of not drafting linemen in the first round is worth noting, it also doesn't tell the whole story and assumes he was making all the decisions with the Titans.
In 18 NFL drafts, Fisher's teams have selected 23 offensive linemen. Two of those came in the second round and two came in the third. Then-line coach Mike Munchak also made a habit of developing picks lower on the totem pole.
Of course, Fisher's Titans/Oilers teams also never found themselves with the pressing needs the Rams figure to have on the offensive line, either.
Brad Hopkins held down one tackle spot from 1993 to 2005 and Bruce Matthews was an All-Pro guard and center for the franchise from 1983 to 2001.
When Fisher's team did need to fortify the line, it often did so through free agency, adding the likes of Fred Miller, Wells and, most recently, Long.
Boudreau has done fine with linemen of all shapes, sizes and ability, but considering what the Rams are going to see from the front sevens in the NFC West for the foreseeable future, it's time to start investing some draft capital that doesn't require the Rams to go shopping for new linemen seemingly every offseason.
That could mean drafting a tackle in the first round, adding to the interior in the second round or any number of possible combinations. Much will depend on what becomes of Saffold, who is the Rams' top priority to retain in free agency.
In his day-after-the-season news conference, Fisher said the Rams needed to score more points to be more competitive in 2014, particularly against the likes of San Francisco, Seattle and Arizona. Three of the four tackles to land on the All-Pro team in 2013 were first-round picks.
The Rams can probably get by with drafting and developing lower-ranked offensive linemen, but against the dominant defenses in the NFC West, getting by simply isn't good enough.
February, 19, 2014
2/19/14
4:00
PM ET
The workout portion of the NFL scouting combine begins on Feb. 22 with the entire football world closely watching every prospect's every move. With that in mind, we're counting down the top five things the Rams and their fans should be watching as the NFL converges on Indianapolis.
Free agency officially begins on March 11 with a small window for teams to begin negotiating with targeted players coming just before that. But the NFL scouting combine also serves as a sort of unofficial kickoff to the free-agent period as team executives and agents huddle in the same city for the better part of a week.
For the
St. Louis Rams
, free agency will go a long way in determining the shape of one key area of the team in 2014. Starting linemen
Rodger Saffold
and
Chris Williams
are scheduled to become free agents and guard
Harvey Dahl
and
Scott Wells
are potential salary cap casualties.
[+] Enlarge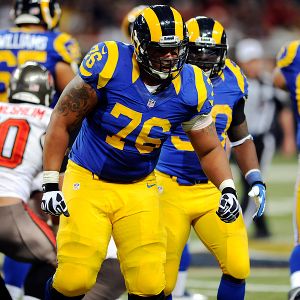 AP Photo/L.G. PattersonThe Rams would like to retain Rodger Saffold, but other teams will have interest as well.
With all of those moving pieces on the current roster and the best prospects in this year's draft converging in Indianapolis, it brings us to the final pressing combine question for the Rams:
What will become of the offensive line in 2014 and will any prospect do enough to break the nearly two-decade drought of Rams coach Jeff Fisher not taking an offensive lineman in the first round?
Rams general manager Les Snead and Fisher have made it clear that they'd like to retain Saffold if possible. That will depend largely on how the market shakes out for him and how much the Rams are willing to spend on a player who has showed great promise as a guard but has struggled to stay healthy. Interest in Saffold could only increase after teams tag their own valuable offensive linemen.
Theoretically, the Rams could bring Williams back and/or find a way to cap Wells or Dahl at a lower price. Regardless, it's a safe bet that the Rams are going to enter the new league year in need of more reinforcements for the offensive line.
Snead has vaguely referenced a "plan" for addressing the offensive line but, like every other position on the roster, declined to provide clues as to what that might entail. The Rams spent big money to land left tackle
Jake Long
in free agency last offseason. This year, there doesn't appear to be much in the way of difference making linemen heading to free agency pending the players receiving tags.
More likely, the Rams are probably going to have to invest more draft capital in the offensive line than they have in the recent past. Since Fisher and Snead took over in 2012, they've used just two picks on offensive linemen, both on guards, and none higher than the fourth-round choice of
Barrett Jones
in 2013.
The issue figures to be more pressing this year and the Rams are probably going to be vetting the draft's best line prospects in Indianapolis. A pair of tackle prospects with strong ties to Fisher and Snead currently sit atop most of the media draft boards in the form of Auburn's
Greg Robinson
and Texas A&M's
Jake Matthews
.
Robinson is considered the player with the most upside, perhaps the most of any player in the draft regardless of position, and played with Fisher's son, Trent, for the Tigers. Auburn is also Snead's alma mater, meaning if nothing else, the general manager has seen him play multiple times this year when cheering on his team.
Matthews has his ties to the Rams too and is regarded as one of the safest picks in the draft. Matthews' father, Bruce, was a bedrock of Fisher's offensive line for the Oilers/Titans for many years and that pedigree will be hard to ignore. Both players are expected to show well at the combine but could do something to boost their respective stocks.
Robinson will need to show the short area quickness and agility that can help project his ability as a pass blocker after getting few one-on-one edge blocking opportunities for the Tigers. Matthews would do well to show some power in the bench press and athleticism in testing to show that he's not simply a finished product without much ceiling.
Beyond that duo, there are plenty of other talented linemen expected to work on the Lucas Oil Stadium turf. Michigan's
Taylor Lewan
, Notre Dame's
Zack Martin
, Alabama's
Cyrus Kouandjio
and Virginia's
Morgan Moses
are among the top tackles who will be in Indianapolis. On the interior, the area the Rams are almost certain to need reinforcements, guards such as UCLA's
Xavier Su'a-Filo
, Mississippi State's
Gabe Jackson
, Stanford's
David Yankey
, Clemson's
Brandon Thomas
and Baylor's
Cyril Richardson
could also draw the attention of the Rams.
Teams are limited to 60 15-minute interviews during the combine but generally speak to nearly every prospect in some capacity during the week. Don't be surprised if the Rams use plenty of their time with offensive linemen in Indianapolis.