St. Louis Rams:

Tim Walton
December, 31, 2013
12/31/13
4:30
PM ET
EARTH CITY, Mo. -- Black Monday came and went without much of a peep from the
St. Louis Rams
, a welcome development for a team that has had its share of activity on the day after the final game in the past 10 years.
Even after coach Jeff Fisher's first season in St. Louis a year ago, the Rams found themselves in need of a defensive coordinator, formally parting ways with Gregg Williams soon after the season.
After posting 14 wins in two seasons on the heels of a 15-65 five-year performance, Fisher is clearly fine in his position. On Monday afternoon, as teams around the league made sweeping changes starting at the top, Fisher was asked whether he envisioned any changes to his coaching staff.
"I'm not anticipating anything, no," Fisher said.
Of course, saying he doesn't anticipate anything isn't the same as saying nothing will happen. Theoretically, someone could pursue a member of Fisher's staff for a job in the coming days and weeks. Likewise, it's also possible a coach Fisher would like to add could shake loose somewhere and be perceived as a fit.
The name clearly on the minds of many Rams fans did become available Monday when the
Detroit Lions
parted ways with head coach Jim Schwartz. Schwartz was a defensive assistant under Fisher in Tennessee from 1999-2008, including a stint as defensive coordinator from 2001-2008. The duo goes way back and had plenty of success together.
When Fisher hired Tim Walton as defensive coordinator last offseason, part of the impetus came from Walton's knowledge of Fisher's defensive scheme. Of course, Walton learned that scheme as an assistant under Schwartz in Detroit.
The Rams' defense struggled for the better part of the first half of the season under Walton but played much better in the second half of the season. When all was said and done, that unit finished 15th in the league in yards allowed per game and 13th in points allowed per game. It wasn't the improvement many had hoped to see from the middle-of-the-pack finish of 2012 but it wasn't far off from a repeat.
While the Rams had their share of head-scratching defensive calls -- things like having cornerback
Quinton Pointer
matched up in press coverage in the slot against Arizona's
Larry Fitzgerald
or the incessant use of soft zone coverage in third-and-short to medium -- they also had plenty of positives such as another strong season rushing the passer and the clear development of rookie linebacker
Alec Ogletree
.
The availability of Schwartz might be intriguing to the Rams but it remains to be seen if they would want to make another change so soon. And, in fairness to Walton, it was his first season as a coordinator in the NFL, which comes with an inherent learning curve.
My initial feeling is that the Rams will indeed move forward with what they have. That doesn't mean things can't change as other situations evolve, but for now it looks like they will keep as much continuity with the staff as possible heading into 2014.
December, 17, 2013
12/17/13
8:00
AM ET
ST. LOUIS -- On Sunday morning a flurry of rumors and speculation about multiple issues surrounding the
St. Louis Rams
popped up all over the place. None of them were particularly Earth-shattering, but one of the reports did carry some interest.
NFL Network reported during its pregame show that Rams coach Jeff Fisher was taking a more "hands on" approach with his defense and coordinator Tim Walton had taken a backseat.
On Monday afternoon, Fisher quickly shot down that notion.
"That comes from someone that doesn't know what they're talking about," Fisher said.
In his first year as coordinator, Walton has drawn plenty of criticism for some of the puzzling coverage schemes and, especially, the disappointing performance of many of the team's young defensive backs. But Fisher and the defensive coaching staff have long maintained that the defense is a collaborative effort, an idea that they emphasized before Walton's arrival and continued after he came to St. Louis.
The Rams run Fisher's defense so he's always had a hand in the approach. There are limited ways in which he could be more hands on than he's always been.
One way would be for Fisher to actually call the defense. His scoffing at the suggestion of a larger role combined with no evidence of that during Sunday's game against New Orleans would seem to indicate Fisher is as involved with the defense as he's always been. That means offering suggestions to the coordinator during the game and helping put the game plan together during the week. Which is to say he's deeply involved, just like the rest of the defensive staff.
When it was suggested to Fisher that it was a busy weekend for rumors and innuendo, he opted to dismiss all of them at once.
"There was a lot of that stuff," Fisher said. "Interesting. I don't know. We work upstairs, then we come downstairs, we go onto the field, and don't pay attention to that stuff."
I.C.Y.M.I.
A roundup of Monday's Rams stories appearing on ESPN.com. ... In
Upon Further Review
, we took a look at four hot issues coming out of the Rams' win against the Saints. ... In the
Ram-blings
, we opened with the Rams' apathy toward the Rob Ryan storyline from last week even after their win. ... In the
rookie review
, we looked at snap counts and production by the rookie class against New Orleans. ... In three things
revisited
, we examined how the Rams fared in three key categories of Sunday's win. ... Finally, it was time for a quick
injury update
on receiver Tavon Austin.
Elsewhere:
At stltoday.com, columnist Bernie Miklasz
discusses
what a find running back Zac Stacy has been for the Rams.
Miklasz also writes about the
surprise
the Rams sprung on the Saints.
Bryan Burwell offers his
thoughts
on the Rams' victory.
Jim Thomas makes note of quarterback Kellen Clemens' most
accurate
performance as a starter in the NFL.
Turf Show Times tips its cap to the
performance
of the Rams' offensive line in 2013.
December, 7, 2013
12/07/13
4:00
PM ET
ST. LOUIS -- Three things to watch in Sunday's game between the
St. Louis Rams
and
Arizona Cardinals
. The game kicks off at 4:25 p.m. ET at University of Phoenix Stadium.
Stopping the run the first priority
Make no mistake, the Cardinals' offense is centered on its ability to pass, namely to throw the ball vertically and get plays downfield to receivers
Larry Fitzgerald
and
Michael Floyd
.


But a big part of Arizona's second-half surge is based on an improved ability to run the ball. The Cardinals are far from a dominant team on the ground, but they now have a competent enough run game to open things up for the rest of the offense.
Since making running back
Andre Ellington
a part of the offense, the Cardinals have become a team capable of making big plays on the ground and a versatile enough offense to keep teams off balance.
"They're keeping their mix with it," Rams defensive coordinator Tim Walton said. "They're doing the zone-kick stuff and then some of the bootleg stuff and misdirection off the pass game just to keep you honest. And they're staying with it enough that you have to honor it all the time, which that play-action stuff opens it up for Fitzgerald, Floyd and those guys to push the ball down the field, which they've been doing a good job."
Perhaps more important, the improved run game also allows the offensive line to have a little bit of a breather from the constant pressure it was seeing early in the season.
The Rams have been better against the run in recent weeks, but if they want to get after
Carson Palmer
with the pass rush, they'll need to slow down Ellington and Co. first.
Plenty of pressure
With the return of linebacker
Daryl Washington
into the mix after a suspension, Arizona's defense has really taken off. The Cardinals rank seventh in the league in total yards allowed and fourth against the run.
Washington's versatility has also enabled the Cardinals to turn up the heat with coordinator Todd Bowles' variety of blitz packages and pressures.
"They're pressuring on every down, but it's sound pressure," Rams coach Jeff Fisher said. "They're doing a lot of unique things. They just don't line up and do the same thing over and over again. They're going to game plan you. They're going to have a sophisticated pressure package on third down. So, you've got to be sound in your protections and they defend the run very well."
Arizona's ability to stop the run could shift some of the offensive onus for the Rams on to quarterback
Kellen Clemens
and the offensive line to make some plays in the passing game. That's a big ask given the inconsistencies of the receivers catching the ball and Clemens to throw it accurately.
Complicating matters further for the Rams is an offensive line in flux with many moving pieces upon the possible return of guard
Harvey Dahl
. Keeping Clemens upright has to be a priority for the Rams in a game where revving the run game might be difficult.
Maintain discipline
The Rams have accumulated 87 penalties this season, tied for fifth most in the NFL. Those infractions hit a crescendo last week when their 11 penalties for 105 yards set season highs in both categories.
Whether all of those penalties were legitimate is beside the point. The Rams simply aren't good enough to overcome the continued mistakes and have done enough to have officiating crews on the lookout for said errors.
It also wouldn't hurt if the Rams, particularly in the secondary, would cut down on the constant yapping that only seem to put officials on high alert during their games.
Walton says he doesn't mind the feisty approach so long as it's kept in check.
"They're getting better each week," Walton said. "They're growing, they're developing, they're competing and they're making some plays. That's the nature out there. When guys throw the ball a lot, they're going to get some on you at times. We just have to keep working on finishing and me do a better job of just keep mixing coverages with them to help them out, to keep give different looks out there."
Arizona is 5-1 at home this season and figures to be a tough out regardless. Anything the Rams do to help them out via silly penalties only makes the task more difficult.
October, 4, 2013
10/04/13
2:30
PM ET
EARTH CITY, Mo. -- Until the
St. Louis Rams
defense proves it can stop a team from running the ball nearly at will, they expect upcoming opponents to follow the path set forth by San Francisco and Dallas the past two weeks.
"Oh yeah," Rams defensive tackle
Michael Brockers
said. "It's a copycat league. I think a lot of people will do the same thing and try to be as productive as Dallas was and stuff like that, so we have to focus on what we did wrong in that game and just go forward. Teams are going to try to come in here and try to do the same thing and gash us."
[+] Enlarge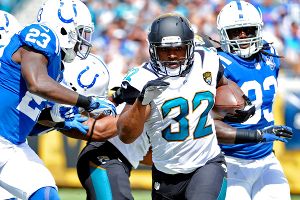 Melina Vastola/USA TODAY SportsMaurice Jones-Drew's size may make him elusive, but the Rams are trying to take a more fundamental approach to their run defense.
The Niners and Cowboys did just that to the tune of 206 yards per game and an average of 5.56 yards per carry. It was an alarming addition to the Rams' ever-growing list of issues after opposing run games were virtually nonexistent in the first two weeks.
How did a defense that allowed 122 yards and an average of 2.9 yards per carry against Arizona and Atlanta suddenly spring so many leaks?
To a man, the response in the Rams locker room is one that would make San Antonio Spurs center
Tim Duncan
proud.
"We've got to go back to just fundamental football," defensive coordinator Tim Walton said. "Like I said, we've got to be able to be in our gap and do your job. Then, we have to tackle, leverage the ball, get off blocks and once you do that, that starts with us regardless of who we're playing. That starts with us of getting that stuff -- just being fundamentally sound across the board."
To the eyes of Walton and nearly every Rams defender who discussed the topic this week, that was a familiar refrain. Run defense is a simple concept that requires far more finite execution. One player out of position can ruin it for 10 that are in the right spot.
Of course, being in the proper position doesn't mean much if you don't follow through on making the tackle. Tallying missed tackles is an inexact science because of mitigating factors so take numbers for what they're worth, but Pro Football Focus has the Rams down for 33 missed tackles on the season with 19 of those coming in the past two weeks.
Missed tackles and missed run fits have pushed the Rams to 30
th
in the league in run defense, allowing 133.5 yards per game.
Walton doesn't allow his players to shoulder all of the blame, either, pointing out that he can help them be where they need to be.
"It starts with us doing our job, doing our stuff," Walton said. "My job is I've got to put them in a better position, and then we've just got to go out and execute, like I said, fundamental football. If you get off blocks, if you leverage the football, if you're in your right gap, if you tackle, all those things, you've got to understand their formations and their tendencies and what they're trying to do and we'll be fine. We'll get back on track with that stuff."
Jacksonville doesn't come to St. Louis this week with the same power rushing attack that the Rams saw against the Niners or even one like the Cowboys. Jacksonville is posting 49 yards per game on the ground, better only than the Rams.
Maurice Jones-Drew
remains the Jaguars' primary back but has had trouble getting on track this week. When looking at Jones-Drew, Brockers mentions that size can be an issue in locating him, not unlike it is with the Niners'
Frank Gore
.
"For a big guy like me that doesn't really see things down that low and they hide behind the offensive linemen getting in small gaps and breaking big runs," Brockers said. "For the most part, we have just got to get them in closed spaces and everybody has to get to the ball."
In a sense, it's good that the Rams seem to have easily identified the problems with the run defense. But on the other hand, when the problems are something so basic that speaks to a larger issue. If a team struggles with the basics, how can it reach a point where it's more complicated and able to dictate to offenses what it wants to do rather than vice-versa?
Regardless of Jacksonville's struggles in the run game, the Rams have to find a way to get back to basics or they could be on the wrong end of a self-correction for the Jags much like the Rams hope to with their own run game this week.
Like defending the run itself, it's easier said than done.
"Now we have to do it," Walton said. "We have to apply it and we have to do it on Sundays. And we'll get that going. We're working on it. That's the main thing because that's what they're going to do. They have a good back. They're going to feature the back, so we have to get that problem solved."
September, 21, 2013
9/21/13
5:00
PM ET
EARTH CITY, Mo. –
Three things to keep an eye on as the St. Louis Rams visit the Dallas Cowboys on Sunday afternoon at 1 ET.
Better start.
The Rams have gotten off to a slow start in each of their first two games -- which has left them scrambling to make second-half comebacks.
In the opener against Arizona, the Rams were able to overcome a sluggish beginning that left them facing an 11-point, fourth-quarter deficit; they couldn't do the same in Week 2 against Atlanta, when they had to try to erase a 21-point, second-half margin.
The blame can't be assigned to any one phase, as the offense has struggled to get going, the defense has given up big plays and special teams have struggled to win the field-position battle. All three phases have been guilty of costly penalties.
To get a victory in Dallas this week, the Rams would do themselves a big favor by getting off to a better start.
"If you get behind in the first quarter, you are at a huge disadvantage," middle linebacker
James Laurinaitis
said. "It's one thing to be at home, but to be on the road and do that … we have got to find a way to start faster. How do we do that? How do we start faster?
"We've shown that when we kind of turn it on in the second half of games, it's been pretty good, but that inconsistency, if we don't fix that, that inconsistency at the end of the year, you know a winning record, that's what we are fighting for."
[+] Enlarge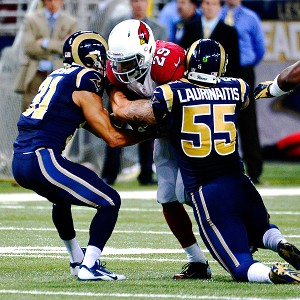 Scott Rovak/USA TODAY SportDespite a possible last-place finish, another win over Arizona would prove that James Laurinaitis and the Rams aren't pushovers in the NFC West.
Something's gotta give.
One of the reasons the Rams have struggled defensively so far this season has been a consistent inability to get off the field when third-down opportunities arise. Through the first two weeks, the Rams are tied for last in the league in third-down defense, allowing opponents to pick up a first down 51.9 percent of the time.
This week, St. Louis faces a Dallas team that could have trouble taking advantage of the Rams' early difficulties in that area. The Cowboys have regularly failed to keep drives alive on third down, converting just 30.8 percent of the time, good for 29th in the league.
Logic dictates that one side is going to have to have some measure of success this week -- and the one that does better on third down could go a long way toward a victory.
"I have to clean up that part of it and put them in better situations to allow them to get off the field on third down," defensive coordinator Tim Walton said. "That'll take care of most of it right there, because if you get off the field more on third down, that eliminates the extra plays that you have to play during the course of the game. That takes 10-12 plays off the game -- and that's on me to get that done."
Pushing the pace.
It's a topic that probably been talked about too much in St. Louis this week, but the fact remains that the Rams have been more successful offensively this year when they go to their two-minute, no-huddle offense.
They've maintained that they won't be turning to that approach on a regular basis, and it'd be silly to expect them to do so, but it is worth wondering if the Rams might start using it as a changeup earlier in games rather than waiting until they fall behind.
The offense moves the ball and puts up points out of the faster tempo -- and quarterback
Sam Bradford
has indicated a preference toward using the approach on occasion to keep defenses off balance.
"I like it," Bradford said. "I think we had success last week with it. Obviously, we were down. They were playing a pretty soft zone (coverage), so it was easy to get a lot of completions. I think it put them on their heels a little bit. Any time you go fast, it just forces them to think quicker than they're normally having to."
We'll see if the Rams look to incorporate the fast-break style a bit sooner against the Cowboys.
September, 21, 2013
9/21/13
1:00
PM ET
EARTH CITY, Mo. –
Sunday's game between the St. Louis Rams and Dallas Cowboys has plenty of intriguing matchups, making it difficult to boil it down to just a few. Here are three to keep an eye on when the teams kick it off at 1 p.m. ET at AT&T Stadium.
Rams CB Janoris Jenkins vs. Cowboys WR Dez Bryant
Another week, another elite receiver for Jenkins and the Rams secondary to deal with. Last week it was Atlanta's
Julio Jones
doing the damage, beating Jenkins for an 81-yard touchdown -- though Jenkins should've had some help from safety
Rodney McLeod
on the play.
Bryant battled a back ailment all week, but is listed as probable and coming off a big outing last week in Kansas City. The Rams have been torched in the passing game the first two weeks -- and Bryant might be the most dynamic of all the wideouts they've faced yet.
Jenkins has been better than the rest of the Rams' corners so far, but this might also be his biggest challenge. Rams defensive coordinator Tim Walton took responsibility this week for the big days top wideouts like Jones and Arizona's
Larry Fitzgerald
have had against his secondary.
[+] Enlarge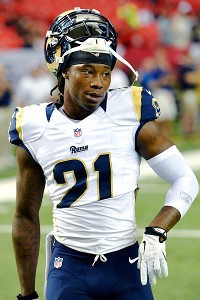 AP Photo/G. Newman LowranceThe tests get tougher for Rams cornerback Janoris Jenkins: This week it's Dez Bryant.
Look for Jenkins to get his chances to go up against Bryant -- but for Walton to find ways to provide more help for his young corner.
"You've got to make sure you take care of him," Walton said of Bryant. "You've got to double him. It's the same thing, he's one of the best receivers in the league -- physical and they're going to get him the ball. We have to try to do a better job of taking away guys' No. 1 threat and he is their No. 1 guy."
Rams DE Robert Quinn vs. Cowboys LT Tyron Smith
Quinn has been, perhaps, the league's most dominant pass-rusher in the first two weeks and has also made major strides as a run defender.
"He has really taken a big step forward, but he does it every day at practice," Walton said. "(Defensive line) coach (Mike) Waufle has done a great job with him -- technique, leverage, alignments. And he's done that through (organized team activities), training camp and you can see now in the first couple games of the year, he's off to a great start with that. He plays with a great motor."
Along the way, Quinn has done his work against Arizona's
Levi Brown
and Atlanta's
Sam Baker
but he has yet to see a tackle the caliber of Dallas' Smith.
Smith didn't allow a sack in games against Kansas City or the
New York Giants
, and has proved himself to be one the league's top up and coming tackles.
In many ways, Sunday's matchup will be between two of the league's best young players at their respective positions.
Rams OL vs. Cowboys DE DeMarcus Ware
Technically, this matchup should read "Rams left tackle
Jake Long
vs. Cowboys DE DeMarcus Ware," but the reality is that the Cowboys have showed no inclination to put Ware in one spot and let him operate from there.
Long has been excellent in the first two weeks, particularly in Atlanta in Week 2, but in Ware he'll find his most difficult challenge yet and one of the most difficult challenges in the league.
Ware spent his first eight seasons as a rush linebacker in a 3-4 but has showed no signs of slowing with his hand in the ground as a 4-3 end with a pair of sacks through two games.
With
Rodger Saffold
out because of a knee injury, the Rams will likely start
Joe Barksdale
at right tackle, so don't be surprised if the Cowboys look to test the younger Barksdale by having Ware switch sides on occasion.
"I think they're going to move him around all the time, just try to get different matchups at different times," Rams offensive coordinator Brian Schottenheimer said. "Again, a player like that, they'd be crazy not to move him around."
September, 7, 2013
9/07/13
6:00
PM ET
EARTH CITY, Mo. –
Three things to watch in Sunday's regular season opener between the St. Louis Rams and Arizona Cardinals. The game kicks off at 4:25 p.m. ET at the Edward Jones Dome.


1. Getting vertical
A big part of Sunday's matchup is trying to know the unknown. Arizona has a new coaching staff and along with it new schemes on both sides of the ball. It's the offense that figures to change the most under the guidance of new coach Bruce Arians.
Arians has long been known for his preference to attack down the field with a vertical passing game. That philosophy brought the offseason acquisition of quarterback
Carson Palmer
.
As interim coach and offensive coordinator in Indianapolis in 2012, Arians was no different. The Colts tied for sixth in the league with 35 completions of 25-plus yards and ranked first in the league with an average depth of completion of 7.8 yards. Furthermore, the Colts tied for first with 59 pass attempts of 21-30 yards.
It's safe to assume Arizona will want to attack in similar fashion, with Palmer targeting the likes of
Larry Fitzgerald
,
Andre Roberts
and
Michael Floyd
. For that to work, the Cardinals will look to establish the running game with a variety of zone runs and then look to beat the Rams with play-action passes.
The onus then falls on two first-time starters at safety --
T.J. McDonald
and
Rodney McLeod
-- to ensure that Palmer and Arians aren't able to go deep for big plays.
"They do a good job of blending in misdirection runs, shifts, motion, different personnel groups, and off of that, throwing the ball down the field," Rams defensive coordinator Tim Walton said. "That's been his staple. That's what he's about. They get you so they can try to take the top off the defense, and if you get soft to cover that, that's when the run game can get you. So we have to be well-balanced."
2. A new look
Arizona isn't the only team ready to debut a new-look offense Sunday. The Rams have worked hard to keep their new toys under wraps through training camp and the preseason, and Sunday will provide the first chance to see quarterback
Sam Bradford
with tight end
Jared Cook
, receiver
Tavon Austin
and others in what is expected to be a more spread-out, up-tempo offense.
Rams offensive coordinator Brian Schottenheimer has said his group plans to pick its spots in turning up the pace, and acknowledged that there will be some new things mixed in with what they've already done.
"At the end of the day it comes down to, we have a plan," Schottenheimer said. "They have rules to adjust to our plays, and they have [a] defense that they're going to show that we have seen in our rules. It certainly will have more to it [than] you saw in the preseason, but there'll certainly be some similarities, as well."
3. Under control
For the second consecutive year, the Rams have the league's youngest squad. Of the 53 players on the active roster, 28 are entering their first or second season.
Rams coach Jeff Fisher & Co. have made it clear they don't intend to use that as an excuse for any mistakes they make, but they've also acknowledged the reality that a younger team is going to be prone to some miscues. The Rams were hit with 43 penalties for 294 yards in the preseason, but many of those infractions came courtesy of players no longer on the roster or further down the depth chart.
Still, the Rams did lead the league in penalties in 2012. If nerves were ever going to be raging for a young team, opening day would seem to provide a platform. Avoiding penalties, blown coverages and other mental mistakes, and maintaining composure, will be imperative for a young Rams team.
"
We'll keep them rested and hydrated, but, yeah, they just need to keep their heart rate down and just relax," Fisher said. "That's the key for the young guys – just relax and go play hard."
September, 2, 2013
9/02/13
3:00
PM ET
Halfway through
St. Louis Rams
defensive tackle
Michael Brockers
' rookie season he found himself wondering if he was going to be able to have the kind of impact expected of the 14th pick in the NFL draft.
The first half of the season had essentially been a wash as Brockers dealt with the lingering effects of a high ankle sprain suffered in the preseason finale. He returned in Week 4 but the ankle injury didn't allow him to perform the way he'd hoped.
[+] Enlarge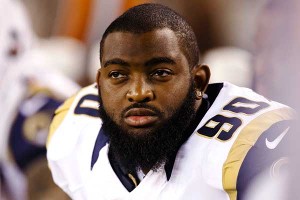 Rick Osentoski/USA TODAY SportsRams defensive tackle Michael Brockers is hoping for a more productive year on the field in 2013.
Things were so bad that Brockers doesn't even like the mention of the first eight games of his career. He prefers not to watch the game film from his first five appearances.
"I can't put it into words from my mouth because it was just really bad," Brockers said. "When I look at myself toward the end of the season and look at myself toward the beginning of the season, my stance has changed, I'm coming off the ball different, I'm reading plays different, everything is different when you first get into the league because everything is going fast and I had the ankle so I'm playing tentative. It really was bad tape to watch. I hate watching it but now that we moved on to different games and later in the season, I am just trying to progress off of that really."
Brockers' breakthrough performance came right at the beginning of the second half of the season. Motivated by the opportunity to face San Francisco's tough, physical offensive line, namely guard
Mike Iupati
, Brockers said it was in that Week 10 game that he finally put all thoughts about his ankle out of his mind.
"The game I like to play is smashmouth football," Brockers said. "That game really put a lot of pressure on the ankle. After that, I was like 'this ankle can hold up' and I can go out and play. I think that was the turning point."
Brockers never looked back in the second half of the season though he had his share of ups and downs, as rookies tend to do. He again gave San Francisco fits in Week 13, and put on another dominant performance against Buffalo the following week.
That late-season performance combined with an offseason in which he has reshaped his body has many observers believing that Brockers, on a team full of young potential, is the most likely to emerge into a full blown star in 2013.
"Mike did a great job coming back off the high ankle (injury), and really finished up strong toward the second half of the season," coach Jeff Fisher said. "He's worked very hard. He's changed his body, and we think he can be a dominating player inside."
The changing of the body has seemed like something of a neverending process for Brockers, even dating to before he entered the league. Brockers arrived at the 2012 scouting combine around 322 pounds but dropped down to closer to 310 through the draining process of draft preparation.
Brockers put some of that weight back on as he dealt with the ankle injury, but it wasn't the type of weight he'd hoped. After the season, Brockers wanted to make it a point to turn that weight into muscle and refine his already massive frame.
After having surgery to remove bone spurs from his other ankle, Brockers returned to LSU to work out and spent extra time with Rams strength coach Rock Gullickson.
Brockers said he didn't do anything special in terms of altering his workouts and tweaking his diet a bit. Entering this season, Brockers checked in at 326 pounds, heavier than he played at any point last season but he says the majority of that is 9 pounds of muscle mass he added in the offseason.
"I'm heavier but I feel better," Brockers said. "It's all for the better and I think this weight hasn't done anything but make me more explosive, make me better and more powerful."
As with any second-year player, Brockers is still a work in progress. He was considered a bit raw coming out of LSU anyway, particularly as a pass-rusher, but he actually exceeded expectations in that regard with four sacks as a rookie.
Pro Football Focus gave Brockers a neutral cumulative grade of 0.0 for rushing the passer in 2012. Individual game grades were up and down so the onus falls on Brockers to find more consistency.
Brockers says he spent a lot of his offseason working on little details like hand placement, footwork and pad level. All of those things still require plenty of polish.
New defensive coordinator Tim Walton plans on using Brockers in a variety of ways, too.
"He's a stud up front," Walton said. "He's a big athlete. He gives you a lot of flexibility. Also, being able to play a 2-technique, 1-technique, 3-technique, put him right over the center in the zero -- so he gives you a lot of flexibility because he's athletic. He can run, you can widen him out a little bit and get him on the edge, so that's a valuable option for him also."
Fisher has often said that most players make their biggest improvement from Year 1 to Year 2. If that holds true for Brockers, big things are in store in 2013. But perhaps the real upside may not even come until his third year given the fact the first half of his first season was essentially a wash.
If Brockers can develop as he and the Rams hope, it would make for a potentially devastating defensive line. Ends
Robert Quinn
and
Chris Long
are more known commodities and that group led the way for a team that finished tied for first with Denver in sacks a year ago.
Still, a closer look at those sack numbers reveal a defense that occasionally got sacks in bunches (nine came in one game against Arizona) rather than consistent pass rush throughout the season. A big part of that inconsistency was a need for push up the middle.
Brockers' continued development inside would only buoy the work on the edge by the likes of Quinn and Long, and allow them to finish more plays rather than watch quarterbacks step up into a more comfortable spot in the pocket.
Another step forward for Brockers would equal another step forward for the defense. It's a step he says he's ready to take.
"Definitely, if you are in this league and you don't think that, there's something wrong with you because you are playing against the top athletes in the world," Brockers said. "And you have to feel like you are one of the best or can be one of the best. That's an awesome feeling. Going into this season, that's how I feel and if I come out to work every day and practice hard and play hard then the sky is the limit."