St. Louis Rams:

Ty Nsekhe
September, 24, 2013
9/24/13
11:55
AM ET
EARTH CITY, Mo. -- In this
morning's version
of the Ram-blings, the final story we linked to was about former Rams offensive tackle
Ty Nsekhe
and some offensive comments he made on Twitter toward the military.
Apparently, some reports referred to Nsekhe as a current member of the team, though he was released in the final round of cuts on Aug. 31. The Rams took the step to release a statement distancing themselves from Nsekhe and his comments as much as possible.
An excerpt from that statement:
"While it is typically not our policy to comment on players who are no longer with our team, in this instance we thought it was important due to the reprehensible comments toward our military. The opinions Nsekhe shared via social media are his own and are completely contradictory to the values of our organization and the priority we place on military and veteran appreciation."
In the exchange, which took place on Twitter, Nsekhe responded to this tweet from a user named Morgan Reed (@_morganism_):
"Hard to believe that a player in a helmet defendin' a football makes more money than a soldier in a helmet defendin' his country."
Mind you, the tweet wasn't even directed at Nsekhe or anyone in particular, it was simply offered without comment. Nsekhe responded with the following:
"It doesn't take much skill to kill someone."
Of course, Nsekhe has since taken down the tweet and offered his version of an apology, though his two tweets addressing the topic don't offer the words "I'm sorry" anywhere in them. His Twitter bio (@TY_Nsekhe) also still lists him as a member of the team.
It comes as no surprise that the Rams responded so aggressively in making it clear that they no longer have any affiliation with Nsekhe. The Rams have long been big supporters of the armed forces and that has only been taken to new heights under coach Jeff Fisher. Fisher is heavily involved with the Wounded Warriors and has started a yearly tradition of taking his team to Scott Air Force Base for a walk-through with the airmen and airwomen there. That's just the tip of the iceberg in terms of activities the Rams do with the military.
At this point, it was pretty clear the Rams had moved on from Nsekhe -- they're carrying 12 offensive linemen and he's not one of them -- but any chance he had of a return is almost certainly gone in 140 characters now.
September, 1, 2013
9/01/13
11:00
AM ET
Another piece of the roster puzzle will gain clarity Sunday at noon ET, when teams can begin the process of signing players to their eight-man practice squad. More often than not, those players will come from the most recent list of cuts the team made to whittle down to an initial 53-man roster.

Players must first clear waivers before they can be added to the practice squad and players who are already free agents are also eligible.
To meet the criteria to land on a practice squad, players cannot have appeared in more than eight regular-season games in any one season and cannot have been on a practice squad for more than three seasons (three weeks equals a season until the third season when one week counts). If a player who has spent two seasons on the practice squad signs, the team must maintain a full 53-man roster for each game he is on the practice squad.
The practice squad generally serves as the scout team players who provide different looks for the offense and defense throughout the week. Whenever you hear about a player emulating an opponent, it's more often than not someone from the practice squad. For example, Rams DE/LB
Sammy Brown
was a member of the practice squad last year and went so far as to wear a blonde wig to put on the appearance of Green Bay linebacker
Clay Matthews
.
Many of the guys who play on the practice squad never make the active roster but in St. Louis, that's not necessarily the case. Tight end
Cory Harkey
, Brown and center
Tim Barnes
got the call to the active roster in 2012. This year, running back
Chase Reynolds
and offensive lineman
Brandon Washington
made the active roster in the initial cut to 53.
Here's a quick rundown of the players eligible for the Rams practice squad from the most recent list of cuts:
QB Austin Davis
FB Eric Stevens
TE Philip Lutzenkirchen
OT D.J. Young
OT
Ty Nsekhe
OT Sean Hooey
WR Nick Johnson
WR Justin Veltung
WR Emory Blake
DL Garrett Goebel
DL
Mason Brodine
DL Sammy Brown
DL R.J. Washington
S Rashard Hall
S Cody Davis
CB Drew Thomas
CB Darren Woodard
CB Andre Martin
Players released in the first round of cuts are also eligible to land on the practice squad.
Since we've been in prediction mode lately, here's a quick guess (emphasis on guess) at the Rams' eight-man practice squad: QB A. Davis, WRs Veltung and Johnson, OT Hooey, OT Nsekhe, DL Brodine, CB Woodard, S C. Davis.
August, 22, 2013
8/22/13
8:24
PM ET
EARTH CITY, Mo. – With a heavy heart, Rams defensive end
Eugene Sims
returned to practice Thursday afternoon.
Sims had been gone since after the preseason opener on Aug. 8, attending to the death of his mother, Jeanelle, 42. He returned home to Mount Olive, Miss., to be with his family and for the funeral services, which took place Wednesday.
"It's been a long week for me," Sims said. "It's been real stressful but it's good to be back with the team, with my brothers, and keep myself busy to try to help myself heal from what's going on."
With the full support of his teammates and the organization, Sims took care of what he needed to in Mississippi. He leaned on football while he was away to take his mind off of things, something he said he plans to continue moving forward.
[+] Enlarge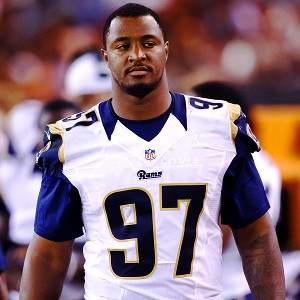 Rick Osentoski/USA TODAY SportsRams DE Eugene Sims said he often studied his playbook to take his mind off his mother's death.
The defensive line, a particularly close group within the team, regularly kept in contact with Sims while he was away. End
William Hayes
called him every day.
When the situation at hand got overwhelming, Sims said he would study his playbook.
"My teammates have been there 100 percent," said Sims, entering his fourth NFL season. "I have never been around a group of guys like this. They have been positive with me and they keep my head straight. All the coaches have been behind me, the whole organization actually."
The soft-spoken Sims had something of a breakout year in 2012, becoming an integral part of the defensive-line rotation with 20 tackles, three sacks and an interception.
Getting Sims back in that rotation should help an already cohesive line continue to mesh in advance of the regular season. Of course, it should also provide an outlet for Sims at a time when it's needed most.
"First day back, it's good to be back," Sims said. "I have a lot on my mind, but still at the same time I have business to take care of and I'm going to take advantage of the opportunity and go forward."
Thursday practice notes
The Rams haven't fully transitioned to regular-season mode but they are on the way. They closed the open portion of the preseason Wednesday night and practiced without the pomp and circumstance for the first time Thursday.
Coach Jeff Fisher said the team would begin moving things up a bit earlier and shift the schedule around before the final preseason game next week.
"The difference between yesterday and today is that we don't have any evening meetings," Fisher said. "So we still have a lot of work to do. Typically when you break camp, you move everything up a little earlier and that's what we'll do next week."
Offensive tackle Ty Nsekhe returned to practice Thursday after sitting Wednesday because of the flu.

Tight end Lance Kendricks (knee) got more work on the side as he continues his comeback. Defensive tackle Jermelle Cudjo was back in uniform but limited Thursday.

Offensive tackle Rodger Saffold said he hopes to play Saturday night against Denver as he comes back from a left-shoulder dislocation. He said that decision probably wouldn't be made officially until closer to the game.