St. Louis Rams:

Will Witherspoon
March, 5, 2014
3/05/14
10:30
AM ET
The free-agent market is scheduled to begin March 11 and teams may begin negotiations with those poised to hit the market beginning March 8. We'll countdown to that with a position-by-position look at what the Rams have in place, who is set to hit the market, what they might need and who might fit the bill.

In place:
The Rams spent a first-round pick on outside linebacker
Alec Ogletree
in an effort to give middle linebacker
James Laurinaitis
a long-term running mate. Both are under contract for the foreseeable future and will continue in their roles as mainstays on the defense in 2014.
Beyond that duo, the Rams have an intriguing group of youngsters who double as the core of the team's special teams units.
Ray Ray Armstrong
and
Daren Bates
were difference makers on special teams when they weren't accumulating silly penalties and figure to return to those jobs next year.
Undrafted rookie
Phillip Steward
is a name that many don't know because he suffered a season-ending injury before the season even began. But the Rams thought enough of him to stash him on injured reserve all year and he could fight for a spot in training camp.
Pending free agents:
Jo-Lonn Dunbar
,
Will Witherspoon
What's needed:
With Dunbar and Witherspoon scheduled for free agency, the Rams need a third linebacker to play when they aren't in their sub packages. While the Rams, like most teams, find themselves playing with an extra defensive back or two more often than not, the need still exists for a player who can be the team's primary option as the third linebacker.
Dunbar or Witherspoon could be brought back as a possible veteran option so long as they're cost effective. Armstrong got a handful of snaps on defense in 2013 and could also figure into the mix though it's questionable whether he's ready for that type of responsibility.
Possible fits:
There aren't many solid 4-3 outside linebacker options on the market though Denver's
Wesley Woodyard
is a good player who might not break the bank. Veteran
Jonathan Vilma
has ties to Rams defensive coordinator Gregg Williams and would make sense as a fit if the Rams choose to go the veteran route. He also probably wouldn't cost much money though at this point in their respective careers, bringing Dunbar back is probably the more logical option.
Verdict:
I expect the Rams to add an outside linebacker at some point this offseason, though it might come via the draft rather then free agency. If the Rams do go the free-agent route, Dunbar's return makes the most sense. Otherwise, an outside linebacker in the middle rounds would also be logical.
December, 19, 2013
12/19/13
8:00
PM ET
EARTH CITY, Mo. -- Earlier this week,
St. Louis Rams
coach Jeff Fisher said he hoped receiver
Tavon Austin
would practice at some point this week as he continues to battle an ankle injury.
Austin
Austin will have one more chance to do that Friday after he sitting out practice for the second consecutive day Thursday. Austin suffered the ankle injury near the end of the team's game against Arizona in Week 14. He did not practice last week and missed his first game against New Orleans. But Austin is out of his walking boot and appears to be moving around better.
The chances for Austin to get back on the field this week against Tampa Bay will likely hinge on his ability to return to practice Friday.
Elsewhere on the injury report, the Rams made some additions to the two they had listed Wednesday. Here's the full breakdown:
Did not practice:
Austin (ankle), running back
Daryl Richardson
(thigh), offensive tackle
Mike Person
(illness), linebacker
Will Witherspoon
(illness)
Limited practice:
Cornerback
Janoris Jenkins
(back)
November, 8, 2013
11/08/13
11:45
AM ET
EARTH CITY, Mo. -- There aren't many
St. Louis Rams
still with the franchise from the time offensive lineman
Richie Incognito
was with the team. There are three, to be exact.
Incognito
But linebacker
Will Witherspoon
, end
Chris Long
and linebacker
James Laurinaitis
never had any problems with Incognito in their time together in St. Louis and certainly had no reason to categorize him as a bully.
Incognito, of course, has come under fire in Miami for racially insensitive comments and alleged bullying tactics against tackle
Jonathan Martin
. Martin has since left the team and the situation seems to come with new revelations by the day.
None of the Rams remaining on the roster (or back on it, in Witherspoon's case) are too keen on what's come out about Incognito in recent day, but they also had no qualms with him as a teammate, either.
Long played with Incognito for nearly two full seasons after coming to the Rams in the 2008 NFL draft.
"Richie was a great teammate," Long said. "I really enjoyed having Richie on the team. Obviously he had the racially insensitive language, and it's a line you don't cross. I never heard him say anything like that here. But Richie was really well liked by everybody here."
Witherspoon and Incognito were friends during their overlap in St. Louis, playing together from 2006 through the first five games of 2009 before the Rams traded him to Philadelphia. The veteran linebacker said he was a bit surprised by the things coming out of Miami, particularly when it comes to the racial side of the equation.
"When it comes to anything that was said racially, that's totally unacceptable," Witherspoon said. "Richie and I have known each other for a long time, I have been out with him before. I don't think he's actually a racist by any means but I think he took something to the extreme that he shouldn't have."
Laurinaitis had the shortest window to get to know Incognito as he entered the league as a second-round draft pick in 2009. The two didn't even get a full season together before the Rams released Incognito.
In that short span, Laurinaitis also had no issues with Incognito, even though Laurinaitis was a rookie in their time together. Laurinaitis noted he has never received a voice mail from Incognito of any type.
"I never had any problems with Richie," Laurinaitis said. "I know nothing of what's going on down there. I haven't talked to him since he left here."
Offensive tackle
Jake Long
and defensive tackle
Kendall Langford
are current Rams who spent time with Incognito in Miami. Long obviously might have the best insight into how things were with Martin and Incognito last year, but to this point has declined comment on the situation.
September, 9, 2013
9/09/13
12:00
PM ET
ST. LOUIS –
An examination of four hot issues from the St. Louis Rams' 27-24 win over the Arizona Cardinals:
Starting off right:
You'll have to excuse the fans in St. Louis if they are a wee bit excited about winning in the opener. The Rams hadn't opened the season with a victory since 2006, when they defeated Denver in Scott Linehan's coaching debut. The only current Ram who was on the roster then is linebacker
Will Witherspoon
, and he's played for two other teams in the time since then. Given that the Rams now must head to Atlanta and Dallas in back-to-back weeks, they simply couldn't have afforded a loss to Arizona in the opener.
[+] Enlarge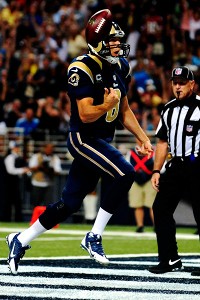 Jeff Curry/USA TODAY SportsSam Bradford ran for a two-point conversion as part of the Rams' fourth-quarter comeback.
Bradford's team:
In case you didn't already know, quarterback
Sam Bradford
is the centerpiece of the Rams' offense moving forward. He helped the Rams post the game's final 14 points in erasing an 11-point fourth-quarter deficit. For the better part of the past decade, the Rams would look to running back
Steven Jackson
when searching for someone to lead a comeback (a situation that presented itself all too frequently). It was no Jackson, no problem for the Rams against Arizona. Bradford was sharp for most of the day, save for the pick-six on a deflected pass in the third quarter. He was 8-of-10 for 76 yards and a touchdown in the fourth quarter.
Coverage concerns:
With the Rams opting to play off in coverage on the outside for most of the day, Arizona quarterback
Carson Palmer
dissected them to the tune of 327 yards and two touchdowns. The Rams often used a similar approach last season, choosing to keep the ball in front of them instead of risk giving up a big play. Against Arizona, the Rams made some adjustments at halftime and things didn't come as easy for Palmer in the second half. He threw for 204 yards in the opening 30 minutes and 123 in the second. All told, it was a performance that prompted Rams cornerback
Cortland Finnegan
to acknowledge that the entire secondary "wanted to play better."
Replacing Jackson:
Daryl Richardson
got the start at running back and was quite involved in the game plan. He finished with 20 carries for 63 yards and five catches for 33 more, coming up just short of 100 total yards. Running room was hard to come by for the most part as the Rams averaged less than 3 yards per carry against a defense that was one of the worst in the league against the run a year ago. Richardson was OK, and coach Jeff Fisher offered praise for his young back after the game but the Rams need to get more from the run game moving forward.
September, 4, 2013
9/04/13
5:00
PM ET
Jo-Lonn Dunbar
's spot on the
St. Louis Rams
' 2013 roster was vacated when he was released from the reserve/injured list early Tuesday evening. But that status isn't necessarily a permanent one.
Rams coach Jeff Fisher discussed the reasons for Dunbar's release Wednesday afternoon and acknowledged the possibility of Dunbar's return.
"We haven't said this is it as far as his future is concerned here," Fisher said. "But we felt it was in the best interest of the organization right now."
Asked directly if there was a possibility of Dunbar coming back, Fisher re-iterated the chances of it happening.
"Of course there's a good possibility," Fisher said. "Anything is possible."
In light of those comments, it's hard to view Dunbar's release as anything but a business decision. Teams must be salary cap compliant by late Wednesday night and the Rams were up tight against the cap before the Dunbar move.
According to numbers collected by ESPN.com, Dunbar's cap number this year was scheduled to come in just north of $1.9 million with the realistic chance (before the suspension) of easily obtainable bonuses that could have stretched the number to $2.3 million. A total of $500,000 of that money is rolled over from signing bonus and would count against the cap anyway. That would mean a savings of around $1.4 million but if you remove the quarter season worth of salary he would've lost for the suspension for violating the league's performance enhancing substance policy would reduce that to around $1 million.
Head spinning from numbers yet? Mine too. But here's the easy bottom line explanation. By releasing Dunbar now, the Rams can be cap-compliant tonight and it gives them the opportunity to bring him back after week one on a non-guaranteed contract. The suspension clock begins this week whether Dunbar is with a team or not. Week 5 is still the scheduled return date for Dunbar no matter what team he is on.
Theoretically, the Rams could bring him back next week on a non-guaranteed deal at a reduced rate, place him back on the reserve/suspended list and would then have him back in time for Week 5. They could also bring him back closer to the Oct. 6 game against Jacksonville when he'd again be eligible to play.
Dunbar's departure came under somewhat odd circumstances but Fisher shot down any speculation that something other than the best interest of the team (read: the cap savings) occurred to lead to the move.
"There was nothing," Fisher said. "He and I discussed it, we shared it with you guys, we got it put behind us with the club and his teammates were concerned there was no other issue. It was just a decision we had to make."
In the meantime, Fisher and the Rams are just fine with veteran
Will Witherspoon
stepping into his place.
"Spoon has done a great job since he's been here," Fisher said. "He's been a consistent, productive player every place he's been. Obviously we brought Will in here with the knowledge that Jo-Lonn was not going to be available."
No matter if Witherspoon holds the role all year or Dunbar returns or someone else steps in, the player in that role will likely be on the field just two downs anyway.
James Laurinaitis
and
Alec Ogletree
seem poised to hold down the nickel linebacker jobs.
So for now, we wait and see if Dunbar returns but there's no question that the door is open.
September, 3, 2013
9/03/13
7:05
PM ET
It was less than a month ago that
Jo-Lonn Dunbar
was working with the first-team defense in practice at his usual linebacker position. As of early Tuesday evening, he's no longer a Ram.

The series of events that led to
the news
is a bit on the strange side but the move doesn't come as too much of a surprise given all that's happened since Dunbar's suspension was first announced.
Entering the second year of a two-year deal with the Rams, Dunbar looked poised to have another strong season next to running mate
James Laurinaitis
and potentially cash in with a nice payday as an unrestricted free agent after the season.
That all changed on Aug. 14 when a league spokesman announced that Dunbar would be suspended for four games because of a violation of the NFL's policy on performance-enhancing substances. Rams coach Jeff Fisher
spoke out the following day
and made it quite clear he wasn't happy with Dunbar's mistake.
"First and foremost, we are very, very disappointed in his choices and his decisions," Fisher said then. "It's selfish, it hurts the team but we also see it as an opportunity to learn from a mistake, so we discussed it with the entire squad last night and I think everybody understands the responsibilities that each and every player has as far as taking care of themselves and what you can do and what you can't do."
The Rams moved quickly to demote Dunbar from the first-team defense and plug veteran
Will Witherspoon
in his spot. Fisher went so far as to say that upon return from his suspension,
Dunbar's position would be "re-evaluated"
in terms of whether or not he'd get his job back. Apparently that evaluation has already taken place, given Tuesday's news.
Dunbar's workload in the preseason was relatively limited. He played 63 snaps in the four exhibition games, including just three against Green Bay in the second contest. Dunbar's tenuous situation provided opportunities for undrafted free agents
Daren Bates
and
Ray Ray Armstrong
to get plenty of work, which each player took advantage of.
Armstrong earned the second most snaps among linebackers behind rookie
Alec Ogletree
and secured a roster spot with his consistent performance. When the Rams announced their cuts to the 53-man roster on Saturday, Armstrong and Bates made the team, along with fellow undrafted rookie
Jonathan Stewart
.
All of that came after it had long been established that Ogletree would stay on the field all three downs in nickel packages alongside Laurinaitis, a role Dunbar held in 2012.
While the Rams are clearly high on that trio of youngsters at the position, Dunbar's release probably goes a bit deeper than simply being replaced. Fisher and the Rams have made it repeatedly clear that if given the choice between a veteran and a young player with potential, they prefer not to block the young player from getting the reps needed to get up to speed.
Adding Dunbar's pending free agency to the mix as well as a salary-cap hit that was scheduled to come in south of $2 million but could have gone up to $2.3 million (including expected reachable bonuses) this season for a team tight up against it almost certainly contributed to the move as well. The move should save the Rams in the neighborhood of $1.4 million. After the suspension, it seemed a near certainty that Dunbar wouldn't be back with the Rams.
Parting ways sooner than later allows them more flexibility under the cap and the chance to develop a long-term replacement opposite Ogletree.