September, 1, 2014
Sep 1
8:00
AM ET
I can't believe how fast things move on the outside. I saw an automobile once when I was a kid, but now they're everywhere. The world went and got itself in a big damn hurry.
Leading off
Welcome to Week 2. By now, you probably already know what happened in Week 1. But we'll use this space each Monday to give you a quick reference to every game that happened in the Pac-12.
National reactions
Here's a look at what some folks around the nation are saying about the Pac-12 and its teams.
John Taylor of NBC Sports
hit on a couple of Pac-12 teams
in his Week 1 rewind. USC coach Steve Sarkisian is getting a lot of praise for keeping things together after a tumultuous week leading up to the Trojans' first game.
In the first game of the Steve Sarkisian era Saturday night, the Trojans took out all of their lingering frustrations on an overmatched Fresno State squad by the score of 52-13. Quarterback Cody Kessler passed for 310 yards and three touchdowns ... in the first half alone. The offense ultimately rolled up 704 yards of offense on 104 plays, the latter of which set a Pac-12 record.
Anne Petersen of the Associated Press gets to the heart of
what everyone is thinking in Eugene
... we can finally start looking ahead to Week 2 and Oregon vs. Michigan State.
While Oregon is known for their hyper-drive offense, Michigan State's success last season -- the Spartans went undefeated in conference play -- came in large part because of their bruising defense. The Spartans lost standouts Max Bullough and Darqueze Dennard from that defense, but they still have lineman Shilique Calhoun, considered one of the top players in his league, and linebacker Taiwan Jones, who looked promising in the opener with Bullough gone.
UCLA offensive line coach Adrian Klemm is
catching a little heat
from Pete Roussel for the way his linemen performed in the win over Virginia. The Bruins were without starting center Jake Brendel. And that obviously hurt. But there were bigger line issues at play. Not to mention more than a few wide receiver drops.
The resume of a coach is his tape. And right now, Adrian Klemm has his hands full. He knows it, too. That "super assistant" label from the media doesn't look so fitting right now.
Nationally honored
UCLA linebacker Eric Kendricks was named the
Walter Camp national defensive player of the week
for his performance in UCLA's win over Virginia. Kendricks posted 16 tackles, forced a fumble that led to a UCLA defensive touchdown and also returned an interception for a touchdown. Say what you want about the offense (and there is plenty to say), but Kendricks had a monster game.
News/notes/team reports
Just for fun
Saw this Saturday night and had to tweet it out, because it's equal parts awesome and adorable.
Photo bombed by the cops at his first football game @GoDucks #GoDucks pic.twitter.com/V1CK1Syp3h

— Manny Martins (@EmanuelMartins) August 31, 2014
August, 31, 2014
Aug 31
2:55
AM ET
We never know. We learn.
We have ideas of what teams will look like, and we project based on returning talent, talking with coaches, watching practices and making educated guesses. But we never
really
know until we see what's on the field.
We're smarter Saturday night than we were Thursday morning -- mostly. The first week of Pac-12 Football 101, which saw the league go 10-2 in nonconference play, was chock-full of intellectual goodies.
Perhaps the team that enlightened us the most was the California Bears, who snapped a 16-game losing streak to FBS teams by going into Ryan Field and notching a
31-24 victory
over the
Northwestern Wildcats
.
[+] Enlarge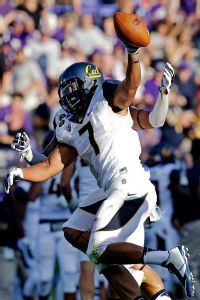 AP Photo/Nam Y. HuhJalen Jefferson celebrates his interception that essentially sealed the game for Cal.
It's not that it was the first FBS win of the Sonny Dykes era, or that the offense looked balanced and explosive. It's the fact that they had a 31-7 lead and won 31-24. Dykes liked the idea that his team had to tip-toe through a little bit of fire to pick up the win. He watched his team evolve from soft to salty.
"I never got the feeling from one player or one coach of 'here we go again,'" Dykes told the Pac-12 blog via telephone after the game. "The guys really believed in each other. And the reason they did is because they have worked so hard. They were prepared. And they knew someone would make a play to give us a chance to win the ball game."
As it turned out, someone made two. On Northwestern's final drive,
Jalen Jefferson
notched a critical sack on second-and-6 for a loss of 11 yards. On the next play, Jefferson snagged an interception that essentially closed out the game.
"It's been a long few months for us, but we're a tighter team than we were last year," Jefferson said. "A lot of those breaks we weren't getting last year, we got them. We can feel things changing for the better."
Added quarterback
Jared Goff
: "I think we learned about resiliency. We knew they would fight back and we didn't give up ... we learned how to finish a game."
It was educational, for sure.
We learned some things haven't changed -- at least not yet. While the Bears were protecting the fourth quarter from a Big Ten team, the
Washington State Cougars
were yielding the fourth quarter to another. And UCLA? Well,
Brett Hundley
is still getting sacked, and his offensive line still looks leaky. If not for three defensive touchdowns, the Bruins would be staring at 0-1.
We didn't learn much from the FCS games -- other than it was good to see Utah's
Travis Wilson
back on the field and that Oregon State seems to makes those games sketchier than they probably should be. We don't know a ton more about ASU's defense or Oregon's offense. We didn't learn much about Stanford's rushing attack.
Ty Montgomery
is really good. But we already knew that.
We learned USC still has the ability to hit the mute button on the outside noise. If there's one team that knows a little something about turmoil, it's the Trojans -- for what they went through last year. That's a team with scary potential.
We learned not very good is sometimes good enough. See Washington and UCLA, whose fans are crawling into bed at this moment feeling both relieved and probably a little jolted.
And the rest of the Pac-12 probably learned a little something about the Bears.
"We're capable of being pretty good, I think," Dykes said. "We have to execute better. We're good in spurts. We have to be good consistently and close people out."
Next week Cal gets FCS Sacramento State with a chance to start 2-0 for the first time since 2011. The schedule ramps up with a pair of high-profile games, including Michigan State at Oregon and USC at Stanford.
Looking forward to what we'll know by this time next Saturday.
August, 30, 2014
Aug 30
8:16
PM ET
By
ESPN.com staff
| ESPN.com
Kevin Hogan
threw for 204 yards and three touchdowns as Stanford took down UC Davis 45-0.
August, 30, 2014
Aug 30
7:40
PM ET
Stanford made quick work of U.C. Davis in a 45-0 rout.
It was exactly the type of performance that was expected, but here are a few takeaways:
Ty Montgomery is one of the nation's most exciting players.
A year ago, Montgomery landed on just about every All-America team as a returner after finishing second in the country in both yards per kickoff return (30.3) and kickoff returns for touchdowns (two). But despite how good he was in that role, the Cardinal never used him on punt returns -- not once over his first three years. Shaw made it clear this year that would change and on his first career attempt, Montgomery validated that decision with a 60-yard return for a touchdown.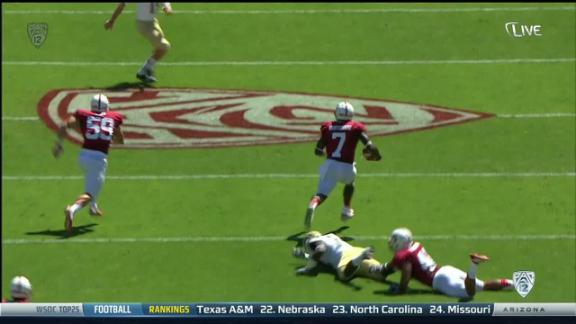 And while his national recognition comes from what he does on special teams, there's so much more depth to his game. In the first half, he caught fives passes for 77 yards and was also introduced as the team's new Wildcat operator (one carry, 8 yards). One thing that stands out about Montgomery is how effortless he makes things look. It's like his jog is significantly faster than everyone else's sprint. Sure, this was against UC Davis, so this 44-yard touchdown reception might be the type of play one might expect for a future NFL receiver, but it's worth appreciating. Put Montgomery in Washington State's offense and what does he go for? 100 catches, 1,500 yards? More?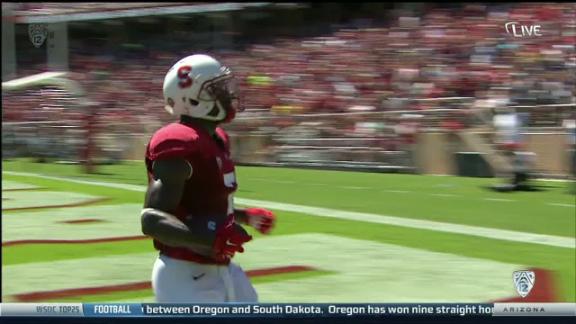 True freshman Christian McCaffrey will make an impact.
I was admittedly a little surprised in training camp when
David Shaw
announced McCaffrey wouldn't redshirt. It just seemed like there were enough bodies to account for anything he would be able to provide this year. Still think that holds true to some extent, but McCaffrey made an impact in several ways in the opener. He had three tackles on special teams as a gunner and went 52 yards untouched on his first touch for a touchdown and nearly broke a punt return for another.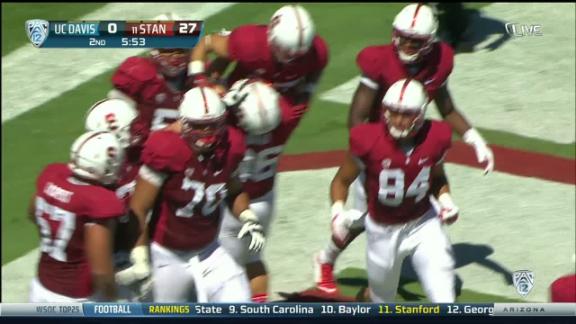 Passing game ahead of running game.
Take Montgomery out of the equation and Stanford still is more advanced throwing the ball than running it. At least so far. With the starters in the game in the first half, Stanford had 70 yards rushing (on 14 attempts) and 204 yards passing as quarterback
Kevin Hogan
connected on 12-of-15 passes. That'll probably trend in the other direction eventually, but Shaw and offensive coordinator Mike Bloomgren will continue to take advantage of Hogan's ability to throw the deep ball with a talented group of receivers. Last year, Hogan completed more passes that traveled 30 yards or more in the air than any quarterback in the country (17) despite ranking just 48th in total attempts nationally. Expect more passes like
Michael Rector.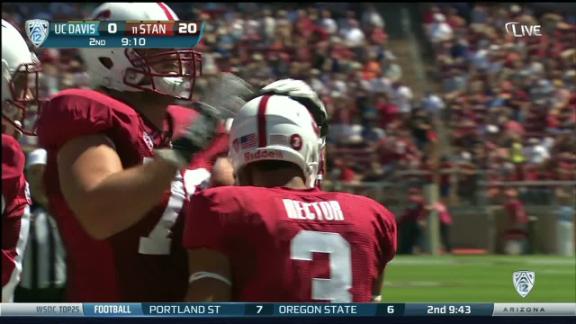 August, 30, 2014
Aug 30
7:18
PM ET
Associated Press
STANFORD, Calif. -- Ty Montgomery returned his first career punt for a touchdown and caught five passes for 77 yards and another score, and No. 11 Stanford tuned up for a date with No. 15 Southern California next week by routing UC Davis 45-0 on Saturday.
The All-American kick returner, who was cleared by team doctors to play earlier this week after offseason surgery on his right shoulder, looked ready to be the Cardinal's do-it-all playmaker again. He ran his first punt back 60 yards for a TD and lined up all over the field, including once as a wildcat quarterback.
Stanford led 38-0 at the half and rested most of its starters the final two quarters.
Kevin Hogan threw for 204 yards and three touchdowns to help the two-time defending Pac-12 champions get off to a mostly smooth start. He completed 12 of 16 passes and had one interception.
August, 30, 2014
Aug 30
6:32
PM ET
PAC-12 SCOREBOARD
Thursday, 8/28
Friday, 8/29
Saturday, 8/30