Stanford's recruiting classes impact -- No. 4
March, 18, 2014
Mar 18
6:30
PM ET
We continue our look at
Stanford
's top-5 impactful recruiting classes of the past decade.
No. 4: 2010
On signing day in 2010, coach Jim Harbaugh made it clear he had high expectations for the group.
[+] Enlarge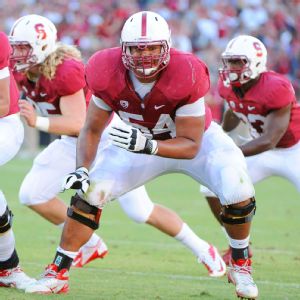 AP Photo/Rob HoltDavid Yankey is leaving early for the NFL, but the Class of 2010 has helped the Cardinal go to four straight BCS bowls.
"Across all positions, this signing class is full of playmakers that possess athleticism and explosiveness that will help us reach multiple Pac-10 championships and a national championship," he said.
With Pac-12 championships the last two seasons, he was proved partially correct. It's easy to argue the class of 2010 deserves to be ranked even higher -- through four years, the group has appeared in four BCS bowls.
If the remaining fifth-year seniors provide a major impact on a team that has comparable success, it could move up the list.
For now, though, the group hasn't made the same impact in Stanford's success as a few others.
Three players -- OG
David Yankey
, OT
Cameron Fleming
and S
Ed Reynolds
-- were good enough to early for the NFL, but lightly-recruited LB
A.J. Tarpley
is back for his fourth year as a starter. They headline the group along with DE
Henry Anderson
and K
Jordan Williamson
.
The four players who played as true freshmen -- DE
Blake Lueders
, RB
Anthony Wilkerson
, S
Devon Carrington
and
Barry Browning
-- all had their moments, but none were full-time starters last season. Of that group, only Lueders will be on the roster in 2014 (he missed the 2012 season with an injury). He is expected to start.
Three players -- RB
Ricky Seale
,
Joe Hemschoot
and TE
Eddie Plantaric
-- have yet to make a significant impact but are competing for roles in their fifth years.
OL
Cole Underwood
, WR
Keanu Nelson
, OL
Dillon Bonnell
and TE
Davis Dudchock
all had eligibility remaining, but chose not to return for the fifth seasons. None of them figured to have a significant role on the team.
Four others -- QB
Brett Nottingham
, QB/WR Darren Daniels, DL Alex Turner and LB Cleophus Robinson -- transferred to other schools.
Countdown
No. 5:
2006
Pac-12 reporter
Covers the Pac-12.
Joined ESPN in 2014.
Attended Washington State University.
Pac-12 Weekend Wrap: Sept. 16
Recruiting reporter Erik McKinney breaks down the top weekend storylines from the Pac-12.
Pac-12 Weekend Wrap: Sept. 16
VIDEO PLAYLIST
CARDINALNATION RECRUITING NEWS
STANFORD FB RECRUITING SCORECARD
suathletics

Stanford Athletics


Our department staff, coaches and student-athletes always look forward to volunteering at Freshman Move-In Day: http://t.co/D37Bnq7chp
about 2 hours ago

ESPN_Pac12blog

ESPN_Pac12blog


ICYMI: Two former MWC stalwarts reunite in Ann Arbor when Utah and Michigan meet. http://t.co/EFz8qg9RQx http://t.co/fh7o7ftyg8
about 2 hours ago

ESPN_Pac12blog

ESPN_Pac12blog


ICYMI: Don't sleep on Oregon State's ground game, which is making progress. http://t.co/gYJsfbqUoy http://t.co/QQ6mVkEem0
about 2 hours ago

RachaelFlatt

Rachael Flatt


Welcome to NSO @ #thefarm @Stanford class of 2018, the best 4 yrs of your lives! #ohtheplacesyoullgo http://t.co/ux7MM50Tg1
about 2 hours ago

Pac12Networks

Pac-12 Networks


No. 1 @uclawsoccer headlines another strong week in #pac12wsoc. http://t.co/UzBQHaQhqM http://t.co/VcXHxaoc4z
about 2 hours ago

Pac12Networks

Pac-12 Networks


ICYMI: Here's the full 2015 #pac12fb schedule: http://t.co/85gnB7iA5V http://t.co/owBswncq3V
about 2 hours ago

ScoutStanford

Scout Cardinal


#Stanford Speed and simplicity - The best material I got this past weekend was postgame with Ronnie Harris ... http://t.co/ItmTjNsBFp
about 3 hours ago

Pac12Networks

Pac-12 Networks


ICYMI: Here's the full 2015 #pac12fb schedule: http://t.co/85gnB7iA5V http://t.co/owBswncq3V
about 3 hours ago

StanfordFball

Stanford Football


Deposits now open for 2015 new season tickets holders! http://t.co/9DE3N8C9d9Earlier deposits gain access to better inventory. #gostanford
about 3 hours ago

Pac12Networks

Pac-12 Networks


.@mellashbrook wanted @StanfordFH in #12best.She got what she wanted. http://t.co/NeUfD5JMec http://t.co/V8SUyDMNxI
about 3 hours ago

Pac12Networks

Pac-12 Networks


Miss anything? The #FBWeekly crew has thoughts and feelings on the 2015 #pac12fb schedule. http://t.co/HYnBVmpjar http://t.co/9ZlaiKB51c
about 3 hours ago

ESPN_Pac12blog

ESPN_Pac12blog


ICYMI: Oregon fans will hold their breath but Marcus Mariota's risk will be the Ducks' reward. http://t.co/5N9KMOAMfQ http://t.co/CNwJTFWReI
about 4 hours ago

StanfordFball

Stanford Football


Our 2015 Reunion Homecoming Game will be Oct. 24 versus the Washington Huskies. Mark your calendars @StanfordAlumni! #gostanford #StanfordRH
about 4 hours ago

Pac12Networks

Pac-12 Networks


(12/12) @wsucougfb welcomes Stanford, CU and OSU to Pullman in 2015. http://t.co/yhg7D6yDy0 http://t.co/PvkRFOlO81
about 4 hours ago

PositiveCoachUS

Positive Coaching US


"@CoachSteveDuman: Something all #youthsports parents should think about before their child's next sports season. http://t.co/gn7b5YXtIl"
about 4 hours ago

Pac12Networks

Pac-12 Networks


(11/12) The Apple Cup returns to Seattle for @UW_Football in 2015. http://t.co/ksxSqpjhrq http://t.co/AaKS8sqr35
about 4 hours ago

Pac12Networks

Pac-12 Networks


(9/12) Rice-Eccles will rock 7 times in 2015 for @utah_football. http://t.co/Gs4ZtZzQqK http://t.co/enI57CIwqT
about 4 hours ago

Pac12Networks

Pac-12 Networks


(9/12) 3 home games to start the season and a visit from UCLA highlight @USC_Athletics' 2015. http://t.co/O8C7QMBWAq http://t.co/qfja2biS0n
about 4 hours ago

Pac12Networks

Pac-12 Networks


(8/12) Virginia, ASU and BYU all make trips to the Rose Bowl to face @UCLAFootball in 2015. http://t.co/qgxisPXP07 http://t.co/5TYumR05fH
about 4 hours ago

StanfordFball

Stanford Football


Mirror opposite of 2014, we will finish the 2015 Stanford regular season with three straight home games (Oregon, Cal, ND). #gostanford
about 4 hours ago

Pac12Networks

Pac-12 Networks


(7/12) @StanfordFball's 2015 schedule includes a key stretch of 3 straight home games. http://t.co/Qpm9P6obGy http://t.co/xD38DGAUEi
about 4 hours ago

Pac12Networks

Pac-12 Networks


(6/12) A tough slate is what @osubeaversfb will face down in 2015. http://t.co/8MEQK0YVse http://t.co/kFnUGpGbcC
about 4 hours ago

Pac12Networks

Pac-12 Networks


(5/12) The Autzen Zoo will rock 7 times in 2014 for @WinTheDay. http://t.co/uYV35AZRCM http://t.co/N8k5uUIneU
about 4 hours ago

StanfordFball

Stanford Football


After three road trips in our first four 2015 contests, the Cardinal will close with 6 games at Stanford Stadium in our final 8. #gostanford
about 4 hours ago

Pac12Networks

Pac-12 Networks


(4/12) A trip to Hawaii means @RunRalphieRun gets 13 games in 2015. http://t.co/5wvVayZCtZ http://t.co/Hv1nqfpLmw
about 4 hours ago

Pac12Networks

Pac-12 Networks


(3/12) A trip to Eugene and a visit from USC highlight @CalFootball's 2015 campaign: http://t.co/zuR8gUDRNm http://t.co/WxyXrAM06N
about 4 hours ago

StanfordFball

Stanford Football


Stanford plays Colorado & Arizona after a two-year break. First Northwestern meeting since '94. First ever Central Florida game. #gostanford
about 4 hours ago

Pac12Networks

Pac-12 Networks


(2/12) A date with Texas A&M awaits @FootballASU to start 2015. Schedule: http://t.co/wDvzTh6jwN http://t.co/auZ9hSN6TG
about 4 hours ago

Pac12Networks

Pac-12 Networks


(1/12): Bear down, Arizona: Here's your 2015 football schedule: http://t.co/RYKXsZXlCa http://t.co/MZ31IZIyHm
about 4 hours ago

StanfordFball

Stanford Football


*2015*9/5 @ NW9/12 UCF9/19 @ USC9/25 @ OSU (Fr)10/3 Arizona10/15 UCLA (Th)10/24 UW10/31 @ WSU11/7 @ CU11/14 Ore11/21 Cal11/28 ND
about 4 hours ago

StanfordFball

Stanford Football


*2015*9/5 @ NW9/12 UCF9/19 @ USC9/25 @ OSU (Fr)10/3 Arizona10/15 UCLA (Th)10/24 UW10/31 @ WSU11/7 @ CU11/14 Ore11/21 Cal11/28 ND
about 4 hours ago

StanfordFball

Stanford Football


We have seven home dates in 2015 with a pair of three-game home stands: http://t.co/TFUxM8dxQm #gostanford 12 http://t.co/ykzaRFphGE
about 4 hours ago

Pac12Networks

Pac-12 Networks


Stand by: Over the next hour, we'll tweet out a link to the 2015 schedule for EVERY team in the Pac-12. http://t.co/85gnB7iA5V
about 5 hours ago

Pac12Networks

Pac-12 Networks


NEW: Here's the complete 2015 Pac-12 football schedule: http://t.co/85gnB7iA5VTune in to #FBWeekly for analysis: http://t.co/YfMNDWLu5w
about 5 hours ago

StanfordFball

Stanford Football


Our 2015 schedule has been released and it is impressive: http://t.co/TFUxM8dxQm #gostanford http://t.co/0LuRoEPOFu
about 5 hours ago

ESPN_Pac12blog

ESPN_Pac12blog


2015 Pac-12 football schedule http://t.co/cUr8icqlrx
about 5 hours ago

Pac12Networks

Pac-12 Networks


10 minute warning! You have 10 minutes to tune in to #FBWeekly for the 2015 football schedule reveal! http://t.co/YfMNDWLu5w
about 5 hours ago

TheSunDevils

Sun Devil Athletics


Want more Sun Devil Football? Watch the reveal of our 2015 football schedule on @Pac12Networks at 7 PT! http://t.co/GnILAFh9NW
about 5 hours ago

Pac12Networks

Pac-12 Networks


What came in at #1 in this week's #12best? I mean, do you even have to ask? http://t.co/NeUfD5JMec http://t.co/KMIyndJkEI
about 5 hours ago

StanfordFball

Stanford Football


One hour until our 2015 schedule is unveiled on @Pac12Networks! Watch, and follow here for more exciting schedule details. #gostanford
about 6 hours ago

StanfordFball

Stanford Football


One hour until our 2015 schedule is unveiled on @Pac12Networks! Watch, and follow here for more exciting schedule details. #gostanford
about 6 hours ago

WSUCougars

WSU Cougars


Welcome back to the top 25, @WSUCougarSoccer! #GoCougs http://t.co/O4YjLA4jge
about 6 hours ago

RachaelFlatt

Rachael Flatt


Welcome to NSO @ #thefarm @Stanford class of 2018, the best 4 yrs of your lives! #ohtheplacesyoullgo http://t.co/ux7MM50Tg1
about 6 hours ago

Pac12Networks

Pac-12 Networks


T-1 hour, 21 minutes until we reveal the 2015 #pac12fb schedule on #FBWeekly!Tune in here: http://t.co/YfMNDWLu5w http://t.co/iSwhM1QqKH
about 6 hours ago

ESPN_Pac12blog

ESPN_Pac12blog


ASU QB Taylor Kelly (foot) ruled out http://t.co/2vgzHnIR75
about 6 hours ago

StanfordFball

Stanford Football


Our 2015 football schedule will be unveiled at 7pm PT tonight @Pac12Networks. Follow here for all the exciting schedule details. #gostanford
about 6 hours ago

suathletics

Stanford Athletics


Want to get a head start on 2015? Check out the reveal of our 2015 football schedule on @Pac12Networks at 7 PT! http://t.co/qIahQRBoFy
about 6 hours ago

suathletics

Stanford Athletics


Ryan Walker-Hartshorn is in the running for @Pac12Networks' newest #LeaderOfThePac! Vote here: http://t.co/DCfVkMcCsx http://t.co/bgGIs460WV
about 6 hours ago

Mike_Yam

Michael Yam


Great to have some fun w/ @UWAthletics @UW_Football coach Chris Peterson on football weekly 7pst @Pac12Networks http://t.co/ystODZB6DI
about 6 hours ago

Pac12Networks

Pac-12 Networks


The drama level for this week's edition of #TheDrive? We go to 11 (literally). http://t.co/GSJ4Y9TtCZ http://t.co/wmXRSxg9UN
about 6 hours ago

ESPN_Pac12blog

ESPN_Pac12blog


Two former MWC stalwarts reunite when Utah's Kyle Whittingam faces off vs. U-M's Brady Hoke http://t.co/EFz8qg9RQx http://t.co/BTKJSLsdZj
about 7 hours ago

StanfordFball

Stanford Football


.@Huey_85 starting, @cammyjfresh playing TE, @ZERTZ_86 balling.All that went down in #StanfordNFL Week 2: http://t.co/8kTftn8DcG
about 7 hours ago

OSUBeaversFB

Beavers Football


In a little less than 2 1/2 hours, the @Pac12Networks will unveil the 2015 football schedule. Tune in and check this Twitter to see OSU's.
about 7 hours ago

Pac12Networks

Pac-12 Networks


The #DigitalGurus in Tucson just keep making magic. Their can't-miss video is in the links: http://t.co/SiE5uSRl2D http://t.co/2DNMSiIXep
about 7 hours ago

ESPN_Pac12blog

ESPN_Pac12blog


ICYMI: What's waiting in reserve for each Pac-12 team in case of a QB injury? http://t.co/C1GZL7RHa9 http://t.co/n5l9CzqOJB
about 7 hours ago

ESPN_Pac12blog

ESPN_Pac12blog


Pac-12 by the numbers: Week 4 http://t.co/QAZ7zwu2ep
about 8 hours ago

Pac12Networks

Pac-12 Networks


We are about 3 hours from revealing the 2015 #pac12fb schedule on #FBWeekly! Tune in at 7 PT for all the excitement. http://t.co/YfMNDWLu5w
about 8 hours ago

USC_Athletics

USC Trojans


USC's 2015 football schedule will be revealed tonight at 7pm PT on @Pac12Networks. #FightOn http://t.co/sv0TIvDX1D
about 8 hours ago

BeaversWGolf

OSU Beavers WGolf


The Beavers capture team title at Oregon State Invitational. Recap and scores:http://t.co/qmUB2lyJGE #gobeavs http://t.co/MrUXyCcqTJ
about 8 hours ago

ESPN_Pac12blog

ESPN_Pac12blog


Sean Mannion inches closer to the Pac-12 passing record but OSU's ground game is progressing http://t.co/gYJsfbqUoy http://t.co/z9iUZXV3PS
about 9 hours ago

Stanford

Stanford University


A message from the Tree to the Class of 2018. http://t.co/xq9wrHJAgt
about 9 hours ago

RonnieLottHOF

Ronnie Lott


Congrats to @UW_Football's Hau'oli Kikaha. The @LottIMPACTrophy's player of the week. High character and performance. http://t.co/uLbTh6RbM2
about 9 hours ago

Mike_Yam

Michael Yam


The #pac12fb schedule for next season is going to be unveiled tonight on Football Weekly 7pst @Pac12Networks
about 9 hours ago

Pac12Networks

Pac-12 Networks


The hype surrounding our 2014-2015 Pac-12 Men's basketball schedule is real. Preview the marquee matches here. http://t.co/eApbweGqXP
about 10 hours ago

ESPN_Pac12blog

ESPN_Pac12blog


No. 1 remains the same in the Pac-12 QB Power Rankings but a couple of young QBs make the list http://t.co/STKRCwSbuP http://t.co/hh6ap7hTpG
about 10 hours ago

StanfordFball

Stanford Football


#gostanford RT @BonaguraESPN: Stanford has scored at least 10 points in a national-best 85 straight games.3. Oregon 68; 8. ASU 58
about 10 hours ago

Pac12Networks

Pac-12 Networks


ICYMI: @drake put on for @WinTheDay, SWAGING out in Marcus Mariota's jersey. Week in social: http://t.co/yu9L3nIaoN http://t.co/nbZvcONTEX
about 11 hours ago

ESPN_Pac12blog

ESPN_Pac12blog


ICYMI: Your Pac-12 morning links tries to make sense of the South and includes an absolutely adorable Husky photo. http://t.co/4tIIh4L2p6
about 11 hours ago

Mike_Yam

Michael Yam


.@Utah_Football @utahathletics WR Dres Anderson stops by Football Weekly 7pst on @Pac12Networks to talk Michigan http://t.co/LzHiD2U3ZC
about 11 hours ago

suathletics

Stanford Athletics


#gostanford RT @NCAAFootball: This week's Top 10 include some dazzlers from @OU_Football and @StanfordFball VIDEO: http://t.co/EVGTDPaU7G
about 11 hours ago

Pac12Networks

Pac-12 Networks


ICYMI: @wsucougfb welcomed legendary broadcaster Keith Jackson back to Martin Stadium. http://t.co/7v99Yy5VOw http://t.co/g7Oq8w7XnO
about 11 hours ago

StanfordFball

Stanford Football


"These young men and women deserve our respect. This has been a special home-and-home series." -Shaw on Army series & joining alma maters
about 12 hours ago

StanfordFball

Stanford Football


"The hardest part for us was having to play 3 (games) in a row without the students (on campus). Our students have been phenomenal." -Shaw
about 12 hours ago

StanfordFball

Stanford Football


Later in the week provides coaches w/ an opportunity to go recruiting & collect academic transcripts. #gostanford #cardclass15 #cardclass16
about 12 hours ago

StanfordFball

Stanford Football


"We're gaining experience every week." - @CoachDavidShaw on the young offensive line, replacing four NFL signees #gostanford
about 12 hours ago

StanfordFball

Stanford Football


Later in the week provides coaches with an opportunity to go recruiting and collect academic transcripts #gostanford #NerdNation
about 12 hours ago

StanfordFball

Stanford Football


.@CoachDavidShaw has reviewed practice plans & notes from that last true bye week in order to prepare for our next game. #gostanford
about 12 hours ago

StanfordFball

Stanford Football


In our press conference, @CoachDavidShaw says this is a bye week but a work week. #gostanford
about 12 hours ago

StanfordFball

Stanford Football


This is the first time in three years that Stanford has had a true bye week; making the team's successes even more noteworthy. #gostanford
about 12 hours ago

StanfordFball

Stanford Football


In our weekly press conference, @CoachDavidShaw days thus is a bye week but a work week. #gostanford
about 12 hours ago

Pac12Networks

Pac-12 Networks


Who will be No.1? Check out the newest #SportsReport 'Top Plays of the Week.' http://t.co/NeUfD5JMec http://t.co/MeoqUIHwCg
about 12 hours ago

mkoroleva

Mariya Koroleva


Move-in day for the @Stanford freshmen! Get ready for the best 4 years of your life!!! #missStanny
about 13 hours ago

StanfordFball

Stanford Football


.@CoachDavidShaw on running game: "I think it's still a work in progress. We have guys that are gaining experience as we go." #gostanford
about 13 hours ago

StanfordFball

Stanford Football


.@CoachDavidShaw on his defense: "I complimented the team yesterday. It's everybody doing their jobs and trusting each other." #gostanford
about 13 hours ago

JulieFoudy

Julie Foudy


@johnelway @StanfordFball @Stanford Ahhh. Agree wholeheartedly. 1st hardest thing: Getting in. 2nd hardest thing: leaving.
about 13 hours ago

KatePaye

Kate Paye


One of my favorite days of year on The Farm...Frosh Move-in Day! Welcome to Brittany, Kaylee & Taylor! #Stanford2018 http://t.co/vfnT8VlH8S
about 13 hours ago

JulieFoudy

Julie Foudy


@johnelway @StanfordFball @Stanford Ahhh. Agree wholeheartedly. 1st hardest thing: Getting in. 2nd hardest thing: leaving.
about 13 hours ago

johnelway

John Elway


New @Stanford students: Welcome to the best 4 years of your life! Opportunity to learn socially & in the classroom. Enjoy! It will go fast!
about 13 hours ago

Stanford_AD

Bernard Muir


Welcome to our incoming student-athletes in the class of #Stanford2018! Let's #gostanford
about 13 hours ago

JulieFoudy

Julie Foudy


@johnelway @StanfordFball @Stanford Ahhh. Agree wholeheartedly. 1st hardest thing: Getting in. 2nd hardest thing: leaving.
about 13 hours ago

johnelway

John Elway


New @Stanford students: Welcome to the best 4 years of your life! Opportunity to learn socially & in the classroom. Enjoy! It will go fast!
about 13 hours ago

johnelway

John Elway


New @Stanford students: Welcome to the best 4 years of your life! Opportunity to learn socially & in the classroom. Enjoy! It will go fast!
about 13 hours ago

Pac12Networks

Pac-12 Networks


Anticipating the 2015 #pac12fb schedule? We are! Watch #FBweekly tonight at 7 PT for the reveal.
about 14 hours ago

maeubanks

Mike Eubanks


.@ZERTZ_86 taking NFL season by storm. And Philly loves him. #FlyEaglesFly #StanfordNFL RT @JimmyKempski: Ertz facts: http://t.co/Ofjllew0FK
about 14 hours ago

Pac12Networks

Pac-12 Networks


We are remembering Paul Valenti, and reflecting on his faithful service to @beaverathletics. http://t.co/mNE9b7j7oN http://t.co/GfWfju47Mk
about 14 hours ago

StanfordFball

Stanford Football


Online fan voting for @hornungaward is open. Vote daily for @TyMontgomery2 at http://t.co/s44QGSH8zO #gostanford http://t.co/WXe6mpyuPA
about 15 hours ago

Pac12Networks

Pac-12 Networks


ICYMI: #Pac12fb represented well this weekend in comparison to the other major conferences. http://t.co/rt0Wi6t0ex http://t.co/gupiljP8ie
about 15 hours ago

stanfordrec

Stanford Recreation


The future of @GoStanford! Check out our student-athletes from the incoming class of #Stanford2018. #NerdNation http://t.co/AOrWWoikgd
about 15 hours ago

ESPN_Pac12blog

ESPN_Pac12blog


Mariota's risks will be Ducks' reward http://t.co/QA32SMSroe
about 15 hours ago

StanfordFball

Stanford Football


23.3 ypc leads NFL #TightEndU #StanfordNFL RT @JimmyKempski: @ZERTZ_86's receptions this year: 26, 25, 26, 27, 14, 21, 24. Big play machine.
about 15 hours ago
BLOG ARCHIVE:
CATEGORIES: