Power Rankings: No. 13 Stanford
August, 8, 2012
8/08/12
10:00
AM ET
By
ESPN.com staff
| ESPN.com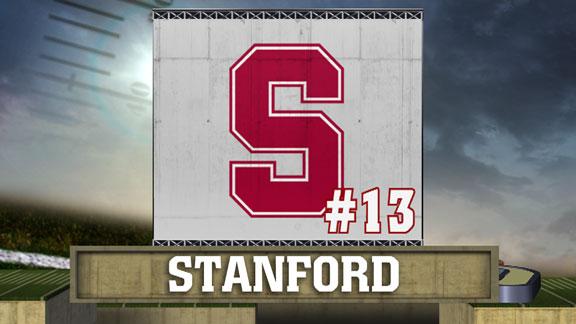 After back-to-back appearances in BCS bowl games, the Cardinal are beginning life anew without quarterback Andrew Luck. The guy under center might be different, but the philosophy and personality of the team shouldn't be. Stanford's identity is a run-first, power football team. That won't change as
Stepfan Taylor
returns after posting back-to-back 1,000-yard seasons. The Cardinal also return six of the starting front seven on defense. Plus, linebacker
Shayne Skov
is back after a knee injury, which should make them that much better since he is widely regarded as one of the top middle linebackers in the country. Luck is gone, but the Cardinal will continue to do what they do best, grind on offense and punish on defense.
For more on ESPN.com's preseason Power Rankings,
click here
.
Drive Through: AP Poll Angst
Georgia lost to South Carolina, and Stanford lost to USC. Yet, in the week 4 AP Poll, both teams are ranked higher than the teams that beat them. Heather Dinich explains why voters need to do a better job.
Drive Through: AP Poll Angst
VIDEO PLAYLIST
CARDINALNATION RECRUITING NEWS
STANFORD FB RECRUITING SCORECARD
Nike Men's Stanford Cardinal Rose Bowl Game Mascot T-shirt Shop »
Pac12Networks

Pac-12 Networks


Need some guidance through the 2014-15 #pac12hoops schedule? Here are 12 must-watch games from @kevo408: http://t.co/eApbweGqXP
about 4 hours ago

StanfordFball

Stanford Football


Great time tonight teaching new grad students "Stanford Football 101" w/ @RWLynn3 & former players. #NGSO #gostanford http://t.co/AwzplYtnAQ
about 5 hours ago

Pac12Networks

Pac-12 Networks


ICYMI: Here's the full and complete 2014-15 #pac12hoops schedule: http://t.co/X6XFY47LCb
about 5 hours ago

ESPN_Pac12blog

ESPN_Pac12blog


ICYMI: Week 3 Pac-12 bowl projections. http://t.co/Wp4rd8VLcs http://t.co/7dDeZS8WmH
about 5 hours ago

Pac12Networks

Pac-12 Networks


How did @harrythehusky size up in this week's #SportsReport Mascot Challenge? http://t.co/rEI1xgyaP7 http://t.co/yGP0FrfqSu
about 5 hours ago

ESPN_Pac12blog

ESPN_Pac12blog


ICYMI: Do Week 3 results portend a wider vulnerability in the Pac-12 South? http://t.co/lFd9D8oxBY http://t.co/yhUjDndCcl
about 5 hours ago

Pac12Networks

Pac-12 Networks


That was fun! Let's have another schedule reveal tomorrow, yeah?The 2015 #pac12fb schedule gets revealed on #FBWeekly tomorrow at 7 PT!
about 6 hours ago

Pac12Networks

Pac-12 Networks


Get hyped, Pullman: Here's the 2014-15 @wsumenshoops schedule: http://t.co/RoPoqUvTiz http://t.co/q65vXehk5q
about 6 hours ago

Pac12Networks

Pac-12 Networks


Bow down! Here's the 2014-15 @uw_mbb schedule: http://t.co/73BI1aWqCj http://t.co/F8N5unFY8M
about 6 hours ago

Pac12Networks

Pac-12 Networks


It's time, Utes fans: Here's the @runnin_utes schedule for 2014-15: http://t.co/8ZQotDN2Cz http://t.co/9bFYy6XG1N
about 6 hours ago

Pac12Networks

Pac-12 Networks


Fight on! Here's the 2014-15 @usc_hoops schedule: http://t.co/gh7MmYvkHm http://t.co/bDPKjatMxD
about 6 hours ago

Pac12Networks

Pac-12 Networks


How many BruWINS this year? Here's the 2014-15 @UCLAMBB schedule: http://t.co/7MqVcO3ZbO http://t.co/zytk4rduzn
about 6 hours ago

Pac12Networks

Pac-12 Networks


Arise, #NerdNation: Here's the 2014-15 @stanfordbball schedule: http://t.co/zWP5QTxadX http://t.co/TV9xY5qcPm
about 6 hours ago

Pac12Networks

Pac-12 Networks


Time to rock Gill: The @oregonstatembb schedule is out: http://t.co/X3HYRjhbA7 http://t.co/Mh2C1rEBei
about 6 hours ago

Pac12Networks

Pac-12 Networks


Rise up, Mighty Oregon: Here's the @OregonMBB 2014-15 schedule: http://t.co/rvtRyTu1qM http://t.co/xg5J77RVoN
about 6 hours ago

Pac12Networks

Pac-12 Networks


The Buffs are back: It's the 2014-15 @cubuffsmbb schedule: http://t.co/3qXEazk6pL http://t.co/AQmG9fVIta
about 6 hours ago

Pac12Networks

Pac-12 Networks


This is Bear Territory: It's the 2014-15 @CalMensBBall schedule: http://t.co/HFgc2lyXMk http://t.co/7XxMVOEDgY
about 6 hours ago

stanfordbball

Stanford Men\'s Hoops


2014-15 schedule with dates, times, TV info, trends + notes: http://t.co/tPd4FC60sR | Buy tix: http://t.co/tl1uicYAWF http://t.co/IWCj3YNrJW
about 6 hours ago

Pac12Networks

Pac-12 Networks


Forks up: Here's the @SunDevilHoops 2014-15 schedule: http://t.co/0vvrSbafqe http://t.co/VJxipi0TIU
about 6 hours ago

Pac12Networks

Pac-12 Networks


'Cats fans: Here's the full 2014-15 @APlayersProgram schedule: http://t.co/DlPlHtFO6p http://t.co/LpxPFbEddC
about 6 hours ago

Pac12Networks

Pac-12 Networks


Stand by - we're about to tweet a link to the 2014-15 #pac12hoops schedule for every Pac-12 team. Get your RT fingers ready!
about 7 hours ago

DrewShiller

Drew Shiller


It's Christmas come early on the @Pac12Networks right now. Full basketball schedule being unveiled now. I missed seeing @L_Hurd's mug...
about 7 hours ago

Pac12Networks

Pac-12 Networks


Also, here's a list of all 146 games that will be shown on the Networks this season: http://t.co/6dFsjrlIgV
about 7 hours ago

Pac12Networks

Pac-12 Networks


Courtesy of @kevo408, here are 12 must-watch games during the 2014-15 #pac12hoops season: http://t.co/BkDfE5bpuR
about 7 hours ago

Pac12Networks

Pac-12 Networks


Every game of 2014-15 in one neat, tidy package: http://t.co/X6XFY47LCbTeam-by-team schedules will be tweeted throughout #SportsReport!
about 7 hours ago

Pac12Networks

Pac-12 Networks


The wait is over! It's time for the #pac12hoops schedule reveal on #SportsReport. Watch it right now: http://t.co/YfMNDWLu5w
about 7 hours ago

SportsComedy_

Sports Comedy


Keep watching till you see it 😂😂😂 https://t.co/scq9KnO0Fe
about 7 hours ago

KULABAFI

Stepfan Taylor


StanU
about 7 hours ago

ESPN_Pac12blog

ESPN_Pac12blog


And your Pac-12 Week 3 play of the week is ... http://t.co/0jP6QbFjtB http://t.co/OkV38WlRCy
about 7 hours ago

StanfordFball

Stanford Football


#gostanford RT @PRodgersGolf: Loving the new colts bag this week and excited to cheer them on tonight in primetime! http://t.co/P8QO2ItyZB
about 7 hours ago

Pac12Networks

Pac-12 Networks


Can Arizona (season champs) and UCLA (tourney champs) repeat?The #pac12hoops schedule reveal is 30 minutes away! http://t.co/vri5e1pdES
about 7 hours ago

pac12

Pac-12 Conference


Less than an hour until the 2014-15 #pac12hoops TV schedule is released! Tune in to the Pac-12 Sports Report at 7 p.m. PT on @Pac12Networks!
about 8 hours ago

Pac12Networks

Pac-12 Networks


Might be! #SportsReport at 7 PT. RT @MelLashbrook That clutch goal by Stanford's Alex McCawley NEEDS to be in #12best @Pac12Networks
about 8 hours ago

StanfordFball

Stanford Football


#StanfordNFL RT @ESPNStatsInfo: Andrew Luck: 49th career TD pass, ties Jim Harbaugh for 4th-most in Colts history
about 8 hours ago

StanfordFball

Stanford Football


Warming up. #StanfordNFL RT @RoobCSN: @ZERTZ_86 is the only NFL player with four catches of 25 or more yards so far this year. #PHIvsIND
about 8 hours ago

Pac12Networks

Pac-12 Networks


FILL IN THE BLANK: The 2014-15 #pac12hoops champ will be ____.Schedule reveal at 7 PT on #SportsReport! http://t.co/NrNZw4JK5N
about 8 hours ago

ESPN_Pac12blog

ESPN_Pac12blog


A look at backup QBs in the Pac-12 http://t.co/WG64gtY2Bk
about 8 hours ago

ESPN_Pac12blog

ESPN_Pac12blog


ICYMI: Your Pac-12 morning links: UCLA survived but it was a chaotic weekned for LA teams. http://t.co/2wNryDM9mj http://t.co/dTm0wPzXj6
about 8 hours ago

Pac12Networks

Pac-12 Networks


"Get him up on our shoulders!"A powerful new #TheDrive premieres Wednesday at 7 PT. http://t.co/z5xoUV5hYv http://t.co/4PM1CNyuMz
about 8 hours ago

Pac12Networks

Pac-12 Networks


One hour, 49 minutes and 15 seconds until #SportsReport unveils the 2014-15 #pac12hoops schedule (but we're not counting we swear)
about 9 hours ago

Pac12Networks

Pac-12 Networks


UW STAND UP! Tonight's Pac-12 #SportReport features @HarryTheHusky in our Mascot Challenge. Tune in at 7 PT http://t.co/y01NE1qgRq
about 9 hours ago

StanfordFball

Stanford Football


Kickoff in 30 min. #StanfordNFL RT @nfl: Bounce-back night ahead for the @Colts?#PHIvsIND #MNF http://t.co/tZ2W25Y8xd
about 9 hours ago

StanfordWSoccer

Stanford Soccer


Only Division I team yet to concede in 2014. If soccer ranked defenses, we'd share something in common @StanfordFball #GoStanford
about 9 hours ago

Pac12Networks

Pac-12 Networks


ICYMI: @wsucougfb set a #pac12fb passing record on Saturday: http://t.co/5STqAJ35fN http://t.co/WQTA1elPVj
about 10 hours ago

Pac12Networks

Pac-12 Networks


We're heading to Berkeley and Salt Lake City for some end-of-September football. Our TV selections for Week 5: http://t.co/N4j8GHeJwX
about 10 hours ago

StanfordFball

Stanford Football


Thank you Scout Team Players of the Week: @DallasLloyd (O), @KingLeonidus23 (D) and @BinghamBaller9 (ST). Set us up for success. #gostanford
about 10 hours ago

Pac12Networks

Pac-12 Networks


.@ASUSoccer's Cali Farquharson and @StanfordWSoccer's Kendall Romine + Jane Campbell are WSOC Players of the Week http://t.co/7nr2uLuDsR
about 11 hours ago

StanfordFball

Stanford Football


Congratulations Special Teams Player of the Game @BenRhyne14! Changed field position for us and hit his marks. #gostanford
about 11 hours ago

Pac12Networks

Pac-12 Networks


.@ASUSoccer's Cali Farquharson and @StanfordWSoccer's Kendall Romine & Jane Campbell are WSOC Players of the Week....
about 11 hours ago

StanfordFball

Stanford Football


Congratulations Offensive Player of the Game @speedracer13193! Had a breakout three-touchdown game. #gostanford
about 11 hours ago

ESPN_Pac12blog

ESPN_Pac12blog


ICYMI: Do Week 3 results portend a wider vulnerability in the Pac-12 South? http://t.co/lFd9D8oxBY http://t.co/xjR5T41S3p
about 11 hours ago

ESPN_Pac12blog

ESPN_Pac12blog


The Playoff Picture: BC's joy was USC's pain. How it all went wrong for the Trojans Week 3. http://t.co/asPmzuBup4 http://t.co/p51iTBnhEB
about 12 hours ago

StanfordFball

Stanford Football


Congratulations Defensive Players of the Game @HenryAnderson91 @Big_Blake4! Played with high motor & discipline. #gostanford
about 12 hours ago

Pac12Networks

Pac-12 Networks


.@Pac12Networks+@UCLAFootball+@jerryneuheisel= A viral @CoachNeuheisel celebration. Roundup: http://t.co/yu9L3nIaoN http://t.co/FIHq3VfIGG
about 12 hours ago

ESPN_Pac12blog

ESPN_Pac12blog


ICYMI: Pac-12 Week 3 Power Rankings sees USC tumble. http://t.co/7Ar3MxJOCs http://t.co/tYtuZz7VT9
about 12 hours ago

Pac12Networks

Pac-12 Networks


Tonight on #SportsReport: @L_Hurd joins @JB_Long + @AdamsonAshley to talk the 2014-15 #pac12hoops schedule: http://t.co/3eelvKbYoc 7 PT!
about 12 hours ago

ESPN_Pac12blog

ESPN_Pac12blog


Pac-12 Blog Play of the Week: Mariota's TD http://t.co/AaGhTqBnhq
about 13 hours ago

Pac12Networks

Pac-12 Networks


Attention @GoStanford, @UCLAAthletics, @UWAthletics + @TheSunDevils fans: Last call for #LeaderofthePac voting! http://t.co/YKbh2ZiX4j
about 13 hours ago

ESPN_Pac12blog

ESPN_Pac12blog


Shaq Thompson was among those honored with a Pac-12 Helmet Sticker for his Week 3 performance. http://t.co/hBFbkQUT4A http://t.co/rFVHBgMoah
about 13 hours ago

Pac12Networks

Pac-12 Networks


Jon Rahm of @asumensgolf casually thumped a record set by Jack Nicklaus. Is he your #LeaderOfThePac? Vote here: http://t.co/QqDlpcv0P1
about 13 hours ago

Pac12Networks

Pac-12 Networks


Ryan Walker-Hartshorn netted a hat trick for @StanfordWSoccer yesterday, which is #LeaderofthePac-worthy. Vote here: http://t.co/QqDlpcv0P1
about 13 hours ago

ESPN_Pac12blog

ESPN_Pac12blog


In your Pac-12 morning links: UCLA survived but it was a chaotic weekned for Los Angeles teams http://t.co/2wNryDM9mj http://t.co/CpXZzqYhGD
about 14 hours ago

Pac12Networks

Pac-12 Networks


Scoring goals and servin' up assists for @UW_MSoccer, Mason Robertson is nominated for #LeaderofthePac. Vote here: http://t.co/QqDlpcv0P1
about 14 hours ago

suathletics

Stanford Athletics


Student-Athlete of the Week open for 24 hours. Your choices: #VoteMcNealy | #VoteCampbell | #VoteCajuste | #VoteLutz http://t.co/5w7xTY65F4
about 14 hours ago

ESPN_Pac12blog

ESPN_Pac12blog


Players of Week: Neuheisel, Thompson, Adams http://t.co/fZOGeZtrUM
about 14 hours ago

Pac12Networks

Pac-12 Networks


With 2 TD's and a game-winning drive for @UCLAFootball, @jerryneuheisel is nominated for #LeaderofthePac. Vote here: http://t.co/QqDlpcv0P1
about 14 hours ago

Pac12Networks

Pac-12 Networks


This week's def. POW---> RT @BonaguraESPN UW LB Shaq Thompson had 2 defensive TDs vs Illinois. No one else in the country has 2 this season.
about 14 hours ago

Pac12Networks

Pac-12 Networks


The most retweeted Play of the Game from the weekend is THIS from @WinTheDay's Marcus Mariota: http://t.co/kim4ubDFMS Is it #12best worthy?
about 15 hours ago

Pac12Networks

Pac-12 Networks


Another week of stunning performances. Who should be this week's #LeaderofthePac? Vote here: http://t.co/YKbh2ZiX4j http://t.co/QYqEzRUOKZ
about 15 hours ago

ChantelJennings

Chantel Jennings


Join us in 10 minutes as we talk the biggest story lines in the Pac-12, and what you should look for this weekend: http://t.co/z2HySL8UrB
about 15 hours ago

Pac12Networks

Pac-12 Networks


#pac12fb TV networks and kick times for Sept. 25 & 27 are here: http://t.co/d9sNVGljiF http://t.co/BdcoKyTISz
about 16 hours ago

ESPN_Pac12blog

ESPN_Pac12blog


Marcus Mariota's diving TD was voted as this week's Play of the Week. How would you describe the play/your reaction in 140 characters?
about 16 hours ago

Pac12Networks

Pac-12 Networks


Calling all hoopheads: #SportsReport has the full 2014-15 #pac12hoops schedule tonight at 7 PT http://t.co/GuYVA2EMWK http://t.co/tlelhhdPCY
about 16 hours ago

StanfordFball

Stanford Football


Stanford's next game Sept. 27 at Washington has been selected for a 1:15pm PT kickoff and national @FOXTV broadcast. #gostanford @CFBONFOX
about 16 hours ago

StanfordFball

Stanford Football


Stanford's next game Sept. 27 at Washington has been selected for a 1:15pm PT kickoff and national @FOXTV broadcast. #gostanford @CFBONFOX
about 16 hours ago

StanfordFball

Stanford Football


Stanford's next game Sept. 27 at Washington has been selected for a 1:15pm PT kickoff and national @FOX broadcast. #gostanford @CFBONFOX
about 16 hours ago

StanfordFball

Stanford Football


Stanford's next game Sept. 27 at Washington has been selected for a 1:15pm PT kickoff and national @FOX broadcast. #gostanford @CFBONFOX
about 16 hours ago

Pac12Networks

Pac-12 Networks


Confirmed. #TheDrive RT @dennisdoddcbs I can safely say this week's The Drive on P12 Networks is going to be an all-timer.
about 17 hours ago

ESPN_Pac12blog

ESPN_Pac12blog


ICYMI: Washington's Shaq Thompson was among those honored with a Pac-12 Helmet Sticker. http://t.co/hBFbkQUT4A http://t.co/RRJSDhfiUD
about 17 hours ago

ESPN_Pac12blog

ESPN_Pac12blog


ICYMI: Week 3 Pac-12 bowl projections. http://t.co/Wp4rd8VLcs http://t.co/HMiwNbFrLs
about 17 hours ago

ESPN_Pac12blog

ESPN_Pac12blog


ICYMI: Vote for the Pac-12 play of the week. Mariota, Neuheisel, Thompson or Dargan? http://t.co/4XVhgPQH0W http://t.co/l976sbHpIK
about 17 hours ago

ESPN_Pac12blog

ESPN_Pac12blog


Pac-12 Live: Week 4 (11 a.m.) http://t.co/PHfVFuBSUH
about 17 hours ago

ESPN_Pac12blog

ESPN_Pac12blog


Injuries, implosion muddle South picture http://t.co/SJlJaw6VBF
about 18 hours ago

ESPN_Pac12blog

ESPN_Pac12blog


What was former NBA star Jerry Stackhouse doing at Stanford? The answer is in the Pac-12 weekend recruiting roundup. http://t.co/SyzhqJlqqz
about 19 hours ago

ESPN_Pac12blog

ESPN_Pac12blog


The Playoff Picture: BC's joy was USC's pain. How it all went wrong for the Trojans Week 3. http://t.co/asPmzuBup4 http://t.co/x2GVFTGuzL
about 19 hours ago

ESPN_Pac12blog

ESPN_Pac12blog


Pac-12 morning links http://t.co/eqSzGBdEJ9
about 21 hours ago

ShayneSkov

Shayne Skov


Female vocal trance soothes the soulFACT
1 day ago

ShayneSkov

Shayne Skov


League ranked ladder is crushing my soul
1 day ago

heatherylaine

Heather


The magical moment when a kid meets their first professional athlete & their favorite player. Thanks @CTcard44 #49ers http://t.co/lJMTTELZlj
1 day ago

ESPN_Pac12blog

ESPN_Pac12blog


Week 3 Pac-12 Power Rankings: Shaq Thompson did it all for Washington, who moved up this week. http://t.co/7Ar3MxJOCs http://t.co/k9NsRHgCA0
1 day ago

ScoutStanford

Scout Cardinal


#Stanford Cajuste is loose: 14-0 Card at the half - Our defense allows a first down maybe every third o... http://t.co/6OPB6yjOZy
1 day ago

StanfordMGolf

Stanford Men\'s Golf


McNealy does it again. http://t.co/7Y45x4brtY #GoStanford
1 day ago

ShayneSkov

Shayne Skov


Need to find an alternate meal source besides chipotle, @ZERTZ_86 any solutions?
1 day ago

ESPN_Pac12blog

ESPN_Pac12blog


Vote for your Pac-12 play of the week. Choose among Neuheisel, Mariota, Thompson or Dargan. http://t.co/44LdR6G1DC http://t.co/CxhVEGsWDf
1 day ago

Pac12Networks

Pac-12 Networks


Recap: No.1 @UCLAMSoccer draws with Cal Poly: http://t.co/WYbqcReeqN
1 day ago

Pac12Networks

Pac-12 Networks


Play of the Game honors from #CPvsUCLA go to @UCLAMSoccer GK Earl Edwards, whose two saves kept the Bruins alive: http://t.co/YuA7vJRCOu
1 day ago

Pac12Networks

Pac-12 Networks


After two overtimes, No.1 @UCLAMSoccer settled for a 0-0 draw with Cal Poly http://t.co/baEkV9jD66
1 day ago

Pac12Networks

Pac-12 Networks


After two overtimes, No.1 @uclamsoccer settled for a 0-0 draw with Cal Poly http://t.co/nqG7Sqeq9e http://t.co/3853GfUD8I
1 day ago

Pac12Networks

Pac-12 Networks


We see you, Seyi! Watch #SportsReport tomorrow at 7 PT to see if he makes our #12best! RT @UCLAAthletics @UCLAMSoccer
1 day ago

UCLAAthletics

UCLA Athletics


Pssstt @pac12Networks ... #12best! RT @UCLAMSoccer: DID YOU SEE THAT?! Seyi Adekoya is a ninja. GIF: http://t.co/0oS9sGfp1L
1 day ago
BLOG ARCHIVE:
CATEGORIES: