Power Rankings: No. 13 Stanford
August, 8, 2012
8/08/12
10:00
AM ET
By
ESPN.com staff
| ESPN.com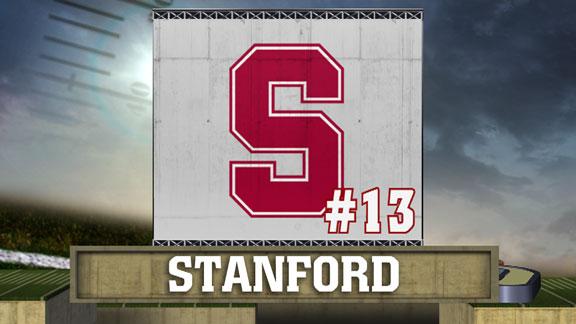 After back-to-back appearances in BCS bowl games, the Cardinal are beginning life anew without quarterback Andrew Luck. The guy under center might be different, but the philosophy and personality of the team shouldn't be. Stanford's identity is a run-first, power football team. That won't change as
Stepfan Taylor
returns after posting back-to-back 1,000-yard seasons. The Cardinal also return six of the starting front seven on defense. Plus, linebacker
Shayne Skov
is back after a knee injury, which should make them that much better since he is widely regarded as one of the top middle linebackers in the country. Luck is gone, but the Cardinal will continue to do what they do best, grind on offense and punish on defense.
For more on ESPN.com's preseason Power Rankings,
click here
.
Pac-12 Weekend Wrap: Jan. 20
Recruiting reporter Erik McKinney discusses top recruiting news from the Pac-12.
Pac-12 Weekend Wrap: Jan. 20
VIDEO PLAYLIST
CARDINALNATION RECRUITING NEWS
STANFORD FB RECRUITING SCORECARD
Nike Men's Stanford Cardinal Rose Bowl Game Mascot T-shirt Shop »
Pac12Networks

Pac-12 Networks


It's final in Tempe! No. 9 @OregonStateWBB soars over ASU for the top spot in the Pac-12! #OSUvsASU #BeaverNation http://t.co/sRSezeNoRZ
16 minutes ago

CindyBrunsonAZ

Cindy Brunson


Great finish on @Pac12Networks !!! @WSUWomensHoops on a 13-0 run to take the lead vs @CUBuffsWBB JOIN US!
17 minutes ago

HenryAnderson91

Henry Anderson


Played my last game in the Stanford helmet yesterday. Can't believe it lasted all season http://t.co/zgotb5jUeA
31 minutes ago

Pac12Networks

Pac-12 Networks


K-R-Z-Y-Z-E-W-S-K-I. "Shashefsky." Congrats Coach K on 1,000 wins and your endless contributions to college athletics.
38 minutes ago

Pac12Networks

Pac-12 Networks


Meanwhile, in Pullman... http://t.co/AC8QWOAlk5
45 minutes ago

Pac12Networks

Pac-12 Networks


We're coming down the stretch of #OSUvsASU with the top spot in the Pac-12 up for grabs. WATCH: http://t.co/Es2YMB9DED
47 minutes ago

Pac12Networks

Pac-12 Networks


The #ASUvsSTAN Move of the Meet goes to @CardWrestling's Nathan Butler for this takedown. RESPECT HIS AUTHORITY! http://t.co/jJTPuCcv2I
about 2 hours ago

CardWrestling

Stanford Wrestling


Recap & results from @CardWrestling's 18-13 win over ASU http://t.co/jgsINU2kzE Card wins 6 of 10 bouts improving to 8-2 overall #gostanford
about 2 hours ago

Pac12Networks

Pac-12 Networks


The Buffs and Cougs are battling in Pullman. Watch it live: http://t.co/YfMNDX35dA http://t.co/sGUAbVQP2v
about 2 hours ago

Pac12Networks

Pac-12 Networks


Stanford wrestling takes down ASU! #ASUvsSTAN http://t.co/0geFMpVSaH
about 2 hours ago

Pac12Networks

Pac-12 Networks


The top of the Pac-12 standings is at stake.Devils. Beavers. It's on. http://t.co/YfMNDX35dA http://t.co/MoM8in6M8g
about 2 hours ago

Pac12Networks

Pac-12 Networks


Offensive boards pay dividends, as shown by @UW_WBB in the #UTAHvsUW Play of the Game: http://t.co/qm8ltDJQky
about 2 hours ago

Pac12Networks

Pac-12 Networks


The Dawgs take care of business in Hec Ed. #UTAHvsUW http://t.co/YP4INa8cub
about 2 hours ago

Pac12Networks

Pac-12 Networks


How cool is this? The @WSUCougars are doing Social Sunday at the #CUvsWSU game! Get your tweet on in Beasley. http://t.co/6bvEc7Y7Eo
about 3 hours ago

Pac12Networks

Pac-12 Networks


It seems @UWVolleyball passed the torch well to @UW_WBB.NOBODY braids like a Dawg. #VolleyBraid #BallerBraid http://t.co/yWV96IGvCJ
about 3 hours ago

ESPN_Pac12blog

ESPN_Pac12blog


Best of the visits: Pac-12 http://t.co/1LmCUarVkq
about 3 hours ago

CTcard44

Chase Thomas


Great down time the past 2 weeks back home in GA.. Excited to get back and put that work in with my stanU guys #backtothebay ✈️✈️
about 4 hours ago

CTcard44

Chase Thomas


Great down time the past 2 weeks back home in GA.. Excited to get back and put that work in with my stanU guys #backtothebay ✈️✈️
about 4 hours ago

Pac12Networks

Pac-12 Networks


Doing Sunday activities? Our @Pac12Networks hoops podcast pairs perfectly with Sunday activities. Listen here: http://t.co/T5OdxbUKE4
about 4 hours ago

Pac12Networks

Pac-12 Networks


The mats are alive with the Devils and Cardinal.Watch it live: http://t.co/YfMNDX35dA http://t.co/wZ0KWSxJ9u
about 4 hours ago

Pac12Networks

Pac-12 Networks


Let's get the #pac12hoops started early, shall we?Dawgs. Utes. Now. http://t.co/YfMNDX35dA http://t.co/9wg0hbjWRy
about 4 hours ago

Pac12Networks

Pac-12 Networks


Download the Pac-12 Now app! It's easy like Sunday morning.iPhone: http://t.co/oiXJDRPGlLAndroid: http://t.co/ZNn3b385gl
about 4 hours ago

CollegeBracket

College Bracket


Best College Football Stadium•Round of 16•RT ~ Boise State BroncosFav ~ Iowa Hawkeyes http://t.co/rQnteXb00g
about 5 hours ago

CoachYatesBSU

Marcel Yates


Hey everyone! Please follow our business @PlatinumMtrsBoi and share with everyone you know! Thanks!
about 5 hours ago

stanfordbball

Stanford Men\'s Hoops


Most in-depth profile of @Coach_Dawkins to date airs this morning (8:30-9 a.m. PT) on @CBSSportsNet. "Men of March" series on D-I coaches.
about 6 hours ago

bsualum08

Zach Ballard


@SanfordBSU what a coincidence, it's their birthday today! http://t.co/761gXSjgB5
about 8 hours ago

ESPN_Pac12blog

ESPN_Pac12blog


Scout's Take: OLB Osa Masina to USC http://t.co/EkPMtZAuHn
about 9 hours ago

SanfordBSU

Coach Mike Sanford


Happy happy birthday!!!
about 9 hours ago

stanfordbball

Stanford Men\'s Hoops


No shortage of offensive highlights in Stanford's 89-70 win over ASU: http://t.co/ErXMcX5kiw | The lob that wasn't: http://t.co/kF4ikpSrLv
about 14 hours ago

StanfordSports

Stanford Daily Sport


Johnny Dawkins says post-game that Reid Travis has progressed, may travel and play on @stanfordbball's trip to Washington this weekend.
about 15 hours ago

stanfordbball

Stanford Men\'s Hoops


Stanford cruises over ASU, 89-70. Matches the most points scored this season. Randle, @TwoShotOne, & Nastic all with 20+ pts. More to come.
about 15 hours ago

GoStanford

Stanford Athletics


#12best RT @stanfordbball: If Cartwright throws a pass and it goes through the hoop, does he get an assist too? http://t.co/DVvhomRX9d
about 16 hours ago

Pac12Networks

Pac-12 Networks


On the Farm, @StanfordBBall will do the pitchforking. #ASUvsSTAN http://t.co/0StqXb91xi
about 16 hours ago

maeubanks

Mike Eubanks


When the alley-oop toss goes in the basket. #youcandonowrong @stanfordbball
about 16 hours ago

Pac12Networks

Pac-12 Networks


Arguably the best part about "Veni, Vidi, Bercovici." #12Best #FearTheFork #JaelMary http://t.co/Ix1hPCZqTS
about 16 hours ago

Pac12Networks

Pac-12 Networks


So, what did you think of our #12Best rankings?
about 16 hours ago

stanfordbball

Stanford Men\'s Hoops


Stanford's 70.4% shooting in first half its best mark since torching Harvard for 73.1% shooting (19-26) in the second half on Nov. 8, 2007.
about 17 hours ago

Pac12Networks

Pac-12 Networks


When you do what T. J. McConnell does with the high screen, you earn #AZvsCAL Play of the Game: http://t.co/0lqIqmO6ne
about 17 hours ago

Pac12Networks

Pac-12 Networks


#NW: The 12 Best Football Games of 2014!Watch it live: http://t.co/YfMNDX35dA http://t.co/3x9xWr9mu8
about 17 hours ago

Pac12Networks

Pac-12 Networks


@ryan_finley Swing and a miss. #BearDown
about 17 hours ago

Pac12Networks

Pac-12 Networks


THAT's better. #BearDown #AZvsCAL http://t.co/uVqFw7VS6H
about 17 hours ago

Pac12Networks

Pac-12 Networks


Coming up: @CalMensBBall head coach Cuonzo Martin's postgame press conference live and free, right here: http://t.co/NdCrWqdR7A
about 17 hours ago

Pac12Networks

Pac-12 Networks


Lute liked what he saw in Berkeley. #BearDown #AZvsCAL http://t.co/rYnIbgUNmg
about 17 hours ago

Pac12Networks

Pac-12 Networks


Dom Collier, the @CUBUffsMBB freshman, puts the MIX on his opponent and earns the #WSUvsCU Play of the Game: http://t.co/acsYmiUTSF
about 18 hours ago

Pac12Networks

Pac-12 Networks


Tomorrow, it's going down. Who will claim the outright top spot in the Pac-12? #OSUvsASU http://t.co/FnCLatt3N2
about 18 hours ago

Pac12Networks

Pac-12 Networks


Tomorrow, it's going down. Who will claim the outright the top spot in the Pac-12? #OSUvsASU http://t.co/R6ItItblYv
about 18 hours ago

Pac12Networks

Pac-12 Networks


At the half of #AZvsCAL, the 'Cats lead the Bears 29-19.
about 18 hours ago

Pac12Networks

Pac-12 Networks


It's feeling a little bit like you-know-what is coming to Haas Pavilion... #AZvsCAL http://t.co/Es2YMB9DED http://t.co/Qp13XNH3ul
about 19 hours ago

Pac12Networks

Pac-12 Networks


How bout these Jordan tees given out to the Cal student section tonight? #AZvsCAL http://t.co/JUQuyr3gbo
about 19 hours ago

Pac12Networks

Pac-12 Networks


Last year, it was a stunner. What happens tonight?Watch #AZvsCAL live: http://t.co/YfMNDX35dA http://t.co/PyjTlWsMM0
about 19 hours ago

Stanford_6thMan

Stanford 6th Man


Where my late night fans at? Catch the team tonight at 9pm vs ASU before they hit the road next week.
about 19 hours ago

Pac12Networks

Pac-12 Networks


Live now: @CUBUffsMBB's Tad Boyle after beating WSU 90-58: http://t.co/NdCrWqdR7A
about 20 hours ago

ShayneSkov

Shayne Skov


Decisions decisions😬😫 http://t.co/8yVfjnz3it
about 20 hours ago

Pac12Networks

Pac-12 Networks


Coming Up: @CUBUffsMBB's postgame press conference streaming live and free right here: http://t.co/NdCrWqdR7A http://t.co/ghDc3UDRYm
about 20 hours ago

Pac12Networks

Pac-12 Networks


The Buffs stampede past the Cougs in Coors! #GoBuffs #RollTad http://t.co/8rP0KbFMpn
about 20 hours ago

Pac12Networks

Pac-12 Networks


The Buffs stampede past the Cougs in Coors! #GoBuffs #RollTad
about 20 hours ago

AZATHLETICS

Arizona Athletics


Under 1 hour until tip-off in NorCal.📱: @APlayersProgram📺: @Pac12Networks📻: @TuneIn, @IMGAudio, Sirius 108/XM 97 #⃣: #AZvsCAL
about 20 hours ago

bryanharsin

Coach Bryan Harsin


GO BRONCOS! #ATF2015 #Bo15seBound
about 21 hours ago

Pac12Networks

Pac-12 Networks


Soft pretzels FTW #WSUvsCU http://t.co/X8KU3oXY7U
about 21 hours ago

Pac12Networks

Pac-12 Networks


We call this work of art DWAYNE BENJAMIN DOT GIF http://t.co/V6GtIixo4B
about 21 hours ago

Pac12Networks

Pac-12 Networks


At the half at Coors, @CUBUffsMBB leads the Cougs, 47-31. #Pac12Hoops
about 21 hours ago

Pac12Networks

Pac-12 Networks


Olaf Schaftenaar. Hard to spell— VERY easy to watch! His third triple in a row is the #USCvsOSU Play of the Game: http://t.co/F8d4Fe6jR2
about 21 hours ago

KULABAFI

Stepfan Taylor


Fun Times at #nflexperience with #castrol #kulabafi http://t.co/y5SC8XUYx2
about 22 hours ago

Pac12Networks

Pac-12 Networks


Coming up: The @OregonStateMBB postgame press conference streaming live and free at http://t.co/NdCrWqdR7A http://t.co/svTUSfk8r6
about 22 hours ago

Pac12Networks

Pac-12 Networks


It's all over in Corvallis! USC falls to the Beavs! #BeaverNation http://t.co/BdGSK3Z3V8
about 22 hours ago

maeubanks

Mike Eubanks


Love #StanfordWinter. RT @Stanford: A gentle winter sunset, as captured by Grace Chen on @instagram. #FarmPhoto http://t.co/bdABR4XujC
about 22 hours ago

Pac12Networks

Pac-12 Networks


Cougs and Buffs. Two go in, one team wins.Watch #WSUvsCU live: http://t.co/YfMNDX35dA http://t.co/1WcWjUxLL2
about 22 hours ago

Pac12Networks

Pac-12 Networks


Five men's conference games today, but in case you need more hoops check out our Pac-12 Networks Basketball Podcast: http://t.co/8FM7jbtJYJ
about 22 hours ago

StanfordFball

Stanford Football


Thought our seven straight Ws was nice. RT @StanfordWBB: Final from Pauley. #GoStanford wins 19th straight vs. UCLA. http://t.co/C35M4RhY4n
about 23 hours ago

Pac12Networks

Pac-12 Networks


The offense of @OregonMBB powers them past the Bruins in Eugene! http://t.co/Dc8DIQphco
1 day ago

Pac12Networks

Pac-12 Networks


Oregon State is perfect at home. Can the Trojans end that run?Watch #OSUvsUSC: http://t.co/YfMNDX35dA http://t.co/RElInoMvPb
1 day ago

Pac12Networks

Pac-12 Networks


Farida Osman closed out the women's 200 free relay to give Cal the race, the meet, & to earn our Moment of the Meet http://t.co/o20InYcvqN
1 day ago

Pac12Networks

Pac-12 Networks


.@Calmenswim took their half of the meet as well! http://t.co/xdaEC90dnj
1 day ago

Pac12Networks

Pac-12 Networks


Cal women's swimming wins a close one over Arizona! http://t.co/HGnS4qBiId
1 day ago

StanfordFball

Stanford Football


Thank u. RT @_acampbell: Of course I'm wearing a Stanford shirt in support of the guys playing in the Senior Bowl. 🏈🌲❤️ #GoStanford #GameDay
1 day ago

StanfordFball

Stanford Football


Before @SeniorBowl kickoff at 1pm PT, read @HenryAnderson91's daily writings this week: http://t.co/cbsjaVet9n #StanfordNFL via @aldotcom
1 day ago

anncaslin

Ann


On the road watching my Bears swim online @Pac12Networks #GoBears #CalAquatics http://t.co/pWbdbWTVOp
1 day ago

Pac12Networks

Pac-12 Networks


2014-2015 was an incredible season for Pac-12 football. Want to rank the top 12 games? Now you can! http://t.co/buupXnJUAv
1 day ago

Pac12Networks

Pac-12 Networks


Time to head to the pool!Watch Cal take on Arizona live: http://t.co/YfMNDX35dA http://t.co/lsWbX6N0Y9
1 day ago

StanfordFball

Stanford Football


.@CoachDavidShaw joins @KNBR at 11:30 a.m. PT to discuss the offseason & recruiting philosophy heading into signing day #gostanford
1 day ago

Pac12Networks

Pac-12 Networks


The stats speak for themselves.Congrats, @KlayThompson. Proud to have you as an alum. http://t.co/Pwtb8mFyhS
1 day ago

StanfordFball

Stanford Football


#StanfordNFL RT @CMccaffrey5: Big S/O to @TyMontgomery2 and @HenryAnderson91 playin in the Senior Bowl today! #🌲🏈
1 day ago

ESPN_Pac12blog

ESPN_Pac12blog


Scout's Take: Ryan Newsome to UCLA http://t.co/f7X3vznW3H
1 day ago

StanfordFball

Stanford Football


ICYMI: our new highlight video from the @FosterFarmsBowl, a night to remember at @LevisStadium. https://t.co/nj39Ehrfx1 #gostanford
1 day ago

StanfordMVB

Men\'s Volleyball


Recap from tonight's 5-set win over CSUN http://t.co/zjoV8a7oWo Card finished with 20.5 team blocks, including 12 by Kaminski #gostanford
1 day ago

Deadspin

Deadspin


VIDEO: All 37 of Klay Thompson's record-setting third quarter points, in 37 seconds http://t.co/ccm4EA3qUM
1 day ago

Pac12Networks

Pac-12 Networks


Klay Thompson's 73% from 3PT (11-15) is also an NBA record (for at least 15 attempts). #BackThePac #GoCougs
1 day ago

Pac12Networks

Pac-12 Networks


.@UW_WBB's Jazmine Davis must drive a stick because she is CLUTCH. Her late three is the #CUvsUW Play of the Game: http://t.co/ti1gFrn0Sl
1 day ago

Pac12Networks

Pac-12 Networks


Klay Thompson breaks NBA single-quarter scoring record (http://t.co/Z5GXoC67o5): http://t.co/74wyy684rS http://t.co/1U4Ur7Gb1v
1 day ago

Pac12Networks

Pac-12 Networks


Briana Roberson of @StanfordWBB channels her inner CP3 in this Play-of-the-Game drive to the bucket: http://t.co/HIMOaE7OR2
1 day ago

Pac12Networks

Pac-12 Networks


YOU try and stop Klay Thompson right now! #BackThePac http://t.co/aR1crqGgd5
1 day ago

Pac12Networks

Pac-12 Networks


Plum happy. #CUvsUW http://t.co/QcmcI8j5GZ
1 day ago

Pac12Networks

Pac-12 Networks


The Card cruise in LA. #STANvsUCLA http://t.co/X1kgXQXPdE
1 day ago

Pac12Networks

Pac-12 Networks


This #CUvsUW game though. 11.9 seconds to go, Huskies holding a 1-pt lead! WATCH: http://t.co/Es2YMB9DED
1 day ago

Pac12Networks

Pac-12 Networks


She's OSU's Ali Gibson, but you can call her Basket-Robbins for this scoop shot. It's the #OSUvsAZ Play of the Game: http://t.co/WhHZkrQ44S
1 day ago

Pac12Networks

Pac-12 Networks


Air Wiese & Co. cruise past the 'Cats in Tucson. Watch out for @OregonStateWBB! #OSUvsAZ http://t.co/meDetTDOhB
1 day ago

maeubanks

Mike Eubanks


Ivan? #ifhedieshedies http://t.co/jPSnAYIv0Y
1 day ago
BLOG ARCHIVE:
CATEGORIES: