Power Rankings: No. 13 Stanford
August, 8, 2012
8/08/12
10:00
AM ET
By
ESPN.com staff
| ESPN.com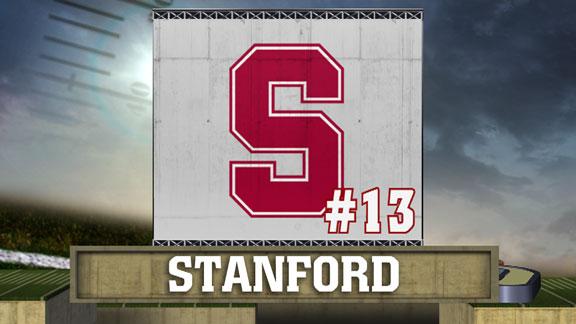 After back-to-back appearances in BCS bowl games, the Cardinal are beginning life anew without quarterback Andrew Luck. The guy under center might be different, but the philosophy and personality of the team shouldn't be. Stanford's identity is a run-first, power football team. That won't change as
Stepfan Taylor
returns after posting back-to-back 1,000-yard seasons. The Cardinal also return six of the starting front seven on defense. Plus, linebacker
Shayne Skov
is back after a knee injury, which should make them that much better since he is widely regarded as one of the top middle linebackers in the country. Luck is gone, but the Cardinal will continue to do what they do best, grind on offense and punish on defense.
For more on ESPN.com's preseason Power Rankings,
click here
.
Preseason AP Top 25 Poll Released
ESPN college football reporter Chris Low breaks down the preseason AP Top 25 poll, which is led by an unsurprising No. 1 team.
Preseason AP Top 25 Poll Released
VIDEO PLAYLIST
CARDINALNATION RECRUITING NEWS
STANFORD FB RECRUITING SCORECARD
Nike Men's Stanford Cardinal Rose Bowl Game Mascot T-shirt Shop »
suathletics

Stanford Athletics


We likey MT @slmandel It's 2014 and UCLA still can't protect Brett Hundley.
2 minutes ago

ESPN_Pac12blog

ESPN_Pac12blog


No score in Virginia after the first quarter. UCLA has had a TD called back and a missed FG.
10 minutes ago

BonaguraESPN

Kyle Bonagura


Adams returned that punt about 45 yards for a net gain of 6.
10 minutes ago

ESPN_Pac12blog

ESPN_Pac12blog


Video: Sarkisian's remarks on accusation http://t.co/jYmkeNT7mx
12 minutes ago

StanfordFball

Stanford Football


Two transformative leaders of our time: @CoachDavidShaw & Fred Anderson. #OnlyAtStanford #HonoraryCaptain #gostanford http://t.co/ebn88nX6qk
16 minutes ago

StanfordFball

Stanford Football


Per-Game Meal underway at our team hotel. Under four hours to kickoff. #gostanford http://t.co/ciGjpGCPYr
18 minutes ago

ScoutStanford

Scout Cardinal


Snap a selfie and #CheatSheetSelfie for a chance to win free entry to this year's Rotobowl. http://t.co/omE7rBbH1H http://t.co/xpe0TZUGpJ
18 minutes ago

ESPN_Pac12blog

ESPN_Pac12blog


I'll say this, (despite the flag) Pac-12 has been bringing it so far in the return game department.
18 minutes ago

PaloAltoNews

Palo Alto News


via @GoStanford: Kids Free for today's Bill Walsh Legacy Game, 1 pm: http://t.co/Touzepxukq #gostanford #paloalto #familyfun ttp://t.co/GKO
19 minutes ago

svtransitupdts

SV Transit Updates


Caltrain, SamTrans & 3 @VTA bus lines to @GoStanford football vs. #UCDavis @ 1pm in Palo Alto: http://t.co/sludiGAot4
19 minutes ago

TedMillerRK

Ted Miller


You know who's going to help Kendricks? Kenny Clark. The Bruins NT is going to be an All-Pac-12 player.
31 minutes ago

StanfordFball

Stanford Football


Per-Game Meal underway at our team hotel. Under four hours to kickoff. #gostanford http://t.co/ciGjpGCPYr
32 minutes ago

ESPN_Pac12blog

ESPN_Pac12blog


Friendly reminder, follow your delightful and sweet-smelling Pac-12 reporters @TedMillerRK @BonaguraESPN @ChantelJennings @Kevin_Gemmell
32 minutes ago

YogiRoth

Yogi Roth


preview of @USC_Athletics vs @FresnoStateFB http://t.co/Kga9CFr4vz cc: @Mike_Yam @CoachNeuheisel @Pac12Networks
40 minutes ago

ESPN_Pac12blog

ESPN_Pac12blog


Bruins come away with zero points, missed field goal from Fairbairn.
42 minutes ago

YogiRoth

Yogi Roth


#TheDrive #The1stPlay @UCLAFootball @Pac12Networks
43 minutes ago

Pac12Networks

Pac-12 Networks


Brett Hundley just doing Brett Hundley things already. @UCLAFootball #pac12fb
44 minutes ago

ESPN_Pac12blog

ESPN_Pac12blog


Morning game. @Kevin_Gemmell here, manning this account for a few hours. Nice start for the Bruins.
44 minutes ago

ESPN_Pac12blog

ESPN_Pac12blog


Sorry, Week 1, but @TedMillerRK is just not that into you. His eyes are already on Week 2. http://t.co/77EKZZqeae http://t.co/pdhXACsnvb
51 minutes ago

olcrimson

Ol' Crimson


The streak continues! 148 straight on @CollegeGameDay! http://t.co/I28KcVM1If #GoCougs #Wavetheflag http://t.co/qb0TGhfooz
54 minutes ago

ESPN_Pac12blog

ESPN_Pac12blog


Which player is the Pac-12 most interested in seeing Week 1? Look to Washington for the answer http://t.co/5gEZwMXd19 http://t.co/60FG0v5sNh
about an hour ago

roxybernstein

Roxy Bernstein


Fired up for 2nd Gameday of opening weekend for @YogiRoth, @AdamsonAshley & me. @UCDfootball at @StanfordFball 1pm on @Pac12Networks.
about an hour ago

Pac12Networks

Pac-12 Networks


Saturday. Football. Reunited and it feels so good.Who are you cheering for today? #pac12fb
about an hour ago

StanfordFball

Stanford Football


#gostanford RT @JeffreyTroj: game day is finally here! woke up feeling like it's Christmas morning
about an hour ago

MattLeinartQB

Matt Leinart


Who are you most excited to see in the Pac 12 today? I'm excited to see my guy @CodyKessler6 pick up where he left off. Big year for him!!
about an hour ago

roxybernstein

Roxy Bernstein


Fired up for 2nd Gameday of opening weekend for @YogiRoth, @AdamsonAshley & me. @UCDfootball at @StanfordFball 1pm on @Pac12Networks.
about an hour ago

suathletics

Stanford Athletics


Kids Free for today's Bill Walsh Legacy Game, 1 pm: http://t.co/MdC1nUYZy7 #gostanford #paloalto #familyfun http://t.co/GKODv4V80E
about an hour ago

Pac12Networks

Pac-12 Networks


Happy Saturday! RT @BonaguraESPN: A tradition unlike any other: WSU flag on GameDay. Joined today by one from Colorado.
about an hour ago

StanfordFball

Stanford Football


Game day in Stanford Stadium. Kickoff is only five hours away! #gostanford http://t.co/pcc7q1yxkn
about an hour ago

DufresneLATimes

Chris Dufresne


UCLA coach Jim Mora running stadium steps 2 hours before kickoff at Virginia....#uclafootball http://t.co/oWV6bw9Xyv
about an hour ago

classof2018_osu

OSU Class of 2018


It's that time of the year again everybody!! LETS GO BEAVS!!! 🏈🏈 #GoBeavs #OSU #Gameday
about an hour ago

USC_Athletics

USC Trojans


The wait is over. USC game day is finally here. #FightOn #BeatTheBulldogs http://t.co/U6kIb3N5P7
about an hour ago

Stanford_AD

Bernard Muir


Game day on The Farm. Let's go, #gostanford! http://t.co/4NFWLQRXi7
about an hour ago

StanfordWTennis

StanfordWTennis


Follow @Gibbsyyyy on Saturday in @usopen third round against No. 11 seed Flavia Pennetta. 8 a.m. PT, first match inside Arthur Ashe Stadium.
about 3 hours ago

ESPN_Pac12blog

ESPN_Pac12blog


Pac-12 viewers guide: Week 1 http://t.co/hr2MEIBIYb
about 4 hours ago

StanfordSports

Stanford Daily Sport


Too excited to sleep on the eve of @StanfordFball's season opener? We've got you covered with the fan's guide to 2014 http://t.co/Dbcs1wLHsp
about 9 hours ago

ShayneSkov

Shayne Skov


"@ItsSonGoku: Krillin Be Like http://t.co/rC71YDCrkB"@Huey_85
about 9 hours ago

StanfordFball

Stanford Football


Game Day is finally here! We have worked and waited 241 days to take the grass again. RT if you're awake & excited. #gostanford
about 9 hours ago

ESPN_Pac12blog

ESPN_Pac12blog


Arizona 58, UNLV 13 http://t.co/vjHiiaBxIH
about 10 hours ago

BonaguraESPN

Kyle Bonagura


Arizona's 787 total yards tonight would be a record at every Pac-12 school except USC, which holds conference record: 978 (in 1925).
about 10 hours ago

Kevin_Gemmell

Kevin Gemmell


So is this what Nick Saban wants Arizona's offense to look like?
about 10 hours ago

ESPN_Pac12blog

ESPN_Pac12blog


Arizona sets a school record with 787 total yards of offense in 58-13 win against UNLV.
about 10 hours ago

ESPN_Pac12blog

ESPN_Pac12blog


Solomon shines in Arizona debut http://t.co/3mpeYAmuRC
about 10 hours ago

ESPN_Pac12blog

ESPN_Pac12blog


Arizona leads 48-13 headed to the 4th. #UNLVvsAZ
about 11 hours ago

ESPN_Pac12blog

ESPN_Pac12blog


Arizona has 689 yards of total offense. Its single-game school record is 691 yards against New Mexico in 1969. It's still the third quarter.
about 11 hours ago

Pac12Networks

Pac-12 Networks


Megan Oyster gave @UCLAWSoccer their best shot with this Play of the Game, but it wasn't enough to win. #UNCvsUCLA http://t.co/mZbGvQIM2T
about 12 hours ago

Pac12Networks

Pac-12 Networks


. @RunRalphieRun goes down in their season opener, but we felt @nspruce22's 1 handed TD was Play of the Game worthy. http://t.co/R05DJ50yDr
about 12 hours ago

TedMillerRK

Ted Miller


Quoting Rich Rod at halftime: "Harrumph, harrumph, grumpy, grumpy, Drrra, smmmmfhf… grumble, grumble… thanks!"
about 12 hours ago

BonaguraESPN

Kyle Bonagura


RichRod in halftime interview: "We're not executing very well offensively." 393 yards apparently not good enough for 1 half.
about 12 hours ago

ESPN_Pac12blog

ESPN_Pac12blog


Buffs gave up 266 yards rushing -- both Dee Hart (139 yards) and Treyous Jarrells (121) had big nights as CSU scored game's final 24 points.
about 12 hours ago

ESPN_Pac12blog

ESPN_Pac12blog


That'll do it in Denver. Colorado State 31, Colorado 17 will be the final.
about 12 hours ago

TedMillerRK

Ted Miller


Colorado State is imposing its will on Buffs, playing like it's Power 5 conference team here. A big hit for Mike MacIntyre's momentum.
about 12 hours ago

Pac12Networks

Pac-12 Networks


OT: @UCLAWSoccer is headed to an extra period. #tunein http://t.co/Yc7SZcflHm
about 12 hours ago

Pac12Networks

Pac-12 Networks


Liz Brenner wins Play of the Match with this strike, giving @OregonVB their first win of the season. #OHSTvsUO http://t.co/D9w3PB7TGX
about 12 hours ago

ESPN_Pac12blog

ESPN_Pac12blog


21-straight points for CSU. Rams up 28-17. 9:28, 4th.
about 12 hours ago

ESPN_Pac12blog

ESPN_Pac12blog


12-play, 92-yard drive for Colorado State puts the Rams up 21-17 with 13:10 left. CU defense has no answers right now.
about 13 hours ago

ESPN_Pac12blog

ESPN_Pac12blog


End 3: Colorado 17, Colorado State 14.
about 13 hours ago

Pac12Networks

Pac-12 Networks


This is @mike_yam's greatest moment. RT @RunRalphieRun: As the @Pac12Networks would say. DEE DEE GOOD SON! #GoBuffs
about 13 hours ago

ESPN_Pac12blog

ESPN_Pac12blog


That was quick. Solomon to Samajie Grant for a 63-yard TD and the Wildcats are well on their way, up 14-0. 0:13, 1st
about 13 hours ago

StanfordFball

Stanford Football


#nw Law Abiding Citizen - "I'm just getting started. I'm gonna pull the whole thing down." #teammovie #gostanford
about 13 hours ago

ESPN_Pac12blog

ESPN_Pac12blog


Arizona's scoring drive: 3 plays, 96 yards. Freshman QB Anu Solomon's first TD pass goes for 39 yards to Nate Phillips. Arizona up 7-0.
about 13 hours ago

TedMillerRK

Ted Miller


That was a nice TD pass from Solomon. Wonder if he settles down now. Arizona has so many good WRs it's pretty ridiculous.
about 13 hours ago

ESPN_Pac12blog

ESPN_Pac12blog


Friendly reminder to follow the #4pac of Pac-12 writers: @TedMillerRK, @Kevin_Gemmell, @ChantelJennings and @BonaguraESPN
about 13 hours ago

ESPN_Pac12blog

ESPN_Pac12blog


Quick answer from CSU - 7-play, 56-yard drive capped by a 3-yard TD run from Treyous Jarrells. CU leads 17-14. 6:18, 3rd.
about 13 hours ago

Kevin_Gemmell

Kevin Gemmell


Two possessions, zero points. Not saying any changes will be made. But RichRod is not what you would call a patient man.
about 13 hours ago

ESPN_Pac12blog

ESPN_Pac12blog


Great catch from Nelson Spruce to put Colorado up 17-7. #SCtop10 nominee
about 13 hours ago

StanfordFball

Stanford Football


"Greatness Awaits."Get your mind right tonight with our team highlight we just watched at the hotel: https://t.co/WbiMv5ZpcO #gostanford
about 13 hours ago

StanfordFball

Stanford Football


"Greatness Awaits."Get your mind right tonight with our team highlight we just watched at the hotel: https://t.co/WbiMv5ZpcO #gostanford
about 13 hours ago

StanfordWVB

Stanford Volleyball


Final: @StanfordWVB 3, @CycloneVB 0 (25-16, 25-18, 25-19). Card wins its season opener for the 6th straight year #gostanford #AVCAShowcase
about 14 hours ago

ESPN_Pac12blog

ESPN_Pac12blog


Minutes away from kickoff for Arizona's opener against UNLV on ESPN. #UNLVvsAZ
about 14 hours ago

ESPN_Pac12blog

ESPN_Pac12blog


Halftime in Denver: Colorado 10, Colorado State 7.
about 14 hours ago

Pac12Networks

Pac-12 Networks


The nation's #1 is battling #9 North Carolina. Join the conversation with #UNCvsUCLA! http://t.co/YfMNDWLu5w http://t.co/jWD6DRzIJo
about 14 hours ago

DougBaldwinJr

Doug Baldwin Jr


🍕🎮🎶💯
about 14 hours ago

ESPN_Pac12blog

ESPN_Pac12blog


A review upholds a TD run for CSU and CU's lead is cut to 10-7 with 2:39 left in the half.
about 14 hours ago

Pac12Networks

Pac-12 Networks


#pac12vb is back on the Pac-12 Oregon! Talk about tonight's @OregonVB game with #OHSTvsUO. http://t.co/YfMNDWLu5w http://t.co/AoUSiiuaTm
about 14 hours ago

ESPN_Pac12blog

ESPN_Pac12blog


CU stalls inside the 5, but leads 10-0 after chip-shot FG from Oliver.
about 14 hours ago

ESPN_Pac12blog

ESPN_Pac12blog


Colorado leads Colorado State 7-0 and has a 152-26 advantage in total yardage after the first quarter.
about 14 hours ago

Pac12Networks

Pac-12 Networks


At the end of one, @RunRalphieRun leads Colorado State 7-0 in Denver.
about 14 hours ago

StanfordFball

Stanford Football


Inspiring story of Apple turnaround & our parallels from Fred Anderson. "Will to win." #HonoraryCaptain #gostanford http://t.co/w4hIfex8Yf
about 15 hours ago

Pac12Networks

Pac-12 Networks


Two goals? No. 12 @StanfordFH's Lauren Becker did that in the 4-0 win over No. 18 @delawarefh on Friday. Interview: http://t.co/snPNO19xX8
about 15 hours ago

StanfordWVB

Stanford Volleyball


Long rally ends in a kill by Howard from the back row! 6-4 Card in the 3rd #gostanford #AVCAShowcase
about 15 hours ago

ESPN_Pac12blog

ESPN_Pac12blog


Perfect pass from @SefoLiufau to Nelson Spruce for a 54-yard Colorado TD. Buffs up 7-0. 10:31, 1st
about 15 hours ago

Kevin_Gemmell

Kevin Gemmell


The Spruce is loose!
about 15 hours ago

Pac12Networks

Pac-12 Networks


It's almost time for @RunRalphieRun to rumble in the Rocky Mountain Showdown. http://t.co/GynuJKzDuv http://t.co/QechIRCkV2
about 15 hours ago

ESPN_Pac12blog

ESPN_Pac12blog


86th meeting between Colorado and Colorado State just about ready to kick off. Predictions?
about 15 hours ago

Pac12Networks

Pac-12 Networks


Two goals? No. 12 @StanfordFH's Lauren Becker did that in the 4-0 win over No. 18 @delawarefh on Friday. Interview: http://t.co/snPNO19xX8
about 15 hours ago

Pac12Networks

Pac-12 Networks


Jacked up for the season opener, @ArizonaFBall fans? Here's a preview of tonight's game: http://t.co/Xs5Q0JA4aa http://t.co/xFlgV2ZM6u
about 15 hours ago

suathletics

Stanford Athletics


Compete for $25K in Chevron Promo Cards in the #GameDayChef Challenge. Got a winning recipe? http://t.co/FiDY0XMmcB http://t.co/g28VLYvsf6
about 16 hours ago

Pac12Networks

Pac-12 Networks


Everything you need to know about #Pac12fb is included in this week's roundup. http://t.co/BWeob5Xt0c
about 16 hours ago

Pac12Networks

Pac-12 Networks


#NW @StanfordWVB has tipped off against Iowa St on @PAC12networks Bay Area!
about 16 hours ago

Pac12Networks

Pac-12 Networks


Every #pac12msoc team is in action to open 2014 this evening. Full schedule: http://t.co/jAnLtMeRLb http://t.co/MoCRKaV0kh
about 16 hours ago

Pac12Networks

Pac-12 Networks


Ever #pac12msoc team is in action to open 2014 this evening. Full schedule: http://t.co/0rYdzLquFg http://t.co/jImaJZ6uym
about 16 hours ago

zanakenobi

Luis Lara


Final Carneros Midget 2003 http://t.co/a338lSMdlt vía @youtube @shayneskov @tapanava campeones vs Pumitas!
about 17 hours ago

StanfordFH

Stanford FieldHockey


FINAL - Stanford 4, Delaware 0. Two goals by Lauren Becker who spent some time with the @Pac12Networks post game. http://t.co/PulliYyJUW
about 17 hours ago

ShayneSkov

Shayne Skov


To all you people just finishing up your work week enjoy this gif:http://t.co/YRZdsn4W4v
about 17 hours ago

maeubanks

Mike Eubanks


In a study of actual college enrollments in America, @Stanford is the #1 most popular choice for students: http://t.co/aahjCV2nGS via @TIME
about 17 hours ago

Pac12Networks

Pac-12 Networks


No. 12 @StanfordFH shuts out No. 18 Delaware, 4-0. Watch the Play of the Game from Lauren Becker: http://t.co/m4cF19RpxR #DELvsSTAN
about 17 hours ago

StanfordFball

Stanford Football


Team breakdown, our last practice in the books. When we next take the grass tomorrow, it's go time! #gostanford http://t.co/GowKoMIEC3
about 17 hours ago

Pac12Networks

Pac-12 Networks


#4 @UWVolleyball opens their 2014 season tonight with a big test in Boise. http://t.co/GynuJKzDuv http://t.co/RqpgzpdFmq
about 17 hours ago

USC_Athletics

USC Trojans


The Coliseum is ready for game day. #FightOn http://t.co/ruHAKZnh2f
about 17 hours ago
PAC-12 SCOREBOARD
Saturday, 8/30
Thursday, 8/28
Friday, 8/29
BLOG ARCHIVE:
CATEGORIES: