2013 college football betting guide
August, 22, 2013
8/22/13
7:30
AM ET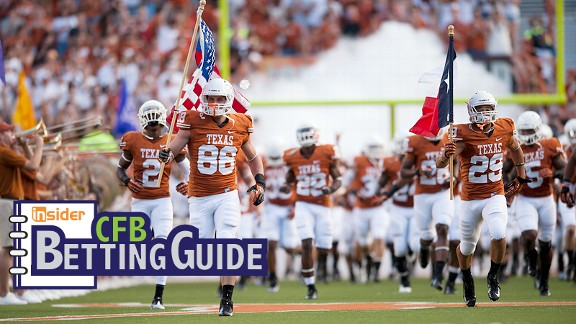 Cooper Neill/Getty ImagesAt 20-1 odds, are the Texas Longhorns a good BCS title value bet?
With the 2013 college football season nearly a week away, fans and sportsbooks are buzzing with excitement about the season's best bets. Beyond BCS-title favorites such as Alabama and front-runner conference picks such as Ohio State, where do the best value bets lie?
Two ESPN Insider betting experts, Phil Steele and Will Harris, are here to help.
Read the story here

.
Stanford Lands No. 4 QB-PP K.J. Costello
Recruiting reporter Erik McKinney breaks down the commitment of K.J. Costello, ranked No. 40 overall in the ESPN Junior 300, to the Cardinals' 2016 recruiting class.
Stanford Lands No. 4 QB-PP K.J. Costello
VIDEO PLAYLIST
STANFORD FB RECRUITING SCORECARD
si_soccer

Planet F\u00FAtbol


U.S. Soccer announces Aron Johannsson (toe infection) is out for Tuesday's game vs Switzerland. Jordan Morris up from U23s to replace #USMNT
about an hour ago

Pac12Networks

Pac-12 Networks


WATCH: @ArizonaBaseball pitcher Robby Medel is doing his part to increase the speed of the game. http://t.co/PQzbeoz011
about 10 hours ago

Pac12Networks

Pac-12 Networks


If this ball traveled any further, it would've required a stewardess. Holy smokes. CC: @ArizonaBaseball http://t.co/dFvrAJsElg
about 10 hours ago

Pac12Networks

Pac-12 Networks


If some is good, @ArizonaBaseball's Riley Moore is better. His 2-RBI Double is the #UOvsAZ Play of the Game: http://t.co/6s4e91nnai
about 11 hours ago

Pac12Networks

Pac-12 Networks


Series clinched! @ArizonaBaseball is HOT! #UOvsAZ http://t.co/uUcARHsNhL
about 11 hours ago

Pac12Networks

Pac-12 Networks


The #UCLAvsUSC Play of the Match is the match-winner for @USCmensvolley: http://t.co/MvgHmyyGKt
about 11 hours ago

Pac12Networks

Pac-12 Networks


.@USCmensvolley goes five with UCLA to claim this edition of the Crosstown Spike! #UCLAvsUSC http://t.co/1mKqrUQcvj
about 11 hours ago

StanfordMVB

Men\'s Volleyball


Cardinal suffer second setback of the weekend, falling at No. 10 Long Beach State http://t.co/K7MCcNy0tQ | Stanford back at Maples on Thurs.
about 12 hours ago

Pac12Networks

Pac-12 Networks


.@APlayersProgram is a family of absolute class. They caught up with our @YogiRoth following the loss to Wisconsin.https://t.co/FK7udFqDY5
about 12 hours ago

Pac12Networks

Pac-12 Networks


Flip over to Pac-12 Networks for some baseball. @OregonBaseball leads Arizona 3-1 in the bottom of the fourth! http://t.co/EGBuWp8z3a
about 13 hours ago

khoagie8

Kevin Hogan


How much class does Calipari have haha
about 13 hours ago

CoachSanfordND

Coach Mike Sanford


What a run @NDmbb. #WeAreND
about 13 hours ago

CoachSanfordND

Coach Mike Sanford


It is official, Kentucky. The mighty men of @NDmbb have taken you into Deep Waters. 🌊
about 13 hours ago

Stanford_AD

Bernard Muir


Kudos to @stanfordmswim, which earned its 35 consecutive top-10 finish at the @NCAA championships. #NerdNation
about 13 hours ago

stanfordmswim

Stanford Swimming


Touched fifth in 400 free relay (2:49.39) to close NCAA Championships. Sixth overall (209 pts.) for 35th consecutive top-10 finish.
about 13 hours ago

StanfordMGolf

Stanford Men\'s Golf


The Goodwin medalist honors stay on The Farm as @13maverickm raises the trophy at 13-under.
about 13 hours ago

Pac12Networks

Pac-12 Networks


The Crosstown Spike is live on Pac-12 Los Angeles and http://t.co/YfMNDWLu5w #UCLAvsUSC http://t.co/MDg3JLhRrX
about 13 hours ago

Pac12Networks

Pac-12 Networks


.@Cal_Baseball's Mitchell Kranson may get a #12Best nod for this game-ending snow cone grab in left field! http://t.co/NIy3XiHJ8s
about 14 hours ago

Pac12Networks

Pac-12 Networks


.@Cal_Baseball takes another from the Utes in Salt Lake City! #CALvsUTAH http://t.co/LmHK95x4v0
about 14 hours ago

CoachSanfordND

Coach Mike Sanford


http://t.co/8563eZTZJy
about 14 hours ago

Pac12Networks

Pac-12 Networks


We join the @WSUCougars in mourning the loss of Cougar legend Bobo Brayton. More: http://t.co/zSHaLECtdC http://t.co/hbW0drU4K4
about 14 hours ago

Pac12Networks

Pac-12 Networks


It's going down on the diamond. #UOvsAZ is live now on Pac-12 Networks and http://t.co/YfMNDWLu5w http://t.co/fBZCvuTdhk
about 14 hours ago

NDFootball

Notre Dame Football


We have a message for the @NDmbb #NotDoneYet #GoIrish http://t.co/g0JGPIwKZb
about 14 hours ago

AaronTaylorCFB

Aaron Taylor


C'mon fellas...you know it didnt need to be that close in the 1H. Get your stank faces on & put these kitties away http://t.co/vVEvGI5Vwn
about 14 hours ago

angdicarlowndu

Angelo Di Carlo


Former @NDFootball captain @EiferTy85 is "psyched" for his Irish. http://t.co/kBaO5GVL6N
about 14 hours ago

CoachSanfordND

Coach Mike Sanford


Great 1st Half @NDmbb! Keep on taking them into deep waters! #BeatUK
about 14 hours ago

ShayneSkov

Shayne Skov


Why are my sneezes the messiest when I'm driving? I'm forced to pick whether my pants or windshield looks like alien gut splatter
about 14 hours ago

Pac12Networks

Pac-12 Networks


.@UWSoftball returns yesterday's favor to the Ducks in Eugene! #UWvsUO http://t.co/xjbl8WLP39
about 15 hours ago

MatthiasFarley

Matthias Farley


I believe that we will win
about 15 hours ago

Pac12Networks

Pac-12 Networks


The conga line girls of @StanfordSB took down Utah on The Farm. #UTAHvsSTAN http://t.co/F7rQ5BmBUd
about 15 hours ago

Pac12Networks

Pac-12 Networks


.@ASUSoftball gets another one in Tucson! #ASUvsAZ http://t.co/ICmu8iJNpB
about 15 hours ago

Pac12Networks

Pac-12 Networks


CLASSIC @StanfordSball #NerdNation http://t.co/TUtp8Nql6s
about 15 hours ago

CoachSanfordND

Coach Mike Sanford


#LetsGoIrish #BeatKentucky
about 15 hours ago

ChrisPippin

Chris Pippin


I miss CA weather. Another perfect day on campus @Stanford. #FarmPhoto http://t.co/YPFgg9LGWJ
about 15 hours ago

Pac12Networks

Pac-12 Networks


We've got @Cal_Baseball and @utahbaseball live now on the Networks and http://t.co/YfMNDWLu5w http://t.co/XJfD7bjYkp
about 15 hours ago

Pac12Networks

Pac-12 Networks


The @Pac12 Champion Arizona Wildcats fall to Wisconsin in the Elite Eight. http://t.co/0Gaawjo0EY
about 15 hours ago

calebDeShazo

Caleb DeShazo


Cmon Arizona! #backthepac
about 16 hours ago

Pac12Networks

Pac-12 Networks


Hey @aaronrodgers12, we remember when you used to #BackThePac! It's not too late... http://t.co/EIzPeweayJ
about 16 hours ago

Pac12Networks

Pac-12 Networks


ZEUS wants YOU to #BackThePac http://t.co/ah4rpogQoE
about 17 hours ago

Pac12Networks

Pac-12 Networks


#GetPumped, Wildcat Nation. Indy is on the horizon! http://t.co/99XLrsmglK
about 17 hours ago

Pac12Networks

Pac-12 Networks


THROW IT DOWN ONE TIME, RHJ!!! #BackThePac http://t.co/skmUa3PAno
about 17 hours ago

Pac12Networks

Pac-12 Networks


Gabe York doing Gabe York things! #BackThePac
about 17 hours ago

SarahBWhitfield

Sarah B Whitfield


I love my Oregon Ducks and Arizona is one tough team. Let's go ZONA! #BackThePac #Pac12
about 17 hours ago

YogiRoth

Yogi Roth


The #StaplesCenter is rocking. #ArizonaVsWisconsin http://t.co/2tRDTExuvc
about 18 hours ago

geoffschwartz

Geoff Schwartz


Come on Wildcats! #Pac12 #BackThePac
about 18 hours ago

AutzenStudents

Autzen Students


Hey Zona, Destroy the Badgers! #BackThePac @ZonaZooOfficial
about 18 hours ago

ArizonaBaseball

Arizona Baseball


Early arrivals in the clubhouse checking out some @UA_Softball on @Pac12Networks. #BearDown http://t.co/w5a2oDPWNK
about 18 hours ago

Pac12Networks

Pac-12 Networks


When they dance, they look good doing it. #GetPumped for Arizona's march to Indy. http://t.co/nA98YkyFRz
about 18 hours ago

Pac12Networks

Pac-12 Networks


This go-ahead, Play-of-the-Match try from @CalVarsityRugby is simply amazing: http://t.co/NO4MbxG3QX
about 19 hours ago

ShayneSkov

Shayne Skov


Slaaaaterrrrrr
about 19 hours ago

sfgiantsbeat

Chris Haft/SF Giants


OPPOSITE-FIELD homer by Austin Slater off Yusmeiro Petit for SF prospects christens fourth inning and opens scoring
about 19 hours ago

Pac12Networks

Pac-12 Networks


.@OregonSB's Cheridan Hawkins was perfect yesterday. Round 2 up now on Pac-12 Networks #UWvsUO http://t.co/YfMNDWLu5w http://t.co/3mbsNo2dQF
about 19 hours ago

Pac12Networks

Pac-12 Networks


Coming up on Pac-12 Arizona, the softball version of the Duel in the Desert. #ASUvsAZ http://t.co/YfMNDWLu5w http://t.co/QpogA7EE4v
about 19 hours ago

Pac12Networks

Pac-12 Networks


At 2 PT on Pac-12 Bay Area/Mountain: @StanfordSball hosts @Utah_Softball. #UTAHvsSTAN http://t.co/YfMNDWLu5w http://t.co/eqnPe5NPDe
about 19 hours ago

Pac12Networks

Pac-12 Networks


They're ready. Are you? #BackThePac http://t.co/7IECw82DVZ
about 19 hours ago

Pac12Networks

Pac-12 Networks


.@CalVarsityRugby pulls off the comeback! The Golden Bears are now 15-1. http://t.co/JuZJGKAzYk
about 19 hours ago

Pac12Networks

Pac-12 Networks


"This is the very definition of a barn burner." @CalVarsityRugby leads St. Mary's 24-20, 10 mins left. Watch here: http://t.co/YfMNDWLu5w
about 19 hours ago

StanfordSports

Stanford Daily Sport


ICYMI: @StanfordWBB's season came to an end last night, as No. 1 seed ND defeated the Card in the Sweet 16. http://t.co/5co4IXYLEE
about 19 hours ago

OregonSB

Oregon Duck Softball


The fans are lining up before the second game of the Washington series! First pitch at 2 PM on @Pac12Networks http://t.co/CvSkNvfUr3
about 20 hours ago

StanfordFball

Stanford Football


Cardinal & White Spring Game starts two weeks from now! FREE admission & events April 11 at Stanford Stadium. #CWSG15 http://t.co/Zfomcy4nFw
about 20 hours ago

Pac12Networks

Pac-12 Networks


St. Mary's leads 13-8 at halftime of a fantastic match. Get on board for the second half. http://t.co/YfMNDWLu5w http://t.co/imsS4nMjAB
about 20 hours ago

RSherman_25

Richard Sherman


#2015 http://t.co/3eaRW6KUbP
about 20 hours ago

Pac12Networks

Pac-12 Networks


Live now on all networks: No. 2 @CalVarsityRugby hosts No. 4 St. Mary's.http://t.co/YfMNDWLu5w http://t.co/Dm2rfO6cfR
about 21 hours ago

Cougbaseball

WSU Baseball


The Cougar community lost a legend today; Bobo Brayton has passed away at 89. A leader of men. A true Coug. Legend. http://t.co/1MmEXQWVAK
about 22 hours ago

stanfordbball

Stanford Men\'s Hoops


100th season celebration filled with great memories. Among them: 1942 NCAA championship. Today the 73rd anniversary: http://t.co/1G2WUpDlFT
about 23 hours ago

StanfordFball

Stanford Football


Welcome home @TJRushing20! Former Stanford, @Colts CB is new defensive assistant. http://t.co/MpgbhDUCIA #gostanford http://t.co/2k3cSQYyF0
1 day ago

StanfordFball

Stanford Football


Welcome home @TJRushing20! Former Stanford, @Colts CB is new defensive assistant. http://t.co/MpgbhDUCIA #gostanford http://t.co/2k3cSQYyF0
1 day ago

StanfordFball

Stanford Football


From silver & black to cardinal & white: welcome defensive assistant Eric Sanders! http://t.co/W81guDhSvN #gostanford http://t.co/njMAmBGTRJ
1 day ago

StanfordFball

Stanford Football


From silver & black to cardinal & white: welcome defensive assistant Eric Sanders! http://t.co/W81guDhSvN #gostanford http://t.co/njMAmBGTRJ
1 day ago

maeubanks

Mike Eubanks


Congratulations to all of the extraordinary students admitted (5.0%) to @Stanford! #cardclass15 http://t.co/hVAJNIRdDz
1 day ago

StanfordSports

Stanford Daily Sport


Despite hard-fought effort, women's basketball loses to extremely talented Notre Dame team in Sweet 16http://t.co/5co4IXHaN6
1 day ago

StanfordWBB

Stanford WBB


Not how we wanted it to end, but a great season nonetheless. Proud of this group and how it represented #GoStanford. http://t.co/XXFbEusR5Q
1 day ago

Pac12Networks

Pac-12 Networks


.@USCmensvolley's Alex Slaught with the match-winner is the #UCSBvsUSC Play of the Match: http://t.co/UUCSGvjy6a
1 day ago

Pac12Networks

Pac-12 Networks


VICTORY! @USCmensvolley comes back from being down 2-0 to get the W over the Gauchos! http://t.co/l4lINp8pJh
1 day ago

Pac12Networks

Pac-12 Networks


.@USCmensvolley is going five with the Gauchos! Tune into Pac-12 Networks or http://t.co/YfMNDWLu5w
1 day ago

Pac12Networks

Pac-12 Networks


.@ArizonaBaseball knocks off 18th-ranked Oregon in Tucson! #UOvsAZ http://t.co/sAqD1o5848
1 day ago

Pac12Networks

Pac-12 Networks


Set 4 of #UCSBvsUSC is coming up on Pac-12 Los Angeles and http://t.co/YfMNDWLu5w! http://t.co/f1qRRE9kfe
1 day ago

Pac12Networks

Pac-12 Networks


Highlights: The @Runnin_Utes fall to Duke in Sweet 16: http://t.co/zYb7aEKL0J
1 day ago

StanfordMVB

Men\'s Volleyball


Recap and stats from tonight's four-set loss at CSUN http://t.co/yrR7wGdFns | Hayden led the team with 17 kills #GoStanford
1 day ago

Pac12Networks

Pac-12 Networks


The Pac-12 Champion @StanfordWBB Cardinal fall to Notre Dame in the #ncaaW Sweet 16. http://t.co/IN9OVuZE2C
1 day ago

Pac12Networks

Pac-12 Networks


.@sundevilwbb drops a heartbreaker to Florida State in the #ncaaW Sweet 16. http://t.co/reJErJAUPL
1 day ago

Pac12Networks

Pac-12 Networks


They fought Goliath for 40 minutes, but ultimately fell short. Congratulations @Runnin_Utes on an incredible season. http://t.co/bxul5iQoWe
1 day ago

CoachSanfordND

Coach Mike Sanford


Great time to be at @NotreDame. Great job by @MuffetMcGraw and @NDMikeBrey getting both @ndwbb and @NDmbb to the #Elite8! #NotDoneYet
1 day ago

Pac12Networks

Pac-12 Networks


#Pac12AfterDark
1 day ago

Pac12Networks

Pac-12 Networks


Reminder: #UOvsAZ baseball is live now on Pac-12 Networks and http://t.co/YfMNDWLu5w http://t.co/sb4FizKqJh
1 day ago

StanfordFball

Stanford Football


Proud to announce two promotions:Coord. Player Personnel @DjMosDev - http://t.co/ImtTHtJWo2Asst. DFO @CalJoySeid - http://t.co/Xl9uKkvKjR
1 day ago

Pac12Networks

Pac-12 Networks


.@ASUSoftball opened up a DELI with this grand salami from Chelsea Gonzales! It's the #ASUvsAZ Play of the Game: http://t.co/nzKlXAuk0t
1 day ago

Pac12Networks

Pac-12 Networks


.@ASUSoftball goes into Tucson and steals one from the 'Cats! #ASUvsAZ http://t.co/48E7dQ3QZs
1 day ago

Pac12Networks

Pac-12 Networks


Halftime opinion poll: Which Coach K is more awesome?RT for @LKrystkowiak Fav for @LKrystkowiak #BackThePac http://t.co/nJ4kiXTwm0
1 day ago

Pac12Networks

Pac-12 Networks


At the half in Houston, the @Runnin_Utes trail top-seeded Duke by just five, 22-27. #BackThePac
1 day ago

TimothyAskew1

Timothy Askew


I like Utah's Defense so far on Duke. Go Utah! #BackThePac
1 day ago

crichton18

Jeff Crichton


Go Utah! #BackThePac
1 day ago

Mookies_dad

Bard Doster


Let's go @Runnin_Utes . #BearDown #BackThePac
1 day ago

stanfordmswim

Stanford Swimming


Don't act like you didn't see David Nolan's school-record 44.78 in the 100 back. http://t.co/1Gu4obWMon
1 day ago

Pac12Networks

Pac-12 Networks


If you really #BackThePac, you'll listen to the infectiously good @UtahAthletics fight song on repeat: https://t.co/F51A6PAuet
1 day ago

CindyBrunsonAZ

Cindy Brunson


Sir Charles Barkley just picked @Runnin_Utes to upset #Duke Yep, that'll work! #BackThePac
1 day ago

SunDevilWBB

Sun Devil WBB


The Sun Devils warming up for #Sweet16! Tipoff will be approx. 7pm PT/10pm ET. Tune in to ESPN2! http://t.co/B8XlhqI6u4
1 day ago

StanfordWBB

Stanford WBB


And we're off! #GoStanford http://t.co/E8rL1hKszc
1 day ago

Pac12Networks

Pac-12 Networks


#BeatDuke #BackThePac
1 day ago

Pac12Networks

Pac-12 Networks


.@Runnin_Utes fans, #GetPumped with a look back at the Georgetown win to get to the #Sweet16. http://t.co/H9tBZvjYLJ
1 day ago
PAC-12 SCOREBOARD
Thursday, 9/3
Friday, 9/4
Saturday, 9/5
BLOG ARCHIVE:
CATEGORIES: