Stanford Football:

2012 pac-12 take 2
November, 30, 2012
11/30/12
9:00
AM ET
Pretty straight forward this week. There is a championship game tonight and we make a case for each of the teams.
Ted Miller:
The easy answer for what Stanford needs to do to win the Pac-12 championship game over UCLA is to point at the Cardinal's 35-17 win last weekend and type, "You should do that again, Stanford. Only better."
To beat UCLA, Stanford needs to do what it typically does: Run the ball. Stop the run. Sack the opposing QB. Protect the football. Lots of
Stepfan Taylor
with a little
Zach Ertz
mixed in.
In last week's game, Stanford outrushed UCLA 221 yards to 73. Its star running back back, Taylor, eclipsed UCLA's star running back,
Johnathan Franklin
, 142 yards to 65, with Taylor averaging 7.1 yards on his 21 carries compared to Franklin's 3.1 on 21.
The Cardinal sacked UCLA QB
Brett Hundley
seven times. It won the turnover battle 2-1. It was Stanford by the book, just as coach David Shaw would script it up.
[+] Enlarge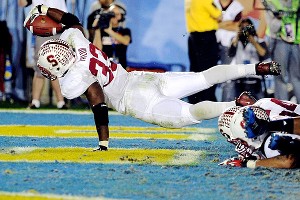 Jayne Kamin-Oncea/US PRESSWIREStanford's Stepfan Taylor rushed 20 times for 142 yards and two touchdowns against UCLA last week.
The question, however, is if nearly duplicating a game plan will work against a smart UCLA staff that -- I know Bruins fans don't like reading this but I suspect it's true -- probably held some stuff back last week.
I expect UCLA to be more creative and aggressive on both sides of the ball. I suspect you'll see Hundley run the ball a lot more. While Stanford's credo is to be itself, they also need to anticipate some specific scheme wrinkles from the Bruins.
Of course, you mute potential fanciness when you win the battle at the line of scrimmage, which Stanford did on both sides of the ball in Game 1. It was particularly noteworthy that the Cardinal wasn't forced to blitz much to get to Hundley. I wonder what Bruins offensive coordinator Noel Mazzone might do to counter the likelihood his young O-line won't be able to win the battle up front?
So Stanford essentially needs to show up with last week's game plan, but with a page two. Stanford needs to line up and be itself and see if UCLA wasn't itself last week. Stanford needs to anticipate potential counters and be ready to counterpunch if the Bruins application of those counters is successful.
But, really, Stanford should just do what it did last week. Only better.
Kevin Gemmell
: Any and all stories about UCLA and their chances of winning tonight have to start with the offensive line play. I'm not exactly breaking news here, but Hundley is going to get sacked. Franklin will take negative plays. That's the nature of playing against one of the best defenses in the country.
But seven sacks (as was the case last week) and nine tackles for a loss (as was the case last week) isn't going to cut it. Neither will 12 penalties for 135 yards. That's the good news for the Bruins heading into tonight's Pac-12 championship game. There is room for improvement -- in both the physical and the mental aspects of the game.
A lot of it is on the offensive line. But not all of it. Hundley needs to do a better job of recognizing where the pressure is coming from and getting rid of the ball quicker than he did last week. He's still a fantastic athlete, but he's still learning to be a complete quarterback -- that includes reading defenses. The Cardinal run a fairly sophisticated, NFL-style 3-4. And when Jason Tarver was the co-defensive coordinator last year, he installed a lot of different strands and stunts. And with their base defense and limited blitzing, they were still able to disrupt UCLA's offense. I'm sure Stanford defensive coordinator Derek Mason watched game film this week and in his best Mr. Burns voice, tapped his fingers together and cooed "exxxxcellent."
To counter this, I'd expect Mazzone to make Hundley more mobile this week -- more designed runs, sprint outs, a couple of boots, etc. Just enough to take some of the pressure off of the offensive line, back the Cardinal up a little bit, create some space for Franklin and buy Hundley a little more time.
I'd also expect a big game out of tight end
Joseph Fauria
. Just as the Zach Ertz/
Levine Toilolo
combo is a mismatch for the Cardinal offense, Fauria is Hundley's primary mismatch. He has more touchdowns than any FBS tight end (11) and Hundley is completing 75 percent of his throws with 11 touchdowns and zero picks when he targets a tight end.
And let's not forget whatever cosmic forces may be at work. Just consider the 2012 season: USC was No. 1; Oregon was unstoppable; Washington beat two Top 10s but lost to Washington State; Stanford was supposed to drop off; three of the four new coaches are going to the postseason and a sophomore from Arizona leads the nation in rushing. Apropos of nothing, but it would almost be a fitting bookend to this year if exactly what we all expect to happen -- Stanford winning -- doesn't.
November, 16, 2012
11/16/12
12:00
PM ET
It's crunch time. And as the saying goes, big-time players make big-time plays in big games. Who will step up this weekend? We debate.
Ted Miller
: There will be plenty of star players on the field Saturday when Oregon hosts Stanford. And there will be plenty of key players who are question marks. But my choice for a player who could play a crucial role is not one on many folks' immediate radar.
It's a fullback. Stanford fullback
Ryan Hewitt
, actually.
[+] Enlarge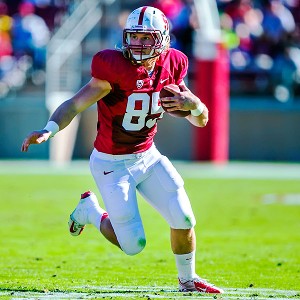 Cal Sport Media via AP ImagesRyan Hewitt has been a huge part of Stanford's run attack, and is coming off a huge receiving game.
Oregon, of course, doesn't even have a fullback. In fact, only about half of the Pac-12 even plays one regularly. But Stanford loves its fullbacks -- recall two-way star Owen Marecic -- and Hewitt is among the best in the country.
First, the obvious: Hewitt is the guy who will regularly be running immediately in front of Stanford running back
Stepfan Taylor
, the Cardinal's best offensive weapon. He's the guy providing the final block that often means a 6-yard gain or a 2-yard gain. The difference will be key in this game.
Ideally from the Stanford perspective, Taylor will run about 30 times, average 6 yards a carry -- and the Ducks offense will find itself chilling on the sidelines during a number of six-, seven- and 10-minute stretches. Stanford wants to pound a beaten-up Oregon defense, convert third downs and win a battle of attrition.
Oregon's beaten-up defensive line adds another layer to Hewitt's value. More often than not, he's a blocker seeking a linebacker. Oregon is very good at linebacker, and the Ducks linebackers will play an even more crucial role than usual because of the injuries up front and the fact that Stanford is a downhill running team. You can expect
Michael Clay
and
Kiko Alonso
each to be around 10-plus tackles. Where those tackles take place depends a lot on Hewitt.
Further, if the Cardinal running game is surging like an army of steamrollers, it will make life much easier for redshirt freshman quarterback
Kevin Hogan
, who is making his first road start in raucous Autzen Stadium. And guess what a consistent running game sets up? That's right, play-action passing.
While Stanford would rather go downfield with its play-action game, that's always a risk. Guess who made his presence felt for the first time all season in the passing game against Oregon State? Yep. Hewitt.
Not only did he lead the way for a running game that ground out 163 yards against a run defense that had been yielding just 91.8 yards per game, he caught four passes for 52 yards, including a 12-yard touchdown, against the Beavers.
The 6-foot-4, 248-pound Hewitt, who was recruited as a tight end, could be a key target, both on third down and in the red zone, while the Ducks try to gang up against the Stanford tight ends.
Of course, if Stanford posts the upset Saturday, you probably won't read much about Hewitt afterward. That's the way it is with fullbacks. But here's a guarantee that if Stanford does pull the upset, everyone in the Cardinal locker room will be giving Hewitt a special fist-bump.
Kevin Gemmell
: First off, that's a great call, Ted. On a team without a ton of star power, Hewitt is certainly deserving of the recognition.
[+] Enlarge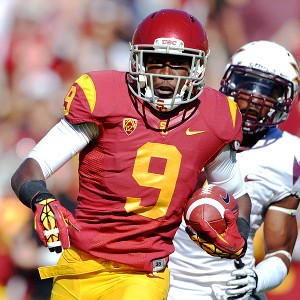 Kirby Lee/Image of Sport/US PresswireUSC receiver Marqise Lee, already well clear of his Pac-12 counterparts, gets a big stage Saturday.
But Southern California is home to the stars, and the Rose Bowl field is going to be littered with A-list playmakers when the Trojans travel crosstown to face UCLA. It's very possible that an under-the-radar player has an impact in this game, but with at least a dozen or so guys from both squads with NFL futures, it's more likely than not that one of the superstars will emerge and carry ... or catch ... or throw ... or intercept ... or sack at a key time of the game and lead his team to the South Division title.
Sometimes there is nothing wrong with going with the obvious -- and
Marqise Lee
is the obvious. The USC wide receiver has been one of the -- if not
the
-- most dynamic playmakers in the Pac-12 and, at the very least, should win the Biletnikoff Award for the nation's top wide receiver. Even Oedipus could see that.
The numbers speak for themselves. He has 36 more receptions than the next-closest Pac-12 wide receiver (98), 424 more receiving yards than the next-closest receiver (1,447), and he's averaging a ridiculous 144.7 receiving yards per game.
If ever there was a game for him to show up big-time, this is it.
Regardless of what your standards are, this has so far been a very disappointing season for the Trojans. They will not be playing for a national championship after starting the year as the Associated Press preseason No. 1. But they can still play in a BCS game -- namely the Rose Bowl. To get there, they have to go through the Bruins, then likely through Oregon again -- this time at Autzen.
Aside from maybe
De'Anthony Thomas
, there is no player in the Pac-12 who can shift momentum faster than Lee. Be it with an 80-yard touchdown after the defense gives up a score or a long kick return (he also leads the Pac-12 in all-purpose yards by a huge margin, at 223.4), Lee has the capability to change the game with a single catch, carry or return.
Teams have tried to bracket him, double-team him and even triple him. But he still makes the plays before, during and after the catch. Stanford head coach David Shaw gave Lee the ultimate praise when he said he hasn't seen a college wide receiver do what Lee has done since he scouted Randy Moss. No doubt he'll tax a UCLA secondary that gives up a ton of yards through the air and ranks in the bottom half of the league in pass-efficiency defense.
And while the Trojans' unfinished business -- i.e., a national championship -- will remain just that, it's quite possible we'll see a Trojan in New York for the Heisman ceremony after all. Another huge game for Lee on a national stage (and yes, I promise a lot of people will be watching) could help garner some more Heisman support. There is still work for this team to do, and I'd expect Lee to play his usual, significant and spectacular role tomorrow against the Bruins.
Drive Through: Top Early Games of the Season
PAC-12 SCOREBOARD
Thursday, 8/28
Friday, 8/29
Saturday, 8/30