Stanford Football:

Alvin Kamara
June, 23, 2014
6/23/14
5:30
AM ET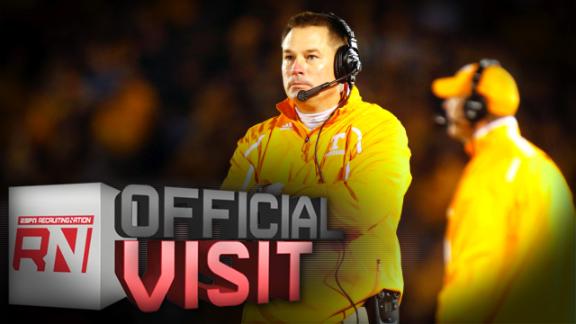 The Early Offer is RecruitingNation's regular feature, giving you a dose of recruiting in the mornings. Today's offerings: The SEC's raid on talent continued over the weekend as Tennessee, a team that hasn't been talked about much despite a top-10 ranking, reeled in an impressive trio of commitments. Plus, Arizona State and Stanford have developed into rivals both on the field and on the recruiting trail, which makes the battle to land one of the nation's best receivers even more entertaining.
Tennessee's class is getting overlooked
To continue reading this article you must be an Insider
Insider
February, 1, 2013
2/01/13
9:49
AM ET
By
ESPN RecruitingNation
| ESPN.com
National signing day is just around the corner on Feb. 6. That day, a number of the nation's top football recruits will announce their college destinations, and 18
ESPN 300
prospects are scheduled to do so on ESPNU.
Below is the full schedule of announcements on ESPNU, which kicks off with the nation's No. 1 overall prospect, Robert Nkemdiche, making his long-awaited decision at 7:30 a.m. ET.
Note: All times are Eastern
National Signing Day TV Announcements
The following ESPN 300 recruits are scheduled to announce their college decisions on ESPNU on national signing day, which is Feb. 6. All times are Eastern.
Tags:
Football recruiting, Tyrone Crowder, Alvin Kamara, Antonio Conner, Asiantii Woulard, Carl Lawson, Denver Kirkland, Jermaine Grace, Jordan Cunningham, Keith Bryant, Laremy Tunsil, Mackensie Alexander, Matthew Thomas, Montravius Adams, National Signing Day, Quinton Powell, Robert Nkemdiche, Stacy Coley
Stanford Lands No. 4 QB-PP K.J. Costello
Recruiting reporter Erik McKinney breaks down the commitment of K.J. Costello, ranked No. 40 overall in the ESPN Junior 300, to the Cardinals' 2016 recruiting class.
Stanford Lands No. 4 QB-PP K.J. Costello
VIDEO PLAYLIST
STANFORD FB RECRUITING SCORECARD
Pac12Networks

Pac-12 Networks


No offense to @UA_Softball's Katiyana Mauga, but ...Dino, YOU DA REAL MVP! http://t.co/wRFrNcJyMr http://t.co/Gn0Vo0RB0p
about 3 hours ago

Stanfordh2opolo

Stanford Water Polo


Congrats to Kiley on scoring her 200th career goal today. #gostanford http://t.co/U3zu06J04T
about 4 hours ago

Pac12Networks

Pac-12 Networks


Take a bow, Katiyana Mauga. The #ASUvsAZ Play of the Game sends the Wildcats to a walk-off! http://t.co/TJPp3gcOLp
about 4 hours ago

Pac12Networks

Pac-12 Networks


That's how you win a run-rule game in style, @UA_Softball! The 'Cats walk off in the fifth! http://t.co/zIzuZLtxQv http://t.co/VF4V25eVAQ
about 4 hours ago

Pac12Networks

Pac-12 Networks


Please share to help locate missing @UCBerkeley student-athlete Eloi Vasquez: http://t.co/xy3Mb0neg7 http://t.co/lbsgwdNWHU
about 6 hours ago

Pac12Networks

Pac-12 Networks


RT if @Cal_Baseball's @bcumboslice is this week's Leader of the Pac! #GoBears #Leader4 http://t.co/XHbJUUFqu4
about 6 hours ago

Pac12Networks

Pac-12 Networks


RT if @uclamvb's J.T. Hatch is this week's Leader of the Pac! #GoBruins #Leader3 http://t.co/b76LjuMIMF
about 6 hours ago

Pac12Networks

Pac-12 Networks


RT if @calmenswim's Ryan Murphy is this week's Leader of the Pac! #GoBears #Leader2 http://t.co/AtkiACPfvZ
about 6 hours ago

Pac12Networks

Pac-12 Networks


RT if @OregonSB's Cheridan Hawkins is this week's Leader of the Pac! #GoDucks #Leader1 http://t.co/HTQTnGlgy4
about 6 hours ago

Pac12Networks

Pac-12 Networks


It's time to vote for this week's Leader of the Pac! Read about the nominees and vote here: http://t.co/fTFtKpVQxy http://t.co/puTm2N00Wy
about 6 hours ago

Pac12Networks

Pac-12 Networks


Our Sunday nightcap is round 3 of #ASUvsAZ, live now on Pac-12 Networks and http://t.co/YfMNDWLu5w http://t.co/QDO6fYP4fQ
about 7 hours ago

CalAthletics

Cal Bears


Eloi Vasquez, a freshman on our men's soccer team, has been reported missing. Full statement: http://t.co/GS9MRSPShE http://t.co/4UInDgYlgn
about 7 hours ago

ShayneSkov

Shayne Skov


WRESTLEMANIA https://t.co/CPKclSuR7q
about 7 hours ago

Pac12Networks

Pac-12 Networks


.@CalAthletics has issued a statement regarding missing student-athlete Eloi Vasquez: http://t.co/xy3Mb0neg7 http://t.co/nGBpd73g6O
about 7 hours ago

Pac12Networks

Pac-12 Networks


.@UtahBaseball's Cody Scaggari's 2-RBI go-ahead double is the #CALvsUTAH Play of the Game: http://t.co/dFqy72zn31
about 8 hours ago

Pac12Networks

Pac-12 Networks


.@utahbaseball gets one back from the Golden Bears in Salt Lake City! #CALvsUTAH http://t.co/ITZqbqHzn0
about 8 hours ago

stanfordbball

Stanford Men\'s Hoops


Prior to leaving for NYC, Chasson Randle sat down w/ @CBSSF for his final interview on The Farm. What makes him tick: http://t.co/4XjbtRnD2a
about 8 hours ago

Pac12Networks

Pac-12 Networks


.@OregonSB's Geri Ann Glasco's THIRD homer of the day came while we interviewed UW coach Heather Tarr: http://t.co/M1fifWmQnd
about 8 hours ago

Pac12Networks

Pac-12 Networks


EIGHT DINGERS for @OregonSB in today's win over Washington! #UWvsUO http://t.co/j5QAE1PmKW
about 8 hours ago

Pac12Networks

Pac-12 Networks


.@ArizonaBaseball's Bobby Dalbec takes this ball on an aerial tour of Tucson in the #UOvsAZ Play of the Game: http://t.co/18iPl5Qul3
about 8 hours ago

Pac12Networks

Pac-12 Networks


MUST WATCH: @APlayersProgram's RHJ receives standing ovation at @ArizonaBaseball game: http://t.co/j9eXA5aa9G http://t.co/ET9GYz87Yp
about 9 hours ago

Pac12Networks

Pac-12 Networks


.@ArizonaBaseball's Bobby Dalbec will have a grande doubleshot, please. His bomb is the #UOvsAZ Play of the Game: http://t.co/EZkUksuiZM
about 9 hours ago

Pac12Networks

Pac-12 Networks


.@Utah_Softball's Marissa Mendenhall knocks two Utes home in the #UTAHvsSTAN Play of the Game: http://t.co/EtvuUpmIGS
about 9 hours ago

Pac12Networks

Pac-12 Networks


.@ArizonaBaseball gives 18th-ranked Oregon the ole Sweeperoo! #UOvsAZ http://t.co/8RXG0Q3DT3
about 10 hours ago

Pac12Networks

Pac-12 Networks


.@Utah_Softball downs Stanford on The Farm! #UTAHvsSTAN http://t.co/ML7KVq133P
about 10 hours ago

Pac12Networks

Pac-12 Networks


These two again?! Let's do it! Huskies. Ducks. Live now on Pac-12 Networks and http://t.co/YfMNDWLu5w http://t.co/Vn7FVKWfoL
about 10 hours ago

Pac12Networks

Pac-12 Networks


.@Cal_Baseball and @utahbaseball square off for round three right now: http://t.co/YfMNDWLu5w http://t.co/MrWdEoDwIF
about 10 hours ago

WSUCougars

WSU Cougars


(GIF) Catch of the year by Ben Roberts? You be the judge of this TREMENDOUS diving play! http://t.co/4EaK3Plo2P #GoCougs
about 10 hours ago

Pac12Networks

Pac-12 Networks


Programming alert: @Cal_Baseball vs. @utahbaseball will begin on http://t.co/m1bS2pr2da
about 11 hours ago

StanfordFball

Stanford Football


#StanfordFamily RT @StanfordSball: Erin Ashby helping teammates channel their inner @ShayneSkov today. #gostanford http://t.co/b7CqDLWpuh
about 11 hours ago

Pac12Networks

Pac-12 Networks


We spy with our little eye... a RONDAE at #UOvsAZ!! http://t.co/aSCz2wMqWV
about 12 hours ago

Pac12Networks

Pac-12 Networks


.@APlayersProgram reflected on an amazing season with Pac-12 Networks' @YogiRoth last night.https://t.co/H8EzAHVFVc
about 12 hours ago

Pac12Networks

Pac-12 Networks


.@Utah_Softball and @StanfordSBall are ready to roll on The Farm! Watch now at http://t.co/YfMNDWLu5w http://t.co/aIN2uDPnX8
about 13 hours ago

Pac12Networks

Pac-12 Networks


Batter up! @OregonBaseball and @ArizonaBaseball are live in Tucson! #UOvsAZ http://t.co/tvvew93mnn
about 14 hours ago

angdicarlowndu

Angelo Di Carlo


Notre Dame and Kentucky was the most watched college basketball game ever on Cable Television. Makes sense. High stakes & amazing game.
about 15 hours ago

keithlaw

keithlaw


You undersold this, Joe. "@JPosnanski: Here's a little baseball story. http://t.co/NTAVGB4Rzg"
about 15 hours ago

si_soccer

Planet F\u00FAtbol


U.S. Soccer announces Aron Johannsson (toe infection) is out for Tuesday's game vs Switzerland. Jordan Morris up from U23s to replace #USMNT
about 16 hours ago

Pac12Networks

Pac-12 Networks


WATCH: @ArizonaBaseball pitcher Robby Medel is doing his part to increase the speed of the game. http://t.co/PQzbeoz011
1 day ago

Pac12Networks

Pac-12 Networks


If this ball traveled any further, it would've required a stewardess. Holy smokes. CC: @ArizonaBaseball http://t.co/dFvrAJsElg
1 day ago

Pac12Networks

Pac-12 Networks


If some is good, @ArizonaBaseball's Riley Moore is better. His 2-RBI Double is the #UOvsAZ Play of the Game: http://t.co/6s4e91nnai
1 day ago

Pac12Networks

Pac-12 Networks


Series clinched! @ArizonaBaseball is HOT! #UOvsAZ http://t.co/uUcARHsNhL
1 day ago

Pac12Networks

Pac-12 Networks


The #UCLAvsUSC Play of the Match is the match-winner for @USCmensvolley: http://t.co/MvgHmyyGKt
1 day ago

Pac12Networks

Pac-12 Networks


.@USCmensvolley goes five with UCLA to claim this edition of the Crosstown Spike! #UCLAvsUSC http://t.co/1mKqrUQcvj
1 day ago

StanfordMVB

Men\'s Volleyball


Cardinal suffer second setback of the weekend, falling at No. 10 Long Beach State http://t.co/K7MCcNy0tQ | Stanford back at Maples on Thurs.
1 day ago

Pac12Networks

Pac-12 Networks


.@APlayersProgram is a family of absolute class. They caught up with our @YogiRoth following the loss to Wisconsin.https://t.co/FK7udFqDY5
1 day ago

Pac12Networks

Pac-12 Networks


Flip over to Pac-12 Networks for some baseball. @OregonBaseball leads Arizona 3-1 in the bottom of the fourth! http://t.co/EGBuWp8z3a
1 day ago

CoachSanfordND

Coach Mike Sanford


What a run @NDmbb. #WeAreND
1 day ago

CoachSanfordND

Coach Mike Sanford


It is official, Kentucky. The mighty men of @NDmbb have taken you into Deep Waters. 🌊
1 day ago

Stanford_AD

Bernard Muir


Kudos to @stanfordmswim, which earned its 35 consecutive top-10 finish at the @NCAA championships. #NerdNation
1 day ago

stanfordmswim

Stanford Swimming


Touched fifth in 400 free relay (2:49.39) to close NCAA Championships. Sixth overall (209 pts.) for 35th consecutive top-10 finish.
1 day ago

StanfordMGolf

Stanford Men\'s Golf


The Goodwin medalist honors stay on The Farm as @13maverickm raises the trophy at 13-under.
1 day ago

Pac12Networks

Pac-12 Networks


The Crosstown Spike is live on Pac-12 Los Angeles and http://t.co/YfMNDWLu5w #UCLAvsUSC http://t.co/MDg3JLhRrX
1 day ago

Pac12Networks

Pac-12 Networks


.@Cal_Baseball's Mitchell Kranson may get a #12Best nod for this game-ending snow cone grab in left field! http://t.co/NIy3XiHJ8s
1 day ago

Pac12Networks

Pac-12 Networks


.@Cal_Baseball takes another from the Utes in Salt Lake City! #CALvsUTAH http://t.co/LmHK95x4v0
1 day ago

CoachSanfordND

Coach Mike Sanford


http://t.co/8563eZTZJy
1 day ago

Pac12Networks

Pac-12 Networks


We join the @WSUCougars in mourning the loss of Cougar legend Bobo Brayton. More: http://t.co/zSHaLECtdC http://t.co/hbW0drU4K4
1 day ago

Pac12Networks

Pac-12 Networks


It's going down on the diamond. #UOvsAZ is live now on Pac-12 Networks and http://t.co/YfMNDWLu5w http://t.co/fBZCvuTdhk
1 day ago

NDFootball

Notre Dame Football


We have a message for the @NDmbb #NotDoneYet #GoIrish http://t.co/g0JGPIwKZb
1 day ago

AaronTaylorCFB

Aaron Taylor


C'mon fellas...you know it didnt need to be that close in the 1H. Get your stank faces on & put these kitties away http://t.co/vVEvGI5Vwn
1 day ago

angdicarlowndu

Angelo Di Carlo


Former @NDFootball captain @EiferTy85 is "psyched" for his Irish. http://t.co/kBaO5GVL6N
1 day ago

CoachSanfordND

Coach Mike Sanford


Great 1st Half @NDmbb! Keep on taking them into deep waters! #BeatUK
1 day ago

ShayneSkov

Shayne Skov


Why are my sneezes the messiest when I'm driving? I'm forced to pick whether my pants or windshield looks like alien gut splatter
1 day ago

Pac12Networks

Pac-12 Networks


.@UWSoftball returns yesterday's favor to the Ducks in Eugene! #UWvsUO http://t.co/xjbl8WLP39
1 day ago

MatthiasFarley

Matthias Farley


I believe that we will win
1 day ago

Pac12Networks

Pac-12 Networks


The conga line girls of @StanfordSB took down Utah on The Farm. #UTAHvsSTAN http://t.co/F7rQ5BmBUd
1 day ago

Pac12Networks

Pac-12 Networks


.@ASUSoftball gets another one in Tucson! #ASUvsAZ http://t.co/ICmu8iJNpB
1 day ago

Pac12Networks

Pac-12 Networks


CLASSIC @StanfordSball #NerdNation http://t.co/TUtp8Nql6s
1 day ago

CoachSanfordND

Coach Mike Sanford


#LetsGoIrish #BeatKentucky
1 day ago

ChrisPippin

Chris Pippin


I miss CA weather. Another perfect day on campus @Stanford. #FarmPhoto http://t.co/YPFgg9LGWJ
1 day ago

Pac12Networks

Pac-12 Networks


We've got @Cal_Baseball and @utahbaseball live now on the Networks and http://t.co/YfMNDWLu5w http://t.co/XJfD7bjYkp
1 day ago

Pac12Networks

Pac-12 Networks


The @Pac12 Champion Arizona Wildcats fall to Wisconsin in the Elite Eight. http://t.co/0Gaawjo0EY
1 day ago

calebDeShazo

Caleb DeShazo


Cmon Arizona! #backthepac
1 day ago

Pac12Networks

Pac-12 Networks


Hey @aaronrodgers12, we remember when you used to #BackThePac! It's not too late... http://t.co/EIzPeweayJ
1 day ago

Pac12Networks

Pac-12 Networks


ZEUS wants YOU to #BackThePac http://t.co/ah4rpogQoE
1 day ago

Pac12Networks

Pac-12 Networks


#GetPumped, Wildcat Nation. Indy is on the horizon! http://t.co/99XLrsmglK
1 day ago

Pac12Networks

Pac-12 Networks


THROW IT DOWN ONE TIME, RHJ!!! #BackThePac http://t.co/skmUa3PAno
1 day ago

Pac12Networks

Pac-12 Networks


Gabe York doing Gabe York things! #BackThePac
1 day ago

SarahBWhitfield

Sarah B Whitfield


I love my Oregon Ducks and Arizona is one tough team. Let's go ZONA! #BackThePac #Pac12
1 day ago

YogiRoth

Yogi Roth


The #StaplesCenter is rocking. #ArizonaVsWisconsin http://t.co/2tRDTExuvc
1 day ago

geoffschwartz

Geoff Schwartz


Come on Wildcats! #Pac12 #BackThePac
1 day ago

AutzenStudents

Autzen Students


Hey Zona, Destroy the Badgers! #BackThePac @ZonaZooOfficial
1 day ago

ArizonaBaseball

Arizona Baseball


Early arrivals in the clubhouse checking out some @UA_Softball on @Pac12Networks. #BearDown http://t.co/w5a2oDPWNK
1 day ago

Pac12Networks

Pac-12 Networks


When they dance, they look good doing it. #GetPumped for Arizona's march to Indy. http://t.co/nA98YkyFRz
1 day ago

Pac12Networks

Pac-12 Networks


This go-ahead, Play-of-the-Match try from @CalVarsityRugby is simply amazing: http://t.co/NO4MbxG3QX
1 day ago

ShayneSkov

Shayne Skov


Slaaaaterrrrrr
1 day ago

sfgiantsbeat

Chris Haft/SF Giants


OPPOSITE-FIELD homer by Austin Slater off Yusmeiro Petit for SF prospects christens fourth inning and opens scoring
1 day ago

Pac12Networks

Pac-12 Networks


.@OregonSB's Cheridan Hawkins was perfect yesterday. Round 2 up now on Pac-12 Networks #UWvsUO http://t.co/YfMNDWLu5w http://t.co/3mbsNo2dQF
1 day ago

Pac12Networks

Pac-12 Networks


Coming up on Pac-12 Arizona, the softball version of the Duel in the Desert. #ASUvsAZ http://t.co/YfMNDWLu5w http://t.co/QpogA7EE4v
1 day ago

Pac12Networks

Pac-12 Networks


At 2 PT on Pac-12 Bay Area/Mountain: @StanfordSball hosts @Utah_Softball. #UTAHvsSTAN http://t.co/YfMNDWLu5w http://t.co/eqnPe5NPDe
1 day ago

Pac12Networks

Pac-12 Networks


They're ready. Are you? #BackThePac http://t.co/7IECw82DVZ
1 day ago

Pac12Networks

Pac-12 Networks


.@CalVarsityRugby pulls off the comeback! The Golden Bears are now 15-1. http://t.co/JuZJGKAzYk
1 day ago

Pac12Networks

Pac-12 Networks


"This is the very definition of a barn burner." @CalVarsityRugby leads St. Mary's 24-20, 10 mins left. Watch here: http://t.co/YfMNDWLu5w
1 day ago

StanfordSports

Stanford Daily Sport


ICYMI: @StanfordWBB's season came to an end last night, as No. 1 seed ND defeated the Card in the Sweet 16. http://t.co/5co4IXYLEE
1 day ago

OregonSB

Oregon Duck Softball


The fans are lining up before the second game of the Washington series! First pitch at 2 PM on @Pac12Networks http://t.co/CvSkNvfUr3
1 day ago

StanfordFball

Stanford Football


Cardinal & White Spring Game starts two weeks from now! FREE admission & events April 11 at Stanford Stadium. #CWSG15 http://t.co/Zfomcy4nFw
1 day ago

Pac12Networks

Pac-12 Networks


St. Mary's leads 13-8 at halftime of a fantastic match. Get on board for the second half. http://t.co/YfMNDWLu5w http://t.co/imsS4nMjAB
1 day ago

RSherman_25

Richard Sherman


#2015 http://t.co/3eaRW6KUbP
1 day ago

Pac12Networks

Pac-12 Networks


Live now on all networks: No. 2 @CalVarsityRugby hosts No. 4 St. Mary's.http://t.co/YfMNDWLu5w http://t.co/Dm2rfO6cfR
1 day ago

Cougbaseball

WSU Baseball


The Cougar community lost a legend today; Bobo Brayton has passed away at 89. A leader of men. A true Coug. Legend. http://t.co/1MmEXQWVAK
1 day ago
PAC-12 SCOREBOARD
Thursday, 9/3
Friday, 9/4
Saturday, 9/5
BLOG ARCHIVE:
CATEGORIES: