Stanford Football:

Army Black Knights
September, 14, 2013
Sep 14
6:00
PM ET
By
Adam K. Moussa
| Special to ESPN.com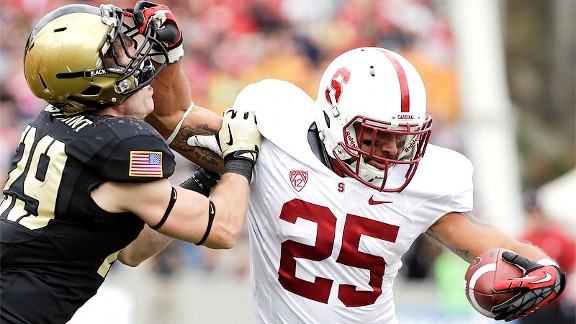 AP Photo/Mike GrollStanford's Tyler Gaffney, who played minor-league baseball and missed the 2012 season, rushed for 132 yards and scored twice against Army.
WEST POINT, N.Y. – Stanford running back
Tyler Gaffney
spent the 2012 season away from football. On Saturday afternoon, the Cardinal (2-0) needed each of the senior's 20 carries to
overcome Army 34-20
.
"That one was a grinder, but we kept our calm. Coach emphasizes being even-keeled and we did that," Gaffney said. "Army is a great team. We didn't overlook them, but we definitely had to grind this one out."


Gaffney, who played minor league baseball in the Pittsburgh Pirates' system last year, compiled 132 yards and one touchdown rushing and had a 23-yard receiving touchdown that was integral in helping Stanford overcome a slow start.
"It has been a surreal experience to be back out there with the guys," Gaffney said. "I actually feel better coming back from baseball. I got to be in the second half of spring practice, as opposed to coming in at training camp. It [baseball] actually helped me get a little ahead of schedule."
Stanford coach David Shaw liked what he saw out of Gaffney.
"Our backs are big, physical guys who drag people," Shaw said. "You can tell that Gaffney has been lifting like a football player, not a baseball player. He left at 215 pounds and came back at 220. He is extremely strong right now, and he was big today.
"To be the between-the-tackles team that we want to be, we need guys like Gaffney," Shaw added.
Down 6-0 early in the first quarter, Gaffney helped spark four consecutive scoring drives that lifted Stanford to a 20-13 halftime lead.
"We knew that six points weren't going to win the game either way," Gaffney said. "I told the team that we had to dig down and take care of our assignments. It was just a one missed assignment here, and a missed block there, that made us get behind. Once we got the feel for it, we didn't look back."
Following an Army fumble in the third quarter, Gaffney caught a 23-yard strike from quarterback
Kevin Hogan
to put the Cardinal ahead 27-13.
"Our running backs open up the pass game. We use them in play action, and that helps our offense," Shaw said. "Gaffney loves football. He got a chance that a lot of us don't get, and that's a year away from the game. Now he plays with much more of appreciation for the game."
Defensively, however, Stanford struggled defending Army's triple-option offense.
"It's like Oregon. [The triple-option] is like Chip Kelly's offense. Whatever you are doing on defense, they'll use that against you," Shaw said. "There's a reason why people ran this offense for 40 or 50 years. It is hard to defend, and it took our guys a half to adjust."
September, 12, 2013
Sep 12
12:24
PM ET
By
Kyle Bonagura
| ESPN.com
Stanford coach David Shaw was just a kid when he started hearing about West Point and the mystique of its campus.
His family isn't short on military connections -- his father served in the Air Force, his grandfather in the Navy, and several aunts and uncles were spread between the various branches of the U.S. military. As result, Shaw's level of respect for Saturday's opponent, Army, couldn't be any higher.

"We're playing against young men that are willing to do some of the things that we're not willing to do down the road," Shaw said. "Our freedom is in their hands. We love them, we appreciate them."
East Coast trips aren't rare for Stanford. In odd-numbered years, when the team doesn't travel to Notre Dame, the program has made three-time-zone trips a priority. With a national recruiting base due to strict academic restrictions, the travel allows coaches to spend a few days recruiting an important area of the country and brings the team closer to family and friends (25 players are from the Eastern Time Zone).
This one, however, promises to be a unique experience.
"I'm looking forward to seeing [the campus]," Shaw said. "I'm going to take pictures, I'm going to be a tourist for a little bit."
The team will arrive in West Point late Thursday night and take a bus tour of campus at some point Friday. Its Stanford's first trip to the military academy since 1976, the first game between the teams since 1979 and 11th meeting all time.
"I have the utmost respect for our servicemen," Stanford running back
Tyler Gaffney
said. "They are all about details. Their details when it comes to their official job will cost them their life if they make a mistake. So I can imagine how detailed they are going into a football game."
Admiration aside, Saturday's noon ET game between No. 5 Stanford (1-0) and Army (1-1) doesn't figure to stay competitive for long. The Cardinal own the nation's second-longest winning streak (eight games), while Army is coming off a 40-14 loss to Ball State. Most Vegas oddsmakers have Stanford at least a four-touchdown favorite.
Army coach Rich Ellerson has a realistic viewpoint headed in.
"We don't have to try to win the game," he said. "We need to win the next snap, the next situation, the next opportunity. Don't believe what the scoreboard says, good, bad or indifferent."
Army's triple-option offense, which produced the nation's No. 1 rushing attack a year ago, will be an interesting challenge for the Stanford defense, the nation's No. 5 rushing defense last season. The Black Knights have averaged 329 yards per game on the ground through their first two contests, while Stanford allowed San Jose State just 35 yards on the ground in its season-opening 34-13 win.
Despite the early start for Saturday's game, Stanford didn't veer from its usual game-week schedule immediately following last week's win. Shaw said he wasn't worried about the players' body clocks not being ready by 9 a.m. PT.
"We have to remember, these kids are 18, 19 years old," he said. "They're a lot more resilient than we are. We're more worried about the coaches than the players.
"If you don't make a big deal about it, they won't make a big deal about it. You tell them when to get ready, and they'll get ready."
September, 12, 2013
Sep 12
9:00
AM ET
Both Ted and Kevin went 9-1 last week, both missing on picking USC to beat Washington State.

For the year, Kevin is 18-2 and Ted is a miserable 17-3.
STANFORD at ARMY
Kevin Gemmell
: The Cardinal thrive on efficiency, and they were very efficient in their season opener. Army is hardly the test San Jose State was. It makes its living by running the ball, averaging 329 yards on the ground through the first two weeks. Guess which team loves for teams to run at them? …
Stanford 38, Army 7
.
Ted Miller
: Army is not going to win this football game, but on a week when we remember 9/11, let's tip our cap to those guys. I'm sure they'll compete hard and make sure Stanford comes back west knowing it played a football game. …
Stanford 35, Army 10
.
FRESNO STATE at COLORADO
Gemmell
: The Buffs probably lose this one. It was a nice couple of games. They got a little momentum, doubled their win total from last season and generated a little excitement early in the rebuilding process. Fresno State has some weapons. Then again, as Ben Bradlee famously said during the Watergate investigation: "[Bleep] it, let's stand by the boys." …
Colorado 31, Fresno State 28
.
Miller
: Colorado has already shown it's a better football team than it was in 2012. Better will make this one closer than last season -- way closer. But Fresno State might be the nation's best non-AQ team. …
Fresno State 38, Colorado 30
.
TENNESSEE at OREGON
Gemmell
: Had he taken the Colorado job, Butch Jones would have had to wait two more weeks to get blown out by the Ducks. At least now he gets it out of the way sooner. Look for those little mistakes Oregon had last week to disappear as the Ducks return home. …
Oregon 48, Tennessee 17
.
Miller
: There is a level of intrigue for this game based on the Volunteers having a great offensive line and the Ducks being somewhat questionable at linebacker. Is that enough to keep it close? Probably not. …
Oregon 44, Tennessee 20
.
OHIO STATE at CALIFORNIA
Gemmell
: The Buckeyes showed some depth against San Diego State last week when
Braxton Miller
went down. That doesn't bode well for a Cal defense that is rife with injuries right now. The Bears can put up points. No one is disputing that. Stopping people is the bigger priority right now. …
Ohio State 38, Cal 27
.
Miller
: The Buckeyes are going to pile up rushing yards, whether Miller plays or not. So can the Bears pile up passing yards to match them, score for score? Maybe for a little while, but not for four quarters. …
Ohio State 40, California 21
.
WISCONSIN at ARIZONA STATE
Gemmell
: Welcome to the desert, where the temperature at kickoff is expected to be a toasty 102 degrees. But it won't be the heat that burns the Badgers. It will be ASU's precision efficiency, which is amplified when
Taylor Kelly
plays at home. In eight career home games, he has 19 TDs to three INTs and is completing 74.2 percent of his throws. …
Arizona State 35, Wisconsin 24
.
Miller
: But it's a dry heat! My question is whether the Sun Devils defense will be able to stand up to the relentless power-rushing attack of the Badgers. My guess is both teams will be pretty darn worn out by the end of the game. Kevin thinks the UCLA-Nebraska game was the toughest pick this week. This was it for me. …
Arizona State 24, Wisconsin 23
.
OREGON STATE at UTAH
Gemmell
: Two weeks ago, I said I would pencil this in as an Oregon State win. Pencils have erasers. The Beavers have all sorts of issues on defense, and the Utes are playing with a confidence we've rarely seen since they joined the league. I think
Sean Mannion
and
Brandin Cooks
have a big day, but I think
Travis Wilson
& Co. have a bigger day. …
Utah 31, Oregon State 27
.
Miller
: This feels like a HUGE game for both teams. As in, neither will accomplish its goals this season if it loses. I like the matchup with a more mature Travis Wilson against the injury-riddled Beavers defense, but I also think Mannion and Cooks have an edge versus the Utes' questionable secondary. The edge for the Utes is playing at home. …
Utah 38, Oregon State 35
.
UTSA at ARIZONA
Gemmell
: The Wildcats still haven't put it all together. But, once again, their schedule allows for tweaking and growing.
Ka'Deem Carey
's return was as spectacular as expected, and the defense continues to show signs of improvement. I suspect we'll learn more about the Wildcats when they open league play on Sept. 28 against Washington. For now, they'll continue to tweak their way to another win. …
Arizona 42, UTSA 21
.
Miller
: I'm with Kevin. I'm ready to see Arizona get tested. The Wildcats' big goal in this game is fleshing out a passing attack that has been poor to middling in the first two games. …
Arizona 48, UTSA 17
.
BOSTON COLLEGE at USC
Gemmell
: A whole week for
Cody Kessler
to take the first-team snaps might do wonders. But, for now, if the Trojans do win, it will continue to be on the coattails of the defense, which has been outstanding, and that's getting lost in all of this quarterback mess. …
USC 31, Boston College 17
.
Miller
: Forget Lane Kiffin for a moment. What about the players? Do they have pride? Or are they ready to wave a white flag on their season and their head coach? I think we'll see USC bounce back, but I'm far from certain of it. …
USC 24, Boston College 17
.
SOUTHERN UTAH at WASHINGTON STATE
Gemmell
: The worst thing in the world would be an emotional letdown. Don't see it happening. The offense gets back on track this week and the defense continues to improve in Year 2 under Mike Breske. The Air Raid should be in full effect this week. …
Washington State 48, Utah State 10.
Miller
: Washington State is going to win this game, but the Cougars need to get their offense back in sync. That means enough running game to keep a defense honest and more than 300 passing yards. We'll see both on Saturday. …
Washington State 51, Utah State 13
.
UCLA at NEBRASKA
Gemmell
: By far the toughest game to pick this week. It all comes down to which defense can better contain the other's quarterback. I think the bye week was a good thing for the Bruins, though this week will certainly be emotionally trying with the death of receiver
Nick Pasquale
. They have on film what they did right and wrong versus a mobile quarterback from the Nevada game. I think they put that film to good use. …
UCLA 36, Nebraska 31
.
Miller
: Both teams have good offenses, but I think the UCLA defense is better. Further, I like
Brett Hundley
to take control in the fourth quarter and
Anthony Barr
to make some game-changing plays against
Taylor Martinez
. …
UCLA 40, Nebraska 31
.
WASHINGTON at ILLINOIS (in Chicago)
Gemmell
: This is the next big test for the Huskies: Can they be as productive on the road? They come off the bye week healthy and rested, and the return of
Austin Seferian-Jenkins
gives
Keith Price
another outstanding weapon. Looking for the Huskies to take a big step forward. …
Washington 35, Illinois 24
.
Miller
: If the Huskies play like they did against Boise State, they will roll. I expect them to. I also expect Seferian-Jenkins to have a big game, both catching the ball and blocking for
Bishop Sankey
against a middling defense. …
Washington 41, Illinois 20
.
June, 27, 2013
Jun 27
4:00
PM ET
We continue our series taking a closer look at each Pac-12 team's nonconference schedule.
Stanford
San Jose State, Sept. 7
Coach: Ron Caragher, first year
2012 record: 11-2, 5-1 WAC
Returning starters: seven offense, six defense
Offensive headliner: Quarterback David Fales returns as the FBS's most accurate quarterback from 2012. Last year he completed 72.5 percent of his throws while tossing 33 touchdowns and 4,193 yards.
Defensive headliner: Defensive tackle Travis Raciti returns after earning All-WAC honors last season. He posted 13 tackles for a loss and 8.5 sacks.
The skinny: Mike MacIntyre revitalized the struggling program and in three years had them at double-digit wins. Now Caragher shepherds them into the Mountain West Conference. Stanford has dominated the Bill Walsh Legacy Game -- though the Spartans gave them quite the scare last season. The Fales-to-Noel Grigsby connection could end up being one of the most dangerous in the country and should not be taken lightly.
at Army, Sept. 14
Coach: Rich Ellerson (17-32) fifth season
2012 record: 2-10, Independent
Returning starters: seven offense, eight defense
Offensive headliner: Running back Raymond Maples is just the third Army player in school history to post consecutive 1,000 yard seasons after rushing for 1,215 yards and two touchdowns last year, averaging 5.4 yards per carry.
Defensive headliner: Defensive back Geoffrey Bacon returns after leading Army with 136 tackles last year -- which was fifth nationally in tackles per game at 11.3. This year he's moving from linebacker to the secondary.
The skinny: Despite the record, Army still had the No. 1 rushing attack in the country last year, averaging almost 370 yards on the ground per game. Match that against a Stanford front seven that was fifth nationally against the run and second in tackles for a loss and there should be plenty of helmet paint being traded.
Notre Dame, Nov. 30
Coach: Brian Kelly, (28-10), fourth year
Returning starters: six offense, eight defense
2012 record: 12-1, Independent
Offensive headliner: We talked about left tackle Zack Martin in the ASU nonconference primer. He'll be clearing the way for George Atkinson III, who averaged 7.1 yards per carry last year and scored five touchdowns on 361 rushing yards.
Defensive headliner: We mentioned Stephon Tuitt and Louis Nix in the ASU article. Nix is phenomenal at stopping the run, which is worth noting again, given what the Cardinal will want to do on offense.
The skinny: Stanford head coach David Shaw pointed to the Notre Dame game last year -- and its highly-controversial ending -- as a turning point for the Cardinal's run to the Rose Bowl. This one is the season finale for both teams so it's possible that it could have national-championship implications for both squads.
Thoughts
: A fairly challenging nonconference slate. Remember after the season opener last year, we were all wondering what was wrong with Stanford? Turns out San Jose State was pretty darn good. Shaw told us, we didn't listen. Considering who the Spartans have coming back, chances are they'll be good again. Interestingly enough, Caragher replaced Jim Harbaugh and Shaw at USD after the duo left for Stanford, so there's your Kevin Bacon moment for this game. Army doesn't pose much of a threat on the field and, of course, the Notre Dame game was one of the most controversial matchups in all of college football last season. The Cardinal are legitimate BCS championship contenders. Should they top San Jose State -- which should be considered a quality win, or at least, not a cupcake win -- it points them in the right direction heading into a difficult Pac-12 slate. Should they escape that unscathed, a home date with the Irish could determine Stanford's postseason placement. And for a team looking to add a fourth-straight BCS game, nay
the
BCS game, only 3-0 will do.
Who Would Be In A Four-Team Playoff?