Stanford Football:

Auburn Tigers
October, 4, 2013
10/04/13
5:02
PM ET
Any chance every game this weekend can be as interesting as UCLA-Utah?
Welcome to the mailbag. If your life needs just a tad more "oomph,"
follow the Pac-12 blog on Twitter
. It's loaded with oomph, as well as many vitamins and minerals.
To the notes!
Daniel from Pullman, Wash., writes:
Ted-Last Saturday morning I was listening to ESPN Radio and they were debating the match-ups of the Pac-12 North and the SEC West (on neutral fields). I believe their match-ups were Al vs. OR, LSU vs. Stanford, Tex AM vs WA, Ole Miss vs OSU, Auburn vs. WSU, and Miss St or Ark vs Cal. One voted these match-ups 4-2 in favor of the SEC, and the other scored it 3-3. (Note: I think both picked LSU over Stanford.) How would you see these match-ups playing out?
Ted Miller
: The first challenge is matching the seven-team SEC West versus the six-team Pac-12 North. To make things easy, goodbye Arkansas.
Further, we don't really know how each division ultimately will stack up. Our speculation is only slightly educated here, as any would be not even halfway through season.
So start with Oregon-Alabama. This is a potential national title game. There are two ways to look at it. Is this a regular season game with just one week to prepare? I'd give a slight edge to Oregon with that. If it was a national title game, with three weeks to prepare, I'd give the Crimson Tide an edge. For this exercise, we'll go with the Ducks.
I'd pick Stanford over LSU. Just like I'd pick Stanford over Georgia, which just beat LSU. Suspect that Stanford would consistently outflank the Tigers with sophisticated schemes. A few years ago, LSU's team speed would have been an issue. No longer.
I'd take Texas A&M over Washington in a barnburner. I'd take a healthy Oregon State -- as in the Beavers after their off week -- over Ole Miss. The Rebels wouldn't be able to handle
Sean Mannion
and
Brandin Cooks
.
Auburn beat Washington State 31-24 on its home field, but the Cougars outgained the Tigers 464 to 394. In a neutral field rematch, I'd go with the Cougs.
Cal would be able to outscore Mississippi State, though I'd feel better with that one if the Bears didn't have so many injuries on defense.
So there you go: 5-1 Pac-12 North.
End of discussion! Right?
---

Andrew from Phoenix writes:
Ted,Why all the volatility in Arizona State's perception? The last 3 weeks the media and PAC fans have gone from "they're ready for the national stage" to "looks like they're not that good" back to "this team can do some damage." The consensus outside of the biggest ASU homers and UA trolls was ASU would be about 8-4, just in or just out of the Top 25, and needing an upset @UCLA to win the South. I have seen nothing on the field this season that should change that. Bottom line is they demolished a poor team, handily beat (with some blemishes) a mediocre team, played a toe-to-toe in a toss up with a good team, and got their mistakes shredded by an elite team. Why so much drama?
Ted Miller
: It's Kevin. He's the man behind the curtain pulling all these levers that make people crazed with drama.
I don't feel like much has changed about the perception of Arizona State, at least among those who esteemed the Sun Devils in the preseason. This is a good team, probably a top-25 team, one that is moving up in the Pac-12 and national pecking order but is not yet on the Oregon/Stanford level. And, yes, it looks like the best challenger for UCLA in the South Division, particularly after USC imploded.
But there is a logical reason for the volatility: The Sun Devils' schedule. How many teams have played three tough, AQ-conference opponents in their first four games? And with such a variety of results.
Wisconsin, 32-30 win: Controversial ending yes, but the game showed the Sun Devils are top-25 caliber.

Stanford, 42-28 loss: The Sun Devils might be a top-25 team, but they've got a ways to go to move toward the top-10.

USC, 62-41 win: An impressive offensive showing against a previously outstanding defense. More positive evidence that the program is taking steps forward under Todd Graham.
Guess what? There will be more drama on Saturday. A win over Notre Dame will provide another uptick. And a loss will add some skepticism, as well as a second fall from the national polls.
---

Kevin from Reno, Nevada writes:
Why is Ohio State ranked ahead of Stanford? After watching ASU play Wisconsin and then Stanford, it was clear that Stanford is on an entirely different level of physicality and talent than Wisconsin. That same Wisconsin team almost beat Ohio State on the road. Also, Cal was completely over-matched against Oregon, but competed almost respectably against Ohio State. Stanford may be better than Oregon this year.
Ted Miller
: At least we'll get an answer with Oregon-Stanford on Nov. 7.
But I hear you.
Obviously your Pac-12 bloggers agree with you
. I'd comfortably pick Stanford over Ohio State, and I suspect a lot of folks would, too. While it's dangerous to use the transitive property in college football, your point about Wisconsin is at least partially valid.
I suspect the reason most folks who are voting Ohio State ahead of Stanford are doing so is because
they did so in the preseason, and the Buckeyes have yet to lose
.
---

Andrew from Agoura Hills, Calif., writes:
Now that Lane Kiffin is out the door, we've started to hear all the names of potential candidates: Kevin Sumlin (my personal favorite), Jack Del Rio, Jeff Fisher, Steve Sarkisian, Chris Petersen, etc. One name that I haven't really seen included in any of these hypothetical lists is Alabama DC Kirby Smart. Do you think he will be considered by Pat Haden and the USC braintrust? He seems to be on track to eventually be a head coach, and his credentials are very impressive for a young coach. The two problems I see are that he 1) has resisted overtures in the past, possibly because he is in line to follow Saban at 'Bama and 2) is devoid of any head coaching experience. What do you think of Smart as a candidate for the Trojans?
Ted Miller
: There certainly are worse choices.
The other knock, fair or unfair, on Smart is that Saban is the ultimate brains behind the Crimson Tide's defense. Still, working under Saban for an extended period of time should overcome that as a downside. He knows Saban's "Process," which is like learning about the stock market from Warren Buffett.
My impression is Smart is shortly going to get an opportunity in the ACC or SEC. He's a child of the South and probably wants to stay down there.
In fact, if you are looking for a darkhorse candidate for USC, what about Alabama offensive coordinator Doug Nussmeier? He calls Alabama's plays, has time learning from Saban and knows the Pac-12, as he was Steve Sarkisian's offensive coordinator at Washington before heading to the SEC. He also has Big Ten and NFL experience.
While USC is surely going after a big-time name with head coaching experience, many, many great hires have been first-time head coaches, such as John McKay, Bob Stoops, Chris Petersen and Chip Kelly.
---

Saul from Los Angeles writes:
I get it, you hate your former home up there in Seattle. Why you instantly think the Washington head coach job sucks is beyond me and Wilcox would rather go to USC to be an assistant coach when he could be a head coach. You are insufferable.
Ted Miller
: Every week, there are angry notes in the mailbag that make me go, "Huh?" I get that when you write about college football, you will make folks mad. Just part of the job. But what always baffles me is when I get an interpretation of one of my positions that is untethered to any actual position I can ever recall taking.
Saul isn't the only one. It appears many Alabama fans
believed this story
on USC's coaching search implied Pat Haden might hire Nick Saban. That conclusion apparently was based on my typing, "What if USC now hires its Nick Saban? Or, to localize it: Pete Carroll, take two?"
I spent 20 minutes trying to figure out what got Saul's feathers raised. Apparently it is this from my chat Thursday:
Ryan (Baja): Hypothetical: Sark goes to USC. Question: What happens to Justin Wilcox?

Ted Miller: THAT is a big question. I was, in fact, thinking about that today. I'd think Washington would give him a hard look. It's just a matter of time before he's a head coach. It might, in fact, be a matter of just a couple of months. He'll have options, including one to follow Sark to LA and get a big raise.
To be clear: I think Washington would seriously consider Wilcox if Sarkisian left for USC and I'm SURE Wilcox would take the job.
If there is an implication my chat comment that Wilcox would rather be offensive coordinator at USC than head coach at Washington, then I humbly apologize. He would not. What I wanted to suggest is that if Wilcox was offered a head coaching job for a non-AQ program, he still might opt to follow Sarkisian to USC and wait for an AQ job. Such as, you know, a place like Washington.
The big hypothetical here is Sarkisian going to USC. It's possible, by the way, that Sark would say no to USC again, just as he did when it went after him before hiring Lane Kiffin.
And, if it needs to be clarified, there is not a person who has ever talked to me about Seattle who doesn't know how much I love that town.
January, 4, 2012
1/04/12
10:18
AM ET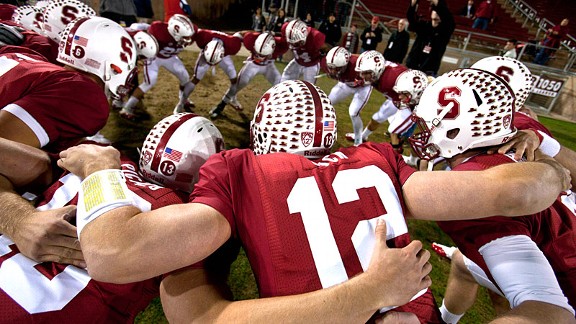 Jason O. Watson/US PresswireAndrew Luck (12) and Stanford went 23-3 and played in two BCS bowl games in the past two seasons.
Got a text from a former Stanford player, "My heart hurts."
You can understand why. The Cardinal physically dominated the No. 3 team in the country in the Fiesta Bowl, and many believed Oklahoma State should have been playing LSU for the national title.
Physically dominated? Stanford outgained the Cowboys 590 yards to 412. While 412 yards is a chunk of change, the Cowboys had been averaging 557, including 170 yards rushing per game. They had 13 yards rushing against the Cardinal, which piled up 243 yards on the ground.
Stanford lost the turnover battle 2-1. It lost the penalty battle, getting flagged six times for 35 yards against just once for five yards for the Cowboys (42 pass plays, no holding? Obviously, not a Pac-12 crew officiating).
But, most critically, it lost the field-goal battle. The Cowboys were 2-for-2 on field goals. Stanford was 1-for-4, including missing a 35-yarder that could have won the game in regulation and another miss in overtime that sealed the Cardinal's fate.
Let's quickly reiterate: Field goals are important, particularly at important times during important games. Ask Auburn about last year's national title game win against Oregon. Ask Oregon about its home loss to USC. Ask Alabama about its regular-season loss to LSU.
And no one gives a flip about being physically superior when the scoreboard thumbs its nose at you. Missing field goals is no different than missing blocks, tackles and tossing interceptions. It's part of the game, so bemoaning this defeat as being any different than another is ultimately a moot point for message boards. History measures it a loss, which, yes, seems like a lousy way for QB
Andrew Luck
and a great group of Cardinal players done with their eligibility -- or joining Luck
early in the NFL draft
-- to go out.
Still, 23-3 over the past two years, two BCS bowl games. You couldn't have sold the notion to any Stanford fan in the summer of 2010.
So as we consider end-of-game second-guessing, let's keep that in perspective.
But, yes, just like many other sportswriters who have never coached a down of football, I have entertained the thought Stanford coach David Shaw should have been more aggressive at the end when he had a first down on the Cowboys 25-yard line with 52 seconds left and three timeouts. In fact, there seemed to be a plurality of opinion among the sportswriters gathered around a small TV in the Rose Bowl press box that articulated that very thing before the fact. And I am on record with Big Ten blogger Brian Bennett and Michael Lev of the Orange County Register as twice remarking that Stanford's freshman kicker Jordan Williamson looked nervous, including just before the kick.
Jon Wilner of the San Jose Mercury News
says it very well here
: "In my opinion, there was a better chance of Williamson missing from 35 yards than Luck throwing an interception in the red zone."
Still, when I type "more aggressive" what does that mean? Would you say that Oregon coach Chip Kelly was more or less aggressive in
nearly the same situation against USC
? Oregon had a first-and-10 on the Trojans 32 with 38 seconds left and two timeouts remaining, but Alejandro Maldonado missed from 37 yards as time expired to give USC its signature win of the season.
Here's what a coach is thinking at that moment:
We can't turn the ball over.

We don't want to give the ball back to Oklahoma State.

We'd like to kick on third down so if we botch the snap, we can get a do-over on fourth down.

We want to get as close as possible. Without turning the ball over.
There's also this: Based on how both teams moved the ball up and down the field, I'd have given Oklahoma State a 30 percent chance of tying the game in regulation if
Stepfan Taylor
scored a 25-yard TD on first down. Or if Luck threw a TD pass in the endzone. In the Rose Bowl, Wisconsin got all the way to Oregon's 25-yard line in 16 seconds, just missing getting a final shot for the tie.
What Shaw opted to do, ultimately, is go by the book and trust his kicker, who, by the way, was second-team All-Pac-12. And, if Luck had tossed an interception, or the Cardinal had fumbled on a third-down run, fans and media would be yammering, "What the heck was Shaw thinking?"
Kelly and Shaw are two of the more IQ-smart coaches you will meet. They didn't get dumb in these two instances. They rolled the dice and lost.
There's nothing wrong with second-guessing, by the way. It's part of the sports. Kelly and Shaw are paid well to roll the dice and win. Reporters are paid poorly to speculate after-the-fact when highly paid coaches roll snake eyes.
Yes, hearts are hurting on the Farm and in all the well-heeled places where Stanford alumni end up. Justifiably so.
Still: 23-3 over the past two years, two BCS bowl games. That's pretty darn special for the most elite academic university playing FBS football.
September, 18, 2011
9/18/11
4:30
PM ET
TUCSON, Ariz. -- When the talk of win streaks started to surface following Saturday night's victory over Arizona, the reaction from Stanford head coach David Shaw and his team-first quarterback,
Andrew Luck
, was about what you would expect.
The players knew before kickoff that with Auburn's loss to Clemson in the Tiger Bowl, they were the new owners of the nation's longest active win streak in FBS football. They proceeded to trounce Arizona 37-10 -- behind 153 rushing yards from
Stepfan Taylor
, 325 passing yards from Luck and a pair of touchdown receptions from his tight ends.
Did knowing that the top streak in the country was theirs impact them in any way?
"Whatever," said Luck, with his usual disregard for questions outside the realm of what's happening on the field. "The only thing that matters is what we've done this year. We don't put too much stock into stuff like that."
The win streak started with the sixth game last year. After falling to Oregon 52-31 in Eugene on Oct. 2, the Cardinal have run off 11 straight -- including a 40-12 victory over Virginia Tech in the Orange Bowl. During that stretch, the Cardinal have outscored their opponents by an average of 40-13.
Of the 11 wins, two have come against top-25 teams (No. 13 Arizona and No. 12 Virginia Tech) two of them have been shutouts and eight of the opponents have been held to 14 points or less.
"We talked about it in the locker room," said Shaw. "It doesn't mean anything to us. The only thing that matters is that we're 1-0 in our conference."
It was a bad night for some streaks and a good night for others. Ohio State, which was No. 2 behind Stanford with eight straight wins, fell to Miami – and fell out of the top 25 for the first time since Nov. 20, 2004. The Cardinal, meanwhile, moved up to No. 5 in The Associated Press poll. This is the 10th consecutive week they have been in the top 10, a school best.
They are also in the thick of one of the greatest win streaks in school history. The longest is 13 games, accomplished twice; first in 1904-1905 and again from 1939-1941.
CARDINAL CONQUESTS
Stanford's opponents during the 11-game win streak.
Oct. 9, USC, 37-35
Oc. 23, Washington State, 38-28
Oct. 30 at Washington, 41-0
Nov. 6 vs. Arizona (13), 42-17
Nov. 13, at Arizona State, 17-13
Nov. 20, at California, 48-14
Nov. 27, Oregon State, 38-0
Jan. 3, Virginia Tech (12), 40-12
Sept. 3, San Jose State, 57-3
Sept. 10, at Duke, 44-14
Sept. 17, at Arizona, 37-10
St. Brown talks USC, Stanford and more
PAC-12 SCOREBOARD
Thursday, 8/28
Friday, 8/29
Saturday, 8/30