Stanford Football:

Brian Kelly
November, 29, 2013
11/29/13
3:00
PM ET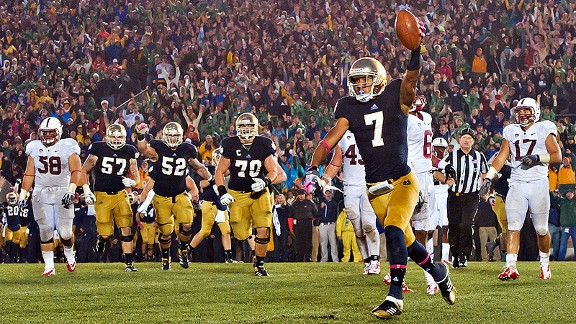 Matt Cashore/USA TODAY SportsLast season's loss could serve as motivation for Stanford.
Stanford and Notre Dame probably looked at this game in the preseason and wondered if there would be BCS implications. Well, there aren't. But both teams still have plenty to play for. Notre Dame reporter Matt Fortuna breaks down the Irish side of things while Pac-12 reporter Kevin Gemmell lays out the pros for Stanford.
Matt Fortuna
: If last week's game against BYU is any indication, Notre Dame is not taking this, or any contest, lightly.
Sure, the preseason goal of a return trip to the national title game was off the board by the end of a September. And further BCS hopes went up in flames with a flop at Pitt earlier this month. But with a long two weeks to decide whether to blow the rest of this season off or make something out of nothing -- while absorbing the potentially devastating news that Louis Nix's season, and likely Irish career, is over, too -- the Irish responded by putting together their most complete performance of the season against the Cougars.
BYU will not be mistaken for Stanford, but the Cardinal give the Irish plenty more to aim for than they had last week in the lead-up to Senior Day.
They are rivals, for one. The ties between the schools stretch from the field to the sideline to the administration. And they go after many of the same kids, too.
To add to that, Notre Dame has already beaten Arizona State and USC, two wins that look better and better by the week. A win in Palo Alto, Calif., would give the Irish a clean sweep this season of the Pac-12, no small accomplishment given how powerful that league has been this fall.
Plus, a win over No. 8 Stanford would give No. 25 Notre Dame its fourth win over a team that is currently -- and in the case of the Cardinal, will still be -- ranked in the BCS standings. (The Irish also handed No. 11 Michigan State its only loss.)
The only other schools with three wins over currently ranked teams? Stanford and ASU.
A win over Stanford would be make it two in a row for the Irish in the series, no small feat considering how badly the Cardinal had manhandled them in the previous three contests. It would also keep alive the possibility of a second straight 10-win season, another rarity, as the program had not accomplished such a feat since the 1991-93 campaigns, under Lou Holtz.
A date in the Pinstripe Bowl seems to be waiting for the Irish no matter how they play Saturday. But as
Cam McDaniel
told me in a passionate exchange following his career-best performance last week, to say Notre Dame has nothing left to play for this season is an "ignorant" statement.
Kevin Gemmell
: First off, the fact that both of these teams agree to annually play a tough nonconference game is awesome. Who knows what the strength-of-schedule factor will be when the new playoff format rolls around? But here's a couple of teams that don't dodge the big games.
As Matt noted, this is a huge game for recruiting purposes because there aren't many programs in the country that truly recruit nationally. These teams do.
Pending the outcome of the Territorial Cup (that's Arizona State vs. Arizona for all the Notre Dame folks) the Cardinal could either host the Pac-12 championship game for the second year in a row or could end up in Tempe next week. The outcome of this game has zero bearing on that. But either way, Stanford doesn't want to be heading into that game with a loss.
The Cardinal have a couple of streaks they'd like to keep alive, as well. For starters, Stanford is riding a 15-game home winning streak, the second-longest in the country behind South Carolina. The Cardinal are 12-1 at home against teams ranked in the AP Top 25 since 2009 and are 36-3 at home since the final game of 2007. A win could also lock up a fourth-straight 10-win season for Stanford.
That's all well and good. But the name of the game is momentum -- and Stanford needs to keep it going heading into the Pac-12 championship game, regardless of the venue.
A loss to the Irish stunts the momentum of last week's 63-13 thrashing of rival Cal. Further, should they fall in the Pac-12 title game, they'd plummet down the bowl game pecking order.
Finally, the national perception of the league is at stake. Matt notes Notre Dame's previous wins this season -- which includes wins over South Division champ ASU and USC -- but it goes back to last year as well. The Irish are currently riding a four-game winning streak over the Pac-12 following last year's wins over Stanford and USC. Should Notre Dame win, Brian Kelly gets my vote as Pac-12 coach of the year.
Stanford coach David Shaw and his players have reiterated several times this week that this year's game isn't about revenge. Stanford is a different team, Notre Dame is a different team. Makes sense. But somewhere deep down there has to be a little bit of bitterness for how things played out in last year's rainy, overtime game.
And let's not forget the greatest motivation of all. Whether it's Week 1 or Week 14, losing always stinks.
November, 27, 2013
11/27/13
5:30
PM ET
Stanford coach David Shaw often points to last year's Notre Dame game as a turning point for his program.
You might recall the rainy, overtime ending steeped in controversy that fueled the Cardinal's us-versus-the-world mentality following the 20-13 loss. It was the kick in the bark that propelled Stanford to eight straight wins and a Rose Bowl victory to close out the year.
And when the Irish roll into Palo Alto this weekend for the regular-season finale for both teams, Shaw knows this much: Last year's game has absolutely nothing to do with this year's.
"The replay official said we didn't cross the line so the game was over. It's on Stanford's football team from last year for not getting it done and Notre Dame for getting it done. That's what happened last year.
[+] Enlarge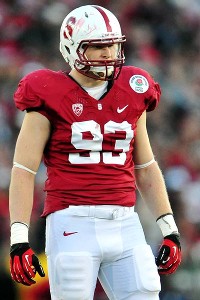 Gary A. Vasquez/USA TODAY SportsLinebacker Trent Murphy says Stanford isn't dwelling on last year's controversial loss at Notre Dame.
" … A football season has highs and lows and the good teams bounce back because you can't have a season of all highs. When things don't go your way you regroup and you retool and you go back after it again. That's what we did last year after the Notre Dame game. That's what we did this year after the USC game. This is going to be a great game that's not going to hinge at all on what happened last year."
It's a sentiment echoed by his players.
"That was a long time ago," Stanford linebacker
Trent Murphy
said. "I think last year's game doesn't really have any carryover into this season. It's a new team and a new year … [but] there is always something to learn from."
Added quarterback
Kevin Hogan
: "We can't treat this like a revenge game. It's over. We have a new team, they have a completely new team."
Saturday's game has zero bearing on the outcome of the Pac-12 standings. The Cardinal have already locked up the Pac-12 North Division and will be playing in the championship game for the second straight year. Home field advantage isn't even an issue for the title game, because it all hinges on what happens between Arizona and Arizona State. If the Sun Devils win, they'll host the title game in Tempe. If not, it will be in Palo Alto again.
But that's not to say the Cardinal still don't have plenty of motivation. They are riding a 15-game home winning streak, second longest in the nation behind South Carolina, and since 2009 they are 12-1 against teams ranked in either the AP or coaches poll. Notre Dame is 25th in the BCS and AP polls.
To say nothing of the roller coaster that has been the 2013 Stanford season. Touted early on as a national champion contender, the Cardinal lost on the road to Utah, but bounced back strong with their second-straight win over Oregon. Then a loss to USC essentially wrapped up the conference crown for the Ducks. But Arizona had different thoughts.
Now, the Cardinal are back in the championship game. According to Shaw, that wackiness is just par for the course in the Pac-12.
"It's college football," Shaw said. "And I remind people that we don't go through all the ups and downs that maybe the media and even the fans go through because we've got more games to play. If we win a big game they don't cancel the next week and if we lose a game they don't cancel the next week. During the week when people are lamenting and calling me names and the sky is falling when we lose and when people are exalting us and telling us how wonderful we are when we win, those things can't ever affect the football team or the coaches because we move on and play the next week."
And this week's opportunity offers the Cardinal a chance to snap Notre Dame's 2013 stranglehold on the Pac-12. The Irish have already knocked off ASU, the South Division champs, and USC. So there is plenty of reason from a national perspective for the Cardinal not to look over the horizon to Arizona State in next week's title game.
"One of our team goals is going 1-0 every week and that's what we've been trying to do," Murphy said. "We got into Cal week and we had to go 1-0, keep the Axe and it was a big game for us. Now we're facing Notre Dame and it's the biggest game for us and we need this victory."
November, 27, 2013
11/27/13
9:00
AM ET
SOUTH BEND, Ind. --
KeiVarae Russell
is a two-year starter at cornerback. By the time he turns 40, he says, he wants to spend a year living in London. He would like to have a poem published by then, too. He was the lead in a school play this past spring, and he is currently taking an acting class.
[+] Enlarge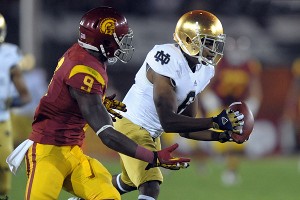 Kirby Lee/USA TODAY SportsActor-poet-cornerback KeiVarae Russell is one of the players who exemplifies the Stanford-Notre Dame rivalry.
"I'm a creative guy," Russell said. "I love being known for more than just football."
He is what Brian Kelly calls a gentleman off the field and a tough guy on it, distinctions that will hardly be unique when the sophomore takes the field Saturday night for No. 25 Notre Dame in its regular-season finale at No. 8 Stanford.
The Cardinal are among the three teams the Irish have chosen to keep on their schedule annually moving forward. In a season that has seen Kelly discredit the tension with Michigan, the nation's winningest program, it was more than a little noteworthy to hear the coach call the game with Stanford a "great rivalry" Tuesday.
"Both teams want to be the smartest, toughest football teams in the country," Kelly said.
Last year's meeting was the first between schools ranked in the top 20 of both the football polls and the U.S. News & World Report's best colleges list.
This year Kelly is tasked with taking his operation almost 2,000 miles away on Black Friday, a considerably lighter chore given that the schools had once eyed a destination for this contest some 7,000 miles away: China.
The terrain this weekend in Stanford Stadium will nonetheless be familiar for many visitors, Jack Swarbrick among them. The Irish athletic director has trouble hiding his enthusiasm when talking about this matchup, as he received his Bachelor's in economics from Notre Dame before moving on to Stanford Law.
"There are obvious similarities," Swarbrick said. "Private [schools], among the smallest undergraduate populations in the FBS, excellent academic reputations, a broad commitment to collegiate sports model as reflected in number of sports and levels of success, passionate alumni scattered around the globe and very strong brands.
"Relative to football, the clear commonality is an insistence that the members of our teams be fully integrated into the university in the same manner other students are. They are truly student athletes. This is reflected in both graduation rates and the success of our student-athletes after football is over."
Swarbrick has company on both sides. College Football Playoff selection committee member Condoleezza Rice earned her master's from Notre Dame and is a professor at Stanford. Cardinal coach David Shaw has enlisted the assistance of the former Secretary of State in hosting recruits -- one of whom,
TJ Jones
, initially committed to Stanford but is now an Irish captain. (Rice
has been no stranger at Notre Dame Stadium herself
.)
[+] Enlarge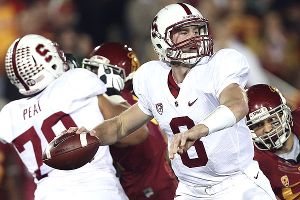 Jeff Gross/Getty ImagesStanford QB Kevin Hogan says he has several family member who went to Notre Dame.
Tyrone Willingham was head coach at both schools. Irish receivers coach Mike Denbrock came from the Cardinal. Then there is Bernard Muir, whose rise to Stanford athletic director included a five-year stint working at Notre Dame for Kevin White, who says Muir "represents the wonderful future of college athletics in every way possible."
Muir's new employer attracted headlines this summer when the Cardinal sold out of season tickets for the first time, underscoring the cat-and-mouse relationship between these two programs.
Notre Dame has sold out all but one home game since 1966, but it is Stanford that will make its fourth-straight BCS bowl with a win in next week's Pac-12 title game.
The Cardinal are quarterbacked by
Kevin Hogan
, who estimates he has 10-20 cousins and another five or six aunts and uncles who went to Notre Dame. Protecting Hogan is right guard
Kevin Danser
, whose uncle, John Gallagher, played hoops for the Irish and roomed with Joe Theismann. Reserve center
Conor McFadden
, whose photographic memory
has become the source of attention that seemingly only the Cardinal or Irish could attract
, has a grandfather and several uncles who went to Notre Dame as well.
"It's a fun game because you have the connections, family connections, and we all want to win it," Hogan said.
On Tuesday, Kelly fielded a question here about playing "Notre Dame football," sparking a response about how he does not want personalities like Russell's to be marginalized as just football players.
A few hours later in Silicon Valley, Shaw began his press conference by announcing that Stanford had won another off-the-field honor, this time its second straight AFCA Academic Achievement Award. The Cardinal coach then spent the next few minutes talking about how this would help in recruiting.
It only happened to be Notre Dame week.
"We understand how to manage your time so that you do well in school and you do well in football and you have a social life and you enjoy yourself here, that it is possible for all three of those," Shaw said. "When we graduate our guys and we play really good in football and they come to visit, our guys love it here. That helps a lot."
May, 30, 2013
5/30/13
6:00
AM ET
Notre Dame's Nov. 30 regular-season finale at Stanford will be broadcast on either Fox or new channel Fox Sports 1, the Pac-12 announced Wednesday, with the kickoff time for the game and network designation not coming until either six or 12 days in advance of the contest.
The game had previously been announced as a Fox broadcast.
The Irish's game against the Cardinal, along with their Nov. 9 tilt at Pitt, are the only two games this fall without set kickoff times yet. All have television stations.
Six of Notre Dame's last seven trips to Stanford have been night games, with 2007 serving as the outlier.
This is the third of three games the Irish will play against Pac-12 opponents this fall. It figures to have lots of buzz in the lead-up though, as Pac-12 blogger Ted Miller notes, some of the luster may be lost with the recent news of
Everett Golson
's suspension from school.
From
his take earlier this week
:
In any event, Golson's academic pratfall dramatically changes the complexion of the three Pac-12 games with Notre Dame this season: Arizona State in Cowboys Stadium on Oct. 5, USC on Oct. 19 and at Stanford on November 30.

While Golson was inconsistent as a redshirt freshman starter last fall, he still was good enough to lead his team to an undefeated season and a berth in the national title game. Word this spring was he looked more in command and greatly improved, which makes sense for a second-year starter. It's not unreasonable to believe the big-armed, speedy dual-threat QB would have been more of a dual threat this fall, perhaps significantly more, a guy who well fit what coach Brian Kelly wants to do on offense.

There is no way to sugarcoat it: Notre Dame just got worse. And that benefits the Irish's opponents.
As Miller said, David Shaw's Memorial Day weekend probably wasn't ruined with the news — though it was
Tommy Rees
who delivered the final offensive blow to the Cardinal in last season's epic clash in South Bend, Ind.
April, 10, 2013
4/10/13
10:00
AM ET
Everybody loves rankings lists, and college football fans -- by necessity -- seem to like lists even more than average folk.
So we have Athlon making another list. First it
ranked Pac-12 coaches
. Now it ranks
all 125 coaches for FBS programs
.
Obviously, any ranking like this is highly subjective, as Kevin noted with
his notes on the Pac-12 coach rankings
.
I really like Athlon's top three. That would be mine. If Chip Kelly were still at Oregon, I'd rank him third, but he is not.
After that? Well, there were some head-scratchers.
LSU's Les Miles way down at No. 24? New Arkansas and former Wisconsin coach Bret Bielema buried at No. 25? Vanderbilt's second-year coach James Franklin way up at 17? Three words: No, No, No.
There is no conceivable way to rank Franklin ahead of Miles, WHO HAS WON A NATIONAL TITLE!, nor is it reasonable to rate Franklin over Stanford's David Shaw, WHO HAS WON A ROSE BOWL, nor Bielema who owns THREE BIG TEN TITLES and won 68 games in seven years at Wisconsin.
Franklin? He's done some nice things at Vandy, making a terrible program respectable, but
please identify for me a signature win from 2012
? Or 2011. I'll wait here.
Yep. Nada.
Just last season, Shaw, who is No. 1 in the Pac-12 but only 20th in the nation, beat Oregon, which finished ranked No. 2, and WON THE ROSE BOWL. He's a muffed field goal away from winning consecutive BCS bowl games.
Vanderbilt, winners of the Franklin American Mortgage Music City Bowl over the doughty NC State a year after losing to Cincinnati in the AutoZone Liberty Bowl, took advantage of a weakened SEC East, and it's notable that the one adventurous nonconference tilt ended up a double-digit loss at Northwestern. You know: The so-called slow Big Ten.
And I think Northwestern coach Pat Fitzgerald is a bit high at No. 12, too.
(Deep breath) OK ... I'm OK.
Anyway: Here's how Athlon ranked the Pac-12 coaches in the nation (national rank).
David Shaw, Stanford (20)
Mike Riley, Oregon State (21)
Rich Rodriguez, Arizona (22)
Todd Graham, Arizona State (29)
Mike Leach, Washington State (31)
Mike MacIntyre, Colorado (44)
Steve Sarkisian, Washington (45)
Jim Mora, UCLA (54)
Kyle Whittingham, Utah (55)
Sonny Dykes, California (56)
Lane Kiffin, USC (57)
Mark Helfrich, Oregon (73)
October, 13, 2012
10/13/12
7:23
PM ET
SOUTH BEND, Ind. -- The secret to
Tommy Rees
' ability to step in without a moment's notice and lift Notre Dame out of its second deficit of the season is really no secret at all. It's plain on the sideline for all of his teammates to see. It's the reason why, when the trailing team's starting quarterback goes down in the final minutes with an undefeated season on the line,
Manti Te'o
said, the Irish "don't have any worries."
"It's just: OK, Tommy's in now," Te'o, one of four captains, said after Notre Dame's
20-13 overtime victory
Saturday over Stanford.
"Good luck, defense."
Why?
"He's watching the game, relaying stuff to coaches,"
Tyler Eifert
, another captain, said. "His knowledge of the game is so good that the coaches sometimes depend on him to talk to him [starting QB Everett Golson] and tell him what he's seeing out there for the sideline. He's focused on the game and not distracted during the game at all."
The clock showed 3 minutes, 27 seconds left in the fourth quarter when the white and gold helmets clashed at the Notre Dame 47-yard line, and the best backup quarterback in the country immediately went searching for his own headgear.
"Get your helmet and let's go," coach Brian Kelly recalled telling Rees. "He couldn't find his darn helmet."
[+] Enlarge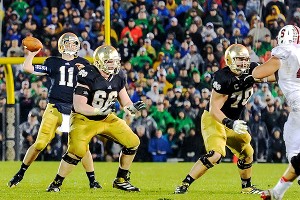 Robin Alam/Icon SMTommy Rees completed all four passes he threw against Stanford, including the winning score in OT.
That's as unprepared as the junior would be on a Saturday when he helped the Irish get to the season's halfway mark undefeated, completing 4 of 4 passes -- three of them in overtime -- in setting up
Kyle Brindza
's game-tying field goal before a 7-yard touchdown pass to
T.J. Jones
proved to be the deciding score in Notre Dame's sixth and most dramatic win of the season.
When
Everett Golson
was shaken up after a helmet-to-helmet hit from Stanford's
Usua Amanam
, his chance at lifting the Irish out of a three-point hole gave way to four support staff members crowding him on the sideline, his helmet off, his vision blurred from what Kelly later called a blow to the head.
The redshirt freshman's most uneven start of the year featured three fumbles but enough scrambling ability and resiliency against a hungry defense to keep Notre Dame alive, the calls for his backup to replace him coming the loudest after a fumble in his own end zone led to a Cardinal touchdown and the first Notre Dame deficit of the season.
And yet few have done more in a shorter period of time than Rees has in going from one of the most vilified students on Notre Dame's campus to one of the most popular, and not just because, like every No. 2 signal-caller on every level of this game, he is not the guy on the field making the mistakes. The twist has taken a sharper turn than the breaks that had so often been going against the Irish before this season.
Two closing jobs through Notre Dame's first five games of 2012 have Rees ready and waiting for his number to be called. But even he admitted afterward that this call was unlike any other so far.
Still, staying engaged while watching on the sideline for three-plus hours has not been the hard part for the aspiring coach.
"I like it," Rees said. "I love football and I love the game and I love learning and I love paying attention and trying to help Everett and the rest of the guys as much as I can. I stand with
[Andrew] Hendrix
most of the game and we talk about what the looks are out there. We just try to relay some of that."
Kelly added: "He's an incredible young man that he can stay so focused in the game, know what's going on during the game. At halftime I'm talking with him and Everett and he's pointing out some things about the outside coverages that we should maybe think about running, as well. He's just a very smart football player."
And so despite the biting rain pouring down shortly after his entrance -- creating a muck of a field -- and despite a big hit from
Trent Murphy
on the first play of overtime that threatened to unsettle things, Rees delivered.
He completed three consecutive passes in the extra session, his biggest a 16-yarder to
Theo Riddick
on a third-and-8 that saw the Irish staring at a long field goal in anything-but-simple conditions. He hit Jones for the score, and he watched his defense make a goal-line stand, celebrate, wait for an official's confirmation, then celebrate again.
Notre Dame is 6-0, with two different quarterbacks playing pivotal roles in three wins apiece.
"Not exactly, no, I didn't imagine this," Rees said. "For good, bad or different, it's worked out this way and it's going well, I guess, we are 6-0 I think."
November, 26, 2011
11/26/11
7:41
PM ET
STANFORD, Calif. -- Notre Dame finally got on the board midway through the third quarter when quarterback
Andrew Hendrix
– who appears to have replaced
Tommy Rees
permanently for the second half – connected with
Michael Floyd
on a 6-yard scoring strike.
Heading into the locker room at the half, ESPN sideline reporter Heather Cox asked Notre Dame head coach Brian Kelly if he was going to change quarterbacks at the break.
"Just trying to do anything to get some consistent play at the quarterback position," Kelly said. "... We're not getting enough production right now."
Looks like he's getting the production he wanted from Hendrix – who orchestrated the 7-play, 77-yard scoring drive.
Notre Dame has been solid in the third quarter, outscoring opponents 84-13. The Irish have only allowed one offensive touchdown in the quarter this season.
The Cardinal lead 21-7.
November, 22, 2011
11/22/11
3:24
PM ET
Notre Dame enters Saturday's regular-season finale at Stanford as an underdog for the first time this season. But Brian Kelly is not quite playing the us-against-the-world card this week.
"I don't know that I see ourselves as a spoiler, to be quite honest with you," Kelly said Tuesday. "We have a great deal of respect for Stanford, and they've earned everything. They're a darn good football team. We see this as just another opportunity to play our last regular-season game. I know our guys are excited. It's a relevant game in November and it's on national television. That gets 18-21-year-olds' attention more than being a spoiler so to speak."
[+] Enlarge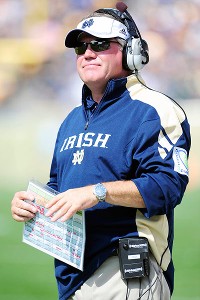 Jeanine Leech/Icon SMI"It's a relevant game in November and it's on national television," Brian Kelly said. "That gets 18-21-year-olds' attention more than being a spoiler so to speak."
The stakes are high, but they are also unclear. The No. 6 Cardinal (10-1) are likely playing for a spot in a BCS-bowl game. The No. 22 Irish? At 8-3, there is a very remote chance they could jump eight spots and become BCS-bowl eligible themselves with a win -- with an emphasis on the
very remote
part.
More pressing, however, is the validation that would come with a road win over a top-10 opponent in the second year of a new regime, which would also give the Irish a chance at a 10-win season.
They finished last season on a four-game winning streak to go 8-5.
"Well, it's still about, for us, you know, preparing the right way and then performing on Saturdays," Kelly said. "I've said this a number of times. I like the way we've prepared. We haven't performed on Saturdays the way we need to consistently. We're showing that at times.
"This is just another one of those — it's not a referendum on our season, but it's another step towards where we want to be in consistency in November. We have done very well in November, and we want to continue to build on that in this game against Stanford."
Notre Dame has won all six of its November games since Kelly took over. The second-year Irish coach has actually won 16 straight regular-season contests in November and December, dating back to 2007, when he coached Cincinnati.
He has already faced quarterback
Andrew Luck
, the likely top NFL draft pick and a strong Heisman Trophy contender.
Luck has completed more than 70 percent of his passes this season, throwing for 2,937 yards, 31 touchdowns and just eight interceptions, and he will likely be playing the final home game of his career.
In a 37-14 win at Notre Dame last season, Luck was 19-for-32 for 238 yards, with one touchdown and two interceptions.
"Boy's under pressure more than anything else," Kelly said. "Some of the throws that he made against us last year. We brought an allout blitz inside the 15-yard line, and we had a freeblitzer and he just kept back-pedalling and hit a tight end on a choice route in the end zone.
"That's poise under pressure. He has the ability to make the throws when he's under duress as well. And to have that, you've got to have the skill, but also the utmost confidence in your ability. He has all this intrinsic things necessary to be a great quarterback."
The onus on Notre Dame's quarterback,
Tommy Rees
, may be heavier this week. Starting running back
Jonas Gray
's season is over after tearing the anterior cruciate ligament in his right knee Saturday, and a pair of unproven freshmen —
George Atkinson III
and
Cam McDaniel
— will back-up junior
Cierre Wood
.
Freshman end Stephon Tuitt's status is uncertain after missing the last game with an illness as well.
"It's huge," Rees said after Saturday's game. "To go finish November strong, finish the season strong against a good opponent, and I think it would just give us some momentum heading into a bowl, and we look forward to it just like any other opponent. We can't focus too much on everything that's going around us. We're ready to play another football game."
September, 16, 2011
9/16/11
3:00
PM ET
Questions on the offensive line, secondary and play-calling jumped out this week.
Diane in San Francisco writes
: I just heard Brian Kelly say that Michigan State is Notre Dame's toughest game of the year. Standard "one-game-at-a-time" talk -- or should Stanford fans take that as a slight?
Kevin Gemmell
: Diane, I'd be more worried about
Nick Foles
tomorrow than Notre Dame in November. It could be coach-speak. It could be that he really believes that. Or it could be the fact that Notre Dame has more turnovers than a Main Street bakery and he's trying to motivate his team. I'd get through the next nine games, then worry about the 10th.
---
Bob in San Francisco writes
: Jordan Watkins' commitment is the most recent in a multi-year haul of top Georgia talent to Stanford [James Vaughters, Ronnie Harris, Henry Anderson, David Yankey, Jamal -Rashad Patterson]. What's the root of Stanford's success there? What got it started?
Kevin Gemmell
: Stanford has the advantage of being one of the few schools that is a true national recruiter. They are a brand name in education and slowly but surely starting to become a brand name in football. Co-defensive coordinator Derek Mason recruits Georgia and offensive coordinator Pep Hamilton recruits Atlanta. Give credit to those guys for hitting the road hard.
---
James in Basking Ridge, N.J., writes
: How do you think our chances of going all the way are holding up? Do you think the lack of offense in the first half so far this year will be a problem in trying to beat good teams like Oregon? I think one of the main problems is the offensive line - we lost a lot of good starters and I think Andrew (Luck) is feeling a bit pressured in the pocket. Go Card!
Kevin Gemmell:
I think this weekend is going to be very telling. We'll find out just how much the coaching staff was keeping in the bag offensively through the first two games. I think a lot of the offensive line woes can be attributed to them being young and it being early in the season. I saw improvement from Week 1 to Week 2 and expect to see more improvement this week. Yes, Luck felt the pressure. But three of the five linemen had never experienced delayed blitzing in a live-game situation. It took them a half to figure it out. Next time it happens, they'll be better prepared. That comes with time and communication -- something the line is getting better at each practice.
As for going all the way? The only thing Stanford can control is their win-loss record. Keep winning, and they'll make a good case. But the rest of the conference will need some quality wins to bolster their chances.
---
Kevin in San Jose, Calif., writes:
Kevin, with the obvious discrepancy between the pass defense and run defense, what's to stop all of the upcoming opponents from passing the entire game? In this respect, do you think the team is in trouble in games vs. teams like Arizona and USC? The way they are playing, it seems difficult to imagine they'll have any chance at stopping the [Matt] Barkley-[Robert] Woods combination. Your thoughts?
Kevin Gemmell:
I too have been a little worried about the secondary through the first couple of weeks. But this isn't the NFL, and teams can't live on the pass alone. When you throw the ball 50 times a game, at least one or two bad things are going to happen. And Stanford has such a good pass rush that eventually it's going to start rattling the quarterback. The secondary really hasn't blown any coverages. They just need to do a better job of tackling. It's a correctable problem. This team was second in the Pac-10 last year with 18 interceptions, so the talent is there to make those plays. This weekend is going to be a very good test for the secondary against Foles. And you have to figure by the time Oct. 29 rolls around and the team faces USC, there is going to be a drastic improvement.
---
CC in Pennsylvania writes:
Long-time Cardinal fanatics love the balanced attack. Years ago, 75% pass, 25% run plays, at an all-time low in the so-called "Buddy Ball" era. (Against Duke), a perfect 50/50. So overall, joy. But it was frustrating to watch the play-calling during the 2nd and 3rd possessions of the first half when the Card looked average and the answer was obvious: run, stop passing altogether. With [Stepfan] Taylor going for a minimum of 4 yards, and at times over 10 a clip, why pass at all? Against teams with lesser girth and lesser athletes (read: Colorado, OSU, Cal), the Cardinal can eliminate the drama with a grinding running attack. The malaise of the first half is as much on the coaches for the play-calling as it is on the lethargy of the squad. I hope that when the film is reviewed, the coaches objectively look at both.
Kevin Gemmell:
The reason Stanford ran the flea-flicker on the first possession was to try to loosen up the linebackers and safeties. The first possession was to set up the game plan on the second and third possessions. On the second possession, they ran on second-and-5 and had no gain. Then a blitz forced an incomplete pass on third-and-5. On the third drive, after Taylor rushed for 11 yards and 6 yards, Duke started to go heavy in the box, so the logical decision was to pass. They just happened to be incompletes.
I, too, am a fan of balance in an offense. But not every run is going to be 8 yards and not every pass is going to be completed. I didn't have any problems with the play-calling. The execution wasn't entirely there in the first half. But I give them kudos for making the necessary adjustments in the second half.
As for why pass at all? Look at who you have at quarterback. Look at who you have at tight end. My question to you is why would you disregard that portion of your offense?
Thanks for the letters. Keep them coming.
Stanford Lands No. 4 QB-PP K.J. Costello
PAC-12 SCOREBOARD
Thursday, 9/3
Friday, 9/4
Saturday, 9/5