Stanford Football:

Brian Polian
February, 27, 2012
2/27/12
9:00
AM ET
Stanford head coach David Shaw is going to spend this week looking.
Looking for a new quarterback.

Looking to fill holes on his offensive line.

Looking for a couple of new safeties.

Looking to fill out his coaching staff with a linebackers coach.
[+] Enlarge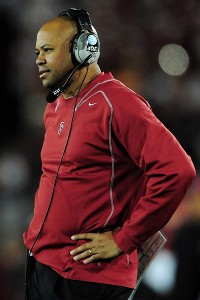 Kyle Terada/US PresswireCoach David Shaw says Stanford enters its upcoming practices with several unanswered questions.
But he's also looking for something that trumps all of the above: Stanford's identity.
"I need to see what we're becoming," Shaw said. "I need to see what Stanford football in 2012 is going to look like. We're not going to have all of the answers. But hopefully we'll have a better idea of where we're headed on both sides of the ball."
The Cardinal kick off the first of two spring sessions today, and Shaw said he hopes that by the end of the week he'll be able to make an announcement on a new inside linebackers coach. Last week, he named Pete Alamar the new special teams coordinator. Alamar replaces Brian Polian, who left for Texas A&M last month. The new linebackers coach will replace Jason Tarver, who also served as co-defensive coordinator before leaving this month to be defensive coordinator of the Oakland Raiders.
Shaw said that Derek Mason -- who was co-defensive coordinator with Tarver -- will oversee the defense as the sole coordinator next season. While he'd like to have a linebackers coach in place this week, he said it's not an immediate priority.
"I'm in no hurry," Shaw said. "We have seven practices this session, and if we get it filled, great. If not, I'm fine. The most important thing is that I get the right guy that fits us and fits what we want to do."
Naturally, quarterback will be hot debate throughout the offseason as the Cardinal take the field for the first time in three years without
Andrew Luck
leading the offense. This first session of practices will focus mainly on the base offense and defense, and third downs. The second session will involve more situational practice.
Shaw said he expects all of the position battles to be hotly contested. The practices will be high-energy, full contact (though the NCAA limits how many days you can go in full pads during the spring) and he wants to see which players are going to separate themselves. Only then will he have a better idea of what his team is going to look like next season.
"Where are we at the safety positions could dictate what we do coverage-wise," Shaw said. "What we do on the offensive line will dictate what we do in protection and the running game. Who has the edge at QB leaving spring? It won't be decided, but whoever has the edge, we might know a little bit more what we want to do scheme-wise. They won't be final answers. But they'll be clues as to where Stanford football in 2012 is going to go."
February, 24, 2012
2/24/12
11:25
AM ET
On Thursday, Stanford head coach David Shaw said he would name his new special teams coach on Monday. Apparently, the news couldn't wait.

Shaw annouced Friday that Pete Alamar, a Pac-12 veteran of Cal and Arizona, would be Stanford's new special teams coordinator.
"Pete came highly recommended by people who I respect in the coaching profession," Shaw said in a statement. "He is one of those rare coaches who can coach not only scheme, but also the technique of snapping, punting and kicking."
Alamar replaces Brian Polian, who left Stanford last month to join Kevin Sumlin's staff at Texas A&M.
Alamar was the special teams coach at Cal from 2003-09. He was on staff at Arizona in 1993 and again from 1995-99. He spent the past two years coordinating special teams and coaching the tight ends at Fresno State. He has also worked as a running backs coach, on the offensive line and was the offensive coordinator at Eastern Michigan from 2000-02.
Stanford was neither bad nor great at special teams last year. Within the Pac-12, the Cardinal ranked 10th in punting, fourth in kickoff coverage, third in punt returns, fifth in field goals and seventh in PAT kicking.
There are some holes on the special teams units to fill. Punter
David Green
is gone, as is long-snapper
Andrew Fowler
. Kicker
Jordan Williamson
was second-team All-Pac-12 as a freshman.
Ty Montgomery
emerged as a solid kick returner and
Drew Terrell
, who was All-Pac-12 honorable mention, will likely continue punt return duties.
The hiring leaves Shaw with one vacancy on the staff. He said yesterday that he expects to name an inside linebackers coach sometime next week. He added that the new coach would not serve as co-defensive coordinator, as was the case with former coach Jason Tarver, who left earlier this month to be the defensive coordinator for the Oakland Raiders. Derek Mason will have full defensive coordinator responsibilities next season.
The Cardinal open the first of two spring football sessions on Monday.
February, 21, 2012
2/21/12
9:00
AM ET
Stanford head coach David Shaw announced that running backs coach Mike Sanford will take over the recruiting coordinator responsibilities for the Cardinal.
Sanford, now in his second season with the program, fills the void left by special teams coach/recruiting coordinator Brian Polian, who left last month to take a similar position on Kevin Sumlin's staff at Texas A&M.
Sanford's new role takes effect immediately.
"Mike Sanford is a proven recruiter who truly loves and understands Stanford University," Shaw said in a statement. "He works extremely hard and develops great relationships."
Sanford played an instrumental role in Stanford landing
one of the top recruiting classes

in the country, which included
six players on the 2012 ESPNU 150 list
.
In his first year as the Cardinal's running backs coach in 2011, Sanford oversaw a rushing attack that ranked 18th nationally with an average of 210.6 yards per game.
The move comes on the heels of running game coordinator/offensive line coach Mike Bloomgren being named one of the top recruiters in the country and the
No. 1 recruiter in the Pac-12
.

To round out his staff, Shaw still has to find a special teams replacement for Polian and someone to replace co-defensive coordinator/inside linebackers coach Jason Tarver, who was hired earlier this month as the defensive coordinator of the Oakland Raiders.
Sanford, a 2005 graduate of Boise State, began his coaching career as a graduate assistant at UNLV. He served at Stanford as an offensive assistant from 2007-2008 before moving to Yale in 2009 (tight ends, fullbacks, recruiting coordinator) and Western Kentucky in 2010 (passing game coordinator, running backs).
January, 12, 2012
1/12/12
4:00
PM ET
Stanford head coach David Shaw said he's in no hurry to replace special teams coach and recruiting coordinator Brian Polian, who accepted a similar position at Texas A&M under new head coach Kevin Sumlin. Polian will reportedly coach special teams and the tight ends for the Aggies.

"I've been in contact with some people," Shaw said. "Right now, in my opinion, there is no rush."

Shaw's primary focus since falling in overtime to Oklahoma State in the Fiesta Bowl has been recruiting. With several key recruits coming to The Farm for visits this weekend, Shaw said there will be time after the recruiting season to round out his staff.

"There are a lot of good guys out there," he said. "Just like recruiting, I need to bring in the right person who understands this place, understands these kids and understands the kids we need to recruit. That will never be rushed."

Polian came to Stanford in 2010 and assumed recruiting coordinator duties this past season. Prior to that, he was at Notre Dame from 2005 to 2009. Shaw said the Cardinal haven't missed a beat on recruiting in his absence because linebackers' coach Lance Anderson was the previous recruiting coordinator and every assistant coach is in charge of their own recruiting territory.

"It's sad to see Brian go, but at the same time, we can't afford to skip a beat," Shaw said. "Brian's not out there doing it himself. We're working hard on all of these guys. We count more on our position coaches than anybody because we have guys in different regions. We have guys with big chunks of Texas and Georgia. Losing Brian does hurt because he was a good recruiter, but he wasn't recruiting everybody.

"Lance has the best relationship with our admissions people as far as making sure these kids are taking the classes and finishing strong and re-taking tests, etc."
October, 13, 2011
10/13/11
10:00
AM ET
Despite not having any concern with the outcome -- at least not publicly -- Stanford coach David Shaw said he takes his time when he fills out his weekly ballot for the USA Today/Coaches Poll. He's one of 59 coaches (out of 120 FBS schools) that has a vote.
And he found this week's results to be, well, a little peculiar.
"Dropping to a team that didn't play was very interesting," Shaw said, maybe joking, maybe not. "That must have been one heck of a bye week."
He's of course referring to Wisconsin, which didn't play last week but managed to leap-frog the Cardinal from No. 5 to No. 4 in the coaches poll.
"I have a list and I rank them from top to bottom," Shaw said. "I've put some good thought into it. I vote my conscious to a certain degree. I don't necessarily stick to my guns from the week before if I see something that's a little different. I try to watch whatever games are on during the day ... some of the games if I didn't see much, I try to see the highlights and I'll read the recap of the game and then put them down."
Polls have been a hot topic around The Farm of late -- specifically the up-and-down ride Stanford has taken in the AP poll since the season started.
[+] Enlarge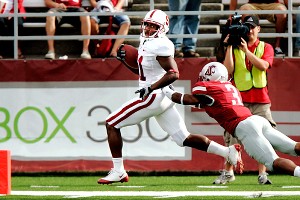 AP Photo/Dean HareLast time Stanford played in Pullman, Chris Owusu pulled in this 63-yard touchdown -- the first of his career and the first thrown by Andrew Luck.
ADDITIONAL NOTES
Kick return issues
Following last week's opening kickoff, in which Colorado did a "sky kick" that
Jeremy Stewart
fumbled, Shaw said he and special teams coach Brian Polian have taken a good, hard look at how the Cardinal field kicks.
"To get a surprise on-sides and two bloop kicks, there is something people see and think they can get us on," Shaw said. "We've addressed those and hopefully we can get those better."
Pullman memories
Quarterback
Andrew Luck
has fond memories -- at least the ones he can remember -- from his last trip to Pullman, Wash. It was his collegiate debut.
"I remember not sleeping very well the night before," Luck said. "It was sort of a long walk from the locker room to the stadium. I threw my first touchdown to Chris (Owusu). Other than that, I don't remember much."
Speaking of Owusu
The wide receiver is coming off a shaky performance against Colorado where he caught just three balls for 34 yards. And he had the ball bounce off his hands that led to Luck's second interception of the season. It's old news as far as Luck is concerned.
"That's the great thing about football is you get to prove yourself every weekend," Luck said. "No one really cares what you did last weekend. Chris understands that. Everybody understands that."
Shaw said he'd like to see more production out of Owusu.
"I thought that Chris would have more yards and catches by now," Shaw said. "Some of the that is a function of playing two teams that rolled up to him and played a safety over the top and a guy in his face. He's had a couple opportunities and has made some and hasn't made others ... Before it's said and done, we're going to need
Chris Owusu
to make a lot of plays for us."
Gaffney rising
Running back
Tyler Gaffney
drew high praise from Shaw this week for his efforts against Colorado.
"It sounds to a certain degree cliché, Tyler has had two of the best weeks of practice since he's been here," Shaw said. "Our guys know if you practice really well, we'll reward you with playing time. And when you produce on game day, we'll reward you with more opportunities. He's earned those opportunities. He's been really good."
The flying helmet
No one averages more yards per carry on the Cardinal than fullback
Geoff Meinken
. Of course, he only has five carries -- but when he touches the ball, lookout. His stiff arm against Duke was great -- and it went for 40 yards. But he might have topped that when he plowed over Colorado's Douglas Rippy, forcing Rippy's helmet to fly off in the process. Defensive end Ben Gardner, who has had to try to tackle Meinken a few times, said it was a favorite during the film session.
"I've tried to tackle him and I do not envy the guys that have to do it on Saturdays," Gardner said of the 6-foot-4 fullback. "... If you're meeting Meinken in the A-gap, you're getting a mouthful. He brings 265 pounds to the party and he brings it low and hard."
September, 27, 2011
9/27/11
10:00
AM ET
The 1oth and final report card of Stanford's bye week (which spilled over into this week).
THE COACHING STAFF
Grade
: A-
Summary
: Few, if any coaching staffs, entered the season under a brighter spotlight than David Shaw & Co. With the outspoken Jim Harbaugh leaving the Cardinal for the San Francisco 49ers, the questions loomed. Can Shaw match Harbaugh's fire? What about the offensive line? The wide receivers? How is he going to hold all this together?
Since this blog officially went online a few days before the San Jose State game, I've made no secret that I'm a Shaw fan. And I make no apologies for it. He's a splendid coach. I got to see first hand when he was at the University of San Diego what he can do with an offense and I've enjoyed following his career. He's innovative, a heck of a schemer and he hasn't altered his football principles simply because of who he has under center.
Run the ball, stop the run. Everything else will fall into place.
I like the schemes from offensive coordinator Pep Hamilton. The three tight-end sets have been a pleasure to watch. The way they are motioned out or used in conjunction with the jumbo blocking packages is some of the most innovative football I've seen in the last half decade.
I was curious how a co-defensive coordinator system was going to work with Derek Mason and Jason Tarver. To date, the duo seems to be clicking on all cylinders. The Cardinal have never trailed in a game.
And I think the job that Mike Bloomgren has done with the offensive line in the first three weeks has been stellar. There are gains, both measurable and immeasurable, with a unit that had the most question marks before the first game kicked off.
Lance Anderson (outside linebackers), Ron Crook (tight ends/tackles) and Randy Hart (defensive line) must feel like the luckiest guys in the world to have some motivated players in their position groups.
And Brian Polian (special teams/recruiting coordinator) has assembled one of the most steady and reliable special teams units in the country.
One thing does concern me. As we know, the Cardinal have had trouble in the first half of all three games -- be it missed assignments or missed opportunities. But even more concerning is that no one seems to have an answer. An unofficial poll of about 15 players over the last three weeks has yielded, essentially, the exact same response: "I don't know. I can't explain it."
That's all well and good against the San Jose States and Dukes of the world. But the time will come this season when the Cardinal are going to have to play a complete game, or the nation's longest winning streak will come to an end.
But so far, so good.
Previous report cards
:
Quarterbacks
Defensive line
Offensive line
Linebackers
Running backs/Fullbacks
Tight ends
Wide receivers
Secondary
Special teams
PAC-12 SCOREBOARD
Saturday, 12/21
Monday, 12/23
Tuesday, 12/24
Thursday, 12/26
Friday, 12/27
Saturday, 12/28
Monday, 12/30
Tuesday, 12/31
Wednesday, 1/1
Thursday, 1/2
Friday, 1/3
Saturday, 1/4
Sunday, 1/5
Monday, 1/6