Stanford Football:

Case Keenum
December, 8, 2011
12/08/11
8:16
PM ET
Stanford quarterback
Andrew Luck
won the Maxwell Award at "The Home Depot College Football Awards" show, beating out Boise State quarterback
Kellen Moore
and Alabama running back
Trent Richardson
.
The Maxwell Award is given to the best all-around player in college football.
"I feel a lot of pride for this award, to have tangible evidence for all of the work on the practice field," Luck said.
Earlier in the evening, Luck missed out on the Davey O'Brien National Quarterback Award, which went to Baylor's
Robert Griffin III
. Houston's
Case Keenum
was the other finalist.
Stanford offensive guard David DeCastro was beat out for the Outland Trophy -- which goes to the nation's top interior lineman -- by Alabama offensive tackle Barrett Jones of Alabama. Penn State defensive tackle Devon Still was the third finalist.
In typical Luck fashion, he praised his coaches and teammates for his success.
"(Give credit) to a great scheme," Luck said. "The coaches put us in a great situation and it's trusting the offensive line, the running backs and the wide receivers to make plays. It all comes with practice time."
December, 8, 2011
12/08/11
7:00
AM ET
Tonight, two Stanford players will hope to hear their names called when "The Home Depot College Football Awards Show" airs at 9 p.m. ET on ESPN.
Quarterback
Andrew Luck
is up for a pair of awards -- the Maxwell award, given to the best all-around player -- and the Davey O'Brien National Quarterback Award (pretty self explanatory).
Offensive lineman David DeCastro is up for the Outland Trophy, given to college football's top interior lineman.
Thought it would be fun to compare the finalists and see what sort of chances Stanford's players have.
MAXWELL AWARD
Finalists: Luck, Boise State quarterback Kellen Moore and Alabama running back Trent Richardson.
Scouting the field: Apples and oranges. Hard to compare quarterbacks and running backs. Moore gets labeled as a system or spread quarterback, but Boise was almost 50-50 in run vs. pass attempts. Moore attempted 405 passes to Luck's 373. Richardson is arguably the best running back in the country.
Why Luck will win: Since the award goes to the best all-around player, you start by looking at what that player does "all-around." Luck does it all, pass, run, play calling, scrambling, reading defenses, efficient in the red zone, arm strength etc. etc. etc. Nothing you haven't heard before.
Why he won't: Sometimes these awards become career achievements -- and it's hard to argue with what Moore has done over a sensational career. Voting closed before the BCS games were announced, but those who thought Boise would get stiffed (which they did) might also throw Moore a make-up call. If you're a voter and a fan of running back play, tough to argue with Richardson, or his 20 touchdowns/6 yards per carry average.
DAVEY O'BRIEN NATIONAL QUARTERBACK AWARD
Finalists: Luck, Baylor quarterback Robert Griffin III, Houston quarterback Case Keenum.
Scouting the field: Three very different players. Keenum has the gaudy numbers. Griffin has the "wow" factor and Luck is the prototypical NFL quarterback.
Why Luck will win: When you evaluate simply on quarterback skills, it's tough to say anyone in the country is a more complete quarterback than Luck.
Why he won't: Griffin is red-hot right now. His stock has never been higher. Keenum has the video-game stats voters love.
OUTLAND TROPHY
Finalists: DeCastro, Alabama offensive lineman Barrett Jones, Penn State defensive tackle Devon Still.
Scouting the field: It's a good, talented crop with no clear front-runner. All three play their respective positions well (in Jones' case, four different positions). A convincing argument can be made for all three. DeCastro and Jones headline highly-ranked running attacks and Still is the most disruptive defensive tackle in college football.
Why DeCastro will win: Considered the most NFL-ready run blocker in the nation, DeCastro has the athleticism to pull to either side, the muscle to bulldoze straight ahead and the quick hands and feet to pass block. He's the most complete player of the group. Stanford is also sixth nationally in sacks allowed while Alabama is 28th.
Why he won't: The award has gone back and forth between offense and defense the past four years (Wisconsin offensive tackle Gabe Carimi won last year). The recent trend says a defensive player wins it this year. Plus, Still has stats to draw upon (55 tackles, 4.5 sacks, 15 solo tackles for a loss) whereas the offensive players predominantly rely on their running backs' stats. Though if it goes to Jones, it will be because Richardson is a far-more notable running back than Stepfan Taylor and the group of three other backs he platoons with. Alabama's running attack ranks 15th nationally (219.8 YPG). Stanford is 22nd (207.9 YPG). As noted, Jones is extremely versatile, having played both tackle spots, left guard and center this season, though his primary spot is left tackle.
December, 5, 2011
12/05/11
6:10
PM ET
My Heisman Trophy ballot has changed every week for the last couple of months.
I'm not surprised there are more than three players going to the trophy presentation.
Five players were invited to New York for Saturday night's Heisman Trophy presentation -- quarterbacks
Andrew Luck
of Stanford and
Robert Griffin III
of Baylor, tailbacks
Montee Ball
of Wisconsin and
Trent Richardson
of Alabama and cornerback Tyrann Mathieu of LSU.
It's a shame the Heisman Trust didn't have room for three more quarterbacks because Houston's
Case Keenum
, USC's
Matt Barkley
and Boise State's
Kellen Moore
were just as deserving.
With five finalists going to New York, it figures to be one of the closer votes in recent Heisman Trophy history.
The closest vote in Heisman Trophy history came just two years ago, when Alabama tailback Mark Ingram edged Stanford's Toby Gerhart by only 28 points. Ingram received 227 first-place votes, Gerhart got 222 and Texas quarterback Colt McCoy, the second runner-up, received 203.
Given the number of finalists and their geographical regions, we could have another really close finish on Saturday night.
Luck, the runner-up to Auburn's Cam Newton last season, entered the 2011 season as the Heisman Trophy favorite. His performance didn't slip much this season, as he completed 70 percent of his passes for 3,170 yards with 35 touchdowns and nine interceptions.
I still feel Luck might be the most valuable player on any team in the country. Without him, there's no way the Cardinal is ranked No. 4 in the country and playing No. 3 Oklahoma State in the Tostitos Fiesta Bowl. Luck has done more with less, as Stanford lacks the game-changing playmakers that other teams have.
But Luck might still be the second-best quarterback in New York. Griffin, who is widely known as RG3, completed 72.4 percent of his passes for 3,998 yards with 36 touchdowns and six interceptions. He also ran for 644 yards with nine touchdowns.
Without him, the Bears wouldn't have beaten TCU, Oklahoma and Texas. Griffin's one drawback: He had a late interception that sealed the Bears' fate in a 36-35 loss at Kansas State on Oct. 1 and threw two picks in a 59-24 loss at Oklahoma State on Oct. 29. But with everything else RG3 has done this season, it's easy to give him a mulligan for the miscues.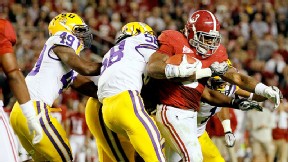 Kevin C. Cox/Getty ImagesRunning back Trent Richardson has been at his best in Alabama's biggest games.
I still believe Richardson is the best player in the country. He looked like the best player on the field in No. 2 Alabama's 9-6 loss in overtime to No. 1 LSU on Nov. 5. He had 89 rushing yards and 80 receiving yards in a game where every yard mattered. He finished the season with 1,583 yards with 20 touchdown runs and three touchdown catches. He's also Mr. Dependable, not losing a fumble in his past 520 touches and only once in 614 career touches.
Ball has been a scoring machine for the No. 10 Badgers this season, running for 1,759 yards with 32 touchdown runs and six touchdown receptions. His 38 total touchdowns are one shy of matching former Oklahoma State running back Barry Sanders' NCAA single-season record of 39 set in 11 games in 1988. Ball's production helped lead the Badgers to a Jan. 2 date against Oregon in the Rose Bowl Game presented by VIZIO.
Mathieu fell off my ballot after he was suspended from playing in the Tigers' 45-10 victory over Auburn on Oct. 22 for smoking synthetic marijuana. But his big plays helped the Tigers overcome deficits in each of their last two victories, over Arkansas and Georgia in the SEC championship game.
Mathieu -- aka the "Honey Badger" -- is the best player on the top-ranked team. He leads the Tigers with 70 tackles and has forced six fumbles and recovered five. He also is the most dynamic punt returner I've seen since Florida State's Deion Sanders. Mathieu has scored four touchdowns -- two on fumble returns and two on punt returns.
To penalize Mathieu for one foolish mistake wouldn't have been right. After all, Newton was briefly ruled ineligible at Auburn last season and 2010 Heisman Trophy finalist
LaMichael James
of Oregon was suspended from playing in last season's opener.
November, 22, 2011
11/22/11
5:00
PM ET
It's getting down to the wire. As many as three different players have had the opportunity to seize it and pull ahead from the pack in the last two weeks, but no one has. Here are
the latest ESPN.com results
, as always, followed by my ballot.
Dropped
Brandon Weeden, quarterback, Oklahoma State: Doesn't matter if you are at home or on the road, you can't throw three picks and lose to an unranked team when the national championship game is in your grasp.
LaMichael James, running back, Oregon: I'm still a huge James fan, but with the time he missed because of injuries, he couldn't afford a mediocre game the rest of the way.
November, 21, 2011
11/21/11
3:30
PM ET
Two Stanford football players have been tabbed as finalists for three of college football's biggest awards.
When "The Home Depot College Football Awards Show" airs Dec. 8 at 9 p.m. ET on ESPN, keep your ears open for
Andrew Luck
and David DeCastro.
Luck has been named a finalist for the Maxwell Award, which goes to the best all-around player and the Davey O'Brien National Quarterback Award.
For the Maxwell Award, Luck is joined by Boise State quarterback
Kellen Moore
and Alabama running back
Trent Richardson
.
For the Davey O'Brien National Quarterback Award, he's joined by Baylor's
Robert Griffin III
and Houston's
Case Keenum
as finalists.
Guard David DeCastro has been selected a finalist for the Outland Trophy, given annually to college football's top interior lineman. Barrett Jones of Alabama and Devon Still of Penn St. are the other finalists.
November, 15, 2011
11/15/11
4:00
PM ET
With
Andrew Luck
and
Kellen Moore
losing last week, there was quite a bit of movement, as expected. Here's the results of the
ESPN.com writers' poll
, as always, followed by my ballot.
Brandon Weeden, quarterback, Oklahoma State: While the two quarterbacks ahead of him suffered setbacks, he went out and had one of his best games of the season, throwing five touchdowns and completing 83.8 percent of his passes. His numbers are comparable or better than almost every other quarterback in the field and he has his team in position to play for a national championship. He might not be the NFL prospect that Andrew Luck is, but he's got the numbers and the undefeated season (with wins over three Top 25 teams) to back up his top billing.
LaMichael James, running back, Oregon: He was the best player on the field Saturday night in Palo Alto, Calif., darting and dashing his way to 146 yards and three touchdowns -- including a scoring run of 58 yards. He averaged 7.3 yards per carry against the Cardinal and was equally effective between the tackles or bouncing to the outside. He's the best running back in the nation for one of the best offensive teams in the nation. For the year, he averages almost 8 yards per carry and 150.8 yards per game. Those are Heisman numbers.
Andrew Luck, quarterback, Stanford: This is not a knee-jerk reaction to Saturday night. Over the past few games, Luck has not looked as good as he had earlier in the year. Consider: In the first five games of the season, Luck was completing 73 percent of his passes with 14 touchdowns and two interceptions with an average of 286.5 yards per game. In the last five, the completion percentage dropped to 68 percent with 15 touchdowns, five interceptions and 259.4 passing yards per game. Saturday night, he accounted for three turnovers in the biggest game in school history. Lots of blame to go around, but fair or not, the quarterback usually shoulders the bulk of it. Comes with the job. No other player in the last couple of weeks was able to make a push that justified dropping Luck. This week, two players did.
Case Keenum, quarterback, Houston: With Moore dropping, Keenum is the lone non-AQ player still in the mix. And it's hard not to be impressed with his accuracy and efficiency. It's been said before about Keenum: if the Heisman was a pure numbers award, it would be his. But his team's non-AQ status and the fact that almost every team he's faced this year ranks in the bottom half nationally in defense has to be considered.
Trent Richardson, running back, Alabama: A nice bounce-back performance after the loss to LSU, going for 127 yards against Mississippi State. But it took him 32 carries to get there on 4 yards per carry -- his third-lowest average of the season. Very good player, but I think James put a little distance between the two with his performance Saturday night.
Dropped
Kellen Moore, quarterback, Boise State: If only this guy had a kicker. But that's not the real reason he dropped. The past two weeks, he's had his worst games of the season in terms of accuracy (58.1 percent against UNLV, 73.7 against TCU). While the latter is still pretty good, combine it with a loss and it's enough to knock a non-AQ contender out of the picture.
November, 8, 2011
11/08/11
5:00
PM ET
Quarterbacks are still at the top -- but this weekend will sort out a lot.
Here are the results of the ESPN.com expert's poll
, as always followed by my ballot.
Andrew Luck, quarterback, Stanford: He shook off a poor start to finish with three touchdowns against Oregon State. But it wasn't his best game in terms of decision-making. Rain and cold didn't help, plus he was without three of his favorite targets for the majority of the game -- Chris Owusu for a half, Zach Ertz for the game and Levine Toilolo for three quarters. When you take all of that into account, his performance doesn't seem as bad. But it was still well below his standards. This weekend's game against Oregon could wrap it up for him -- or blow the race wide open.
Kellen Moore, quarterback, Boise State: Just as Luck has a big game this week, so does Moore against TCU -- probably the toughest game Boise State has remaining on its schedule. Five touchdown passes are great -- even if they are against UNLV. But his completion percentage was his lowest of the season against a sub-par defense. Hard to argue though with what he's done over a magnificent career.
Case Keenum, quarterback, Houston: Who says this guy only does it in the air? He had two rushing touchdowns -- his first two of the season no less -- in a game where he had his highest completion percentage of the season at 88.6 percent. If the Heisman was strictly a statistical award (and it is to some voters), it would be his. But there is more to it than just numbers. But it's still hard to ignore the amazing stats he's put up in his career and this season.
Trent Richardson, running back, Alabama: He had a chance to make huge gains in the Heisman race this week, but he didn't "wow" against LSU. Granted, the Tigers have the best defense in the country, but Heismans are won and lost in such games and 89 yards with no touchdowns and 3.9 yards per carry isn't going to cut it if you're making your name as a running back. The five catches for 80 yards shouldn't be ignored, but his absence from the end zone was notable.
LaMichael James, running back, Oregon: Despite missing two games because of a dislocated elbow, James has played his way back into the conversation. He regained the top spot in the nation with 151.57 yards per game and is once again the most explosive running back in college football. Like Luck, much will be determined this weekend.
November, 1, 2011
11/01/11
5:00
PM ET
September, 13, 2011
9/13/11
4:00
PM ET
I've kept my Heisman ballot the same through the second week. But changes will likely be coming once the teams that had byes last week get back on the field.
Here's the results from
this week's ESPN.com poll
in case you missed it.
My ballot:
On the rise
:
Marcus Lattimore, running back, South Carolina: He's on the verge of cracking my top 5. It's almost a dead draw with him and Hillman right now.
Robert Griffin III, quarterback, Baylor: He had a lot of hype after the TCU win. But he also had four months to prepare for that game. I'd like to see a couple more games like that one before passing judgment.
Russell Wilson, quarterback, Wisconsin: If his completion percentage stays near 80 percent -- look out. This was a nice breakdown of Wilson from ESPN The Magazine's Ryan McGee.
Case Keenum, quarterback, Houston: I'm slowly becoming a believer. But not enough yet to put him in the top 5.
Pac-12 Weekend Wrap: Jan. 27