Stanford Football:

Chris Polk
September, 19, 2012
9/19/12
4:00
PM ET
Washington is off this weekend. Here's a guess there won't be much chill time for Steve Sarkisian and his staff.
The Huskies play No. 9 Stanford on Thursday of next week. You might have heard that Stanford folks are grinning ear-to-ear these days. The following Saturday Washington visits No. 3 Oregon. Huskies and Ducks have a warm and friendly regard for each other. And then the Huskies play host to poor ol', now-13th ranked USC.
(If you throw in the 41-3 loss at No. 2 LSU on Sept. 8, it's possible the Huskies are playing one of the most difficult five-week stretches in the history of college football.)
Of course, the Huskies can't afford to look ahead at the big picture (and who'd want to anyway). Stanford offers plenty. Not only are the Cardinal coming off a rugged performance against the Trojans that suggests they again are among the nation's most physically imposing football teams, there's a bit of history here, too.
No team over the past three years -- not even those hated Ducks -- has manhandled the Huskies like Stanford. In 2009, Washington yielded 321 yards rushing in a 34-14 loss. In 2010, they were humiliated 41-zip at home, outgained 470 yards to 107. Last year, they surrendered 446 yards rushing, a Stanford school record, in a 65-21 defeat.
After that 2011 defeat, Sarkisian said, "They wear you out and they wear you down."
So how can things be different this go-around as Washington tries to climb out of the Pac-12's muddled middle?
The Huskies were brutalized at LSU, gaining just 183 total yards while the Tigers rushed for 242. The offense has been inconsistent both on the ground and through the air. The offensive line has struggled, giving up eight sacks. The defensive front has been poor against the run, yielding 174.7 yards per game and 4.5 yards per carry.
[+] Enlarge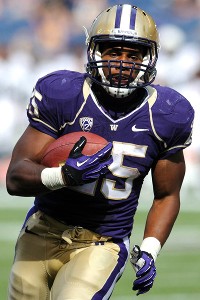 Steven Bisig/US PresswireWashington's Bishop Sankey said he's focusing this spring on becoming a more complete running back.
Stanford, you might have noticed, likes to run and stop the run. And then pound your quarterback. Ask
Matt Barkley
, who was sacked four times in the 21-14 loss and hit repeatedly.
Sarkisian said Monday he's concerned about the Huskies' lack of a pass rush, but he's probably more worried about the Cardinal's pass rush against quarterback
Keith Price
.
Washington's retooled offensive line played better against Portland State, an FCS team -- "Not bad, not bad," Sarkisian said -- as the Huskies rushed for 209 yards and gave up just one sack. But the Vikings are not Stanford.
"We have an idea of the runs we like now," Sarkisian said. "I think we are starting to figure out what our guys do well, so now we can get a little more creative as far as running the ball."
The Huskies ran the ball well in the first half against Stanford last year, particularly on 46- and 61-yard touchdown runs from Chris Polk. Polk is gone, though, and sophomore
Bishop Sankey
is now the No. 1 run option. He rushed for 103 yards and two scores on 14 carries against Portland State. The Huskies will need to create some sort of run threat to keep the Cardinal's deep and capable defensive front from completely zeroing in on Price.
And then the Huskies defense is going to need to figure out a way to contain Stanford running back
Stepfan Taylor
better than the Trojans did. The one area in their favor is this will be new Stanford quarterback
Josh Nunes
' first road start.
Still, preparing for Stanford probably merits a few extra days.
Sarkisian spent a lot of time lauding Stanford in two different news conferences, particularly its size. He then was asked how he planned to counter it.
"We'll find out next Thursday," he said. "We've got some work to do.''
June, 8, 2012
6/08/12
9:00
AM ET
We've looked at the potential
3,000-yard passers
and the
1,000-yard rushers
in the Pac-12 over the last few days. But this is the conference of wide receivers -- a place for Biletnikoff's boys to run free and unabated up and down the field. So who's going to be in 2012's 1K club?
First, here's last year's 1,000-yard receivers:
Gerell Robinson, Arizona State, 1,397
Marquess Wilson, Washington State, 1,388 (returning)
Keenan Allen, Cal, 1,343 (returning)
Robert Woods, USC, 1,292 (returning)
Nelson Rosario, UCLA, 1,161
Marqise Lee, USC, 1,143 (returning)
With only four returning 1K receivers coming back from last season -- and two of them are on the same team -- how does that bode for the rest of the teams in the conference?
Arizona
: The Wildcats lose their top three receivers from last year -- including headliner Juron Criner and his 956 receiving yards. Big boy
Dan Buckner
(6-foot-4, 214) returns after 42 catches and 606 yards last year, when he averaged 14.4 yards per catch. But the Wildcats will run the ball more this year. Buckner will likely improve on his numbers, but reaching 1K will be tough.
Arizona State
: Another team shifting its mentality from pass first to run first, and they lose their top receiver in Robinson.
Jamal Miles
had 60 catches and six touchdowns last year, but only 361 yards. His yard total should go up as the No. 1 guy, but with more focus on the run game, 1,000 yards might be a stretch.
[+] Enlarge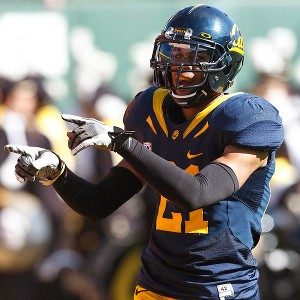 Jason O. Watson/US PresswireWith quarterback (and half-brother) Zach Maynard more comfortable, Keenan Allen could put on a show for Cal during his junior season.
Cal
: Keenan Allen. Yes. Quarterback
Zach Maynard
reportedly had a great spring and looks more comfortable in the offense -- and Allen might be the best all-around receiver in the conference (that phrase will be written a couple of times throughout this post). The Bears will lean heavily on Allen and he'll reward them with another 1,000 yard season.
Colorado
: Prior to
Paul Richardson
's injury, it still would have been 50-50 with a new quarterback. But without their top receiving threat it leaves relatively inexperienced players like
Tyler McCulloch
and
Nelson Spruce
in the mix. The quarterback position is still in flux and with a pretty good offensive line and a talented running back in
Tony Jones
, the Buffs' focus will probably be more ground-based.
Oregon
: Whether
De'Anthony Thomas
reaches 1,000-1,000 is a debate for another day. But I like his chances of 1,000 yards receiving. He caught 46 balls for 605 yards and nine touchdowns last season. Coach Chip Kelly finds creative ways to get Thomas the ball in space and then he just takes off. He'll make the new quarterback look good and suck up receiving yards in the process. My crisp $1 bill says yes to 1K.
Oregon State
:
Markus Wheaton
returns after catching 73 balls for 986 yards. He's an extremely gifted wide receiver who is often forgotten among the Pac-12's A-list of pass catchers. But he shouldn't be.
Sean Mannion
should be more steady in his second year and as
Brandin Cooks
develops opposite Wheaton, it should open up more opportunities. He'll break 1K this season.
Stanford
: Run-first team. The top three receivers (which includes tight end Coby Fleener) are gone and the leading, returning receiver is fullback
Ryan Hewitt
. Even if Andrew Luck were back it would be tough. The Cardinal spread the ball around so much that it's unlikely one guy would get all the catches. Wide receiver
Ty Montgomery
, however, is a rising star in the conference and should have a very good season. He's Stanford's best chance at 1K.
UCLA
: If the Bruins can get the quarterback spot situated and if they take to the new pass-happy offense relatively quickly, there is a good chance someone could emerge as a 1K receiver.
Joseph Fauria
is the strongest pass catcher, but
Shaq Evans
and
Ricky Marvray
will have plenty of chances to emerge.
USC
: Yes and yes. Robert Woods and Marqise Lee are two of the best wide receivers in the country and with the quarterback they have throwing the ball, there is no reason to think both won't return as 1,000-yard receivers. This one is a no-brainer.
Utah
: The Utes were dead last in the conference last year in passing offense. That's expected to change with new offensive coordinator Brian Johnson taking a more aggressive approach and quarterback
Jordan Wynn
staying healthy, they hope. When
DeVonte Christopher
did catch the ball (42 times) he made the most of it with one of the league's highest averages per catch (15.8). But running the ball is still going to be Utah's bread and butter. The numbers will improve, but a 1K receiver will be tough.
Washington
: This is a tough call. Quarterback
Keith Price
has another year of experience, but there is so much distribution in the Huskies offense -- which includes a tight end who should see the ball at least five to seven times per game -- that there might not be a chance for one guy to separate himself.
Kasen Williams
and
James Johnson
both have big-play potential -- which might be part of the problem because they could take yards away from each other. And without Chris Polk running the ball, teams might not be as quick to send safeties down to defend the run.
Washington State
: Not if, but when. Marquess Wilson, last year's yardage runner up is in a system that's tailor-made for him. Of the league's top receivers -- Allen, Woods, Lee, Wheaton -- Wilson might be the best of them all (doesn't that make for a fun debate?). There are plenty of other good receivers at Washington State. But Wilson is the guy. He'll clear 1K about the time you're recovering from your Halloween candy hangover.
June, 6, 2012
6/06/12
9:00
AM ET
Last week we brought you our predictions for the
Pac-12's 3,000-yard passers in 2012
. And judging from the comments, it seems like at least 10 quarterbacks are going to hit the 3K mark.
Are folks just as optimistic about the running backs reaching 1,000 yards?
First, let's take a look at last year's 1K rushers:
LaMichael James, Oregon, 1,805
John White, Utah, 1,519 (returning)
Chris Polk, Washington, 1,488
Stepfan Taylor, Stanford, 1,330 (returning)
Isi Sofele, Cal, 1,322 (returning)
Cameron Marshall, Arizona State, 1,050 (returning)
Curtis McNeal, USC, 1,005 (returning)
So that's five of the seven coming back. Let's break it down by team.
[+] Enlarge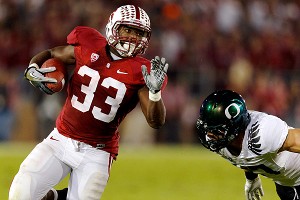 Jason O. Watson/US PRESSWIREStanford RB Stepfan Taylor is seeking his third straight 1,000-yard rushing season.
Stepfan Taylor, Stanford:
The Cardinal have a committee approach, but even so, Taylor has gone over 1,000 yards in back-to-back years. The loss of guard David DeCastro hurts a bit, but the Cardinal are dedicated to the run and Taylor is a fantastic back. Shouldn't have any trouble three-peating.
Ka'Deem Carey, Arizona
: The Wildcats ran the ball the second fewest of any Pac-12 team last season (331 attempts), but Carey still managed 425 yards on 91 carries. Arizona will run the ball significantly more under Rich Rodriguez -- who usually has one of the top rushing offenses in the nation. His running backs had more success at West Virginia than at Michigan, where QB
Denard Robinson
sucked up most of the yards. Carey will be close and it might come down to whether Arizona plays a 13th game.
Cameron Marshall, Arizona State
: He did it in a pass-first system on an injured ankle. Now he's in a run-first system and healthy. Do the math. Marshall should flourish in a downhill system. The Sun Devils have deep group behind him -- maybe the deepest in the conference -- but I can't imagine anyone cutting into his carries too deeply that it hinders his ability to get back to 1K.
Isi Sofele, Cal
: There are mumblings that Cal might move to more of a committee approach and Sofele might not get the same number of carries as last year (252). Even so, he'll still probably be chairman of that committee and will have ample opportunity to reach 1,000 yards again. He'll get there.
Tony Jones, Colorado
: The Buffs' offensive line might be their strongest offensive asset with standouts like tackle
David Bakhtiari
and center
Gus Handler
. That bodes well for Jones, who showed he can be very explosive backing up Rodney Stewart last year. But the Buffs spent a lot of time playing catch-up last season and couldn't commit to the run as much as Jon Embree probably would have liked (401 attempts). If they can't develop a downfield threat, Jones is going to see a lot of eight-in-the-box.
Kenjon Barner, Oregon
: He was knocking on the door last year with 939 -- and that was behind LaMichael James and his 1,805 yards. Barner will see more carries than his 152 last season, though he'll still have to split carries with
De'Anthony Thomas
and the Ducks' new quarterback. Still, no one in the conference runs the ball more than Oregon so Barner shouldn't have any trouble getting there.
Committee, Oregon State
: We know Oregon State wants to run the ball more. The Beavers were dead last in the conference last season in attempts (318) and rushing yards (1,043) and there are still issues on the offensive line that need to be sorted out. Several players are expected to contribute -- but chances are one individual won't get over 1,000 yards.
Johnathan Franklin, UCLA
: The new system at UCLA will be pass-oriented. But Franklin (976 yards last year) won't be completely ignored. Just look at Marshall's numbers from ASU when Noel Mazzone was running the show and you can see that running backs are still a big part of the attack. And the Bruins might run a little more until the new quarterback finds his way in the system. He'll be close.
Curtis McNeal, USC
: He just cracked the club by five yards last season. This year he'll have the benefit of a 13th -- maybe even a 14th -- game to get there. Can't imagine many teams will stack the box and dare
Matt Barkley
to beat them with his arm. McNeal should clear 1K easily.
John White, Utah
: No back carried the ball more in the conference and only three players in FBS football had more rushing attempts. There's no reason to think the Utes won't take that same approach. White is an explosive back who is a proven workhorse. If Utah can get the passing game going, it will open up more for White who could probably match his yards total with fewer carries.
Committee, Washington
: Chris Polk was a special running back -- the kind of guy who could run for speed and run for power. He's gone and there are questions on the offensive line where there weren't last year.
Jesse Callier
and
Bishop Sankey
will probably headline the committee and Washington's balanced approach (52-48 run-pass ratio last year) will allow for plenty of opportunities for both. They should easily combine, but unless one steps up as an 18-20 carry-per-game back, it's unlikely an individual will reach 1K.
Committee, Washington State
: The pie for carries is already small considering the offense. Then you have
Rickey Galvin
(1A),
Carl Winston
(1B) and
Marcus Mason
(1C) cutting into the pie even more to nibble on whatever slices are left. Running backs in Mike Leach's world are better used in the passing game on swings and screens in this offense. So don't expect a 1K rusher.
May, 30, 2012
5/30/12
9:00
AM ET
Taking a cue from the guys at the Big Ten blog, who recently
looked at the potential 3,000-yard passers
in that conference in 2012, I thought it would be worth a look at the Pac-12 group.
For the B1g boys, 3,000 yards might seem like a bench mark. In the Pac-12, it's more common, given the brand of football played in the league and seemingly never-ending parade of amazing throwers and catchers who grace the Pac-12 each year. Heck, the conference had two 4,000-yard passers on 2011 in Nick Foles and Brock Osweiler.
But those two are gone -- and so are their head coaches, coordinators and offensive schemes.
Here are the members of the 3K club last season:
Foles, Arizona, 4,329
Osweiler, Arizona State, 4,036
Matt Barkley, USC, 3,528 (returning)
Andrew Luck, Stanford, 3,517
Sean Mannion, Oregon State, 3,328 (returning)
Keith Price, Washington, 3,063 (returning)
[+] Enlarge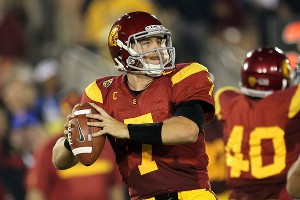 Stephen Dunn/Getty ImagesUSC's Matt Barkley seems like a sure bet to throw for 3,000-plus yards this coming season.
Now let's look at the conference quarterbacks in 2012 and see who has the best chance of cracking the 3K mark.
Matt Scott, Arizona
: Rich Rodriguez's spread option is primarily run-first, and I couldn't find a 3,000-yard passer to his credit as a head coach. The closest anyone got was
Denard Robinson,
who hit 2,570 in 2010. History says probably not.
TBD, Arizona State
: Another up-tempo, run-first offense -- though Todd Graham has had more success in the air. G.J. Kinne hit 3,650 passing yards for Tulsa in 2010, but that was also his second year in the system. With a workhorse running back like
Cameron Marshall
, a deep running back corps and a green quarterback, 3K seems unlikely.
Zach Maynard, Cal
: Just 10 more yards. Just one more little swing pass or one broken tackle and Maynard would have joined the 3K club after throwing for 2,990 yards last season. All indications are that he had a good spring, and he looks more comfortable in the offense. Plus, he's got one of the best receivers in the country in
Keenan Allen
. Maynard should get there.
TBD, Colorado
: Tyler Hansen ( who is now gone) almost got there last season, throwing for 2,883 yards even though his leading receiver in catches was running back Rodney Stewart (who is now gone). Toney Clemons (who is now gone) led in yards, and
Paul Richardson
(who is out for the season with a knee injury) was second. The odds are slim that
Connor Wood
or
Nick Hirschman
will improve off Hansen's numbers with so much turnover.
TBD, Oregon
: Does it really matter?
Darron Thomas
knocked on the door last season with 2,761 yards. But establishing the pass isn't exactly priority No. 1 for the Ducks. Whoever wins the job will have the benefit of
De'Anthony Thomas
, who can turn 5-yard passes into 50-yard completions. But with the Ducks carrying a 62-38 run-pass percentage last season, it's unlikely they'll stray from that formula, which means it's unlikely a new quarterback will reach 3K.
Sean Mannion, Oregon State
: One of six quarterbacks in the conference last season to break 3K, Mannion threw for 3,328 yards in his debut campaign. Vows from coach Mike Riley to re-commit to the running game should actually enhance Mannion's numbers. And with receivers like
Markus Wheaton
and
Brandin Cooks
on the outside, there is no reason to think he won't top 3,000 again.
TBD, Stanford
: Despite a run-first, pro-style attack, Luck still threw for 3,517 yards. The Cardinal were 55-45 in their run-pass ratio last season, and a lot of Luck's aerial success came from his ability to successfully sell play-action and distribute the ball among many position groups. But the top three receivers (Griff Whalen, Chris Owusu and tight end Coby Fleener) are gone, and you can't bank on the new quarterback being as efficient as Luck. Expect a healthy dose of running back
Stepfan Taylor
, meaning Luck's replacement probably won't break 3K.
TBD, UCLA
: The Bruins joined Utah last season as the only teams that did not have a passer ranked in the top 10 in passing yards in the conference. That will change this season with new offensive coordinator Noel Mazzone -- the architect of Osweiler's 4K season. The ball will be in the air a lot more than it was in the pistol offense. But seeing as there is so much uncertainty still -- and we could see multiple quarterbacks this season -- it's too tough to call. If one guy starts the entire season, I could see it.
Matt Barkley, USC
: Yes, yes, 3,000 times, yes.
Jordan Wynn, Utah
: I'd say it's 50-50 for Wynn at this point. The Utes have a very good running back in
John White
, and coach Kyle Whittingham likes the control game. But Wynn did toss 2,334 yards in 2010 in 10 games. If
DeVonte Christopher
has the big season many are predicting, and new offensive coordinator Brian Johnson dials up the aggressiveness, I could see it happening. As always, unfortunately, every conversation regarding Wynn has to be stipulated with an "if he stays healthy" until he proves otherwise.
Keith Price, Washington
: Had it not been for a career-high 438 passing yards against Baylor in the Alamo Bowl, Price would have come up way short of the 3K club. But he's in. And without Chris Polk to lean on, we could see Price's passing numbers go up. Prior to the bowl game, he only had one 300-yard game. He has a good chance to repeat as a 3,000-yard passer, but it's not a lock.
Jeff Tuel, Washington State
: Mike Leach hasn't named him the starter, but, come on. He lit it up in the spring, and showed to be a quick study in learning the new offense. With a deep and talented crop of wide receivers -- headlined by
Marquess Wilson
-- and an offense that throws three out of every four times, Tuel should easily clear 3K.
January, 6, 2012
1/06/12
4:00
PM ET
Well, apparently I rattled up quite the hornet's nest a couple of days ago in the mailbag by taking the under in a reader question wanting to know my opinion on the over/under for 8.5 for wins for Stanford next season.
Most seemed to think I was being too harsh and that nine or 10 wins were more likely than the seven or eight wins I'm forecasting. (This total doesn't include a bowl game, mind you).
OK, I'm not afraid to show my work on a way-too-early analysis of each game. Naturally, this is based off the personnel we know is available, the assumption there are no catastrophic injuries and little more than gut feelings.
Sept. 1 vs. San Jose State: Cardinal will be multi-touchdown favorites and will cruise behind a monster running attack. Good game for the new signal caller to get his feet wet. Win (1-0).
Sept. 8. vs. Duke: Offense won't be as vanilla as the week before as they start adding new elements for the first-year starting quarterback. There will be a couple of mistakes, but Geoff Meinken will stiff-arm the Cardinal to a comfortable victory. Win (2-0).
Sept. 15 vs. USC: I don't see this as a blowout that some seem to think it will be. The Cardinal will control the clock with the rushing attack and David Shaw has always been a very good play-caller against USC. But the Matt Barkley-led Trojans finally get a win over Stanford. Loss (2-1).
Sept. 22 Bye: Good time to recover from first loss of the year and prep for first road trip of the season.
Sept 27 at Washington: What? You mean we have to play outside of California? Tough place to play and Keith Price is only getting better. Maybe the Huskies will have some defense to speak of? No Chris Polk hurts, but the Cardinal still won't be able to keep up. The one thing that might sway this is Stanford coming out of the bye week. But I wouldn't expect 446 rushing yards this time around. Loss (2-2).
Oct. 6 vs. Arizona: Students are finally back on campus and realize there is a football game. Not sure what to make of the Rich Rodriguez Wildcats yet, but Stanford should be the better team and getting Arizona earlier in the season is always helpful when a new coaching staff is involved. Win (3-2).
Oct. 13 at Notre Dame: I'm expecting the Irish to have their third quarterback controversy of the season by this point. Stepfan Taylor has a huge game on the road and continues to be the most underrated running back in the conference. Cardinal pull this one out. Win (4-2).
Oct. 20 at Cal: A Big Game before Halloween? Spooky. New quarterbacks are always good for at least one road loss in games they are favored to win. Given the magnitude of this game, this might be that one. Loss (4-3).
Oct. 27 vs. Washington State: Cougars throw for 400 yards, but Cardinal score more points. Win (5-3).
Nov. 3 at Colorado: Buffs still not ready to make a move. Cardinal cruise. Win (6-3).
Nov. 10 vs. Oregon State: With bowl eligibility locked up, the Cardinal are looking to improve their postseason status. Whoever is playing quarterback has the offense figured out and Taylor will surpass the 1,000-yard mark for the third straight year. Should be a great way to honor him on senior night. But this could also be a trap game. OSU played a lot of youth last season that has to grow up sometime. Win (7-3).
Nov. 17 at Oregon: Yeah ... not going to happen. Loss (7-4).
Nov. 24 at UCLA: I think this could be a swing game for both teams. But my best guess is UCLA is still a year away from making real noise. Win (8-4).
December, 23, 2011
12/23/11
4:00
PM ET
With one game left to play we're taking a look back at some of the memorable moments/series of moments from Stanford's 2011 season. Some were individual plays, others were a series of plays or games as a whole that were significant to the season.
No. 3: RUNNING BACKS GONE WILD
Setting the scene
: The first 18 minutes of Stanford's home game against Washington started off like a pinball game between running backs. Washington's
Chris Polk
broke off touchdown runs of 46 and 61 yards.
Stepfan Taylor
answered with a 70-yard touchdown scamper. Then one team hit the accelerator while the other one ran out of gas.
Why it's memorable
: Given the history of Stanford football, any time a record is set, it's significant. The Cardinal rushed for a school-record 446 yards. And do you know how many negative rushing yards they had? Zero.
Taylor ran for 138 yards and a score.
Tyler Gaffney
had 117 yards and a touchdown -- marking the 10th time in school history two players had run for at least 100 yards in the same game.
Anthony Wilkerson
had 93 yards and two touchdowns -- including the 38-yard touchdown run that pushed Stanford beyond the previous mark of 439 yards, set in 1981 against Oregon State.
Jeremy Stewart
opened the scoring with a short-yardage score. The offensive line feasted on Washington's defensive front and the backs ran crazy.
Head coach David Shaw tells the story that when
Andrew Luck
came off the field with a little more than nine minutes left in the game, he told his coach that he had just played the best game of his career. He was 16-of-21 for 169 yards and two touchdowns. Not exactly monster numbers. But Luck put his offense in the right formations 100 percent of the time to avoid negative plays and the running backs reaped the rewards to the tune of a 65-21 victory against the Huskies.
November, 4, 2011
11/04/11
4:00
PM ET
Another great week of questions. Thanks for the feedback and queries.

Jay in Palo Alto writes: Kevin, I'm wondering why the D-line is getting beat up in the press, including your post because they didn't get a sack on (Matt) Barkley. Anyone who watched that game saw Barkley on his butt probably a dozen times, and a lot of those knock-downs looked like they hurt. He always managed to get rid of the ball, but it was pretty rare that he had any extra time in the pocket. It's ironic that people are talking about how great Barkley's quick release was, but ignoring the flip side: Stanford's pass rushers made him get rid of it quickly, over and over. That's about all you can ask of them, never mind the sack stats.

Kevin Gemmell: Jay, I don't recall "beating them up" in a post, but your point is well-taken and certainly valid. I was addressing the pass rush as a whole. Now give credit to a very good USC offensive line -- and I gave Barkley his due on the quick release -- some were by design, others were not. And they did hit him. But you can't "never mind" the sack stats because sacks are game-changers. When a quarterback gets hit and still completes the pass, he feels better about himself. The hits don't hurt as much (at least during the game). When a quarterback gets hit and takes the ball with him, it's a sinking feeling. I'm not saying the defensive line had a bad game -- but it wasn't a great game on the whole. And that falls on the linebackers as well. There were long runs, significantly fewer tackles for a loss and USC's offensive line did a pretty good job keeping them out. I've been a big supporter of the defensive line this year, but it wasn't their best game. But they did make the plays when they had to make them. In the end, that's all that matters.


---
Shirin in Boston writes: My fellow Stanford alum friend and I were having a big debate on who we should be rooting for this weekend in the LSU vs. Alabama game. My thought is to root for Alabama because I don't want LSU to have a home game when we play the winner in the national championship game. However, my friend Matt said I should be rooting for LSU because an Alabama loss will hurt (Trent) Richardson's Heisman case and an LSU win will help our strength of schedule and Pac-12 perception due to Oregon's loss to LSU. However, I think Luck is going to win the Heisman anyway and the strength of schedule argument won't matter as much if we beat Oregon! Please let us know your thoughts. Thanks!

Kevin Gemmell: Shirin, I'd be more focused on the Oklahoma State-Kansas State game. But if I had to pick, I'd back you up. Going to be a tough trip to New Orleans regardless of who they play. But LSU would make it tougher. Then again, I covered the USC-Texas national championship game a few years back and that was essentially a home game for the Trojans. And we all remember how that turned out.


---
Matt in Austin, Texas writes: Kevin, I'm concerned about the pressure that USC's front four got on Luck throughout the game this past Saturday. To me, their pressure schemes most closely resembled Duke's defensive line's strategy (at least through the first half of that game). If you recall, Duke utilized their quick defensive ends to run stunts behind their defensive tackles, confusing Stanford's interior offensive line as to whom to pick up in the rush coming up the middle. USC mirrored this strategy, and was successful with it throughout the game thanks to their superior athletes. Tell me why I shouldn't be worried about Oregon also copying this stunt-rush strategy two Saturdays from now, given their athletic front four and speedy defensive ends.

Kevin Gemmell: Matt, from my recollection, Duke was using delayed blitzes to complement the defensive line, and that was the reason for the confusion up front. Plus, it was just the second game for the three new starters and it took a half for them to figure out the adjustments. USC was getting pressure with just its front-four. And in that case, I'd be a little concerned. There were some injuries to the offensive line, which might have contributed. But the pressure on third downs was alarming. I can't tell you not to be worried, sorry. I think Stanford will have a good blocking scheme in place for that game. But I'd like to see how they rebound against Oregon State first before jumping too far ahead to Oregon.


---
Ryan in San Francisco writes: One thing Stanford has always struggled with is recruiting speed and athleticism on the defensive side of the ball. The recent recruiting classes have definitely helped in this area but it seems the team was still a step or two slow on the long runs by (Chris) Polk and (Curtis) McNeal the last two weeks. In your opinion do you chalk this up as still lacking some athleticism to keep up with the true burners, bad angles by the defense, and/or injuries to (Shayne) Skov and (Delano) Howell as the main culprits?

Kevin Gemmell: Ryan, all of the above. As we know, Stanford has a different recruiting strategy and criteria than most schools. It's tough to find elite athletes who also fit the Stanford mold. But it's not just Stanford -- Polk and McNeal are darn good running backs. Would it be different with Skov and Howell -- probably. No doubt those two are missed. But bad tackling/angles also played a major role.


---
Manny in Fremont, Calif writes: Would you call the OSU game a trap game for the Cardinal (given the emotional USC game and the upcoming showdown with Oregon)?

Kevin Gemmell: I think all of the ingredients for a trap game are there -- except for the other team. As I wrote in my prediction, I just don't think OSU has the horses to keep up with Stanford. And I don't see a special season being lost to a 2-6 team. I like Mike Riley a lot. I covered him when he was with the Chargers and always found him to be an innovative coach. But innovation can only go so far without the players. I will say that the Cardinal need to start fast -- something that's hampered them on the road this season -- to not let OSU get any illusions of an upset.
October, 27, 2011
10/27/11
3:00
PM ET
This is not how Jarek Lancaster wanted to get more playing time. Or A.J. Tarpley, or Devon Carrington or Jordan Richards. But hey, that's football. Next man up.
These four pups in particular have had to grow up on the job sooner than they, or the coaching staff, probably wanted or expected.
So be it.
[+] Enlarge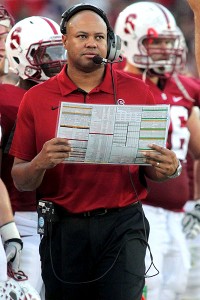 Cary Edmondson/US PresswireStanford coach David Shaw says he has trust in his young defense.
With a season-ending injury to linebacker Shayne Skov, Lancaster and Tarpley went from being backups and regular special teams contributors to spotlight players on one of the best run defenses in the country. With safety Delano Howell expected to miss his second straight game with a hand injury, Carrington and Richards are center stage once again.
"We've all been preparing for this opportunity," Carrington said. "It's unfortunate that it has come the way it has, but we're ready to step in and take the coaching. Guys like Shayne and Delano are in our ears and telling us to play better. It was a little overwhelming at first, but we're all trying to get better and make the most of the opportunity."
Before the season even started, head coach David Shaw was touting the depth his team had. Now we're seeing firsthand exactly what he was talking about.
Richards, for example, had eight tackles all season heading into last week's game against Washington. He had nine stops against the Huskies. Lancaster is now tied for the team lead in tackles with 33 and Tarpley isn't too far behind with 24.
To say the Cardinal haven't missed a beat would be misleading. They have. And it makes you wonder on some of
Chris Polk
's big runs last week for Washington whether Skov would have made the play at the line of scrimmage, or Howell would have made the stop at the second level.
But it's not worth asking those questions. All they are focused on is getting better and moving forward.
"I don't think I played very well in the first half last week," said Richards, a true freshman. "I had some missed alignments and some missed tackles and I was playing too fast. But things slowed down in the second half and I got back to playing within the system and just playing football."
And that's why veterans are veterans and rookies are rookies. It all comes down to game experience.
"As many times as you can practice something and for as many times as the coaches will say it's going to be faster, you can't get that full effect until you get in there," Tarpley said. "Mentally, I think I was ready, but with the speed and physicality, there is nothing that can simulate a game. But I would say over the course of the season I've gotten better."
Given the circumstances that thrust those four into the game, Shaw said he's been relatively pleased with the results.
"The big thing is we trust them," Shaw said. "We let them know that we trust them. And we tell them just to do their jobs. They don't have to make every play. But they have to make the plays that they are supposed to make, and those guys have been doing a good job of that."
As with any young player, there are going to be mistakes. Carrington saw time in seven games last season, but it was very limited. He's one of the brightest up-and-coming safeties in the conference, but he still has some bad habits he's trying to shake -- like going for the big hit rather than wrapping up.
"It's something I have to work on," Carrington said. "You can't miss tackles or have tackling issues. That's the No. 1 thing of the job. I've been working hard and spending extra time on it. I'll have it cleaned up. I know it's something I need to correct to help this team out."
The veteran leadership has also been critical for helping the younger players learn on the fly.
"If you are in practice and you mess it up, they will make sure you get it right the next play," Lancaster said. "They don't let anything slide. We lean on those guys a ton. We put a lot of responsibility on their shoulders and as a younger guy you want to show that you belong and take some of that pressure off of them so they can trust you. That's where we are at right now with everyone trusting each other."
October, 24, 2011
10/24/11
10:30
AM ET
It was Stanford's most dominating performance of the season -- in a game they weren't supposed to dominate. The running backs went crazy,
Andrew Luck
looked happy to relinquish his star status, if only for one game, and the defense adjusted in the second half. Good times on The Farm. Tougher times ahead. Before we look ahead to Saturday's trip to SoCal, let's take a look at some highlights from Saturday's 65-21 win over Washington.
Highlight reel: On a night when dozens of rushing plays could have been the pick, it was a defensive play that gets the highlight reel. Watch the replay and you'll see safety Michael Thomas just sitting on the route. That's great homework from the veteran safety, knowing the play was coming, and then a pretty good foot race at the end to outdistance Keith Price.
Best play: Regular readers of this blog know I'm not shy about using the word "innovative" to describe Stanford's offense. Luck's 12-yard pass to Stepfan Taylor on the first drive -- which set up Jeremy Stewart's 2-yard touchdown run -- is exactly what I mean. Overload all three tight ends to one side, plus Luck does a sprint out to that strong side, only to throw back against the grain on a designed back-door screen to Taylor. Creative and fun to watch.
Who's hot: Taylor -- piping hot. He rushed for 138 yards, including a 70-yard touchdown run that headlined a 446-yard rushing performance from Stanford, a school record.
Who's not: Washington's rush defense, which allowed an average of 97 yards per game on the ground heading into the game. After giving up 446, it dropped from 17th nationally to 57th following Stanford's rushing outburst.
The good: Everything clicked in the running game, from the backs to the linemen to the receivers blocking down field. Everyone had a hand in the record-setting performance.
The bad: Missed tackles continue to be a problem -- and in the first half -- it's what helped Washington hang around. Both of Chris Polk's long touchdowns -- either directly or indirectly -- were aided by missed tackles. His 46-yarder could have been negated two plays earlier had Washington not converted a third-down off a missed tackle. And the Cardinal missed three tackles on his 61-yard run. Stanford won't face many more backs like Polk this season -- but there could be one...
October, 22, 2011
10/22/11
6:42
PM ET
PALO ALTO, Calif. -- Thoughts from the first half at Stanford Stadium.


Stat of the half
: It's got to be rushing yards. The teams have combined for 382 yards on the ground (247 from Stanford, 135 from Washington). Stanford's rushing defense came into the game ranked second in the country, yielding just 59.5 yards per game. Washington's rush defense, No. 17 nationally, allowed just 97 yards per game.
Best player
: Take your pick between
Stepfan Taylor
(130 yards, eight carries, one touchdown) and
Chris Polk
(143 yards, 10 carries, two touchdowns), but give the edge to Taylor since his team is winning.
Best call
: On Stanford's first drive, second-and-11 at the Washington 14, the Cardinal loaded their three tight ends on one side of the field.
Andrew Luck
took the snap and sprinted toward the tight end side, then threw back across the grain to Taylor, who was tackled at the 2-yard line.
Jeremy Stewart
scored on the next play. Really well-designed play.
Turning point
: At the rate these offenses were moving, Michael Thomas' pick-six of 62 yards in the closing minutes of the first half might have knocked all the wind out of Washington's sails.
October, 22, 2011
10/22/11
6:24
PM ET
PALO ALTO, Calif. -- With running backs like this, who needs quarterbacks?
So much focus this week was on Stanford's
Andrew Luck
and Washington's
Keith Price
. Both have taken a backseat to Stanford's
Stepfan Taylor
and Washington's
Chris Polk
.


Polk has rushed for 127 yards and two touchdowns.
Taylor has 130 yards and a touchdown.
These were two top-20 rush defenses. So far the teams have combined for 366 yards on the ground.
Luck, however, does still have two touchdown passes. One from 1 yard out and another from 5 yards.
October, 22, 2011
10/22/11
5:49
PM ET
PALO ALTO, Calif -- Stanford coach David Shaw said he wanted to get wide receiver
Chris Owusu
involved in the offense early, and that's exactly what he did.
The wide receiver took an end-around on the first play of the game for 45 yards, which set up
Jeremy Stewart
's 2-yard run. A 39-yard Jordan Williamson field goal put the Cardinal up 10-0 before
Chris Polk
and Washington struck back.
Polk broke off a 46-yard touchdown run -- making it the first points the Cardinal have given up in the first quarter this season.
Credit to Polk for making the Cardinal players miss. But Stanford's tackling has been pretty sloppy in the first quarter. Two third-downs were converted on missed tackles.
Washington's defense hasn't been much better. It gives up an average of 97 rushing yards per game and the Cardinal have already rushed for 128 yards. Stanford already has 198 yards of offense to Washington's 88.
October, 22, 2011
10/22/11
3:02
PM ET
STANFORD, Calif. -- Washington can beat Stanford.
Only the No. 25 Huskies will have to be at their absolute best, and No. 8 Stanford will have to slip at least slightly below its optimum level. And, by the way, that exact scenario plays out many times a year in college football.


Last year in Seattle, Stanford played well, the Huskies did not, and the result was a 41-0 stomping that wasn't as close as the final score indicates. But that loss seems to have served as a critical moment for the Huskies.
They've gone 8-2 since, while playing a more physical brand of football on both sides of the ball. That meant relying on running back
Chris Polk
more than the passing game during a 4-0 run to conclude the 2010 season, including an impressive Holiday Bowl win over Nebraska.
Then
Keith Price
arrived this fall -- literally and figuratively. The sophomore has given the Huskies passing game a significant upgrade -- see 21 touchdown passes, more than Jake Locker threw all of last year -- and that has translated to an offense that has scored 30 or more points in every game this season.
Price has Polk, a solid offensive line, a deep crew of receivers and a dangerous tight end. These guys can move the ball on just about anyone.
Defense? Well, giving up 401 yards and 28.5 points per game is nothing to celebrate, but the Huskies rank 17th in the nation in run defense, giving up just 97 yards per game.
And stopping the run is the first thing a team must do against Stanford. Yes,
Andrew Luck
is the best quarterback in college football. But he's unstoppable when the Cardinal running game is gaining yards in four, five and 10-yard chunks.
The Huskies have the size on their interior D-line to at least force Stanford to the perimeter. Alameda Ta'amu, Semisi Tokolahi and Danny Shelton all tip the scales at more than 330 pounds. While Stanford guard David DeCastro is one of the best, mauling run blockers, center Sam Schwartzstein and guard David Yankey are first-year starters. This will be their biggest test thus far.
The Huskies need to create second- and third-and-long situations and then hope they can mute Luck and perhaps force a mistake or two. Sacking Luck almost never happens -- just twice this year -- but perhaps the UW pass rush can get just enough pressure to disrupt his timing.
On the other side of the ball, Price and his strong supporting cast of skill guys won't be able to do much if the offensive line gets whipped. The Cardinal leads the Pac-12 with 23 sacks and ranks No. 2 in the nation in run defense (59.5 yards per game).
Stanford is not only riding a 14-game winning streak -- longest in FBS -- it's on the cusp of being historically dominant.
It has won each of its past nine games by at least 25 points, becoming the first FBS team to do so since Boise State in 2002. In the poll era (since 1936), no team has won 10 consecutive games by at least 25 points. To put that in perspective, there have been 370 winning streaks of at least 10 games since 1936, and nobody has won 10 straight by 25+ points.
During that nine-game streak, Stanford's scoring margin is +34.2 PPG. Overall in their 14-game win streak, Stanford's scoring margin is +27.9 PPG.
So there are a lot of reasons not to believe the Huskies can win.
But there is never certainty in college football.
Stanford Lands No. 4 QB-PP K.J. Costello
PAC-12 SCOREBOARD
Thursday, 9/3
Friday, 9/4
Saturday, 9/5