Stanford Football:

Clancy Pendergast
February, 14, 2014
Feb 14
1:00
PM ET
The
shuffling of defensive coordinators
appears to be over. We think. And as previously noted, all five of the top scoring defenses in the Pac-12 last year have seen changes at the top of the defensive coaching hierarchy. Three of the hires were internal promotions and two were coordinators who stayed with their head coach while switching schools.
This is how the top five scoring defenses played out last year:
Stanford (19.0 points per game)
Oregon (20.5)
USC (21.2)
Washington (22.8)
UCLA (23.2)
Who got the better end of the deal? Sounds like a poll question for you to ponder all weekend long.
Which team will lead the Pac-12 in scoring defense in 2014?
Your options:

Stanford
: Derek Mason departed to become head coach at Vanderbilt and Lance Anderson was promoted from within. The Cardinal lose some marquee players but have others such as safety
Jordan Richards
and linebacker
A.J. Tarpley
returning.
Oregon
: Out is longtime coordinator Nick Aliotti, who retired. In is longtime position coach Don Pellum. The Ducks lose some talent but return standout cornerback
Ifo Ekpre-Olomu
, who gives the Ducks' secondary instant credibility.
USC
: Clancy Pendergast was not retained by new head coach Steve Sarkisian. So Justin Wilcox is in after working his magic at Washington. The Trojans lost a lot of players to the draft, but a couple key players are back and there is a pretty good crop of young, talented players.
Washington
: New head coach Chris Petersen brought his guy, Pete Kwiatkowski, with him from Boise State. The Huskies made tremendous strides in two seasons under Wilcox and have some pretty solid personnel returning.
Other
: UCLA's Lou Spanos returned to the NFL and Jeff Ulbrich was promoted from within. Head coach Jim Mora will still oversee a lot of the defense. Though impact players like
Anthony Barr
and
Cassius Marsh
are gone, the Bruins have plenty of talent coming back. ... Arizona was sixth in the conference last year and made huge strides from 2012 to 2013. Can it keep the momentum going? ... Arizona State (seventh) also shuffled its defensive staff around with
the hiring of Keith Patterson
, though Todd Graham will still be heavily involved in the defense. ... Utah (eighth) is just two seasons removed from leading the conference in scoring defense. Can the Utes get back to the top?
February, 12, 2014
Feb 12
5:30
PM ET
Get this. Stanford's Lance Anderson actually
wanted
to be a defensive coordinator in the Pac-12. Crazy, right? Biletnikoff winners to lose sleep over; Doak Walker finalists dashing and gashing for 20 yards a pop; and All-American offensive linemen that must be displaced. Oh, the humanity.
"There are some pretty good quarterbacks, too," says Anderson.
Oh yeah, the quarterbacks.
[+] Enlarge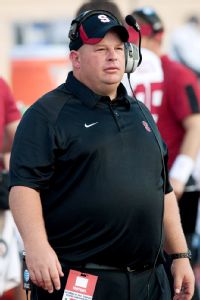 Peyton Williams/Getty ImagesLance Anderson, who has been on Stanford's staff since 2007, will have to replace some big names on the Cardinal's 2014 defense.
Anderson has his wish. With the departure of Derek Mason,
who was named the head coach of Vanderbilt last month
, Anderson takes over one of the most respected defensive outfits in all of college football. The Cardinal have led the conference in scoring defense and been ranked in the top 15 nationally in three of the last four years. They live by the mantra #partyinthebackfield and have put the brakes on some of the nation's top offenses.
Now it's Anderson's turn to add his own flavor to the scheme -- however minor it might be.
"Every year we tweak a little bit no matter what," said Anderson, who first came to Stanford in 2007 with Jim Harbaugh. "We go back and watch film and do all of our self-scouting and analysis. We try to find places where we can get better and improve and that's naturally going to lead to tweaking. I think every coordinator has a different feel and some stuff you might like a little better than the other guy.
"We've been in a system for a few years now and I think the kids are really comfortable with that. They like it. And I think the systems we're in on both sides of the ball suit our personnel really well. Vic Fangio came in in 2010, installed the system at that point and we've kept it pretty similar ever since."
That includes transitions from Fangio to the co-defensive coordinator team of Jason Tarver and Mason to just Mason and now to Anderson, who will continue to work with the outside linebackers after coaching the defensive tackles his first two seasons on The Farm.
Equally known as a top-flight recruiter, Anderson must now help the Cardinal transition to life without some of their marquee players. Gone next year are linebackers
Shayne Skov
and
Trent Murphy
, defensive end
Ben Gardner
and safety
Ed Reynolds
. All were major contributors in one form or another to Stanford's appearances in four straight BCS bowl games.
Despite those losses, Anderson is confident the Cardinal have the depth -- both in and out of the locker room -- to stay atop the defensive standings.
"I look at guys like
A.J. Tarpley
and
Jordan Richards
who have played a lot of football and they really stand out," Anderson said. "Both guys display some natural leadership and they are well-respected by their teammates.
Henry Anderson
and
David Parry
are a couple of other guys who are really looked up to among the defensive players. I think we'll be OK."
Interestingly enough, the Pac-12 has seen the defensive coordinators from the top five scoring defenses
move on after the 2013 season
. Mason went to Vanderbilt, Nick Aliotti retired at Oregon, Justin Wilcox moved to USC with Steve Sarkisian, Lou Spanos returned to the NFL and Clancy Pendergast was not retained with the Trojans after Sarkisian came in. Three of those were replaced internally, with Anderson, Don Pellum (Oregon) and Jeff Ulbrich (UCLA) all being promoted. Pete Kwiatkowski joins Chris Petersen in Washington by way of Boise State and Wilcox followed Sark. So despite the transitions, the continuity among coaching staffs remains relatively unscathed.
However, that combination of coordinator shuffling, along with some A-list offensive players returning in 2014, makes for an interesting setup. The Pac-12 is known for its offensive diversity, and when you factor in the possibility of nine teams returning their starting quarterback, the dice seem loaded to the offensive side of the ball.
"There is a lot of offensive talent in this league and it doesn't look like that's going to slow down," Anderson said. "The quarterbacks all have experience. It's not going to be easy.
"We know that every week we are going to be tested. All we can do is try to go out and learn the techniques and the fundamentals and get the physical and mental mastery of the position. Once we get that in spring ball and the preseason, it's just matter of going out and applying what we've learned during the season. Every week is going to be different. All we can do is prepare the best we can, master the position and try to apply it on Saturdays in the fall."
January, 20, 2014
Jan 20
7:00
PM ET
The Pac-12 has seen a flurry of defensive coordinator movement over the last couple of weeks -- starting with the
power struggle for former Washington defensive coordinator Justin Wilcox
to the recent exoduses of Stanford's
Derek Mason to Vanderbilt
as head coach and UCLA's
Lou Spanos to the Tennessee Titans
as linebackers coach. Oregon's promotion of
Don Pellum to defensive coordinator
to replace Nick Aliotti will also shine a spotlight on the Ducks' defense in 2014 and beyond.
And then there is, of course, former USC defensive coordinator Clancy Pendergast, who mysteriously continues to be out of work.
[+] Enlarge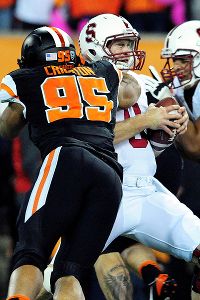 Steve Dykes/Getty ImagesOregon State defensive end Scott Crichton is among the Pac-12 defensive stars entering the NFL in 2014.
Look at the top five scoring defenses in the Pac-12 in 2013: Stanford, Oregon, USC, Washington and UCLA, respectively. All five have had defensive coordinators in flux in the young offseason.
That makes for an interesting transition period for the Pac-12. Defenses had closed the gap in recent years with several teams ranking in the top 25 nationally in scoring defense. That in itself is an achievement considering the level of offensive skill players and the diversity of offenses in the conference.
But when you look ahead to 2014, there are a lot of quarterbacks coming back to man the league's high-powered offenses --
Marcus Mariota
,
Brett Hundley
,
Taylor Kelly
,
Sean Mannion
,
Connor Halliday
, etc. You combine that with a massive talent drain of defensive players graduating or declaring for the NFL, plus all of the shifting within the defensive coaching ranks, and you have to wonder if 2014 is going to be the Year of Offense in the Pac-12.
Consider a few of the defensive standouts leaving:
Anthony Barr
(UCLA),
Will Sutton
(ASU),
Shayne Skov
(Stanford),
Dion Bailey
(USC),
Terrance Mitchell
(Oregon),
Scott Crichton
(Oregon State),
Trent Murphy
(Stanford),
Carl Bradford
(ASU),
Deone Bucannon
(Washington State),
Trevor Reilly
(Utah). There are a couple dozen others who aren't mentioned who were high-impact guys like Stanford's
Ben Gardner
and
Ed Reynolds
,
Jordan Zumwalt
and
Cassius Marsh
from UCLA and
Alden Darby
,
Osahon Irabor
and
Robert Nelson
from ASU.
In total, 19 of the 25 all-conference defensive players from 2013 will be gone next year -- including 10 of 12 from the first team. Plus about a dozen more that were honorable mention are leaving or graduating. That is a major hit to the defensive talent in the league.
The Pac-12 is rarely appreciated nationally for its defensive prowess, either from a player or coaching perspective. And now three of the best coordinators in the conference are gone, one has moved from Washington to USC and another is looking for a gig.
Pac-12 offenses are going to be loaded in 2014 while the defenses have huge question marks. There is plenty of young talent. Guys like
Myles Jack
(UCLA),
Addison Gillam
(Colorado) and
Su'a Cravens
(USC) have all made names for themselves early in their careers. There are also some very notable returners like
Ifo Ekpre-Olomu
(Oregon),
Henry Anderson
(Stanford),
Shaq Thompson
(Washington) and
Hayes Pullard
(USC).
But a lot more is gone than is coming back.
That opens the door for all sorts of comparison storylines. Wilcox did an outstanding job re-tooling the defense at Washington. And now Pete Kwiatkowski will be measured against what Wilcox was able to accomplish. Likewise, Pendergast probably should have been USC's MVP for what he did with the Trojans in one season. Now Wilcox has to take over an outfit that is losing a lot of playmakers to the NFL. No doubt, he'll be compared to his predecessor. Just as Pellum will be compared to Aliotti, and whoever fills the seats at Stanford and UCLA will be compared to what Mason and Spanos were able to accomplish.
The guard is changing, as it does every year in college football. This year it might be the Pac-12 defenses that take a step back.
January, 17, 2014
Jan 17
5:30
PM ET
Happy Friday. This is the Mailbag.
Follow the Pac-12 blog on Twitter
. It makes trolling SO MUCH EASIER!
To the notes!
(Two exclamation points and we haven't even started! Wait … three!)
Eric from Hollywoodland, Calif., writes:
I understand that the Pac-12 won a pretty major NFL draft battle in keeping the marquee QBs (Hundley, Mariota, Mannion and oft unmentioned Kelly), but why is one of the prevailing storylines STILL "SEC SO GOOD. SEC LOSES SO MANY PLAYER EARLY. ONLY SEC CAN RECOVER FROM SUCH LOSS??" Correct me if I'm wrong, but my Pac-12 educated brain tells me that
12 teams losing 25 players
(2.083/team) might be even worse
than 14 teams losing 28 players
(2/team), right?
Ted Miller
: Well, the SEC lost 32 players last year and the Pac-12 lost only 10.
And then the NFL draft happened
-- 63 SEC draft picks vs. 28 for Pac-12 -- which, by the way, became the grounds for the Pac-12 blog believing the
SEC might slide in 2013 while the Pac-12 might rise
.
My feeling is the Pac-12 will do well in this year's draft, probably finishing a respectable distance behind the SEC. But it's a pretty clear recent trend that the SEC provides the most talent to the NFL among the major conferences.
However, it's also notable that the Pac-12's
2013 NFL rookie class was pretty darn salty
, with former Oregon Ducks LB Kiko Alonso and California WR Keenan Allen being named defensive and offensive Rookies of the Year, and a number of other former conference standouts making a significant mark.
---
Erik from Portland writes:
With [Steve] Sarkisian talking about USC going to an uptempo attack, shouldn't there be concern about whether or not the defense will be able to hold up? Aliotti alternated players constantly to keep them fresh. SC doesn't have the numbers or depth at any position (especially DL and LB) to do that.
Ted Miller
: It will be a concern. It's simple math: Uptempo offenses possess the ball for shorter periods of time, which means more plays for your defense. More plays for your defense means more tired players if you aren't regularly shuffling in quality backups. USC doesn't have a lot in the way of quality backups.
One of the more impressive things about USC's defense under Clancy Pendergast this year was it attained some outstanding numbers while pretty much playing only 13 guys regularly.
Will the Trojans be deeper on defense next year? Perhaps, but only slightly so. Bottom line: Because of NCAA scholarship sanctions, USC will have no more than 72 players on scholarship in 2014, which is 13 fewer bodies than other teams are permitted.
But guess what? Sarkisian knows this. And he's a smart guy. I suspect he will pick his moments and not go all-in. I'm fairly certain USC won't be 100 percent no-huddle, uptempo next fall, particularly with a lead. I think his goal will be to control the tempo and find times to get an opposing defense off balance.
Of course, Sarkisian's desire to adopt an uptempo offense at USC is a long-term plan, at least until his philosophy changes considering this was his first year going that way. This is USC's last recruiting class that will be limited. So, starting in 2015, there should be more fresh body reinforcements.
---
Gee from Seattle writes:
Can the SEC or any other conference put three or even four teams in the playoff next year? If so, how did this come about? Shouldn't the system allow for at least three conference champions and perhaps one at large?
Ted Miller
: There are no limits on teams per conference in the four-team playoff, nor are there specific requirements for selection. The goal of the selection committee will be to pick the four best teams. Not the most deserving -- the four best.
So, yes, if a consensus from the committee is that three -- or four! -- of the best teams in the nation come from the SEC or any other conference, they will be selected.
But know that the committee also won't be eager to do that. For one, if you pick, say, three SEC teams, there's the possibility of rematches, which the committee will know fans don't like to see -- see the unpopular LSU-Alabama national title game after the 2011 season.
My guess is we're probably going to see plenty of four-team playoffs with two teams from once conference, most likely the SEC, but three will be highly unlikely.
---
Scott from Homewood, Calif., writes:
Ted, was wondering about
your final top 25 poll
. Aren't you getting away from your stance of "strength of schedule should mean something" by putting Clemson so high and ahead of Stanford? Yes, Clemson won their last game against a good Ohio State team and Stanford lost their last game to a better Michigan State team. When you look at the schedules, though, they are worlds apart. Name another ranked team that Clemson beat. There are 0 such wins. Stanford beat six ranked teams. Clemson got beat by double digits in its two losses. Stanford lost their three games by single scores and two were against ranked teams. Do you really think Clemson would win on a neutral field, and if you were on the playoff committee, would you really slot Clemson ahead of Stanford looking at the seasons of both teams?
Ted Miller
: I see your point. I do almost always prioritize quality wins.
The combination of a head-to-head win and strength-of-schedule is why I ranked Stanford ahead of Oregon in my final poll, even though this didn't happen in either the AP or coaches poll. The Cardinal had a lot more quality wins than Oregon, including the best one -- the Ducks themselves.
But you asked about Clemson.
Part of my ranking Clemson sixth is pretty simple: My final position on Clemson is it was an elite team in 2013. It was the same justification I used earlier in the year to rank Oregon No. 2, even though the Ducks didn't post a quality victory until winning at Washington on Oct. 12.
Now, I didn't give Clemson the benefit of the doubt much of the season. I had them ranked 13th heading into the bowl games. I jumped them up because I consider the win over Ohio State impressive.
Clemson lost two games by decisive margins, yes, but they were to Florida State, which won the national title, and South Carolina, which finished ranked fourth. Further, I watched the South Carolina game, and it was a lot closer than the deceiving final score. Clemson seemed like the better team, outgaining the Gamecocks, but it lost the turnover battle 6-0.
6-0! I bet Tigers fans were ripping their eyes out watching that.
Further, Clemson beat Georgia while Georgia was still Georgia -- fifth-ranked and an elite team that hadn't yet suffered epidemic injuries. Georgia beat South Carolina the week after losing to Clemson.
Clemson, by the way, has now beaten two top-10 teams in a row in bowl games: LSU in 2012 and Ohio State this year.
(If I had a quibble with my own ballot, in fact, it would be that I ranked Clemson sixth and Oklahoma seventh. At the time I put the ballot together, I considered Oklahoma's losses worse -- Texas and Baylor -- and the Sooners' best win -- Oklahoma State -- was devalued when the Cowboys lost to Missouri in the Cotton Bowl. I could go either way on that, because the Sooners beating Alabama in the Sugar Bowl was very impressive.)
---

Kevin from Orange County, Calif., writes:
Regarding the Wazzu meltdown in their bowl game, why not mention the Stanford/UCLA game? Around two minutes left in the game, Stanford up 17-10 and inside UCLA 10-yard line and UCLA with no timeouts. ... Instead of going to the knee three straight times and guaranteeing a win, Shaw decides to run and try to score. The only way UCLA has a chance is a Stanford turnover or Stanford scores quickly and gives UCLA enough time to score themselves and get an onside kick (UCLA/Utah situation at the end of game). My point is why is Shaw getting a pass for his stupid play-calling at the end of that game if Wazzu is second-guessed?
Only difference seems to be that Stanford won and Wazzu lost.
Ted Miller
: You might have guessed this, but the bold and italics for the final sentence were supplied by me.
It is true. When a strategy works, it rarely gets criticized. And when it fails, it does.
Remember Chip Kelly's shocking onside kick early in the second quarter against Stanford in 2010, with the Cardinal leading 21-10? It was a game-changing moment. It was pure genius.
And we would have thought Kelly had lost his mind if Stanford had recovered and then driven for a 28-10 lead. We would have typed, "Just as Oregon seemed to have gained momentum after a terrible start, Kelly tried to get too fancy and he handed the game to Andrew Luck and Stanford. It's clear that Kelly is in over his head as a head coach and is never, ever, ever going to be successful."
Well, the last part was just me pouring it on.
Also, understand that the Pac-12 blog's consternation over the end game wasn't just about clock management. It was about yielding a 22-point lead, playing horrendous fourth-quarter defense and coughing up the ball two times in the final two minutes.
It was a total package of meltdown.
---
Eric from Culver City, Calif., writes:
Am I a bad person for finding these Chip Kelly quotes hilarious
? Do media folk find him condescending, or is there a small amount of joy in getting slammed by a master? I mean, who wouldn't want to get insulted by Don Rickles?
Ted Miller
: Some might find him condescending, but my feeling is most reporters enjoyed working with Kelly.
Yes, he could be biting. But typically he was biting when someone asked him either: 1. A stupid question; 2. A question that he didn't want to answer. Asking the latter is often part of the reporter's job, and the truth is a biting answer is more fun than him saying, "No comment."
Further, most of his best quips aren't biting. They're him having fun. News conferences with NFL coaches are typically drab affairs. Any added color is appreciated.
As in, "This team is not going to fall for the banana-in-the-tailpipe trick."
Erroneous!
It seemed New Orleans stuck a banana in the Eagles' tailpipe.
January, 14, 2014
Jan 14
5:30
PM ET
Welcome to the mailbag, which nine out of 10 dentists agree has no bearing on your oral health.
Bobby in Phoenix writes
: Mark May said the following yesterday: "I heard through the grapevine, not publicly, but privately, Todd Graham was lobbying like heck to get the Texas job," May told Burns and Gambo on Arizona Sports now on 98.7 FM Tuesday. "Chew on that one,
Arizona State Sun Devils
fans." I heard it from not one, but two of our reporters at ESPN, that he was lobbying to get that job. It was another one of his 'dream jobs.' Any comments? My thought would be that if not one, but TWO ESPN reporters knew about this they would... umm.... report it? When will his Pitt bias stop seeping through everything he says and Todd Graham and ASU?
Kevin Gemmell
: I didn't hear May's comments or the interview, so I can only go off of what you said. But there is certainly a gut reaction when the rest of the country hears the name Todd Graham, they instantly think villain.
You know what's funny is when Brady Hoke left San Diego State after two seasons, he did the exact same thing -- he sent a text blast to the players and that was that. He got on a plane and never returned to San Diego. He was lauded as a hero and treated like Caesar returning from Germania when he got to Ann Arbor. No one cared about how he left SDSU.
But this one stuck with Graham and probably will stick with him for a long time. It's fascinating how perception and public opinion shapes who we celebrate and who we demonize.
I got to spend a lot of time with Graham this season --
including four days behind the scenes
. I was given complete access to everything -- player meetings, coaches meetings, I sat with Graham, offensive coordinator Mike Norvell and the quarterbacks at the team dinner and was with the coaches for their final huddle 10 minutes before kickoff of the Wisconsin game. (I even went out the Tillman Tunnel with the team, and I can tell you that was one of the greatest moments of my career). In my time with Graham, I learned he's the exact same guy behind closed doors as he is in front of a microphone. I really doubt he's going to put on a four-day show -- and maintain it -- for little ole' me. If he did, give him the Academy Award.
Is it possible he could jump ship sometime soon? Of course. The guy can coach. That's why he keeps getting hired. And he hires great coaches to coach alongside him (Gus Malzahn, Chad Morris, Mike Norvell, etc.).
He's always going to have the Pitt stigma that follows him. Maybe it's deserved. Maybe it's time to let it go. Either way, I like his style. I like his schemes. And l like his accountability. After the Holiday Bowl,
he put it all on himself
. That's what a coach is supposed to do.
I've been lied to plenty by coaches. That comes with asking questions they don't want to answer. But I've also had coaches be totally honest and stand by their word. My gut tells me Graham likes the spot he's in and he likes the support he's getting from the administration.
---
Wayne in Mesa, Ariz. writes:
Why was the Pac-12 Championship Game for 2014 moved back to a Friday night? I can understand TV ratings a bit, although the 2013 game had a great Saturday evening time slot. As for attendance, the Saturday date allows for better attendance and more time for the buzz to build up -- as the incredible atmosphere in and around Sun Devil Stadium this past fall would attest!
Kevin Gemmell
: Go to your living room. On your coffee table, you'll probably see a black, rectangular object with many different buttons. Push the one that says "power" and a talking picture box will come to life, projecting real life sounds and images.
Do not be scared or attempt to interact with these moving pictures. They can't see or hear you.
FOX has the Pac-12 championship game this year, as well as the Big Ten title game the next day. So, yes, it's TV driven.
I think there is something to be said about being the first game of championship weekend. You get the national audience (at least those who choose to stay up) all to yourself. But from a fan perspective -- especially those attending the game -- it can be a hassle. You have to deal with work and traffic and chances are it won't be a full stadium -- which never bodes well for the conference.
---
John in New York writes
: USC-UCLA, Stanford-USC, Oregon-Washington, Oregon-Oregon State, Arizona-Arizona State. I'd be really interested to know how you'd rank these particular rivalries, from top to bottom?
Kevin Gemmell
: Ranking rivalry games is a fairly futile exercise, because rivalries will always mean more to the folks who have a vested interest in the outcome. Try convincing an Arizona fan that the Apple Cup is more important than the Territorial Cup.
Case in point, I grew up in the Bay Area under the umbrella of the Cal-Stanford rivalry. And though I didn't attend either school, I consider it one of the greatest rivalries there is because that's what my personal experience is. Just as I think Will Clark is the greatest baseball player ever and it's a shame that he's not in the Hall of Fame.
But I also understand, given the way the Stanford-USC rivalry has played out over the last half decade, that game certainly qualifies as a rivalry. Same for Oregon-Washington and the budding UCLA-Arizona State rivalry.
I know folks are trying to make a rivalry out of the Utah-Colorado matchup. That makes sense, considering both joined the league at the same time. But rivalries aren't artificially created. They just happen. Colorado fans will always have a bitterness for Nebraska, just as Utah fans will always consider BYU their rival.
The only reason to rank rivalries is to stir the pot and drum up some artificial controversy to give folks a reason to troll and flame.
Which is why Arizona-Arizona State is the best rivalry of all time and always will be. Discuss.
---
Michigan Trojan in Ann Arbor, Mich. writes
: Kevin and Ted … Though I hope they get drafted and have successful NFL careers, I am a little puzzled by the early exits of
Xavier Grimble
,
Dion Bailey
,
George Uko
, and especially
Marcus Martin
(and possibly
Hayes Pullard
and
Josh Shaw
) at USC.
Marqise Lee
is a sure-fire 1st round pick so I cannot argue with his leaving. But the others, especially guys like Grimble and Martin, were poised to have big years, with lots of exposure that could have made them locks in the second or third round, or possibly surprise first round picks. I know some of them were redshirts, and will technically have their degree in May, but if the NFL is their first stop in terms of profession, why not maximize your potential? Most of these guys will be fourth-round picks at best, and probably have to fight to make a practice squad if they go undrafted. Do you think some of this has to do with what Sarkisian is trying to do at USC, in terms of revamping the defense, and bringing in different position coaches? I also have heard that guys were impressed by the somewhat unexpected success of early-entry guys like undrafted Nickell Robey at the next level. The exodus probably sets SC football back a few wins next year, but again, as individuals, I hope they succeed beyond expectations at the next level.
Kevin Gemmell
: It's obviously different for every guy, so there is no one magic bullet answer. Sometimes it has to do with money. Sometimes it has to do with a coaching change. And sometimes guys simply don't want to be in school anymore.
I do think USC players are a special exception. The college experience probably hasn't been a great one for them when you look at the ups and downs of the program the last few years. Most of these guys came in when the sanctions were announced or right in the middle of them. They had bowl bans. They had a disastrous 2012. They saw three different head coaches in 2013.
Can you really blame some of them for wanting to get out and make a little money?
Robey is a fine example of a guy who went undrafted, but had a huge year for the Bills. If I'm his friend and former teammate, that gives both hope and false hope. There's the thought that if I don't get drafted, I can still do what Robey did. But for every Robey, there are dozens of other guys who find themselves either on practice squads or boning up on their "ehs?" in the Canadian League. And yes, there is at least one player from a Pac-12 school on every CFL roster, except Montreal (I checked).
I do think a new coaching staff probably had something to do with it as well as the fact that Clancy Pendergast isn't coming back. For those defensive guys, it would be their third coordinator in the last two years. That's frustrating. So, and I'm just speculating here, in their eyes if they have to adjust to a new coaching staff, they might as well get paid in the process.
---
Ryan in Palo Alto, Calif. writes
: More math: You wrote: "
So the likelihood of the Pac-12 winning all nine games -- even though it was favored in all nine -- seemed highly unlikely
. "Actually probability alone (and not underdog motivation or favorite complacency) makes your statement true. Assume for sake of argument, the Vegas line said each Pac-12 team had an 80 percent chance to win. (Of course, different lines for each team and I have no idea what line corresponds to an 80 percent win chance, but useful thought experiment). The chances of all nine teams winning still comes out to only about 13.4 percent.
Kevin Gemmell
: This is why Pac-12 blog readers are the life of all social gatherings.
December, 24, 2013
12/24/13
5:30
PM ET
T'was the night before Christmas and the Pac-12 blog crew;
Was still smarting and miffed at the fall of Wazzu.

Dressed in an opulent red and green sweater;
Ted furiously hoped that the Beavs would do better.
The Trojans exploded and won one for 'O;'
Only to learn
Dion Bailey
would go.
Utes, Bears and Buffs are home for the bowls;
Leaving their fans little reason to troll.
Two teams from the desert are still yet to play;
With RichRod and Graham hoping things go their way.
One last run for Price in his prime;
Plus he gets to Fight Hunger at the same time.
The Alamo will be Mack Brown's last stand;
Even if the year didn't go as the Ducks planned.
Barr's last game will be played in The Sun;
We're also wondering: Is
Brett Hundley
done?
Last but not least is the Tree vs. Sparty;
In the backfield the Cardinal hope they will party.
So enjoy Christmas Eve with your best pint of ale;
Sit back and relax to this bag of mail.
(I know, it's not as good as Chongo's).
Dylan in Boston writes
: Hi Kevin, In all the reporting/speculation about Justin Wilcox following Sarkisian to Troy, it seems like everybody's overlooking the fact that the Trojans already have an A-list coordinator in Clancy Pendergast. Am I the only one confused by this? In the years Pendergast was at Cal, he did more with less than Wilcox has had at Washington (at the least the talent was comparable), particularly against my Ducks. Has Wilcox really shown enough for people to assume that he has the advantage over Pendergast?
Kevin Gemmell
: Has he shown enough? I think so. I think Wilcox is an outstanding coordinator and defensive-minded coach. But you're right, you can't overlook the job that Pendergast did at USC this year.
The move to an odd front was a fantastic one for the Trojans. Say this for Lane Kiffin, he recognized that the Trojans needed a scheme that was going to be able to account for all of the edge speed in the league and he adjusted accordingly by bringing in Pendergast. Obviously, things didn't work out so well on the offensive side of the ball for Kiffin. But let's give the credit where credit is due.
The numbers for both coaches suggest major improvements since their arrival. First, Washington:
In the two seasons since Wilcox arrived, the Huskies have improved in scoring defense each year. They were giving up 35.9 points per game in 2011, followed by 24.2 in 2012 and 23.4 in 2011. They have also improved turnover margin and rushing yards allowed each of the last two years.
For USC, in one season under Pendergast, the Trojans cut their points allowed by more than a field goal, made huge strides in rush defense (167 yards allowed in 2012 compared to 120.3 in 2013) and were on the plus side of turnover margin after going minus-2 in 2012 and minus-1 in 2011 (they were plus-6 this year).
So the morale of the story is this: If you're a Washington fan, you want Wilcox to stay in Washington. If you're a USC fan, you're going to be happy either way.
Peter in NorCal writes
: One thing that Sark going to SC won't hurt: The Stanford-USC rivalry. It seems like David and Steve get along about as well as Jim and Pete did. Fair statement? What are your observations about the two of them (both generally, and specifically the snippiness that ensued after the Stanford/Washington game this year).
Kevin Gemmell
: It's funny that you bring that up. Every year Ted and I go to the Pac-12 spring meetings in Arizona. Basically, it's Ted and I sitting outside of meeting rooms, waiting for the coaches to emerge, and then grabbing them for interviews. Then we sit outside, watch the coaches eat lunch, and then grab them again for more interviews.
One thing Ted and I were commenting on this year was how well all of the Pac-12 coaches get along. The Big 12 coaches meeting was going on at the same time and there was little to no interaction between those guys. But the Pac-12 coaches were all sitting together and chatting each other up after meetings.
Now, we're not in the meetings with the coaches, so I can't speak to how they interact. But from what I've seen, Sarkisian and David Shaw got along just fine.
Of course, that was last May and a lot has happened since then, including the aforementioned post-game war of words.
We don't need to rehash all of the details, but I know Shaw objected to having his assistant and his players called out by name. And whether you agree with him retaliating with a Tuesday tirade is your personal business. Sark was ticked and probably broke a couple of unwritten rules. It happens. Shaw kept the story alive an extra couple of days by using the coaches' teleconference and his Tuesday roundtable as a pulpit to respond.
Neither coach "won" the public relations battle. And I don't think either cares. But it certainly spices things up for when the Cardinal and Trojans meet again. That -- and the fact that it's come down to the last play three of the last four meetings.
Curt in Las Vegas writes
: Hey Kevin, Chip Kelly left the
Oregon Ducks
firmly entrenched with quality players. In 2013 going 10 and 2 and playing in the Alamo bowl to us Duck fans is a letdown! Do you think Mark Helfrich is planted at Oregon with the year he had?
Kevin Gemmell:
Did Chip Kelly hurt
Marcus Mariota
's knee? I think we can all agree that things took a turn for the worst for Oregon when he started coming up gimpy.
I think Helfrich is a very good coach who encountered a lot of the Year 1 obstacles every coach faces. But because it's Oregon, a perennial top-5 program, those obstacles are magnified. When you've sat in a coordinator's chair for so long and then make the jump, there is some transition and self-evaluation that is required. Ted and I took a lot of guff
for picking Stanford to win the conference
over Oregon for this very reason.
The Alamo Bowl is a letdown, sure. A 10-2 team playing in the deepest conference in college football deserves a shot at a BCS bowl game. But as the players have said, they need only look at themselves for where they are at.
Helfrich is going to be just fine, and Oregon is going to be just fine. He has a chance to get an 11th win -- something Kelly didn't do in his first year. And win a bowl game. Also something Kelly didn't accomplish. We have to see how the new College Football Playoff pans out, but I don't see any reason why a Helfrich-led Oregon won't be in the hunt annually.
Scott in London, England writes
: Hi Kevin, I've read twice in the blog today about you mentioning how scary Arizona can be next year and it got me thinking. I know we have a lot of great transfers and recruits coming in, but I'm a bit unsure as to who exactly are supposed to be immediate impact players and how many returning starters there wil be, etc.I was wondering if you and Ted plan on doing a run down of next year's potential for each Pac team that consolidates all this into one easy blog post per team:* Transfers/JuCos and why they are good/meh* Recruits and why they are good/meh* Returners and why they are good/meh* Coaching changes and why they are good/meh (assistants too)* Schedule goods and bads* Will there be an El Nino, etc...I would say I'm an above-avg fan but I really don't have the Google-Fu skills or time to compile all this and I think every Pac fan would appreciate it a series like that.Maybe you guys already do that during the offseason or preseason, but I think it could also be good after bowl season.You can think of it as your first chance to be the, "We told you so" guys. Thanks for reading, always enjoy your stuff. Keep up the good work.
Kevin Gemmell:
I can assure you there will be plenty of time in the offseason for all sorts of schedule analysis, roster breakdowns etc. etc. Ted and I are happy to fill the void during the offseason, as we do every year.
Just a heads up on Arizona. Among some of the key players who will be coming off the scout team are
Cayleb Jones
,
Davonte' Neal
and
Connor Brewer
. They will all be eligible in 2014 after transferring.
Jones is a wide receiver who is transferring from Texas, and he's reunited with Brewer, a former Longhorns quarterback. Neal, from Scottsdale, is a transfer receiver from Notre Dame who made a push to become eligible in 2013, but the NCAA denied his hardship waiver. You put him in with
Austin Hill
, who should be fully recovered from his knee injury and should be high on the Belitnikoff watchlist, along with
David Richards
,
Nate Phillips
and
Samajie Grant
and you have a receiver corps that is as good as any in the conference -- probably the country.
Quarterback will be an issue and
Anu Solomon
is one to watch. I had this in Lunch Links today. It's a good read from Anthony Gimino
breaking down Arizona's QB prospects for next year
.
Essentially, the Wildcats have a bunch of really exciting skill players that will make the South that much more exciting. They do lose three seniors on the defensive line, so guys like
Luca Bruno
,
Calvin Allen
and
Jack Banda
will have to step up.
But Arizona does indeed have some scary potential next year.
Mike in Maple Valley, Wash. writes
: Your definition of "Coug" was pretty spot on. You said it has been an effective term since 2005. The origin may actually go back to the 1975 Apple Cup. To "Coug it" is a ceremonial act hand down from one generation to another.
Kevin Gemmell
: First off, Maple Valley sounds like the most delicious place on earth.
Second, that was a phrase pulled straight from the Urban Dictionary, and the submission was entered in 2005, so unfortunately I can't take credit for it. I didn't put the link in though because Urban Dictionary has a lot of non-blog-friendly expressions and sayings. You're free to Google it yourself.
I called no joy in writing that piece. But I do think Washington State is moving in the right direction under Mike Leach. Speaking of that column ...
Andy in Fort Collins Colo. writes
: You're Washington State take
was so one-sided and arrogant
. How about giving the Rams a little credit instead of making excuses. (And Merry Christmas).
Kevin Gemmell
: Ah, thanks Andy. Merry Christmas to you.
It was a Washington State-centric story because I'm the Pac-12 reporter and I cover the Pac-12 and Washington State is a Pac-12 team and it appeared on the Pac-12 blog. See the trend?
Did you email all of the beat writers in Pullman and Spokane and the surrounding areas and chastise them for their coverage? The folks at
CougCenter
do a heck of a job. And their stuff was a bit one-sided.
I don't think it's arrogant to say the Pac-12 is a better conference. I've covered both, so I feel like I'm qualified to weigh in on this. In the 12 games the two conferences have played so far, the Pac-12 has gone 11-1 and outscored the Mountain West, on average, 38.5 to 20.
Arizona should beat UNLV. And it did. Colorado should beat Colorado State. And it did. Oregon State and USC should beat Hawaii. And they did. Oregon State should beat San Diego State. And it did. UCLA should beat Nevada. And it did. Stanford should beat San Jose State. And it did. USC and Utah should beat Utah State. And they did. USC should beat Fresno State and Washington should beat Boise State. And they did.
For what it's worth, I did include in the piece that Colorado State deserved the win for not quitting. And anything is possible (especially in Albuquerque, it seems) when you have two weeks to prepare.
That goes for tonight's matchup between Oregon State and Boise State. The Broncos certainly aren't the same team they were a month ago. And I'm not totally sure which Oregon State team we're going to get. If it's the explosive
Sean Mannion
-to-
Brandin Cooks
connection, the Beavs should be fine. If it's not, then Boise State certainly could win.
Such is the nature of bowl season.
Merry Christmas from the Pac-12 blog.
September, 26, 2013
9/26/13
10:15
AM ET
A few things to keep an eye on in the Pac-12 this week.
League play is upon us: Rejoice! Now the Pac-12 teams can gut each other with their nine-game conference schedule and lose all of that national credibility it built up in the first four weeks of the season. This year, perhaps more than any other in recent memory, it doesn't look like there are any easy outs. Would anyone really be shocked if Colorado beat Oregon State based on what we've seen? The only one that would be truly shocking would be Cal beating Oregon -- and we might raise an eyebrow if Washington State beats Stanford in Seattle -- especially sans David Yankey for the game and Ed Reynolds for a half.

[+] Enlarge

Kirby Lee/USA TODAY SportsUSC's Morgan Breslin has recorded four sacks this season for the Trojans.

Nonconference notes: A good tidbit from the folks at the Pac-12 offices regarding the league's 29-4 nonconference record: Since 1934, only one season witnessed the conference capture more than 29 wins in nonleague play; 2002 (32-15), when the league played an eight-game conference schedule, allowing an additional 10 non-conference games to be played. There are three nonconference games remaining (a possible fourth pending Colorado's situation) against Notre Dame. The Pac-12 is contracted with seven bowl games, so there could be as many as 11 more nonconference games.

Battle of elites (1): Two of the league's top running backs will be on the field in Seattle on Saturday -- though not at the same time. That would mean either a bizarre trade or either Ka'Deem Carey or Bishop Sankey playing defense. In terms of rushing yards per game, they are separated by less than a yard (149.5 for Carey, 148.67 for Sankey). Yards per carry? It's even closer (6.97 for Sankey, 6.95 for Carey). Both have four rushing touchdowns. While it's not truly head-to-head, this could be one of those games folks look to when awarding postseason honors.

Battle of elites (2): Two of the league's top wide receivers will be on the field in Corvallis on Saturday -- though not at the same time. That would mean a bizarre trade or either Brandin Cooks or Paul Richardson playing defense. Cooks leads the nation with 43 catches for 639 yards and seven touchdowns. In only two games, Richardson has 21 catches for 417 yards and four touchdowns. Sixty percent of the time Cooks catches the ball, Oregon State either gains a first down or scores a touchdown.

Battle of elites (3): Two of the league's top defensive players will be on the field in Tempe on Saturday -- though not at the same time. That would mean either a bizarre trade or either Morgan Breslin or Will Sutton playing offense (which would be awesome!). Breslin is tied for the conference lead in total sacks (four) with teammate George Uko and leads the league in tackles for a loss per game. Sutton, on the other hand, has nine tackles, no sacks and half a tackle for a loss. The reason? Teams are double- and triple-teaming him like crazy. Plus, ASU has faced more run-based teams in the first few weeks. This week might be a good time for him to break out.

Speaking of USC: How good has the defense been? According to ESPN Stats & Information, none of the four quarterbacks USC has seen has posted a Total QBR above 30. The Trojans are also blitzing a lot more under new coordinator Clancy Pendergast. Last year they blitzed 25 percent of the time. This year it's up to 46 percent. And when they blitz, opposing QBs are completing just 41.9 percent of their throws, throwing it away or ending up on the ground.

All hands: With big quarterback numbers come big receiving numbers. Six Pac-12 receivers have hauled in 10 or more catches in a game eight times this season, led by Cooks and Richardson with two each. Also, 17 different receivers have posted 100 or more receiving yards in a game 26 times, led by Cooks and Utah's Dres Anderson with three games each.

Layoff impact: Colorado is playing for the first time since its Sept. 7 win over Central Arkansas, which seems like months ago, though it actually has been only 20 days. After their Sept. 14 game with Fresno State was called off because of the flooding, the Buffs had a bye in Week 4. This is Colorado's first trip to Corvallis. The previous two meetings (1931, 1963) took place in Portland. This is the last Pac-12 team Colorado is yet to play since joining the league (though the Cal game in 2011 was the back end of a home and home that didn't count in the conference standings).

Tough road: This is the second-straight game against a top-five team for California, which faces No. 2 Oregon this weekend. The Bears have gotten huge numbers out of true freshman quarterback Jared Goff, who leads the FBS with 435.3 yards per game. But the defense has been hammered with injuries. Not good, considering 12 different Ducks have scored touchdowns so far.

Odds and ends: Worth noting that four more Pac-12 receivers were recently added to the Biletnikoff watchlist: Cal's Bryce Treggs, Oregon State's Richard Mullaney and Washington State's Gabe Marks, who are all in action this weekend. Utah's Dres Anderson is the fourth … UCLA and the Utes are off this week in anticipation of their Thursday night showdown next week in Salt Lake City.
September, 9, 2013
9/09/13
8:00
AM ET
Taking stock of Week 2 in the Pac-12.
Team of the week
: It was inevitable that Washington State's 10-7 win at USC was going to end up being an archly negative referendum on Trojans coach Lane Kiffin, rather than a celebration of the Cougars' advancement, but the Cougs still had to make the plays to win the game. And they did. Washington State hinted at Auburn in the opener that it would be a tougher out in Year 2 under Mike Leach. At USC, the Cougars showed they are capable of winning Pac-12 games.
Best game
: The Cougars' win at USC was devoid of offense, but it was the only game of the weekend that presented a lot of drama. Even California's closer-than-expected win over Portland State owned a note of inevitability once the Bears settled down on defense in the second half. In terms of good football, Oregon and Stanford certainly provided that in dominant victories.
Biggest play
: Washington State cornerback
Damante Horton
provided the Cougs with their only touchdown when he returned an interception of a
Cody Kessler
pass for a 70-yard TD with one minute left before halftime. That tied the score at 7-7 and seemed to irritate Trojans fans in the Coliseum. Go figure.
[+] Enlarge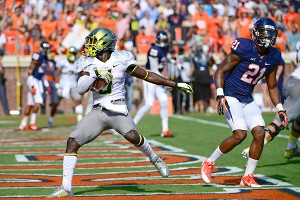 Bob Donnan/USA TODAY SportsOregon RB De'Anthony Thomas rushed for 124 yards and three TDs against Virginia.
Offensive standout
: There were a number of big performances against weak foes, but
De'Anthony Thomas
' work at Virginia stands out the most, in large part because it answered a question: Yes, Thomas can be a lead running back. His 124 yards on just 11 carries -- 11.3 yards per run -- and three touchdowns were not just flash. There were moments of physicality, too. Heck, he threw a couple of effective stiff arms against far larger defenders. He also caught a 28-yard pass, so he's still a weapon in the passing game when Mark Helfrich and Scott Frost want him to be.
Defensive standout
: Horton not only had his pick-six, he also intercepted USC's other QB,
Max Wittek
, on the Trojans' final possession. That would be enough for a tip of the cap, but he also had two tackles for a loss and four total tackles. It's worth noting that he helped limit the nation's best receiver,
Marqise Lee
, to seven catches for 27 yards, though some of that may fall on the guy calling plays for the Trojans.
Defensive standout II
: Stanford All-American safety
Ed Reynolds
had 12 tackles and an interception, leading the Cardinal's dominant defensive effort against
David Fales
and San Jose State. The Spartans had only 251 total yards in a 34-13 Stanford victory.
Trent Murphy
's two sacks also are worthy of note.
Special teams standout
: New Arizona kicker
Jake Smith
set a school record with 16 points via kicking in the Wildcats' 58-13 win over UNLV. Smith was 3-for-4 on field goals with a long of 41 yards and he was perfect on seven extra points. Those 16 points broke the previous single-game record for kickers of 15 held previously by three players. In addition, Smith kicked off 11 times, with five touchbacks and a 63.3-yard average. The Rebels mustered only 16.5 yards per return on six tries, and Smith registered one tackle to stop a potential long return.
Smiley face
: The Pac-12 took care of business and avoided upsets, going 8-0 in the Week 2 nonconference slate. There were some scares, most notably California and Colorado, but winning is the thing. The conference's top two teams, Oregon and Stanford, both posted dominant wins against respectable foes.
Frowny face
: Well, this isn't terribly difficult: USC. Not USC as a whole, because the Trojans turned in a sterling defensive performance against Washington State. New defensive coordinator Clancy Pendergast has done everything asked of him. Maybe more. But the Trojans' offensive ineptitude against the Cougars is inexcusable. You could make an argument that a purely random selection of play calls would have produced more points and yards than what the Trojans got Saturday as boos rained down in the Coliseum.
Thought of the week
: It's measuring stick week, time for the Pac-12 to announce to the country what many started theorizing in the preseason: The Pac-12 this fall is as strong as it has been in recent memory, top to bottom, and should be in the mix when debating the nation's best conference. There are games against three ranked teams: California vs. No. 4 Ohio State, UCLA at No. 23 Nebraska and Arizona State vs. No. 20 Wisconsin. Further, Washington visits Illinois, Colorado plays host to Fresno State, Boston College visits USC and Tennessee is at Oregon. The Pac-12 blog -- and others on the West Coast -- have talked the talk. Now the teams must walk the walk.
Questions for the week
: Was Washington State Kiffin's Waterloo? It's not difficult to ascertain what fans at the Coliseum were thinking after the 10-7 loss to Washington State. After booing throughout the game, they chanted "Fire Kiffin" in the fourth quarter. The Pac-12 blog gets no joy from hot seat talk. Being gleefully snarky about a guy struggling at his life's work is pretty lame. But Kiffin is a big boy. Big-time college football is a bottom-line profession -- winning is the thing. And that's even more true at a place such as USC. Things will have to turn around quickly and dramatically, particularly on offense, for Kiffin to retain his job.
March, 1, 2013
3/01/13
12:00
PM ET
While quarterback competitions are typically front-and-center during Pac-12 spring practices, there are always other interesting spring storylines.
Here are two.
[+] Enlarge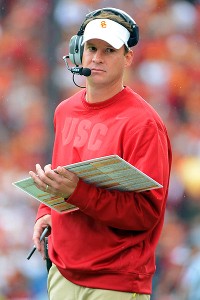 Harry How/Getty ImagesUSC coach Lane Kiffin enters the spring with several new assistants, a new defensive scheme, and uncertainty at quarterback.
Ted Miller
: It was a horrible, no-good, rotten, very bad 2012 season for USC coach Lane Kiffin. And the 2012-13 offseason has been no picnic either. Some Trojans fans wanted Kiffin fired. Just about all were frustrated. Justifiably so, by the way.
Lane: Welcome to spring, the season for rebirth! Time to turn the page. Or, perhaps, pick up an entirely new book.
At the very least, the situation at USC is interesting. One of the nation's premier programs is front-and-center for many of the wrong reasons, but there is enough talent on hand for Kiffin to turn things around and shut up his critics.
Interesting plot lines? Kiffin will be breaking in four new assistant coaches, including a pair of new coordinators, his defense will be transitioning from a 4-3 base to a 3-4, and he's looking for a new quarterback for the first time in his tenure.
There's a lot going on. Lots of questions. Lots of doubt, too. Yet negative momentum isn't irreversible.
What if the Trojans have an exceptional spring?
What if Clancy Pendergast shakes things up and, suddenly, the defensive guys are playing hard and fast in a sound scheme they understand? And what if the offense, nonetheless, makes plenty of plays because the quarterbacks are sharp and the line is manning up? What if the fitness level of the Trojans improves? What if offensive tackle
Aundrey Walker
breaks through, realizing his future NFL contract will be based on performance, not measurables? What if
Devon Kennard
proves a perfect fit as a 3-4 outside linebacker, as we believe he is? What if guys like
Marqise Lee
,
Hayes Pullard
,
Silas Redd
,
Dion Bailey
and
Kevin Graf
step up as leaders? What if receivers
George Farmer
and
Victor Blackwell
decide they don't want to be left in the dust behind Lee and
Nelson Agholor
? What if running back
Tre Madden
says, "Hey, remember me?"
What if Kiffin simultaneously refocuses and relaxes? What if he uses his capable brain to be smart, not a smart aleck, to be creative, not sneaky? What if he realizes the media is not an enemy, but just a bunch of folks trying to do their job whom he should humor with vague though sometimes amusing answers?
There are a lot of "What ifs?" with USC and Kiffin. It's not difficult, by the way, to talk yourself into believing a bounce-back is entirely possible.
That's what is interesting. Kiffin 2.0 was 2010 and 2011, when he seemed to find his rhythm as a coach after controversial stints with the Oakland Raiders and
Tennessee Volunteers
. Kiffin 3.0, was 2012, a complete face-plant.
This spring presents us with Kiffin 4.0. It could prove to be the most important transition of his career as a head coach.
And that is interesting.

Kevin Gemmell
: Besides quarterback battles -- which I think are always the most exciting position battles there are -- I'm most curious to see how the running back battle is going to play out at Stanford.
When you look at a Stanford squad that is very heavy on upperclassmen -- on both sides of the ball -- you have to wonder if all of the pieces are in place for Stanford to make a legitimate run at the national championship.
I wasn't sure before, but with the addition of Tyler Gaffney to the running back corps, I'm warming up to the idea that the Cardinal could challenge any team in the country for a BCS championship -- if they can get out of their own conference (or division for that matter) -- which anyone will tell you is no easy task.
It's no surprise that Stanford's primary offensive weapon is the quarterback. Not because of what he does with his arm -- but because of what he does when he goes under center -- checking out of bad plays and putting the offense in the best possible play against the defense shown. This allows running backs to flourish. Andrew Luck was phenomenal at it.
Kevin Hogan
should get better.
So, when Hogan turns to handoff on power right or power left, who is going to be the primary ball carrier?
Anthony Wilkerson
has shown bursts and outstanding top-end speed. But injuries have slowed him, and playing behind
Stepfan Taylor
the past few years didn't allow him to really break out following his strong true freshman season. Gaffney is a rock and hard to bring down. He's the kind of guy who could carry the ball 10 times for 4.5 yards a pop.
Barry Sanders
is an interesting X-factor. He obviously was a high-profile recruit because of his name -- but beyond that, he's supposedly a pretty darn good back. Maybe he ends up winning the job and can be a 15-carry type of guy.
Then you have
Ricky Seale
, a shifty runner with great vision who has been trapped at the bottom of the depth chart, but continues to receive praise from David Shaw.
Remound Wright
and hybrid
Kelsey Young
are also in the mix.
Whoever is Shaw's go-to back, he'll have the benefit of running behind an outstanding offensive line that is only going to get better with
David Yankey
-- an All-American and last year's Morris Trophy winner -- moving back to his natural position at guard. And Shaw has said he plans to keep
Ryan Hewitt
at fullback -- giving the running backs a cadre of blockers that rivals any other in the country.
By season's end, this could be your national championship team. The question is, which back will carry it there?
Pac-12 Weekend Wrap: Sept. 16