Stanford Football:

Cole Underwood
April, 6, 2012
4/06/12
8:04
AM ET
STANFORD, Calif. -- Stanford kicked off its second spring session after a three-week break this week, and here are some notes from the Pac-12 blog's visit on Thursday.


And the first quarterback of the post-Andrew Luck Era is ... Yeah, right. It's likely going to be either junior Brett Nottingham or senior Josh Nunes, but coach David Shaw said the competition will extend into fall camp. "I want them to finish spring in competition mode. And I want them to start fall camp in competition mode," he said. "I don't want to name a starter the week of the first game. I'd like to do it before that so we can start to settle in." Shaw called the competition "Neck and neck."
A recurring theme from the coaches -- Shaw and both coordinators -- is that members of the 2012 recruiting class are going to play in the fall. Several, in fact. Particularly in need areas such as the offensive line and secondary. Yes, those touted frosh O-linemen are going to see immediate action.
As for the competition among existing players to replace left tackle Jonathan Martin and right guard David DeCastro, those spots are still up in the air. Brendon Austin and Cole Underwood are in the mix at LT, and Khalil Wilkes and Kevin Danser are in a battle for DeCastro's guard spot.
Talented sophomore James Vaughters will get on the field, and don't be surprised if he ends up at inside linebacker. At least, that seems to be where defensive coordinator Derek Mason envisions him at present. Part of this appears to be his comfort with Kevin Anderson, who's been playing defensive end, and Alex Debniak backing up outside 'backers Trent Murphy and Chase Thomas.
By the way, Mason loves his linebacker depth. He said as many as 10 could play in the Cardinal's 3-4 next year.
Henry Anderson and Josh Mauro are locked in a tough competition to replace underrated defensive end Matt Masifilo.
The Cardinal need to replace both starting safeties. The name that comes up the most is Ed Reynolds, who was out last season with a knee injury. Jordan Richards, Kyle Olugbode and Devon Carrington are in the mix also, but Mason doesn't hesitate to bring up incoming freshmen Drew Madhu and Zach Hoffpauir.
It's pretty clear that the not-entirely-unreasonable questioning of whether Stanford can remain an elite team post-Andrew Luck is serving as motivation in the locker room. While the topic is hardly obsessed over, it's also fair to say everyone is aware of the widespread doubts heading into 2012.
March, 1, 2012
3/01/12
9:00
AM ET
So the
Stanford Cardinal
have to replace a quarterback who is going to be the No. 1 overall pick in the NFL draft. It happens. Almost every year, in fact. Since 2000, nine teams have been where the Cardinal are now, having to replace a quarterback taken No. 1 overall. During that same span, 32 teams have had to replace quarterbacks taken in the first round. While
Andrew Luck
might be considered in rare company, the Cardinal certainly aren't.
However, replacing two offensive linemen taken in the first round -- that's rare. And difficult. Since 1967, only 11 schools have had two offensive linemen drafted in the first round. Rarer still is that only four have had to replace both a guard and a tackle -- the last coming in 2001 when Michigan's Steve Hutchinson and Jeff Backus were drafted back-to-back at Nos. 17 and 18, respectively.
That's the challenge facing the Stanford Cardinal, who kicked off spring ball this week without left tackle
Jonathan Martin
and right guard
David DeCastro
. Both were in Indianapolis last week for the NFL combine and both are expected to be first-round draft picks. And Stanford's future success hinges as greatly on replacing Martin and DeCastro as it does replacing Luck.
"The competition is going to be high," said
Kevin Danser
, one of several in line competing for DeCastro's old guard spot. "I don't think anyone is penciled in to be a leader or a favorite. There are a lot of guys that want that spot. And you're filling in for someone great. It's not like a David DeCastro comes around every year. It's going to be tough, but we're all looking forward to competing."
Stanford returns three starters from last year's group: right tackle
Cameron Fleming
, left guard
David Yankey
and center
Sam Schwartzstein
. All three were first-year starters last year and performed very well alongside Martin and DeCastro. And that's the reason head coach David Shaw isn't looking to move any of them from their current spots.
"I think Cameron Fleming and David Yankey have shown some special things where they are," Shaw said. "I learned in Baltimore [as a Ravens assistant] that taking a guy and moving him from where he's comfortable, you're taking one problem and making it two problems. We'll keep Sammy in the middle. We feel really good about those three guys and we'll have a lot of competition between those spots."
Cole Underwood
and
Brendon Austin
appear to be emerging as the top two candidates for left tackle, Shaw said.
"Brendon Austin has had an outstanding winter," Shaw said. "He's up to 300 pounds, moving great. Cole Underwood really started to get a feel and help us at the end of games. Cole is going to be in competition potentially at both of those positions. He's shown potential to kick at tackle and pull as a guard."
[+] Enlarge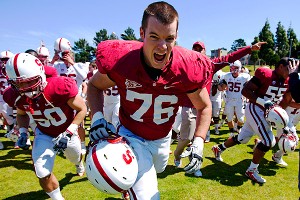 Kyle Terada/US PresswireRising senior Kevin Danser will be among those gunning for David DeCastro's old job at right guard.
Underwood, who appeared in three games last season, said he's a better player for having backed up Martin and Fleming last season.
"Moose [Martin] is a do-things-right-all-the-time kind of guy," Underwood said. "He's an extremely hard worker and that's what separated him from tackles all over the country. That's why he's about to be a first-round pick. Be obsessed with the game. Be a workaholic. Technique is key, no matter what size you are or how much you lift. If you don't have technique, it won't help on the field. He was a big technician and he was always striving for perfect technique every rep."
The X-factor is Stanford's heralded offensive-line recruiting class. Shaw upped the ante when he brought in several of the nation's top offensive linemen in one class. It sounded an alarm to the players on the roster that the level of competition had increased significantly.
"You welcome that -- you always want that competition no matter who they bring in," Danser said. "Whether it's the best of the best like this class or anybody else. Whoever they bring in, it comes down to competition. You want a spot? You have to fight for it."
While true freshman traditionally don't contribute immediately on the offensive line, Shaw said not to be surprised if several of them are in the mix right away.
"Yes, absolutely," Shaw said. "I would say possible bordering on probable. As you know, we play more lineman than anybody possibly in the history of football. We're going to play seven or eight linemen in every single game. If those young guys show the ability to help us out, we're going to put them on the field. If they show enough ability to split time or start, we're going to do it. I have no qualms about that. The best guys play. If a guy becomes a starter -- we still have two or three positions open. We really consider about eight guys starters on our offensive line."
That bodes well for players like Danser, Underwood, Austin,
Kevin Reihner
,
Khalil Wilkes
and anybody else hoping to block for whoever becomes the next Stanford quarterback. The Cardinal had a lot of success last season with their jumbo package of seven or eight offensive linemen and two or three tight ends. And don't think the players don't appreciate a system that puts the spotlight on the big boys.
"It's extremely effective," Underwood said. "First, it's tough for other teams. I'm sure they turn on film and say, 'This is a monster we've never seen.' And it's good for recruiting. Young guys are looking and saying, 'Hey, they love linemen at Stanford and they show us love.' That's all we all really want, is to be loved a little bit."
Who Would Be In A Four-Team Playoff?