Stanford Football:

Condoleezza Rice
November, 27, 2013
11/27/13
9:00
AM ET
SOUTH BEND, Ind. --
KeiVarae Russell
is a two-year starter at cornerback. By the time he turns 40, he says, he wants to spend a year living in London. He would like to have a poem published by then, too. He was the lead in a school play this past spring, and he is currently taking an acting class.
[+] Enlarge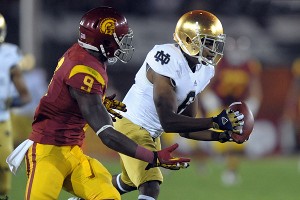 Kirby Lee/USA TODAY SportsActor-poet-cornerback KeiVarae Russell is one of the players who exemplifies the Stanford-Notre Dame rivalry.
"I'm a creative guy," Russell said. "I love being known for more than just football."
He is what Brian Kelly calls a gentleman off the field and a tough guy on it, distinctions that will hardly be unique when the sophomore takes the field Saturday night for No. 25 Notre Dame in its regular-season finale at No. 8 Stanford.
The Cardinal are among the three teams the Irish have chosen to keep on their schedule annually moving forward. In a season that has seen Kelly discredit the tension with Michigan, the nation's winningest program, it was more than a little noteworthy to hear the coach call the game with Stanford a "great rivalry" Tuesday.
"Both teams want to be the smartest, toughest football teams in the country," Kelly said.
Last year's meeting was the first between schools ranked in the top 20 of both the football polls and the U.S. News & World Report's best colleges list.
This year Kelly is tasked with taking his operation almost 2,000 miles away on Black Friday, a considerably lighter chore given that the schools had once eyed a destination for this contest some 7,000 miles away: China.
The terrain this weekend in Stanford Stadium will nonetheless be familiar for many visitors, Jack Swarbrick among them. The Irish athletic director has trouble hiding his enthusiasm when talking about this matchup, as he received his Bachelor's in economics from Notre Dame before moving on to Stanford Law.
"There are obvious similarities," Swarbrick said. "Private [schools], among the smallest undergraduate populations in the FBS, excellent academic reputations, a broad commitment to collegiate sports model as reflected in number of sports and levels of success, passionate alumni scattered around the globe and very strong brands.
"Relative to football, the clear commonality is an insistence that the members of our teams be fully integrated into the university in the same manner other students are. They are truly student athletes. This is reflected in both graduation rates and the success of our student-athletes after football is over."
Swarbrick has company on both sides. College Football Playoff selection committee member Condoleezza Rice earned her master's from Notre Dame and is a professor at Stanford. Cardinal coach David Shaw has enlisted the assistance of the former Secretary of State in hosting recruits -- one of whom,
TJ Jones
, initially committed to Stanford but is now an Irish captain. (Rice
has been no stranger at Notre Dame Stadium herself
.)
[+] Enlarge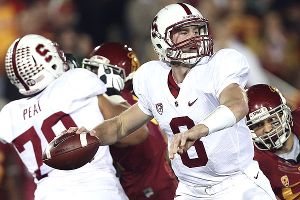 Jeff Gross/Getty ImagesStanford QB Kevin Hogan says he has several family member who went to Notre Dame.
Tyrone Willingham was head coach at both schools. Irish receivers coach Mike Denbrock came from the Cardinal. Then there is Bernard Muir, whose rise to Stanford athletic director included a five-year stint working at Notre Dame for Kevin White, who says Muir "represents the wonderful future of college athletics in every way possible."
Muir's new employer attracted headlines this summer when the Cardinal sold out of season tickets for the first time, underscoring the cat-and-mouse relationship between these two programs.
Notre Dame has sold out all but one home game since 1966, but it is Stanford that will make its fourth-straight BCS bowl with a win in next week's Pac-12 title game.
The Cardinal are quarterbacked by
Kevin Hogan
, who estimates he has 10-20 cousins and another five or six aunts and uncles who went to Notre Dame. Protecting Hogan is right guard
Kevin Danser
, whose uncle, John Gallagher, played hoops for the Irish and roomed with Joe Theismann. Reserve center
Conor McFadden
, whose photographic memory
has become the source of attention that seemingly only the Cardinal or Irish could attract
, has a grandfather and several uncles who went to Notre Dame as well.
"It's a fun game because you have the connections, family connections, and we all want to win it," Hogan said.
On Tuesday, Kelly fielded a question here about playing "Notre Dame football," sparking a response about how he does not want personalities like Russell's to be marginalized as just football players.
A few hours later in Silicon Valley, Shaw began his press conference by announcing that Stanford had won another off-the-field honor, this time its second straight AFCA Academic Achievement Award. The Cardinal coach then spent the next few minutes talking about how this would help in recruiting.
It only happened to be Notre Dame week.
"We understand how to manage your time so that you do well in school and you do well in football and you have a social life and you enjoy yourself here, that it is possible for all three of those," Shaw said. "When we graduate our guys and we play really good in football and they come to visit, our guys love it here. That helps a lot."
August, 28, 2012
8/28/12
4:00
PM ET
This is the 10th in a series looking at potential dream and nightmare scenarios for all Pac-12 teams.
Understand:
These are not predictions.
They are extreme scenarios and pieces of fiction. You can read
last year's versions here
.
We're going in reverse order of my
post-spring power rankings
(which might not be identical to my preseason power rankings).
You can see previous
best case-worst case posts here
.
Up next
: Stanford

Best case
Stanford gathers in the team hotel on the Friday night before its opener against San Jose State.
"Guys,
Sam Schwartzstein
has a slide show for you," Shaw says. "I believe you will find it most illuminating."
The lights dim, the Cardinal center picks up a remote control and clicks on an old-style slide projector.
Schwartzstein
: [click] Peyton Manning, quarterback, Tennessee. Do you see? [Click] Peyton Manning, quarterback, Indianapolis Colts, [Click] Andrew Luck, quarterback, Stanford. [Click] Andrew Luck, quarterback, Indianapolis Colts. Do you see?
Tee Martin, quarterback, Tennessee? Do you see? Tennessee reborn. Tennessee national champions. Do you see?
Josh Nunes
, quarterback, Stanford? Do you see? Do you see? We are privy to a great becoming!
Chase Thomas
whispers to fellow linebacker
Shayne Skov
, "I thought you were supposed to be the biggest loon on this team."
Replies Skov, "No way, man. Schwartzy is completely unhinged."
Stanford whips San Jose State and Duke by a combined count of 80-3. Nunes throws three touchdown passes, and
Stepfan Taylor
rolls up for 305 of the Cardinal's 452 rushing yards.
Up next is No. 1 USC.
Stanford leads 24-20 in the fourth quarter, but quarterback
Matt Barkley
leads the Trojans to a first-and-goal on the Stanford 9-yard line with 45 seconds left. Barkley connects with
Robert Woods
at the 1-yard line, but
Curtis McNeal
is stopped cold on second and third down. The Trojans call their final time out.
Barkley lines up in shotgun. He rolls to his right, looking for
Marqise Lee
, then pumps at
Xavier Grimble
. No one is open. He sprints and dives at the flag.
"I don't think he got in!" the announcer says. "Stanford is on the brink of upsetting the No. 1 team in the country, the mighty Trojans of USC."
The play is reviewed. "After further review," the official says. "The runner did cross the goal line. Touchdown."
"What do I think of the call?" Stanford coach David Shaw says after the game. "I think it was the right call. I think Barkley got in. A hardnosed play from him. And even if it was a bad call, we had plenty of chances to win that game. They just came down the field and took it from us. We'll see what we're made of over the next few weeks. If we keep our heads down and keep getting better, we'll get another shot at them."
After a bye, the Cardinal rushes for 275 yards at Washington, winning 33-21. They whip Arizona 51-24 and shut out Notre Dame 33-0. So Stanford, ranked 10th at 5-1, heads to Berkeley for an odd, midseason Big Game.
Schwartzstein
: Please turn to page 100 in your dossier. You see a picture of
Henry Kissinger
. And you see a picture of
Oski
. Kissinger. Oski. Oski, Kissinger. Curious that neither is ever seen together, don't you think? And on page 245:
Jeff Tedford
. And then
Nikita Khrushchev
. Yes, I know. Very strange. What does it mean? Maybe nothing. But there is an unmistakable whiff of communism. Or maybe it means that if we fail on Saturday against Berkeley, everything we know and love just freaking blows up and nothing is left other than the ashes of humanity's grandest hopes and dreams.
A goal line stand preserves a 20-14 win over the Bears.
Stanford rolls over Washington State, Colorado and Oregon State, which means it takes a seven-game winning streak to No. 1 Oregon, which is two weeks removed from an overtime win at USC.
Ted Miller
: Stanford doesn't have enough speed to keep up with Oregon. I'm sure of that.
Kevin Gemmell
: Weren't you sure that USC would beat Oregon?
Ted Miller
: Grrrr. Your round.
Stanford rushes for 245 yards and Nunes throws two touchdown passes in a 30-24 victory.
After a 44-17 win over UCLA, Stanford finishes 11-1 and rises to No. 4 in the BCS standings. Due to its victory over Oregon, it wins the North Division tiebreaker and will visit No. 5 USC for the Pac-12 championship game.
Barkley, the Heisman Trophy frontrunner, passes for 330 yards and three touchdowns, but Taylor rushes for 230 yards and three scores. Taylor becomes the fourth conference running back to eclipse 2,000 yards rushing and his 28 touchdowns tie former Cardinal running back Toby Gerhart for the conference record.
Oh, and his third touchdown comes with 14 seconds left to give Stanford a 31-24 victory.
Oklahoma and LSU, both undefeated, will meet for the national title. Stanford will play undefeated Michigan in the Rose Bowl.
Gemmell
: We could have a split national title. No team has two better wins than Stanford, and Michigan whipped Alabama in the season-opener.
Miller
: Yep.
In the closest Heisman Trophy vote in history, Taylor nips Barkley for the bronze statue.
In the Rose Bowl, a final Stanford drive is stymied at the Michigan 40-yard line with three seconds left. The Wolverines lead 23-21.
Out walks Cardinal kicker
Jordan Williamson
. He lines up for the 57-yard field goal.
"The goat of last year's Fiesta Bowl," the announcer says. "What must this young man be thinking? Wait ... he appears to be smiling."
Right down the middle with room to spare. Stanford wins 24-23.
The Cardinal finishes ranked second. Largely on the strength of the linemen it signs, Stanford's recruiting class is ranked fifth in the nation.
On the heels of former Secretary of State Condoleezza Rice, presently a Stanford professor, becoming one of the first two female members at August National Golf Club, the storied and exclusive golf club decides that every Stanford graduate should get a membership.
Explains Billy Payne, chairman of Augusta National, "Really, it's just based on the fact that if you go to Stanford you're pretty darn awesome."
Worst case
Nunes gets his "welcome to the Pac-12" moment against USC.
While he gets sacked four times and throws two interceptions, he watches as Barkley posts a masterful effort in a 40-17 USC victory.
Washington gangs up against the Stanford running game two weeks later, and Nunes and his still-middling receivers can't take advantage, as the Huskies end a four-game run of futility in the series, 27-24. Shaw announces that
Brett Nottingham
will start the following weekend.
With Nottingham behind center, the Cardinal bounce back with wins over Arizona and Notre Dame, as the defense steps up its effort and holds the both the Wildcats and Fighting Irish to fewer than 10 points.
Things seem to be righting themselves in advance of the Big Game, an oddly timed midseason affair. But, as players are vigilantly studying their playbooks on team-issued iPads, the screens become pixilated and blurry. Then they dissolve into the Cal logo.
"You've been hacked by Oski!" it scrolls across the screen over a laughing, dancing Oski. "Tell Schwartzstein to never compare Kissinger to anything at Cal ever again!"
Ten minutes later, Stanford's entire playbook is on Wiki Leaks.
The Big Game belongs to California, 28-21, as
Zach Maynard
throws two touchdown passes and the Bears roll up 210 yards on the ground against a rugged Stanford defense. Nottingham throws two interceptions, and Nunes takes over in the fourth quarter.
Relying on its defense and playing two quarterbacks, Stanford wins its next three over Washington State, Colorado and Oregon State. But Oregon ends all intrigue early, with
De'Anthony Thomas
rushing for 120 yards and a touchdown and catching four passes for 105 yards and two touchdowns in a 40-21 Ducks victory.
Stanford looks deflated in a season-ending 24-17 loss to UCLA. The Cardinal finishes the regular season 7-5.
Boise State whips Stanford 30-21 in the Las Vegas Bowl.
Playing in its first Rose Bowl since the 1958 season, Cal beats Michigan 30-28. It's the Golden Bears' first Rose Bowl win since 1938.
The Bears finish ranked sixth.
Lisa Simpson is admitted to rehab. TMZ reports that her life started falling apart when
she was forced to attend Stanford
.
St. Brown talks USC, Stanford and more
PAC-12 SCOREBOARD
Thursday, 8/28
Friday, 8/29
Saturday, 8/30