Stanford Football:

Connor Cook
January, 2, 2014
1/02/14
1:30
PM ET
ESPN Stats & Information reviewed Michigan State's 24-20 win over Stanford in the Rose Bowl Game Presented by VIZIO and came up with some interesting numbers, starting with one that made the Pac-12 blog wrong again on something this bowl season.

In our 10 reasons that Sanford was going to, cough, cough, win the Rose Bowl
, our No. 1 reason was that Cardinal QB
Kevin Hogan
being better than his Spartans counterpart
Connor Cook
. It didn't play out like that in the game, with Cook passing for a career-high 332 yards with two touchdowns, while Hogan passed for 143 yards with no scores.
The difference was downfield throws, something Stanford needed to hit against a Spartans defense that stacks the box against the run.
Cook completed 6 of 11 passes thrown 15 yards or longer for 152 yards and a touchdown. His six such completions were a career high. Stanford QB Kevin Hogan completed 2 of 7 passes thrown 15 yards or longer, tied for his most such incompletions in a game this season.
Telling fact: In Stanford's last two losses, Hogan is a combined 3-for-12 on passes thrown 15 yards or longer with no touchdowns and an interception.
Without a consistent downfield threat, the Cardinal rushing attack struggled after the first quarter.
Stanford rushed for 162 yards, its second fewest in a game this season behind the 143 yards it had in the loss at Utah. The Cardinal started the game strong with 91 rushing yards in the first quarter, but managed just 71 in the final three quarters. Their 10 rushes in the game that lost yards were their most in a game since they had 10 on Nov. 8, 2008, in a loss at Oregon. They only gained 45 yards on 21 rushes inside the tackles.
Running back
Tyler Gaffney
had 68 rushing yards on his first five carries, including a 47-yard run in the first quarter. He finished the game with 23 rushing yards on his final 19 carries, including seven rushes that lost yards. Overall, he was first contacted in the backfield a season-high nine times, four more than his previous season-high set in the Pac-12 championship game against Arizona State.
That's a big reason why the Cardinal's average distance to go on third down was a season-high 10.2 yards. They entered the game with an FBS-best 5.2 yards to go average on third down.
In other words, the Spartans highly-rated defense was highly-rated for a reason. It clearly won the battle with the Stanford offense.
January, 1, 2014
1/01/14
8:43
PM ET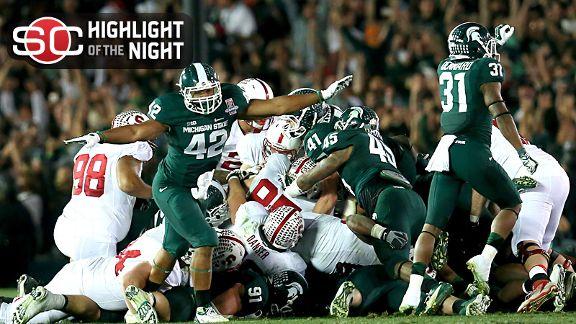 PASADENA, Calif. -- Michigan State
rallied from an early 10-point deficit
to dominate the final three quarters against Stanford in the 100th edition of the Rose Bowl Game presented by VIZIO.


Here's a quick recap of the Spartans' victory.
It was over when:
Middle linebacker
Kyler Elsworth
, replacing the suspended
Max Bullough
, stuffed Stanford fullback
Ryan Hewitt
(along with help from
Shilique Calhoun
and others) on fourth and-1 with 1:34 left and the ball at Stanford's 34-yard line. Stanford had used its final timeout, so Michigan State ran out the clock.
Game ball goes to:
MSU quarterback
Connor Cook
. He had several heart-stopping throws, including one of the worst pick-sixes you'll ever see in the second quarter. But Cook once again didn't let a mistake faze him, and he displayed his tremendous skill in attacking Stanford's secondary. He recorded his second consecutive career-high passing performance (332 yards) on his second mega stage, completing 22 of 36 attempts with two touchdowns. His first two career 300-yard passing performances come in the Big Ten championship game and the Rose Bowl. Not too shabby.
Stat of the game:
Stanford recorded a 43-yard pass to
Michael Rector
on the game's second play from scrimmage and a 47-yard
Tyler Gaffney
rush late in the first quarter. The Cardinal had a 51-yard pass play in the third quarter. Those three plays accounted for 141 of Stanford's 305 total yards. The Cardinal ran only nine plays for 23 yards in the second quarter, excluding a kneel-down on the final play of the half.
Stat of the game II:
Michigan State became the first team to rally from a halftime deficit to win a Rose Bowl since the 2000 game, when Wisconsin erased a 9-3 Stanford lead and won 17-9 behind
Ron Dayne
.
What Stanford learned:
The Cardinal still struggle to beat teams that can match them physically, especially up front. All those big linemen and creative formations didn't make much difference against a swarming Michigan State defense that surrendered only 11 first downs and 305 yards (mostly on three plays). Stanford learned that it wasn't a true national title contender, losing three games to teams that mirrored its style of play. And while David Shaw remains an elite coach, his conservative play calls seemed to cost his team down the stretch.
What Michigan State learned:
The Spartans are an elite program led by an elite coach in Mark Dantonio and an elite staff. They have an elite quarterback in Cook. They can overcome the loss of an elite player in Bullough. Michigan State learned it can play on the biggest stages with the best teams in the country and beat them with power football. The Spartans never went off track, even after a shaky start, and made enough plays in all three phases to record one of the biggest wins in program history.
January, 1, 2014
1/01/14
10:00
AM ET
Why is Stanford going to best Michigan State in the Rose Bowl Presented by Vizio? Here are 10 reasons.
Stanford has the better quarterback: Stanford QB Kevin Hogan is 15th in the nation in total QBR (80.2). Michigan State's Connor Cook is 59th (61.9). And Hogan put up those numbers against a much tougher schedule.

[+] Enlarge

Steve Dykes/Getty ImagesMichigan State hasn't faced a pass rusher as talented or relentless as Stanford LB Trent Murphy.

Michigan State hasn't faced a pass rusher like Trent Murphy: The Spartans only yielded 13 sacks this year, which ranked 11th in the nation. But Michigan State didn't face any pass rusher as good as Murphy -- none ranked in the nation's top 15. Murphy had 14 sacks on his own, which ranked second in the nation.

Stanford has played in four consecutive BCS bowls: The Cardinal are accustomed to a big stage. This is their second consecutive Rose Bowl and fourth consecutive BCS bowl. Michigan State hasn't played in a BCS bowl game or a Rose Bowl in 26 years. Experience matters. Nerves certainly won't be an issue for Stanford.

The Pac-12 is better than the Big Ten: The Pac-12 went 3-2 versus the Big Ten this year, and was widely viewed as -- at least -- the nation's second best conference behind the SEC. Playing a nine-game Pac-12 schedule means Stanford has been more battle tested against A-list foes.

Michigan State doesn't have its top leader on defense: Michigan State might have the nation's best defense, and All-Big Ten linebacker Max Bullough is its unquestioned leader. But Bullough was suspended for undisclosed reasons and won't play in the Rose Bowl. That leaves a huge hole in the Spartans defense in terms of talent, experience and leadership.

Michigan State hasn't faced an O-line as good as Stanford's: The Spartans own the nation's No. 1 rush defense, but it hasn't faced an offensive line as big and bad -- and NFL ready -- as Stanford's. Ohio State has a good offensive line, and it produced 273 rushing yards against the Spartans in the Big Ten championship game.

The transitive property! Notre Dame beat Michigan State 17-13. Stanford beat Notre Dame 27-20. So Stanford beats Michigan State! While it should be noted that Notre Dame was at home and far more healthy against the Spartans than it was at Stanford, this is a 10-point list, and sometimes you cut corners.

Shayne Skov will deliver an inspiring pre-game speech: Skov is a great player, but a nearly as important contribution to the Cardinal is his fiery leadership. He is the Cardinal's designated player for an emotional pregame speech. As a fifth-year senior, this will be his last. Count on it being highly motivating.

David Shaw is an elite coach: There's a reason you keep hearing Shaw's name come up in discussions about coaching vacancies, whether at Texas or in the NFL. He's considered an elite coach who has yet to reach his ceiling. Michigan State's Mark Dantonio might well be headed in that same direction, but you'd have to give Shaw and Stanford the edge on the sidelines.

The Big Ten doesn't win Rose Bowls: Since the 2000 season, Big Ten teams have gone 1-9 in the Rose Bowl. While there were a couple of guest appearances in the Pac-12's spot -- Texas, TCU -- the Big Ten's biggest problem is the Pac-12 -- Washington, USC, Oregon and Stanford. The Big Ten's last Rose Bowl win was Ohio State over Oregon following the 2009 season, and that required Buckeyes QB Terrelle Pryor playing the best game of his career.
December, 31, 2013
12/31/13
8:00
PM ET
LOS ANGELES -- The word "physical" has been used 12,486,234 times by media, coaches and players during the buildup to the 100th Rose Bowl Game Presented by VIZIO between Stanford and Michigan State.
The Spartans of the Big Ten play physical football. They run the ball and play tough defense. The Cardinal of the Pac-12 play physical football. They run the ball and play tough defense.
"We kind of look at Stanford as a spitting image of us," Michigan State All-American cornerback
Darqueze Dennard
said.
[+] Enlarge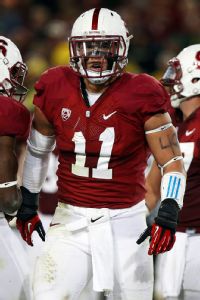 Kelley L Cox/USA TODAY SportsShayne Skov and Stanford face in some ways a mirror image in Michigan State.
Said Stanford linebacker
A.J. Tarpley
, "It's nice to have that smashmouth football team to play against. They're the bullies in their conference, too. We know it's going to be an old-school Rose Bowl where teams are going straight at each other. There's obviously going to be a little trickery, but there's not going to be any misconception in what the other team wants. Each of us is going to run at each other, and whoever is going to stop the other one first is the team that's going to win."
Michigan State arrives with what is arguably the nation's best defense, at least statistically. The Spartans are No. 1 in the nation in total and rushing defense, No. 2 in pass efficiency defense and No. 4 in scoring defense.
Stanford, playing against superior offenses, is No. 15 in total defense, No. 3 in rush defense, No. 10 in scoring defense and No. 47 in pass efficiency defense.
Offense? Stanford is better, averaging 33.2 points per game compared to 29.8 for the Spartans.
There is one common opponent in Notre Dame, but Michigan State's close loss on Sept. 21 on the road was against a healthy Fighting Irish, while Stanford's home win on Nov. 30 was not. Further, that game is where all the Michigan State players point when asked what was the launching point of their season.
The Spartans beat Iowa the next week, and quarterback
Connor Cook
was made the full-time, no-quick-hook-anymore starter. That ignited their regular season, one that was capped with an impressive win over unbeaten Ohio State in the Big Ten championship game.
Stanford has more quality wins -- the Irish, Oregon, UCLA, Washington and twice over Arizona State -- but it also lost at Utah and at USC. Despite those losses, the Cardinal topped ESPN.com's "
Championship Drive Rating
," a metric that measures who had the most impressive season based on its schedule. Michigan State ranked fifth. Stanford's schedule was fourth toughest in the nation. The Spartans was 56th.
There also is a fly in the ointment for Michigan State: The suspension of All-Big Ten linebacker
Max Bullough
, a two-time team captain and the leader of the Spartans defense. You can expect the Cardinal to test his replacements,
Kyler Elsworth
and
Darien Harris
.
"[Bullough is] a smart player who kind of lines their defense up, makes checks when they need to make checks," Stanford fullback
Ryan Hewitt
said. "He runs their defense. He's the heart and soul of their defense. I think it'll be a tough loss for them."
It also hurts that he's a senior, missing out on the Spartans first Rose Bowl berth in 26 years.
Meanwhile, Stanford will be seeing the last from an outstanding class of seniors, one that has led the program to four consecutive BCS bowl games.
"This is really a senior-laden group," senior linebacker
Shayne Skov
said. "We really take it upon ourselves to leave this place with the right legacy. We want to make sure we leave the right message for guys that come after us."
That message, however, is the same for both teams and therefore at cross purposes.
"We expect the utmost physicality," Hewitt said. "We expect the most physical team we've played. They are arguably the most elite team we've played. We expect a physical bout. It's the Rose Bowl."
Michigan State linebacker
Denicos Allen
put it even more simply. He said, "I feel like the toughest team is going to win."
December, 31, 2013
12/31/13
11:00
AM ET
Stanford defensive coordinator Derek Mason played cornerback at Northern Arizona, and he'd rate as short for the position even at an FCS school. He's compact and powerfully built, but you'd suspect that more than a few receivers took one look at his 5-foot-8 frame and thought, "I am going to steal his lunch money and send him home to his mommy in tears."
Some of those guys got the best of him, no doubt. The Lumberjacks never posted a winning record while Mason, a two-year starter, was on the team. But Mason made sure their afternoon wasn't easy, and that they'd remember him the next morning when they crawled out of bed and needed an aspirin or four.
"I felt like I was tough. I felt like I was physical. I felt like I competed all the time," he said. "I felt like because of my size I played [with] a big chip on my shoulder, mad all the time, mad at everybody. Mad at receivers, tight ends. So I played angry."
[+] Enlarge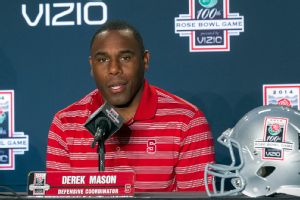 AP Photo/Damian DovarganesDefensive coordinator Derek Mason has helped Stanford become one of the top defenses in the nation by, as his players say, doing a "tremendous job of explaining what we do and why we're doing it."
Mason's description of himself as a player surely will make those around the Stanford program smile, particularly those who play defense for him. Mason, 43, is a ball of compressed energy, a demanding guy who sees the entire field in a way that allows him to rapidly process both imperfections that mattered on a specific play and imperfections that didn't matter but might next time. He's not the sort who lets things slide, even when the ultimate result suggests proper execution to the casual observer.
"I think the best thing he does is he helps us stay motivated to show up every day for work," Cardinal All-American outside linebacker
Trent Murphy
said. "He never lets us get complacent or lets us get content. Some of our best games, as far as score-wise, our win margin, some of those games he gets furious. You would think we lost the game by the way he rips us apart after the game. He's always hungry and keeps us hungry, calls great plays and puts us in a great position to be successful, so you can't ask for anything more from a coach."
The ability to scheme, motivate and teach has made Mason into one of the nation's hottest defensive coordinators, yet his route to success at Stanford has been twisting. This is his 10th coaching stop since 1994. Stanford is the first time he has coached four consecutive seasons in the same place. With five of those coaching jobs, Mason was on the offensive side of the ball. A wide receivers coach at Ohio in 2005 and 2006, he jumped to the Minnesota Vikings to become an assistant defensive backs coach. It looked like the NFL was his future, but then Jim Harbaugh came calling in 2010.
"Anybody who has been around Jim Harbaugh knows he can sell anything," Mason said.
It proved an inspired decision to come West with Harbaugh, who had just hired Vic Fangio to switch Stanford from a 4-3 defense to a 3-4. Mason preferred a 3-4 himself -- the Vikings were using a 4-3 -- and Fangio helped him earn his Ph.D. in the scheme.
Of course, Stanford would go 12-1 that season, blowing out Virginia Tech in the Orange Bowl, and Harbaugh and Fangio would jump to the San Francisco 49ers. When David Shaw was promoted to head coach, he made Mason co-coordinator with Jason Tarver in 2011.
When Tarver left of the Oakland Raiders, Mason took sole control of the defense in 2012. It was Mason who solved Stanford's "Oregon Problem," not Fangio or Tarver. In 2010 and 2011, Stanford surrendered 105 points in losses to the Ducks. In 2012 and 2013, the Cardinal yielded 34 in victories.
"I think the sign of any good football coach at any position is the ability to have a philosophy and have a general scheme that you believe in," Shaw said. "But more importantly, to be able to teach that scheme and then fit the scheme around the players that you have and their talents. I think Derek has done that, and you've seen him do things for
Shayne Skov
, you've seen him do things for Trent Murphy, do things for Chase Thomas, do things to help
Ed Reynolds
shine. You put guys in positions to do things that they're good at."
Said Skov: "He does a tremendous job of explaining what we do and why we're doing it."
Stanford has led the Pac-12 in both scoring and rushing defense the past two seasons. Its 97 sacks over the past two seasons is five more than any other conference team. The Cardinal have held opponents to 20 or fewer points in 20 of their last 25 games, and have not allowed a foe to reach 30 points in their past 21 games. Rose Bowl foe Michigan State is the only team with a longer streak (26).
Mason's defense has a massive inventory -- at least for a college team -- of fronts, stunts and blitzes that makes it difficult for offenses to know what they are getting before the snap. The Cardinal's defense is big, athletic and physical at all three levels, but Mason's scheme also takes advantage of the intellect of football recruits who can get into Stanford. They simply can handle more information than a collection of players at just about every other FBS school. Michigan State's offensive players repeatedly talked about how Stanford's defense thrives on keep opponents off-balance.
"They do a great job of trying to confuse the offense," Spartans quarterback
Connor Cook
said. "They do a lot of different fronts and a lot of movements and stuff like that to try and confuse you."
Seven years ago, Mason was a receivers coach at Ohio. Now he's one of the nation's top defensive coordinators in the country.
The reason he jumped from point A to point B probably has a lot to do with him coaching the same way he played cornerback at Northern Arizona. He still sees that 6-4 receiver grinning at him, thinking he's about to grab some extra lunch money.
"I absolutely coach with a chip on my shoulder," Mason said. "I want these guys to be the best. There's not a day that goes by that my head hits the pillow that I'm not thinking of how we can get better, how these guys can get better, because that's what they came here to do."
December, 20, 2013
12/20/13
9:00
AM ET
We continue
our look at each of the Pac-12's opponents
during the bowl season.


Rose Bowl Game presented by Vizio
Pasadena, Calif., Jan. 1, 2 p.m. PT, ESPN
Stanford (11-2) vs. Michigan State (12-1)
Michigan State Spartans
Coach
: Mark Dantonio (seventh season)
Record
: 12-1, 8-0 Big Ten
Combined opponent's record
: 77-80 (.490)
Common opponents
: Notre Dame handed Michigan State its only loss of the year, a 17-13 defeat in September. Stanford beat the Irish 27-20 in its regular season finale.
Leading passer
:
Connor Cook
, 201-344 (58.4 percent) for 2,423 yards with 20 touchdowns and five interceptions.
Leading rusher
:
Jeremy Langford
, 269-1,338 with 17 touchdowns.
Leading receiver
:
Bennie Fowler
, 34-525 with six touchdowns.
Leading tackler
:
Denicos Allen
, 91 tackles (15 tackles for a loss).
What to know
: The Spartans enter the Rose Bowl riding a nine-game winning streak that includes a convincing win over then-No. 21 Michigan and one of the biggest upsets of the season in their 34-24 win over then-No. 2 Ohio State. The win over the Buckeyes in the Big Ten championship game snapped OSU's streak of 24 straight wins and threw all sorts of wrenches into the BCS standings.
Michigan State is relatively healthy heading into Pasadena with little more than the run of the mill bumps and bruises.
For obvious reasons, this game is being billed as a clash of defensive titans. And it is. Michigan State has the No. 1 rush defense in the nation. Stanford is No. 3. Michigan State has the No. 4 scoring defense. Stanford is 10th. One team has a 1,300-yard rusher. The other a 1,600-yard rusher. Both value disciplined, physical line play with an emphasis on field position, ball control and ball security.
Plenty more will be written about this game from both the Pac-12 and Big Ten blogs, but the takeaway you're going to hear is defense, defense, defense.
One thing to note offensively for the Spartans, per Big Ten blogger Adam Rittenberg, is that their wide receiving corps has improved significantly this year in reducing the number of drops. That's helped contribute to a plus-14 turnover margin -- which is tied for seventh nationally.
Key matchup
: This is the kind of game that should make Stanford head coach David Shaw all giddy. Line up one of the best offensive lines in the country against one of the best front sevens and have at it. Allen is the leader. You recall his stop on OSU's
Braxton Miller
on fourth down in the conference title game, but he's got an outstanding supporting cast around him. Both teams will try to establish a rushing attack. As far as line play goes, this one should be the highlight of the entire bowl season.
Pac-12 Weekend Wrap: Jan. 27
PAC-12 SCOREBOARD
Thursday, 9/3
Saturday, 9/5