Stanford Football:

David Parry
October, 28, 2014
Oct 28
3:57
PM ET
Because of injuries, there's a very real chance that two true freshmen will see significant action for Stanford's defense against Oregon.
Cardinal coach David Shaw ruled starting free safety/nickelback
Zach Hoffpauir
out of Saturday's contest because of an undisclosed injury suffered this past weekend against Oregon State. Senior
Kyle Olugbode
will assume a bigger role at safety in his stead, while true freshman
Terrence Alexander
will bear the brunt of nickelback duties against
Marcus Mariota
's high-powered offense.
Hoffpauir, who's in the midst of his best season, has been an integral part of Stanford's secondary, especially against teams who spread it out offensively. The junior's four pass break-ups rank second on the Cardinal's team, and his 15-tackle performance two weeks ago smothered Washington State in space.
While Hoffpauir's loss is significant, Stanford is still waiting for its most significant injury news. Nose tackle
David Parry
, who suffered a leg injury during the Cardinal's loss at Arizona State, is still questionable for Oregon. Shaw said that Parry's recovery has not yet reached a satisfactory point for Stanford, and a final decision on his game status should come within the next two days.
Parry, who battled through a lower abdominal injury in 2013, has also been enjoying his best career season while playing at full health. Shaw noted that Parry's ability to attract double teams up front is significant for Stanford's defense to operate at full efficiency against run-strong teams such as Oregon.
"You're not going to find somebody that can physically manhandle people [the way Parry can]," linebacker
A.J. Tarpley
said. "He wants to play really bad."
If Parry can't play, Stanford will again turn to 255-pound true freshman
Harrison Phillips
to keep stalwarts
Henry Anderson
and
Blake Lueders
fresh up front. The Cardinal already absorbed a big blow when defensive lineman
Aziz Shittu
went down at practice with a possible season-ending injury.
"Our motto on defense has always been 'next man up is the best man up,'" Tarpley said. "The most important thing is that whoever plays goes 100 percent."
September, 25, 2014
Sep 25
5:45
PM ET
Stanford is allowing a nation-best 4.3 points per game. The Cardinal defense is the only unit in the country to have not surrendered a touchdown drive of 75 yards or longer. Heck, it's only given up one touchdown in 12 quarters of football.
Washington offensive coordinator
Jonathan Smith
has been watching film of Stanford's sturdy crew all week, and from his perspective,
the viewing sessions have been "depressing."
Wait, what the heck is going on here?
Stalwarts Trent Murphy, Shayne Skov, Ed Reynolds, Ben Gardner, and Josh Mauro have all left for the NFL. Defensive coordinator Derek Mason filled the head coaching opening at Vanderbilt.
[+] Enlarge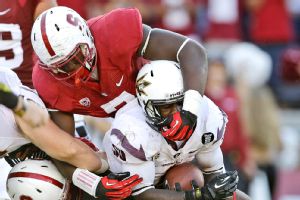 AP Photo/Marcio Jose SanchezStanford's defensive line battled injuries last season, but Aziz Shittu and the unit are healthy and dominating this season.
Wasn't this team supposed to suffer a defensive a dropoff? On the surface, two and two don't seem to add up.
Two major road tests at Washington and Notre Dame loom for Stanford, but early indications suggest the defense is successfully weathering the significant loss of star power. And an answer as to how Stanford is defying expectations is becoming evident: The team is actually healthy along the defensive front this time around.
Decimated in 2013
Coach David Shaw understands the fundamental importance of a sturdy line within the 3-4 defensive scheme.
"My dad (Willie Shaw) always used to tell me, 'if you give me a choice between a great cornerback and a great defensive lineman, I'll take the great defensive lineman,'" he said. "Because a great defensive lineman can make an average corner look great."
At this point last season, the decimation of Stanford's defensive line was well underway, so there was a severe shortage of those desired game-changers on the Farm.
End
Henry Anderson
had suffered a significant knee injury which would sideline him until November, tackle
David Parry
was straining through a lower abdominal issue that had him nowhere near full capacity, and
Ikenna Nwafor
-- Parry's backup at tackle -- was about to succumb to a foot injury that would force his medical retirement.
The misery didn't end there. Just a week later against Washington, stalwart defensive end Ben Gardner began battling searing pain in his arm. He fought through the issue for three weeks, but eventually saw his college career end when he tore his pectoral muscle while trying to corral Oregon State quarterback
Sean Mannion
with that arm.
Outside of Josh Mauro, the Cardinal didn't have a defensive lineman in the regular rotation that was playing at close to 100 percent last season. Shaw's staff reacted by converting outside linebacker
Blake Lueders
and tight end
Luke Kaumatule
to the line, but Lueders was still significantly underweight for his new position, and Kaumatule didn't yet know the playbook.
The leaks in the dam were apparent. In a particularly brutal two-week stretch, players labored in the second half versus Washington and then scuffled to find any real footing in first half of the team's loss at Utah, during which the Utes easily racked up over six yards per carry. Stanford eventually patched up the leakiest of its defensive problems, but players and coaches both admit that was a smoke-and-mirrors solution that placed tremendous pressure on the team's linebackers and secondary.
An offseason of rest pays dividends
The Stanford defense is built on a fully healthy foundation now. Parry is finally at 100 percent and somersaulting his way to backfield tackles in WWE-wrestler style, and Anderson has considerable bounce back in his step after spending the offseason shedding about eight pounds and regaining his original explosiveness. Gardner and Mauro are gone, but Lueders has had a chance to put on the 20 pounds of extra strength needed for the defensive end position, and
Aziz Shittu
and Kaumatule have both earned spots in the line's rotation.
All of these developments have allowed Stanford to assuage the losses of Murphy and Skov on the second level.
"Henry Anderson and David Parry are playing at the best levels of their career," Shaw said. "You see all those tackles for loss, and then you see the linebackers making a lot of plays as a result."
Stanford is averaging a sack on 12.5 percent of opponents' passing attempts. That's the best figure in the Pac-12, and it's more than three points higher than the one Stanford's sack-happy 2012 team, the national leader in tackles for loss, posted.
"You see David Parry getting whammed and getting double-teamed because [the opponent] has to account for him," Shaw said. "Then Henry's up in the quarterback's face pushing the pocket."
Washington makes a case
This Saturday's showdown at Washington presents an intriguing matchup. Though Stanford leads the Pac-12 in the aforementioned sack rate, the Huskies lead the nation in total sacks. They have registered 19 in four games. Behind six-foot-two, 339-pound wrecking ball
Danny Shelton
, Washington will try to make a claim that it features the best front seven in the Pac-12.
Stanford offensive lineman Josh Garnett, whose father played for the Huskies, thinks that working against his own team's finally healthy unit has prepared the Cardinal well for this trip to Seattle.
"Our guys are definitely healthy now," Garnett said. "And if we can run our plays on those guys [in practice], we can run our plays against anybody. You see their pass-rush moves, and then you see them stoning people in the run game on the next play, and it's very impressive."
So keep an eye on the battle up front this Saturday. If Stanford proves that it can pack up and travel with the same eye-popping pass-rush fury and run-stopping proficiency it's shown early in this season, the raging battle in the Pac-12 North will have become that much more fascinating.
July, 8, 2014
Jul 8
2:30
PM ET
Cinnamon. It should be on tables in restaurants along with salt and pepper. Anytime someone says, "Ooh, this is so good -- what's in this?" the answer invariably comes back, "cinnamon." Cinnamon. Again and again.
March, 28, 2014
Mar 28
9:00
PM ET
We finish our list of five predictions for the second half of
Stanford
's spring practice.
No. 1:
Staying the course/depth chart
Much of the commentary that has followed Stanford football over the past four years involves the program's incredible resurgence.
Before Jim Harbaugh and his staff arrived, there was a faction -- a small minority, but it was there -- that believed the school should drop down a level in football. It was a concept that angered David Shaw, and several other fans and alumni of the program, and is now less plausible than a Stanford national title.
Expectations are obviously very different now. With the second session of spring practice set to begin next week, Stanford is set to continue preparations for a run at a third-straight Pac-12 title.
Like any program replacing hoards of talent, there are questions that need to be answered, but nothing about the current state of the program indicates the Cardinal shouldn't be among the best in the conference. They have recruited well, they have a lot of good players returning and the coaching staff has proved its mettle.
If there's anything left to predict, it's that the status quo will remain just that.
And, of course, a potential post-spring depth chart:
Offense
QB
:
Kevin Hogan
RB
:
Remound Wright
FB
:
Lee Ward
WR
:
Ty Montgomery
WR
:
Devon Cajuste
TE
:
Eric Cotton
LT
:
Andrus Peat
LG
:
Joshua Garnett
C
:
Graham Shuler
RG
:
Johnny Caspers
RT
:
Kyle Murphy
Defense
DE
:
Henry Anderson
DT
:
David Parry
DE
:
Blake Lueders
OLB
:
James Vaughters
ILB
:
A.J. Tarpley
ILB
:
Blake Martinez
OLB
:
Kevin Anderson
CB
:
Alex Carter
CB
:
Wayne Lyons
S
:
Jordan Richards
S
:
Kodi Whitfield
Countdown
No. 2:
Running back competition will gain clarity

No. 3:
Hogan takes the next step
No. 4:
Backup quarterback competition begins
No. 5:
Whitfield will emerge at safety
March, 1, 2014
Mar 1
9:53
PM ET
STANFORD, Calif. -- In the grand scheme of things, a single football practice in March during the course of a college career or season registers near irrelevant. For several Stanford players, it probably didn't seem like that Saturday.
With many jobs up for grabs and the team in pads for the second time since its 24-20 loss to Michigan State in the Rose Bowl, the day felt like it opened up real competition for next season's starting jobs. It also served as one of three practices this spring open to spectators and the media.
[+] Enlarge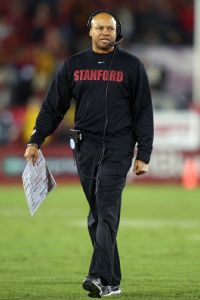 Kirby Lee/USA TODAY SportsDavid Shaw's team was in pads for the first time since the Rose Bowl loss to Michigan State.
Here are some observations and takeaways from Saturday:
OL already set?
: It's clear who is expected to make up the starting offensive line: LT
Andrus Peat
, LG
Joshua Garnett
, C
Graham Shuler
, RG
Johnny Caspers
and RT
Kyle Murphy
. Before Saturday, the only spot that seemed potentially up for grabs was at center, but Shuler, not
Kevin Reihner
, worked almost exclusively with the first group. Shuler, along with Garnett, were the vocal leaders of the group. It wasn't clear if there is an unofficial pecking order yet for the other positions in the team's extra-OL sets.
On Shuler and the center competition, coach David Shaw said: "We're putting the pressure on Graham. He's got all the ability in the world and needs experience and we got to get him ready to go. He's got a chance at one point to be extremely good. One of the best, we believe, around."
Burns missing vital reps:
With
Ryan Burns
suspended for the first spring session for what has been explained only as a "disciplinary issue," starting QB
Kevin Hogan
and backup
Evan Crower
split all the reps. It felt like status quo for Hogan, but Crower looked as comfortable as he ever has in a Cardinal uniform.
"All and all, I think we have two guys that are capable starters," Shaw said. "Evan Crower can play football. If it comes to the point where he plays, we're very confident in him."
His message in regards to Burns was strikingly different.
Asked if having just two quarterbacks limits how the team practices, Shaw replied: "Not really. It just means two guys get a bunch of reps. That's the sad part, we have to have our rules, and we have to have our discipline and that's the sad part for a young quarterback that missed these because these are valuable reps that you can't get back. When he does get back, he better be busting his tail because these are vital reps that he's missing."
It was clear Shaw wanted to send a message to Burns on Monday when he publicized the freshman's suspension and made it even more so Saturday.
RB depth:
Remound Wright
took the first reps with the first team, but there was a lot of rotation with him,
Ricky Seale
,
Barry Sanders
and
Kelsey Young
. Shaw lauded Wright and Seale for their steadiness and smart decision-making and Sanders and Young for their big-play potential.
Not much can be gleaned from one spring practice, but it's clear there isn't a significant talent discrepancy between the four players. Their lack of separation provides a sense that the competition will ultimately be decided by other factors. Shaw gave Wright the edge in pass protection.
"That guy, that's a great pass protector is going to play and play a lot," Shaw said.
Lyons to nickel:
With
Usua Amanam
gone, CB
Wayne Lyons
is in line to be the team's new nickleback. He'll remain a starter at corner, but when the team uses an extra defensive back, he'll slide over and cover the slot. It's similar to how the Cardinal used current Miami Dolphin Michael Thomas, when he moved from safety in 2011, and how the San Francisco 49ers use Carlos Rogers. Thomas, before he left, predicted Lyons would win a Thorpe Award before his career was over.
Taijuan Thomas
also worked at nickel.
Carter out for spring:
Junior CB
Alex Carter
will miss the spring with a hip injury, but is expected to be ready for fall camp. The silver lining is that it creates more reps for guys like
Ronnie Harris
and
Ra'Chard Pippens
, who are trying to break into the rotation in the secondary.
Number changes:
Kodi Whitfield
's position change from WR to FS meant he could longer share No. 9 with LB
James Vaughters
. He wore No. 5 Saturday, but it isn't clear if that's a full-time move or trial run. Former QB
Dallas Lloyd
, who also switched to safety, is still wearing No. 2, which belongs to Lyons.
Three-man competition at ILB:
Blake Martinez
,
Joe Hemschoot
and
Noor Davis
make up the three-man competition to replace
Shayne Skov
.
Other notes
With David Parry limited, Aziz Shittu played inside defensive ends Henry Anderson and Blake Leuders at tackle with the first defensive unit.

Kyle Olugbode took the first reps at safety next to Jordan Richards.

Kevin Anderson worked with the first team and remains in position to replace Trent Murphy.

Harris and WR Dontonio Jordan both wore yellow noncontact jerseys.

David Yankey, Trent Murphy, Cam Fleming, Jarek Lancaster, Sam Schwartzstein and Owen Marecic were part of a small contingent of formers players at practice.

Freshman TE Austin Hooper, who is coming off his redshirt, did not attend due to a mandatory academic field trip.

Stanford's next open practice is March 8 at 9 a.m. PT. The spring game is on April 12.
February, 25, 2014
Feb 25
1:00
PM ET
STANFORD, Calif. -- As Stanford players jogged off the practice field Monday evening, nothing stood out in particular. Significant only because it marked the first spring practice of the year, and it had the look and feel of just another day on the Farm.
Maybe temperatures don't always hover around 70 degrees until just past sunset in late February, but there was no fanfare or anything ceremonious about the day.
In that respect, nothing has changed over the past five years.
[+] Enlarge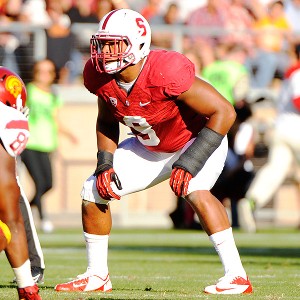 AP Photo/Rob HoltJames Vaughters spurned the SEC to join a Stanford team that, at the time of his commitment, was just beginning its upswing.
"It was a good start. The tempo I thought was outstanding for a first day, which is always what you're looking for when you lose so many seniors," coach David Shaw said. "It wasn't perfect, of course, but it was fast and that's what we were looking for Day 1."
As the only program to play in BCS bowls the past four seasons, there is no denying Stanford's place in the current hierarchy of college football. Any list of the nation's elite must include the Cardinal or it would be incomplete.
In that respect, everything has changed.
Former coach Jim Harbaugh recruited with an offer for a world-class education and the chance to turn things around. When Stanford signed outgoing fifth-year seniors such as
Shayne Skov
,
Trent Murphy
,
Ben Gardner
and
Ryan Hewitt
in 2009, it did so following a 5-7 season.
That group leaves Stanford not knowing what it's like to be a part of a losing team.
Only the 13 fifth-year seniors on the spring roster were on the 2010 team, Harbaugh's last season, and only defensive end Blake Leuders saw action that season. They're the last group that bought into a program that had yet to play in a major bowl game and, as a byproduct of that, the first not to miss one.
Senior outside linebacker
James Vaughters
is in a different boat. He spurned several SEC offers and left his home state of Georgia to sign with Stanford following its Orange Bowl victory to cap the 2010 season.
"They showed me they were just as committed to winning as the schools that were recruiting me from the South," Vaughters said.
He got what he signed up for.
"If you see success, it's a challenge to sustain it," Vaughters said. "It's a matter of finding a formula that works. When you have so many guys that started for so many years, we just have to find our way to be successful."
One could worry about a sense of entitlement creeping into a program with as much success as the Cardinal has experienced over the past four years, but both Vaughters and Shaw didn't seem to think that it would be a problem.
Shaw pointed to senior running back
Ricky Seale
as an example.
"[Last year] he would just be on the sidelines on his toes," Shaw said. "So now we have the anxiety and that energy because they all want a chance to play. I think we're in a great spot because we're going to get their best because they all want to get on the field."
Senior receiver
Ty Montgomery
(knee) and senior nose tackle
David Parry
(midsection) will both miss the first session of two spring sessions with minor injuries.
Backup quarterback
Ryan Burns
will miss the first session to due a disciplinary reason, according to Shaw.
Shaw has still not hired a defensive backs coach, but he said it "should be solved in the next week or so." For the time being, graduate assistant Marc Mattioli will coach defensive backs.
February, 12, 2014
Feb 12
5:30
PM ET
Get this. Stanford's Lance Anderson actually
wanted
to be a defensive coordinator in the Pac-12. Crazy, right? Biletnikoff winners to lose sleep over; Doak Walker finalists dashing and gashing for 20 yards a pop; and All-American offensive linemen that must be displaced. Oh, the humanity.
"There are some pretty good quarterbacks, too," says Anderson.
Oh yeah, the quarterbacks.
[+] Enlarge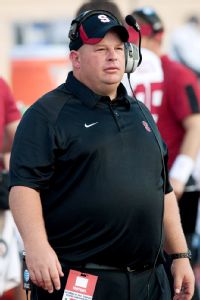 Peyton Williams/Getty ImagesLance Anderson, who has been on Stanford's staff since 2007, will have to replace some big names on the Cardinal's 2014 defense.
Anderson has his wish. With the departure of Derek Mason,
who was named the head coach of Vanderbilt last month
, Anderson takes over one of the most respected defensive outfits in all of college football. The Cardinal have led the conference in scoring defense and been ranked in the top 15 nationally in three of the last four years. They live by the mantra #partyinthebackfield and have put the brakes on some of the nation's top offenses.
Now it's Anderson's turn to add his own flavor to the scheme -- however minor it might be.
"Every year we tweak a little bit no matter what," said Anderson, who first came to Stanford in 2007 with Jim Harbaugh. "We go back and watch film and do all of our self-scouting and analysis. We try to find places where we can get better and improve and that's naturally going to lead to tweaking. I think every coordinator has a different feel and some stuff you might like a little better than the other guy.
"We've been in a system for a few years now and I think the kids are really comfortable with that. They like it. And I think the systems we're in on both sides of the ball suit our personnel really well. Vic Fangio came in in 2010, installed the system at that point and we've kept it pretty similar ever since."
That includes transitions from Fangio to the co-defensive coordinator team of Jason Tarver and Mason to just Mason and now to Anderson, who will continue to work with the outside linebackers after coaching the defensive tackles his first two seasons on The Farm.
Equally known as a top-flight recruiter, Anderson must now help the Cardinal transition to life without some of their marquee players. Gone next year are linebackers
Shayne Skov
and
Trent Murphy
, defensive end
Ben Gardner
and safety
Ed Reynolds
. All were major contributors in one form or another to Stanford's appearances in four straight BCS bowl games.
Despite those losses, Anderson is confident the Cardinal have the depth -- both in and out of the locker room -- to stay atop the defensive standings.
"I look at guys like
A.J. Tarpley
and
Jordan Richards
who have played a lot of football and they really stand out," Anderson said. "Both guys display some natural leadership and they are well-respected by their teammates.
Henry Anderson
and
David Parry
are a couple of other guys who are really looked up to among the defensive players. I think we'll be OK."
Interestingly enough, the Pac-12 has seen the defensive coordinators from the top five scoring defenses
move on after the 2013 season
. Mason went to Vanderbilt, Nick Aliotti retired at Oregon, Justin Wilcox moved to USC with Steve Sarkisian, Lou Spanos returned to the NFL and Clancy Pendergast was not retained with the Trojans after Sarkisian came in. Three of those were replaced internally, with Anderson, Don Pellum (Oregon) and Jeff Ulbrich (UCLA) all being promoted. Pete Kwiatkowski joins Chris Petersen in Washington by way of Boise State and Wilcox followed Sark. So despite the transitions, the continuity among coaching staffs remains relatively unscathed.
However, that combination of coordinator shuffling, along with some A-list offensive players returning in 2014, makes for an interesting setup. The Pac-12 is known for its offensive diversity, and when you factor in the possibility of nine teams returning their starting quarterback, the dice seem loaded to the offensive side of the ball.
"There is a lot of offensive talent in this league and it doesn't look like that's going to slow down," Anderson said. "The quarterbacks all have experience. It's not going to be easy.
"We know that every week we are going to be tested. All we can do is try to go out and learn the techniques and the fundamentals and get the physical and mental mastery of the position. Once we get that in spring ball and the preseason, it's just matter of going out and applying what we've learned during the season. Every week is going to be different. All we can do is prepare the best we can, master the position and try to apply it on Saturdays in the fall."
February, 11, 2014
Feb 11
9:00
AM ET
The countdown of Stanford's top-5 position groups with room to improve continues.
[+] Enlarge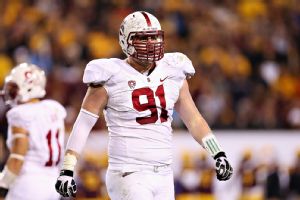 Christian Petersen/Getty ImagesHenry Anderson returns to man one defensive end position for Stanford, but the Cardinal have question marks at the position behind him.
One position group will be highlighted each day this week.
No. 4:
Defensive line
Must replace:
Ben Gardner
,
Josh Mauro
Returning starters:
Henry Anderson
,
David Parry
Players to watch:
Luke Kaumatule
,
Anthony Hayes
,
Nate Lohn
,
Blake Lueders
,
Aziz Shittu
Outlook:
The only vacant starting job on the line is at defensive end where Lohn, Lueders and Kaumatule all figure to be be in the running to replace the combination of Gardner and Mauro opposite Anderson. Lueders (linebacker) and Kaumatule (tight end) both switched positions midseason as the Cardinal tried find some reliable depth. For Lueders, the move was relatively easy because he was already versed in Stanford's defensive terminology, but it was much more difficult for Kaumatule. The Cardinal recruited him to play defensive end, but was moved to tight end out of need. That experiment didn't go as well as the coaching staff had hoped, and once he was brought back to defense it was clear it was a better fit. Lohn was listed as Mauro's primary backup for the Rose Bowl, but appeared in just three games during the season. Shittu remains a bit of a question mark. He arrived at Stanford ranked among the nation's best defensive ends, but he's yet to make an impact in two seasons. Does that change this fall?
The countdown
No. 5:
Wide receiver
February, 4, 2014
Feb 4
6:00
PM ET
Stanford coach David Shaw's fourth recruiting class will become official on Wednesday, which means … well, no one is really sure.

Currently, Stanford's class ranks 19th nationally and No. 2 in the Pac-12 behind only Arizona State. If it keeps that spot, it would be the third-best class Stanford has pulled in since ESPN began ranking classes in 2006.

The highest-ranked class in that span came in 2012, when Stanford was No. 12. That ranking also happens to be one spot lower than Stanford's worst finish in the AP Poll in the last four years (No. 11 in 2013).

The 2013 team was made up of players from the 2009-13 recruiting classes. Here is look back at the starters and how they were graded on their respective signing days:

Offense
Defense

December, 21, 2012
12/21/12
11:21
AM ET
Stanford will be without starting defensive tackle
Terrence Stephens
for the Rose Bowl Game presented by Vizio because of a secondary violation of NCAA rules regarding his rental of off-campus housing, the school announced Friday.
Stephens missed the regular season finale and the Pac-12 championship game -- both victories over UCLA -- for what the school had previously characterized an unspecified "personal problem."
While Stephens doesn't make much of a statistical impact, he's a huge part of the defense. The 6-foot-2, 305-pounder anchors the Stanford line and is often called upon to handle double and triple teams that allows his teammates to make plays. He has 10 tackles on the season with a pair of sacks and he's also forced a fumble.
Stanford faces Wisconsin in the Rose Bowl on Jan. 1 at 5 p.m. ET on ESPN.
David Parry
stepped in for Stephens and in the first game against UCLA, he had five solo tackles, a sack and he knocked down a pass. He posted one tackle in the Pac-12 championship game.
January, 11, 2012
1/11/12
4:00
PM ET
With the announcement over the weekend that outside linebacker Chase Thomas is coming back for another season, it's worth taking a quick look at what Stanford's front seven will look like next season -- because the Cardinal are loaded.
With six of the starting seven returning (plus a seventh, Shayne Skov returning from injury), the Cardinal figure to be even better than this year's group, which finished with the No. 4 rush defense in the country (88.3 yards per game), 11th in sacks (3 per game) and 28th in tackles for a loss (6.8 per game).
Here's a look at the starters coming back and the one guy leaving.
CHASE THOMAS, OLB, 6-4, 240
2011 highlights: He led the Cardinal in sacks and tackles for a loss, and was first-team All-Pac-12 and Sporting News First Team All-American. A ferocious pass-rusher who skipped on the NFL for another season to gain size and put together a more consistent résumé on film. He should be one of the top outside linebackers in the nation again next season.
[+] Enlarge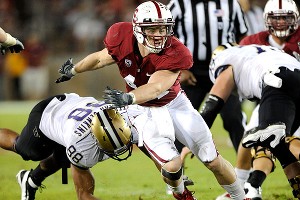 Bob Stanton/Icon SMIStanford's Chase Thomas should be one of the best outside linebackers in the nation next season.
TRENT MURPHY, OLB, 6-6. 242
2011 highlights: He quietly put together a strong season opposite Thomas, though didn't get as much publicity. Murphy started all 12 games and finished with 40 tackles, 10 for a loss and was second on the team with 6.5 sacks. He had a career high 10 stops against Oregon. Murphy is very good at setting the edges and his size and reach make him a difficult player to block.
JAREK LANCASTER, ILB, 6-1, 226
2011 highlights: One of the marquee special teams players forced into immediate action after the injury to Skov. He ended up leading the team in tackles with 70, including 3.5 sacks and seven tackles for a loss. Lancaster will likely add more size in the offseason. He has good speed and very good at shedding blocks. His open field tackling improved each week and he was stellar in the Fiesta Bowl loss.
A.J. TARPLEY, ILB, 6-2, 231
2011 highlights: Like Lancaster, split time until finally earning a starting role. A very instinctive linebacker who prefers to go through blocks rather than around them. He should also pack on a little more size in the off season. He finished third on the team with 57 tackles and had 1.5 sacks and four tackles for a loss. A very bright player who should have a fantastic career. His interception against USC was one of season's defensive highlights.
TERRENCE STEPHENS, NT, 6-2, 287
2011 highlights: He's understated for what he does, but also very good at it. He eats up blockers for the linebackers to do their thing. Stephens finished with 11 tackles, including four for a loss, and forced the fumble against USC in triple overtime that Tarpley recovered to close out the game. A vocal player who should grow into a leadership role on the defense.
BEN GARDNER, DE, 6-4, 263
2011 highlights: An outstanding season that earned him second-team All-Pac-12 honors. He finished with 35 tackles -- including 10 for a loss, adding 4.5 sacks and six quarterback hits. A high-motor player who earned the team's outstanding sophomore award. And, according to his Twitter account, the mullet will return in 2012. Phew.
SHAYNE SKOV, ILB, 6-3, 244
2011 highlights: He was the team's leading tackler with 19 in two and a half games until a knee injury in the third game of the season caused him to miss the rest of the year. The question mark is whether or not he'll return at 100 percent. And if he does, whose reps get reduced, Tarpley or Lancaster? Either way, the Cardinal should be deep at linebacker and if Skov can return healthy, he'll be one of the premier inside linebackers in college football.
MATT MASIFILO, DE, 6-3, 278
2011 highlights: The Cardinal are going to miss this guy more than most probably realize. He committed to the team in the midst of a 1-11 season and saw the rebuilding process all the way through. He was the only returning starter on the line this season and had 34 tackles, eight for a loss and 2.5 sacks. His possible replacements are Henry Anderson and Josh Mauro.
And this just covers the starters. Players like Anderson and Mauro saw playing time this season, along with nose tackle David Parry, outside linebackers Alex Debniak and Blake Lueders and inside linebackers James Vaughters and Joe Hemschoot.
The Cardinal are in fantastic shape if everyone stays healthy. And if they encounter another situation like they did this past year with a season-ending injury, they should be deep enough and experienced enough to absorb the blow. Plus, we'll see how head coach David Shaw and his staff treat some of the incoming freshman, like standout outside linebacker Noor Davis.
December, 2, 2011
12/02/11
8:00
AM ET
The regular season is over, which means grades are due. Here's part two of the ongoing regular-season report card for Stanford.

DEFENSIVE LINE

Grade: A

Summary: Right around the third week of the season, the defensive line ceased to become a pleasant surprise and started becoming the punishing tip of the spear for Stanford's front seven. Matt Masifilo, who started slowly, picked up steam. Ben Gardner exploded on to the scene and earned Pac-12 honors for his efforts and Terrence Stephens blew up opposing centers.

The defensive line had plenty of question marks with only Masifilo returning this year as a starter, but Stephens had a fantastic year and Gardner vastly exceeded all preseason expectations. According to Stanford, Gardner finished the regular season with 34 tackles, including 10 tackles for loss (second on the team) and 4.5 sacks (third on the team). He also logged a team-high six quarterback hits and recovered a fumble.

Masifilo added 30 tackles, including 2.5 sacks and eight tackles for a loss and broke up four passes -- tops among all defensive line men.

Stephens' position doesn't lend itself to a lot of stats -- but he was great at the noseguard spot. But if you're looking for a stat, none was bigger than his forced fumble on the final play of the USC game in overtime. He's as talented as he is charismatic.

In summary, a fantastic season for the front three. The only thing keeping them from an A+ was the fact that they gave up one too many long runs. But they still helped the Cardinal to reach the top 10 in national rankings for rushing defense (fifth, 90.3 yards per game) and sacks (seventh, 3.17 per game).

Backups: Josh Mauro appeared in all 12 games at defensive end and logged four tackles -- two of them sacks. He's the likely candidate to replace the graduating Masifilo next season. Henry Anderson made a splash early with his fumble recovery/near touchdown in Week 1 against San Jose State before finishing the year with six tackles and a pair of quarterback hits. David Parry also appeared in all 12 games and logged six stops and 1.5 tackles for a loss.
September, 22, 2011
9/22/11
2:00
PM ET
Part two of the ongoing report card for the
Stanford Cardinal
during the bye week.
DEFENSIVE LINE
Grade
: A+
Summary
: Stellar. Splendid. Stout. The top half of Stanford's 3-4 defensive scheme has been the tip of the spear for one of the best run-stopping units in the nation. Junior noseguard Terrence Stephens has drawn the praise of coach David Shaw every week. And deservedly so. He's also drawn a lot of offensive linemen -- two per play and sometimes three or four -- which is exactly what he's supposed to be doing. His job isn't to make a lot of tackles, but his 1.5 tackles for a loss (and half a sack) are a nice bonus. As is his one pass breakup. Quietly having an outstanding beginning to his career as a starter.
Defensive end Matt Masifilo, the only returning starter from last year's front, has been his steady self. Only four tackles on the year, but like Stephens, he's been a magnet for offensive linemen, which has allowed the linebackers behind him to make plays.
Opposite Masifilo, defensive end Ben Gardner, the smaller (if you want to call 273 pounds small) and quicker of the trio has been a machine. He has eight tackles on the year and is second on the squad with 2.5 sacks for minus-21 yards. He leads the team (and the conference) with 5.5 tackles for loss. He's quickly blossomed into one of the best defensive linemen in the Pac-12.
Backups
: Defensive end Henry Anderson got his moment in the spotlight against San Jose State, recovering a fumble and then chugging 37 yards on the return. He's made the most of his time, tallying three tackles in three games. Josh Mauro has appeared in all three games at defensive end and has one tackle and a pass breakup. In three games at noseguard, David Parry has three tackles and has been in on a tackle for loss.
Not that we're expecting a season-ending injury to befall one of the three starters, but it's nice to know that the Cardinal have a reliable two-deep this early in the season in the event something does happen.
Previous report cards
:
Quarterbacks
Shaw Plans To Remain At Stanford
PAC-12 SCOREBOARD
Saturday, 12/27
Saturday, 12/20
Monday, 12/22
Tuesday, 12/23
Wednesday, 12/24
Friday, 12/26
Monday, 12/29
Tuesday, 12/30
Wednesday, 12/31
Thursday, 1/1
Friday, 1/2
Saturday, 1/3
Sunday, 1/4
Monday, 1/12