Stanford Football:

Dennis Erickson
February, 25, 2014
Feb 25
7:15
PM ET
Our look at position groups in the Pac-12 continues.
Arizona:
With
Ka'Deem Carey
off to the NFL, figuring out Arizona's running back situation requires a bit of guesswork. Backups
Daniel Jenkins
and
Kylan Butler
are out of eligibility and rising junior
Jared Baker
tore his ACL in the regular-season finale. That leaves no running backs who had a carry last season. Those competing for carries will be redshirt freshmen
Pierre Cormier
and
Zach Green
, and true freshmen
Jonathan Haden
, an early enrollee, and
Nick Wilson
.
[+] Enlarge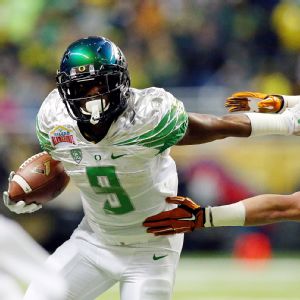 Ronald Martinez/Getty ImagesByron Marshall will be the Pac-12's leading returning rusher in 2014.
Arizona State
: The torch was passed from
Marion Grice
to
D.J. Foster
toward the end of last season, and Foster will have a full offseason to prepare to be the No. 1 guy. He showed impressive flashes in spot playing time in the past two seasons, and ran for 318 yards (6.2 yards per carry) in three starts after Grice was lost to injury.
California:
Much was made about
Brendan Bigelow
's talent during his career in Berkeley, but it never materialized the way many expected it would. He was beaten out by true freshman
Khalfani Muhammad
a year ago, then opted out of his final year of eligibility for a shot at the NFL -- and subsequently was not invited to the combine. Getting a feel for how coach Sonny Dykes would like to use his running backs is tough considering the lopsided nature of most of the games last year, but Muhammad showed all the signs that he would develop into a good Pac-12 running back.
Colorado:
Christian Powell
and
Michael Adkins II
will both be back after combining for 1,097 yards rushing in 2013. With receiver
Paul Richardson
off to the NFL, there's the need for added production on offense, and while coach Mike MacIntyre showed at San Jose State he'd prefer that to come through the air, it could add up to more opportunities for Powell and Adkins.
Oregon
: Does it even matter who the Ducks hand the ball to? Sometimes it doesn't seem like it, but, regardless, Oregon remains loaded with speed and talent at running back.
Byron Marshall
(1,038 yards rushing) and
Thomas Tyner
(711 yards) will both see plenty of carries when quarterback
Marcus Mariota
(715 yards) isn't running on his own. The team does lose
De'Anthony Thomas
, who opted to leave early for the NFL, but Thomas turned into a relative afterthought last season anyway.
Oregon State:
It shouldn't be hard to improve the Beavers' running game after they ranked 115th in the country in rushing yards per game last season. Their top two backs --
Terron Ward
and
Storm Woods
-- return and figure to see more use under new offensive coordinator John Garrett. There was a glimpse of what could be against Boise State in the Sheraton Hawai'i Bowl as the Beavers unleashed a more balanced approach. Woods ran for 107 yards on 16 carries and Ward added 54 yards on nine carries in a comfortable 38-23 victory.
Stanford:
The Cardinal's running back situation is
outlined here in more detail
, but it should be noted that the competition between
Remound Wright
,
Barry J. Sanders
and
Ricky Seale
-- competing to replace
Tyler Gaffney
-- will also include
Kelsey Young
. Young was recruited to Stanford to play running back, but was switched to receiver and is now back at running back. Sanders has the name recognition, but all signs point to Wright getting the first crack at being the primary back. However it plays out, it would be a complete shock if one back was used as much as Gaffney was in 2013 and Stepfan Taylor the two seasons before that.
UCLA
: If things play out the way UCLA coach Jim Mora hopes they will, linebacker
Myles Jack
will be just that … a linebacker. After winning Pac-12 Offensive and Defensive Freshman of the Year, the Bruins would ideally keep him on defense. For that to happen, someone needs to step up. That conversation still includes
Jordon James
and
Paul Perkins
, while
Craig Lee
, a four-star recruit who redshirted last year, also factors into the equation.
[+] Enlarge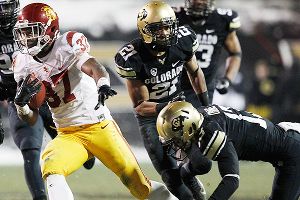 AP Photo/David ZalubowskiBuck Allen will likely head up USC's running back committee next season.
USC
: After watching Bishop Sankey turn into one of the nation's premier backs under the tutelage of new coach Steve Sarkisian, USC's deep stable of running backs has to be intrigued. The Trojans will return four of their top five leading rushers from a year ago --
Javorius "Buck" Allen
,
Tre Madden
,
Justin Davis
,
Ty Isaac
-- when they were predominantly a run-first team. Allen, who was named the team MVP in 2013, figures to get the first crack at being the starter, but that could be just in name only as a
running-back-by-committee scenario seems likely
.
Utah
: Another season, another new offensive coordinator for the Utes. This time it's
Dave Christensen's job
to invoke life in the Utah offense, which will return leading rusher
Bubba Poole
(607 yards) and
Lucky Radley
(284 yards). The Utes averaged just 4.1 yards a carry as a team last year, which is partially to blame for the change from Dennis Erickson to Christensen after just one year.
Washington:
The NFL combine taught us that
Bishop Sankey
might have been the most physically gifted running back in the country last year. It's not as simple as plugging in another guy to replace him, but the Huskies are still in good shape. Senior
Jesse Callier
(48 carries, 213 yards in 2013), who was slated to be the starter before an ACL tear in the season opener in 2012, is intriguing and will compete with fellow senior
Deontae Cooper
(43 carries, 270 yards) and sophomore
Dwayne Washington
(27 carries, 332 yards).
Washington State:
Considering quarterback
Connor Halliday
had three single-game passing totals that were more than leading rusher
Marcus Mason
ran for in entire season (429), any discussion about the Cougars' running game is tough to take seriously. Yes, there will still be running backs on the roster. No, they probably won't combine to run for 1,000 yards as a team.
Previous positions
Quarterback
November, 12, 2013
11/12/13
9:00
AM ET
The most interesting man in the world doesn't always read blogs. But when he does, he reads the Pac-12 blog.
Follow us on Twitter
.
Pheezie in Cali writes:
Given O's problematic ability to deal with the meat in the trenches, and now that the conference race is wide open, are we looking at the true P12 game of the year this week in the Coliseum? A lot more is riding on this game than ever it was given credit for, and suddenly, this is looking like a truly fantastic matchup, SC is definitely looking more game than anybody thought.
Kevin Gemmell:
Yes, the magnitude of this game is amplified considerably. Is it game of the year status? Maybe. But then again every game in November is the game of the year. UCLA-Arizona State could be the game of the year. Washington-Washington State could be the game of the year. So much is riding on these next three weeks that simply pinpointing one game and calling it the game of the year doesn't seem to give credit to the rest of the games around the league.
However, given how California has played, this seems like the last big hurdle for the Cardinal to get over to advance to the Pac-12 title game for the second straight year. Don't ever want to assume anything -- especially in a rivalry game. And I know the Cardinal would love nothing more than to lock up the North Division with a win over the rival Bears. Just as I know nothing would please Cal more than to deny Stanford the division with an upset.
[+] Enlarge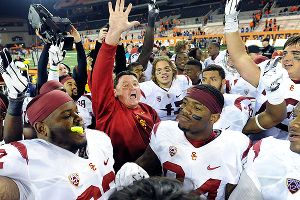 Steve Dykes/Getty ImagesThe way USC is playing under Ed Orgeron, and given recent history, USC-Stanford could be a good one.
But first things first. Stanford has dominated the USC series of late, winning four in a row and five of the last six. While they have dominated the series, they haven't dominated the games. They have been tight. Four of the last six have been determined by a touchdown or less -- including the last three. The Cardinal won by a touchdown last year, there was the triple-overtime thriller in 2011 and the last-second field goal by Nate Whitaker in 2010.
Given Stanford's penchant for high drama, this game certainly qualifies as must-see.
As for the Trojans, the power running game has been clicking. One back goes down, another takes his place. Say what you want about USC's depth issues, they have tailbacks out the wazoo.
Such is the nature of a league like the Pac-12. What we think we see coming in Week 4 is drastically different in Week 12. And if the Trojans can pull off this win, they are right in the thick of the South Division with a couple of games left. This is the game of the year if you're a USC or Stanford fan. But so is next week's.
---
Nick in LaLa Land writes:
Hey Kevin! Two unrelated things:1) If Stanford runs the table for the rest of the season, and with a little help from FSU, is there a chance that they remain ahead of OSU in the BCS and play #1 in the title game? 2) Was listening to the USC-Cal game and Pete Arbogast was bringing up the point that, APPARENTLY, the referee is supposed to restart the game clock once the first down marker has been placed, and only then. Not before. Not during the move. Apparently, on more than one occasion, this was the case today. IF THE REF HANDBOOK DOES, IN FACT, STATE THIS RULE--how are refs getting away with this? We all know the Pac-12 officiating is shady at best but seems like in recent years clock "management" has been an issue. And thanks for picking Oregon State last week--the curse is broken!
Kevin Gemmell:
Unless two of those three undefeated teams lose, I just don't see how Stanford jumps into the national championship game. And if Baylor runs the table, I think its possible for them to jump the Cardinal, because they have more games against teams ranked in the BCS top 25. Stanford conceivably only has one ... and that's the Pac-12 championship game against UCLA or ASU.
To the second question, my understanding of the rule is that the clock starts once the official has placed the ball and given the signal for the clock to start. It goes off the official, not when the marker actually touches the ground. That's how I've always understood it. If there is an official out there who wants to shed some light on it, by all means.
And I don't think the Pac-12 officials are shady. That implies some sort of maleficence or deliberate disregarding of the rules. And I don't think that's the case at all. But the league has certainly had its share of officiating hiccups. Here's a thought ...
They talk about officiating at the NFL level being so difficult because of the speed of the game. Would anyone argue that the Pac-12 is the fastest conference in college football top to bottom? This league is all about speed. Having watched many games from the sidelines, I can attest to that. I'm not defending the history of poor officiating. But maybe there is something to the fact that the Pac-12 is moving faster than the game can be officiated. And if that's the case, some offseason re-training should be in order.
---
Charlie up on the hill in Utah writes:
I've lost all faith in Utah's coaching staff after that choke job vs. ASU. The conservative play calling (play not to lose, not to win) was deplorable. It seems to have become a hallmark under Whittingham. Is it time for him to go (along with his under-qualified coaching staff - which includes a former personal injury attorney)?
Kevin Gemmell:
I hear you. But I also think if you can't effectively throw the football and/or protect your quarterback, the smart money says to run the football and run the clock. So I don't really have any issue with how they managed the fourth quarter.
[+] Enlarge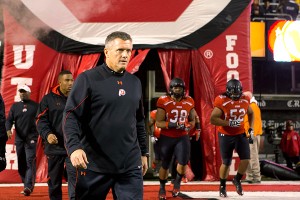 Russ Isabella/US PresswireSince joining the Pac-12, Utah is 8-16 in conference games. But Kyle Whittingham deserves more time.
One of my favorite David Shaw quotes of all time is: "We don't run plays we don't think aren't going to work."
Obviously the Utah coaching staff ran the plays they thought were best given the situation.
No, it's not time for coach Kyle Whittingham to go. And it won't be next year or the year after that. And his staff is fine. The talent is there, and the experience is there.
I've written this many times, and I'll write it again. Utah needs at least one full recruiting cycle in the Pac-12 before we can officially start judging them. Next year the Utes will start getting a full share of the television money. They have been at a disadvantage the first couple of seasons. They just built their new facilities. Let that money trickle down. Let them get familiar with how to appropriate it. By the way, hiring Dennis Erickson was a great start.
If the Utes have gone four straight years without a postseason berth, then we'll talk.
Am I the only one who sees improvement in this team from last year to this year? Am I the only one who saw them beat Stanford and take an ASU team that absolutely spanked them last year and push them to the brink?
Life in the Pac-12 isn't easy. Whittingham and Co. knew that coming in. Give them four to five years as a major conference team before we start talking coaching change.
---
Denise in Palo Alto writes:
Do you ever pick anything but favorites?
Kevin Gemmell:
As a matter of fact, I do take the occasional gamble on underdogs. And since you're writing from Palo Alto, I'm assuming this is a passive-aggressive way of saying
nice call on picking Oregon
.
I'm 61-12 on the year -- and not all 12 of the misses have been favorites losing to underdogs. Utah was an underdog when I picked it to beat BYU. Stanford was either a very slight favorite or a very slight underdog going into Oregon State, and I picked the Cardinal. I actually picked three road dogs in week eight and got smacked but good with Utah losing to Arizona, Washington losing to ASU and USC losing to Notre Dame. I whiffed on Washington State-Oregon State back in Week 7. Though that one looked solid through three quarters. Ted and I are now tied on the year after I picked UCLA over Arizona -- the Bruins were underdogs, by the way.
The predictions are fun, but that's all they really are. I'm not exactly pulling back the curtain by saying there is no crystal ball. I try to take the best data I have available and make an educated guess. And the fact that Stanford's offense had struggled and they were going to be without Ben Gardner gave me pause.
True, Ted and I
both picked Stanford
to win the Pac-12 North and the Pac-12 championship game. That still could come to fruition. But there is certainly an asterisks next to it, since we both also backed the Ducks last week.
But if you feel the need to gloat a tad, Denise, you go right ahead. You've earned it.
---
S. Skov writes:
Kevin, What are your thoughts about the
eye glasses
sported by us in the post-game interview? Over-the-top? Silly? Best joke you've seen in a while? Fashion-forward since you have the exact pair?
Kevin Gemmell:
Loved it. The bulk of the college football community was betting against the Cardinal -- both halves of the Pac-12 blog included -- so I have zero issue with them having a little fun in the postgame celebration. I know fans were rocking the glasses too, and John Elway had a pair with him.
Stanford embraces the nerd nation mantra. I'd much rather see that in a postgame news conference than some of the other childish antics I've seen in my career.
Speaking of fashion, fix your eyes on the far left of the picture. You'll see a crushingly handsome half a torso in a sharp navy blue suit and blue tie. The tie says "I'm here for work." The suit says "Drinks are on me."
November, 7, 2013
11/07/13
2:30
PM ET
Gentlemen, the hopes and dreams of an entire town are riding on your shoulders. You may never matter again in your life as much as you do right now.
November, 7, 2013
11/07/13
10:15
AM ET
A few storylines to keep an eye on this week in the Pac-12:
The big one: No. 5 Stanford will host No. 3 Oregon on Thursday night in a game that is sure to send shock waves throughout the Pac-12 and BCS Standings. A win for the Ducks likely re-catapults them back over Florida State and into the No. 2 spot of the BCS rankings -- the outcome of Alabama-LSU pending. A victory for the Cardinal keeps their national championship hopes alive, but they'd still need some help along the way to pass Ohio State and Florida State. This is just the second time that two Pac-12 teams have met while ranked in the top five of the BCS standings. The last time was No. 4 Arizona State and No. 5 Oregon in 2007.

[+] Enlarge

Scott Olmos/USA TODAY SportsByron Marshall leads the Oregon rushing attack at Stanford on Thursday night.

Edges matter: Per the brilliant number crunchers at ESPN Stats & Info, the Cardinal will have to contain the Ducks when they try to run outside. Oregon averages 8.7 yards per rush outside the tackles, second among all AQ teams behind Wisconsin. Last season, Stanford forced Oregon to run 63 percent of the time between the tackles. And when the Ducks did get outside, the Cardinal were able to contain them to the tune of just 29 yards, 1.9 yards per rush and 1.3 yards before contact. In Oregon's other games last season, they averaged 108.1 yards per game outside the tackles.

The other side of the ball: We know about Oregon's offense. We know about Stanford's defense. How about when roles are reversed? The Cardinal offense hasn't been all that productive of late, averaging just 21.6 points over its past three games. Oregon's defense yields just 16.9 points per game -- seventh-best in the country. Turnovers will obviously be a premium for both defenses. Stanford has a zero turnover margin with 11 takeaways and 11 giveaways. Oregon, however, is plus-13 with 23 turnovers gained to 10 turnovers lost.

Quotable: Always good for a one-liner, Stanford coach David Shaw was asked earlier in the week about De'Anthony Thomas' comments that he expects the Ducks to score at least 40 points. "I don't have an issue with that," Shaw said. "He's a confident young man, and they put it on film. They've done it. So I have no problem with that if that's his mentality. I'm just glad he only said 40." Seeing as Shaw has a penchant for the us-against-the-world approach for his team, here's betting he had a different message for his defense behind closed doors.

South showdown (1): UCLA heads to Tucson, where it hasn't won since 2003 -- the first year of the Karl Dorrell era. Both teams have already achieved bowl eligibility. Both teams sit at 3-2 in conference play. Now it becomes a question of pecking order. Ka'Deem Carey has rushed for at least 100 yards in 11 straight games, which is tops in the FBS. The Bruins snapped their two-game losing streak with a win over Colorado last week. Brett Hundley posted the third game of his career with two rushing and two passing touchdowns and he accounted for 345 yards of total offense. Keep an eye on how things play out in the first 30 minutes, because the Bruins are 13-0 under coach Jim Mora when they lead at the half.

South showdown (2): The Sun Devils look to strengthen their foothold on the South with a trip to Utah -- a team they blasted in Tempe last season. In fact, Utah coach Kyle Whittingham said he has "horrible memories" of last season's loss and called it one of Utah's poorest performances since joining the Pac-12. The obvious sidebar here is it's the first time Utah offensive coordinator Dennis Erickson is facing the team he used to coach. But Whittingham said Erickson is a pretty even-keeled guy and he doesn't expect sentiment or emotions to play a role. Whittingham also said that quarterback Travis Wilson is healed from his hand injury and won't wear a glove. Across the field, ASU quarterback Taylor Kelly is coming off of a seven-touchdown game on the road at Washington State.

Trojans rolling: Since making the coaching switch from Lane Kiffin to interim coach Ed Orgeron, the Trojans have gone 3-1, including a convincing 31-14 win last week on the road at Oregon State. For the second time this season USC had a pair of running backs post 100-yard games with senior Silas Redd rushing for 140 yards and Buck Allen collecting 133 yards (8.3 yards per catch) and 3 TDs. Allen was USC's fourth different back to rush for 100 yards this season. Marqise Lee is also coming off an outstanding performance, grabbing five passes for a season-high 105 yards and one touchdown in the win over the Beavers. Cal is still looking for a conference win, but should have some more confidence after an improved showing last week against Arizona.

Bowl eligible: So far there are six teams already bowl eligible (Oregon, Stanford, Oregon State, Arizona State, Arizona and UCLA) with two more on the verge of becoming eligible this week. USC, because of the 13-game regular season schedule sits at 6-3 overall and needs to pick up a win at California to get a spot in the postseason. Washington is at 5-3 with a visit from Colorado. Both teams are favorites, which would give the league eight teams headed to the postseason with the legitimate potential for two more (Utah and Washington State). Both have four wins and Colorado still has an outside shot. Cal is the only Pac-12 team eliminated from bowl eligibility.

Star power: Two of the nation's elite offensive playmakers square off in Seattle when Colorado visits Washington. Buffs wide receiver Paul Richardson has 57 catches for 984 yards with eight touchdowns and continues to close in on several of Colorado's single-season receiving marks. Washington counters with running back Bishop Sankey, who enters the week as the nation's No. 3 rusher, averaging 145.3 yards per game. He's coming off a career-best 241-yard performance against Cal and ranks fourth nationally with 12 rushing touchdowns.

Taking a breather: There are two teams on bye this week with Oregon State looking to refocus after dropping back-to-back games against Stanford and USC and Washington State taking its second bye week in the past three. The Beavers, who are already bowl eligible, close the season with two of their final three on the road; at ASU, home to Washington and at Oregon for the Civil War. With four wins, the Cougars need to win two more to teach the postseason. They are also on the road for two of their past three with dates at Arizona next week and home to Utah before closing out the Apple Cup in Seattle.
October, 17, 2013
10/17/13
10:15
AM ET
A few storylines to keep an eye on this week in the Pac-12:
1. Title game rematch
: UCLA and Stanford will face each other for the third time in the last 10 months. Only this time it's the Bruins who are the higher-ranked team, coming in at No. 9 after Stanford slid to No. 13 following its loss at Utah. Remember all of those side-to-side swing passes that Dennis Erickson and Utah used to keep Stanford off balance? Remember who worked for Erickson at ASU? Yep, Noel Mazzone. And UCLA loves to hit its receivers in the flat. Keep an eye on what happens after the second-half kickoff, as well. The Bruins are outscoring opponents 71-0 in the third quarter this year. Stanford has a 12-game home winning streak -- third longest in the nation -- and is 10-1 at home against ranked opponents since 2009. Stanford hasn't lost consecutive games since the middle of the 2009 season.
[+] Enlarge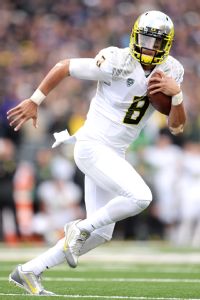 Allen Kee/ESPN ImagesMarcus Mariota and the Ducks are expected to be one of the top two teams when the BCS standings are released on Sunday.
2. BCS time
: The first Harris Poll of the season was released Sunday and featured four Pac-12 teams in the top 25: Oregon (2), UCLA (9), Stanford (12) and Washington (25). The first BCS standings will be released this week -- which comes on the heels of the announced selection committee for the College Football Playoff that starts next year. We're all expecting Oregon to be in one of the top two spots. Question is, where will UCLA or Stanford land?
3. North vs. South:
Two more critical North versus South showdowns this week with UCLA traveling to Stanford and Washington heading to Arizona State. The UCLA-Stanford game takes center stage for obvious reasons. But Washington-ASU has all the makings of a thriller. This is one of those 50-50 games that either team needs to win to show they belong in the upper tier of the Pac-12. The quarterbacks,
Keith Price
and
Taylor Kelly
, are obviously the mechanisms that make their teams go. But Washington running back
Bishop Sankey
(899 yards) has rushed for at least 125 yards in five of six games and ASU gives up almost 170 yards per game on the ground. Look for him to probably break 1,000 for the season by the final whistle. On the flip side, ASU's
Marion Grice
already has 15 total touchdowns. He had 19 last year, so look for him to eclipse that mark in the next couple of games.
4. Making up is hard to do
: Colorado will face Charleston Southern this week as a makeup for the Sept. 14 game against Fresno State that was canceled because of severe rain and flooding in Colorado. Charleston Southern is a perfect 7-0 on the year and is receiving votes in the Sports Network FCS College Football Poll. The Buffs are looking to get to 3-3 for the first time since 2010. And they are making a change at quarterback with
Sefo Liufau
stepping in after going 18 of 26 for 169 yards and a touchdown and two interceptions in relief against Arizona State.
5. No. 5?
The Cougars are looking for their fifth win for the first time since 2007. Tough draw, however, this week with a trip to Oregon. The Ducks are averaging 56.8 points per game and are second in the country in total offense with 630.5 yards per game.
6. Taking care of the ball
: Speaking of Oregon, quarterback
Marcus Mariota
, the Heisman frontrunner through the first half of the season, continues to impress with turnover-free performances. Though his completion percentage is down from last year, he hasn't thrown an interception in 165 pass attempts this year -- which extends a streak dating back to last season of 233 attempts. His last interception was against Stanford. During that stretch, he's completed 100 passes for 1,724 yards and 17 touchdowns. Receivers
Josh Huff
and
Bralon Addison
have 27 catches each for a combined 1,054 yards and 11 touchdowns.
7. Rebuilding the brand:
Nothing can unite the USC fan base like a win against Notre Dame. Better yet, a win
at
Notre Dame. The Trojans won their first game of the Ed Orgeron era and look to follow it up against the Irish. Neither team is ranked, but the names carry a lot of weight. This is a game that could re-energize the Trojans moving forward.
Marqise Lee
and
Morgan Breslin
have both practiced and it's looking like both will play. That should be a huge boost after getting running back
Silas Redd
back last week.
8. Momentum building?
What do the Utes do with their big win over Stanford? Do they keep the momentum rolling? They have to go on the road for four of their next six -- including leaving the state for the first time this season when they travel to face Arizona. The Wildcats are still looking for their first conference win, though quarterback
B.J. Denker
had a strong statistical performance in the loss last week to USC, completing 28 of 44 passes for a career high 363 yards and four touchdowns.
9. Who needs a running game?
The Pac-12's top two passing offenses square off with Oregon State's trip to Cal. OSU quarterback
Sean Mannion
has six straight games of 350 passing yards and the Beavers lead the conference with 433.2 passing yards per game and 25 passing touchdowns. Cal averages 371.3 yards in the air -- second in the league, but just 11 passing touchdowns, third worst. The Bears can move it, they just haven't been able to convert yards into points.
10. No off week:
For the second straight week, all 12 schools will be in action. This was supposed to be a bye week for Colorado, but the Charleston Southern game fills the void. Next week Arizona State and Washington State are on bye. It will be the first of two byes in three weeks for the Cougars, who will have opened the year with eight straight games following this week's matchup with Oregon.
October, 11, 2013
10/11/13
3:00
PM ET
Have a nice weekend, folks.
October, 3, 2013
10/03/13
10:15
AM ET
A few storylines to keep an eye on in Week 6 in the Pac-12. (Really? Week 6 already?)
[+] Enlarge

AP Photo/Nati HarnikUCLA signal-caller Brett Hundley will lead the Bruins into Utah on Thursday night.

50 for five? Oregon set a school record last week by scoring at least 50 points in four consecutive games. This week it faces a Colorado team that appears to be stronger than last year's but still has some holes on both sides of the ball. Sans De'Anthony Thomas, the Ducks had little trouble negotiating Cal -- and mother nature -- en route to a 55-16 win. Is a fifth straight 50-plus-point game in the cards?
Kicking it: Great stat from our friends at the Pac-12 offices: "Entering last weekend's play, Pac-12 teams were 186-of-188 on PATs (.989). However, weather conditions in the Pacific Northwest last weekend wreaked havoc on the kickers as high winds and rain contributed to a combined six missed extra-point attempts in games in Corvallis, Eugene and Seattle. While kickers struggled with extra points last weekend, combining for 38-of 45 (.844), they did have considerable success from further out as they connected on 8-of-9 field-goal attempts (.889)." What's the takeaway? Don't try to understand kickers.

Nine in a row: UCLA has both of its bye weeks in the rearview mirror and will play nine consecutive games to close out the season, starting tonight with a trip to Utah. Quarterbacks (and their offensive coordinators) take center stage in this matchup. UCLA's Brett Hundley and Utah's Travis Wilson are both off to fantastic starts. And UCLA offensive coordinator Noel Mazzone was the OC for Dennis Erickson at Arizona State. Erickson is of course now the OC at Utah.

Quick starts? There are lots of intriguing storylines in the Washington-Stanford matchup. For starters, it's a pair of top-15 teams, which is always exciting. But the Huskies have outscored opponents 38-0 in the first quarter and are yet to trail in a game this season. Stanford is outscoring teams 37-12 in the first frame. This kicks off the first of three straight games for the Huskies against ranked opponents, who are home to No. 2 Oregon next week and at No. 22 ASU on Oct. 19.

Irish x 3: The Sun Devils travel to Arlington, Texas, to take on Notre Dame -- the first of three games between the Irish and Pac-12 teams. Notre Dame will host USC under the lights on Oct. 19 and then close out the season at Stanford on Nov. 30. The Sun Devils are trying to become the first team to beat USC and Notre Dame in consecutive weeks. It has happened only 13 times that a team has played USC and Notre Dame in back-to-back weeks.

Raids a'plenty: Washington State travels to Cal in a showdown of the Air Raid vs. the Bear Raid. Cal coach Sonny Dykes, of course, learned his offensive philosophies from working under Washington State coach Mike Leach at Texas Tech and was his GA at Kentucky.

Quarterback change? Cal, which has gone with true freshman Jared Goff as its signal-caller this season, released its depth chart this week with an "or" between Goff and redshirt freshman Zach Kline. Dykes said he felt Kline deserved to get some reps, and both quarterbacks took reps with the first team offense this week. Does it mean Goff is out? Not necessarily. Goff said he's fine with the competition -- despite averaging 329.2 yards per game. Goff was 3 of 6 for 11 yards and lost a pair of fumbles in unfavorable weather at Oregon. Kline stepped in, making his collegiate debut, and was 18 of 37 for 165 yards with a touchdown and an interception.

Arms race: Half of the Pac-12 quarterbacks rank in the top 25 of Total QBR heading into the week: Marcus Mariota (2), Kevin Hogan (5), Brett Hundley (11), Travis Wilson (16) and Keith Price (21) are all in action this week. Sean Mannion (22) is on bye. Four of those QBs are going head to head with Wilson and Hundley tonight and Hogan and Price on Saturday.

Catching on: Per the hard-working folks of Arizona State's media relations office, ASU's Jaelen Strong is off to one of the best starts of any ASU wide receiver in school history. Through his first four games, he has more catches and yards than any other receiver. So far he has 31 catches for 433 yards and two touchdowns. Lenzie Jackson and Jon Mistler had four touchdowns through their first four games, but Strong is way out in front in catches and yards. He faces a Notre Dame defense that gives up 364 yards per game.

Taking a breather: Arizona, Oregon State and USC are on a bye this week. The Trojans return to action for the first time without Lane Kiffin when they host Arizona next Thursday. Oregon State travels to Pullman to take on Washington State on Oct. 12.
August, 26, 2013
8/26/13
9:01
AM ET
And so it begins.
Welcome to game week. These are the preseason power rankings.
You can see our post-spring power rankings here
. They are different.
1. Stanford
: Both Kevin and Ted went against the popular grain --
as in the Pac-12 media poll
-- and picked Stanford to win the Pac-12. The biggest reason for that, other than the Cardinal winning in Eugene in 2012 and welcoming back a strong crew of starters, is the continuity in the head coaching office.
2. Oregon
: The Ducks are again a preseason top-five team and national title contender, with their North Division rivalry with Stanford becoming one of college football's must-see games. There are plenty of reasons to believe that new coach Mark Helfrich, stepping up from offensive coordinator, will maintain the juggernaut Chip Kelly built, including having just about all of Kelly's assistant coaches coming back. But there is certainty only in seeing it happen on the field. The Ducks do have an advantage in terms of schedule, with Stanford playing USC, UCLA and Arizona State, and Oregon missing the Trojans and Sun Devils. And Stanford doesn't play Colorado, either.
3. Arizona State
: The South Division seems to be a three-team toss-up. When Kevin and I tossed our coin, it came up with the Sun Devils.
Taylor Kelly
leads the offense and
Will Sutton
leads the defense. Pretty good start. Of course, the early schedule will reveal a lot.
4. UCLA
: The Bruins have the toughest conference schedule among South Division teams, mostly because they play Oregon. ASU and USC do not. There are some questions, but QB
Brett Hundley
and OLB
Anthony Barr
are a pair of future NFL first-round picks.
5. USC
: The Trojans were seventh in the spring, in large part because of residual fumes from a horribly disappointing 2012 campaign. Also, coach Lane Kiffin sits on the hottest seat in the conference. But if you look at the Trojans on paper, well, it's not too difficult to imagine this team getting on a roll, one that could lead it back into the nation's top 10.
6. Washington
: The Huskies not only have 20 starters back, they also are getting back several former starters who were injured last season, most notably DE
Hau'oli Kikaha
-- who changed his last name from Jamora -- and OG
Colin Tanigawa
. Both topped the depth chart released this weekend. This team, after three consecutive seven-win seasons, sets up for a return to national relevance. The opener in newly remodeled Husky Stadium against Boise State is, well, huge.
7. Oregon State
: The Beavers still haven't named a starting quarterback -- the Pac-12 blog is of the mind we'll likely see both
Sean Mannion
and
Cody Vaz
in at least the first two games. The big question, however, remains: How will things work out at defensive tackle? If that question is answered, it could be a big year in Corvallis.
8. Arizona
: The Wildcats are operating under the radar because of two questions: 1) QB play; 2) defense. They are replacing the highly productive Matt Scott, and even though a lot of folks are back on defense, that unit got run over in 2012. The defense is going to be better. How much is a fair question. And how much can the guy behind center do his best Scott imitation?
9. Utah
: The transition to the Pac-12 probably hasn't been as easy as most Utah folks -- coaches, players and fans -- expected. Still, if QB
Travis Wilson
takes a step forward under new co-offensive coordinator Dennis Erickson and the Utes fill some holes on defense, this team could move up at least to the middle of the conference. Needs to stay healthy, though.
10. California
: When you look at the Bears' depth chart, this seems low, even with a true freshman,
Jared Goff
, taking over behind center with a brutal early schedule. Still, there might be some growing pains under new coach Sonny Dykes, as his schemes on both sides of the ball are very different compared with what the Bears did under Jeff Tedford.
11. Washington State
: The Cougars welcome back 17 starters, and they seem certain to be improved in the second season under coach Mike Leach. The defense has sneaky-good talent, and the deep crew of receivers seems perfect for Leach's "Air Raid" scheme. Of course, dramatic improvement might mean only five victories against a rugged schedule, including the opener at Auburn.
12. Colorado
: The Buffaloes should be better this season under first-year coach Mike MacIntyre, but that likely won't be enough for them to move up in this conference.
February, 12, 2013
2/12/13
4:00
PM ET
There were two pretty big stories in the Pac-12 Monday -- a bit unusual for this time of the year. Normally there is a down period between national signing day and the start of spring ball.
However, the first story broke early Monday morning that Dennis Erickson
had been hired by Utah
as co-offensive coordinator. Hours later, former Stanford running back Tyler Gaffney
announced he was leaving minor league baseball
after just one season to return to the Cardinal backfield.

Two big stories that should have a major impact on Pac-12 football in 2013.
Erickson, as we all know, won a pair of national championships with Miami, has previously coached at three conference schools and is considered one of the top offensive minds in the country. He's now paired with Brian Johnson -- who the Pac-12 blog believes will have an outstanding career. Exactly how this is going to work is still to be determined. But you look at Utah's offensive needs, and it's pretty clear it needs some help.
The Utes ranked last in the league in passing offense, 11th in total offense, ninth in rushing offense and eighth in scoring. The most likely scenario is that Erickson is there to help mentor Johnson -- who walked into a pretty tough situation in his first year -- especially after they lost quarterback
Jordan Wynn
in the second game of the season. Long term, the Pac-12 blog believes this is going to be a nice addition to Utah -- and a great learning experience for Johnson.
In the North Division, the defending Pac-12 champs might have found its replacement for running back
Stepfan Taylor
. Gaffney is a phenomenal athlete who should make an immediate impact on the offense. With a stout offensive line and regular carries, he could easily be a 1,000-yard rusher. He provides stability and veteran leadership to the running back corps and is a proven offensive commodity -- something the Cardinal are lacking. One half of the Pac-12 blog believes this is a huge boost for the Cardinal (the other half needed a little convincing, cough, Miller, cough).
So, for your Tuesday poll question: Which is the bigger Pac-12 story, Erickson going to Utah or Gaffney returning to Stanford?
PAC-12 SCOREBOARD
Saturday, 12/21
Monday, 12/23
Tuesday, 12/24
Thursday, 12/26
Friday, 12/27
Saturday, 12/28
Monday, 12/30
Tuesday, 12/31
Wednesday, 1/1
Thursday, 1/2
Friday, 1/3
Saturday, 1/4
Sunday, 1/5
Monday, 1/6