Stanford Football:

Derrick Coleman
February, 3, 2014
2/03/14
5:30
PM ET
Another Super Bowl is in the books, and Pac-12 alumni played a major role in the Seattle
Seahawks' 43-8 win over the Denver Broncos
. Is it any surprise that the team with the most Pac-12 players won the game? (Hint, hint, Mr. Elway).

In all, there were 16 active players on both rosters: 11 for the Seahawks and five for the Broncos. There are other Pac-12 players on the rosters or practice squads, but they were either injured, suspended or inactive for XLVIII.
The standout was former USC linebacker
Malcolm Smith
, who was named MVP for an inspired defensive performance. The Pac-12 had hit a bit of an MVP dry spell. After
John Elway
(Stanford) won the MVP in 1999, the league went more than a decade without having an MVP. Now it has two in the last four years after
Aaron Rodgers
(Cal) was MVP of XLV, and now it's Smith's turn.
Here's a look at how the the Pac-12 alumni performed.
Seattle Seahawks
Doug Baldwin, WR, Stanford: Started at wide receiver. Led the Seahawks with five catches for 66 yards, including a 10-yard touchdown. Also had an assisted tackle on special teams.
Derrick Coleman, RB, UCLA: Recorded one tackle on special teams.
Jermaine Kearse, WR, Washington: Caught four balls for 65 yards, including a 24-yard touchdown.
Marshawn Lynch, RB, Cal: Started at running back. Carried 15 times for 39 yards, including a 1-yard touchdown.
Brandon Mebane, DT, Cal: Posted three tackles, including a tackle for a loss.
Zach Miller, TE, ASU: Started at tight end. Had one catch for 10 yards and recovered an onside kick.
Mike Morgan, LB, USC: Appeared, but did not record any stats.
Richard Sherman, CB, Stanford: Started at left cornerback. Posted three tackles (two solo) with one pass defended. Left game with an injury in the fourth quarter.
Malcolm Smith, LB, USC: Crowned Super Bowl MVP. Returned an interception 69 yards for a touchdown and recovered a fumble to go along with 10 tackles (six solo) and a defended pass.
Walter Thurmond, CB, Oregon: Started at cornerback. Posted three tackles (one solo).
Max Unger, C, Oregon: Started at center.
Denver Broncos
December, 22, 2011
12/22/11
3:30
PM ET
With one game left to play we're taking a look back at some of the memorable moments/series of moments from Stanford's 2011 season. Some were individual plays, others were a series of plays or games as a whole that were significant to the season.
No. 5: THE STAND
Setting the scene
: It's UCLA's opening drive and for whatever reason, the Cardinal defense is still in pre-game mode. The Bruins start at their own 20-yard line and seven plays later, they are inside the Stanford red zone. Time to wake up.
Why it's memorable
: It's first-goal-at the Stanford 4. A 2-yard run and a 1-yard run (big stops by Trent Murphy and Jarek Lancaster, respectively) brings up third-and-goal at the 1. The next two plays embody what kind of a team Stanford wants to be. Chase Thomas and Matt Masifilo stuff Derrick Coleman for a 1-yard loss. Then on fourth-and-goal from the 2, youngsters A.J. Tarpley and James Vaughters yield just 1 yard to UCLA quarterback Richard Brehaut. Worth noting that this was the first game with Lancaster and Tarpley stepping in fulltime for Shayne Skov, who was injured in the previous game against Arizona.
It was a signature moment for the defense, a massive confidence boost for three young linebackers and as impressive a goal-line stand as you'll see at any level of football. UCLA wanted to make a statement. So did Stanford, and the Cardinal were louder.
Don't think the
offense didn't feed off of that
. Andrew Luck marched the team 99 yards on 16 plays in a drive that consumed 8:14, capping the drive with an 18-yard touchdown pass to Coby Fleener.
The Cardinal would go on to a 45-19 win. But the outcome might have been very different had UCLA moved 80 yards instead of 79 and punched it in on its first possession.
October, 3, 2011
10/03/11
4:00
PM ET
PALO ALTO, Calif. -- How important was Shayne Skov to the Stanford defense?
Consider: The linebacker didn't play in the second half against Arizona and missed Saturday's contest against UCLA while nursing a season-ending knee injury, and he's still tied for the team lead in tackles. That's how far ahead of the curve he was as a run-stopper.
But in his stead are Jarek Lancaster and A.J. Tarpley. The day after coach David Shaw announced Skov would miss the year, he proclaimed that Lancaster and Tarpley would rotate in at the starting spot. It was Lancaster who got the call against UCLA and, for the most part, he held his own.
They both took the ah-shucks approach when asked about their performance in Stanford's 45-19 win over the Bruins. Yet both agreed that there is a lot of work still to be done.
"I thought they played well," Shaw said. "I'll watch the film and really evaluate it. Lancaster is slippery. He slides in there and makes some tackles. A.J. did a good job running over the top and making some plays as well."
Lancaster made a standout play on UCLA's opening drive. On second down at the Stanford 2-yard line, Lancaster stuffed UCLA running back
Derrick Coleman
. The Cardinal then made two more stops and held UCLA at their own 1. It was a major confidence boost for a team that said it was ready to move on without Skov, but had yet to prove it on the field.
The offense fed off of that and marched 99 yards for a touchdown.
"I'm proud of those guys," said safety Michael Thomas. "They went out there on a big stage when the light was on them. They did their job. They played a hell of a game. But I think they have a lot to improve on, like the rest of the team."
Lancaster finished with seven tackles -- five of them solo -- and a quarterback hit. Tarpley added three, and continued to look impressive on special teams.
From a depth and stability standpoint, the two looked more than ready to step in. UCLA was the best rushing team Stanford had faced this year -- and will likely face again until the big showdown with Oregon on Nov. 12.
Where it'll need to improve is pass coverage. On UCLA's 13-yard touchdown to tight end
Joseph Fauria
, Lancaster had the responsibility of following Fauria when he released off the line. He was about a step behind and couldn't make the tackle.
That was a very teachable moment for Shaw. Lancaster is plenty quick, but his reaction and recognition will have to get quicker. That will come with more reps and game experience.
Skov will be missed. But if Lancaster and Tarpley continue to improve, his absence will be less visible.
September, 30, 2011
9/30/11
2:00
PM ET
PALO ALTO, Calif. -- So far this season, each week has provided the
Stanford Cardinal
with a new and unique test. Tomorrow's matchup against UCLA is no different.
Against San Jose State, it was David Shaw's first game as a head coach. And he passed that test with flying colors.

Against Duke, it was Stanford's task to travel three time zones and play in uncomfortable weather. No problem.

At Arizona, it was the secondary's turn to try to slow down Nick Foles, one of the most accurate passers in the country. They didn't slow him down completely, but they provided enough of a speed bump that the front seven was able to create pressure to keep him from really breaking out.
[+] Enlarge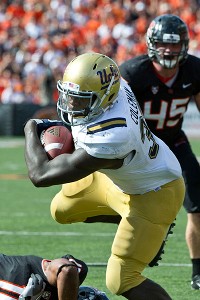 Jim Z. Rider/US PresswireUCLA Bruins tailback Derrick Coleman presents a hefty challenge for the Stanford defense this week.
Tomorrow, it will be the pistol offense.
"We've watched what they've done the past few weeks," said Stanford linebacker Max Bergen. "They've really shown they can run the ball with a lot of big people in the box."
The advantage of the pistol is that with the quarterback lined up four yards behind center, rather than the usual seven-yard shotgun (ergo, pistol), he's still able to read the defense, but linebackers have less time to react.
"You have to be locked in and communicate on defense," said Stanford coach David Shaw. "Every defense you run, you have to account for the dive, the quarterback pull and you have to account for there being an extra blocker that might come across, whether it's the receiver or running back or tight end. You have to be extremely well coordinated … everything we run has to be sound against what they do."
UCLA, which averages 214 rushing yards per game, has a pair of running back options they can throw at Stanford.
Johnathan Franklin
is the smaller, speedier back.
Derrick Coleman
, at 240 pounds, is a bowling ball. Franklin left UCLA's game against Oregon State last week with a bruised hip, but said he probably could have returned. That opened the door for Coleman to rush for 100 yards on 20 carries.
"He's thick, and he'll drag tacklers," Shaw said. "... They understand the pistol offense. The running backs in the pistol offense -- those backs have to be decisive and they have to go toward the line of scrimmage full speed. And the big ones can get a full head of steam, and the quicker ones, they get to the line of scrimmage so quick.
"…While you're still in decision-mode of who has the ball, they've got a 4-yard gain. It can be an exciting form of offense, and they've got good players that fit it."
And in case you haven't heard, Stanford has a pretty good run defense. Statistically speaking, the best run defense in the country, allowing just 36 yards per game. They are fast and physical. But UCLA wants to go muscle-for-muscle with them.
"You understand as you do in prize fighting that you're going in against somebody that likes to punch, likes to slug," said UCLA coach Rick Neuheisel. "Our defense has to understand that and our offense has to understand that. It's a key piece to this game, the physical nature that they like to play with, and frankly it's been kind of their calling card."
The pistol has grown in popularity over the past half decade, and strands of the formation have trickled across the college football landscape, and even into the NFL. Shaw said they have a few pistol packages in the playbook if they need to mix things up.
"There is a bit more you need to get ready for," Bergen said. "But by the end of the week, we're all set with what our assignments are and what our jobs are … We're looking forward to having an offense like this really challenge our run defense."
David Shaw Talks Stanford Signing Day
PAC-12 SCOREBOARD
Thursday, 9/3
Friday, 9/4
Saturday, 9/5