Stanford Football:

Dontonio Jordan
March, 1, 2014
Mar 1
9:53
PM ET
STANFORD, Calif. -- In the grand scheme of things, a single football practice in March during the course of a college career or season registers near irrelevant. For several Stanford players, it probably didn't seem like that Saturday.
With many jobs up for grabs and the team in pads for the second time since its 24-20 loss to Michigan State in the Rose Bowl, the day felt like it opened up real competition for next season's starting jobs. It also served as one of three practices this spring open to spectators and the media.
[+] Enlarge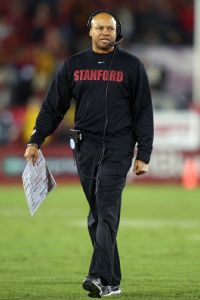 Kirby Lee/USA TODAY SportsDavid Shaw's team was in pads for the first time since the Rose Bowl loss to Michigan State.
Here are some observations and takeaways from Saturday:
OL already set?
: It's clear who is expected to make up the starting offensive line: LT
Andrus Peat
, LG
Joshua Garnett
, C
Graham Shuler
, RG
Johnny Caspers
and RT
Kyle Murphy
. Before Saturday, the only spot that seemed potentially up for grabs was at center, but Shuler, not
Kevin Reihner
, worked almost exclusively with the first group. Shuler, along with Garnett, were the vocal leaders of the group. It wasn't clear if there is an unofficial pecking order yet for the other positions in the team's extra-OL sets.
On Shuler and the center competition, coach David Shaw said: "We're putting the pressure on Graham. He's got all the ability in the world and needs experience and we got to get him ready to go. He's got a chance at one point to be extremely good. One of the best, we believe, around."
Burns missing vital reps:
With
Ryan Burns
suspended for the first spring session for what has been explained only as a "disciplinary issue," starting QB
Kevin Hogan
and backup
Evan Crower
split all the reps. It felt like status quo for Hogan, but Crower looked as comfortable as he ever has in a Cardinal uniform.
"All and all, I think we have two guys that are capable starters," Shaw said. "Evan Crower can play football. If it comes to the point where he plays, we're very confident in him."
His message in regards to Burns was strikingly different.
Asked if having just two quarterbacks limits how the team practices, Shaw replied: "Not really. It just means two guys get a bunch of reps. That's the sad part, we have to have our rules, and we have to have our discipline and that's the sad part for a young quarterback that missed these because these are valuable reps that you can't get back. When he does get back, he better be busting his tail because these are vital reps that he's missing."
It was clear Shaw wanted to send a message to Burns on Monday when he publicized the freshman's suspension and made it even more so Saturday.
RB depth:
Remound Wright
took the first reps with the first team, but there was a lot of rotation with him,
Ricky Seale
,
Barry Sanders
and
Kelsey Young
. Shaw lauded Wright and Seale for their steadiness and smart decision-making and Sanders and Young for their big-play potential.
Not much can be gleaned from one spring practice, but it's clear there isn't a significant talent discrepancy between the four players. Their lack of separation provides a sense that the competition will ultimately be decided by other factors. Shaw gave Wright the edge in pass protection.
"That guy, that's a great pass protector is going to play and play a lot," Shaw said.
Lyons to nickel:
With
Usua Amanam
gone, CB
Wayne Lyons
is in line to be the team's new nickleback. He'll remain a starter at corner, but when the team uses an extra defensive back, he'll slide over and cover the slot. It's similar to how the Cardinal used current Miami Dolphin Michael Thomas, when he moved from safety in 2011, and how the San Francisco 49ers use Carlos Rogers. Thomas, before he left, predicted Lyons would win a Thorpe Award before his career was over.
Taijuan Thomas
also worked at nickel.
Carter out for spring:
Junior CB
Alex Carter
will miss the spring with a hip injury, but is expected to be ready for fall camp. The silver lining is that it creates more reps for guys like
Ronnie Harris
and
Ra'Chard Pippens
, who are trying to break into the rotation in the secondary.
Number changes:
Kodi Whitfield
's position change from WR to FS meant he could longer share No. 9 with LB
James Vaughters
. He wore No. 5 Saturday, but it isn't clear if that's a full-time move or trial run. Former QB
Dallas Lloyd
, who also switched to safety, is still wearing No. 2, which belongs to Lyons.
Three-man competition at ILB:
Blake Martinez
,
Joe Hemschoot
and
Noor Davis
make up the three-man competition to replace
Shayne Skov
.
Other notes
With David Parry limited, Aziz Shittu played inside defensive ends Henry Anderson and Blake Leuders at tackle with the first defensive unit.

Kyle Olugbode took the first reps at safety next to Jordan Richards.

Kevin Anderson worked with the first team and remains in position to replace Trent Murphy.

Harris and WR Dontonio Jordan both wore yellow noncontact jerseys.

David Yankey, Trent Murphy, Cam Fleming, Jarek Lancaster, Sam Schwartzstein and Owen Marecic were part of a small contingent of formers players at practice.

Freshman TE Austin Hooper, who is coming off his redshirt, did not attend due to a mandatory academic field trip.

Stanford's next open practice is March 8 at 9 a.m. PT. The spring game is on April 12.
February, 6, 2012
2/06/12
9:00
AM ET
John in Phoenix writes
: Can you discuss Stanford's QB situation? The recruiting class looks incredible but with
Andrew Luck
gone, the unknown factor will be the QB position for next year. Will it be
Brett Nottingham
or one of the other upstarts? Excited about next season, but nervous about the uncertainty at the most important position.
Kevin Gemmell
: David Shaw has said that his quarterback competition has already begun, and will likely keep going well into fall camp — and could be up in the air until the week before the season opener. You have to think that Nottingham has some sort of slight lead because of his No. 2 status last season and the fact that he has a little game experience. But there are some very talented quarterbacks who have been waiting to get their shot. Whoever starts, the fact remains that they will be a first-year starter, prone to mental mistakes and "what-was-he-thinking" moments. It's all part of the learning curve — especially in a pro-style offense that relies so heavily on proper calls and reads at the line. I'm not expecting out-of-this-world quarterback play next season. But the guys on the roster are talented enough that I'm also not expecting a horror show under center.
---
TJ in San Francisco writes
: So, I'm really excited about the recruiting class, but I have to ask — what's with signing so many O-linemen in one year? Not that I'm complaining, but I've never seen or heard of anything like it. Is it just that we didn't expect to get them all or is it part of a plan?
Kevin Gemmell
: Shaw talked a little bit about the depth issue in the two-part Q&A I did with him last week. Something else to keep in mind is that really, really good offensive linemen — who also meet Stanford's academic requirements — don't come around too often and in such numbers. Shaw and his staff identified this group more than a year ago, targeted them and have been giving them the hard sell for the last year and change. He and his staff knew that it's a rare occurrence to have this many elite linemen — who are also academically eligible — in one recruiting class. The fact that they were able to nab so many of them is really quite extraordinary.
---
Paul in Stanford, Calif. writes
: This 2012 haul is pretty impressive for the Cardinal. Who do you expect to make an appearance next fall? Do you think this O-Line will make it easier to grab a star QB next year?
Kevin Gemmell
: A coach I used to cover once said that "the further you are from the center, the better chance you have to play as a freshman." Meaning, offensive linemen and quarterbacks usually aren't ready to play as true freshman while wide receivers and running backs usually are. I don't think that's the case with this class. I think it's very possible that we could see a couple of the linemen step in and compete for playing time right away. When I talked with Shaw about the class, he seemed very excited about some of the wide receiver prospects —
Conner Crane
,
Kodi Whitfield
,
Dontonio Jordan
and
Michael Rector
. I think
Noor Davis
might get some time at linebacker and wouldn't be surprised to see
Alex Carter
break his way into the rotation at cornerback.
---
Fleecemonkey writes
: Is David Shaw a better recruiter than Jim Harbaugh? And how good will Stanford's running game be the next couple of years? Very good? Great? Elite?
Kevin Gemmell
: His classes certainly rank higher than Harbaugh's, so if that is your measuring stick, then the answer is yes. But Harbaugh certainly gets a great deal of credit for finding the guys who didn't receive high marks and turning them into fantastic football players. Shaw closed on a lot of great prospects this year. But that's all they are at this point — prospects. The real measuring stick is what he does with them once he gets them in a Stanford uniform.
February, 2, 2012
2/02/12
10:00
AM ET
Stanford head coach David Shaw has a lot to smile about after hauling in a top-15 recruiting class on Wednesday.
With six ESPNU 150 players
-- including three of the top offensive linemen in the country and athletic playmakers on both sides of the ball -- Shaw said his team fills much-needed holes and adds depth at other spots.
Here's part two of a Q&A with the second-year head coach.
Alex Carter was recruited as a cornerback. Is that set in stone, or could we see him at safety or as a wide receiver?
Davis Shaw
: Alex Carter is fast, quick and strong. He is a corner for us. He could physically play five positions. He could play running back or safety or receiver or corner. He could even play a gun-run quarterback which a lot of guys are doing these days. But for us, he's a lockdown corner. He's excited about getting that opportunity to play against some of the best receivers in the nation in our conference and we know he'll be up to the challenge.
You said back in December that recruiting a quarterback wasn't a priority in 2012. Is it safe to assume it will be a priority in 2013?
DS
: I think that's pretty safe to assume. We've got a good cast of quarterbacks here. Some of them are four-star guys who threw for a lot of yards in their high school career but haven't gotten a lot of opportunity. The opportunity is here now, this spring and this fall. We'll see what happens through the rest of this year's recruiting process. If we don't get a top-flight quarterback in this class, we're already in the process of communicating with, we believe, about four of the top five quarterbacks next year.
There were some players who were forced to switch their commitment because they weren't admitted academically. How difficult is it for you as a coach to make that phone call and tell a kid with an outstanding GPA that he doesn't meet the standards of Stanford University?
DS
: That's the hardest thing about this process for us, is that every single offer that we make and everything that we tell all of these guys is that the offer is contingent on their admission to Stanford. There are guys where we have a strong feeling he'll get admitted, and he doesn't make it. That's part of here. The one thing I rest on, personally as an alum, during the process, our admissions people have been pretty much on. They have done a great job as evidenced by our graduation rate. They seem to pick the right people to go to school here. Sometimes it does hurt. It's not just football. It's in every single sport. But it's our job to bring the highest number of qualified candidates we can find and our admissions people will pick the ones they believe are ready for school here and those are the guys that we play with.
Only two players from California. Does that matter? (Writer's note: Interview with Shaw was conducted about 30 minutes prior to Aziz Shittu of Atwater, Calif. announcing his commitment, giving Stanford three players from California).
DS
: Not at all. We just can't be bound to a region, even if it is close to home. We've had some years with four guys, others where it's two or three. We have to look at the United States and say 'that's our region.' Wherever we can find guys, that's where we have to go. It wasn't just a down year for us regionally out West, but it was an up year where it's usually a tough spot. Across the nation, there were a lot of guys that were great football players with high academic accomplishments and those are the guys that we go after.
Conner Crane looks like Coby Fleener's little brother. Any chance you put 60 pounds on him and turn him into a tight end?
DS
: (Laughing) He's got more of a thin frame than Coby did. Coby had a lot of room to gain the weight and put the meat on. Conner is a little thinner so I don't anticipate him making the switch to tight end. I know he's a tall, fast receiver that plays against the highest level of competition in Texas and averages over 17, 18-yards a catch for his career. I can't wait to get him in a Stanford uniform.
Going to put you on the spot. Who do you think of this class can make an immediate impact next season?
A
: There are going to be multiple guys. It's hard to say. We have some open spots on the offensive line. We have guys here that can compete and we're bringing in guys that are going to compete. We've got some receivers coming in that have some unique abilities. I think Conner,
Dontonio Jordan
,
Kodi Whitfield
,
Michael Rector
. I think those four guys as a class are probably the most underrated group of receivers in the nation. Conner Crane has the speed and downfield ability. Michael Rector is at 6-1, 6-2 and can run every route in the book and change direction. Dontonio Jordan is outstanding in the punt return game and in the slot. Kodi Whitfield is a big, physical receiver. A lot of people came in late and tried to get him to switch because they saw what he could do.
PAC-12 SCOREBOARD
Saturday, 12/21
Monday, 12/23
Tuesday, 12/24
Thursday, 12/26
Friday, 12/27
Saturday, 12/28
Monday, 12/30
Tuesday, 12/31
Wednesday, 1/1
Thursday, 1/2
Friday, 1/3
Saturday, 1/4
Sunday, 1/5
Monday, 1/6