Stanford Football:

Jalen Brown
November, 21, 2013
11/21/13
2:00
PM ET


It has been a wild week of recruiting in the Pac-12, with ups and downs for over half the programs in the conference. There have been six commitments and four decommitments since Monday afternoon, with one prospect decommitting and committing to the same school. And with this kind of momentum generated early in the week, there's a good chance it could continue through Sunday, with several programs hosting big recruiting weekends.

Washington and Cal post up and down weeks
October, 22, 2013
10/22/13
8:30
PM ET
It has been well documented over the past few years that programs have little choice when it comes to some aspects of the college football recruiting process.
Whether it is extending offers to juniors, sophomores, freshmen and eighth-graders, or the first 100-piece bundle of mail that chokes a prospect's mailbox, coaches across the country have rushed to catch up and join the race.
[+] Enlarge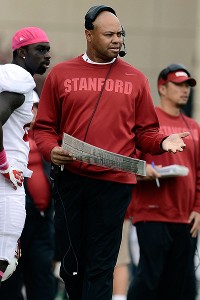 Ron Chenoy/US PresswireCoach David Shaw and Stanford have limited in-season official visits and have a "Big Visit" weekend in January for recruits.
But while the unofficial visit and recruiting mailings become more and more important to the process, the official visit remains a significant tool, and one of the few remaining recruiting tactics that can be wholly personal to a coaching staff and program.
When most recruits begin thinking about what official visits they want to take, the first thing they discuss is what big games they'll be able to attend. In the Pac-12 this season, there won't be any official visitors for two of the biggest games recruits will be watching -- when Oregon visits Stanford and USC hosts UCLA -- because the Cardinal and Trojans have decreased in-season official visits.
"For a long time, there was kind of a lore that the official visit is about getting to see a game -- a notion that has been in movies, on television, in books and magazines," said Mike Eubanks, Stanford Assistant Athletic Director and Director of Football Administration. "The official visit is about going to see a game, see what the campus is like afterward and then sitting down in the coach's office."
But as Pac-12 coaching staffs dissect exactly what they want to showcase during an official visit, several schools are continuing to focus visits around a game weekend, while others have targeted the offseason as the best time to bring in official visitors.
Oregon, Utah and Washington State have combined to host 33 official visitors this season, compared to 27 for the rest of the conference combined.
It's not surprising to see those three programs hosting visitors during the fall. Not only could weather concerns in late January put a damper on bringing a majority of recruits in then, but Oregon specifically can take advantage of its game-day atmosphere.
"They're really cool either way and encourage you to go up and see a game," said Oregon quarterback commit
Morgan Mahalak
(Kentfield, Calif./Marin Catholic) of the Ducks' coaches and visits. "It's a pretty fun game-day atmosphere to experience."
Mahalak said the policy has paid dividends already this season, as Oregon grabbed verbal commitments from ESPN 300 running back
Tony James
(Gainesville, Fla./Gainesville) and four-star receiver
Jalen Brown
(Phoenix/Mountain Pointe) after official visits.
"[Brown] had a great visit for the Tennessee game," Mahalak said. "I think that was huge for him to see what it'd be like to play there. You definitely leave Oregon after a visit with a better sense of the program."
Last weekend, Arizona had its first opportunity to host official visitors. The Wildcats went two-for-two with their uncommitted targets, grabbing commitments from offensive linemen
Layth Friekh
(Peoria, Ariz./Centennial) and
Levi Walton
(Cape Coral, Fla./Ida Baker).
Friekh, like more than a few recruits, said taking an official visit at this stage was a priority for him.
"Since I was planning on committing early, they said to come in whenever I wanted," Friekh said of the Arizona coaches. "It was really important for me to take an official visit now because I wanted to see if the school is behind the team and if all the fans are behind the team. I didn't want to go to a school where nobody supports the team, so that was cool to see."
While Friekh said he felt he had enough time with the Arizona coaches, that seems to be the biggest worry among schools -- Arizona included -- looking to push visits into the offseason.
"You want to be able to spend the whole 48 hours with them," said Matt Dudek, Arizona's Director of On-Campus Recruiting and Player Personnel. "You don't want to be worrying about a football game and you don't want to waste it, because we believe that you'll fall in love with our coaches when you get some extended time hanging out with them. That's our No. 1 selling point."
Dudek said an official visit on a game-day weekend is "more hectic than crazy or difficult," but they will always try to get official visitors to come after the season in order to spend more time with them.
"Every kid is different and we're never going to say no if a guy wants to come on an official during the season," Dudek said. "Some want to come on a game day, and if that's your deal breaker, you come on game day. There's a little less time to hang out and ask a bunch of questions at each stop. Out of season, it's no big deal to be five or 10 minutes behind schedule, but if there is a game scheduled for 7 p.m., that's not going to change."
For USC, Dec. 13 seems to be the first big recruiting weekend -- though what happens with the coaching staff could determine the true schedule of events. In the 2013 class, USC didn't host a visitor before Dec. 7, which was the big weekend for early enrollees. But the Trojans also found out the hard way this season that having a plan for official visits and carrying it out successfully can be two different things.
Enter the somewhat strange case of ESPN 300 cornerback
Adarius Pickett
(El Cerrito, Calif./El Cerrito). Early in the process, it looked as though USC had the inside track for a commitment from Pickett, and the four-star cornerback alerted all his potential choices in the spring that he would take his official visits in the first four weeks of his season, then announce his decision the following week.
UCLA, going with the growing trend in the conference, suggested that Pickett wait to take his visit after the season.
"I explained to them what I was trying to do and they said it was fine with them," Pickett said of the Bruins' coaches allowing him to take an official visit for the first game of the season. "I told [USC coach Clay Helton] during the spring that I was going to UCLA first week and that I wanted to try to set up a visit to come down after my fourth game."
That visit to USC wasn't allowed to happen. Pickett said the decision to deny him an opportunity to take an official visit during the season ultimately came from coach Lane Kiffin and was delivered through Helton, but it didn't come as much of a surprise when Pickett announced his commitment to the Bruins following that conversation and his UCLA visit.
In large part though, USC's shift over the past few years to a January-centric visit schedule has paid dividends, and it's something Stanford has found success with as well.
In the 2013 class, 13 of the Cardinal's 14 eventual signees took their official visits during the "Big Visit" weekend in January. It's a success rate that is helped both by the number of already-committed prospects in attendance, as well as a clear message from the beginning about the official visit policy.
"By the time we get far enough into the process and building relationships, if somebody has this interest in Stanford and we're still with them because they've met all the academic challenges we've given them, then the recruit who has met us that far along in the journey tends to have the perspective and values that wants their official visit to be the same thing we want their official visit to be," Eubanks said.
That includes having the Big Visit begin on a Friday morning in the offseason, which allows Stanford to give its visitors an extensive look at a full day on campus during the school year -- something that is virtually impossible to do with an in-season visit, as recruits either have school or football responsibility on Friday and often can't arrive on campus until Saturday.
"To have somebody come here and not see a class is really shortchanging a good look at what Stanford should be," Eubanks said. "If it's just Saturday and Sunday, you've not done anything to address the academic question, which is maybe one of the biggest questions in the mind of these young scholar-athletes. That's pretty important for us."
While prospects will almost always hold the cards when it comes to their recruitment, it's easy to notice a fairly sizeable shift in the visit schedules for Pac-12 programs. While schools such as Oregon, Utah and Washington -- among others -- will almost always look to take advantage of nationally-recognized game-day atmospheres, Eubanks was careful to point out that it's important to note the decision to move away from in-season visits -- for Stanford and the other conference schools -- can't be seen as hiding from that experience.
"Especially as a national recruiter, going up against these giant stadiums with highly-regarded game day atmospheres, you don't want to make it look like you're hiding," Eubanks said. "If you argue against the importance of the game or the game day atmosphere to a young man who thinks the most exciting experience is to be on the big stage that he's dreamed of since he was little... If at any point you are dictating how things should be done, or talking instead of listening, you can lose them. And if you do, then that's rightfully so."
October, 17, 2013
10/17/13
2:00
PM ET
Several Pac-12 programs have an opportunity to make statements on the recruiting trail this weekend, headlined by Arizona State hosting Washington, and including USC's trip to Notre Dame and the biggest clash in the conference -- UCLA visiting Stanford. The following day, the B2G West Coast Bowl will draw plenty of interest, as Pac-12 commits and targets are separated into two teams for the late January all-star game.
Manny being Manny
To continue reading this article you must be an Insider
October, 9, 2013
10/09/13
2:00
PM ET
Each Wednesday, ESPN RecruitingNation updates its
national class rankings
. For an in-depth look at the Big Ten, check out our conference rankings:

1. Arizona, 24 commits:
The Wildcats check in at No. 23 in the RecruitingNation class rankings with a class that includes four ESPN300 commitments, including No. 120 overall
Marquis Ware
and No. 185
Jamardre Cobb
of Salesian High in Los Angeles. Arizona will take its shot with No. 17 overall
Jalen Tabor
(Washington, D.C./Friendship Collegiate Academy), and teammate
Dae'Juan Funderburk
(Washington, D.C./Friendship Collegiate Academy) in December.
To continue reading this article you must be an Insider
October, 8, 2013
10/08/13
8:00
AM ET
This week's list offers a look through the Pac-12 at the potential best-case and worst-case scenarios that the 2014 recruiting cycle could bring for various programs. While a few of the best-case scenarios might be close to within reach for some programs, many of the worst-case scenarios would take a special brand of bad luck.

Arizona
Best-case scenario:
Arizona doesn't hold onto all of its 24 verbal commits, but keeps all of its priority recruits in the fold. In exchange for some of the decommitments, the Wildcats are rewarded with a big splash from either ESPN 300 prospect
John Smith
(Long Beach, Calif./Poly) or
Bryce Dixon
(Ventura, Calif./St. Bonaventure). A strong finish to the season also helps Arizona clean up in its home state, landing commitments from offensive linemen
Natrell Curtis
(Phoenix/Mountain Pointe),
Andrew Mike
(Tucson, Ariz./Sabino),
Layth Friekh
(Peoria, Ariz./Centennial) and junior college defensive lineman
Claudeson Pelon
(Mesa, Ariz./Mesa College).
To continue reading this article you must be an Insider
September, 26, 2013
9/26/13
2:00
PM ET
Two Arizona showdowns, two impressive visitors to the Pacific Northwest and recent recruiting attention for two standout juniors highlight this week's top storylines in the Pac-12 conference.
To continue reading this article you must be an Insider
September, 25, 2013
9/25/13
2:00
PM ET
It was a relatively quiet recruiting week in the Pac-12, which seemed to mirror the rest of the country. There was no movement in the
newly released team recruiting rankings
. The Pac-12 held steady with three teams listed, led by Arizona and Stanford -- at No. 23 and 24 respectively -- followed by Arizona State, at No. 35. The conference did land two commitments, as Arizona State and Washington State added recruits, while a desert showdown awaits Pac-12 fans on Friday night.

To continue reading this article you must be an Insider
September, 17, 2013
9/17/13
8:00
AM ET
As the regular season heats up on the field, so too does the action on the recruiting trail, as prospects are setting official visits, trimming final lists and setting their sights on February's signing day. With a number of targets still on the board for every coach in the conference, this list illustrates the biggest name still out there for each Pac-12 program.
Arizona
OT Layth Friekh (Peoria, Ariz./Centennial)
6-foot-6, 251 pounds
To continue reading this article you must be an Insider
September, 12, 2013
9/12/13
11:00
AM ET
The Pac-12 is featured in a number of big games this weekend, and a strong result -- especially in several home games -- will have a very positive effect on the recruits in attendance. While Cal is expecting a huge crop of visitors, Oregon and Arizona State will have their share, as well. Meanwhile, it's another day and another story at USC, where a story concerning the team was overshadowed by another concerning several local recruits.
Trojans still generating wrong kind of attention
The circus atmosphere at USC was extended on Wednesday as news of a players-only meeting came to light, then was refuted, then was altered to a "get together with a few players." On the recruiting trail, Wednesday brought additional intrigue, as a tweet from four-star running back
Demario Richard
(Palmdale, Calif./Palmdale) caught plenty of attention. The tweet, retweeted by WeAreSC's Blair Angulo and illustrated below, led to Richard suspending his account due to the backlash he received from USC fans.
Four-star running back --> RT @TheFaceOfCali: If Kiffin Leaves USC might have a shot at gettin me

— Blair Angulo (@bangulo) September 11, 2013
What made this tweet particularly interesting is that while that sentiment has been shared off the record by a number of recruits in the past few months, Richard was the first to state it publicly. Beyond that, a subsequent tweet from cornerback
Naijiel Hale
(Bellflower, Calif./St. John Bosco) seemed to add to what USC is going through on the recruiting trail at this time. Hale, who received early interest from USC before committing to Arizona, is again hearing from the Trojans after several cornerback targets committed to other schools.



To continue reading this article you must be an Insider
September, 9, 2013
9/09/13
8:00
AM ET
It was another weekend without any commitments in the Pac-12, but the conference made a statement with a 9-1 record -- the only loss coming in conference play -- and four teams scoring more than 50 points. But that one loss was a big one, as USC dropped its home opener to Washington State in front of a number of high-profile recruits. On the field, a Cal commit put on a show while two elite 2015 prospects stood out as well.
Biggest offer
To continue reading this article you must be an Insider
September, 5, 2013
9/05/13
2:00
PM ET
Two secondary additions were the primary reason UCLA was the talk of Pac-12 recruiting this week, though several programs will have opportunities to make a recruiting impact with important home games this weekend. Several more might have to wait a few weeks before they get the same chance.
<!—offer-->
Bruins pick up big commitments

ESPN 300 cornerback
Adarius Pickett
(El Cerrito, Calif./El Cerrito) looked ticketed for USC when good friend and teammate
D.J. Calhoun
committed to the Trojans over the summer and head coach Lane Kiffin and staff seemed to make him a priority at cornerback. But Pickett made a surprise announcement on Tuesday, when he committed to UCLA. Pickett said a big reason was the fact that he felt at home with the Bruins -- additionally, USC wouldn't let him take an in-season official visit, which was something Pickett felt he needed to do. Whatever the reasons, Pickett's commitment to UCLA sends a message that the Bruins will again be a program of strength during this recruiting season. UCLA backed up Pickett's commitment by landing fellow cornerback
Denzel Fisher
(Compton, Calif./Centennial) later that evening. Now, at a position where USC is in desperate need of bodies in this recruiting class, the Bruins have three solid options, including two from in-state standouts.
To continue reading this article you must be an Insider
September, 4, 2013
9/04/13
3:30
PM ET

Pac-12 programs did not move in this week's
updated class rankings
. Arizona continues to pace the Pac-12 at No. 23, while Stanford is second in the conference at No. 28. Arizona State checks in at No. 35, while USC hangs on to the No. 40 spot. There's a chance a new Pac-12 team will be knocking at the door soon, however. UCLA seems to be gaining momentum and added two commitments Tuesday evening, while several conference programs will be looking to generate recruiting momentum with home games in front of important visitors this weekend.
To continue reading this article you must be an Insider
September, 2, 2013
9/02/13
8:00
AM ET
There were some big positives from Pac-12 programs during college football's opening weekend, as Arizona, Colorado, Oregon, UCLA, USC, Utah and Washington all posted victories. The wins from the Bruins, Ducks and Huskies came in front of a large number of recruits, and, while there were no visible results in the form of verbal commitments, they definitely made an impression with everybody in attendance.
To continue reading this article you must be an Insider
Shaw Plans To Remain At Stanford
PAC-12 SCOREBOARD
Saturday, 12/20
Monday, 12/22
Tuesday, 12/23
Wednesday, 12/24
Friday, 12/26
Saturday, 12/27
Monday, 12/29
Tuesday, 12/30
Wednesday, 12/31
Thursday, 1/1
Friday, 1/2
Saturday, 1/3
Sunday, 1/4
Monday, 1/12