Stanford Football:

John Elway
August, 6, 2013
8/06/13
1:15
PM ET
Soon, there will only be one "No. 7" associated with Stanford.
The school announced Tuesday that
it would retire John Elway's No. 7 jersey
. Elway, the No. 1 overall pick in the 1983 NFL draft, went on to a Hall of Fame NFL career and is now the executive vice president for the Denver Broncos. A two-time conference player of the year, Elway threw 77 touchdowns during his four-year career (1979-1982) and still holds the school's single-game record with six touchdown passes against Oregon State in 1980. He was a consensus All-American as a senior.
"Through the years the No. 7 has meant so much to the Stanford community, most recently with the record-breaking career of Toby Gerhart," said Stanford head coach David Shaw in a statement. "Current student-athletes Ty Montgomery and Aziz Shittu both will wear the No. 7 jersey and be the last two to put it on for Stanford University."
Elway's number will officially be retired at halftime of the Nov. 7 home game against Oregon -- adding nostalgic fuel to one of the most anticipated college football games in 2013.
Elway joins Ernie Nevers (No. 1) and Jim Plunkett (No. 16) as the only Cardinal players to have their numbers retired.
June, 18, 2012
6/18/12
9:00
AM ET
Daniel Jeremiah of NFL.com presented an interesting opinion last week regarding ex-Stanford quarterback
Andrew Luck
.
Jeremiah's take was that former Baylor quarterback
Robert Griffin III
, who bested Luck in the Heisman vote but was No. 2 in the draft to Luck's No. 1,
has more pressure on him than Luck does in 2012
.
He bases his opinion on the following reasons:
Griffin will be expected to lead his team to more victories.

The NFC East is far tougher than the AFC South.

RG3 is in a bigger media market.
[+] Enlarge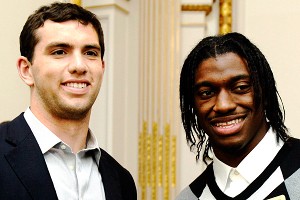 AP Photo/Richard DrewBoth top draft pick Andrew Luck, left, and No. 2 pick Robert Griffin III are under tremendous pressure.
Jeremiah adds a few final thoughts to his argument -- including the fact that RG3's presence actually takes the pressure off of Luck.
In my opinion, Robert Griffin III is the best thing that ever happened to Andrew Luck. Just nine months ago, it was widely thought that Luck would enter the NFL with more hype than any player in the last decade. Now, it's likely that he won't even receive the same attention in his rookie season as another quarterback in his own draft class. Sharing the spotlight with another player will help ease the pressure on Luck and allow him to focus on simply improving day by day.
To each his own, but the expectations for Luck are so ridiculously astronomical (not unlike last season) that it's going to be almost impossible for him to live up to them -- at least in the immediate future.
No one has labeled Griffin "the best quarterback to enter the draft since
Peyton Manning
" or "the best prospect since
John Elway
." Griffin is drawing comparisons to
Michael Vick
,
Luck to Elway
. All due respect to Vick -- but he doesn't belong in the same breath as Elway.
Luck has been handling the pressure for the past two years -- from Heisman expectations to his decision to return for another season. And maybe it's the aw-shucks way Luck handles the media that you never realize exactly how much pressure is truly on him.
And the fact that he has to follow Manning -- who will go down as one of the greatest to ever play the game -- adds an entirely different element of pressure that Griffin won't have to experience. Heavy lies the head of he who replaces
Rex Grossman
. Puh-lease.
Sometimes, guys are able to overcome that. See: Young, Steve. Others, not so much. See: Griese, Brian.
Jeremiah's points are all well-taken, specifically the NFC East being a tougher conference. No disputes there. But while Griffin might be expected to lead his team to more victories in 2012, Luck is expected to lead his team to more Super Bowl victories over the span of his career. And that pressure starts in Year 1.
Since 1993, four quarterbacks have been taken with the No. 2 overall pick: Griffin,
Donovan McNabb
(1999), Ryan Leaf (1998) and Rick Mirer (1993). In that same span, 13 quarterbacks have gone No. 1 overall. By default, being the No. 1 pick carries more pressure and loftier assumptions.
Both will face a heavy dose of scrutiny, and their careers will forever be linked because they were Nos. 1 and 2 in the draft. But Luck's top-pick status, the guy he's following in Indianapolis and the weighty expectations for a Hall of Fame career place a heavier burden on Luck's shoulders in 2012 and beyond.
February, 24, 2012
2/24/12
7:11
PM ET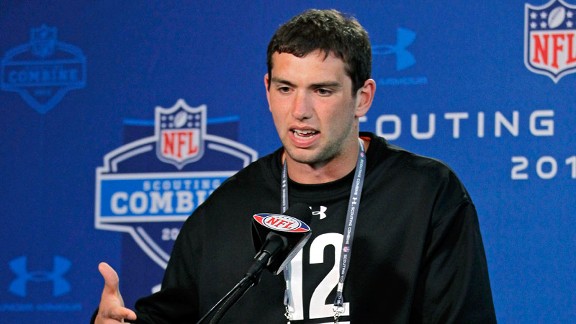 AP Photo/Michael ConroyAndrew Luck said he would be happy holding a clipboard and being Peyton Manning's apprentice.
INDIANAPOLIS -- The two quarterbacks who will presumably be the top two picks in the NFL draft spoke to a good share of 750 credentialed reporters at the combine Friday afternoon.
Andrew Luck
and
Robert Griffin
III didn't take a drop, make a read or throw a pass. Nothing that transpired had anything to do with football.
Yet fandom's need for information and evaluation will dictate a comparison, and here's what will fuel it: Griffin was off the cuff, glib and quippy; Luck was boilerplate, personable for sure, but not as entertaining.
And so, the buzz from the scouting community that had long held that Griffin is a very good NFL prospect but Luck is a great one will now be tempered. Media will be influenced by what it just saw and heard and the gap between the two will close through no football function at all.
Think I overstate? A year ago we raced back to our laptops to write about how
Ryan Mallett
was defiant and how
Cam Newton
needed a scripted opening statement, unimpressed with either. And at least for a time the national stories on each influenced the national perception -- unfairly and, to be honest, inaccurately.
Brace for the 2012 version of that, starting right now. Measure it. And know that scouts are largely scoffing when they see it.
A few more thoughts out of Luck's media session:
• At one end of the media room, a club level concourse at Lucas Oil Stadium, the pillars are decorated with pictures of
Peyton Manning
. It's made for great art -- Manning looming over
John Elway
or Colts general manager
Ryan Grigson
. But Luck didn't speak from the shadow of the legendary quarterback he may replace. He was at the other end of the room -- where photos of
Gary Brackett
and
Marvin Harrison
are part of the backdrop.
• Luck spoke fondly of Manning as he answered a question about the potential for replacing him: "Peyton was my hero growing up, he was my football hero. Who I modeled myself after in high school and middle school. You never truly replace a guy like that and who knows what happens? Who knows what happens? So many different things can happen. I'm not thinking about it."
• The questions about Manning are inevitable, he said. "I understand the questions have to be asked, it's part of it. I understand the speculation. In my mind too, nothing's happened yet. I haven't been drafted by any team and what Peyton has is still going on with the Colts. It's not uncomfortable, I understand the questions have to be asked."
• Luck knows Manning some. He's been to the family's passing camp the past two summers. He sought out Manning when he was deciding to return to Stanford for his senior year. He got a few texts from Manning during the season. Griffin had said he'd be happy to hold a clipboard as Manning's apprentice and Luck echoed the sentiment.
• He praised Griffin as "a great quarterback, a great competitor, real easy to get along with" but said he wasn't motivated to compete against him for the No. 1 draft position. "I think everybody wants to be No. 1 but not at the expense of another person, if that makes sense," he said.
• While he's heard some call him a once-in-a-generation quarterback, Luck said things can change and he needs to pay no attention to such talk: "The game can change so quick and you can get caught behind whatever that is."
• His current efforts are focused on quickening everything up, making "rhythmic, perfect drops every time" and playing super clean.
• Elway visits Stanford roughly twice a year and Luck has visited with him on those occasions. The biggest lesson he took away was what Elway told him about the Broncos' Super Bowl failures early in his career: "They were thinking too big picture. So it was always, 'focus on that next play. What are you going to do the first play of the game?'"
• Luck's aware of the success his college coach, Jim Harbaugh, had as quarterback of the Colts -- mentioning Harbaugh's "Captain Comeback" nickname and acknowledging Harbaugh's spot in the Colts' ring of honor.
• His meetings Thursday night included a stop with the Colts. He spoke with Clyde Christensen, the team's receivers coach who was offensive coordinator under the previous regime.
• He's still got two classes to take to earn his degree from Stanford. He'll return starting April 1 and graduate in June.
• The quarterback will not throw here, but said no outside force influenced that decision. It has been reported his camp asked the Colts and suggested he not throw. He will do everything else while he's in Indy.
December, 10, 2011
12/10/11
6:16
PM ET
The bridesmaid dresses are starting to pile up for Stanford.
That's three consecutive years now that a Cardinal player has finished second in the Heisman Trophy balloting -- Toby Gerhart in 2009,
Andrew Luck
in 2010 and now Luck again in 2011.
[+] Enlarge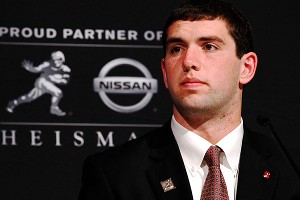 Jeff Zelevansky/Getty ImagesAfter another runner-up Heisman finish, Andrew Luck has an NFL payday on the horizon.
No need to wake up Katherine Harris or start recounting hanging chads. This one is in the books.
The voters have spoken
, and they say Baylor quarterback
Robert Griffin III
.
Luck entered the season as the Heisman favorite after his silver-medal finish last season. But a loss to Oregon swayed voters and Luck didn't excite the way the flashier Griffin did.
"I think obviously Robert is a great player and very much well-deserved," Luck said when asked during the Heisman presentation show what he could have done differently. "I'm not going to lament on something that I could have done or had an opportunity to do. I think it's very much well-deserved for Robert. I'm just proud to be here and very honored to be here."
Griffin received 405 first-place votes. Luck, who won the Far West region, received 247 first-place votes. Alabama running back
Trent Richardson
had 138, LSU defensive back Tyrann Mathieu had 34 and Wisconsin running back
Montee Ball
had 22.
Despite a late campaign push over the past couple of weeks by head coach David Shaw -- who attempted to show voters what Luck does mentally at the line of scrimmage (which far exceeds anything any college quarterback has done previously) -- voters still picked the exciting and athletic Griffin over Luck and Richardson.
Several times over the last couple of weeks, Shaw made an appeal to voters, comparing Luck to 1997 winner Charles Woodson for doing something that no other player had done with his play calling. But that plea apparently fell on deaf ears.
Luck will leave Stanford as one of its most celebrated players -- going 23-2 over the past two seasons and landing the Cardinal in a second consecutive BCS bowl game. He passed John Elway (another Heisman runner-up) as the all-time touchdown leader and is expected to be the No. 1 pick in the NFL draft.
November, 26, 2011
11/26/11
5:53
PM ET
STANFORD, Calif. -- Stanford quarterback
Andrew Luck
matched John Elway for most career touchdowns in Stanford history, with 77, when he connected with tight end
Levine Toilolo
on a 3-yard jump ball to the 6-foot-8 tight end, giving the Cardinal a 7-0 lead.
Notre Dame was stringing together a nice answer drive, moving 36 yards in eight plays until quarterback
Tommy Rees
fumbled and the Cardinal recovered at their own 30.
Stanford linebacker Chase Thomas has been Rees' worst nightmare in the first 15 minutes of the game. Thomas knocked Rees out for a play, coming up the middle and driving the quarterback into the ground.
Rees would return on the next series, only to see Thomas sack him and strip the ball in the process -- his fifth forced fumble of the season.
Not a very clean start for the Irish either, who have three false-start penalties in the first quarter.
November, 17, 2011
11/17/11
9:15
AM ET
California's Sean Cattouse is a good safety. A sure tackler. An NFL prospect. And you already know where this is going, right?
Cattouse was cast as the part of roadkill for one of Stanford quarterback
Andrew Luck
's most replayed highlights -- his 58-yard scramble in last year's Big Game blowout of the Bears. "Roadkill" is not a role any football player wants.
"A lot of jokes. It's all fun and games," Cattouse said when asked -- again and again -- this week about the play. "I'm just more sickened with myself with how I went about trying to tackle him. It looked like nothing I've done before."
[+] Enlarge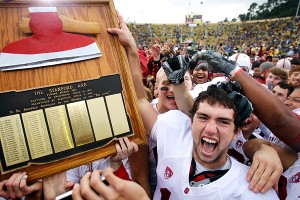 AP Photo/Marcio Jose SanchezAndrew Luck and the Cardinal won back the Axe after beating Cal 48-14 last season.
How much do you think Cattouse enjoys hearing about that play? How much do you think he wants a rematch with Luck, one on one? And how much do you think all the Cal players enjoy hearing about how super-awesome Luck and the Cardinal are?
The Big Game is always a big game. It's a rivalry game between elite schools that like to tout how they are more elite
really
than the other.
And it means plenty to Cal.
For one, they'd get the Axe back. While the Bears have split the last four Big Games, they have won seven of nine under coach Jeff Tedford.
Tedford is another issue. While he's been successful against the Bears' biggest rival -- Stanford was riding its longest winning streak in the series with seven consecutive Big Game victories from 1995-2001 when he arrived in Berkeley -- there is considerable fan frustration with his program's inconsistency over the past few years. A win over a highly ranked Stanford team would mute that, at least in the short term.
Further, Cal is playing for its own stakes. If it beats the Cardinal, it improves to 7-4 and moves up in the pecking order with bowl selections.
That said, there are unintended consequences of playing the spoiler. It would cost the Pac-12
about $6 million
because Stanford wouldn't be the pick for an at-large BCS bowl berth. And then the Cardinal likely would end up in the Alamo Bowl, which would knock every other bowl-eligible team down a notch.
"It's not about spoiling anything for them," Cal quarterback
Zach Maynard
said. "It's a huge rivalry game for us."
Cal also has a strong history of upsets in the series, particularly when the Cardinal boasts a celebrated quarterback.
The Bears beat John Elway twice, producing the greatest play in college football history -- "The Play," in fact -- to do so in 1982. They knocked off Heisman Trophy winner Jim Plunkett in 1970. And, of course, they upset Luck in 2009, 34-28, with Cal linebacker Mike Mohamed grabbing an interception in the waning moments with Stanford on the Bears' 3-yard line.
That, in fact, was one of the worst games of Luck's career. He was 10-of-30 for 157 yards with no touchdowns.
Before that game, Tedford repeatedly tweaked his players with how the media and fans believed then-No. 14 Stanford and running back Toby Gerhart were too physical for the Bears. In response, Cal's Shane Vereen rushed for 193 yards on 42 carries with three touchdowns and outplayed Gerhart.
It was a successful motivational angle that Tedford might revisit. Young people often seem to respond well to the underdog, no-respect role.
"Those are always motivational pieces," Tedford said. "We have a great deal of respect for them. Their accolades -- they are worthy of them."
Still, in the end, all rivalry games are like this. There are Cal men and Stanford men. Blues and Cardinal. And when they meet -- their own and the other -- they will remember who won, and when and how it went down.
Said Cattouse, "It's a big game every year. Every year we want to win it."
November, 11, 2011
11/11/11
10:00
AM ET
Some fun facts about Saturday's matchup between Stanford and Oregon.
Revenge will be on the minds of Stanford this week. The Ducks gave the Cardinal their only loss last season, a 52-31 walloping in Eugene. But since then, Stanford hasn't lost, winning 17 consecutive games, the longest active streak in FBS. The Ducks come in with an impressive eight-game win streak of their own since their only loss of the season to current top-ranked LSU in the opener.
Stanford can clinch the Pac-12 North with a victory in this game. The Cardinal have only one conference game remaining after this week (Nov. 19 against Cal) and finish the season Nov. 26 at home against Notre Dame. Stanford hasn't won a conference championship since 1999.
With a victory, Oregon puts itself in the driver's seat in the Pac-12 North and a third consecutive outright Pac-12 title is well within reach. How impressive would that be? USC (three times) is the only other school since the conference formed in 1959 to win three outright conference crowns in a row.
After a steady but unspectacular game against Oregon State last week, Stanford quarterback Andrew Luck has a chance to shine in the national spotlight Saturday night. Last year, Luck threw for a season-high 341 yards against Oregon, but was also picked off twice (tying his season high). Since that game, he has 45 touchdowns and only nine interceptions, and hasn't been picked off more than once in any game.
David Shaw is not a household name yet, but if the Stanford coach keeps winning, he will be. Shaw has started his college coaching career winning nine straight games.
Stanford will be without wide receiver Chris Owusu, second on the team in receptions with 35, due to a concussion suffered last week at Oregon State. Freshman Ty Montgomery will start in place of Owusu. He has seven career receptions, five of them coming against USC two weeks ago.
Oregon has owned the series of late, winning eight of the past nine meetings, but Stanford won the last meeting at home (51-42 in 2009).
Oregon has won 18 consecutive conference games, the second-longest active streak in the nation to TCU's 21. Stanford owns the third-longest streak at 14 games. The Ducks are 6-0 in conference play this year, the second year in a row they've done so and the third time since 2000. Prior to 2000, the Ducks hadn't been 6-0 to start a conference season since 1948 (7-0).
Unlike last week's LSU-Alabama defensive struggle, this game could be on the opposite end of the spectrum. Both teams rank in the top five in scoring offense and top 10 in total offense.
No team has been better than Stanford in the red zone this season. The Cardinal are a perfect 52-of-52 in the red zone, and 41 of those scores have been touchdowns. LSU has the second-best red zone percentage (41-of-42, 97.6 percent).
Stanford has been solid on the defensive side of the red zone issue as well. In fact, something will have to give in this game between Oregon's fast-paced offense and Stanford's stingy defense.
Oregon quarterback Darron Thomas has thrown at least one touchdown pass in 21 consecutive games.
With a win, Stanford will have the first back-to-back 10-win seasons in school history. Entering last season, Stanford had only three 10-win seasons ever. Stanford is 21-1 since the start of last season.
Stanford has scored at least 37 points in every game this season, while Oregon has scored at least 34 in every game except the loss to LSU (27).
Luck has 71 career touchdown passes and continues to move up the school charts. He's currently six behind John Elway's record and one behind Steve Stenstrom for second.
November, 9, 2011
11/09/11
2:50
PM ET
Oregon defensive coordinator Nick Aliotti has been around awhile. Long enough that when he says that Stanford quarterback
Andrew Luck
reminds him of John Elway, that comparison is based on his having coached against Elway -- although he was coaching running backs at Oregon State during Elway's Stanford tenure.
Yes, he sees what everyone else sees: a smart, athletic, big-armed, poised, team-first guy. A superefficient playmaker who values winning over piling up big numbers and hogging the spotlight.
"Wow. He's phenomenal," Aliotti said. "The guy is the total package. He's the best quarterback I've seen in this league, and there have been a lot of very good quarterbacks in this league. To me, he reminds me the most of John Elway."
[+] Enlarge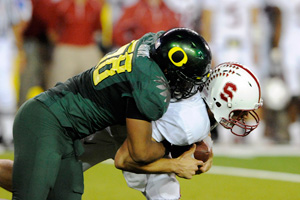 Steve Dykes/Getty ImagesOregon is the only team in the past year that has been able to beat Andrew Luck and the Cardinal offense.
There you go. He sees what everyone else sees.
But unlike everyone else, Aliotti has put together a game plan that shut down Luck -- see Stanford's zero second-half points in the Ducks' 52-31 win last year. (Yeah, the first half didn't go as well.) So Oregon's coaching offices and locker room probably lack something that a lot of other teams have had when facing Luck.
Awe.
One of Oregon's many mantras is playing "nameless, faceless opponents." Luck is the most famous college football player in the nation. But for the Ducks, he's just No. 12 behind center.
"I haven't made a big deal about it," Aliotti said. "It's not like we've gone around, 'Ohhhh ... Andrew Luck' or anything. Some teams praise and talk about him to their own team. They make him bigger than life, which I think gives him an aura. Kids can get in awe. I don't think that will be the case with our kids."
That is a good first step for figuring out a way to contain Luck and the Stanford offense: Get over who he is and concentrate on what they -- the Cardinal -- do.
Of course, after the first step, you've got to take a second one. And the football part of football ain't easy here.
The question that typically follows is, how aggressively do you attack Luck with stunts and blitzes? Oregon leads the Pac-12 with 29 sacks. Stanford has yielded a conference-low four sacks. But teams have been -- at times -- successful with pressure this season, not allowing Luck to be consistently comfortable in the pocket.
"If you can not let him set his feet," Oregon coach Chip Kelly said. "If you can disrupt the launch point for a quarterback. That's the key to playing good pass defense."
After watching hours of film, Aliotti's conclusion is that pressure -- rushing five or more guys -- can work against Luck and the Cardinal offense. That, however, might not be the right first question.
"When guys bring five or more, it appears people have had more success," he said. "But you've got to get them in a down where they have to throw the ball. So you have to win first down. I think that's a real key."
A good reason Stanford ranks first in the conference and fourth in the nation in third-down conversions is the Cardinal typically face third-and-manageable distances. That primarily is due to a running game that averages 5.7 yards per carry. Think about that: Second-and-4 gives you plenty of play-calling options. And if you can gain 6 yards on a run on second-and-10, well, you become a royal pain in the tuchus for a defensive coordinator.
Third-and-4 is not a good blitzing down. And if you try, Luck is very good at spying your intentions and making the right check.
"He's really good on that," Kelly said "I think that's one thing that separates him, besides his athletic ability, is just how smart he is. He can see the whole field and he can pick up blitzes and he's really, really sharp. That's why he's the total package. It's tough to fool him."
In last year's game, the Ducks sacked Luck only once -- recall that he was sacked just six times in 2010 -- but they got good pressure, and Luck threw two interceptions. In 34 career starts, that was one of two times he's thrown more than one pick in a game.
Fair to say, pressure is good. Then the issue is containment. Luck is a capable runner, although he hasn't run as much this season. He has 954 career rushing yards, and the Ducks don't want to be the team that puts him over 1,000.
Still, as Kelly noted, once you account for Luck's arm and legs, you still have to contend with his scariest body part: his brain. Luck, who is legitimately "Stanford smart," has play-calling options unlike any other quarterback in the country. After the win over Washington on Oct. 22, Cardinal coach David Shaw went out of his way in a casual conversation -- no tape recorder allowed -- to clarify just how many options Luck has at the line of scrimmage. Let's just say it's a large handful of passing and running plays.
But that also leaves an opening for a defensive coordinator. Can he give a look to Luck that draws out a play call, then change the defense before Luck can re-audible?
The answer is yes and no. It's hard to do, particularly with a young defense. Complicating things increases chances for blown assignments. And if your first goal for your defense is to play hard and fast and with confidence -- as it is for Aliotti -- it could provoke too much thinking.
"That becomes the cat-and-mouse game between Andrew and Nick, to be honest with you," Kelly said.
Said Aliotti, "I don't know if there are any magical calls. I wish I had some magical calls."
No, there is no magic on defense. It's about about playing fast and loose. Defeating blocks. Executing. Forcing turnovers. Gap integrity. Winning third down.
And, on Saturday, maybe creating just a little bit of bad Luck.
National Signing Day Recap
PAC-12 SCOREBOARD
Saturday, 12/21
Monday, 12/23
Tuesday, 12/24
Thursday, 12/26
Friday, 12/27
Saturday, 12/28
Monday, 12/30
Tuesday, 12/31
Wednesday, 1/1
Thursday, 1/2
Friday, 1/3
Saturday, 1/4
Sunday, 1/5
Monday, 1/6