Stanford Football:

Johnny Caspers
April, 9, 2014
4/09/14
3:15
PM ET
STANFORD, Calif. -- With just one practice remaining before Saturday's spring game,
Stanford
associate head coach and offensive coordinator Mike Bloomgren is confident the Cardinal has taken significant strides towards replacing several pieces that left the team following last season.
[+] Enlarge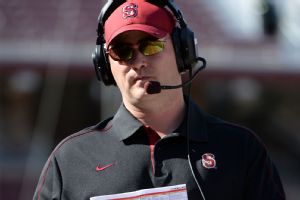 Kyle Terada/USA TODAY SportsStanford OC Mike Bloomgren is pleased to see the progress his QBs are making this spring.
Bloomgren took some time on Tuesday and told ESPN.com some of his major impressions up to this point.
With QB Evan Crower limited in the second session [deviated septum], what kind of progress has redshirt freshman QB Ryan Burns made working with the second team and how has Kevin Hogan looked?
Bloomgren:
It's been a little trial-by-fire for Burnsy a little bit, jumping in there with the second group from the time he got back last Monday. And our defense is not the easiest one to jump in there against and try to decipher everything they're showing you. He's done a much better job. Every day he's gotten better. We've gone from a week ago to not being able to take the center-quarterback snap to start a play to now where we're doing that consistently well. As far as No. 8 [Hogan] goes, No. 8's been great all spring with very, very few exceptions. Leadership has been great, the way he's seeing and thinking this game right is outstanding. The things he's doing with us from a protection standpoint, getting us in the right protection, making the right adjustment to routes and is just throwing the ball really well.
RB Kelsey Young looked really good in the open scrimmage … has that been a consistent thing?
MB:
I think that might have been Kelsey's best day. It's great to see it. He's taking steps every day at the running back position. The thing that you saw was the explosive runs and the consistent runs out of Kelsey, which was great to see ... the leg drive and the way he was finishing runs was outstanding and the things that's he's doing is getting better at protection every day.
What has the transition been like for Young converting back from wide receiver?
MB:
When you talk about what Kelsey's done for us, Kelsey's always been an explosive runner. We've loved getting the ball in his hands, whether it was on a speed sweeps or on a screen, but the thing he wasn't the master of was running the ball from seven yards behind the quarterback, and it's taken a lot of work and he's seeing things really well. He's slowed his footwork down. I'm really pleased with how he's coming along.
The offensive line is going to look a lot different, but are you confident it will still be a very good unit?
MB:
We're breaking in four new starters, and I don't know if I've ever been a part of doing that before. I wouldn't say for a second that it's been easy, but it's probably been easier than any other four you could break in. The five guys we're working with right now -- being those five guys from the class of 2012, [RG]
Johnny Caspers
, [RT]
Kyle Murphy
, [C]
Graham Shuler
, [LG]
Josh Garnett
stepping in besides [LT]
Andrus [Peat]
-- and then you've got people working in that are doing a great job.
Brendon Austin
, when he's healthy has been really good, playing the best football of his career.
Are there inherent advantages of those guys all being from the same recruiting class?
MB:
Absolutely, but again, we've always had that regardless of class. Our offensive line has been so tight. I don't necessarily think it's just a product of them being in the same class.
How has the group of young tight ends developed?
MB:
Austin Hooper
has really stepped up. Unbelievable job at the Y position.
Eric Cotton
is doing some unbelievable things as a movement tight end, whether it's lining up extended and running great routes or sticking his face in there doing a great job in the run game. Then you have
Greg Taboada
still learning, and he's learning a lot, doing great things. When Greg knows what to do, he's really hard to stop.
What are you looking forward to getting out of Saturday's spring game?
MB:
It's just another chance for us to go out there in our stadium, to put on our gear [on] and go through the motions and exercise playing a football game. Whether you're talking about X's and O's, we'll probably be limited in terms of what we do, but I want to see us go out there and put our best foot forward and play incredibly hard and finish the plays.
March, 28, 2014
3/28/14
9:00
PM ET
We finish our list of five predictions for the second half of
Stanford
's spring practice.
No. 1:
Staying the course/depth chart
Much of the commentary that has followed Stanford football over the past four years involves the program's incredible resurgence.
Before Jim Harbaugh and his staff arrived, there was a faction -- a small minority, but it was there -- that believed the school should drop down a level in football. It was a concept that angered David Shaw, and several other fans and alumni of the program, and is now less plausible than a Stanford national title.
Expectations are obviously very different now. With the second session of spring practice set to begin next week, Stanford is set to continue preparations for a run at a third-straight Pac-12 title.
Like any program replacing hoards of talent, there are questions that need to be answered, but nothing about the current state of the program indicates the Cardinal shouldn't be among the best in the conference. They have recruited well, they have a lot of good players returning and the coaching staff has proved its mettle.
If there's anything left to predict, it's that the status quo will remain just that.
And, of course, a potential post-spring depth chart:
Offense
QB
:
Kevin Hogan
RB
:
Remound Wright
FB
:
Lee Ward
WR
:
Ty Montgomery
WR
:
Devon Cajuste
TE
:
Eric Cotton
LT
:
Andrus Peat
LG
:
Joshua Garnett
C
:
Graham Shuler
RG
:
Johnny Caspers
RT
:
Kyle Murphy
Defense
DE
:
Henry Anderson
DT
:
David Parry
DE
:
Blake Lueders
OLB
:
James Vaughters
ILB
:
A.J. Tarpley
ILB
:
Blake Martinez
OLB
:
Kevin Anderson
CB
:
Alex Carter
CB
:
Wayne Lyons
S
:
Jordan Richards
S
:
Kodi Whitfield
Countdown
No. 2:
Running back competition will gain clarity

No. 3:
Hogan takes the next step
No. 4:
Backup quarterback competition begins
No. 5:
Whitfield will emerge at safety
March, 10, 2014
3/10/14
12:00
PM ET
The countdown of five things we learned from the first half of Stanford spring practice begins.
No. 5:
The offensive line is set
With four starters from the offensive line gone from last season's team, there was a lot of buzz about what players would step in. It was easy to assign the favorites for those jobs, but by the first open practice -- the team's third overall -- it was obvious the coaching staff wasn't conducting a competition as much as it was preparing its starting five.
Left tackle
Andrus Peat
is the only true starter back, but both guard
Joshua Garnett
and tackle
Kyle Murphy
have seem extensive playing time over the past two seasons in the Cardinal's packages with extra linemen. One of the unknowns was which side Garnett would play, but coach David Shaw made it clear he likes him at left guard --
David Yankey
's old spot -- if for nothing else than because the Peat-Garnett side will instantly become one of the most imposing in college football. A competition at right tackle to replace
Cameron Fleming
, who left early for the NFL, wasn't even discussed. Murphy is the starter.
Graham Shuler
at center and
Johnny Caspers
at the other guard spot was assumed going in, but Shaw confirmed both guys are expected to win those jobs. During the open practices, Shuler made an impression as a vocal leader, and Caspers clearly fits the Stanford mold as an athletic guard that can get out in space.
The second open practice included a significant amount of scrimmage time, but drawing conclusions from those can be misleading. Defense dominated the day, but because there wasn't any elaborate offensive scheming and the defensive players have a decent understanding of the offense's checks and calls, that means very little. Individually, each offensive lineman had their moments, and the new crop hasn't done anything to dispel the notion that the offensive line will remain one of the team's strengths.
February, 19, 2014
2/19/14
9:00
AM ET
The countdown of Stanford's top 5 position battles continues.
One position battle will be highlighted each day this week.
No. 3:
Center
Who to watch:
Graham Shuler
,
Kevin Reihner
Outlook:
As far as the Stanford offensive line goes, center has been the position with the most turnover in the past few years. Chase Beeler was an All-American in 2010. He gave way to Sam Schwartzstein for two years before
Khalil Wilkes
started in 2013. The competition to replace Wilkes starts with Shuler and Reihner and should be the most hotly contested of the four vacant starting spots on the line. Shuler was the more highly touted prospect, earning a four-star grade from ESPN, but Reihner has an extra year in the system. Neither have factored into the offensive depth chart during their careers. The backup center in 2013 was
Connor McFadden
, who ran out of eligibility.
Andrus Peat
is the only returning starter on the line at left tackle.
Joshua Garnett
and
Johnny Caspers
are widely expected to earn the guard spots and
Kyle Murphy
will likely end up at right tackle.
February, 14, 2014
2/14/14
9:00
AM ET
The countdown of Stanford's Top 5 position groups with room to improve concludes today.
No. 1:
Offensive line
[+] Enlarge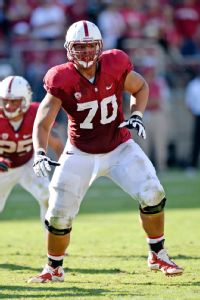 Bob Stanton/USA TODAY SportsLeft tackle Andrus Peat is Stanford's only returning starter on the offensive line.
Must replace:
LG
David Yankey
, C
Khalil Wilkes
, RG
Kevin Danser
, RT
Cameron Fleming
Returning starters:
LT
Andrus Peat
Players to watch:
Kyle Murphy
,
Joshua Garnett
,
Johnny Caspers
,
Graham Shuler
,
Kevin Reihner
,
Brendon Austin
Outlook:
Stanford's recent success has been closely tied to the play of its offensive line, which makes it kind of strange that the position group also stands as the one with the most room to improve. Thanks to the early departures of Yankey and Fleming, the Cardinal must replace four of their five starters, with only Peat returning to protect quarterback
Kevin Hogan
's blindside. When the Cardinal signed seven offensive linemen in 2012, coach David Shaw predicted it could go down as one of the best offensive line classes in "modern football history." We'll find out how accurate that statement is in the fall, when all five spots have a chance to be occupied by players from that class. Garnett (guard), Murphy (right tackle) and Caspers (guard) are all heavy favorites to earn starting spots, while Shuler will have to beat out Reihner at center. There will also be competition for the roles in Stanford's multiple-lineman packages that will give regular playing time to at least two other linemen, which was the case for Murphy and Garnett last season.
The countdown
No. 2:
Running back
No. 3:
Linebacker
No. 4:
Defensive line
No. 5:
Wide receiver
January, 14, 2014
1/14/14
9:05
PM ET
Stanford right tackle
Cam Fleming
became the school's third player in two days to declare for the NFL draft, the school announced Tuesday.
Like guard
David Yankey
, who
made himself eligible yesterday
, Fleming broke into the starting lineup as a redshirt freshman in 2011 to block for quarterback Andrew Luck. An Aeronautics and Astronautics major, Fleming was a fixture at right tackle the last three seasons and was named second-team All-Pac-12 this year.

With Fleming's departure, Stanford will have just one starter back on the offensive line next season -- rising junior left tackle
Andrus Peat
, who is considered a potential high first-round pick in the 2015 draft.
While replacing that many players would usually seem like a tall task, the situation at Stanford could be different.
Kyle Murphy
, a
highly-recruited player
from the Class of 2012, figures to have a leg up over
Brendon Austin
to replace Fleming. In fact, all five projected starters on the line are from the same class.
After the Cardinal
inked seven offensive linemen that year
, coach David Shaw made a bold prediction on national signing day.
"This could be one of the best offensive line classes in modern football history," he said.
How's that for high expectations?
Of course, there's still a lot of time between now and the season opener against U.C. Davis on Aug. 30, but there's a good chance the line, from left to right, will look like this: LT Peat, LG
Joshua Garnett
, C
Graham Shuler
, RG
Johnny Caspers
, RT Murphy.
Fleming's announcement comes just hours after teammate
Ed Reynolds
also announced
he would leave early for the NFL
.
January, 13, 2014
1/13/14
3:45
PM ET
Stanford left guard
David Yankey
's decision to forgo his final year of eligibility and
enter the NFL draft
ranks right up there with the least surprising declarations of the offseason.
Yankey could have easily justified a jump to the NFL after last season, when he was a consensus All-American and named the Pac-12's most outstanding offensive lineman. Instead, he returned for what most assumed would be one final season on the Farm.
[+] Enlarge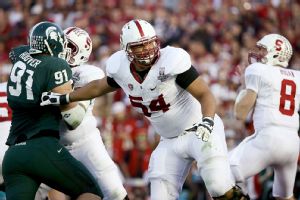 AP Photo/Ben LiebenbergAfter a 2013 season in which he was named a consensus All-American and the Pac-12's most outstanding offensive lineman, David Yankey is headed for the NFL.
It's a decision the Stanford coaching staff saw coming years in advance. If not for an injury in 2010 -- when he became the first Stanford offensive lineman in 10 years to play as a true freshman -- he'd already be out of eligibility, and it became clear early on in 2011 to offensive line coach Mike Bloomgren that Yankey was destined for the NFL.
There were times that season when Bloomgren, now the offensive coordinator, had trouble finding Yankey on film. It wasn't a bad thing, either. It was because Yankey, in his first year as a starter, played so similarly to junior right guard David DeCastro that it was easy to confuse the two. That's high praise considering DeCastro was a finalist for the Outland Trophy that season and the first offensive guard taken in the 2012 NFL draft (No. 24 overall to Pittsburgh).
How the Cardinal moves on without Yankey appears to be fairly clear cut.
Rising junior
Joshua Garnett
, who started in place of Yankey at left guard against Washington State and saw regular playing time this season in Stanford's formations that utilized extra linemen, should have an easy transition into the starting lineup. Whether that's at Yankey's left guard spot or at right guard, where Stanford loses
Kevin Danser
to graduation, remains to be seen.
Johnny Caspers
was listed as Danser's primary backup this season and will likely enter spring practice as the favorite to replace him.
The Cardinal will also have to find a new starter at center with
Khalil Wilkes
out of eligibility and potentially at right tackle as
Cam Fleming
has yet to announce publicly whether he'll return for his final season of eligibility or enter the NFL draft. The deadline to declare is Wednesday.
Kyle Murphy
would likely have the edge over
Brendon Austin
at right tackle if Fleming leaves, and the center competition will start with
Graham Shuler
and
Kevin Reihner
.
Left tackle
Andrus Peat
, a second-team All-Pac-12 selection this season, is the only starter guaranteed to return from an offensive line that ranked seventh nationally in fewest tackles for loss allowed per game (4.14).
February, 22, 2012
2/22/12
9:00
AM ET
A look at what's been happening over the past week in the world of Stanford recruiting.
The Cardinal extended an offer to safety Kameron Miles (Mesquite, Texas) and the 6-2, 205-pound safety, who already has nine offers, told ESPN's Max Olson
he's excited to be hearing from Stanford
.
Said Miles:

That was a big one to me, and I have some interest in Stanford. I like the football program and they're a good academic school.
Miles also has offers within the conference from UCLA and Oregon State.
In other Stanford recruiting news:
David Shaw Talks Stanford Signing Day
PAC-12 SCOREBOARD
Thursday, 9/3
Friday, 9/4
Saturday, 9/5