Stanford Football:

Johnny Manziel
December, 30, 2013
12/30/13
9:00
AM ET
There's no more important position in football than quarterback, and in many cases, fans look at quarterbacks that got away and wonder what might have been had they come to their favorite school. Some schools passed on a quarterback because he evaluated poorly or another QB appeared more attractive. Others simply didn't have enough recruiting ammunition to land the recruit in the first place. Here's a look at six quarterbacks that got away.
[+] Enlarge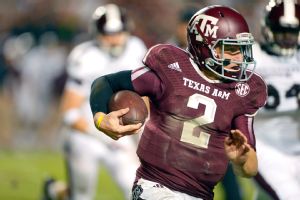 Thomas Campbell/USA TODAY SportsWhat might the offense at Oregon or Texas looked like with Johnny Manziel at the controls?
Teddy Bridgewater
Bridgewater had offers from Florida, LSU, Miami, Rutgers, USF and Tennessee when he was a senior coming out of Miami Northwestern. While there were notable programs after Bridgewater, it was hardly the amount of attention you would expect from the player who sits atop many NFL draft boards after a stellar career at Louisville. Some coaches will tell you Bridgewater's stock was lower coming out of high school because many expected him to land at Miami. He did commit to the Canes at one point, but eventually backed off that pledge and announced he was going to Louisville because of the opportunity for early playing time. "The toughest part of it was that I had to say that I wasn't going to the University of Miami," he said after selecting the Cards in 2011. "I told the coaches that I had to do what was best for me, and they understood that." It was a wise decision by Bridgewater and a miss that still haunts the Canes.
Robert Griffin III
Before he was RG III, he was a Houston commitment. Coming out of Copperas Cove, Texas, Griffin originally pledged to Art Briles when he was the coach at Houston. When Briles departed for Baylor, other schools like Kansas, Nebraska, Stanford, Oregon and Oregon State were in hot pursuit, but that was about it. He eventually followed Briles to Waco, and the rest is history. It's been pointed out a number of times that Texas passed on Griffin because it thought he was a defensive back, and A&M signed Tommy Dorman in that same 2008 class. Dorman played sparingly as a fullback and a tight end.
Kevin Hogan
What would Rutgers, Vanderbilt or Virginia been like had they been able to land Hogan? Hogan was a heavily recruited quarterback coming out of Washington (D.C.) Gonzaga in the 2011 class and his final five consisted of Rutgers, Vandy, UVa and the Cardinal. He decided to leave the East Coast and has settled in nicely on The Farm. Rutgers, Vandy and Virginia surely could have used Hogan this season, as they threw a combined 38 interceptions, while Hogan led the Cardinal to their second straight Pac-12 championship and Rose Bowl appearance.
[+] Enlarge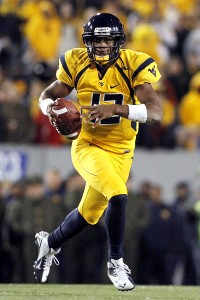 Justin K. Aller/Getty ImagesThe fortunes of two SEC teams might have changed drastically had Geno Smith not gone to West Virginia.
Collin Klein
Coming out of Loveland, Colo., Klein accepted the only scholarship offer he received. And despite a stellar high school career in football and basketball and a solid showing at the Nike Training Camp, the Wildcats were the only team to believe in him enough to offer. Klein went on to lead K-State to the Big 12 championship in 2012, finish second in the Heisman Trophy voting and win more than 20 games as a starter. At the same time, Colorado struggled at the quarterback spot, won only eight games in a three-year span and would have given anything to have an in-state star like Klein as its leader.
Johnny Manziel
You have to give credit to Oregon and Texas A&M, because they identified early on that Manziel had the goods to be a special quarterback. But they were about the only ones that did. Virtually every recruiting service had him as a three-star prospect and his offer sheet read more like a regionally recruited prospect, not a Heisman Trophy winner. Texas also had a chance to recruit Manziel, but the Horns saw him more as a defensive back prospect than a quarterback. Oregon had faith early in him, and it paid off with a commitment the summer after his junior season. He later flipped to the Aggies in September of his senior season.
Bryce Petty
Coming out of Midlothian, Texas, in the Class of 2009, Petty pledged to then-Tennessee coach Phillip Fulmer as a junior. When Fulmer was let go, Lane Kiffin thought Petty didn't fit what he wanted at quarterback, and Petty was left looking for a home two months before national signing day. Several teams showed interest in the talented young quarterback, including South Carolina, Nebraska and Oklahoma, but few had room. Virginia Tech and Baylor eventually offered Petty a grayshirt opportunity, and he took the Bears' offer. Surely a number of teams around the Big 12, or even the Hokies or Cornhuskers, would have loved to have Petty as their quarterback.
Geno Smith
Imagine Smith wearing an LSU or an Alabama uniform. It certainly was a possibility at one point in the recruiting process, as the Tigers and Tide were two of Smith's top teams coming out of Miramar (Fla.) High School. But after an official visit to West Virginia in November of his senior season, he was sold that West Virginia was the place for him. The Tide got their QB of the future in AJ McCarron in that same class and the Tigers hinged their hopes on highly recruited Russell Shepard. McCarron was the right choice for the Tide, but Shepard never developed as a quarterback and LSU had up-and-down play at the position for a number of years. Smith rewrote WVU's record books and is now an NFL starter.
December, 6, 2013
12/06/13
5:30
PM ET
Welcome to the mailbag, Pac-12 championship and coaching carousel edition.
Follow the Pac-12 blog on Twitter
.
To the notes.
Elk from Los Angeles writes:
Who's the bigger winner in the coaching carousel, Washington or USC?
Ted Miller
: We have to declare a winner before Chris Petersen even holds his first news conference after replacing new USC coach Steve Sarkisian at Washington?

The only winner we can declare at this moment is the public relations and perception winner, and that is clearly Washington.
Petersen has long been a highly coveted candidate among AQ programs. Many sportswriters reacted with shock today when the news broke that after turning down some many suitors, Petersen was headed to Washington.
Fair to say the general consensus is that Petersen is a home run hire. Further, his track record suggests strongly he is not a climber. If he wins the Rose Bowl in 2017, he doesn't seem like the sort that would, say, jump to Texas.
As for Sarkisian to USC, the general reaction among sportswriters and USC fans was to be underwhelmed. Part of that was the belief that Trojans AD Pat Haden was going to make a home run hire that resonated nationwide -- as in Jon Gruden or Kevin Sumlin.
Sarkisian looked like a strong and legitimate USC candidate on Sept. 29, when Lane Kiffin was fired, but his Huskies immediately dropped three games in a row, and Huskies fans started to grumble.
Sark rebuilt Washington, but he never broke through in the Pac-12 North Division or the national rankings. Sarkisian is a good coach, but he's yet to distinguish himself with a landmark season. Petersen has with two BCS bowl victories and a sparkling 92-12 record.
So at this point, Washington is the clear winner.
Yet keep in mind that being the public relations and perception winner before either has coached a game or even recruited a player will be the least important victory either posts during their respective tenures.
It's all about what comes next, starting with their 2014 recruiting classes.
---
Flannel Beaver from Tacoma, Wash., writes:
I know this has been discussed, but seriously... when will the Pac-12 go to an eight-game conference schedule? I am all for holding the our moral superiority over all other conferences. Do you think the new Playoff Selection Committee will take that into account? Do bowls consider that when looking at options? Do pollsters REALLY consider it? Then why do we continue to do it? How can I as a fan change
Larry Scott
's stance on this?
Ted Miller
: Scott is a Machiavellian, "It's All About the Benjamins" sort. He'd go with eight games if the Pac-12 athletic directors were for it.
A nine-game conference schedule is favored by Pac-12 ADs for two reasons: 1. It means you only have to schedule three nonconference games, therefore less work; 2. An extra Pac-12 game tends to guarantee more ticket sales than a nonconference patsy, something that SEC schools don't worry about.
Once the conference expanded to 12 teams from 10, the nine-game schedule lost the symmetry that provided a true conference champion. But it was retained for the above reasons, even though it damages the conference's place in the national rankings.
The good news is most folk recognize the seriousness of this issue going forward into the four-team College Football Playoff. There will be pressure to level the playing field and have all the major conferences play nine-game schedules, as the Big 12 and Pac-12 currently do.
But if that doesn't happen, then it becomes the CFP selection committee's move. The first time a one-loss SEC team misses out to a one-loss Pac-12/Big 12 team, and the selection committee explains itself by saying, "The SEC choose to play a softer schedule than the Pac-12/Big 12, so that was the final measure that eliminated their team," then you'll see some changing.
In fact, it's too bad we don't have the playoff this year because it would be an interesting process. To me, the four-team playoff would be best served (based on today's records) by having Florida State, Ohio State, the SEC champ and the Pac-12 champ.
Yes, that would mean leaving out Alabama, which I still believe is the best team.
But if that happened because Stanford's/Arizona State's
schedules were dramatically more difficult
, you can bet that the SEC would man-up out of self interest.
---
Craig from Omaha writes:
Lifelong Huskers fan here but enjoy watching Pac-12 football. … My question to you is why is it that the Pac-12 does not play its conference championship game at a neutral site like every other major conference? Is it due to loyal fan bases that are willing to travel? Do they feel there are not adequate facilities to hold such an event? I would have to think of all the venues in Pac-12 country, there would be some place that would fit the bill?
Ted Miller
: The biggest problem with a neutral venue for the Pac-12 title game is the Pac-12 is much more spread out than the SEC, ACC and Big Ten. With just a week to make travel plans, it would be extremely expensive for fans to book flights. In the SEC, just about every fan base is within driving distance to Atlanta, and that's also mostly true in the Big Ten for Indianapolis and the ACC for Charlotte, N.C, though expansion has changed things a bit in that regard. For Texas A&M, it would be a 12-hour haul to drive to Atlanta.
That said, future change isn't off the table. Since the conference expanded, more than a few folks have tossed around the idea of playing the game in Las Vegas, which the Pac-12 blog would be all for, though there's not yet an appropriate stadium to play host. Another option would be rotating the game between major cities.
Truth is, the Pac-12 championship game has done fairly well at home sites -- the game Saturday at Arizona State is pretty close to a sellout. Last year's lackluster fan showing at Stanford was mostly because of torrential rain and a kickoff during Friday rush hour.
And there's something to be said for rewarding the No. 1 team with an advantage.
---

Scott from Homewood, Calif., writes:
I think you are
making the same mistake
as other media members about the Stanford roster. Although the depth chart lists several players as seniors, they are in eligibility only redshirt juniors because they list by academic class instead of eligibility. Guys like Tarpley,
Henry Anderson
, Parry, Reynolds, Fleming, Yankey are listed on the depth chart as seniors but all have a year left. Although Yankey likely will leave early, the others will most likely be back or have the option to come back. In reality, only four offensive starters are seniors and only three defensive starters are seniors. Jon Wilner has posted twice about this issue and I just wanted to spread the word.
Ted Miller
: I understand your point, but I use a depth chart that has both years.
The players Stanford loses on offense: OG
David Yankey
, C
Khalil Wilkes
, OG
Kevin Danser
, RB
Tyler Gaffney
, RB
Anthony Wilkerson
and FB
Ryan Hewitt
.
Players Stanford loses on defense: OLB
Trent Murphy
, LB
Shayne Skov
, DE
Ben Gardner
and DE
Josh Mauro
.
The Cardinal will again be in the thick of the Pac-12 North Division race in 2014, without question. But those are some big hits to the starting lineup.
---

Brian from Bend, Ore., writes:
Any reflection on why Marcus Mariota has been completely overlooked for QB awards and the Heisman? It seems that no one west of the Mississippi is allowed to lose games. He still has really good stats, was No. 1 in Total QBR until the Arizona game and is morally superior to any other NCAA player. Is this not the embodiment of the Heisman?
Ted Miller
: The bottom line is Oregon lost two of its final four games and Mariota didn't play well at Stanford, the Ducks' marquee national game of the season.
Further, when you remove
Jameis Winston
's off-field issues, as was done this week, the Florida State QB is a clear No. 1 at the position, while
Johnny Manziel
has been a force of nature for two seasons, and
AJ McCarron
has led one of the most successful runs in college football history.
I'm not saying I agree with all of that as a reason to demote Mariota. But that's what happened from a national perspective.
November, 15, 2013
11/15/13
5:30
PM ET
Happy Friday.
First of all, a big thank you to all Kansas State fans who contributed ideas for my "flip" visit to Manhattan, Kan. My mailbag overfloweth with perspective and suggestions. Dinner at CoCo Bolos last night was solid, as was breakfast at The Chef. If you see me in "Aggieville" tonight, don't hesitate to say "hello."
Follow the Pac-12 blog on Twitter
.
To the notes.
Ian from Salt Lake City:
Why has
Marcus Mariota
dropped nigh completely from the Heisman radar? I understand the loss to Stanford and playing poorly is a huge portion of that, but it seems to me that people, especially the media (not you or Kevin obviously), have fallen in love so much with
Jameis Winston
and
Johnny Manziel
that they brush aside Mariota like a fly. Both Mariota and Manziel lost games to their biggest competition, Mariota is putting up pretty comparable numbers to Winston with less interceptions, and Mariota is a proven winner, so why no, relatively speaking, love?
Ted Miller
: There are three types of overreaction in college football. There's media overreaction, there's fan overreaction and, third, there's fan overreaction to media overreaction.
Do you define "dropped completely from the Heisman Trophy radar" as
falling from No. 1 to No. 3
in media polls? Or
also here
. Do you define Mariota getting brushed aside "like a fly" after he posts his worst game of the season in a loss that knocks his team -- apparently -- out of the national title hunt?
Have I fallen in love with Jameis Winston? Yes. I'm man enough to admit that I am in love with Winston. I swoon at his stratospheric potential. I love the way he taken a program known for its NFL talent and mercurial performances and made it the nation's most consistently dominating team. Clemson's overwhelming performance against a very good Georgia Tech team on Thursday reminded us just how impressive the Seminoles' win in Death Valley was.
That said, if Mariota plays appreciably better than Winston and Manziel over the final three games, he still might win the Heisman. At the very least, the sophomore will get invited to New York for the ceremony.
There was an understandable and justifiable demotion of Mariota in every Heisman poll after the Ducks offense sputtered against Stanford. Three big performances, however, will background that. And if Stanford loses to USC, three big performances likely would give him another shot in the Pac-12 title game.
Those games will give him space to be evaluated over the totality of the season. They will also his toughness, which I think is being overlooked or played down after the Stanford game, to shine. Mariota should be saluted for even being out there because he was clearly playing on one good leg, and Stanford realized early on that he was not going to be a factor on designed runs or even scrambles.
By the way, Mariota still is the nation's
No. 1 rated QB
and has yet to throw an interception. (Throwing that in, Ian, to quell some media overreaction so your fan overreaction to media overreaction might re-react toward a more realistic place).
---
Paul from Vancouver, Wash., writes:
Ted I am a very loyal Oregon Duck fan and was very disappointed with our loss at Stanford. That being said I think a few different bounces of the ball and the end could have played out differently. Regardless, true champions find a way to deal with adversity and we, the Ducks, did not adapt and overcome. My comment/question is this. I agree Stanford has a good team but I think there overall offensive balance is questionable. The ground game is awesome but there passing attack is average at best and tends to be liability. If Stanford gets put behind in a game and has to abandon their ground and pound game plan, they struggle, which is what happened against Utah. I believe in a game against a team that can play with them physically that Stanford will have issues due to their lack of a decent passing attack.
Ted Miller
: I hear you. In fact, I think both Kevin and I have questioned Stanford at times about its middling passing game, which has shown flashes but not advanced as much this season as we anticipated it would in August. The Cardinal ranks last in the Pac-12 in passing offense with just 183 yards per game.
And yet.
Even though Stanford QB
Kevin Hogan
is not putting up big numbers, he ranks 17th in
ESPN Stats & Information's total quarterback rating
. Hogan is running the Cardinal offense efficiently, even if he only ranks fifth in the conference by the old school pass efficiency measure.
Coach David Shaw has said he would never throw if he knew he'd gain four yards every run. The Cardinal is averaging 4.8 yards per run.
Hogan has thrown well at times, and his 8.4 yards per attempt ranks third in the conference. He's accounted for 15 touchdowns -- 13 passing -- and protects the football.
And there's always this annoying tidbit: Shaw is 31-5. His Stone Age, antiquated, hopelessly conservative, 1970s football has Stanford winning 86 percent of his games.
Is Stanford the sort of team that makes a 14-point deficit look like nothing? No. Did Utah mute the Cardinal for three quarters? Yes, though I think the Utes success on offense was a bigger story in that game.
Could a team like, say, Alabama thwart Stanford because it is as big and physical as the Cardinal? Maybe.
One of the things I really wanted to see this season was for them to try.
---
Tony Jones from Chandler, Ariz. writes:
Ted, I've been keeping an eye on the Jeff Sagarin rankings the last couple of weeks, waiting for verbal pitchforks to be hurled from Sun Devils fans ranting about how ASU is barely getting a sniff in the AP (21st), USA Today (22nd) and BCS (19th) polls while hanging out in the Top 10 in Sagarin's metrics (currently 9th). So when I saw your piece discussing the Championship Drive Ratings and Football Power Index, I was curious to see where ASU ranked. The Sun Devils rank higher in both the CDR (6th) and FPI (7th) than in Sagarin's wizardry. I'm an Arizona alum, so it makes little difference to me, but should ASU fans be Michael Crowing about where they are in the BCS and going all in with their disrespect cards? BTW, I think it's also interesting that the Wildcats are ranked 24th by Sagarin and 28th in the FPI, but are 44th in the CDR. Much bigger disparity than the Sun Devils.
Ted Miller
: Kevin has Arizona State
18th and I have them 19th
. And both of us have noticed how the Sun Devils rank higher with the computers, most notably the Championship Drive Rating, ESPN Stats & Information's complex metric that measures a team's resume.
But I also know why the Sun Devils are being held back due to purely human reasons.
No. 1: The controversial ending against Wisconsin. No. 2: The loss to Notre Dame.
Those are not "bad" losses. But those two results tie the Sun Devils to the wagons of the Badgers and Fighting Irish, and both provide drag.
The officiating implosion at the end of Arizona State's win over the Badgers means voters don't feel comfortable elevating the Sun Devils decisively over the Badgers, who in fact rank ahead of ASU in both polls. Voters feel further justified doing so because the Sun Devils lost to the Fighting Irish, who are presently unranked after losing to Pittsburgh.
This is a case of Arizona State's marquee win -- Wisconsin -- not earning them the poll respect it typically would, and that is understandable to a certain degree. The Badgers feel like they might miss out on an at-large invitation to a BCS bowl game because of that loss, one that they put an asterisk beside.
Yet, as I typically think when reading questions like this: Just keep winning. If the Sun Devils win the rest of their regular season games, including a Nov. 23 date at UCLA, they would jump into the top 10. And if they win the Pac-12 title game and Rose Bowl, they might finish in the top-five.
---
Ron from Maricopa, Ariz., writes:
This article I believe is incorrect
. Colorado received a waiver for playing two FCS games and theoretically they can go to a bowl if they win out. Two games are doable: Cal and Utah. USC is probably too much. But Buffs should be motivated this week for at least the possibility of a bowl.
Ted Miller
: Correct. If Colorado wins its final three games -- California, at USC and at Utah -- it will become bowl eligible.
And that certainly would be an amazing accomplishment for the Buffaloes in their first season under Mike MacIntyre.
---
Kevin from Oklahoma City writes:
I know there is still plenty of season left and lots can change but out of curiosity if ASU were to win out and Stanford suffers an upset somewhere along the way, allowing Oregon to take the north...who would host the title game? Would Oregon get to host based on overall record?
Ted Miller
: The team
ranked higher in the BCS standings
would host. That almost certainly would be Oregon. (
Answer is the same from last week
!)
April, 4, 2013
4/04/13
9:00
AM ET
STANFORD, Calif. -- Stanford quarterback
Kevin Hogan
, as a redshirt freshman, made his first career road start against No. 2 Oregon in Autzen Stadium, the most inhospitable venue in the Pac-12. Entering the game, the Ducks had won 13 games in a row overall, the nation's longest winning streak, and they had won 26 of their past 27 games at home.
With Andrew Luck playing quarterback the two previous years, Stanford teams that would finished ranked in the top-10 had suffered blowout defeats against the Ducks.
So when Hogan led Stanford to a 17-14 win -- of course, with a strong assist from a superlative defensive performance -- it seemed liked a time for celebration and euphoria. If there ever was a moment for a young player to whoop and holler and then wear a Cheshire cat grin in front of the media, this was it.
Yet here was Hogan sitting at the postgame interview table looking... bored? No, that implies some degree of rudeness. Sedated? No, that implies something unnatural. Poised? Yes, but that also implies something more practiced than how Hogan appeared as he provided brief and humble answers to questions in his signature monotone.
Sleepy? Hmm. That feels, perhaps unexpectedly, accurate. Let's combine poised and sleepy and say Hogan was "sloised."
Hogan would go 5-0 as the Cardinal starter after taking over the sputtering offense at midseason, with his final victory giving Stanford its first Rose Bowl win since 1972. His play was steady and efficient, but rarely flamboyant. Sort of like the young man himself.
[+] Enlarge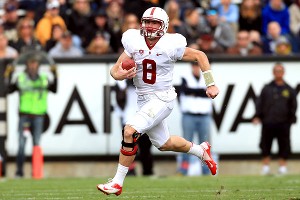 Doug Pensinger/Getty ImagesQuarterback Kevin Hogan ran for 263 yards and two TDs last season, averaging 4.8 yards per carry.
When you ask Hogan's teammates about him, about whether he lets his hair down when the cameras aren't around or has a secret dark side, you're met with an amused grin.
Said linebacker
Shayne Skov
,
a demonstrative sort
, "You don't get much out of him much of the time."
Other than winning, which is nice. Oh, and Stanford is widely viewed as a top 2013 national title contender because many expect Hogan to give the Cardinal a lot more in 2013.
The 2012 season was largely the "Year of the Young QB" in the Pac-12, with first-year starters such as Hogan, Oregon's
Marcus Mariota
, Arizona State's
Taylor Kelly
and UCLA's
Brett Hundley
turning in outstanding debut seasons. The 2013 campaign projects as something different. What will these guys do for their encore?
The most interesting one might be Hogan, 2.0. While Mariota, Kelly and Hundley put up big numbers in high-powered, up-tempo offenses last fall, Hogan was mostly a game-manager for the Cardinal's physical, run-first attack.
Yet with a year of seasoning, you'd expect Hogan would be champing at the bit to showcase his passing skills.
Hogan doesn't do champing at the bit.
"I'd love to hand it off every time again if that's what gets us first downs and touchdowns," he said. "Whatever they need. I like winning. Whatever it takes to get that."
Good answer. But Stanford is no longer trying to win 10 games or end up in the top-10. Coach David Shaw admits he's thought about the program making the proverbial next step from conference champion to national champion. That requires eliminating the one or two losses that speckled the Cardinal's previous three seasons, which it's worth noting is the best run in school history.
That means Hogan becomes capable of taking a game into his own hands when things are slightly off on either side of the ball. That means in those close games where two or three critical plays go horribly wrong, Hogan steps up and takes corrective action with two or three plays he creates from the ether.
"The big thing for Kevin is taking the next step as far as knowledge and understanding," Shaw said. "He's going to work hard. He's very selfless. He's very team-oriented. We're to the point now where we can give him more to do, more things in the passing game, more things to handle at the line of scrimmage."
Stanford likely will remain a run-first team in 2013, in large part because it might have the nation's best offensive line. But with questions at tight end and improvement at receiver, there's a good reason Hogan said his primary focus this spring is getting better at throwing the deep ball. The Cardinal running game will be that much better if opposing secondaries are fretting about getting beat over the top, thereby limiting their leaning into run support.
Another aspect of Hogan's game worth watching: His running. He rushed for 263 yards and two touchdowns, averaging 4.8 yards per carry, and not exclusively on scrambles. The 6-foot-4, 225 pounder is agile and not easy to bring down, and the Cardinal isn't afraid of throwing a few designed quarterback runs at a defense.
"His athleticism is our bailout," Shaw said. "His ability to run changes defenses."
The 2013 season will feel different for Hogan and Stanford. For the team, it will face a season rated as a top title contender by just about every pundit with few legitimate doubters. Each of the previous three seasons, that was not entirely the case. As in: How can they possibly replace Toby Gerhart!? Jim Harbaugh!? Luck!?
And the spotlight will burn much brighter on the understated Hogan.
That might not test his innate poise, but it could prove grating and distracting.
"There's going to be a higher amount of pressure on him, but he needs to just embrace it," Skov said. "Expectations are going to rise. But he's more than capable. So embrace the higher demands and pressure. I'm sure he's going to deliver. He did it time and time again last year, and he's only going to get better."
One thing working in Hogan's favor is the type of school Stanford is. As Luck often noted, Stanford's student body isn't the sort to go gaga over a quarterback. Luck, in fact, barely created a stir when he hung around this spring.
Johnny Manziel
might be forced to take on-line classes at Texas A&M to avoid to paparazzi, but that won't be the case for Hogan. He said his budding star turn in 2012 didn't earn him a fan club on campus that he's noticed.
"I wouldn't say it's changed too much," he said. "That's one of the things about this school. There's so much going on and there are so many people doing great things that people congratulate you after winning games, but they treat you like any other student. That's one of the nice things about being here. Being able to stay myself."
Hogan, Shaw and the Stanford players talk mostly about winning the Pac-12 and getting back to the Rose Bowl. They say that's something they can control with their play on the field. The national title game is something that includes outside forces, such as the final year of the BCS computations.
So Hogan said repeatedly it's all about getting back to Pasadena. Next question: "You do know the national title game is in Pasadena, too, right?
Sloised Hogan, "Yes."
March, 14, 2013
3/14/13
10:00
AM ET
If someone had asked me before spring practices began who California's starting quarterback would be in 2013, I would have quickly said with my all-knowing look: "
Zach Kline
."
If that someone had gently protested with a "But what about..." I would have interrupted with another all-knowing look, "No. It will be Zach Kline."
Unfortunately, that would have been the same all-knowing look I gave while asserting USC's national championship prospects before the 2012 season. It might be wise for me to mothball that all-knowing look, and I just want to add that my wife and children owe Lane Kiffin and the 2012 Trojans an eternal debt of gratitude.
[+] Enlarge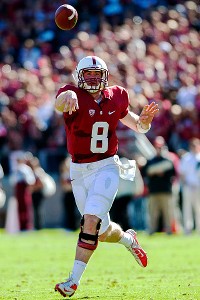 Ed Szczepanski/US PresswireThe success of young QB's like Stanford's Kevin Hogan is no longer a rarity in college football.
Kline might well end up the Bears' starting quarterback, but that's not what this is about. It's about Cal's quarterback battle looking like it's going to be
a showdown between
Kline, a redshirt freshman, and true freshman
Jared Goff
, who opted to graduate early from high school, skip all the riotous things high school seniors do during their final spring frolic and begin the serious business of Pac-12 football.
A redshirt freshman is the "veteran." A true freshman is the challenger.
There are two notable things about the Conference of Quarterbacks this spring: 1. There's an impressive crew of talented and already accomplished ones returning; 2. Youth now rules a position where that very quality was nearly a disqualifying negative not too long ago.
California is not the only school that might tap a true freshman. Arizona has Anu Solomon coming in this fall, and the look on both coach Rich Rodriguez's and co-offensive coordinator Rod Smith's faces when talking about him suggest his candidacy is legitimate.
"If the kid is good enough and he can handle it," Smith said." Some kids transition better than others. Anu is a kid who was a four-year starter in high school. That doesn't mean anything for college, but at least he's been in the mode when he's the new kid on the block competing with older kids and he performed well. He was 56-4 as a starter. The kid is a winner. He knows how to move the football and win."
That is not too far from the case Pete Carroll made in 2008 when he opted to go with true freshman
Matt Barkley
, only Carroll went all Pete Carroll-y and made Barkley into
some metaphysical quarterbacking beast
, citing Malcolm Gladwell and labeling Barkley an "outlier."
Still, that was a precursor to the new reality.
A redshirt freshman, Texas A&M's
Johnny "Football" Manziel
, won the Heisman Trophy, and a redshirt freshman, Oregon's
Marcus Mariota
, was first-team All-Pac-12, over seniors Barkley and Arizona's
Matt Scott
. Stanford's season transformed when it handed its offense to redshirt freshman
Kevin Hogan
. Utah started a true freshman,
Travis Wilson
, a few games into the season. Redshirt freshman
Brett Hundley
led a UCLA resurgence.
Further, USC again has a early arriving true freshman who is a legitimate candidate to win the starting job in Max Browe. More than a few folks believe the front-runner to win the job at Colorado is redshirt freshman
Shane Dillon
.
We might not be at the end of 2013's youth movement. While Washington and Washington State both welcome back veteran quarterbacks in
Keith Price
and
Connor Halliday
, there is a sense they both could be threatened by, yes, true and redshirt freshmen challengers.
The only Pac-12 teams certain to start upperclassmen at quarterback: Arizona State with junior
Taylor Kelly
, and Oregon State with junior
Sean Mannion
or senior
Cody Vaz
.
This youth movement doesn't include a sacrifice of quality and high-prospects. It's not primarily about a failure of the older guys. Does any conference offer a better array of returning quarterbacks than Mariota, Kelly, Hundley and Hogan? The answer is no.
There are many explanations for this youth movement. First of all, quarterbacks are better prepared in high school. They get private coaching, go to summer camps, play 7-on-7 in the offseason, etc. In high school, they don't just show up in August for two-a-days and draw plays in the dirt anymore.
Further, a player's recognition of and respect for the natural pecking order has been reduced, as has patience. If a touted guy loses out in a quarterback competition, he seems more likely to transfer now in search of playing time. A couple of coaches also have told me it's more difficult to recruit the position when a team has an entrenched, underclass starter. That then means the junior and sophomore quarterbacks on the roster might not be as good as the younger players who sign only when the starter is a junior or senior.
Or the job will be vacant, as is the case with Browne at USC.
Yet just because a guy starts as a freshman doesn't mean the death of the upperclassman quarterback. In fact, it should in most cases increase its likelihood of occurring.
The logic is simple: If a guy is good enough to start as a freshman and plays well, then you can project forward two or three years of improvement and future success. The most important position on the field is locked down and secure and worry-free. A good thing.
It doesn't always work out like that -- see Price at Washington this past season. Or the Barkley of 2011 versus the lesser version in 2012.
That noted, it's not unreasonable to hold high hopes. Know that just about every Oregon fan has projected improvement for Mariota over the next two years, though he could enter the NFL draft as a third-year player after this season. Even moderate improvement sets him up as an All-American and Heisman Trophy candidate. Same could be said for Hogan, Hundley and Kelly, by the way.
The youth movement at quarterback is a substantial shift in thinking. An experienced, veteran quarterback used to be the first preseason measure of a team. Now all a team needs to be highly esteemed is a returning starter, even if that's just a sophomore.
It's getting to the point, in fact, that youth at quarterback will be weighted less as a potential problem by prognosticators.
At least, it's possible that the next time someone frets a lack of experience at quarterback being a problem, I'll resurrect my all-knowing look and say, "No, it's not!"
March, 8, 2013
3/08/13
1:00
PM ET
On Tuesday, we asked for your
dark horse Heisman Trophy candidates
, and 34 percent of you said "other."
It was Kevin's fault "other" was omitted from the
Pac-12 blog's top 25 player rankings
.
So what do we think? Thanks for asking.
Kevin Gemmell:
The toughest thing about being a dark horse is that you not only have to exceed expectations -- but you have to exceed them so gloriously that you're able to leap those perceived to be ahead of you.
[+] Enlarge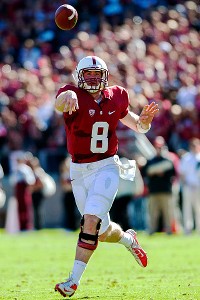 Ed Szczepanski/US PresswireStanford's schedule could lend itself to a late Heisman Trophy charge for QB Kevin Hogan.
While there are many fine Heisman candidates from the Pac-12 -- both favorites and dark horses -- realistically speaking, I believe only one has a chance to emerge this year and overtake front-runners like
Marcus Mariota
,
Marqise Lee
,
Brett Hundley
and
Ka'Deem Carey
. That is Stanford quarterback
Kevin Hogan
.
For starters he's a quarterback, which is always helpful. And he'll begin the season in a fortuitous position. His Cardinal will likely enter the season ranked in the top 5 (we haven't done our preseason top 25 yet, but I'm strongly considering them for the top 3 -- or higher). He'll have an outstanding offensive line to keep him upright, a stellar defense watching his back and, if some of the wide receivers and tight ends develop, nice receiving weapons to go with a solid stable of running backs.
But the most important factor for Hogan is the schedule. The Cardinal have some tough games early -- home to Washington and UCLA, at Pullman and Salt Lake City. But the schedule really ramps up in the home stretch with consecutive games against Oregon, at USC and home against Cal and Notre Dame to close out the season. That's right about the time flip-flopping Heisman voters will really start to buckle down and narrow their candidates. If the Cardinal are 8-0 heading into those games, Hogan will be more than a blip on the Heisman radar.
See what
Johnny Manziel
did over the final six weeks to win over voters
. Note how Robert Griffin III pulled away with wins against No. 5 Oklahoma, Texas Tech and No. 24 Texas. Remember how voters crucified Andrew Luck (in my humble opinion, unfairly) for a late-season outing against Oregon in 2011.
Hogan will have the chance to play, potentially, two top-15 teams and one top-5 team in the final four weeks. Even with above average numbers going into those games, four wins could propel him beyond the front-runners and on a plane to New York.
We know he has the mental chops. After all, he won at Autzen -- in his first road start no less. Know how tough that is? Only one other quarterback did it during the Chip Kelly era. The other was
Matt Barkley
.
People are likely taking a wait-and-see approach to Hogan. And it won't be easy. Stanford's offense doesn't lend itself to video game numbers like some of the spread offenses. But the pieces and schedule are in place for him to make a late-season run and snatch the Heisman from the hands of the front-runner du jour.

Ted Miller:
A lot goes into a Heisman campaign. Numbers are Point A -- a guy has to impress with production. Winning is critical. It's nearly impossible to win the Heisman playing for a 3-9 team. Heisman moments help -- big plays against good teams. Being fancy can't hurt.
And overcoming horrible adversity also moves voters.
Arizona State running back
Marion Grice
could touch all those bases in 2013.
Grice, a 6-foot, 199-pound senior, is a dual-threat back. In 2012, he rushed for 679 yards and averaged 6.6 yards per carry, and he caught 41 passes for 425 yards, 10.4 per yards per reception. He also had an undeniable nose for the end zone, producing 11 rushing TDs and eight receiving scores, a total that led the nation for running backs.
The junior college transfer also surged late in the season with 315 yards rushing and five touchdowns in the final two games, winning MVP honors for both the Territorial Cup victory against rival Arizona and in the Kraft Fight Hunger Bowl.
Further, Grice played in the bowl game just over a week after his brother was shot and killed in Houston during a robbery attempt where two men tried to steal a pair of new Air Jordans from Grice's brother and a friend. That required fortitude. Grice's success in 2013 could produce an inspiring story for people, particularly those who have also experienced family tragedies.
Arizona State could -- should -- start the season with a top-25 ranking. It will certainly be a favorite in the Pac-12's South Division, along with UCLA. Winning the division would mean a puncher's shot at the Rose Bowl, though the going could be tough against the North Division champ.
Still, what if Grice produces 2,000 all-purpose yards and 25 touchdowns? He is probably going to have to share the ball with the talented
D.J. Foster
in the backfield, but Grice still could get 1,200 or so yards rushing with his receiving numbers going up steeply with an experienced and productive quarterback in
Taylor Kelly
.
If the Sun Devils get on a roll with Grice leading the charge, he could quickly become a national story, one that would appeal to voters on many levels.
Pac-12 Weekend Wrap: Sept. 16